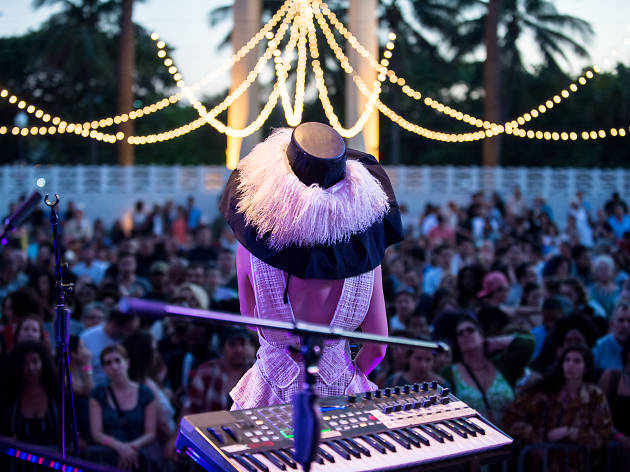 Ride the beat at the best jazz clubs and Latin music venues in Miami
Whether you prefer a dimly lit nook or music under the stars, catch an amazing show at these best jazz clubs in Miami.
August 2019: Miami's live music venues are notoriously fleeting, and while good jazz never goes out of style, we had to say sayonara, baby to a couple of beloved spots over the last year. Though Wynwood Yard and Casa Panza have closed, lovers of bebop, scat singing and all manner of improvisational musical stylings need not fret. Gritty Downtown joint Le Chat Noir offers up nightly jazz in its cozy cellar, while The Corner has been serving a loyal jazz-hipster crowd on Wednesday nights for the better part of five years. In South Beach, The Cabaret hosts piano jazz nights on weekends, when slinky, veteran singers sling cocktails behind the bar in between belting out your requests on stage—just like in the movies!
It's just not Little Havana that's bringing the salsa-loving crowds to the city these days. South Beach and other neighborhoods are gaining popularity for boasting some of the best jazz clubs and Latin music venues in Miami. Wherever you wind up, make sure a visit to a top spot for drunk food in Miami is in the plans—because nothing works up an appetite quite like good tunes and cocktails.
RECOMMENDED: See the full coverage of Miami nightlife.
Best jazz clubs and Latin music venues in Miami
Get to know the rest of Miami's best music venues
Get the scoop on Miami's hottest venues in our guide to the city's best