From virtual Zoom parties to drive-by balloon drops, social distancing has totally changed the way we celebrate birthdays. But no matter how we choose to mark the occasion, it wouldn't be a birthday without cake. Sure, you can hit up your local grocery store for a ready-made dessert but you deserve something special, like the scratch-made confections Miami's best bakeshops are whipping up and delivering right to your door. This year, pass on the basic buttercream and blow out your bday candles in style with one of these stunning creations from Miami's top bakeries.
One cake doesn't give you as many flavor options as you'd like—we get that. It's your birthday and you shouldn't be forced to eat just one type of cake when Misha's gives you an array in the form of bite-size cupcakes you mix and match to your heart's content. Lucky for you, the Sunset Shop location of Miami's OG cupcake shop opened for curbside pick-up and same-day delivery this week. Get yours by calling (786-200-6153) or online via Postmates and Uber Eats.
View this post on Instagram
We've been big fans of this Midtown bakery from the moment we first laid eyes on their multitiered cakes and ornate desserts, which they're still busy churning out. Custom cakes are their specialty—just peep the array of themed layered cakes on IG—but they've also got a selection of ready-to-go options for your last-minute birthday plans. Picking up? Grab an order of macarons to nosh on in the car. After all, it is your special day.
View this post on Instagram
Dallas Wynne is making your birthday dreams come true with a celebration gift box ($75) that features one of her spectacular cakes in either chocolate cookies and cream or vanilla with dulce de leche, a bottle of champagne, a handwritten note and candles, which—quarantine or not—is the one thing most people forget to buy. To order, call 786-322-5211. Delivery is available within a one-mile radius.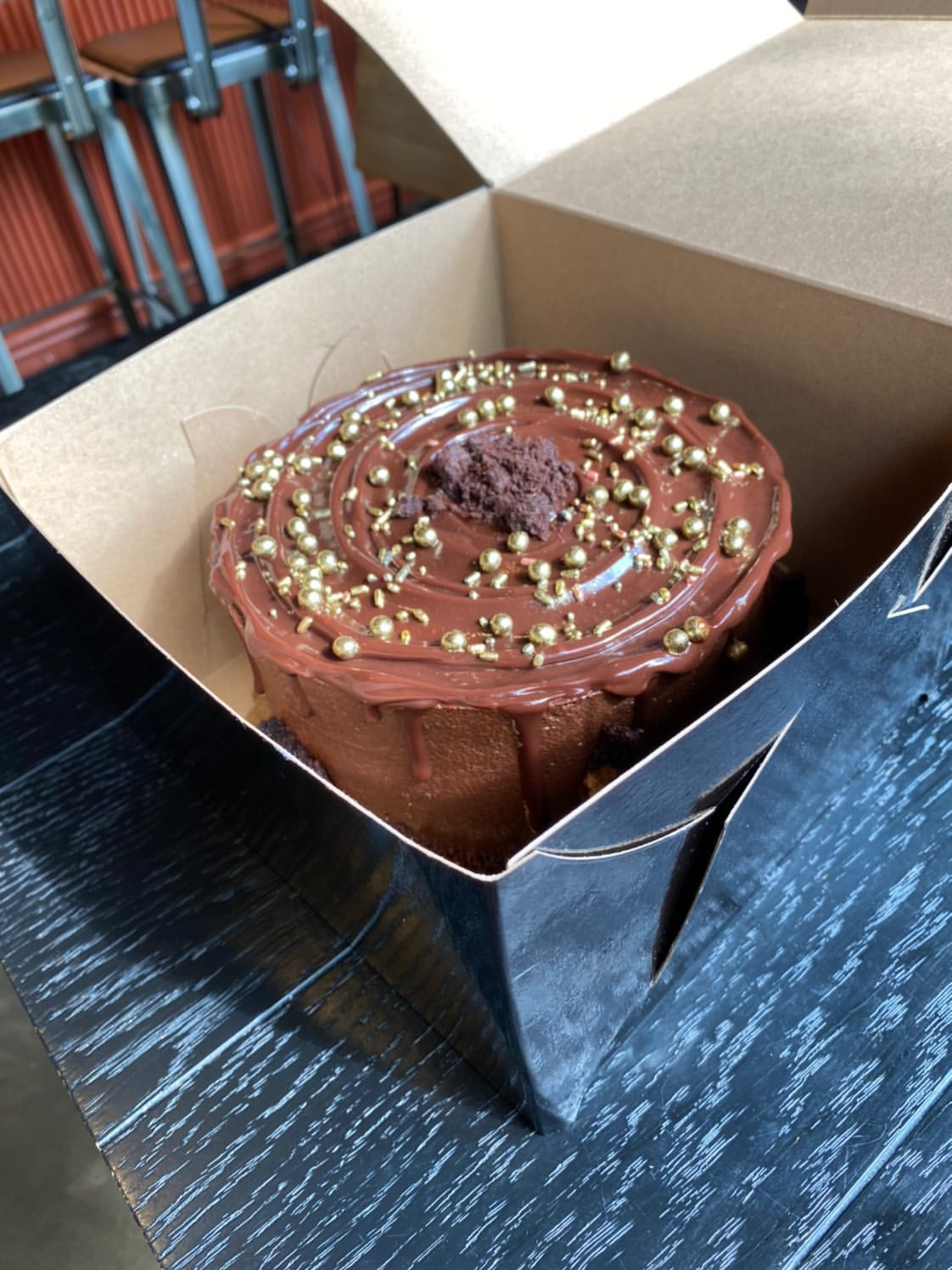 You can get full cakes and pies as well as slices for pickup and delivery via Postmates from both Fireman Derek locations in Miami: Coconut Grove and Wynwood. If you can't narrow down the flavor, no problem. The shop is selling cake samplers featuring five slices of your favorite combos—think chocolate peanut butter pie, coconut guava cake and carrot cake.
View this post on Instagram
Wynwood's adorable, pink dream of a bakeshop endeavors to make your birthday extra magical with its party-in-a-box, complete with a birthday banner, cake topper, 24 candles, party favors and balloons. Orders placed by noon are fulfilled the next day, making it even easier to go all out for someone's big day. Looking to keep it simple? The vegan spot sells all types of cakes and cupcakes suitable for your party needs.
View this post on Instagram
You'll recognize it when you see it, and you'll fall in love with it the moment you taste it: María Luisa Benavides' strawberry pavlova. Her Key Biscayne bakery can't bake them fast enough, as the large sheet cakes have become somewhat of a birthday staple around these parts. The pavlova, as well as the rest of Piononos' wonderful pastries, are available for pick-up and delivery across Miami-Dade and parts of Broward County by calling 305-361-3227 or texting 786-488-6770 and 305-903-9696.
View this post on Instagram
The queen of custom cakes is still doing it big during the lockdown. Whether it's a sports-themed, three-tiered confection or a simple, heartfelt creation, Lucila's Bird Road shop will make it happen and deliver it to your home. Orders can be placed by calling: 305-263-8333.
View this post on Instagram
Want more? Sign up here to stay in the know.
Most popular on Time Out