You seriously deserve the best doughnuts in Miami
The best doughnuts in Miami are here for your cheat days, special occasions and, well, do you really need a reason?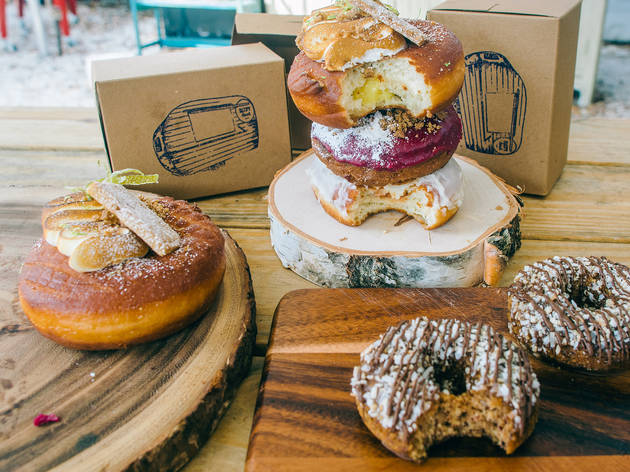 Sometimes, you just wake up knowing exactly what you need: the best doughnuts in Miami. God bless the acai bowl and whatever else you want to shove in a healthy smoothie but can anything really replace the guilty pleasure of a doughnut? No, my friends. In Miami, we've got plenty of them. Doughnuts have become trendy lately, built as much for Instagram as for taste buds. We have some of those but our best balance visual appeal with quality and taste. The result is magic. While the afternoon is for the best happy hour deals in Miami and the late night calls for Miami's best drunk food, Saturday mornings belong to our beloved doughnut. And these are our favorite ones in the city.
Best doughnuts in Miami
What is it? Miami's best doughnuts served in a quaint Wynwood shop. They also earn points for creativity with rotating creations that are rarely anything but delicious. Prepare for a line out the door (but it's worth the wait).
Restaurants, Coffee shops
What is it? A revived Little Havana shop that just reopened after a delicious run that lasted for 50 years. We couldn't be happier to have them back. Classic doughnuts, hot coffee—if it ain't broke, don't fix it.
What is it? An adorable local vegan bakery, dishing out sweets that will fool those used to more decadent offerings. Cupcakes are normally the go-to here but don't sleep on the mini-doughnuts.
What is it? An old-school doughnut joint that couldn't care less about your Instagram account. The closest location to Miami is in Hollywood, but we heartily recommend visiting the original 24-hour Pompano outpost at 4am for some, shall we say, interesting people-watching.
What is it? Flashy sweets shop serving classic options as well as specialty doughnuts like the brioche monkey bread. There's also a—believe it or not—gummy bear bar, where you can order yours rosé-flavored.
What is it? Do we really need to tell you about Krispy Kreme? Really? Fine. It's a national chain serving up some of the tastiest guilty pleasures you'll find in a drive-through (and this is the only Miami location). If it's your first time, ask for the paper hat.
What is it? Surprisingly light and fresh doughnuts that won't put you in a sugar coma. Honeybee also offers vegan and gluten-free options for pickier stomachs.
What is it? Everything your inner-child every wanted to stuff on (and in) a doughnut. Plus, fried chicken! This place has earned the coveted Guy Fieri flame of approval. Come hungry, leave semi-conscious.