The best Art Basel Miami satellite art fairs to see in 2019
These are the fairs you can't miss during Art Basel Miami 2019, from Scope to PULSE and other Miami Art Week highlights
Since it launched in 2002, Art Basel Miami Beach has attracted so many collectors, art luminaries and curious creative types that the event has mushroomed into Miami Art Week. It's a catchall title to describe the arty parties, Art Basel Miami 2019 events and a growing number of satellite fairs that are spreading like wildfire across the city—from South Beach to Wynwood and new neighborhoods such as Little Haiti. In keeping with the times, several returning favorites have added experiential elements (hello, Instagram!) and grown their cultural programming agendas to welcome people in the community. As always, you can expect crowds of well-heeled folks and big, splashy exhibits. What will this year's social media hit be? Once you've eyeballed the main fair, and made plans to hit up a South Beach club for the after-party, set out to find out which of our favorite Art Basel Miami 2019 satellite fairs everyone will be talking about.
RECOMMENDED: Your guide to Art Basel Miami Beach 2019
Art Basel Miami 2019 satellite art fairs
Furthering its mission to platform new artists and
new mediums, the 19th SCOPE fair introduces an experiential pavilion on the sand: OASIS will display large-scale installations and host musical performances, panel discussions and daily delights, such as guided meditations and CBD spa treatments. By night, the space transforms into a full nightclub with rotating DJs—because, hey, it's South Beach. Also new this year is FOCUS | ART CHINA, showcasing museum-quality Chinese contemporary art both by emerging and established artists. 801 Ocean Dr, Miami Beach. Dec 3–8; $40–$200.
Demelza Toy Toy, Better Late Than Whenever, New Apostle Gallery
While Instagram might be the principal medium for street photographers these days, museums are still where we prefer to appreciate the works by these keen observers of ordinary life. See hundreds of prints by emerging and established photographers at the Miami Street Photography Festival. Each year, a panel of talented judges select the best contemporary street photographer to have their work displayed at galleries in Miami and Milan. Back for its second year, the MSPF International Series Contest invites photographers to submit a series for the chance to have their work displayed at Art Basel. The annual event also comprises exhibitions, workshops and lectures. 101 W Flagler St. Dec 5–8; free.
One of the biggest ancillary events to pop up around Art Basel, PULSE chills out for its "Calm Within the Palms"–themed 15th edition. You can relax in a hammock, escape the art-week madness in the Wellness Lounge or grab a bite at Malibu Farm Miami Beach's onsite restaurant. If that doesn't do it for you, relax with the two hypnotizing, 20-hour videos by longtime exhibitor Black &White Gallery. Several highlights this year include the visually arresting Port-O-Potty, 2011, by Zeke Moores, who turns one man's trash into another man's Nickel-plated steel and cast treasure. Indian Beach Park, 4601 Collins Ave. Dec 5–8; $35–$100.
Art Basel (and many other shows) fork over their prime real estate to established, out-of-our-price-range names. Here, CONTEXT steps in to place emerging and midcareer artists front and center. This year's lineup includes Everard Read (Cape Town, South Africa) and Fay Shin (Seoul) among hundreds of artists from 96 galleries from around the world. One Herald Plaza at 14th St. Dec 3–8; $35–$275.
The eighth edition of UNTITLED sees it expanding into new disciplines: writing. Guest curator Jordan Stein leads the Writer in Residence program that was established to promote the works of journalists and art critics. Curating a set of works by 89-year-old, Everglades-based artist Dick Jay is also one of Stein's shining duties. Exhibitors to look out for include Benrubi Gallery, New York, presenting hundreds of never-before-seen portraits by Tom Bianchi, who became famous in the 1970s and '80s for his nude male photography. On Tuesday from 4 to 5pm, University of Miami professor Xavier Cortada hosts a North Pole dinner party, where he'll serve ice to guests as he discusses the sea-level rise. Work up an appetite shopping for art? Make your way to fair partner Taquiza for some killer tacos. Ocean Dr and 12th St, Miami Beach. Dec 3–8; $25–$40.
Artificial intelligence, blockchain, bio-tech and virtual reality aren't just Silicon Valley buzzwords: They're shaping up to be an artist's tools for the 21st century. Which is what makes this year's newcomer, the Contemporary and Digital Art Fair, so exciting. You and your gamer friends will be wowed by the innovative array of digital and new-media art at this future-forward exhibition, housed in a massive Wynwood warehouse complex. Mana Wynwood, 318 NW 23rd St. Dec 5–8.
Old Testament, Tommy Hartung
The ninth annual Art Africa sheds light on Overtown's ongoing artistic transformation with pieces by influential artists who've shown at the fair since its inception. Painters, sculptors and mixed media artists such as Alan Laird, Anthony Burks and Byran McFarlane lead the retrospective of contemporary art from the African diaspora highlighting the historic neighborhood, affectionately dubbed "the Harlem of the South. Lyric Theater, 919 NW Second Ave. Dec 4–9; $15–$50.
Fanta Celah
The eminent fair for Latin American and Hispanic artists celebrates its 13th edition, welcoming 60 galleries representing more than 300 artists from around the world. One of the most notable works this year is a virtual reality collaboration between renowned Argentinian artist Julio Le Parc and his son Juan. The site-specific installation, 7 alchimies en réalité virtuelle, premiered earlier this year at the Palais de Tokyo in Paris as a special commission by Alejandro Martin (Spain, 1974). Mana Wynwood, 2217 NW Fifth Ave. Dec 4–8; $20–$75.
Photograph: Courtesy Design Miami/James Harris
Things are changing for Design Miami/, now in its 15th year. It sets up in a new location at Pride Park, directly across from the entrance to Art Basel, and grows to include a reconfigured tent for its inaugural Design Forum, presented by SCAD. This new area will feature a glass facade, giving passersby a full view of the cultural programming scheduled throughout the week. Water is the curatorial theme and visitors can plan to see it expressed in works on display at Curio (the fair's exhibition platform) and in the Galleries section, which this year pays homage to vanguard female designers of mid-century design, including Charlotte Perriand whose work is currently on display at the Louis Vuitton Foundation in Paris. 1803 Meridian Ave, Miami Beach. Dec 3–9; $27–$225.
Miami's OG art fair—and the most attended in the city— celebrates its 30th anniversary with a huge lineup, comprising 170 galleries from nearly 22 countries and 69 cities from around the world. It's the oldest of its kind in Miami and, as the first one to open its doors to visitors, serves as the unofficial kickoff to Miami Art Week. Expect this milestone year to feature tons of blue-chip pieces from well-known artists like Roy Lichtenstein, Jeff Koons and others. One Herald Plaza, NE 14th St. Dec 3–8; $35–$275.
The hip, juried art fair, which for the first time shares space with sister fair, Red Dot, welcomes 200 exhibitors to its ninth edition. This year's curatorial theme is [IGNITE], and it informs every aspect of Spectrum—from the atmospheric abstracts and the provocative photographs to the sultry sculptures on display. In addition to showcasing art, the fair hosts Art Labs and Art Talks for collectors. Spectrum Miami will also include [FOTO SOLO], a stand-alone exhibit of fine art photography by chosen artists from around the world. Mana Wynwood Convention Center, 318 NW 23rd St. Dec 4–8; $10–$75.
Into the Waves, Todd Monk
Spectrum's sister fair, Red Dot Miami, showcases primary and secondary works by more than 500 leading artists from the around the world. Now in its 14th year, the gallery-only fair operates under the theme PASSION, featuring paintings, sculpture and photography that convey art in all its intensity and purpose as more than a hobby. Mana Wynwood Convention Center, 318 NW 23rd St. Dec 4–8; $10–$75.
Born to Lead, Greg Salvatori, Studio Jackie
Every single room of a South Beach hotel are transformed into gallery spaces for the 15th annual Aqua fair, which brings an intimate and true local vibe to Miami Art Week. Make your way through mini-galleries made up of 62 international exhibitors, featuring hundreds of artists from around the globe and local talents such as Ahol Sniffs Glue. Performance art is a huge part of the fair that's previously featured live tattooing among its exhibitions. This year, expect a performance by Alexandra Mas that tours the importance of sustainability and Tarot card readings on custom-painted pieces. Aqua Hotel, 1530 Collins Ave, Miami Beach. Dec 4–8; $20–$100.
Known for showcasing underexposed artists and their works, New Art Dealers Alliance brings life to Miami Art Week with its young gallerists, such as folks from Miami Beach's Central Fine and New York's Downs & Ross. The list of exhibitors expected at the 17th edition of NADA Miami includes 136 galleries and organizations hailing from 25 countries. First-timers to watch for include Bonny Poon, this year's NADA International Gallery Prize recipient, who will present "Old Actors, New Portraits," which features Marie Karlberg, Ilya Lipkin, Kunle F. Martins, and Julian Tromp. Ice Palace Studios, 1400 North Miami Ave. Dec 5–8; $10–$40.
Worked up an appetite fair hopping? Here's where to eat.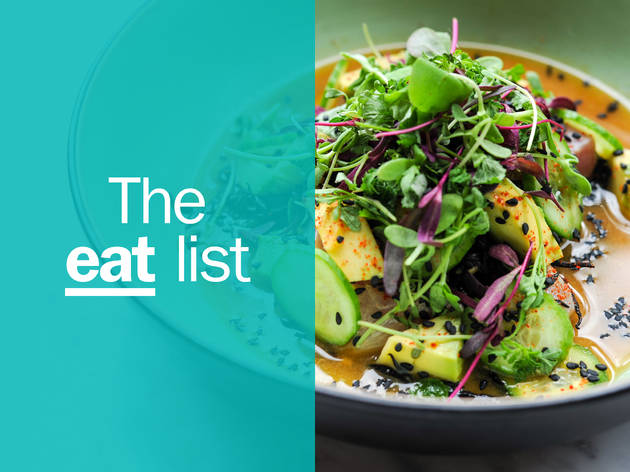 Peep our handpicked 'best of' guide to Miami's food scene
Best selling Time Out Offers