The best Art Basel Miami satellite art fairs to see in 2018
These are the fairs you can't miss during Art Basel Miami 2018, from Pulse to Scope to other Miami Art Week highlights
Since it launched in 2002, Art Basel Miami Beach has attracted so many collectors, art luminaries and curious creative types that the event has mushroomed into Miami Art Week. It's a catchall title to describe the arty parties, Art Basel Miami 2018 events and growing number of satellite fairs that are spreading like wildfire across the city—from South Beach to Wynwood and new neighborhoods such as Little Haiti. Once you've eyeballed the main fair, and made plans to hit up a South Beach club for the after-party, mosey over to one or all of our favorite Art Basel Miami 2018 satellite fairs.
RECOMMENDED: Your guide to Art Basel Miami Beach 2018
Art Basel Miami 2018 satellite art fairs
Now in its 18th edition, SCOPE Miami Beach partners with HI-FRUCTOSE magazine to hone its focus on New Contemporary and street art, displaying larger-scale installations and immersive projects curated by the publication. One you're sure to see splashed all over Instagram? Okuda's kaleidoscopic star polygon (above). As in previous years, the massive fair on the sand hosts exclusive talks and events for VIPs, plus the always fun BOMBAY SAPPHIRE® Artisan Series, which gives up-and-coming artists the opportunity to compete for a chance to exhibit at art gallery events across the U.S. 801 Ocean Dr, Miami Beach. Dec 4–9; $40–$200.
Okuda San Miguel, Kaos Star
While Instagram might be the principal medium for street photographers these days, museums are still where we prefer to appreciate the works by these keen observers of ordinary life. See hundreds of prints by emerging and established photographers at the Miami Street Photography Festival. Each year, a panel of talented judges select the best contemporary street photographer to have their work displayed at galleries in Miami and Milan. And in 2018, the festival introduces the MSPF International Series Contest from which three winners are selected and their work displayed at Art Basel. The annual event also comprises exhibitions, workshops and lectures. 101 W Flagler St. Dec 6–9; free.
The fair is to interior design what Art Basel Miami Beach is to art: Innovation and architecture collide here in museum-quality exhibitions. One of the hallmarks of Design Miami/ is its annual architectural commission, which this year brings Mexico City-based contemporary artist Pedro Reyes and fashion designer Carla Fernández to Miami, where they'll create a booth with curved steel walls and collaborate on a map that shows the names of the more than 300 original settlements on pre-Columbian Americas. Now in its fifth year, the fair's Curio program welcomes 11 new, small-scale presentations inspired by Renaissance-era cabinets of curiosities. Previous Curio exhibitors include Virgil Abloh and Tom Sachs. Don't miss Louis Vuitton's Objets Nomades, the French design house's collection of limited edition, collectible furniture inspired by LV's historic Art of Travel campaign. Miami Beach Convention Center parking lot, Meridian Ave and 19th St. Dec 5–9. $22–$75.
Sang Hoon Kim, Four Seat Sofa, 2018, Cristina Grajales Gallery
Director Katelijne De Backer leads the pack of international exhibitors (26 of whom are brand new to the fair) at the 14th edition of PULSE, the popular Miami Art Week fair dedicated exclusively to showing contemporary art. Taking place on the sand, PULSE is split into the North Tent, featuring established galleries with multi-artist booths, and the South Tent, where strictly solo exhibitors come to play (the artists in the latter category are eligible for a jury-selected cash prize). This year's highlights include a special performance shop piece with artist Zhanna Kdyrova called Market from Voloshyn Gallery and live mural paintings from street artists Dede and Nitzan Mintz from Tel Aviv's Zemack Contemporary Art gallery. Indian Beach Park, 4601 Collins Ave. Dec 6–9; $25–$100.
In a South Beach hotel where rooms are transformed into gallery spaces, Aqua, now in its 14th year, brings an intimate and true local vibe to Miami Art Week. Make your way through mini galleries made up of 52 international exhibitors, featuring 135 artists from around the globe. Plus, experience live tattooing at the InkMinx Mobile Tattoo tent, featuring three female artists all providing a different worldview. While Katarra Peterson and her Uppity hair project reinterpret the Rapunzel folk tale, tapping visitors to help her weave lengths of braided hair into a rope. Also on view in 2018 is the Parsons Close Project from Steve Cohen and Curtis Cox, longtime production designers for the likes of Mariah Carey and Justin Timberlake. Aqua Hotel, 1530 Collins Ave, Miami Beach. Dec 5–9; $20–$275.
Thirsty BSTRD, In case of bankruptcy break glass, Art in the Game
6
Photograph: Courtesy Rebecca Hossack Art Gallery
The 29-year-old growing art fair (which moved to a new waterfront location last year) welcomes 160 international galleries from across 68 cities in 2018. It's the oldest of its kind in Miami and, as the first one to open its doors to visitors, serves as the unofficial kickoff to Miami Art Week. Last year saw the likes of Frank Ocean and Amar'e Stoudemire, among other notable guests, scoop up hot-ticket items such as Andy Warhol's 1962 Marilyn for $5.5 million. Trust that 2018 will have even more blue-chip pieces to go around. One Herald Plaza, NE 14th St. Dec 4–9; $35–$275.
Laurence Jones, Liminal Framework With Sculpture, 2018, Rebecca Hossack Art Gallery
Context, Art Miami's sibling dedicated to showcasing works by emerging and midcareer artists, features 96 participants across 63 different cities. Now in its seventh year, the fair continues to expand as it welcomes new exhibitors from Latin American such as The Light Gallery from Medellin and Peninsula Fine Art from the Guanacaste Province in Costa Rica. One Herald Plaza at 14th St. Dec 4–9; $35–$275.
Robert Indiana, LOVE (Red Outside Blue Inside), 1966, David Benrimon Fine Art
The hip, juried art fair settles into new, larger digs at Mana Wynwood, where it'll welcome more than 160 exhibitors to its eighth edition. This year's curatorial theme is [ALLURE], and it informs every aspect of Spectrum—from the atmospheric abstracts and the provocative photographs to the sultry sculptures on display. In addition to showcasing art, the fair hosts Art Labs and Art Talks for collectors. Spectrum Miami will also include [FOTO SOLO], a stand-alone exhibit that premiered in Artexpo New York and features fine art from 10 international artists. Mana Wynwood Convention Center, 318 NW 23rd St. Dec 5–9; $10–$75.
Shark, Amazone Arts
Known for showcasing underexposed artists and their works, New Art Dealers Alliance brings life to Miami Art Week with its young gallerists, such as folks from Miami Beach's Central Fine and New York's Downs & Ross. The list of exhibitors expected at the 16th edition of NADA Miami includes 125 galleries and organizations hailing from 23 countries. New York's Housing gallery and Warsaw's Wschód Gallery are among the hot first-timers to watch for. Ice Palace Studios, 1400 North Miami Ave. Dec 6–9; $10–$40.
Also parked on the sand, the seventh edition of Untitled brings a heavy dose of contemporary art under the guidance of director Manuela Mozo. In addition to its gallery section, the fair features an ongoing performance piece titled #NeverNotWorking, conceived as a commentary on workplace exploitation in the U.S. Located at the fair's entrance, the piece enlists 100 local participants to "work" 30-minute shifts continually hanging and removing white sheets from a clothesline—bringing attention to the redundancy of domestic labor. Ocean Dr and 12th St, Miami Beach. Dec 6–10; $15–$25.
Show more
Worked up an appetite fair hopping? Here's where to eat.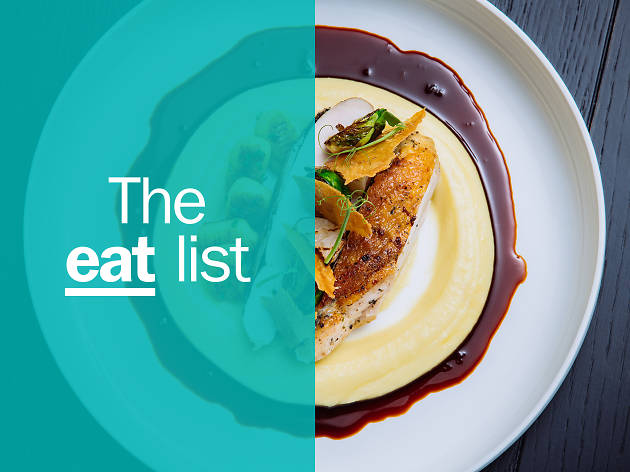 Peep our handpicked 'best of' guide to Miami's food scene