Heads up! We're working hard to be accurate – but these are unusual times, so please always check before heading out.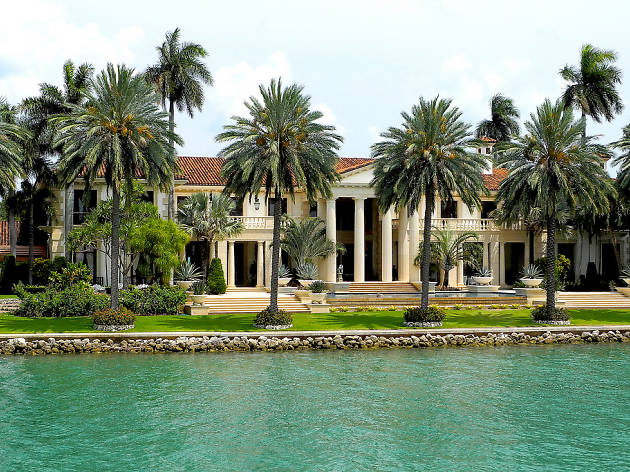 The best Miami boat tours to book for a fun day on the water
Take in the city and sights from a new vantage point when you cruise the coastline on one of these top Miami boat tours
April 2019: Ah, Miami. Another day, another boat to ride. At least, that's the way we imagine it should be sitting in our office on yet another perfect afternoon. For our updated list of the city's best boat tours, you'll find a couple of new additions plus updates to many of the old staples. Cruisin Tikis' and its adorable, pint-sized floating tiki bars appeared inconspicuously on Fort Lauderdale's New River a few years back and have since grown into a national franchise whose fleet never fails to garner double-takes from envious landlubbers. Meanwhile, we've back-tracked to include the beloved Stiltsville tour aboard Ocean Force Adventure's Zodiac, with inimitable historical bites from the legendary skipper, Captain Matt.
We'll be the first to tell you there's lots to see on land and plenty of things to do in Miami, but there's something to be said about experiencing the city from the water. Besides avoiding traffic, cruising through Biscayne Bay and the Intracoastal, if you're north of the city, is just plain fun. If you don't have a boat of your own, fret not. The best Miami boat tours are a breeze to book, run often and many even sell booze on board—think your favorite waterfront bar in Miami and your choice Miami tour merged into one. Here are some of our most-loved boat tours in Miami for cheesy celebrity spotting, al fresco drinking and other aquatic adventures in South Florida.
Best Miami boat tours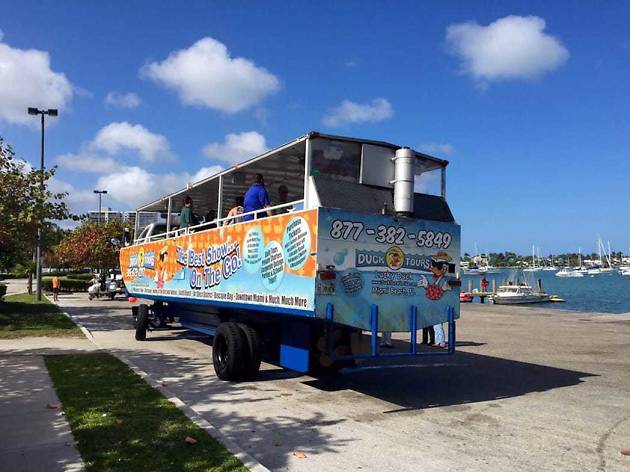 Photograph: Courtesy Yelp/ Kyle M.
1. Duck Tours South Beach
What is it? Duck Tours, like the mammals they're named for, travel on land and on water, which is really the best way to experience South Beach. You'll spend part of the 90-minute trip driving past Lummus Park and down Ocean Drive. Then it's wheels up and into Biscayne Bay for the amphibious vessel.
Why go? A wise-cracking guide gives you low-down along the way. Even though food isn't offered or permitted on board, passengers are allowed to carry on their own small alcoholic beverage.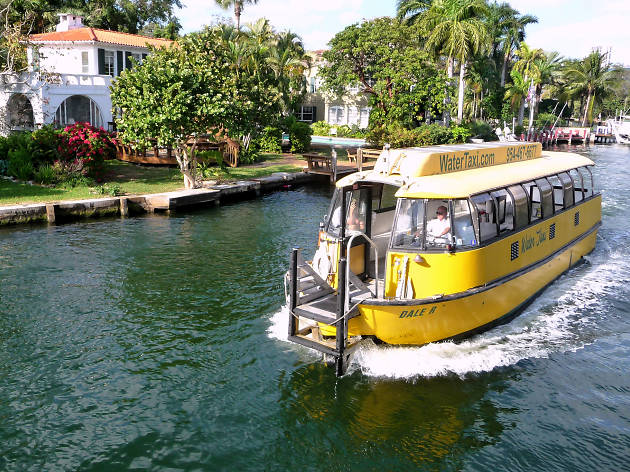 Photograph: Courtesy CC/Flickr/Herb Neufeld
2. Fort Lauderdale Water Taxi
What is it? The Fort Lauderdale Water Taxi is not only a fun way to see the city, it's also a fairly practical transportation method to get around the so-calld Venice of America. For a fun route, hop on at Oakland Park Boulevard and work your way to the historic Las Olas Boulevard, bar-hopping at waterfront eateries along the way.
Why go? Your driver will point out the interesting bits as you pass them, like the Stranahan House, Broward County's oldest surviving structure, or Margaritaville, Jimmy Buffet's booze-themed resort. And, since this is Fort Lauderdale, the boats have liquor licenses and will sell you cold, cheap beer along the way.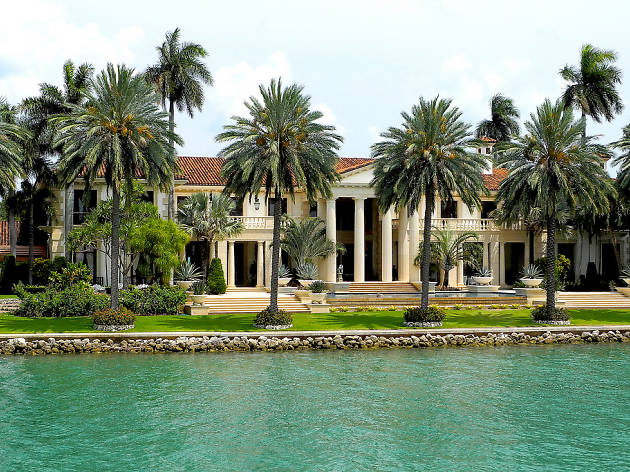 Photograph: Courtesy CC/Flickr/Jimmy Smith
3. Miami Millionaire's Row Tour
What is it? Miami's waterfront 'hoods are teeming with million-dollar manses—which, unfortunately, are off limits to us mere mortals. Your gateway to the lives of the rich and the mostly famous? A ride on the Millionaire's Row boat tour.
Why go? Cruise past Star Island, Palm Island and other private enclaves for a glimpse into the lives of stars like Gloria Estefan and Shaquille O'Neill, plus iconic movie locations from Wild Things, Scarface and others.
Photograph: Courtesy Viator
4. Adrenaline Junkie Jet Boat Tour
What is it? Raise your hand if you like going fast on a boat? Ok, us, too. And this jet boat tour promises just that: 30 minutes of pure adrenaline while you zip, spin and drift across blue coastal waters.
Why go? You'll take in the skyline, border the string of islands you've only seen from the highway till now and get back to shore faster than the time it'd take you to cross the causeway in a car.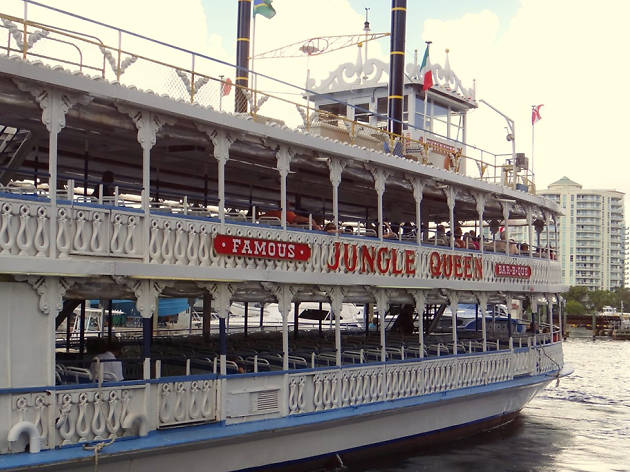 Photograph: Courtesy CC/Flickr/creativelenna
5. Jungle Queen Riverboat Cruise
What is it? The Jungle Queen cruise has been operating since 1935, taking folks on a scenic tour of Fort Lauderdale's winding waterways. And you can still book a trip on the Queen today, in all its original old Florida charm.
Why go? Do some simple sightseeing or cruise to a private island and watch an alligator show. There's a dinner cruise as well, featuring barbecue and a live variety show.
What is it? Explore the Everglades' vast and totally unique ecosystem while keeping a safe distance from the crocodiles, snakes and other creatures that inhabit the national park. These flat-bottom boats go fast, like hair-blowing-in-the-wind fast, but that's part of the fun.
Why go? Your tour along the River of Grass concludes with an alligator show on land, where you'll get the chance to pose with a baby gator. We promise, they're totally adorable.
Photograph: Courtesy Viator
7. Fort Lauderdale Cruisin' Tikis Tour
What is it? Imagine a little island tiki hut that succumbed to a gnarly squall, got lost at sea and eventually floated its way up Fort Lauderdale's New River. Cruisin' Tikis tours launch from the Historic Downtowner bar and last anywhere from two to four hours.
Why go? Why ride a boat to a bar when your boat can be the bar? Pack a cooler to bring aboard your private, petite tiki bar on the water. Partying with a larger group? Cruisin' Tikis has a multi-boat fleet available so you can caravan up and down the river.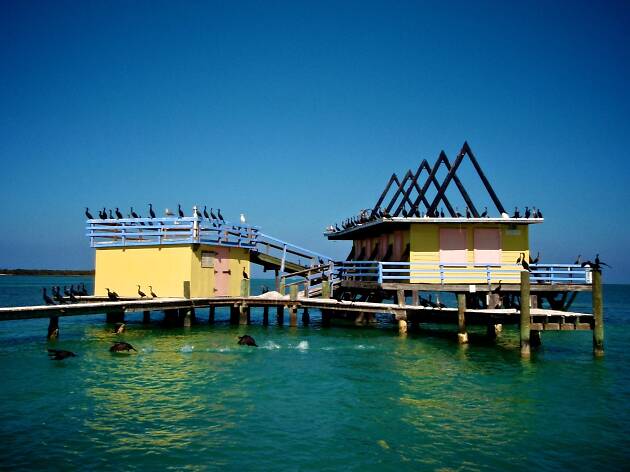 Photograph: Courtesy CC/Flickr/Zoë
What is it? Get a rare up-close view of Stiltsville, a curious Miami landmark of colorful, crumbling buildings originally built in the 1920s and '30s in the shallows on the northern end of Biscayne National Park.
Why go? Available as part of a daily two-hour Biscayne Bay sightseeing tour or customizable as a private tour, you'll want to book your time with Captain Matt, about whom National Geographic said: "A guided excursion could take you to the most spectacular place on Earth, but it is the operator who really makes the memory."
What is it? Pontoon boats aren't just for relaxed afternoons on the lake, namely because South Florida doesn't have many of those. But you can have your own adventure on the bay aboard a laidback vessel large enough for you and 11 friends.
Why go? Your captained tour includes life jackets and a large cooler. From there, you're welcome to bring your own food and drinks and add on a propane grill, water toys and other amenities for maximum fun.
Photograph: Courtesy Viator
What is it? Velvet ropes and bouncers can be a real buzzkill. Bypass the trappings of a night out in South Beach with aride on this party cruise aboard the Island Princess.
Why go? The 80-minute cruise by Biscayne Bay and the Venetian Islands features a live DJ, a cash bar and plenty of neon lights to keep your lousy dance moves under wraps.
Show more
Looking for things to do on land?
These sightseeing adventures lead the way to the city's top sights and eats