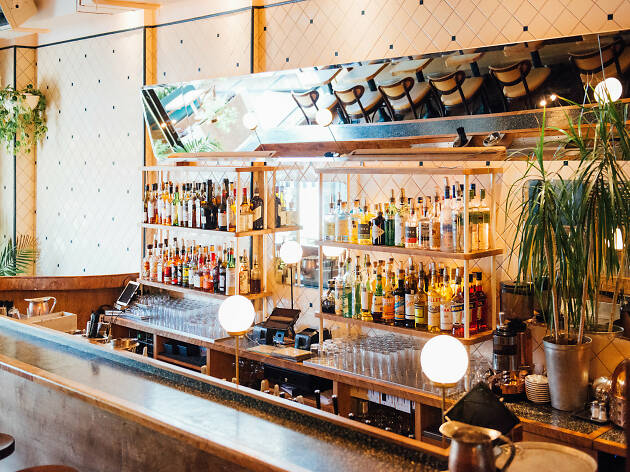 The 21 best Mile End bars for good times and great drinks
The best bars in Mile End are a motley crew of neighbourhood haunts, local beer champions and swanky digs
Plateau Mont-Royal is known for hosting some of the best things to do in Montreal—some of the best restaurants in the city and a plethora of festivals are found there—but it's secretly the Mile End and the good times at its best bars doing the heavy lifting in that equation. It's home to Montreal's independent music scene and some superb nightlife spots, the famous Montreal bagel, a bevy of creative industry hotspots and more places to whet your whistle than you can shake a stick at. The Mile End gets plenty thirsty, so pull up a chair next in one of the most interesting neighbourhoods of the city and have one on us.
RECOMMENDED: Full guide to the best bars in Montreal
Find the best bars in the Mile End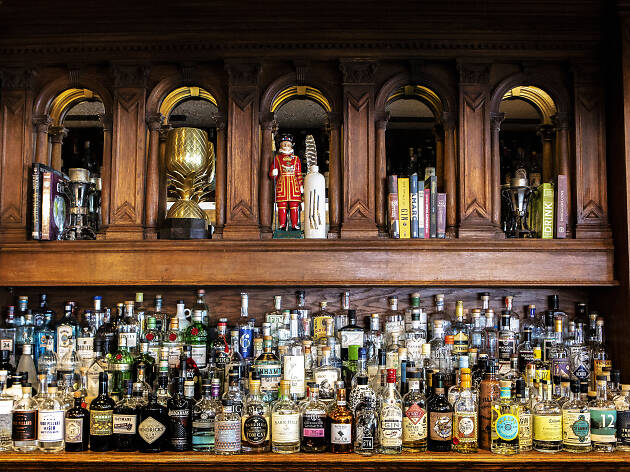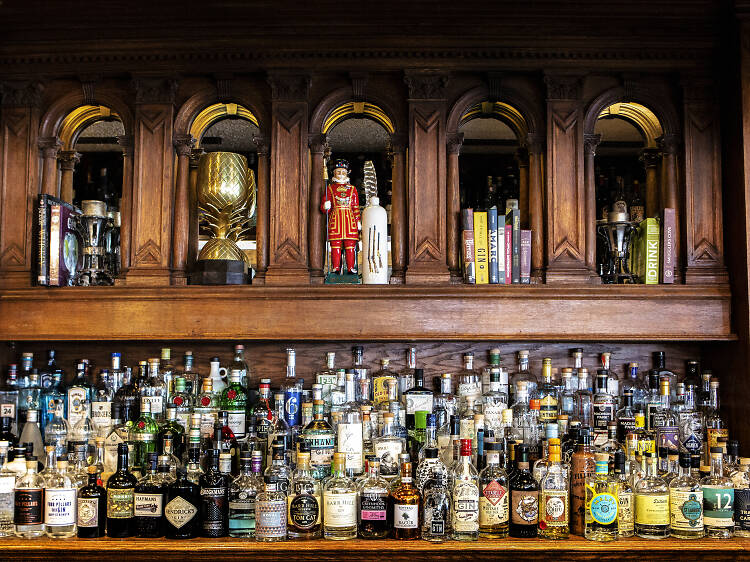 Photograph: Daniel Esteban
Quite the British affair for the beating heart of French Canada, this pub might look a little old-fashioned on first glance, but their approach is anything but. They may humbly describe themselves as a pub with good food, but the almost fanatical dedication to quality local ingredients has made Bishop & Bagg a mainstay. Gin aficionados owe it to themselves to make the pilgrimage here, as their collection is unrivaled province-wide.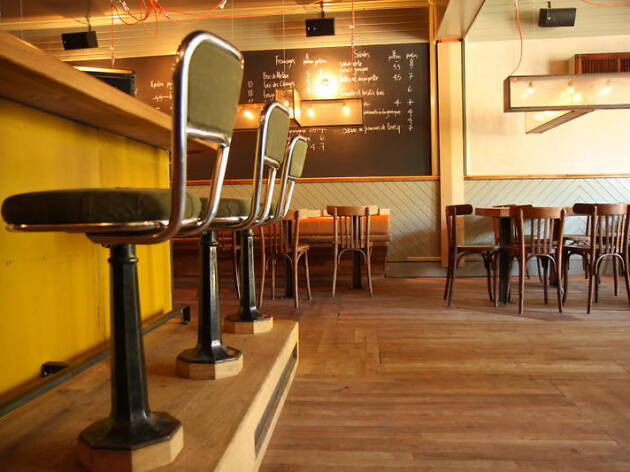 Photograph: Buvette Chez Simone
A trusted go-to for hip wine lovers in town. Its reclaimed wood, industrial chic aesthetic has been widely copied but never bested, and there are only a few establishments in town that can hold a candle to their rotating selection of fine wines. Its secret weapon is its kitchen which consistently impresses critics with light meals and tapas and punches well above its weight.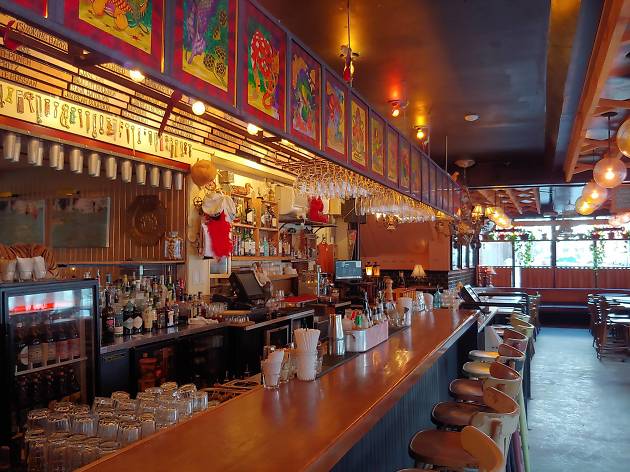 Photograph: @BarWaverly
This inviting corner bar acts both as anchor for the street and a magnet to its surroundings. Commanding the intersection on the corner of Saint-Laurent and Saint-Viateur, Waverly's dragnet catches everyone, from bleary-eyed game developers from Ubisoft's studios across the street to thirsty bagel bakers coming off their shift, and everyone in between. People flock from all over the neighborhood for drinks in the afternoon and edgy DJ sets after the sun goes down.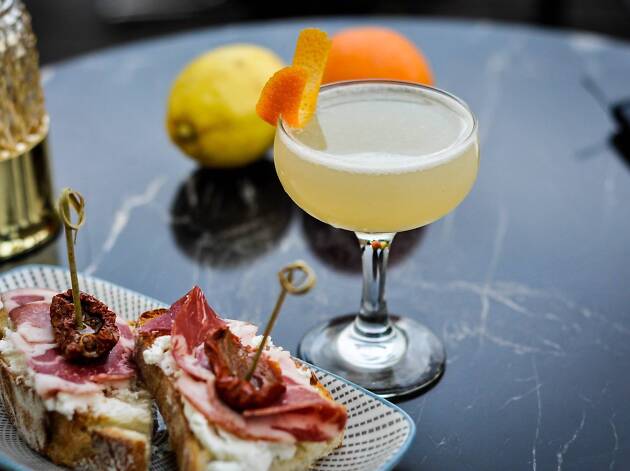 Photograph: Courtesy Bar Kabinet
This Imperial Russia-themed space is an operation of two parts: Le Kabinet opens daily as an espresso bar that specializes in Italian amaros, but also just so happens to serve up some of the most masterful and creative cocktails in the city. Datcha is the larger, late-night fixture that fuses with Le Kabinet Thursday through Sunday after 10pm to feature excellent local and international house, disco, funk and electro DJs.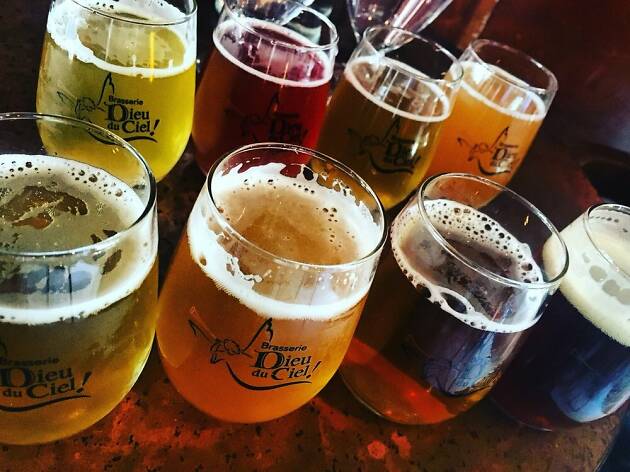 Photograph: Courtesy Yelp/Stacie S.
This unassuming space is secretly home to one of the progenitors to the now-massive Quebec microbrewery industry. Dieu du Ciel! has consistently pushed the envelope and still leads on the bleeding edge of the microbrewing world in its confident mixtures and unexpected flavors. The team has steadfastly remained true to their roots, and rather than a hulking impersonal brew-cum-laboratory, this bar is a welcoming local watering hole packed with locals.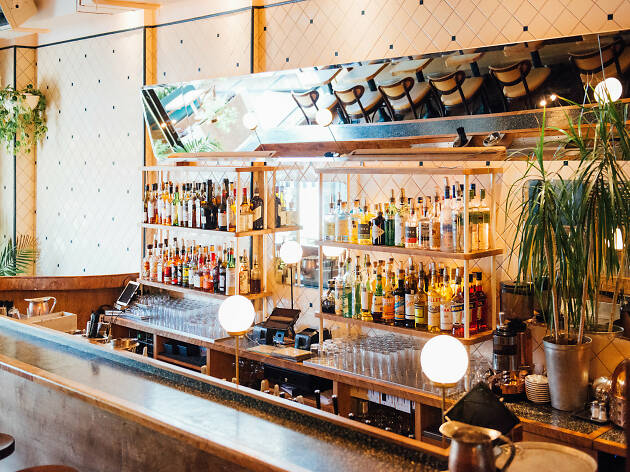 Photograph: Alison Slattery
You're unlikely to be able to resist the charms of this refined Portuguese-style neighborhood bar that hearkens back to the tightly-knit community taverns of the 1960s and 70s. Even if you weren't of age to remember them, you'll no doubt feel at ease and after enjoying a glass of champagne, a house cocktail or a pastel de nata, you might just feel at home.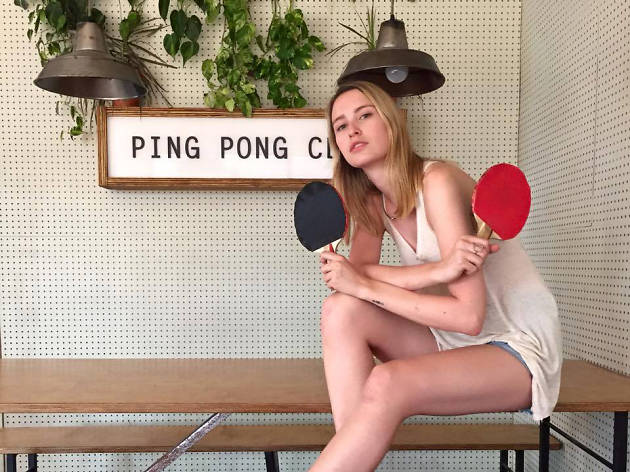 Photograph: @PINGPONGCLUBMONTREAL
A sports bar? Not exactly. Of course, there are TVs you can catch the hockey game on with a few pints but the real reigning champ here is ping pong. Offerings include beer, cocktails, a good handful of reasonably priced food options and it all comes in a hip contemporary space with the soothing tik-tok of a friendly ping pong competition nearby.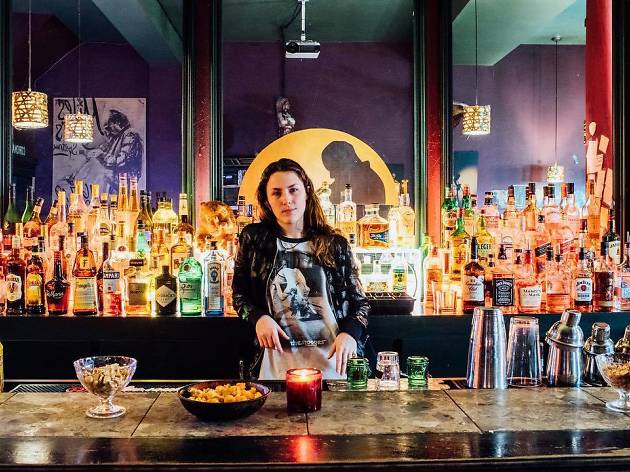 Photograph: Two Food Photographers
There's a special longstanding symbiosis between blues music and drinking. Sure, there are plenty of good live blues bars out there, but have you ever felt there was something missing? Maybe som snacks? Well, the proprietor of Snack and Blues certainly felt this way and happily, they've acted on it. Come for the stellar service and live blues, but stay for the endless stream of (free!) sweet and salty snacks.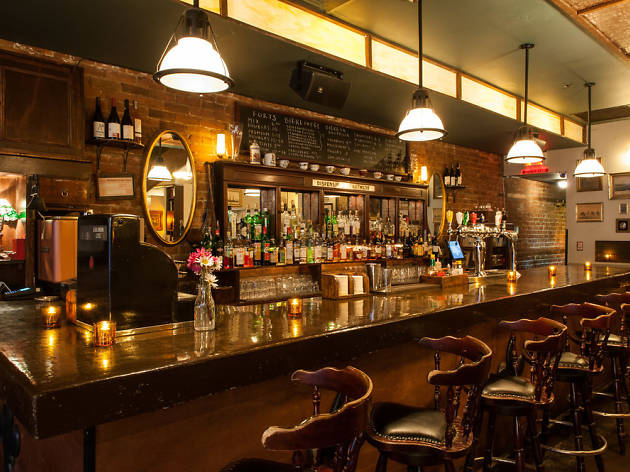 Photograph: Sparrow / lesparrowbar.com
This lovely bar is dressed in a vintage, almost antique style that comes across as almost nautical at turns, but in a cozy and sophisticated fashion. There's a battery of local beers on tap, in bottles and cans in addition to classic old-world cocktails, but it's the eclectic menu that shines with English scones, paneer tikka, Japanese poached eggs, za'atar sandwiches and more.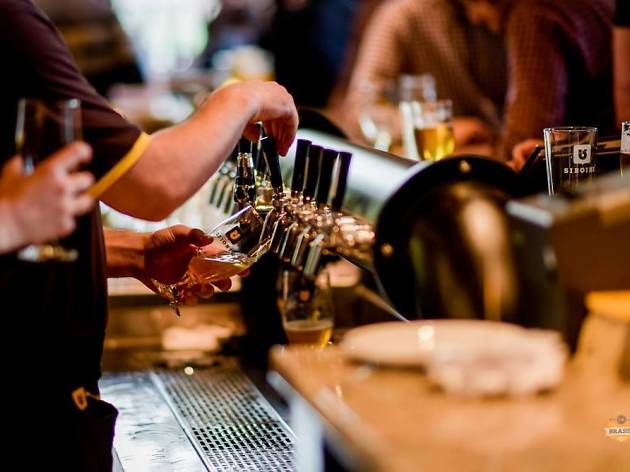 Photograph: Courtesy Yelp/Siboire
New(ish) kid on the block, Siboire is a microbrewery based in Sherbrooke that has recently moved to the big city and made a big splash with locals and tourists alike. A spacious and brightly-lit locale with high ceilings and full-length windows, it's a laid-back spot to decompress with a no-nonsense meal and a flight of Quebec microbrews after a day spent running around the various offerings around town.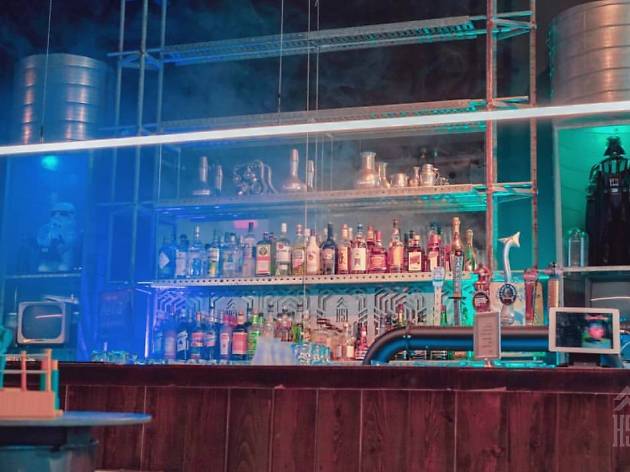 Photograph: Jordan Dorey
If you find yourself in a geeky, post-apocalyptic mood and want to let off some steam, you'd do well to check out Hangar 51. Order up a drink for some access to the retro lounge replete with board games, retro consoles, pinball and arcade games. If you're looking for something a little more intense, strap yourself into a "TESLA II" simulation pod to pilot a giant mech across a blasted landscape.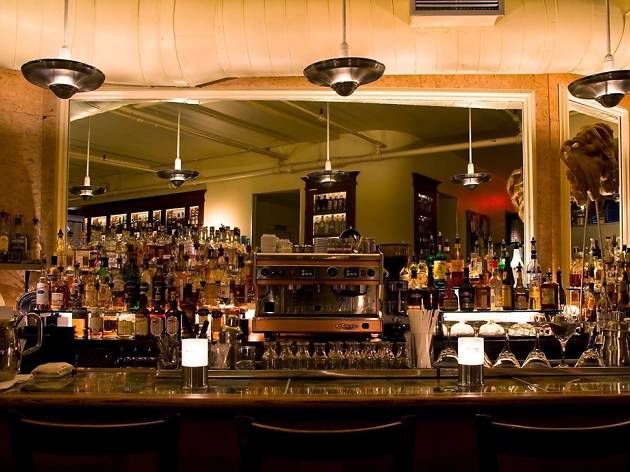 Photograph: @whiskycafe
An institution that brings to mind staterooms, hunting lodges and judges' chambers with its luxurious licorice-colored leather, handsome wooden furniture and zinc tables. Known, of course, for their selection of cigars and over 150 Scotch whiskeys in addition to a fine selection of port and other wines. Certainly the best place in town for you to pretend you're a captain of industry, scheming over your various holdings and laughing maniacally as you chomp at the bit of a cigar over your next deal.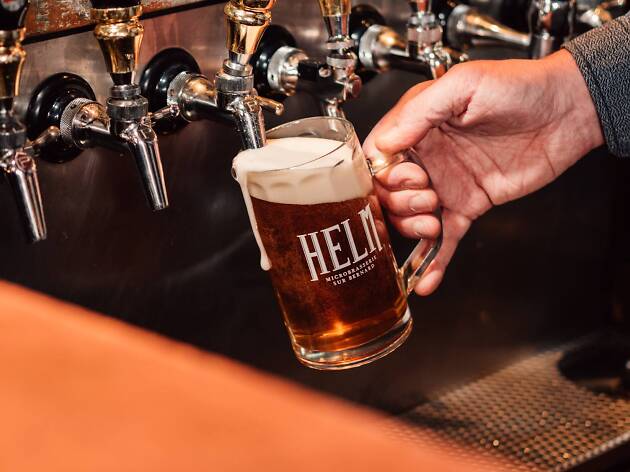 Photograph: HELM microbrasserie sur Bernard
Helm is a swish low-key bar and microbrewery that gets its name from an acronym formed from the ingredients list of beer in French: Hops, water, yeast and malt. It's dedicated to keeping the pretension that can surround microbrewing to a minimum and produces all their own beers on site. They also serve up a bunch of Quebec ciders and wines in addition to tapas and bistro fare for the peckish.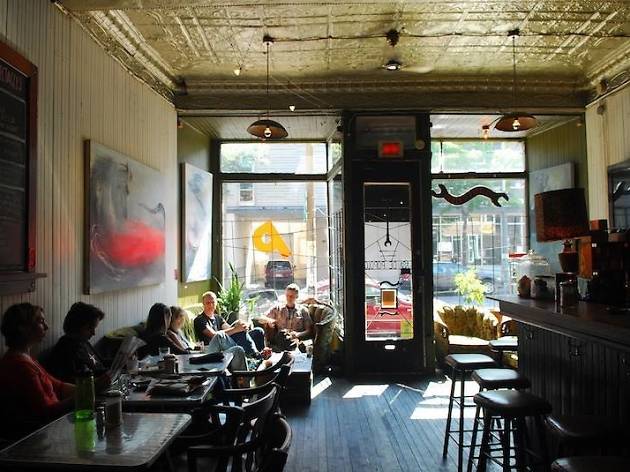 Photograph: Casa del Popolo
Casa del Popolo—that's "Casa" to its friends—is the second half of the Casa/Sala collective. Although unassuming from the street, it's the beating heart of the city's indie music scene and might be best described as Montreal's CBGB. To top it off, they were the pioneers in serving up microbrews and vegetarian food before it became hip, and they're still going strong.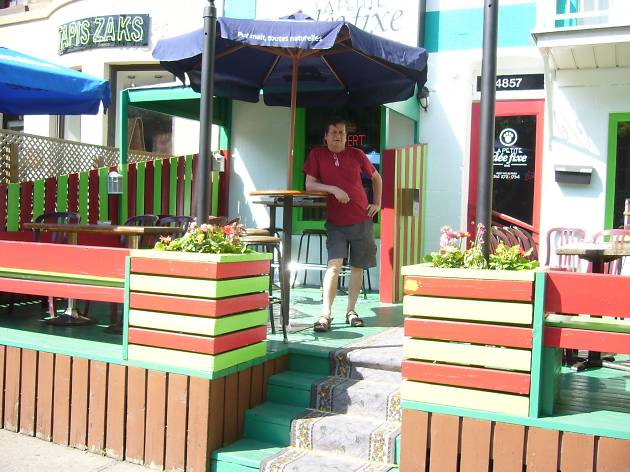 Photograph: La Petite Idée Fixe
The laid-back little neighbor of Buvette chez Simone, La Petite Idée Fixe isn't trying to be trendy and that might be why it comes off as so effortlessly cool. It's dimly lit, there's a pool table, a free jukebox full of classic guitar ballads and cheap tall bottles of local beer. 'Nuff said.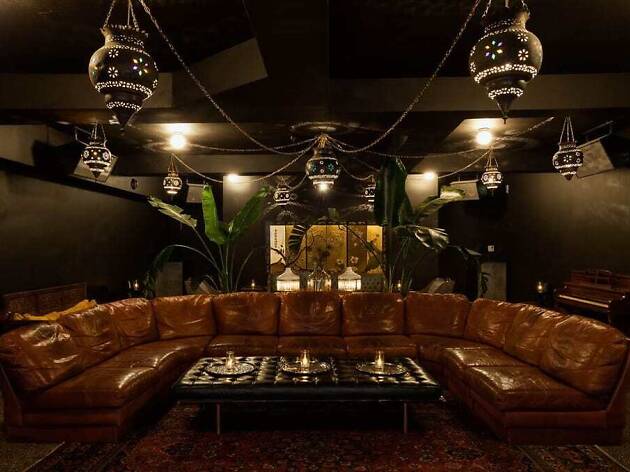 Photograph: Courtesy Yelp/Matthew B.
16. The Emerald / Le Bar Sans Nom
Stepping into this conjoined-twin of a bar is stepping into another time, another place. The front is tropical and verdant with giant palms. In the back it's an uncanny 1920s orientalist fever dream. Both halves of the bar mix up their respective Prohibition Era cocktails with practiced hands, and it's this bar's dedication to the art of these classics that make it one of the premiere speakeasies in town.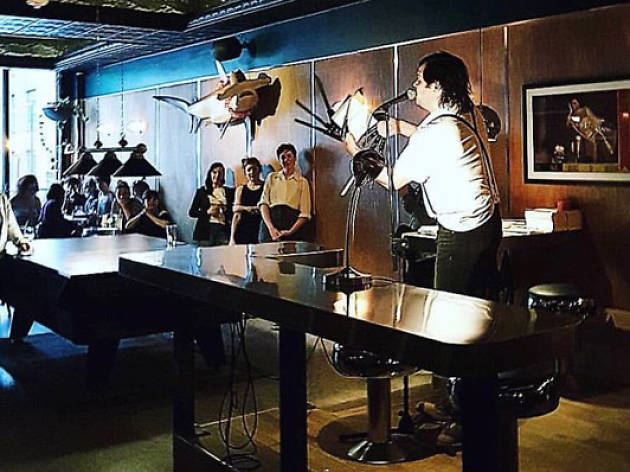 Photograph: Isabelle Soler
It might have been opened by a handful of Montreal's elite restaurateurs, but it leaves any and all pretensions at the door. Pélican takes it easy and urges you to do the same. The nautical leitmotifs in the decor are sophisticated, but a quirky mounted shark hangs as a constant reminder not to take things there too seriously. Boasting a pool table, TVs for sports (and silent movies!) and a straightforward beer, wine and cocktail selection, it might just be paradise.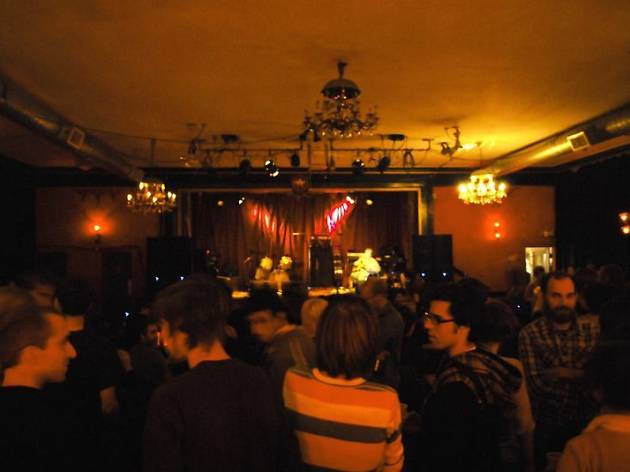 Photograph: Norsola Johnson
The Sala Rossa—or just "Sala" to locals—is one half of the team that includes its sister enterprise Casa del Popolo right across the street. An intimate Spanish-themed event space, it evolves into a killer music venue at night hosting weekly DJs, monthly spoken word nights and tons of local and international acts ranging from the virtually unknown to the world famous. Definitely the place you want to be for brews and ballads when the musical festival Suoni Per Il Popolo is in town.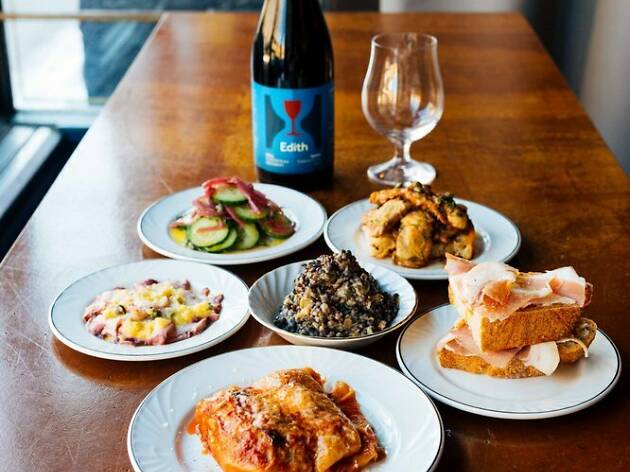 Photograph: Courtesy Yelp/Bri G.
This charming French wine bar opened as a free-form offshoot to well-respected restaurant Lawrence. It opens seven days a week for breakfast, lunch and dinner, and functions both as a casual bar and a restaurant for elevated fare that incorporates homemade charcuterie from their sister business Boucherie Lawrence around the corner—all that, and it's for a reasonable price to boot. The wine list is loaded with private imports and natural wines, but fear not, the service is convivial and down to earth.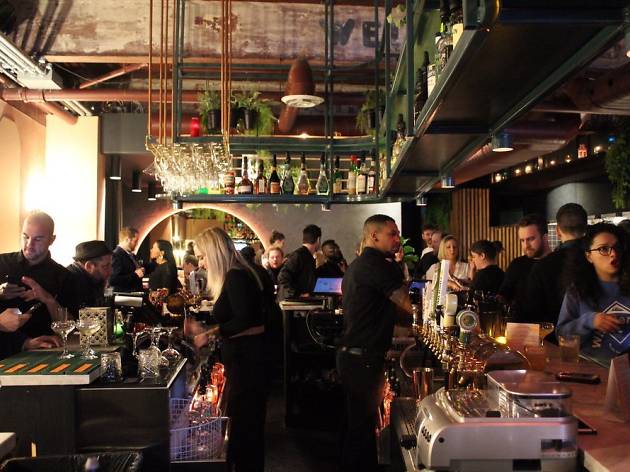 Photograph: Courtesy Yelp/Ghyslene L.
20. JackRose Table & Club
This cosmopolitan resto/bar/club was formerly an auto body shop and interestingly enough, certain elements remain such as the steel I-beams running across the ceiling with faded welding advertisements. The main focus is the central wrap-around bar where clients order signature cocktails, beer or wine and then are encouraged to circulate organically through the segmented space, finding their perfect niche. The kitchen is open till 11pm and then the party doesn't let up till 3am.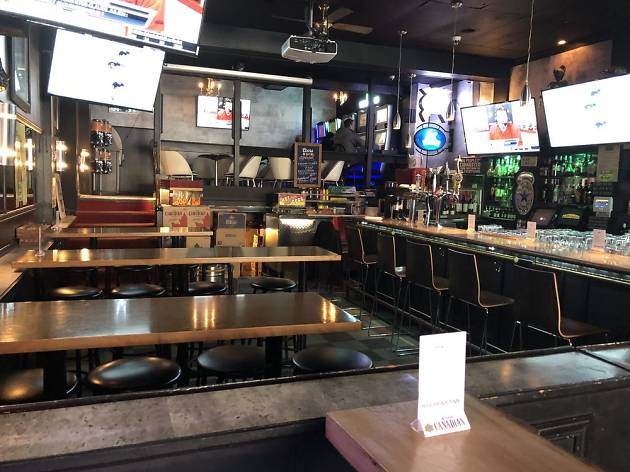 Photograph: Courtesy Yelp/Primetime B.
Simply put, Bar Primetime is a dive. That being said, it might be exactly what you're looking for. Here at Time Out, we know that—as interesting as a ping pong bar or a 1920s Ottoman empire-themed speakeasy might be—sometimes you don't want to fuss around. You just want a trusted bar with a kind bartender, cheap domestic beer, a pool table and a TV to watch the game on. Enjoy.
The best restaurants in the Mile End
Small and sturdy, the best Mile End restaurants help make its neighbourhood one of the coolest spots in town to dine out.
The best things to do in the Mile End
Use this guide to find the best things to do in Mile End, the world-famous hipster haunt and bohemian borough.
Best selling Time Out Offers