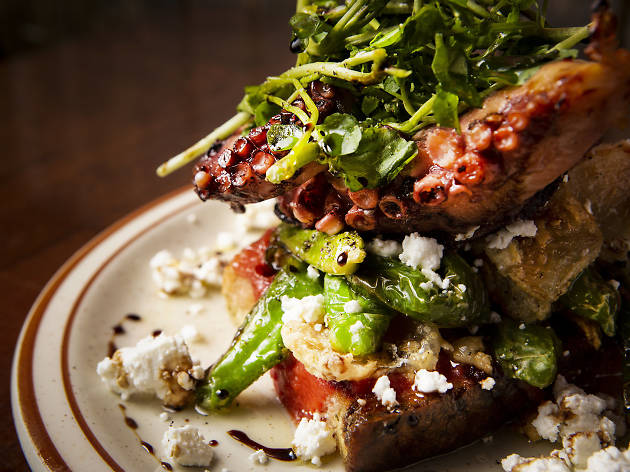 The best restaurants of Montreal's Mile End you need to eat at
Small and sturdy, the best Mile End restaurants help make its neighbourhood one of the coolest spots in town to dine out
Montreal's Mile End is small nieghbourhood that's densely packed with a ton of culture, and if something's rich in culture, it's rich with some of the city's top spots to eat. The number of boutiques, cafés with the best coffee and famous bagel shops found along streets like Van Horne and Mont-Royal make the area an amazing microcosm good living, but make no mistake: The most noteworthy aspect here is the diverse combination of beloved iconic food, cheap eats for students, young guns serving unique takes on classics and Michelin-calibre restaurants that receive regular critical acclaim. There's no dearth of dining options here, but knowing where to begin is the key, so try to keep up.
RECOMMENDED: Full guide to the best restaurants in Montreal
The best restaurants in the Mile End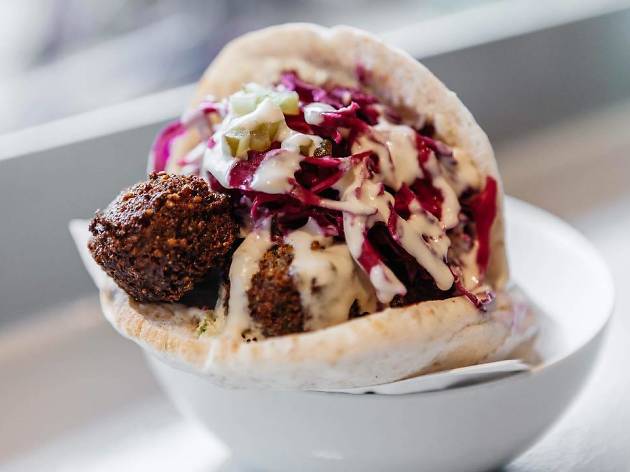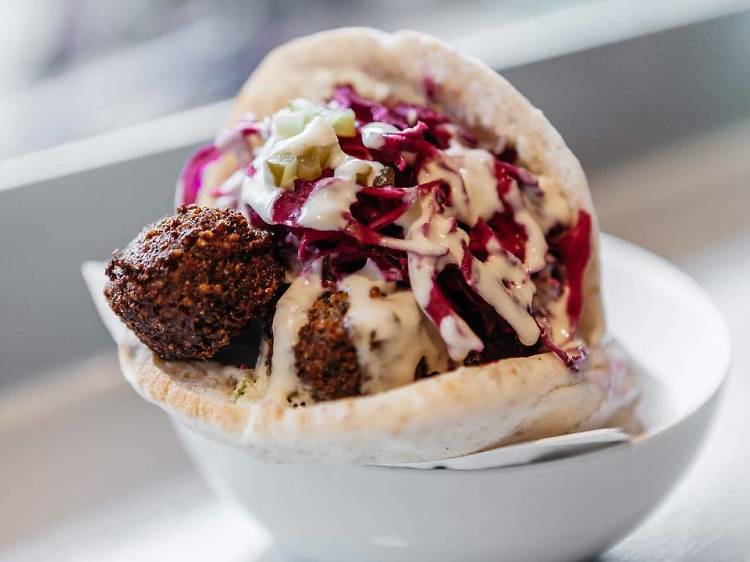 Photograph: Two Food Photographers
Falafel Yoni's the Mile End's hot new hipster restaurant for Middle Eastern street food. It's a good place to drop-in for a quick bite with their fast, friendly service and a minimalist menu which makes decisions easy. Patrons can choose between a falafel pita, a falafel salad, a sabich (an egg and eggplant) or a hummus plate. The sandwiches here are rich in flavour, making this a hearty and satisfying eat on even the coldest of Montreal's winter days.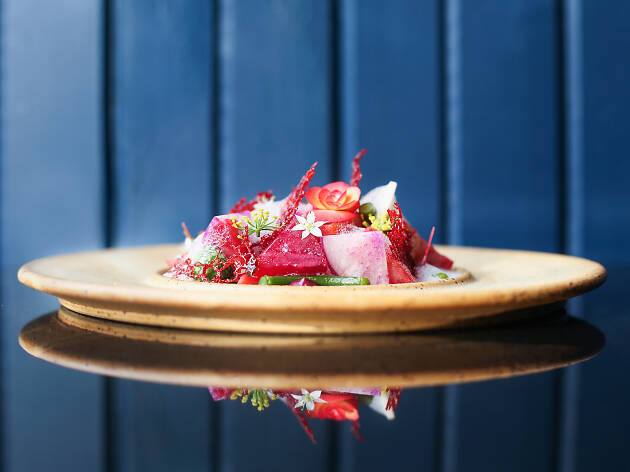 Courtesy Île Flottante
The restaurant that once was the highly-regarded Les Deux Singes de Montarvie reopened in 2017 as Île Flottante, and has earned rave reviews for its vegetable-forward tasting menus ever since. Head chef Sean Murray Smith uses primarily local and seasonal ingredients to put together his ever-changing menu of innovative dishes, but because the list is changing so often, it's hard to know exactly what you'll get when you go in for dinner. What we can promise is that it's innovative, and we can definitely promise it'll be good.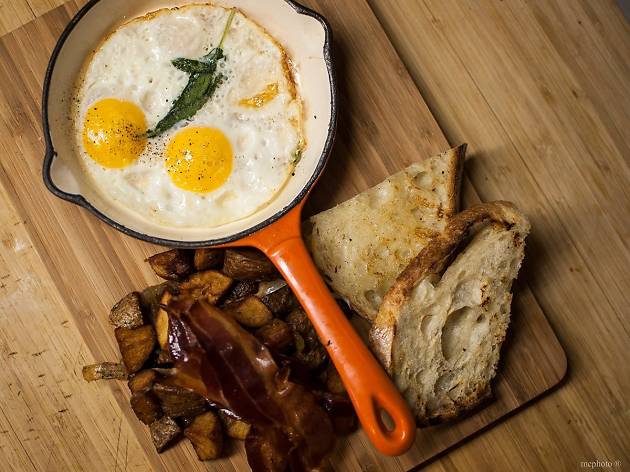 Photograph: @TheSparrowBar
Known best for its cocktails and its brunch service, Sparrow is a cozy spot on St-Laurent Boulevard between Fairmount Avenue and Saint-Viateur. Complete with low lighting, vintage decor and exposed brick walls, this spot is great for dates and other intimate gatherings. Its dinner menu's vegetarian with dishes like garam masala cauliflower and the grilled cheese with tomato chili chutney. Its brunch menu is comprised mainly of edgy spins on classic weekend morning favourites, like buckwheat pancakes and a Turkish breakfast plate.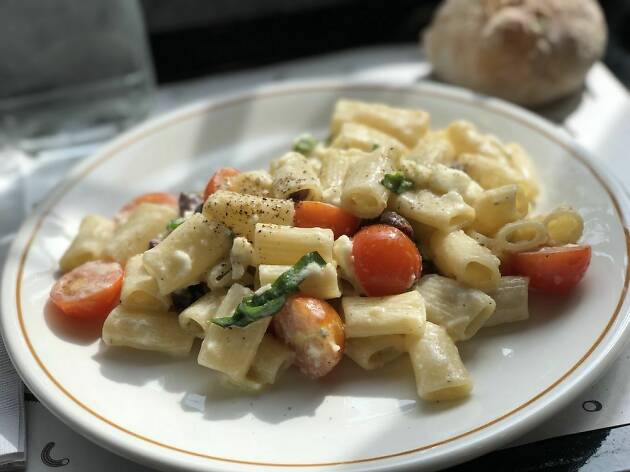 Photograph: Courtesy Yelp/Yen Q.
The first installment of this Italian joint from the owners of the beloved Club Chasse et Pêche, Il Miglio serves up the best fresh pasta in the area. It's a casual lunch counter that caters primarily to the ever-growing body of office workers in the Mile End, and no two lunch days are the same here. Headed up by pasta maker Giovanni Rasile, Il Miglio's offerings on any given day are determined by what's written on its chalkboard menu. In addition to its hearty pastas, Il Miglio serves a number of pastries prepared by Club Chasse Et Pêche's head chef Masami Waki.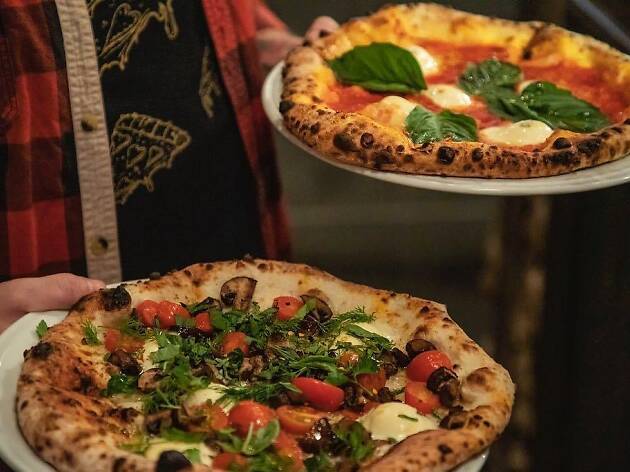 Photograph: Courtesy Pizzeria Magpie
This cozy upscale pizzeria makes for a superb date spot, tucked away on Maguire Street off of Saint-Laurent Boulevard. Its low lighting and copper tiled ceilings give it a warm and inviting ambiance, as does its gooey Neapolitan pizzas. You can't go wrong with their Margherita, but if you're looking for something a bit more exciting, the spanakopizza or the chèvre and pancetta pies are strong bets.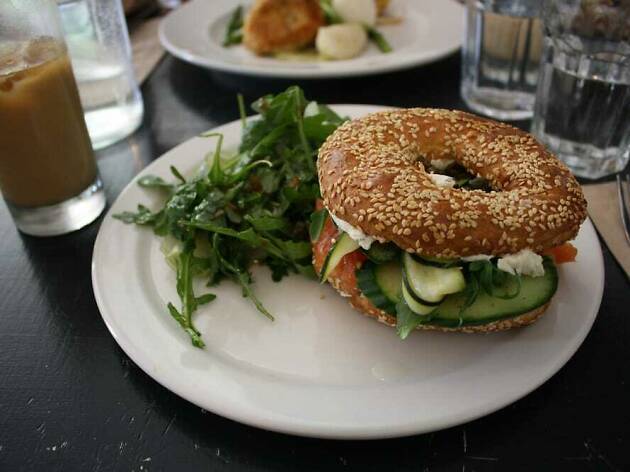 Photograph: Courtesy Yelp/Jessica M.
Its name is deceiving: This quaint spot on Fairmount Avenue is more of a restaurant than a cafe, meaning it's more than just lattes and outlets jammed with latop chargers. Folks are sometimes surprised to find table service and a vibrant brunch here. Notable choices from their weekend brunch menu include shakshuka and the classic breakfast plate which comes complete with eggs, potatoes, and toast.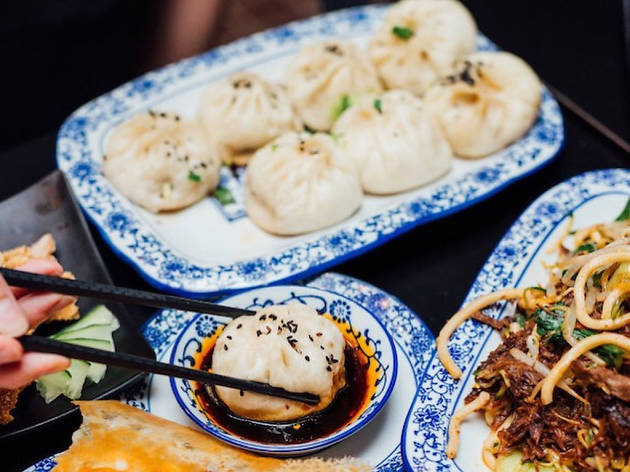 Photograph: @harbindumplings
More often than not, you'll find a wait at this no-frills house-made dumpling jaunt. That's because it serves some of the best dumplings in the citywhich come steamed, boiled, served in chicken broth, or pan-fried and complete with a crispy skirt. It's relatively affordable too: $9 to $11 will get you 12 dumplings, enough to leave the restaurant full and with leftovers in hand. Choose between lamb, seafood, chicken, beef, vegetarian-friendly (egg and chive) and vegan-friendly (tofu and vegetable) fillings.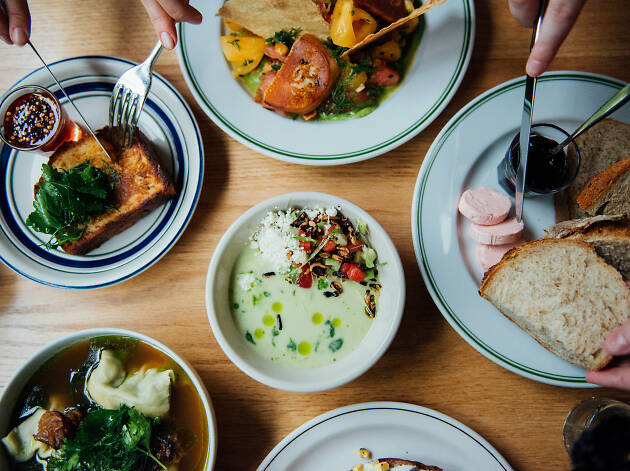 Photograph: Alison Slattery
Located on the edge of Mile End near the Van Horne overpass, Le Butterblume is a trendy breakfast and lunch spot with a cool, airy interior. We recommend sitting at the bar: You'll get a close-up view of the chefs preparing your dish with speed and finesse. The radish tartine, served on a thick slice of homemade bread and topped with a poached egg, is a crowd favourite among a long list of gems. But be warned: Le Butterblume is often busy, so you may end up waiting. Once you're in, however, the impeccable food and buzzy atmosphere are worth it.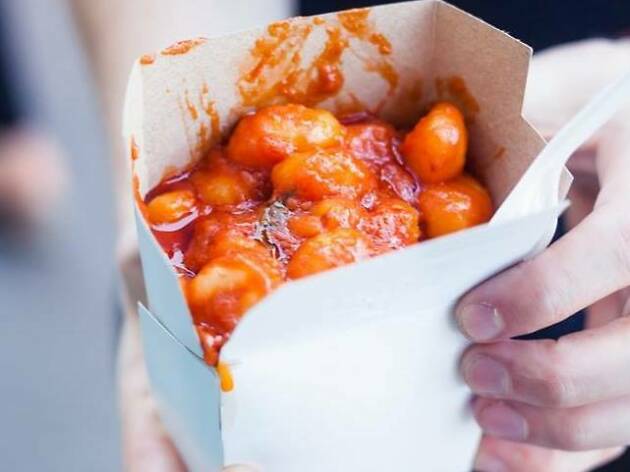 Photograph: Courtesy Drogheria Fine
This spot is a take-out counter, not a restaurant, but it still makes this list because it serves some of the best gnocchi in the city. The secret? Its gnocchi is set to cook in a homemade pomodoro sauce until it reaches gooey perfection, to be served in Chinese food takeout boxes and topped with parmesan cheese and red pepper flakes for only $5 a pop. It's a great place to stop for a quick and filling lunch on Fairmount and Clark.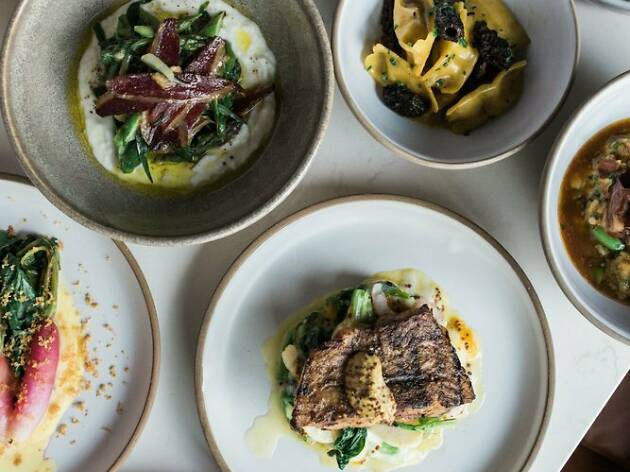 Photograph: Courtesy Yelp/Lawrence
A busy spot during brunch time, Lawrence is an English-inspired restaurant known for serving meats butchered next door at their butchery that crafts some amazing charcuterie. Every dish is an inventive take on a classic no-frills dish found in the UK. Try their smoked salmon and deviled eggs or their baked eggs with celery root and mushrooms. If you're looking to get really down to earth, their bubble and squeak (a cabbage and potato-based dish) is an essential part of any English breakfast.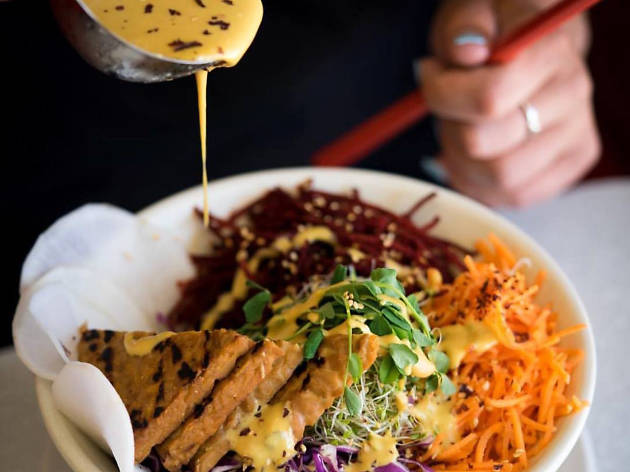 Photograph: @auxvivresplateau
Known for being the first vegan restaurant in the city, Aux Vivres has been serving meat- and dairy-free food to the Mile End since 1997. It's grown in popularity tremendously since—you've probably seen its signature packaged sandwiches and bottled dressings at numerous vendors around the city. While their whole menu is full of filling meat and dairy substitutes, their brunch offerings are particularly notable with huevos rancheros made with tofu scramble or their golden pancakes topped with cashew cream.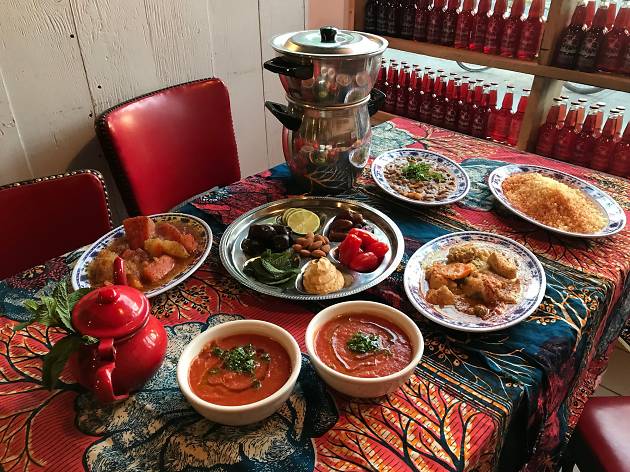 Photograph: @RestoLaKhaima
This Bring-Your-Own-Wine restaurant will transport you immediately out of Montreal and into a Bedouin camp. Sit on cushioned benches within colourful patterned walls and pick from a number of hearty plates inspired by traditional African flavours. This restaurant is a go-to for groups; it's size is perfect for parties of 20 to 30, and its round-table bench format bring patrons together over shareable plates.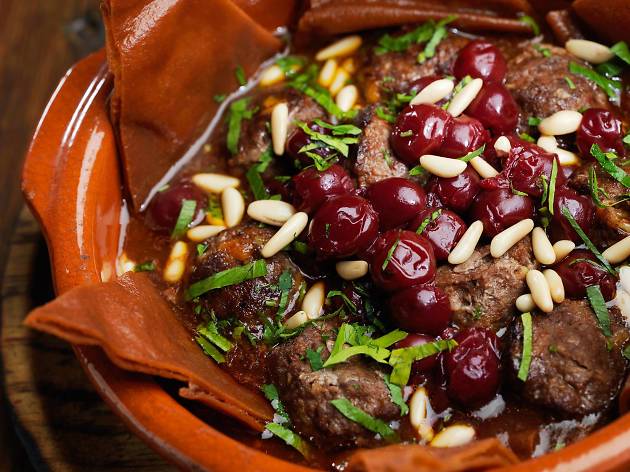 Photograph: Vadim Daniel Photography
This Park Avenue gem does Middle Eastern cuisine fantastically. It's known best for its mezzes; pick three or five dishes from a list of 11 that includes hummus, baba ghanouj and labne. While this is undoubtedly the best route for a vegetarian-heavy crowd, KazaMaza also serves a number of meat dishes like keftas (minced lamb skewers) and mazwats (braised lamb shanks). The fatteh, above everything else, reign supreme here with its layers of baked pita, hummus and meat with a drizzling of pomegranate.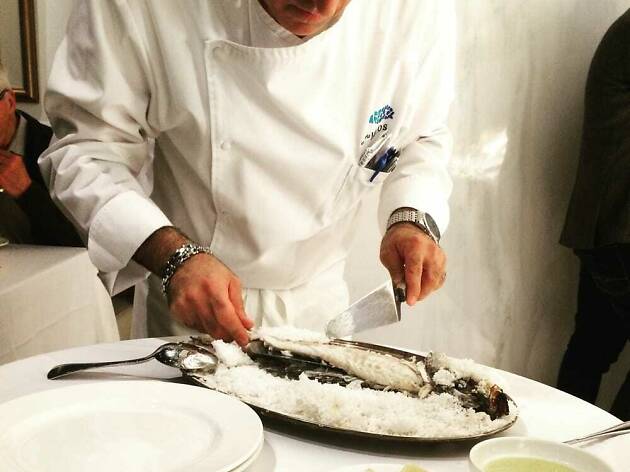 Photograph: Courtesy Yelp/Victoria X.
One of the city's best Greek restaurants is in the Mile End. Located on Park Avenue, this restaurant is on the pricier end, but its seafood dishes are well worth it. While Milos serves delicious plates of lobster and calamari, the one dish critics and loyal patrons alike can't stop talking about is the Milos special, an ornate pile of fried zucchini slices topped with tzatziki sauce and fried saganaki cheese.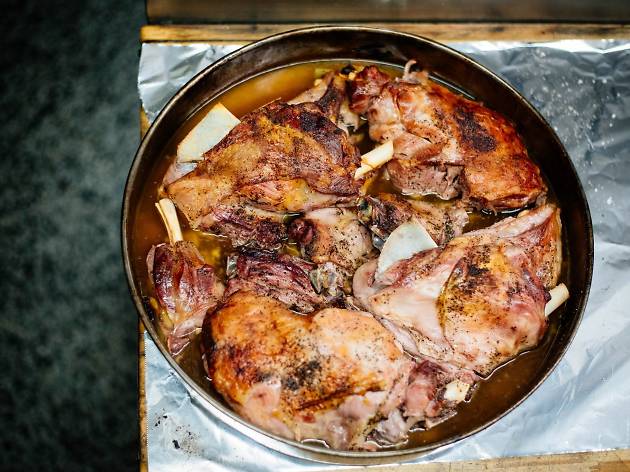 Photograph: Mythos Ouzeri Estiatorio
15. Mythos Ouzeri Estiatorio
Another noteworthy hub for Greek food on Park Avenue, Mythos Ouzeri is a vibrant spot best visited during the summer when their terrasse is open and there's space to empty outside after dancing to their live music late into the night. Indulge in any number of melt-in-your-mouth authentic Greek offerings like spanakopita and stuffed vine leaves. This spot is also great for groups, giving parties an option between two different set menus at $52 and $60 per person.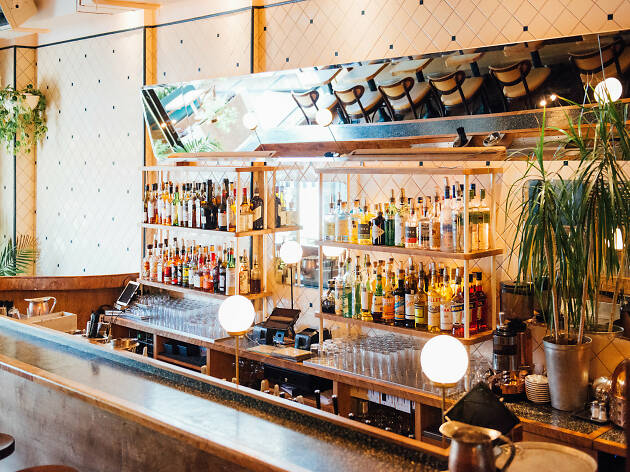 Photograph: Alison Slattery
Located among the many trendy boutiques that line Laurier Street West, Bar Henrietta is easily distinguishable by the warm ball-shaped chandeliers that line its perimeter. While this spot is first and foremost a bar that serves an array of well-picked wines and cocktails, it also boasts a bountiful Portuguese-leaning food menu that betrays the size of their kitchens. Expect fresh oysters, squid ink rice, and numerous bright and refreshing salads as well.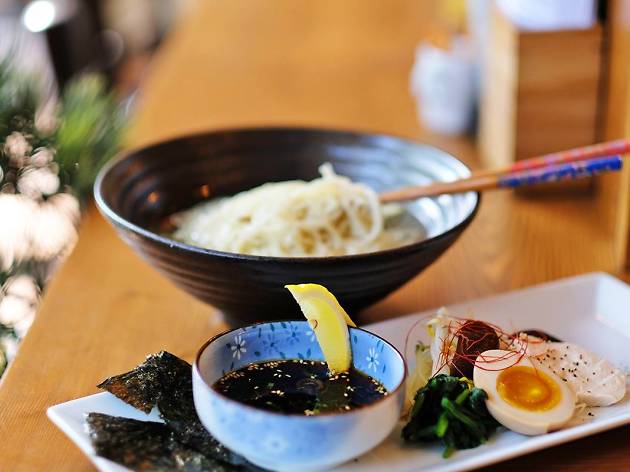 Photograph: @Tsukuyomi.ramen
This trendy Japanese restaurant on the corner of Fairmount Avenue and St-Laurent Boulevard is highly regarded for its ramen. Its interior is quaint and homey with its wood furnishings and colourful tiled walls, and its service is quick and simple: Ramen orders are taken via little slips of paper and are served within minutes, making this an easy go-to for a quick lunch out.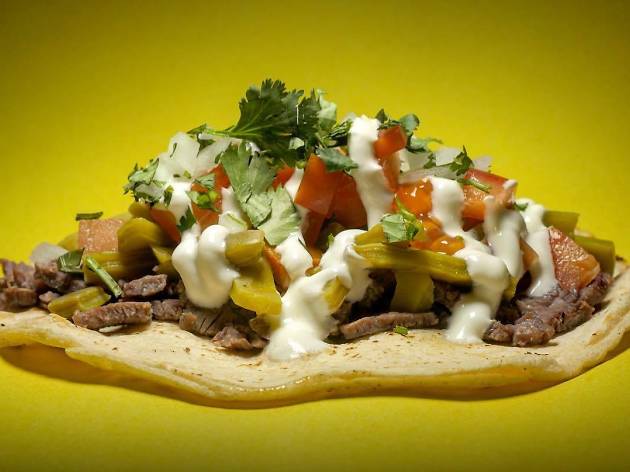 Photograph: @tachidomontreal
If you're one of those people who think that Mexican food isn't well represented in Montreal, you're doing yourself a disservice by not coming to this restaurant. Ta Chido's long been a favourite of locals for dishes both Mexican and Tex-Mex, from heaped bowls of guac with tortilla chips and mole sandwiches to quesadillas and some seriously awesome tacos. Grab yourself a margarita and sit on their street terrasse and enjoy the view.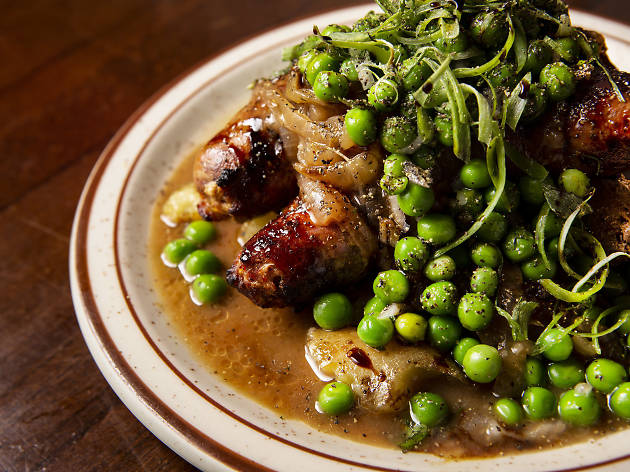 Photograph: Marcia Hum Photography
First and foremost an English-style pub, Bishop & Bagg, located on St-Viateur and Clark streets, is home to a vast menu of brunch, lunch, and dinner items. Try their seared steak or Bagg Burger if you're feeling famished. Those looking for something a little lighter, fear not: Bishop & Bagg offers several pub snacks to enjoy alongside a pint, like spiced nuts and marinated sausage. Whatever you get, it'll be a great follow-up to drinking from their extensive gin collection.
Best bars in the Mile End
The best bars in Mile End are a motley crew of neighbourhood haunts, local beer champions and swanky digs.
Best things to do in the Mile End
Use this guide to find the best things to do in Mile End, the world-famous hipster haunt and bohemian borough.
Best selling Time Out Offers