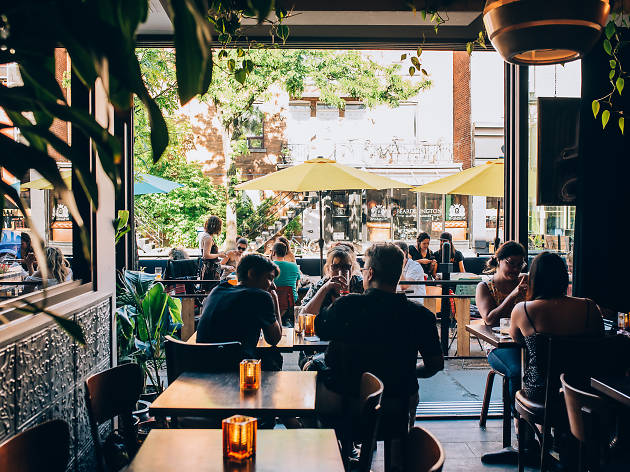 Verdun bars for fine wines, crafty beers and tasty cocktails
Since its flip from being a totally dry borough in 2010, the scene for Verdun bars has been steadily rising and shining.
Editor's note, October 2020: Bars are having a tough go of it with the pandemic forcing their closure. However, some bars you'd assume closed until further notice are still keeping their kitchens open. If you have a spot you love, check and see if they're serving takeout and help keep them afloat in these trying times, pick something up, take a pic and post it with the #LoveLocal hashtag.
The scene for Verdun bars is small, but that's only because the borough had a ban on Montreal's taverns, nightclubs and cabarets banned since 1965. In 2010, the taps were turned back on, and the handful of names the Wellington Street thoroughfare now boasts are booming. It's taken under 10 years for the area to sport some of the best cocktail bars and best beer in Montreal. However, given the ongoing ready-to-burst status of neighbourhood, we've opted to include every name that can provide frothing pints, tasty cocktails and robust wines. Lucky you: They're all worth a shot as solid spots to grab a drink.
RECOMMENDED: Full guide to the best bars in Montreal
Verdun bars for fine wines, crafty beers and tasty cocktails
As soon as they opened up in the summer of 2020, Verdun Beach immediately caught fire. No wonder: Owners Charles Garant, Marc Frandon and Philippe Jacquelin have some serious mileage in Montreal's hospitality industry that show in every visit, and Frandon's importing experience brings in the best bottles of wine (see: over 100 bottles from thirty different winegrowers) to enjoy in its surfhouse décor—don't skip on their house cocktails and beers either. We'll always miss Balconville, the ones who held the lease previously, but we're glad to know it's been replaced by a formidable arrival.
The owners of Saint-Henri's Bar de Courcelle and Little Burgundy's Drinkerie Ste Cunégond know how to run a good bar, and the proof is found right here. Bar Social is their latest operation doing pitchers of cocktails and cold pints from a 60-foot-radius bar decked in mirrors and lights with an art déco feel. That bar in the center's worthy of note, as it puts access to drink central as patrons carouse late into the night. The party vibes are super strong here, but that just means there's all the more fun. If you go during the day, try their menu for some solid grub.
The first real-deal cocktail bar to arrive in the neighbourhood, Palco delivered on all of its promises of lively evenings of entertainment, great snacks like sliders and oysters, a beautiful interior with an equally gorgeous back terrasse, and—most of all—solid mixology skills to enjoy alongside two-step speedrails to hammer back. Spirits are literally and figuratively high here, as the range of bottles to mix classics and request with run deep while locals love to gather here. For a true test of their skills, dive into their menu of signature creations and don't look back.
Verdun welcomes this bar with wide, wide open arms when this Belgian-style microbrewery opened up in full force following the borough voting to no longer be a dry community in the city. Benlux had to start out by offering a you-need-to-eat-to-drink menu that's since secondary (but still awesome!), and has since been pulling taps to serve its beers by the pint and growler. Everything deserves a taste, from tpilsners and hefeweizens to milkshake IPAs, so it's recommended you go for a flight when you're visiting. Best of all (when it's open), the back terrasse is one of the best in Montreal. It's great for pub quizzes, too!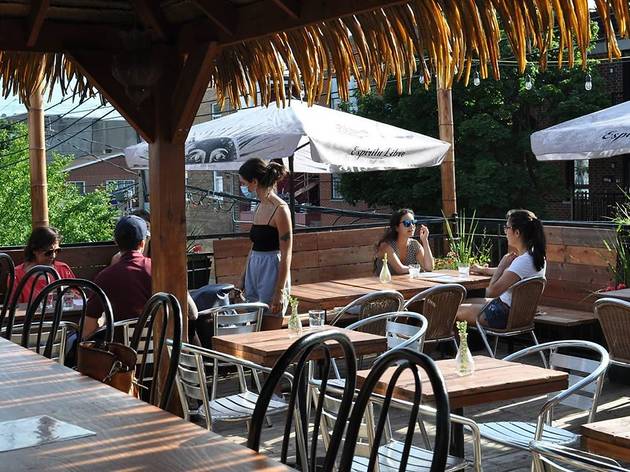 Photograph: @churchst.pub / Instagram
Opening in the previous location of Chez Anas, a Montreal curio with tiki trimmings and a whatever-we-feel-like menu, Pub Church St. focuses on being a bar first and foremost that took full advantage of its tropical rooftop with cheap happy hour deals. They're sporting some house creations on the cocktail front and creative pub eats as well (try the Dorito-crusted burger!), and while it remains as an in-the-know newcomer in the borough for now, we've been and can confirm: The vibe is good, the drinks are cold and cheap, and it's worth the trip in the middle of summer most of all.
One of three locations for this Irish pub chain in the province of Quebec, Le Trèfle excels at criteria of good eats, good scotch and pitns and good vibes. It's strangely dark when you walk in, but honestly? We kind of like it. It's like diving into a pint of Guinness. The location's arrival in Verdun was a welcome one for a prim and proper pub—one of the best options in Montreal, in fact—and there's no question about whether we'd spend a hard day's pay there. Nothing cures the proletariat blues like a cold one. (Note: they rent out their upper floor if you're looking for a place to throw a bash)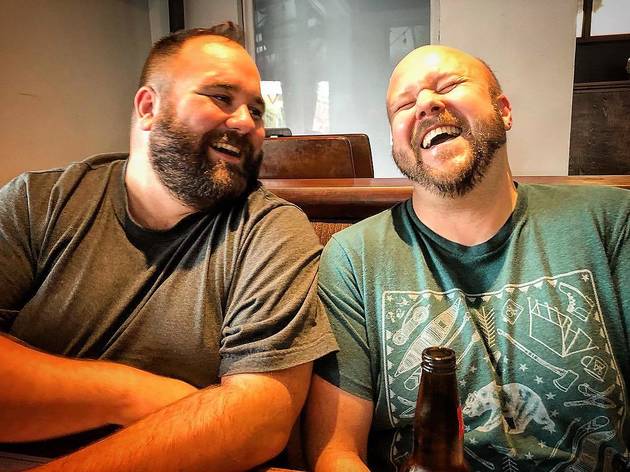 Photograph: @aj_holde / Instagram
First and foremost a diner for massive breakfasts by day and late-night poutine and burgers, it's also got a sixteen-person-capacity dive bar in the back. If you're looking for a place to hide away, or the flashier newcomers of the borough aren't up your alley, this is where you can sit back and listen to Top 40 hits from the jukebox, slug at a quille of Labatt 50, and play a couple rounds on a VLT machine. Play nice with the bartender and they'll throw you a shot for good behaviour.