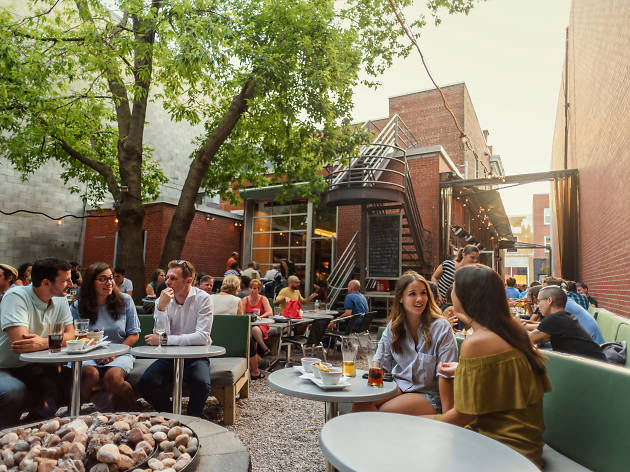 Where to find the best terrasses in Montreal
Enjoy some sun-drenched, boozy and gastronomical good times with this guide to finding the best terrasses in Montreal
Montreal's vicious winters can turn even the most ardent of outdoor enthusiasts into subterranean hermits, but with the slightest hint of good weather we kick open the doors, fling windows open and bask in the al fresco glory of the city's best terrasses (that's "patio" for English visitors out there). The best things to do in Montreal are made all the better with a little added sunshine, and whether you're in the mood for good cocktails bars, fantastic rooftop bars or are fixing for a more refined dining experience in a secluded Old Montreal courtyard? These bars, cafés and restaurants in Montreal stand at the ready.
RECOMMENDED: Full guide to the best restaurants in Montreal
The best terrasses in Montreal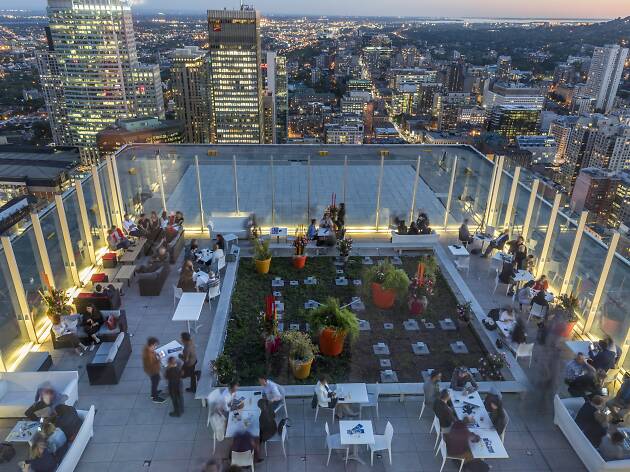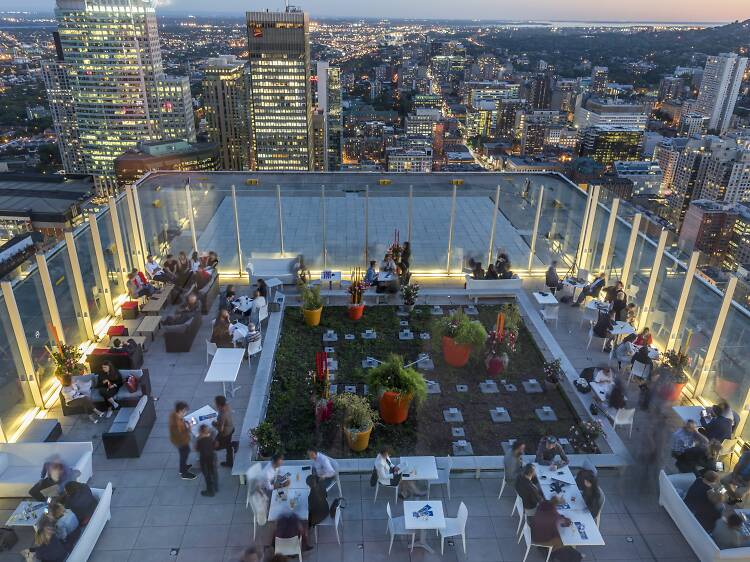 Photograph: Eva Blue
1. Les Enfants Terribles (Place Ville Marie)
It's a shame when the only thing between you and panoramic view of the city is a brick wall, clothesline, satellite dish or a water tower. When the perfect terrasse experience demands an uninterrupted 360-degree view of Montreal, then only the tallest in town will do: Les Enfants Terribles is perched on the highest level of the Place Ville Marie in the heart of Downtown Montreal. Atop this Montreal attraction, you'll find a French restaurant and spectacular observation deck onto the city, the Saint Lawrence River and the sprawling countryside beyond.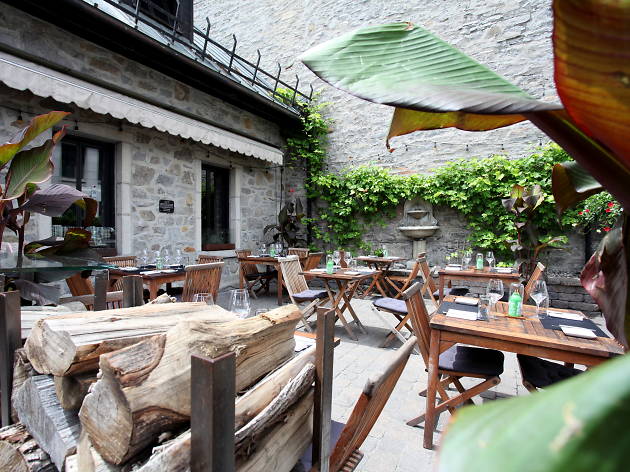 Photograph: L'Auberge Saint-Gabriel
2. L'Auberge Saint-Gabriel
L'Auberge Saint-Gabriel and its historical terrasse is a living piece of Montreal's history and is far and away the oldest restaurant in the city. The Auberge was first constructed in 1688 by a French soldier and likely to have been the first recipient of a liquor license in the whole of North America on March 4th, 1754. Today, the restaurant straddles the fence between the past and the future in its approach to classic French and French Canadian cuisine. After knocking back a couple rounds on the open-air terrasse, stick around for the Velvet speakeasy bar downstairs.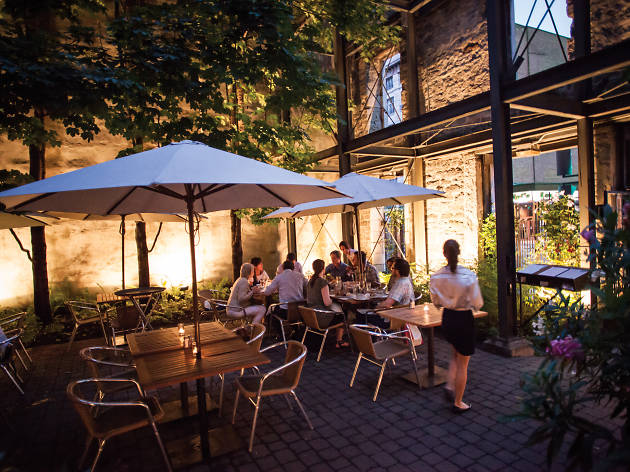 Photograph: Commission canadienne du tourisme
Boris Bistro transformed an otherwise neglected space on McGill Street into a soothing, down-to-earth outdoor oasis and has played a pioneering role in bringing gluten-free dining into the mainstream. The bistro, with an emphasis on local, natural and organic ingredients became Quebec's first officially certified gluten-free restaurant, as awarded by the Canadian Celiac Association in 2018.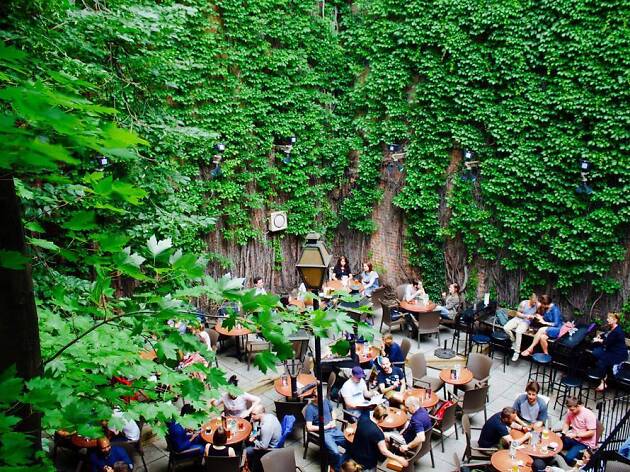 Photograph: Pub Le Sainte-Élisabeth
The return of warm weather calls for a return to Le Sainte-Élisabeth, an otherwise unassuming pub tucked away off Sainte-Catherine Street in Downtown Montreal. The secret bi-leveled courtyard terrace forms a cozy hollow open to the sky with its surrounding walls covered in thick carpets of creeping vines. The pub offers casual grub delivered from a nearby restaurant and employs standing heat lamps for those who jump the gun on the truly warm weather or drop in during autumn.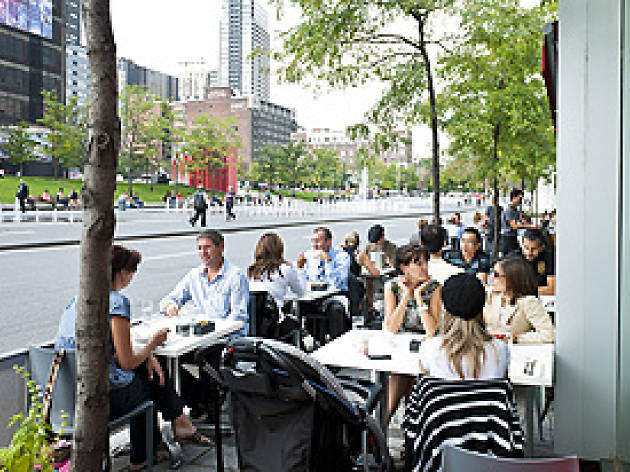 Photograph: Hans Laurendeau / Shootstudio.ca
Some terraces opt for the secret garden approach, offering a secluded outdoor dining experience. Brasserie T!'s far from that. For the famished festivalgoers in Downtown Montreal's Quartier des Spectacles, Brasserie T!'s terrace runs alongside the grounds, serving patrons its modernized bistro menu right in the thick of the action (and a prized seat during the free concerts of the city's best festivals). Even if you can't get a seat outside, the glass-wall concept of the interior ensures you won't miss a thing.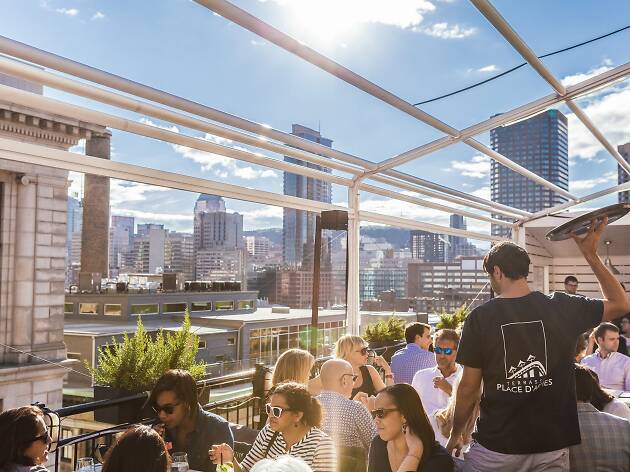 Photograph: Courtesy Terrasse Place d'Armes
6. Terrasse Place D'Armes
The roof of the venerable corner-side Hotel Place D'Armes in Old Montreal is home to a sophisticated rooftop bar that provides unbeatable views directly onto the bustle of Place d'Armes square and the historic Notre-Dame Basilica. The terrasse is open for French-inspired lunches and brunches and is partially covered for gray days when you just can't bear to be cooped up inside.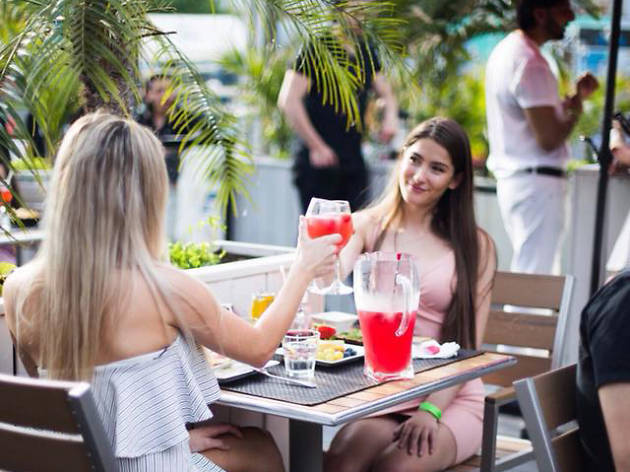 Photograph: Terrasse Bonsecours
The Terrasse Bonsecours is a four-storey bar, restaurant and nightclub complex sitting right on the water in Old Montreal. Known locally for their rosé and sangria-centric 5 à 7 happy hour, solid bistro eats, VIP bottle service, weekly events and late night DJs. All of that, however, pales in comparison to their unobstructed views out onto the Saint-Lawrence River and on the city itself.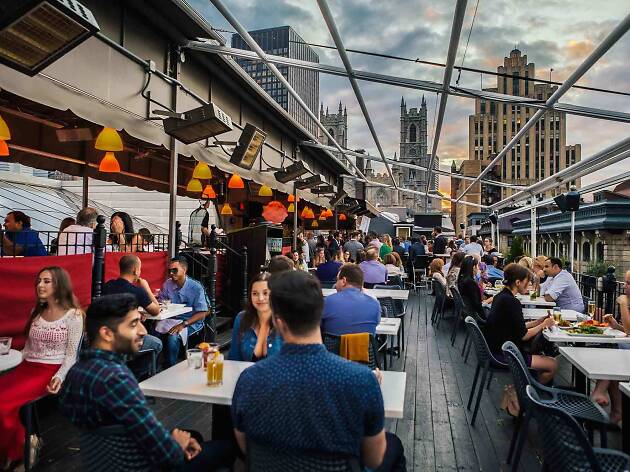 Photograph: Terrasse Nelligan
This ultra-popular rooftop bar on top of the stoic Hotel Nelligan—one of the best hotels in town—has sightlines across Old Montreal as well as onto Saint-Lawrence River. Well known for its mimosa-fueled brunches, inexpensive lunch table d'hôte menus, upscaled dinners and their famous clear sangria, reservations are not available outside lunch and brunch hours, so be sure to show up early.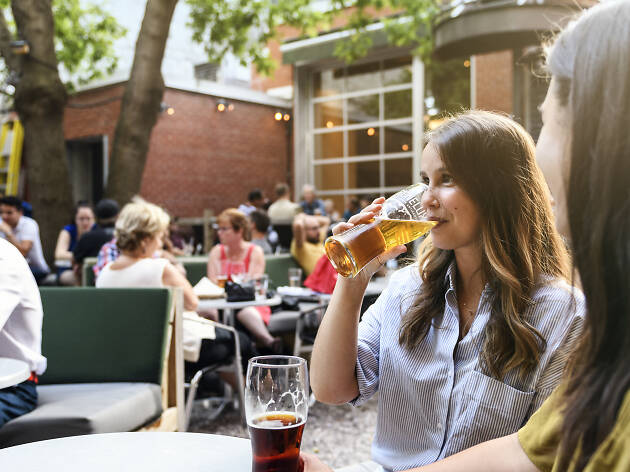 Photograph: Tourisme Montréal - Madore - Daphné Caron
Benelux is a small chain of Belgian-style microbreweries whose seating capacity swells with the arrival of the warm weather to enjoy some of the best beer in the city. Patrons flock to enjoy casual panini and Euro-style hot dogs alongside a constantly evolving roster of IPAs, pilsners and witbiers. If the terrasse gets too full, move the party homeward with large growlers of whatever's on tap, available for takeout until 11pm every night.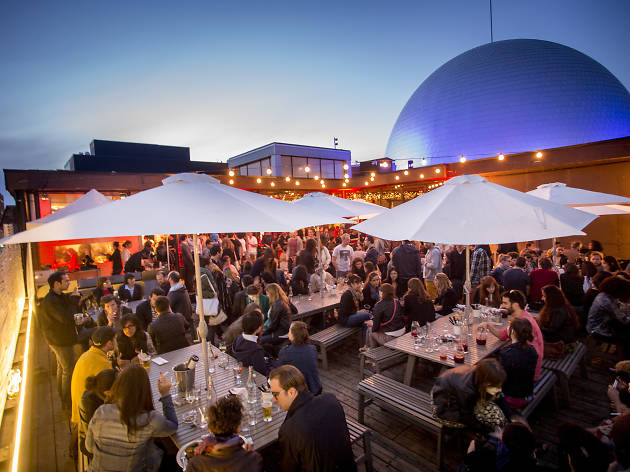 Photograph: Sebastien Roy
The experimental Society for Arts and Technology building may best be known for its futuristic technology based research or avant-garde art projections in the 360 degree Satosphère (one of those amazing, must-see things to do in Montreal) but the institute also features the Labo Culinare, an adventurous restaurant concept that stretches out onto a second floor rooftop terrace overlooking Saint Laurence boulevard. The restaurant frequently holds special events and invites a bevy of inspired local and international chefs who continuously push the culinary boundaries in surprising, novel ways.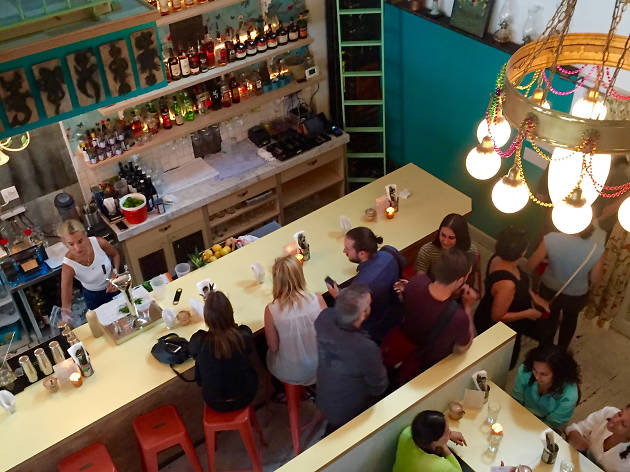 Photograph: Tourisme Montréal / Lynn Habel
A flashy Haitian restaurant backed by Montreal legends Régine Chassagne and Win Butler of Arcade Fire fame, it sports a lush and inviting terrasse. Sitting at one of its picnic tables under the stars with a plate full of steaming oxtail, a bottle of Barbancourt rum, fresh-pressed cane sugar juice and a handful of limes is an experience we heartily recommend.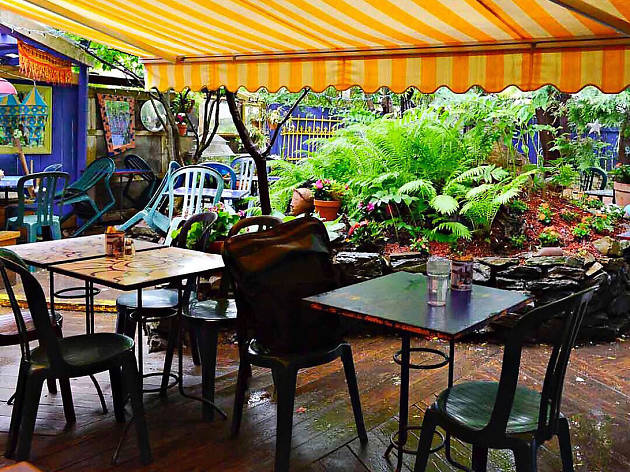 Photograph: Café Santropol
We often get the feeling of walking directly into someone's living room on visiting this community-forward café, an infectious feeling that's no doubt been instrumental in its continued success. While the cafe has been churning out soups, salads, chili and sandwiches stuffed full of greens for decades, the vegetarian and vegan-leaning menu's doubly enjoyed on the large shady, sun dappled terrasse out back. Canopied by trees and fenced in, it's a hideaway for a much-needed midday decompression.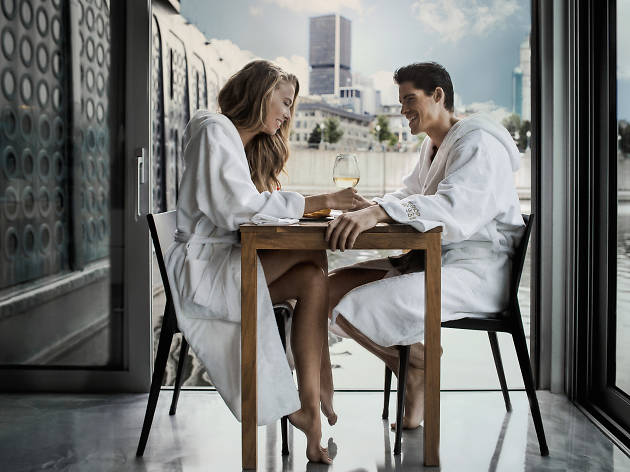 Photograph: Restaurant flottant du Bota Bota par l'Auberge St-Gabriel
13. La Traversée / Bota Bota
This historical Old Port river ferry-turned-spa is also home to a killer resident restaurant that offers healthy, seasonal terroir menus featuring local Quebec ingredients. A summertime meal in the open air on the water's edge is relaxing, but throw in a water circuit bath, full scrub and a Swedish massage and even the most hellish of work weeks will melt into memory.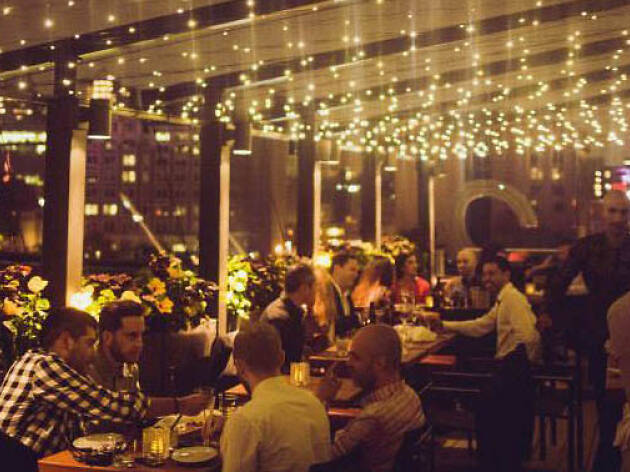 Photograph: Courtesy Pandore
Pandore is an upscaled French restaurant open Thursday through Saturday that transforms into an exclusive nightlife hub after dark. It prides itself on its selection of spirits and is well-known for flashy high-end punch bowls for groups of six and up. Its 100-person capacity rooftop bar is the envy of rival institutions and offers a unique vantage point on the heart of the Quartier des Spectacles below.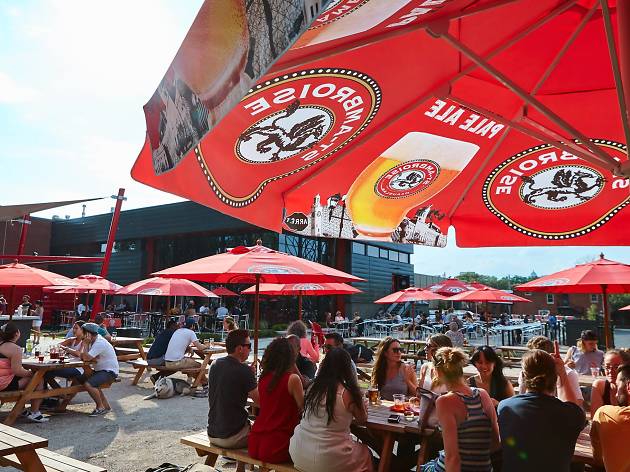 Photograph: Chivalric Pictures
15. Terrasse Saint-Ambroise
The Terrasse Saint-Ambroise sits on the bank of the Lachine Canal in Saint-Henri, southwest of Downtown Montreal's core and acts primarily as a showcase for the McAuslan Brewery to which it's attached. The mood is low key and the lazy canal beside it is the perfect backdrop for a few relaxing pints. For the peckish, the terrasse serves up classic bar food and wood-fired oven baked pizza Thursdays through Sundays.
Photograph: Jardin Nelson
The Jardin Nelson and its arresting Parisian-style front terrasse along the broad sloping expanse of Place Jacques Cartier is a favorite among tourists and locals alike. The restaurant also hides a sprawling back terrasse that hosts famed jazz repertoire performances shielded by an array of parasols in case of inclement weather. History buffs take note: The restaurant itself occupies an historical 1812 home and is a National Historical Site of Canada, particularly emblematic of early 19th century Quebec architecture.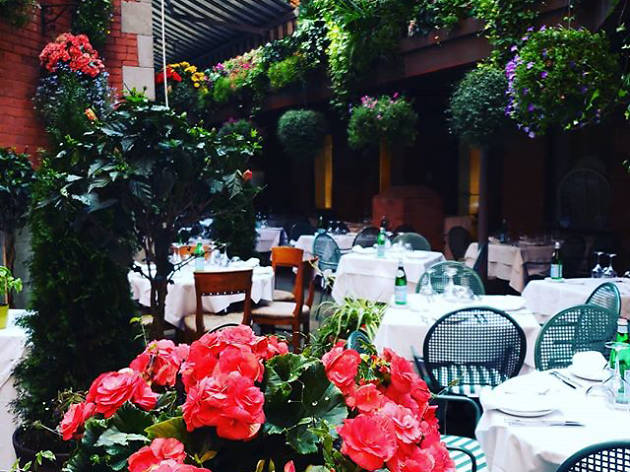 Photograph: Café Il Cortile
Another hidden gem, the Café Il Cortile is a longstanding Italian restaurant with an exquisite inner courtyard terrasse neatly protected by a cluster of surrounding buildings. Paved with cobblestones, shaded by awnings and packed tightly with hanging flower baskets, hibiscus trees and oleander plants, it's a great spot if an Italian mountain village vacation isn't feasible. Instead, an early afternoon caprese salad at Il Cortile is sure to work just as well.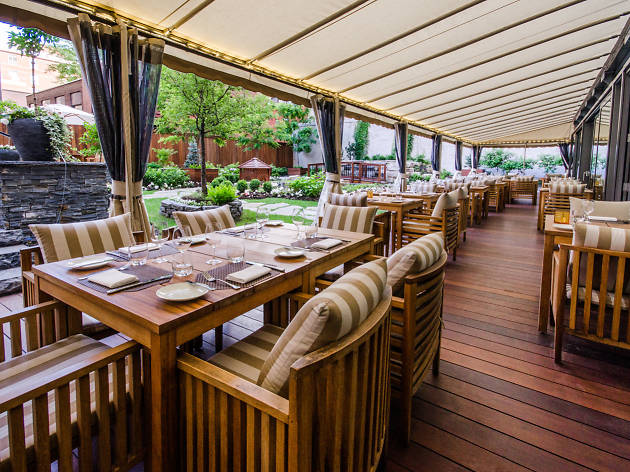 Photograph: Ritz-Carlton Montréal / Alexandre Parent
This Michelin-calibre restaurant at the Ritz Carleton in Downtown Montreal is a cornerstone of the posh upper crust in the city and as such is no stranger to the top-tier terrasse game in town. Respectably hidden from the busy Sherbrooke Street entrance, theirs is a wide, awning-covered wooden deck tightly packed with upholstered beach-house style seating that overlooks an expansive French garden with winding flagstone paths, manicured greenery and an impressive artificial burbling brook.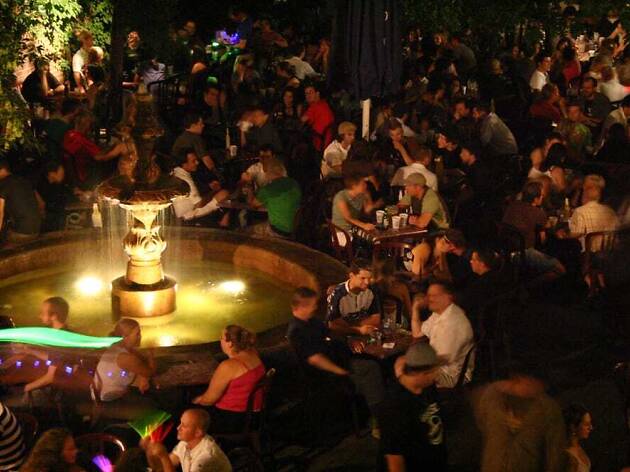 Photograph: Courtesy Yelp/Le Saint-Sulpice
Le Saint-Sulpice is a massive restaurant and bar compound so large that there are three entryways on three separate surrounding streets. The main entry point on Saint-Denis, an imposing former government residence, acts as the main building for the humongous courtyard in the back. Seating over a thousand with a small army of tireless waiters hoisting massive platters of food and drink through the crowd all night long, if that doesn't draw you in, maybe the tourist and student-friendly drink deals will.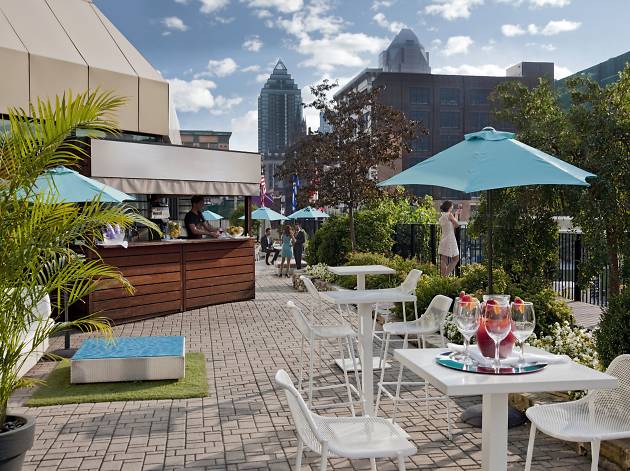 Photograph: Claude-Simon Langlois / DoubleTree par Hilton Montréal
Six Resto Lounge is a swish fine wine and modern cuisine affair in the Hyatt Regency hotel directly across the street from the Musée d'art contemporain de Montréal, overlooking the Quartier des Spectacles. As a nice change of pace, its spot on the sixth floor ensures this rooftop bar's got a commanding view that's in high demand during peak festival season. No wonder: Apart from the front row, you'd be hard pressed to find a better seat for the show.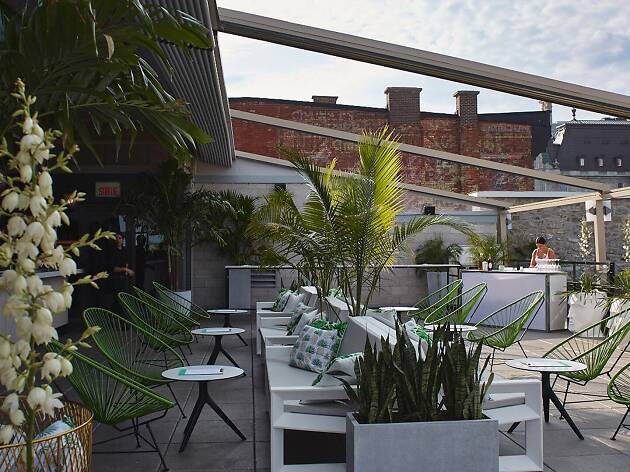 Photograph: Perché Bar Terrasse
21. Hotel William Gray / Perché Bar Terrasse
The elegant Hotel William Gray in Old Montreal's the home to a pair of notable terrasses. The William Gray Terrace on the eighth floor—with views onto Old Montreal and Montreal's commemorative 375th anniversary Ferris wheel—serves brunch, lunch and dinner with a focus on summer wines, cocktails and local beers. On the fourth floor, new terrace concept Perché offers an intimate small-scale lounge that specializes in healthy eats with West Coast flavours and unparalleled views onto Place Jacques Cartier.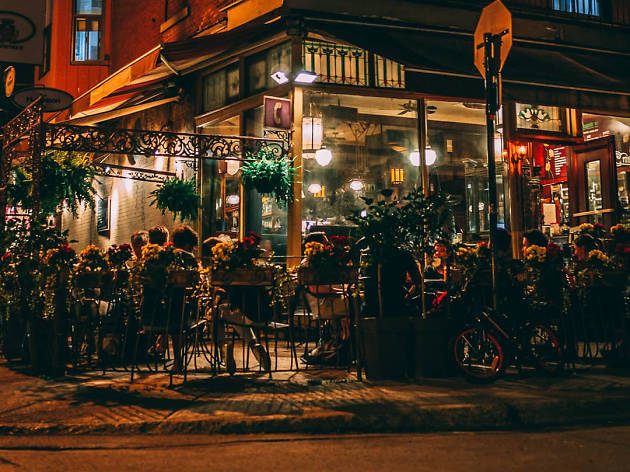 Photograph: La Croissanterie Figaro
22. La Croissanterie Figaro
A neighborhood spot fashioned after Parisian cafés, La Croissanterie Figaro is an Outremont staple beloved for its art deco interior, professional waitstaff, classic no-frills French comfort food and its quintessential terrasse covered with retractable awnings. The tightly packed cafe tables and hanging plants here easily compliment taking a break and watching the world go by.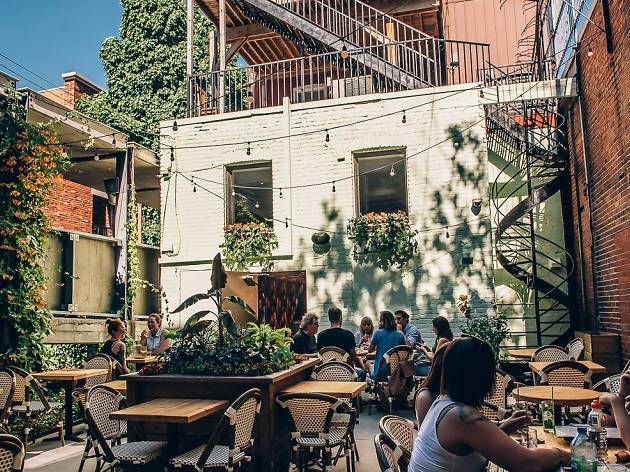 Photograph: Caroline Perron
Palco is a modest mix of a local watering hole and a trendy cocktail lounge that has fearlessly made its mark on Verdun in Montreal's southwest side. Its back terrasse with scattered tables, lacquered rattan chairs, hanging vines and subdued lighting has quickly established itself as a standard in the area. Offerings here include craft cocktails, private import beers and microbrews as well as a thoughtful selection of simple plates from the kitchen.
Stay out in the sun
Where you'll find the best in rooftop bars around the city, from high-rise hotel bars with pools, patios and terrasses.
Find quality on the cheap and end the day right by following our guide to the best 5 à 7 and happy hour bars in Montreal.
When looking for where to relax and escape the city in every season, look to the greenery of the best parks in Montreal.
Best selling Time Out Offers