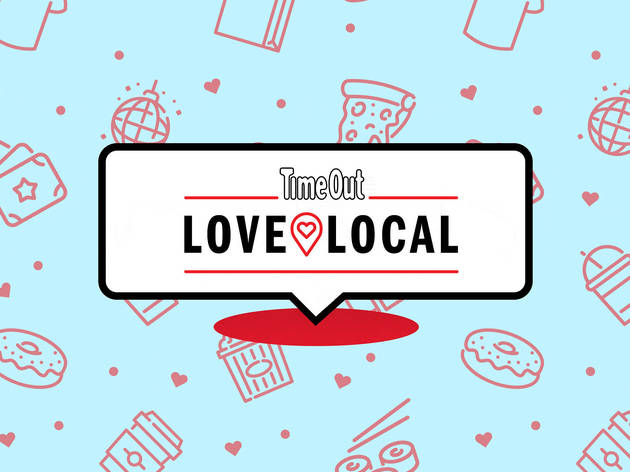 Love Local: Time Out supports and celebrates local food, drink and culture
In tough times, we're backing the independent businesses that represent the soul of the city
Hi everyone,
Back in March, Time Out changed its name to Time In. All over the world, people were suddenly asked to stay indoors to protect themselves and others. Now lockdowns are being relaxed in many countries – but it's becoming clear that social distancing in some form will be with us for the long run, and that spells danger for the places that make city life worth living.
Our editors have been seeking out the best of city life since 1968. We know that our cities are nothing without their restaurants, cafés, bars, pubs, theatres, music venues, nightclubs, cinemas, art galleries – and all the other local, independently run places where people come together to eat, drink, laugh, think, create, cut loose and fall in love.
If we don't take action right now, countless places like this will have to close their doors for ever. Many venues, already struggling to pay their bills, face a total collapse in footfall or a huge bill to adapt to social distancing. And millions of bartenders, waiters, cooks, artists, musicians, actors, filmmakers, designers and other creatives and makers have been left unable to earn a living.
We're determined to help. That's why we've launched our Love Local campaign to support the small food, drink, arts and culture businesses that represent the soul of the city.
We started by officially lending our voice to 16 crucial campaigns that are fighting to support local food, drink, culture and entertainment in cities worldwide, from New York's Roar (Relief Opportunities for All Restaurants) to Melbourne's Keep Our Venues Alive. We're proud to support the organisations raising funds, spreading the word and lobbying decision-makers in order to safeguard the local spots that keep our cities' lifeblood pumping.
Now, as small businesses continue to face an unknown future, we're stepping things up. Throughout 2020 and beyond, we'll be devoting ourselves to supporting and celebrating small food, drink, arts and culture spots. Our editors across the world will raise awareness of venues that need your help, shout about the places that deserve your support, give businesses a platform to reach new customers and celebrate the best neighbourhood spots in cities worldwide.
We're asking city-dwellers around the world to show support for small businesses every day by going out, spending money with independents and donating to fundraisers.
Follow our Love Local campaign in your city:
New York
Chicago
Los Angeles
Miami
Boston
Montreal
London
Barcelona
Madrid
Singapore
Hong Kong
Sydney
Melbourne
Wherever you are, we'll help you discover and support the amazing local businesses that make our cities great.
And finally, to the businesses going through a tough time right now: know that we're with you. We'll do this together.
Caroline McGinn
Editor-in-Chief
Time Out
Love Local around the world