Heads up! We're working hard to be accurate – but these are unusual times, so please always check before heading out.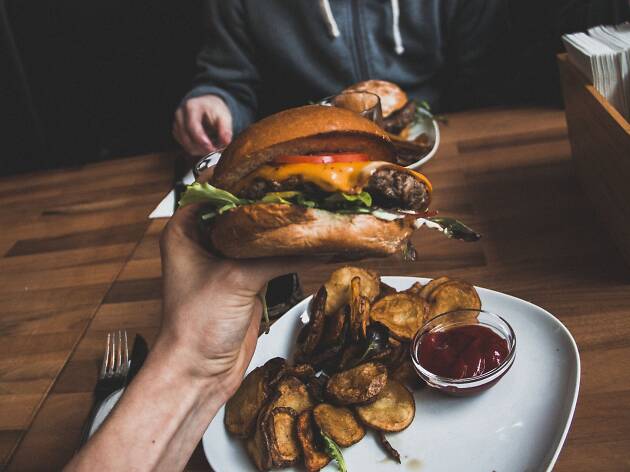 The best burgers in Montreal
Whether you want something greasy, cheesy, saucy or fancy, these beefy stacks are the best burgers in Montreal
Make no mistake: We're serious about our burgers in the 514. There's every variety available here too served by a range of restaurants, from bars with the best beer and high-end eateries to steakhouses and lowdown dirty diners. No matter your scene, if you fancy yourself a true connoisseur of top-notch burgers, you've come to the right place. We've combed through and chowed down across town to bring together this list of Montreal's best burgers, bar none. Time to beef up on your burger knowledge.
RECOMMENDED: Full guide to the best restaurants in Montreal
A burger restaurant we love so much that we welcomed them into Time Out Market
Chef Normand Laprise—one of the most acclaimed and influential chefs of Québec—is a true champion of the farm-to-table movement and a keystone in our province's cuisine, so it's no wonder his burgers are the best in town. Take your pick from the beef, lamb and veggie options, which are all sourced with traceability and sustainability in mind. If burgers aren't enough, mix it up and go with some feel-good comfort food like picture-perfect hot dogs and creamy milkshakes. Grab some napkins and dig in; you'll be hard-pressed to find anything as good as Laprise's versions of classic American fare.
Best burgers in Montreal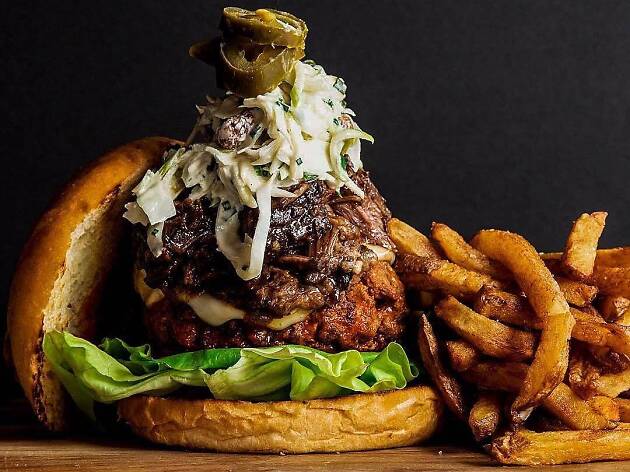 Photograph: Courtesy QDC Burger
1. Chef's Specials at QDC Burger
Originally conceived as a brilliant back-alley option behind Queue de Cheval, QDC Burger was as lucrative for the steakhouse as it was delicious for the people who flocked to this take-out only window in the restaurant's rear parking lot. Having since expanded to the Mile End and the Pierre Elliott Trudeau International Airport, QDC allows burger lovers to customize their toppings with dozens of options, from lobster and foie gras to Cajun shrimps and black spring truffles. Specials range from $14.99 to $22.99.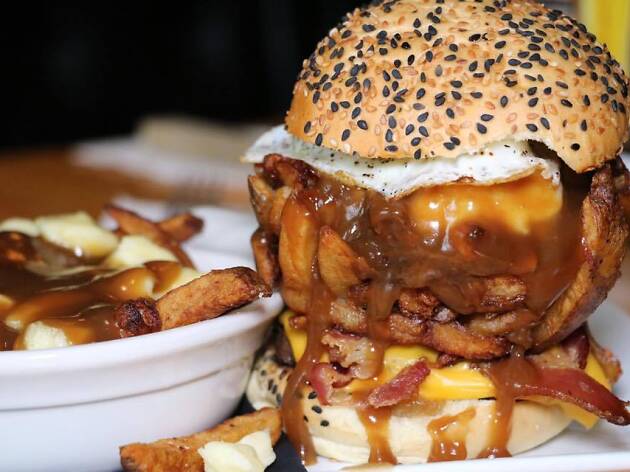 Photograph: Courtesy Burger Bar Crescent
2. The Hangover at Burger Bar Crescent
As a consistent, top-ranked contestant of Montreal's Burger Week, this Crescent Street restaurant is known for its outrageous burgers including its Hangover: A burger stuffed with a small-sized poutine between the buns along with mushrooms, caramelized onions, arugula and a roasted garlic aioli. With over 20 burgers on the menu to choose from, this restaurant is a crowd pleaser for those looking for a stomach-filling meal in the downtown area. $19.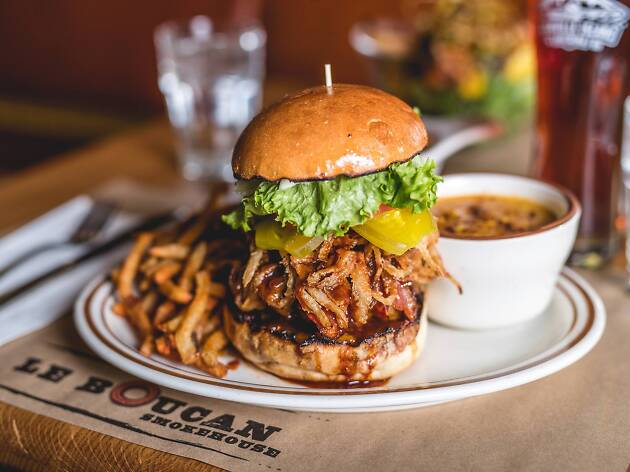 Photograph: Courtesy Le Boucan
3. Five Napkins Burger at Le Boucan
This smokehouse doesn't mess around. Their beast of a burger has been named The Five Napkins burger for a reason. Stacked high with lettuce, tomatoes, pickles, fried onions, a thick slice of cheddar cheese, hickory smoked beef, jalapeño mayo and BBQ sauce—sandwiched in a brioche bun—this smoky burger's more than a mouthful. Enjoy it on their beautiful backyard terrace in the summer months. $18.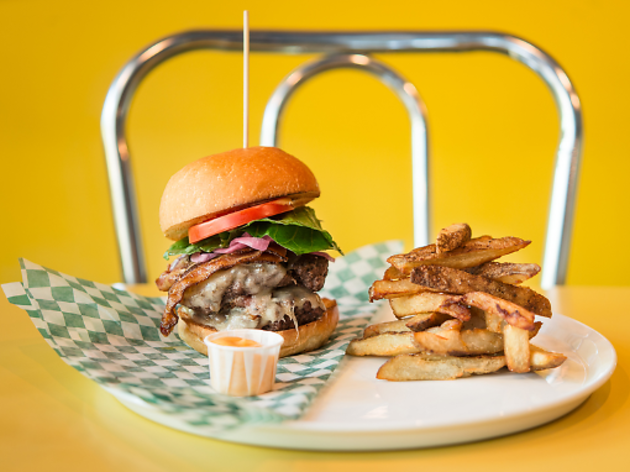 Photograph: Courtesy Mile-Ex Restaurant et Traiteur
4. Motherf***er Burger at Mile-Ex
Focused on a melodic combination of street food and seafood, this Mile-Ex spot burst on the scene with such recognition that some people claim it this restaurant from Gregory Paul that gave this neighbourhood its moniker. The area's influx of hipsters and architects migrating north from the rising costs in Mile End don't take long in finding out this is the place to be—and the simple, double or triple Motherf***er burgers are just out of this world. $14 for a single, $17 double, $19 triple.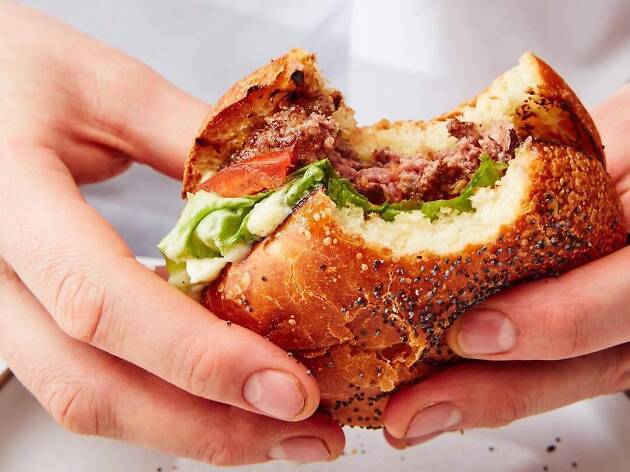 Photograph: Dominique Lafond
It can be pretty rare to find truly high-quality meat when dining out, but there's usually at least a few restaurants you can always count on. This one's among them. See, Lawrence owns their own butcher shop—and their own farm, for that matter—and one bite into their fresh hamburger validates them as one of the best. Available only at lunch. $13, $19 with fries and a salad.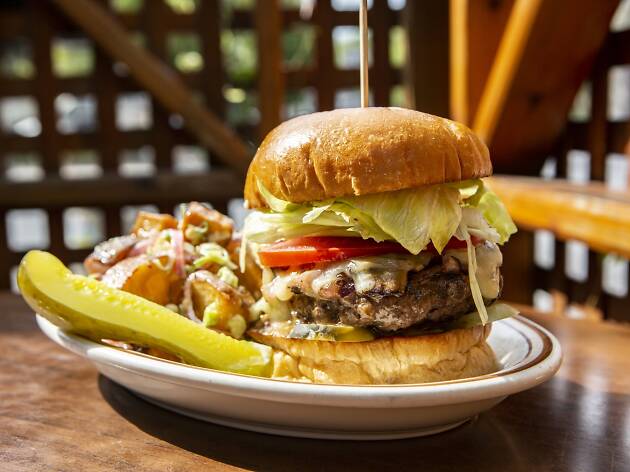 Photograph: Courtesy Bishop & Bagg
6. Bagg Burger at Bishop & Bagg
This burger only needs a few words: Pub food at its finest. The Bagg Burger is a daily house burger, served with aioli potatoes and is always—we repeat, always—among the best options at this popular Mile End hangout. The burger is often featured on the brunch menu, which means you can expect eggs and bacon on it. For the lighthearted, there's also a vegetarian option available. $16.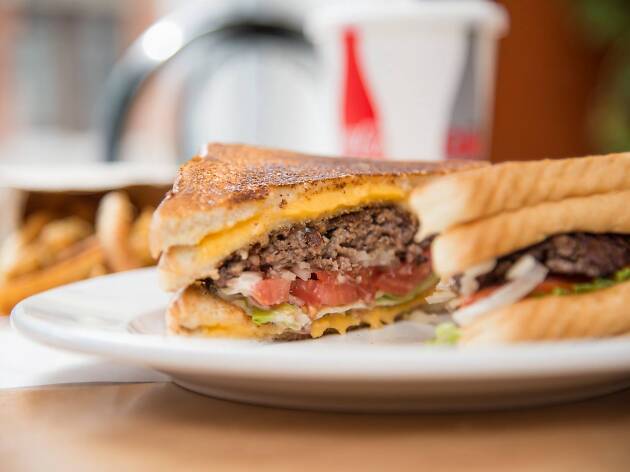 Photograph: Courtesy Pataterie Chez Philippe
7. The Zeke at Pataterie Chez Philippe
Serving up typical Quebecois fanfare since 1962, this non-descript casse-croûte in the heart of the Gay Village has been a fan favourite for years. The menu features the usual hot dogs, fries, poutine, club sandwiches and the like, but it's the burger that earns this Amherst dive its crown. With most combos barely breaking ten bucks, it's no surprise people keep coming back time and again, especially for the Zeke that's a patty sandwiches between two grilled cheese sandwiches. Enough said. $7.25.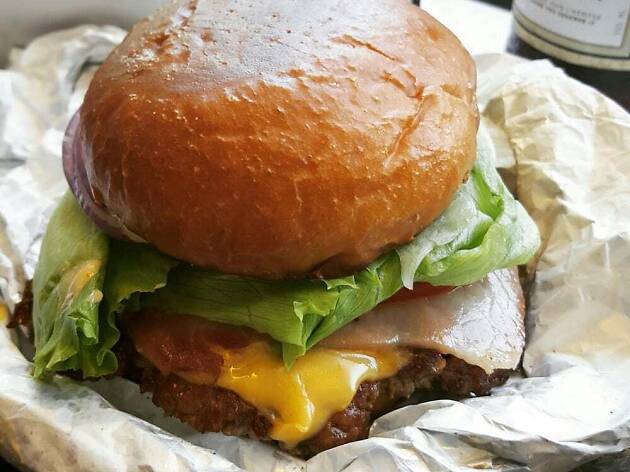 Photograph: Courtesy Yelp/Jason M.
8. Tousignant Burger at Chez Tousignant
Brainchild of highly popular Montreal chefs Michele Forgione and Stefano Faita—renowned for their success with Italian restaurant Impasto and pizzeria Gema—this casse-croûte was a long-time dream for the dynamic duo before finally opening in late 2015. Taking nearly two years to refine, the restaurant launched to serious fanfare and has yet to fall off anyone's radar. Everything on the menu feels like something right out of a old school diner's kitchen in back-country Quebec. This is a great option for an afternoon snack if you hit up the Jean-Talon market. $6.25 to $8.25.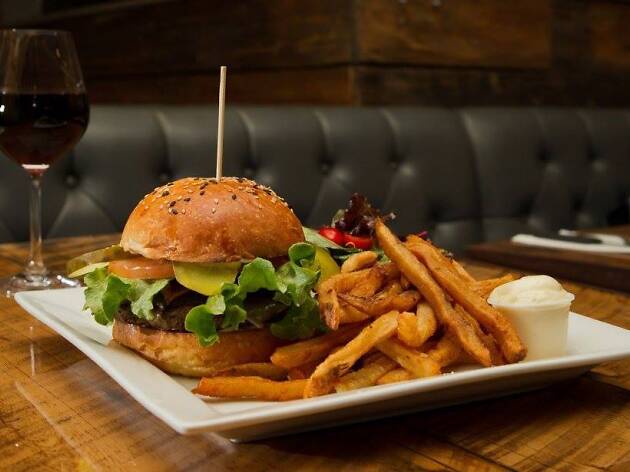 Photograph: Courtesy La Boulette
9. Double Cheese Burger at La Boulette
Priding themselves on authentic and comforting cuisine, this Rosemont restaurant sources top-quality, local ingredients for every item on the menu. While it may be tough to choose between the dozen options available, each burger has its own specialty of sorts—everything from grilled salmon and fried chicken to spicy ground pork or the classic beef and cheese. Our vote's the classic double cheese, but you do you. $14.75 to $17.75.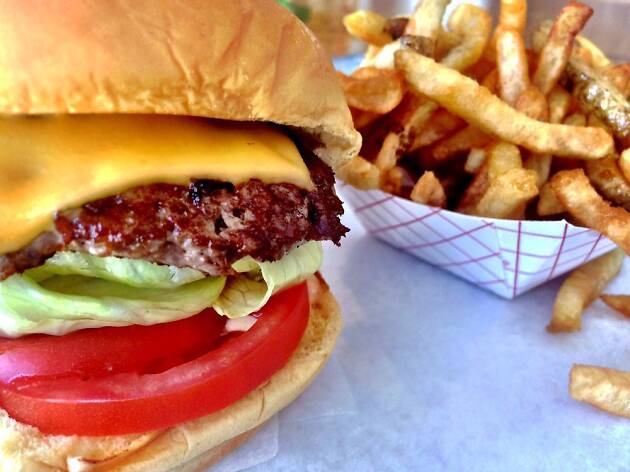 Photograph: Courtesy Yelp/Jack D.
10. Double Uniburger at Uniburger
In what is Montreal's closest comparison to Shake Shack or In-N-Out burger joints in the great US of A, Uniburger burst onto the scene a few years ago and has expanded to include three locations (and counting) across the city. Inspired by classic American-style fast food—think milkshakes, twice-fried French fries, and paper-wrapped burgers—this chain takes it up a notch with AAA Canadian beef and potato buns. $6.25 for a single, $8.75 for a double.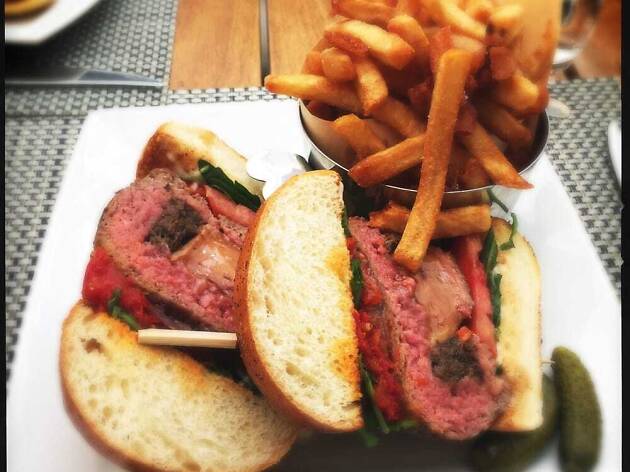 Photograph: Courtesy Yelp/Melissa B.
11. House Grind Burger at Maison Boulud
While dining in the prestigious and historic Ritz-Carlton hotel may make you feel like luxury, the House Grind Burger does well to bring you back down to reality. Served on a pepper brioche bun with arugula, chutney and with options to add pork belly and Morbier cheese, this elegantly prepared burger is undoubtedly one of the most expensive on this list—but damn it all if it isn't worth treating yourself. $31.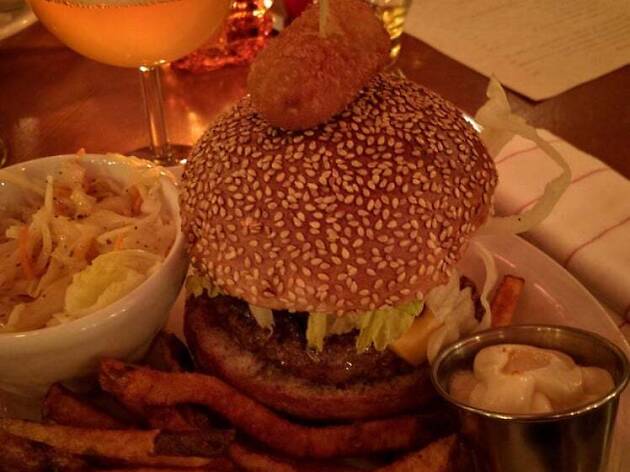 Photograph: Courtesy Yelp/Julien F.
12. Burger with Fried Oyster at Brasserie Harricana
Burgers and beer rarely get better than this. Nothing says pub fare quite like a burger, and this brewery on the edge of Villeray and Mile-Ex has a version that's as good as they come. Harricana's version is a burger topped with a fried oyster, and it tastes as luxuriant as it sounds. Their highly curated beer list has dozens of options that complement this nicely as well, so hanging around a little longer after you finish eating's a no-brainer. $20.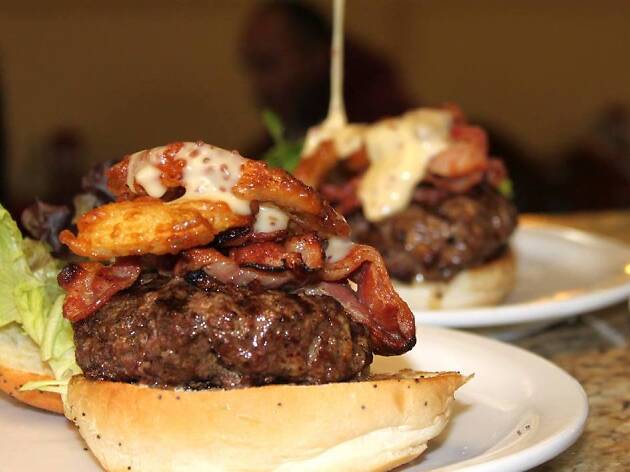 Photograph: Courtesy Burger de Ville
13. Suisse Pleurote at Burger de Ville
People drive from all over town to visit this burger counter in the residential area of Montreal West. Family-owned and run, this outpost at the westernmost end of Sherbrooke Street is a veritable contender among all others on this list. Diners here love to dress their burgers themselves, choosing from a huge selection of fresh ingredients on chalkboards hanging high above the griddle station. The ready-to-order options are good too, especially the Swiss Mushroom with its grilled oyster mushrooms, pickles and caramelized onions. $6.50 to $10.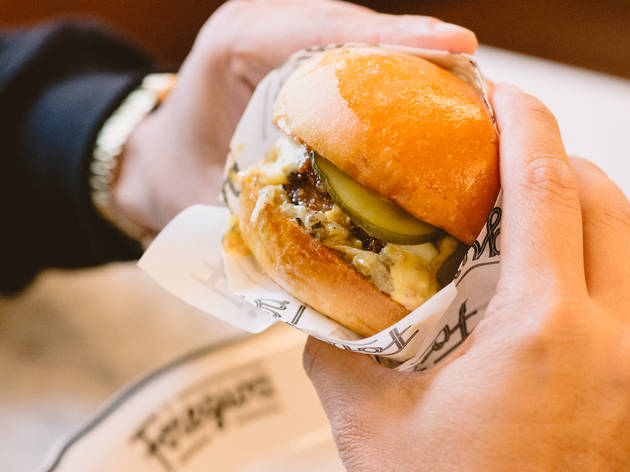 Photograph: Elizabeth Gartside
14. Cheeseburger at Foiegwa
This cheeseburger is already rich enough on its own, never mind the option of adding a 'healthy' serving of foie gras as an additional topping. Better yet, add another beef patty while you're at it. The ridiculously juicy burger is also available on the brunch menu available Friday to Sunday from the morning to the late afternoon. $18.75, $23.75 for a double, extra foie gras is $9.95.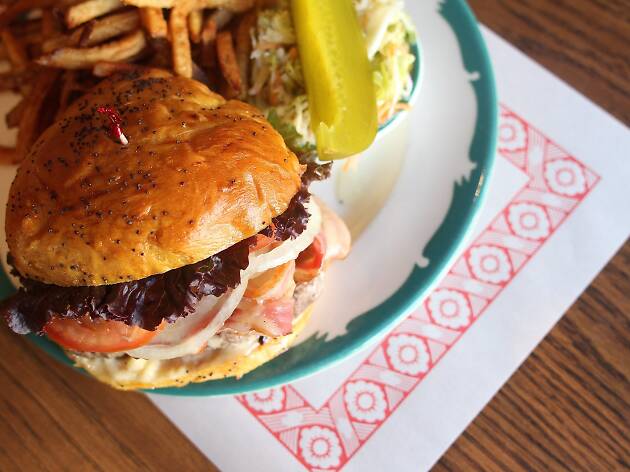 Photograph: Courtesy Nouveau Palais
15. Palace Hamburger at Nouveau Palais
Time warp in this classic Mile End diner as you step in off the corner of Parc Avenue and Bernard Street. Food connoisseurs may recall when "Winneburgers" were the talk of the town back when Montreal lifted its 66-year old ban on food trucks in 2013. Luckily for the rest of us, this hipster hotspot serves up the sizeable Palace Hamburger until 3 a.m. three nights a week, Thursday to Saturday. $12.95; bacon's $2 extra, cheese is $1.50 extra.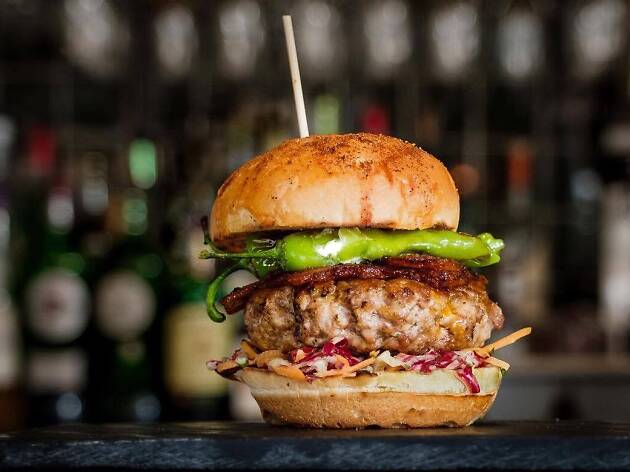 Photograph: Courtesy Le Hachoir
16. Le Québecois at Le Hachoir
Perhaps best known for its excellent beef tartares, the burgers at Le Hachoir will make your head spin. Options like Le Double Cheese Classique (two 4-ounce beef patties, cheese, red onions, pickles, bacon and secret sauce) are one thing, but the Québecois (an 8-ounce beef patty stuffed with cheese curds, Montreal smoked meat spices, pickles, coleslaw and spicy mustard) is the choice that isn't messing around. You're welcome to get as messy as you please, however. $18.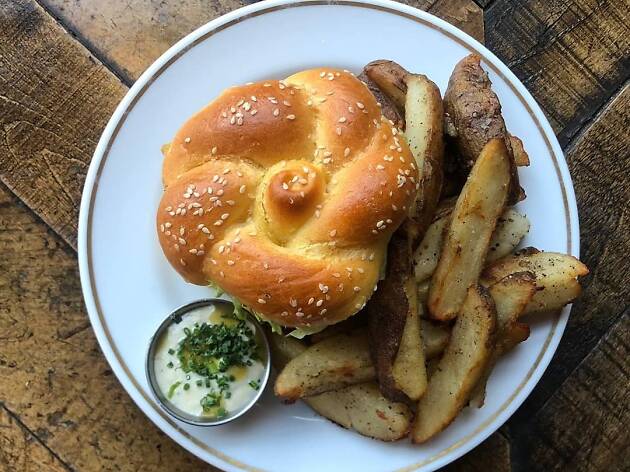 Photograph: Courtesy Knox Taverne
In the heart of Pointe-Saint-Charles, this Centre Street tavern dishes up a beef patty burger with polish ham, pickles, hot mustard and mayonnaise that's a knock-out. Knox Taverne is a laid-back, wonderfully decorated bar in a buzzing area of the city and is just as good as a happy hour destination with friends as it is for a fun night with a loved one. $20.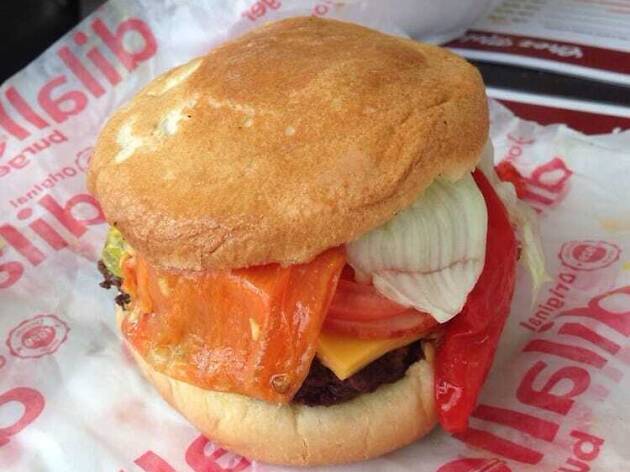 Photograph: Courtesy Yelp/Wes N.
18. Buck Burger at Dillalo Burger
This greasy spoon has been around since Montrealers' grandparents' days as one of the city's first Italian-owned chains. Serving their burgers upside down since 1929, this is one of those burgers most people would agree you have to eat at least once in your life. Downright fatty and delicious, their Buck burger adds capicola, cheese and hot peppers to its staple Spécial burger. Take note that you can take your burger buns as original (steamed), dry, wet (brushed with burger juices) or the dip (brushed with hot pepper brine). $6.25.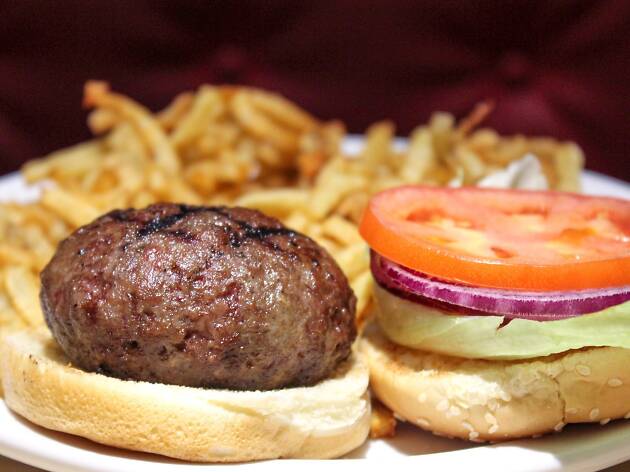 Photograph: Courtesy Mister Steer
19. Super Supreme Burger at Mister Steer
Although this downtown location may indeed be past its prime, Mister Steer continues to attract locals and visitors alike with its charming décor and proximity to the Montreal Canadiens arena just a few blocks away. Located on downtown's busy central shopping strip, this burger joint only uses kosher beef and proudly claims that nothing is ever frozen—except its ice cream. You may want to consider the Giant Steerburgers or the platter of two small burgers, as one regular on its own may not be enough to satisfy your hunger. $17.95.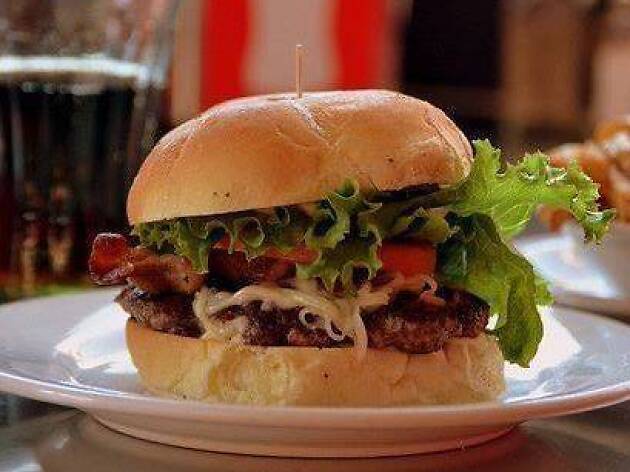 Photograph: Courtesy L'Anecdote
Identified by one well-respected Montreal food critic as the closest thing to former burger champion La Paryse, this no-nonsense restaurant on Rachel Street reopened in the fall of 2018 after a major fire shut them down for close to six months. The first five burger options vary between beef, lamb, veal and deer meat, although most would argue that L'Anecdote #1—a beef patty with Emmental cheese, bacon and mushrooms—is the real reason this restaurant receives its steady following. $8.90.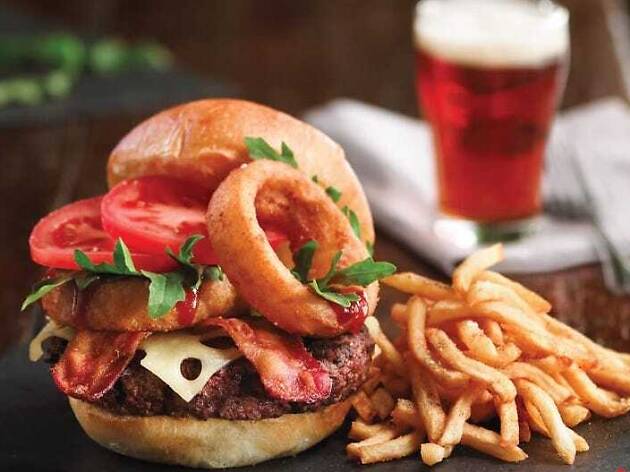 Photograph: Courtesy Yelp/Bâton Rouge Steakhouse & Bar
21. Bâton Rouge Burger at Bâton Rouge
Overlooked for its family-friendly approach, this steakhouse packs a secret weapon on its bar-only menu: A mega cheeseburger with smoked bacon and Dijonnaise plus fries available every day of the week. This isn't just any old burger, either. Served with premium grade beef, shredded lettuce, tomatoes, pickles and an overflowing pile of French fries, you won't be leaving hungry. $17.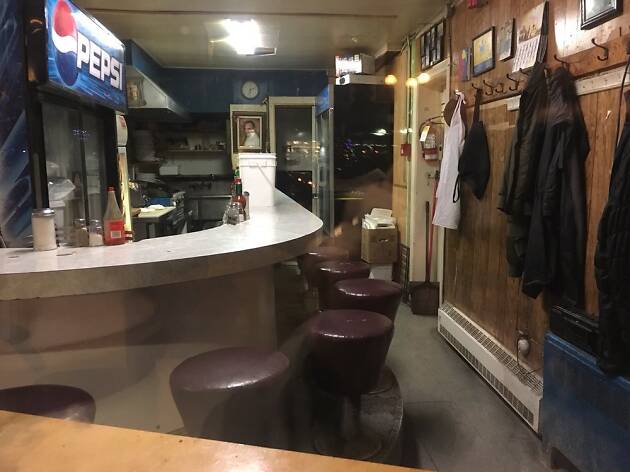 Photograph: Courtesy Yelp/Pat M.
22. Good Morning Burger at Cosmos
Although a heart-attack inducing burger may not be your first choice as a Saturday morning breakfast option, you may be inclined to consider the Good Morning Burger at this NDG landmark. Cooked on a griddle that likely hasn't been scraped clean in 40 years—we're exaggerating, but you get the idea—this burger is packed with quality beef, a fried egg, and all the classic toppings. Choose your own bread and dive in. $5.50.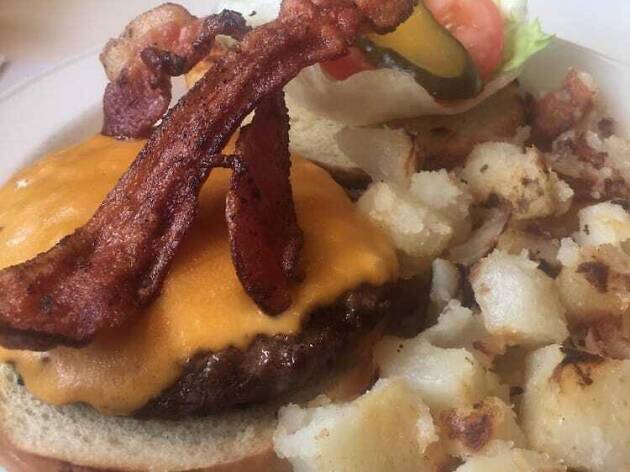 Photograph: Courtesy Yelp/Jessica R.
23. Beautys Burger at Beautys
Anyone who's anyone knows about Beauty's. While the Jewish population has since long left Montreal's Plateau-Mont Royal neighbourhood, this Jewish diner hasn't changed one bit. Open since 1942, this classic is known well for its banana pancakes, milkshakes and its Special—a toasted Saint-Viateur Bagel smothered in whipped cream cheese and smoked salmon—but it's the burger that takes everyone by surprise. Using locally sourced meat from Atwater Market, the burger is explosive in flavour. Our guess is that it's the egg-soaked griddle which makes everything taste so much better. $13.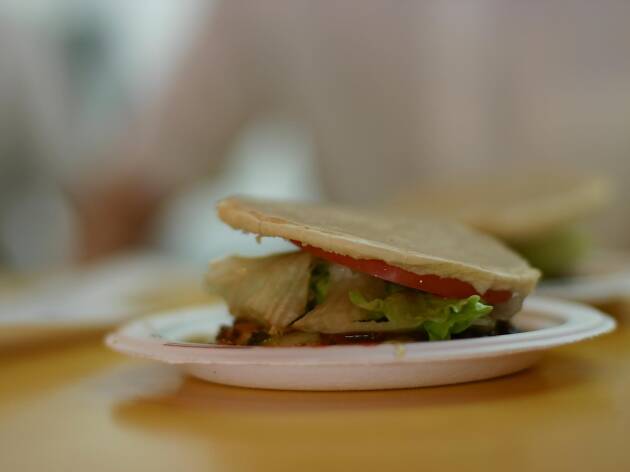 Photograph: Courtesy Dic Ann's
24. Hamburger at Dic Ann's
The hamburger once made famous for being "so thin it could slide under your door" can now be found at over 12 locations across Quebec, including a food truck in the Old Port during the summer. Perhaps one of Montreal's best lasting examples of a 1950s American fast-food style restaurant, their style is still unique with its smashed-flat structure and application of meat sauce (the popsicle stick it's served with is to pry it from its plate). Fun fact: It has set a number of world records, including the record for having served 1542 burgers in an hour. $3.80.
Follow up the best burgers with the best beer
Look no further than these bars, breweries and taprooms located across the city where you can drink Montreal's best beer.