Heads up! We're working hard to be accurate – but these are unusual times, so please always check before heading out.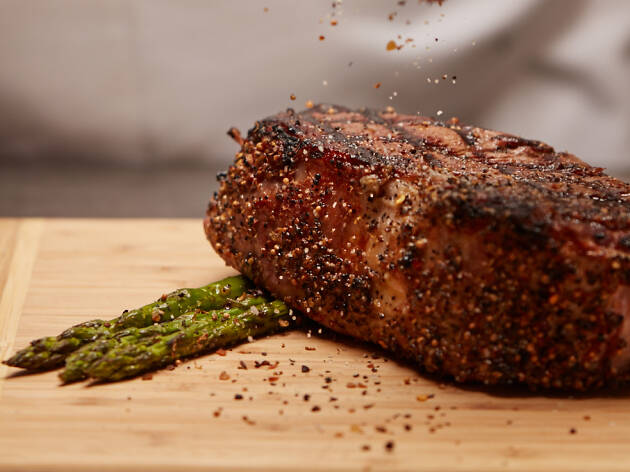 The best steakhouses in Montreal
From choice prime rib, cowboy and tomahawk cuts and beyond, you'll find it all in the best steakhouses of Montreal
Eating out is one of the best things to do in Montreal, but among all the kinds of restaurants there are to eat at, consider the best steakhouses. These are special places for special occasions, an alliance of carnal gluttony with the elegance of white linen, and this city's got the chops to impress with some amazing addresses. We've scoured the whole island—dropping into some of Montreal's best bars for liquid courage along the way—and have diligently trimmed the gristle to leave you with only the choicest morsels.
RECOMMENDED: Full guide to the best restaurants in Montreal
Best steakhouses in Montreal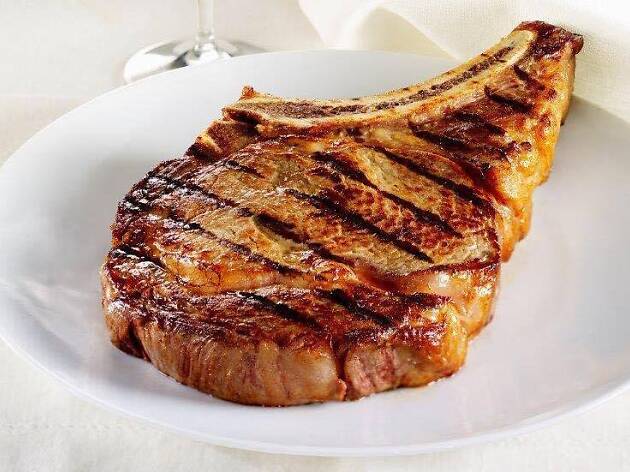 Photograph: Courtesy Moishes
This restaurant is one of the oldest and most respected in town, dazzling with its 1950s rat-pack charm. Fixtures like stained mahogany, leather upholstery and tin ceilings stand out, but so does its legendary bone-in rib steak. Moreover, if you're the celebrity bird-watching type, a whole host of A-list entertainers, politicians and athletes go out of their way to frequently roost in this this old school joint including the likes of Robert De Niro, Penélope Cruz, and Robert Downey Jr.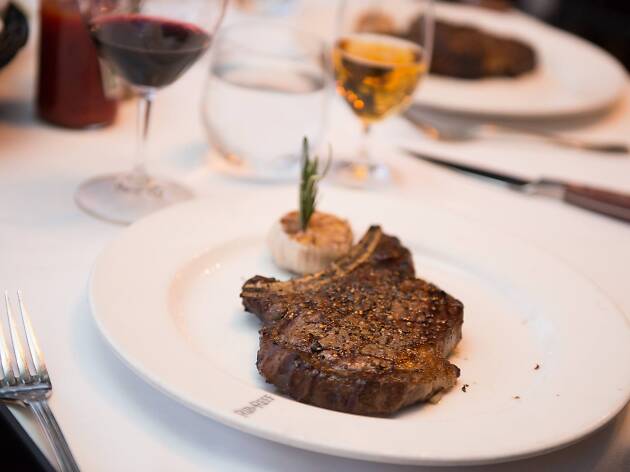 Photograph: Courtesy Rib N Reef Steakhouse
The Rib 'N Reef is seriously dedicated to the spectacle that is so integral to the steakhouse experience. The pageantry includes valets, at-the-table flambés and a fully-equipped cigar lounge. If a cigar lounge isn't novel enough for you, you can dine on the covered rooftop terrace during the summer months or—for the spelunkers and subterranean diners—you can even book a private table in the well-stocked wine cellar below.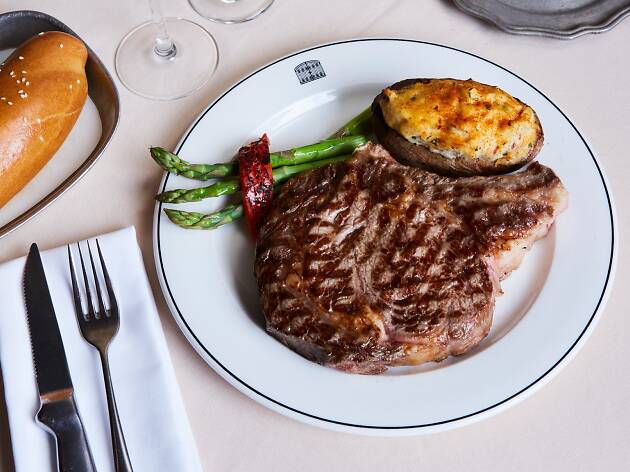 Photograph: Courtesy Gibbys Restaurant
After laying into one of their juicy steaks, you're unlikely to want to leave this almost foolishly cozy institution set in a converted 18th-century stable sporting original exposed beams, stone walls and multiple fireplaces. Gibbys takes the classics very seriously and—while other restaurants might shy away from them due to the difficulty and labour involved in their production—confidently proffers old-school dishes like chicken kiev and beef wellington that have become nearly extinct in the restaurant industry at large. For lovers of tradition and for the new school to get educated at an old school steakhouse, you come to this institution.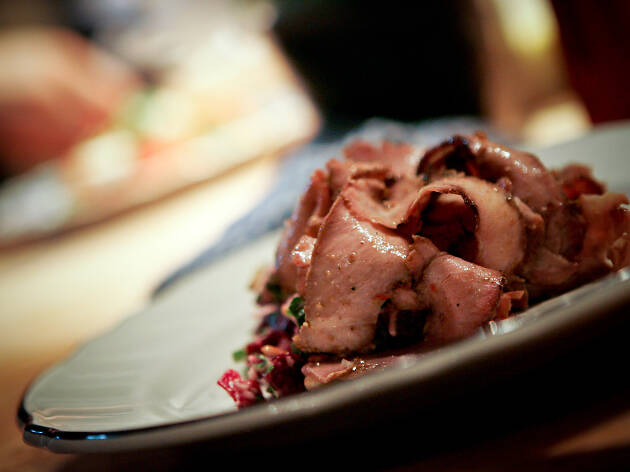 Photograph: Eugene Huge Galdones
Opened in 2005 by chefs David McMillan and Fred Morin, Joe Beef is a sensation that has spread well beyond the borders of Montreal. The restaurant is a staple on countless best restaurant lists—our own notwithstanding—both nationally and internationally and has amassed an empire of neighboring restaurants, cookbooks and even a retail spice line. Yeah. They're so on top of their game that they're selling their own Montreal steak spice. While not a traditional steakhouse per se, their reverence for red meat continues to reign supreme and you're guaranteed both an exceptional cut of beef and experience.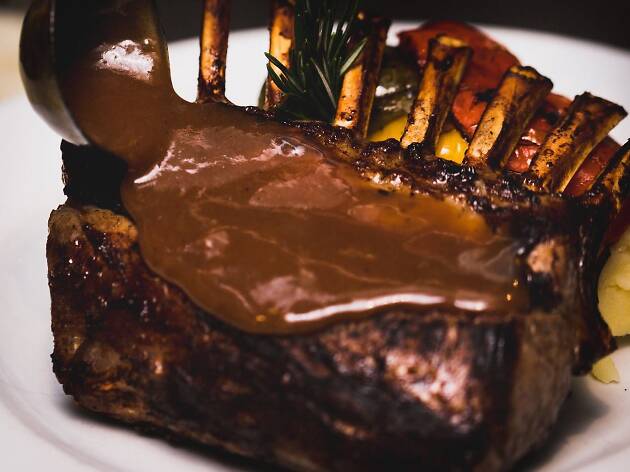 Photograph: Courtesy Firegrill Restaurant & Bar
This spot swears by its aged 1885 black angus USDA choice beef and legions of satisfied steak-lovers swear by it. Firegrill serves up the classic New York strip, filet mignon and rib steak in addition to a legendary prime roast beef au jus. Notably, it is impossibly wedged into the hustle and bustle of the downtown core and happily provides a dark den to decadently tuck into a steak after a show at the Bell Center, or enjoy an elegant and civilized dinner before devolving into a dancing fool in the bars on Crescent Street.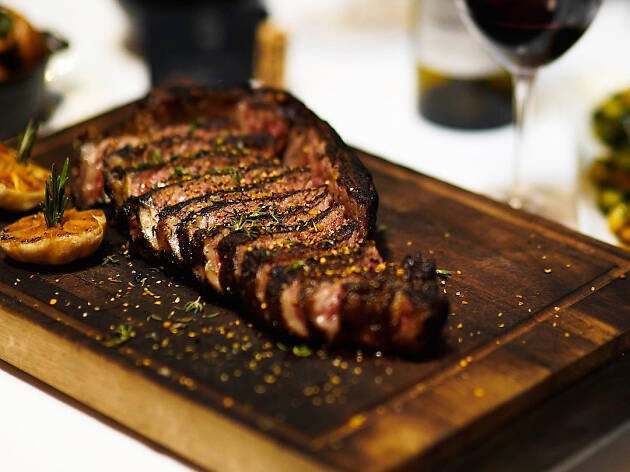 Photograph: Courtesy La Queue de Cheval Steakhouse and Raw Bar
Steakhouses by their very nature tend to flirt with decadence. La Queue de Cheval, (recently rebranded as 'La Q') seemed dissatisfied to simply flirt with decadence, opting to round the bases a few times before eloping with it to Vegas. If your ideal steak dinner involves a double magnum of champagne, a 36-ounce Tomahawk steak, Beluga Caviar, a trio of Canadian, Australian and Japanese Wagyu beef and the whole thing just has to be crowned with foie gras and spring truffles? Only La Queue de Cheval can help you.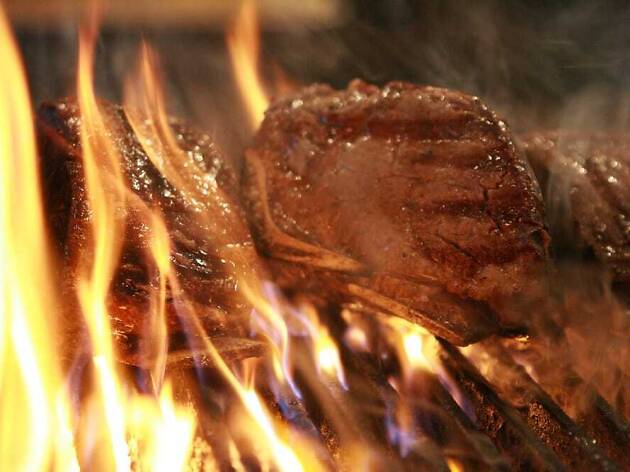 Photograph: Courtesy Yelp/40 Westt
This venerable institution bristles with a raw bar, full cellar, live jazz band and an impressive in-house butcher shop; that's where every atom of beef to come through the restaurant is lovingly dry-aged for 28-32 days before daring to make an appearance on your plate. Its location—just minutes from the airport—ensures that if you've just come into Montreal with an urgent need of a porterhouse or are celebrating skipping town with the last hurrah of a 32-ounce tomahawk, 40 West is the magical caravanserai for you.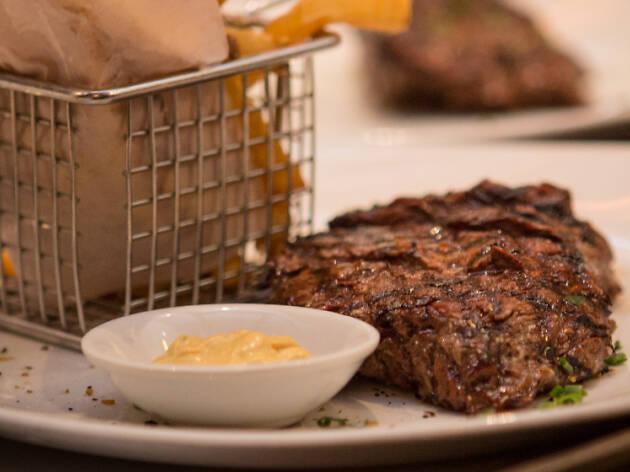 Photograph: Courtesy Towne Hall
In the heart of the West Island, this restaurant may not be as true-blue as some of the other steakhouses around but when you can't be bothered to decide whether to hit up a club or a steakhouse, Towne Hall suggests you don't have to choose. Not as obnoxious as a club, mind you, but a hell of a lot less stuffy than some of the more regal restaurants in town (West Island or otherwise). Towne Hall proffers an eclectic menu but is no slouch when it comes to steaks, serving up a lovely ribeye that's paired with a DJ and bottle service.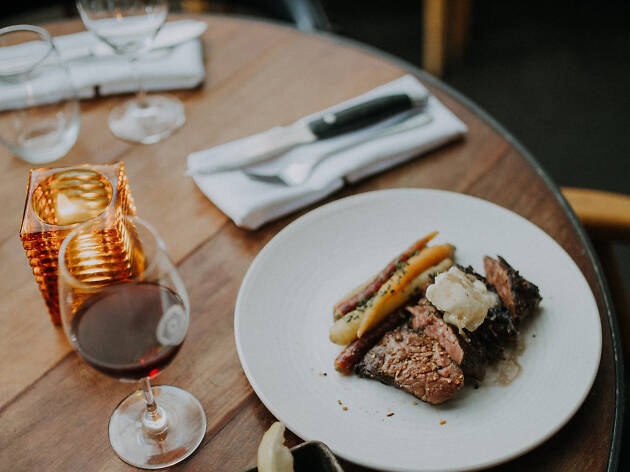 Photograph: Nicolas Blais
Grinder stakes its claim in the up-and-coming neighbourhood of Griffintown and is known for its fabled treatment of meat both raw and cooked alike. Grinder propounds an array of classics in addition to a few lesser-known cuts such as the much-coveted onglet and hugely underrated chateaubriand. What sets Grinder apart from the pack though is a lush, energetic restaurant interior designed by local interior décor luminary Zébulon Perron, providing patrons with the perfect setting to absolutely demolish hunks of expertly grilled meat.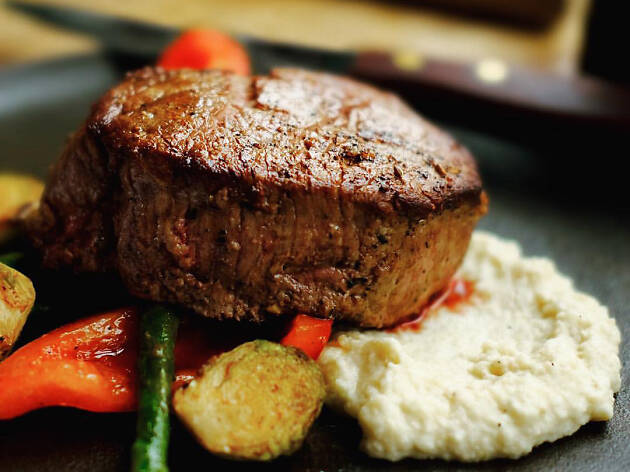 Photograph: Courtesy Restaurant Hachoir
A compact, industrial-chic restaurant with a focus on good wine and good meat tucked smack in the heart of the Plateau, this restaurant has deftly taken the staider aspects of the traditional steakhouse and brought them up to speed with a few modern touches. Le Hachoir isknown to serve up quintessential cuts of 1885 Black Angus beef but really shines by folding a bevy of Quebecois elements into their menu, including but not limited to a range of Quebec cheeses, the frequent appearance of local bison, duck and of course, poutine.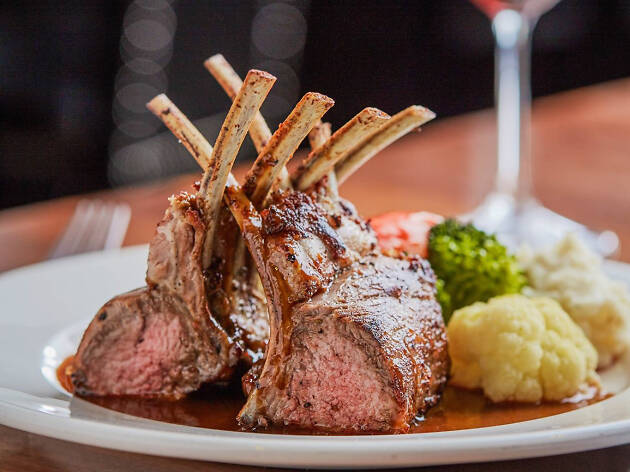 Photograph: Courtesy Vieux-Port Steakhouse
11. Vieux-Port Steakhouse
If pressed, this Old Montreal bastion could most likely withstand a siege without breaking a sweat. Entrenched in a magnificent century-old stone edifice, Vieux-Port Steakhouse has a jaw-dropping 1000-person dining capacity and is the only place in town where you can get yourself a baseball cut top sirloin (pro-tip: baseball cuts share many of the characteristics people cherish in filet mignon while side-stepping the price). If you visit in the warmer months, be sure to reserve a seat on their popular courtyard terrace to experience the historic borough at its best.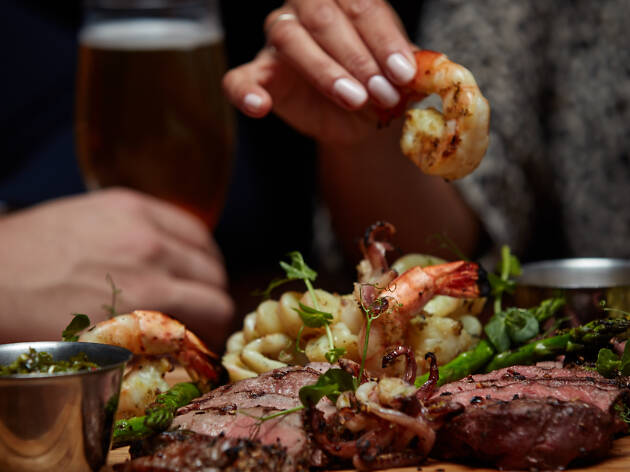 Photograph: Méchant Boeuf Bar-Brasserie
12. Méchant Boeuf Bar-Brasserie
Its location in Old Montreal on the ground floor of the opulent Hotel Nelligan might not lead you to believe this steakhouse could be much fun, but it becomes quickly apparent upon entering that it isn't afraid to let its hair down. Rather than the occasional clink of silverware that comes as a stock soundtrack in the most modish of restaurants, you're likely to be treated to a stream of thumping 90s anthems. Méchant Boeuf is notorious for its 5 à 7 happy hour and serves brunch for those Sunday mornings where only a steak will suffice.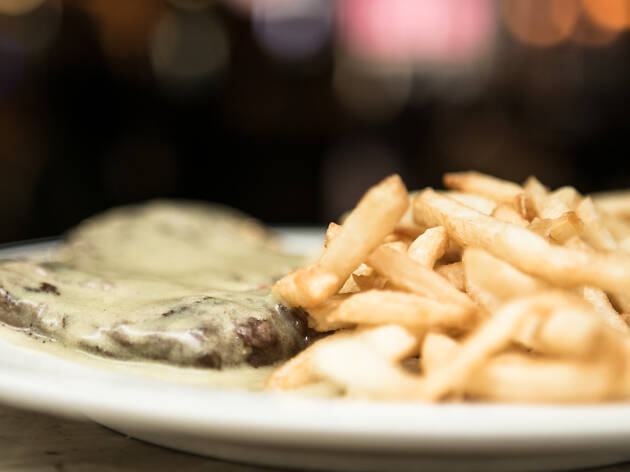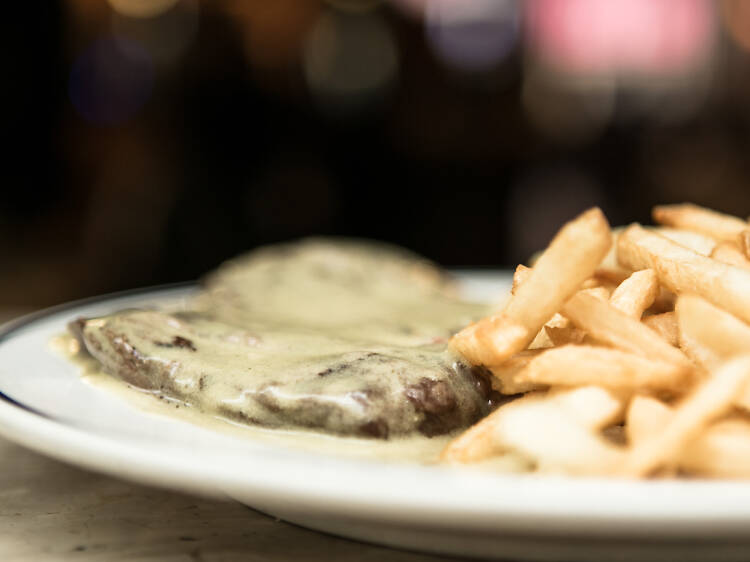 Photograph: Courtesy L'Entrecôte Saint-Jean
13. L'Entrecôte Saint-Jean
A stone's throw from the luxe mecca of 'La Q' downtown, L'Entrecôte Saint-Jean serves up a very different version of the ideal steakhouse, swaying deep into bistro territory. Be forewarned, the menu is pretty sparse. You've got a choice between an entrecôte or a contre-filet, but regardless of which cut you go with, the real draw here is their mythic sauce. Creamy, chock full of herbs, a pinch of mustard and a dash of something secret, its elusive charm keeps the lights on.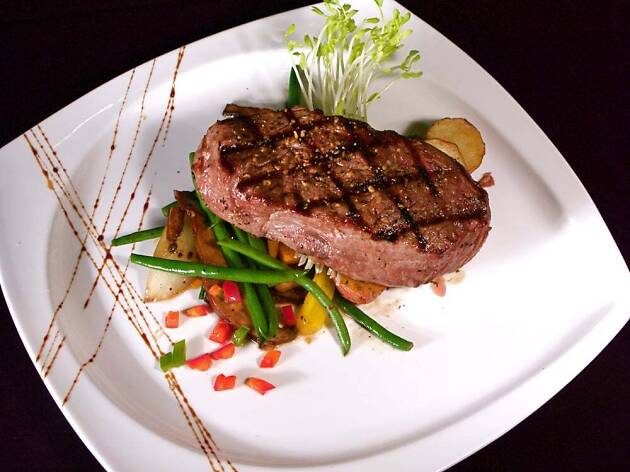 Photograph: Courtesy Yelp/Chops
If you're a true steakhouse devotee but deep down have desperately wished that steakhouses also served authentic Kosher Japanese and Moroccan food? Well, that's insane, but you're somehow in luck: Your wild fantasy's hiding in plain sight in the middle of Côte-Des-Neiges and is perhaps the neighborhood's best kept secret. They'll gleefully serve you Gyoza to start with a Delmonico steak main, followed by halva ice cream for dessert. Best of both, or three, worlds.
More of the best restaurants in Montreal
You'll find all of your happy hour oyster and fresh lobster needs satisfied by the best seafood restaurants in Montreal.
From bubbly and oysters to tasting menus, here are the best romantic restaurants in Montreal for your next date night.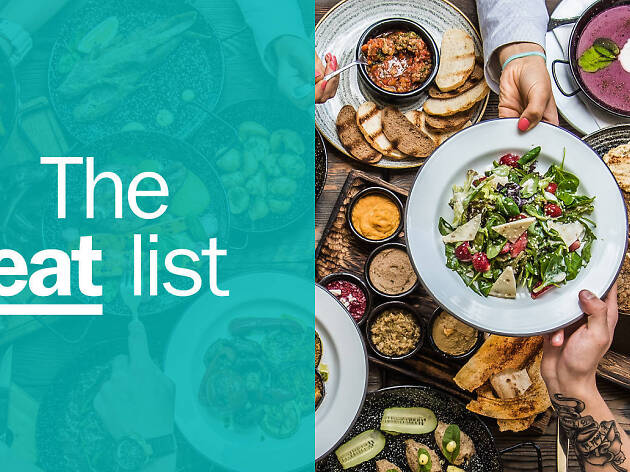 From the dining scene's top brass to young guns stealing the show, here are the best restaurants in Montreal right now.