Heads up! We're working hard to be accurate – but these are unusual times, so please always check before heading out.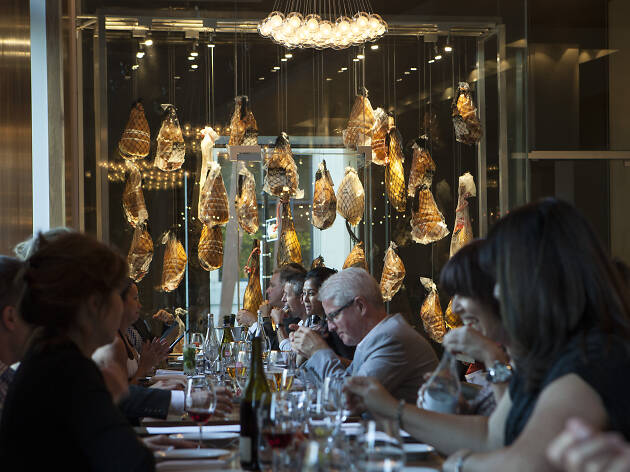 The best charcuterie in Montreal
Find platters of cured meats, cheeses, terrines, pâtés and more with this guide to the best charcuterie in Montreal
Long before we had charcuterie, the practice of serving up cured meats developed over centuries of trial and error, a necessary evil of finding palatable ways to preserve various meats for extended periods of time—that is, before modern refrigeration. Today, it's standard practice to enjoy its complex flavours and a common snack in wine bars. Whether it's after discovering some of the best things to do in Montreal or fuel before enjoying the city's nightlife, these are the best spots in town to enjoy the best charcuterie in Montreal.
RECOMMENDED: Full guide to the best restaurants in Montreal
Best charcuterie in Montreal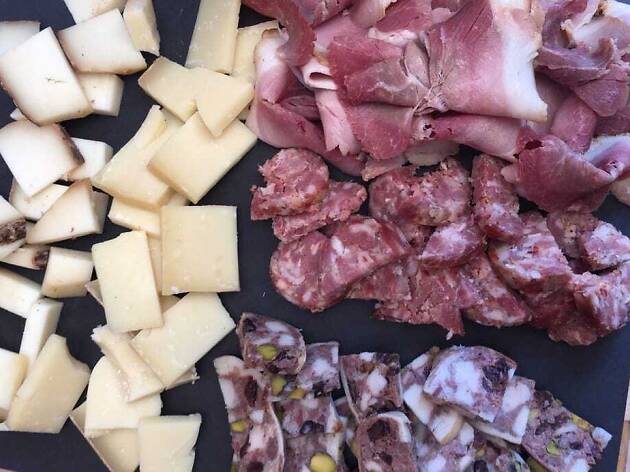 Photograph: Courtesy Yelp/Katie B.
Butchery to the popular Mile End restaurant Lawrence, this meat-obsessed sister business is a stellar butchery outfit providing choice retail options for the city at large with a dizzying array of in-house charcuterie, canned goods, dairy products, syrups and more. Not only does it make sure they utilize the entirety of the animals they receive, but all the products they process comes from small farms here in Quebec.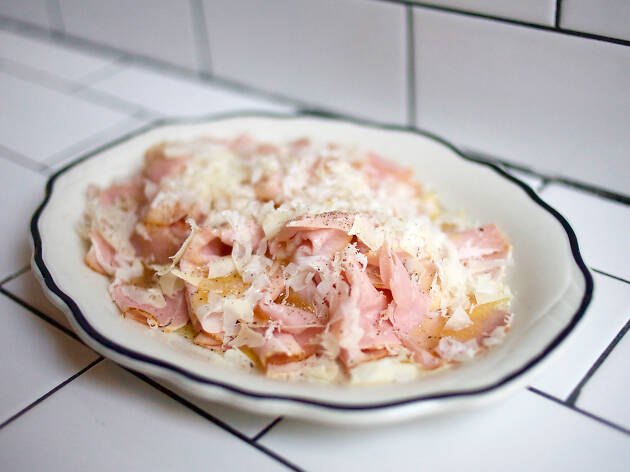 Photograph: Courtesy Vin Papillon
Specializing in hard-to-find natural wines, Vin Papillon has a fixation on local roots, leaves, and tubers but they will—almost without fail—add splendidly carnivorous charcuterie-based elements like house-smoked bacon or buerre noisette jambon blanc to their vegetal dishes, making them pop with surprising flavours, persuading some diners to re-examine what they thought they knew about the most mundane of greener ingredients.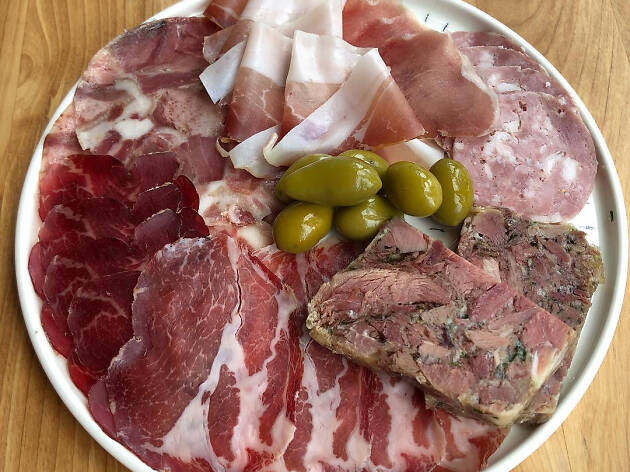 Photograph: @alimentsviens
Granted this isn't a restaurant, but we'd be remiss if we were to ignore mentioning this charcuterie producer as it supplies many of the best restaurants in town with their wares. Owner Phillip Viens developed his charcuterie techniques in Germany and—thankfully for us—decided to bring them home. The refreshingly simple, industrial outlet on Saint-Laurent serves up a trio of sandwiches that highlight the quality of this producer's product, but we encourage you to pick up a few hundred grams of your favourites and make your very own charcuterie board at home.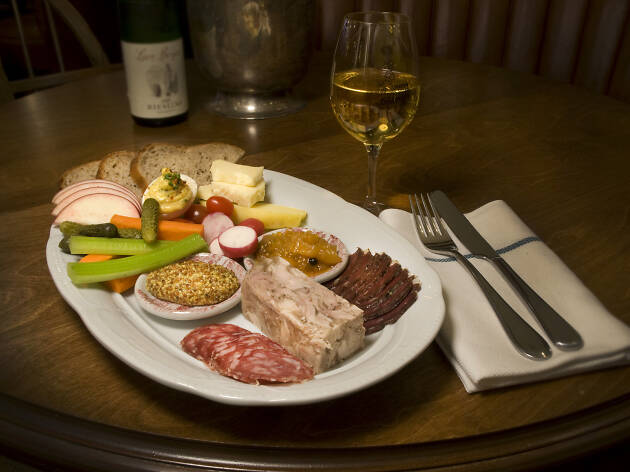 Photograph: Dominion Square Tavern
4. Dominion Square Tavern
Located in a carefully refurbished 1927 tavern in the heart of the Golden Square Mile, the Dominion Square Tavern might as well be a time capsule. The history is one thing, but its offered collection of fish and seafood-based charcuterie in addition to the more classic pork, beef, duck and rabbit is among its most masterful attractions. Aficionados love this place for its authoritative vintage cocktails, and we're happy to report they make perfect company to their charcuterie.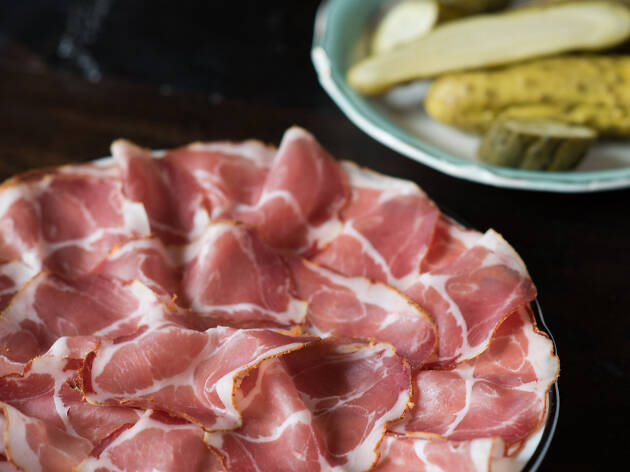 Photograph: Alison Slattery
This restaurant might come across as surprisingly British for being in the heart of French Canada, but one thing's for sure: It's a gastropub done right and once you settle in, you'll find that the two worlds mesh seamlessly. Chef Derek Dammann is known for utilizing some of the highest quality ingredients in Quebec, treating them to a menu with a traditional British slant. More squeamish diners might balk at the offal on the menu—especially when it's found in the charcuterie—but the adventurous who are willing to throw caution to the wind with headcheese or kidneys are guaranteed an unparalleled experience.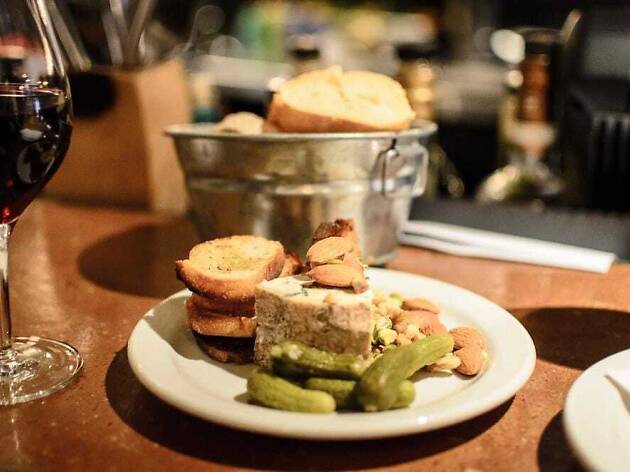 Photograph: Courtesy Yelp/David N.
This hip wine bar with its warm interior and dramatic lighting has always understood the happy pairing of excellent wine with charcuterie, and there are scant few establishments in Montreal that can claim to pair them as successfully as this place. Somehow Buvette chez Simone has remained a mostly local affair, filling daily to the brim with residents of its neighborhood, so those looking for a real slice of daily Montreal life can do no better than pull up a chair on their terrace for a quintessential 5 à 7.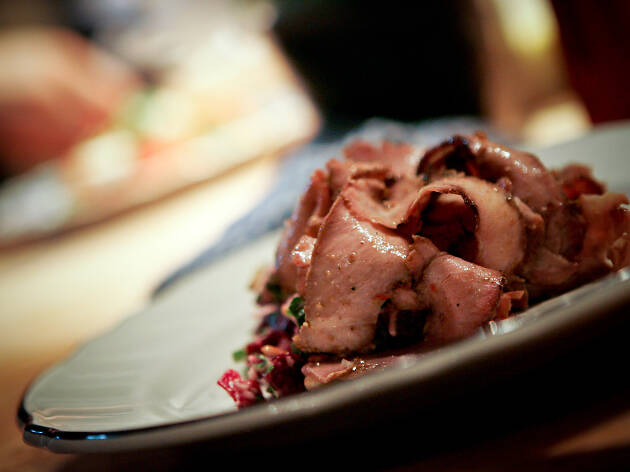 Photograph: Eugene Huge Galdones
A golden child of the Montreal restaurant scene, Joe Beef is a staple on both national and international best restaurant lists. Their treatment of meats is best expressed in the shuffle of various charcuteries throughout their seasonal menus. Somewhat notorious as an altar to over-indulgence, you may find yourself leaving Joe Beef ready for a nap. Few outsiders know—and few locals may remember—this restaurant's rental of a luxurious apartment just above its dining room, fully equipped and adorned with mobiles of assorted meats hanging from the ceiling-beams. If that's not serious about charcuterie, we don't know what is.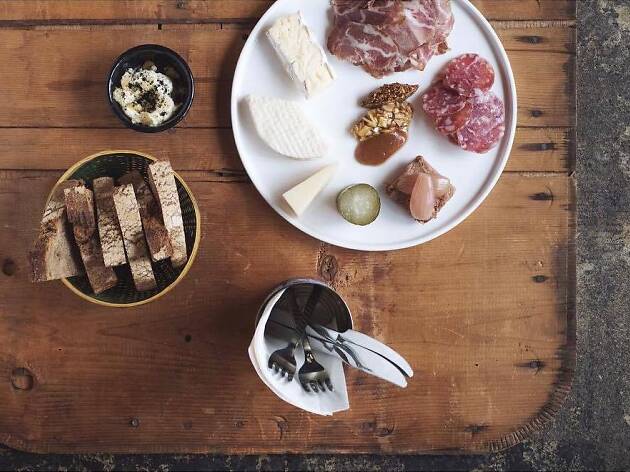 Photograph: Darling
This eclectic Plateau favourite opens in the early morning as a café and transforms into a nightlife hotspot focused on beer, wine and cider after dark. Its space is almost laughably Instagram-worthy with its spacious, multi-section layout, full wraparound bar and steampunk amalgam aesthetic. Many a Montrealer gets lost in a charcuterie board here, if not amongst the flora and kitsch decor of this spot.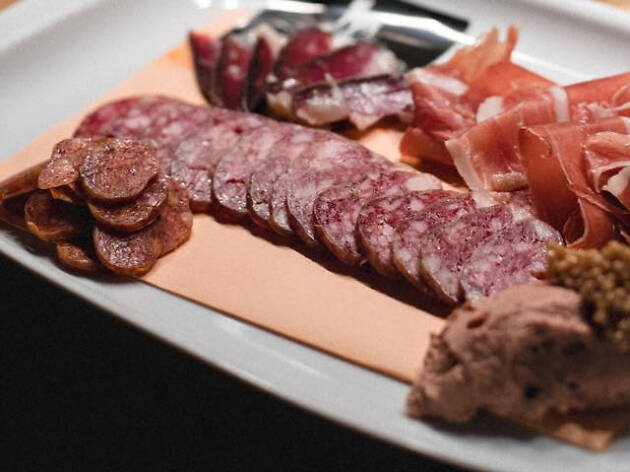 Photograph: Le Chien Fumant
It might be a little hidden in the thick of a solidly residential neighborhood, but Le Chien Fumant is a thoroughly modern French restaurant that any visitor to the city would be well rewarded for making the pilgrimage to. This address delights in playing with the classics and never fails to innovate in unexpected ways. Consider dropping in for its lauded charcuterie board, but make sure to stay for the full experience of its chef Maksim Morin's creative menus.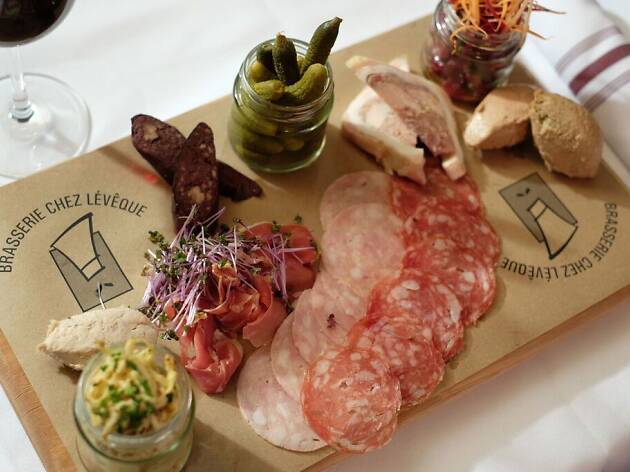 Photograph: Chez Lévêque
Beloved by Montrealers, this restaurant's been open for over 40 years thanks to its fun and adept treatment of French classics, buoyant ambiance and cheeky, irreverent riff on church motives that're so integral to Quebec identity. You're guaranteed to find trusty charcuterie stalwarts along the lines of cognac terrine, smoked herring and trout, liver mousse, confit duck and foie gras. Although not completely novel or ground breaking, Chez Lévêque is more than the sum of its parts and is essentially Montreal.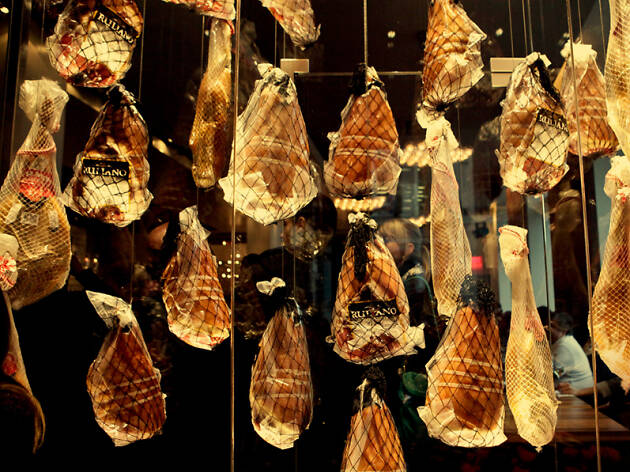 Photograph: Hambar Restaurant
This upscale hotel-bar caters to charcuterie lovers and—as the name might suggest—ham lovers specifically. Proudly serving its collection of foreign hams in a glass case right by the entryway, Hambar takes particular care in pairing their magnificent charcuterie boards with well thought-out vintage wines. When strolling through the picturesque Old Montreal neighbourhood, you'd do well to take a breather in this regal, well-lit temple to aged porcine products.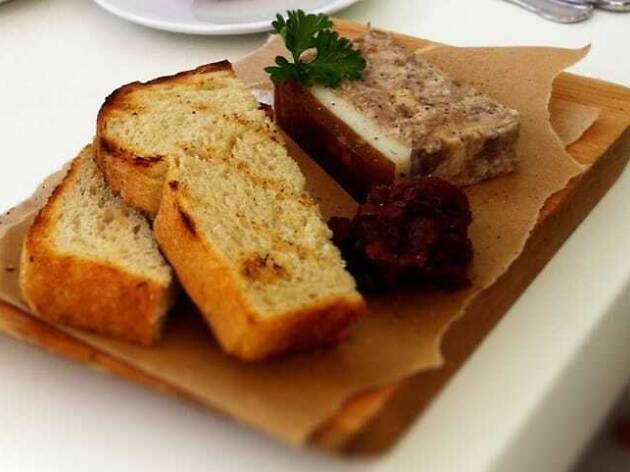 Photograph: Courtesy Yelp/Seb L.
A more casual project for Quebec celebrity chef Normand Laprise, this unique space is right in the heart of the action, saddled next to Montreal's contemporary art museum and located in the middle of the city's summertime festival grounds. The restaurant's space is a striking one with full glass panels for walls and a commanding view of the fountains in Place-des-Arts, but the meat available here? The menu is lean but robust and always features masterful examples of classic French charcuterie. It's hard to say whether the real star of the show is here, its solid menu or its fabulous location.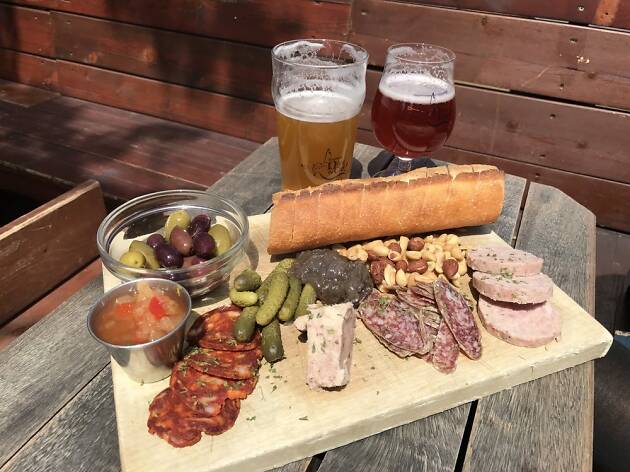 Photograph: Courtesy Yelp/Ashlee B.
Quebec is lousy with microbreweries these days, but Dieu du Ciel! is one of Quebec's oldest and most respected, pushing the boundaries of brews for over twenty years. This quaint microbrewery is their showcase, a bit of a tight squeeze inside—mostly owing to its popularity—but it only adds to the cozy feeling in this surprisingly productive operation. You'll be delighted to find that you can peer in on the gleaming copper brewing operation while enjoying your charcuterie platter paired with one of their one-of-a-kind beers.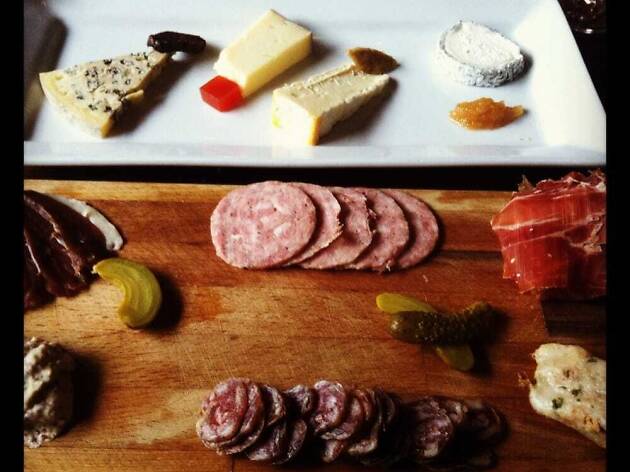 Photograph: Courtesy Yelp/Rawan K.
Wine bars might be common enough now, but when this elegant bar opened the concept was a new one. An assortment of star chefs have passed through Pullman's kitchen over the years and each has excelled with their challenging small-plates-only style. That said, the charcuterie board has long been a city-wide favourite and has been on their menu since the beginning. Pullman offers a staggering selection of over 500 wines, and with an extremely helpful and knowledgeable staff, you're sure to find the perfect pairing to go along with your charcuterie fix.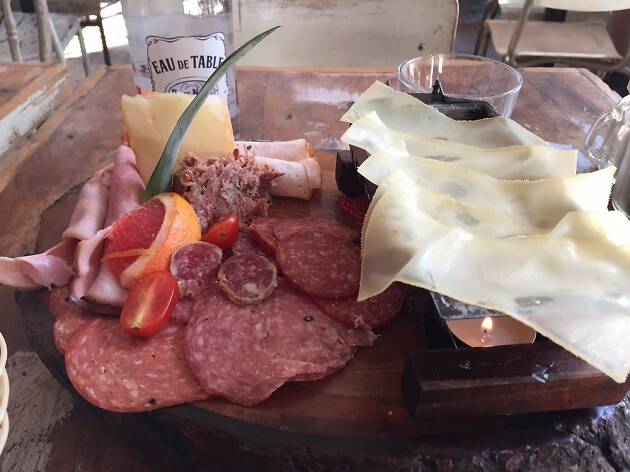 Photograph: Courtesy Yelp/Zacharias P.
15. Marché de la Villette
If you're an absolute purist who couldn't imagine enjoying a charcuterie board in anything other than a cluttered Parisian bistro hidden on some forgotten cobblestone lane, Montreal can accommodate! It's as though an authentic Parisian bistro was packed up and transplanted overseas; nowhere else in town can you better experience some old world European charm than at one of their small bistro tables with a famously generous (and inexpensive) charcuterie board here.
More wine with your charcuterie?
Whether it's red, white, orange, rosé or sparkling, the best wine bars in Montreal have you and your thirst covered.
Where to find the best carnivorous restaurants in Montreal
From choice prime rib, cowboy and tomahawk cuts and beyond, you'll find it all in the best steakhouses of Montreal.
Whether you want something greasy, cheesy, saucy or fancy, these beefy stacks are the best burgers in Montreal.