Heads up! We're working hard to be accurate – but these are unusual times, so please always check before heading out.
The best new restaurants in Montreal to try right now
Our monthly guide to the best new restaurants in Montreal features the latest and greatest we've tested and tasted
March 2020: The best new restaurants in Montreal are where you go to discover the boldest of the fresh faces on the scene, arriving on the proving ground of a fiercely competitive restaurant landscape: Will Joe Beef's newest instalment to their empire live up to the hype? Once you nab a seat for omakase from sushi chef Junichi Ikematsu's fresh counter, is it worth it? Well, we've eaten our way through the new names to proclaim what's worth it. You won't find anything here older than six months since opening, ensuring a fresh selection. This month's refresh says 'so long' to vegan delights from Bloom Sushi in Old Montreal and outstanding Hawaiian-Filipino menus from Le Petit Vibe; they're both fantastic, but we're making room for new names.
From the cutting edge of creativity to serving solid traditional cuisines, the best new restaurants in Montreal are where you'll find gamechanging quality. We won't deny that the city's best restaurants—especially the ones closest to Michelin star restaurants Montreal provides—are always worth a visit, but who's going to be next in line to join those ranks? Locals know (and tourists want to know) all the classic spots for iconic Montreal food like the best poutine, the best bagels, the best Portuguese chicken or the best delis for smoked meat in Montreal, but there's always a new name looking to catch our collective eye. These are the places to reserve a table at if you want to be gastronomically shook.
RECOMMENDED: Full guide to the best restaurants in Montreal
Best of the city
Our local editors have spent months handpicking and gathering the best of the best restaurants and chefs together onto one central stage, Time Out Market Montréal. It's a 40,000-square-foot culinary and cultural destination that's centrally located downtown in the Centre Eaton de Montréal—the biggest in the city of its kind—stocked with 16 eateries, three bars for beer, wine and cocktails (plus non-alcoholic options), a demonstration kitchen to both see and taste some culinary action, a cooking school to learn new tricks and techniques, a retail space, and cultural spaces devoted to art, music and more. Our mission is simple (but spelled out here): If we discover something in the city that's great, it goes in our media and magazine; if it's unforgettable, it goes in the market.
Where to find the best new restaurants in Montreal
Photograph: Vinette / @vinettemtl
Billed as a seafood-centric restaurant, this new restaurant-within-a-restaurant located past the front doors of Liverpool House is the latest from the Joe Beef collection. Chef Jean-Philippe Miron's at the helm, delivering dishes from Liverpool House as well as fresh Vinette dishes highlighting every fruit of the sea you can think of: Oyster platters being an obvious must-eat here, expect as many classic seafood dishes like stews and shrimp cocktails as there are small-but-savory plates of crab toast. Dip into natural wines and craft beers as you debate whether or not you order up the whole menu, but take time to enjoy the view onto the neighbourhood's Vinet Park just beyond the pane.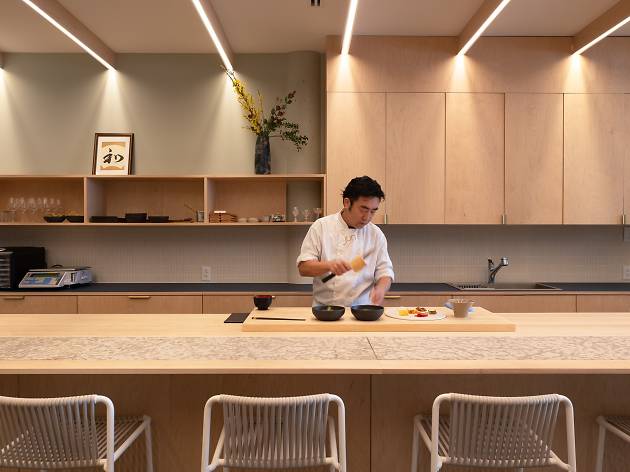 Photograph: Elliot Légaré
More of a shop than strictly a restaurant, Ôkini is the next step for local sushi master Junichi Ikematsu. That said, while you can buy products made from the chef's own recipes and to-go lunches of a gourmet quality, this new space attached to the principal address of Jun I features a sit-down area for all kinds of sake tastings with bites, how-to workshops and lengthy omakase services. Note that it's already been getting booked solid for omakase that will accommodate up to only eight people per service, so grab your reservation while you can for an intimate, accomplished experience or join in at another workshop or tasting and learn from an expert.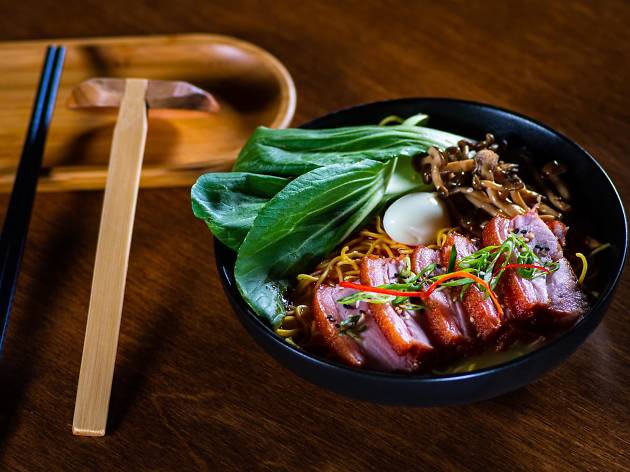 Photograph: Chifa
One of the most hotly anticipated openings of the end of 2019, this Chinese-Peruvian restaurant from chef Marcel Larrea of Tiradito (known for Nikkei or Japanese-Peruvian cuisine) has made an awesome impact on downtown. With a sleek bar setup featuring as much fusion in its design as there is in the food and mixology, it's one of the sexier new restaurants on the scene right now. Pisco cocktails with softshell crab? Five-spice fried chicken with a cold pint or can of Inca Cola? BBQ duck taquitos or catch of the day ceviche with wine? Yes, yes, yes.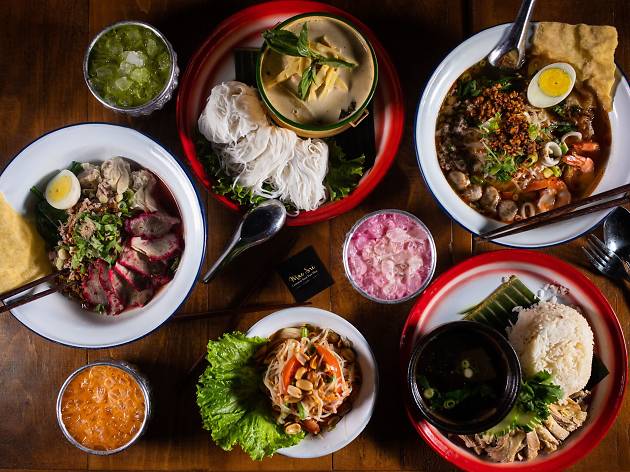 Photograph: Mae Sri
If you were a student, you were probably focused on finals, or just your average Montrealer looking forward to turkey and pie during Christmas. That said, you probably missed on this casual kuai tiao counter opened up by the local Thai chef Pamika Sukla in the McGill Ghetto. A counter service restaurant selling noodle dishes, soups and a range of starters that seldom break $15, everything here's a fresh (and spicy) breath of air in the area. We recommend the fried chicken salad or any one of the flavour-packed soup, or a solid plate of pad thai.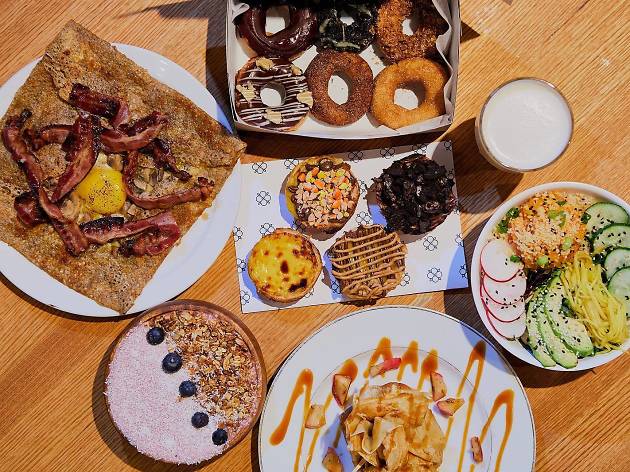 Photograph: Pété Photographie
We'll always be the first to tout the democratized fine dining you'll find at Time Out Market Montréal, of course, but if you're looking for more of a spot with street food flair? You go here. Le Central touts 25 spots in total that includes some notable upstarts from around the city (Heirloom for pizza, Misoya for ramen, Trou de Beigne for donuts, Le Super Qualité for Indian, La Capital for tacos) while acting as the springboard for all-new operations (the Laotian Thip Thip, Chinese fried chicken from Ho Lee Chix, Italian eats from Ragu). With a few months under its belt, it's proved itself to be an excellent bite.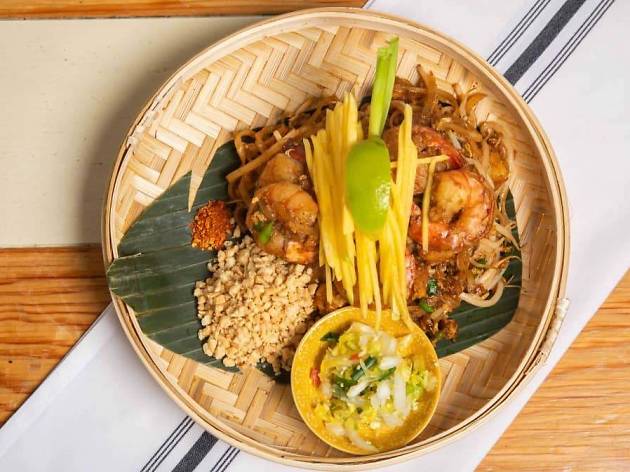 Photograph: Kwai
While we thought Lavanderia was a smash hit and a refreshing face on the steakhouse scene, it seems Antonio Park felt otherwise. Instead, the famed local chef's taken the space in a new direction with a Thai restaurant serving brunch, lunch and dinner. Sometimes inspired and sometimes traditional, if you want to know what they're wokking with, that means lemongrass-grilled steak with eggs in the morning, green and red curries or wok-fried noodles for lunch, chicken satays with peanut sauce and fried sea bass for dinner and coconut crème brûlée for dinner.
Photograph: Patricia Brochu
The last of the three anticipated food halls, the restaurant and biergarten Le Cathcart joins Le Central and Time Out Market Montréal's transformation of the dining landscape in Downtown Montreal. At this new gathering place in the base of Place Ville Marie, the most notable diners can find here is more than a mouthful: There's the Chinatown favourite Mon Nan, smash burger champ Uniburger, cult Lebanese classic Omnivore, both Raegan Steinberg and Alex Cohen of Arthurs Nosh Bar doing their own concepts—a salad counter called Dirty Greens and Italian sandwiches at Patzzi, respectively—and the Miami chef Michael Lewis doing a Korean fried chicken counter called Chikin alongside two coffee shops and three restaurants to compliment the aforementioned places that will be more of a street food style and service.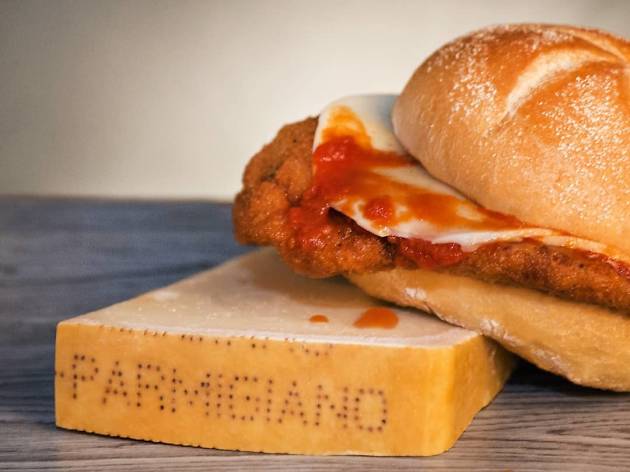 Photograph: California Sandwiches / @californiasandwiches.mtl
An Ontario-based chain for New Jersey-style sammies of Kaiser buns loaded up with provolone and meatballs, chicken or eggplant parm and ladels of marinara (with add-ons like peppers and mushrooms) now boasts an address in the Latin Quarter. Going for barely over $10, the sandwiches here easily make for a meal—making it a shoe-in for UQAM students if the name won't offend too much. Really, there's not much more to them than this, but since they tried to open in this city 15 years ago, let's see if this bite really takes hold this time. We think it's worth it.
Photograph: Otto Bar / @bar.ottomtl
The newest address from Hanhak Kim and chef Hiroshi Kitano of Otto Yakitori and Otto Bistro, this new operation's a new place for the pair to expand their delicious reach even further. They're offering skewered and grilled yakitori and kushiyaki alongside rice and noodle dishes, buns and desserts while putting even more emphasis than ever before on booze: Japanese whiskeys, sake selections, cocktails and pitchers after pitchers of Sapporo are going to give the nexus of Atwater and Notre-Dame West another damn good reason to go out drinking in that neighbourhood.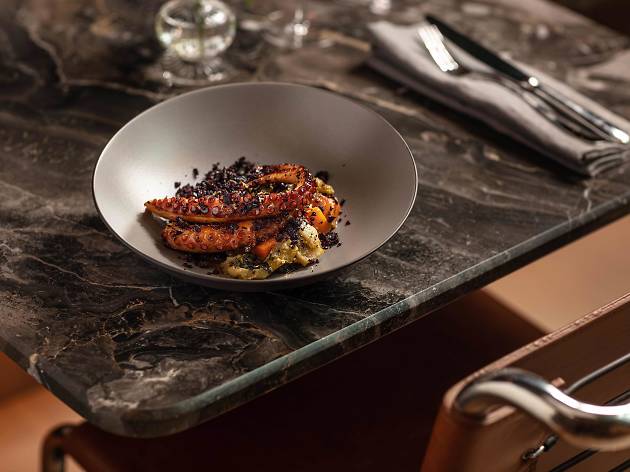 Photograph: Jean-Sébastien Senécal
When the Plateau's Lili Co. closed its doors last year, the loss was palpable. Chef David Pellizzari's methods and creativity were something worth celebrating; that's why his new tenure at the revamped Le Germain hotel in Downtown Montreal is excellent news: Not only can we once again taste his fantastic food, but it comes with a lot of classic French inspirations, from escargot and frog legs to rabbit à la royale and a panisse recipe we go absolutely crazy for. Pair that with some sleek cocktails from the Flâneur Bar Lounge downstairs or a glass of cava, and you'll be considering booking a staycation there before too long.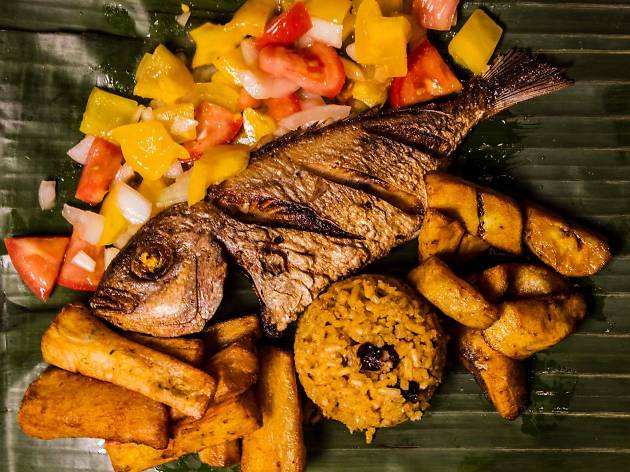 Photograph: Maquis Yasolo / @MaquisYasolo
Saint-Henri's Aliments Yasolo was always a good spot to grab groceries alongside some slapping Jamaican patties. That's one of the likely causes why that grocer created this restaurant next door, and if that alone doesn't sound like a smart enough move, check out the menu: Marinated goat, Congolese grille chicken, griot and curries with roti all promise a savory (and sometimes spicy) set of items that gets paired with twisted choices like a 'jerk' burger and pineapple salad. At 60 seats and a family dinner-based inspiration fueling the kitchen, it's easily among our top choices for new restaurants in town.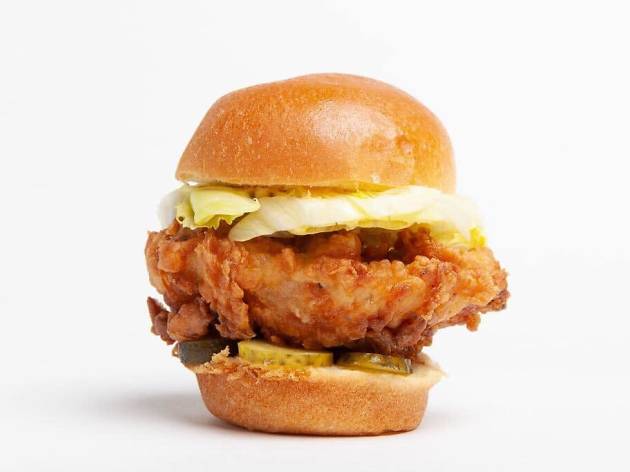 Photograph: Xavier Havitov
It's all about location, location, location, and we could tell from first glance that this fried chicken-forward restaurant was going to bring even more much-needed casual eats to Outremont. Buckets o' boneless bird are a drawcard here, but nothing beats a solid fried chicken sando either, especially when it's coming from Soubois chef Guillaume Daly and head chef Cosmas Arroyave—who's got Michelin-starred restos from Osaka and Denmark on his CV—alongside other owners. To top it all off, there are local beers and natural wines to order up with your snacks.
Photograph: Hello 123 / @hello123forever
Some say 2019's the year of the vegan, and with arrivals like this one, we're inclined to believe it. While slightly related to the Toronto-based operation Hello 123, it's anything but: A raw wine bar that places emphasis on vegetables and what can be done with them. Chef Gabriel Aubé (known for work at Hélicoptère, Au Pied de Cochon and Boullion Bilk) is at the helm of the kitchen, and that means plates are bold, beautiful and bursting with flavour. Now that we're in the colder months, hearty root vegetables are sure to take place on plates in the best of ways.
Photograph: Tiers Paysage / @_tierspaysage_
Old Montreal continues its upward climb in restaurants with the promising arrival of this wining and dining spot from chef Harrison Shewchuk (who cut his teeth at Maison Publique), sommelier Samia Hannouni (who has Joe Beef as part of her repertoire), as well as co-owners of the wine bar Philémon Ariel Goldstein and Misha Smarsik. Food is vegetable-forward here, and that's at a fine time in the city as restaurants make that shift; couple that with wine lists we're happy to blindly pick from (or the 'finest and cheapest' even succeeds), and you're in for a solid experience.
Photograph: Paloma / @restaurantpaloma
Hot on the trail on Villeray's slew of openings in 2019 comes this southern French restaurant with Italian twists (see: influences from Nice) from chef Armand Forcherio and his daughter Rosalie Forcherio, the latter sporting sommelier experience from Le Filet and Montréal Plaza. A tidy and affordable menu here features seafood, pastas like linguine vongole, vegetable sides of braised endives or a 'eggplant caviar' to enjoy alongside some beautiful vintages. With a mandate to satisfy its neighbourhood first, that means you can expect some loving care and attention when you sit to eat at their tables.
More of the best restaurants in Montreal
Welcome to the Time Out EAT list, our handpicked 'best of' selection of Montreal's culinary delights.