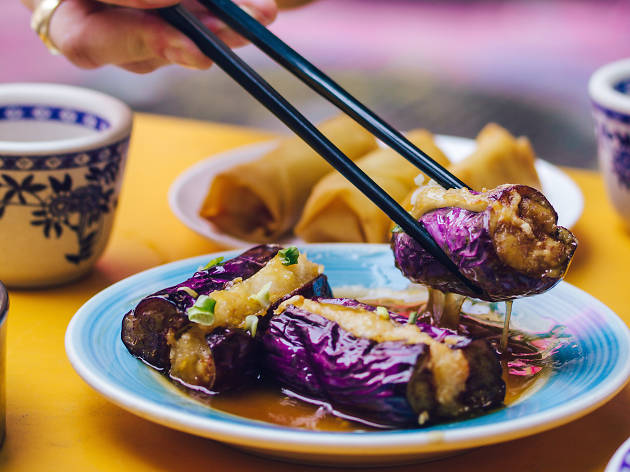 The best Chinatown, Montreal restaurants to eat up ASAP
Consider these Chinatown, Montreal restaurants your bucket list of where you need to earn some serious dining cred
Despite its size, the small neighbourhood of Chinatown, Montreal is abolsutely packed with restaurants that make up some of the best dining options in the city. From weekend brunch services brimming with dim sum to daytime bakeries and Chinese restaurants dishing out plates after plates to hungry late-night diners, the best eateries of this area as reliable as they are delicious. Concentrated around a stretch of pedestrian-only road sandwiched between the Quartier des Spectacles and Old Montreal, it's accessible for people to reach at all times of day. What's perhaps most interesting about Chinatown, Montreal is that it also offers a handful of other types of cuisine other than Chinese food, including Vietnamese, Japanese, a well-established Mexican offering, and—if you know where to look—you might even find yourself in a basement tiki cocktail bar.
RECOMMENDED: Full guide to the best restaurants in Montreal
Where to find the best restaurants in Chinatown, Montreal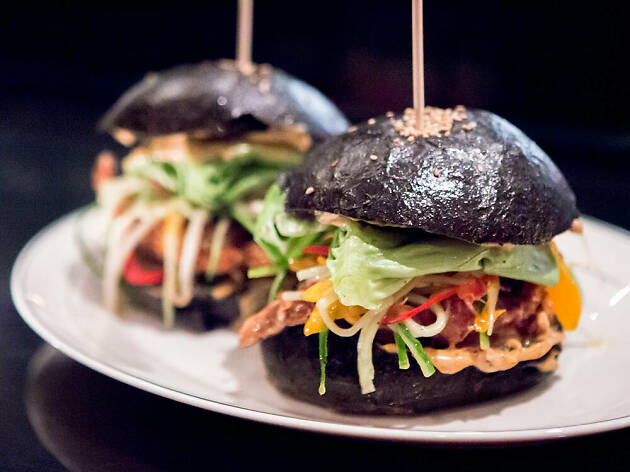 Courtesy Orange Rouge
Advertising itself as Chinatown's best kept secret, this Asian fusion restaurant offers diners some classic dishes with modern twists as well as craft beers and homemade cocktails to keep things interesting. Dishes range from as little as $7 to $19, with a few other options available for slightly more. Come with friends and order at random in order to try as many options from the menu as possible. Our recommendations include their foie gras dumplings, chrysanthemum salad and spaghetti Bolognese-ish take on the classic Shanghai noodles.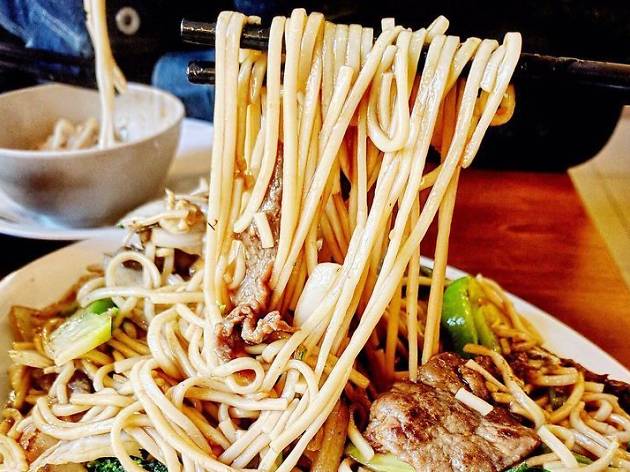 Photograph: Courtesy Yelp/Meimei Z.
This small space on Saint-Urbain is a great option for handmade dumplings, soups and noodle dishes. Specializing in Szechuan, Shanghai and Cantonese cuisine, this tiny family-run outpost recently celebrated its 10th anniversary recently and continues to be a strong contender in the Chinatown scene. Cash only.
Photograph: Courtesy Yelp/Cindy T.
This pastry shop not only features a ton of delicious (and terribly cute) sweets, but also doubles-up as a great location to pick up a bao, which is a common bread-like dumpling found across China. There are a dozen flavours to choose from including one vegetarian option, but it's the classics like minced pork and Chinese cabbage or BBQ-style pork where their menu shines the brightest.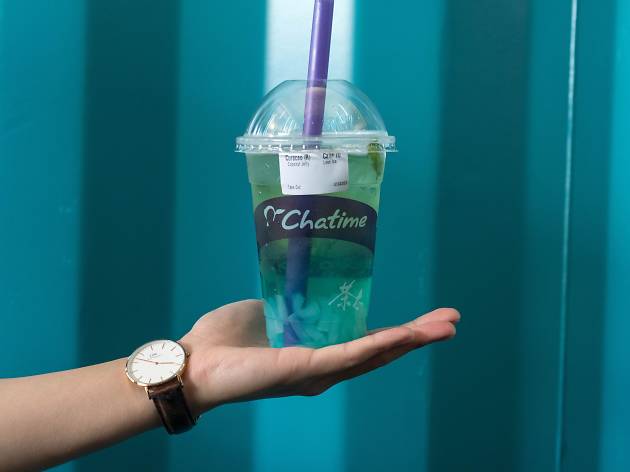 Photograph: Moujib Aghrout
The explosion of bubble tea across North America hit Montreal just as hard as anywhere else, and this Taiwanese franchise in Chinatown is easily identifiable by the perpetual line-up outside its doors. Located just west of Saint-Urbain, opposite Sun Yat Sen Park, guests can grab a bubble tea to go and continue exploring the neighbourhood as they sip.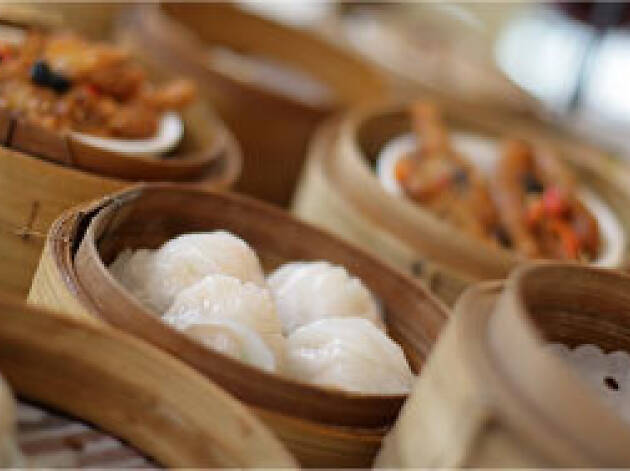 Photograph: Courtesy Kim Fung
Ah, dim sum. There's something special about sitting at a large round table as servers roll their carts past. Kim Fung's execution of this Cantonese fare served hot from trollies in a large dining space is particularly good; the goal, however, is always to find the freshest platters before someone else does. It's next to impossible to leave hungry from this place, and it doubles down as a piece of neighbourhood history as it's been around for years as a staple in the area.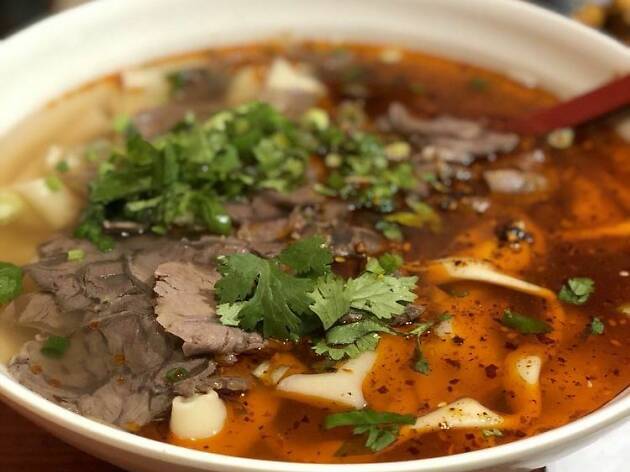 Photograph: Courtesy Yelp/Christine T.
Dining at Lan Zhao on Boulevard Saint-Laurent is more than just a culinary experience. The chefs here are experts at a noodle technique famous in the Lanzhou region of China, and the restaurant offers diners and curious onlookers alike the chance to watch as noodles are twisted, stretched, pounded and hand-rolled for pan-fried noodle dishes and soups alike. The soups, by the way, are the real drawcard here. It's hands-down one of the best cheap eats in the city.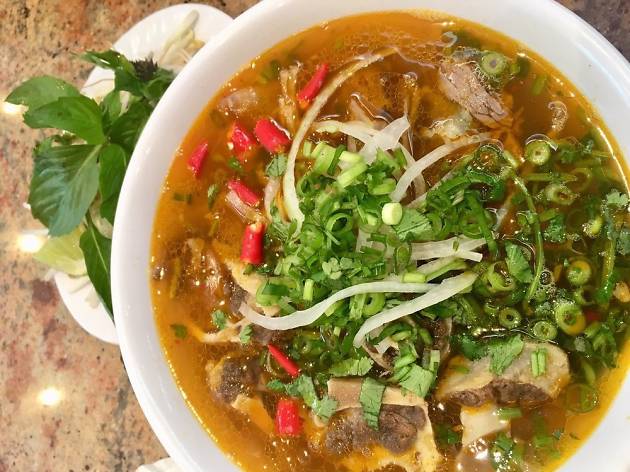 Photograph: Courtesy Yelp/TastyMontreal L.
Widely known for its flavourful soups, Pho Bang New York is the kind of no-frills Vietnamese restaurant that quite simply belongs in Chinatown—and stands out for good reason. Everything from the Tonkinese soup and beef vermicelli to the Imperial rolls and shrimp stir-fried rice are worth a try; come hungry and be prepared to wait a little at peak hours. This one's popular with both locals and tourists alike.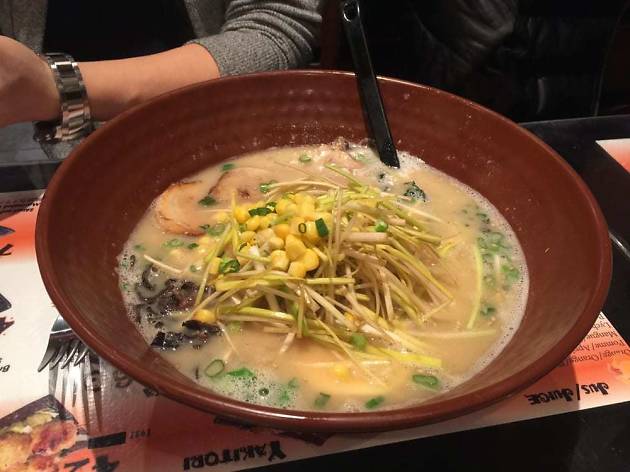 Photograph: Courtesy Yelp/Jessica M.
Focusing on all kinds of ramen—from the classic pork ramen to grilled chicken, beef stew, kimchi and even chicken karaage ramen—the choices are plentiful for Japanese soup lovers. There are a few vegetable options as well, and diners can add extras into their ramen if desired. Chinatown may not be well known for its Japanese offerings, but this one hasn't cornered the market just because it's one of the only ones in the area.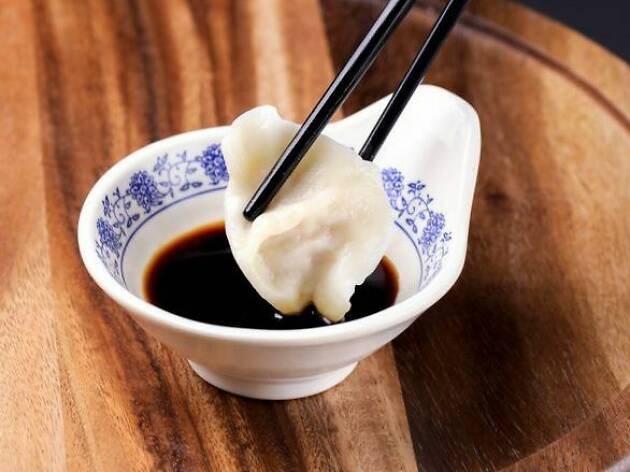 Photograph: Courtesy Yelp/Qing Hua Chinatown
This Chinatown location—the other is located near Concordia University—is a fan favourite for its large selection of steamed, boiled or fried (for an extra 50 cents) dumplings. With several dozen combinations available, one of the best ways to try two flavours is to make a half order for just an(other) additional 50 cents. As the food is prepared by the order, an appetizer or two might be a good way to save you from serious order envy of the next table over.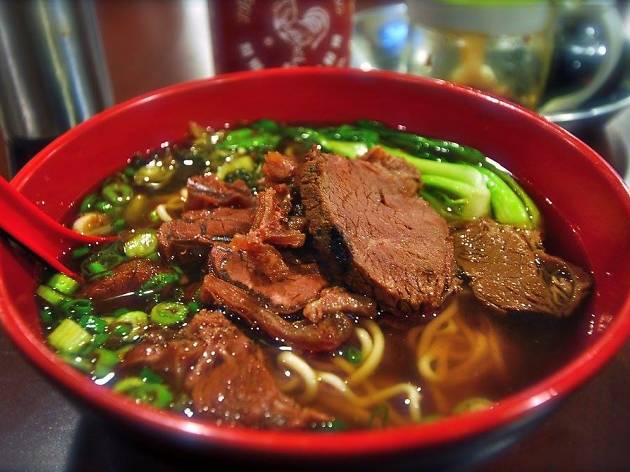 Photograph: Nudo
Another great option for hand-pulled Szechuan noodles is Nudo, a relative newcomer on the Saint-Laurent section of Chinatown. Offering both a lunch menu and an all-day menu, the highlight here is of course the noodle soups and platters. Try the braised beef shank noodle soup or BBQ pork as a first timer.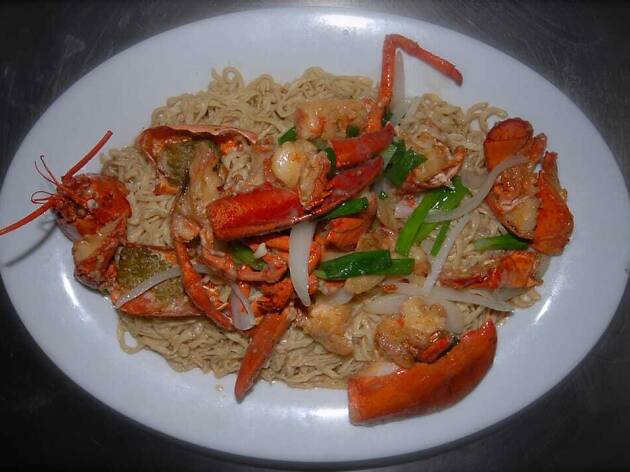 Photograph: Courtesy Yelp/Globeater M.
This classic Cantonese-style restaurant facing the east gate of Chinatown is an excellent option for late-night partygoers on the order-one-of-everything type of diet. Mon Nan stays open late and offers everything from your classic beef and broccoli and fried rice dishes to Chow Mein platters that are full of flavour and consistently delicious. If you happen to go with a few friends, dishes can be upsized (including a massive won ton soup) for sharing purposes.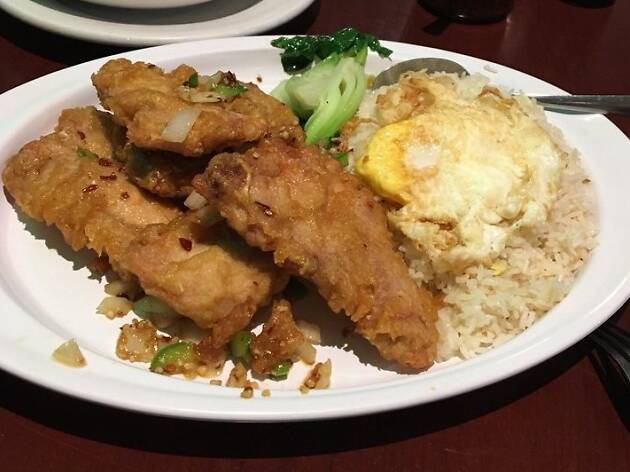 Photograph: Courtesy Yelp/Sheryl L.
Located at the top of a dingy stairwell on Saint-Laurent Boulevard is Amigo, well known for its salt and pepper pork chops, and it's downright delicious and affordable if you can look past some of the restaurant's untidiness. Read up on the chef's accomplishments back in mainland China as you wait for your order to come to the table if you can; they dole out those chops with amazing speed. If you still have space leftover, order the fried banana for dessert.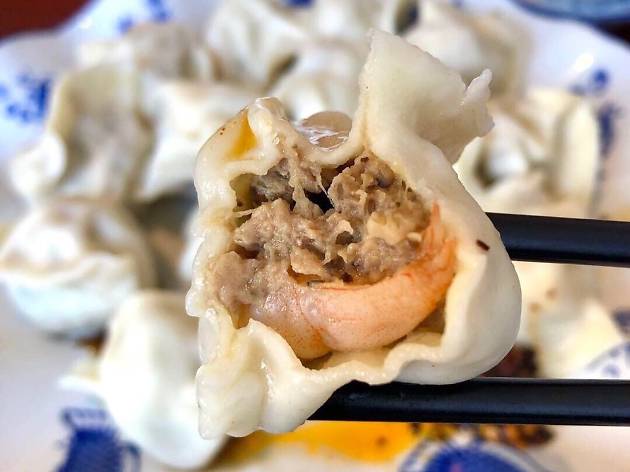 Photograph: Courtesy Yelp/Charles N.
This dumpling house prides itself on hand-rolling each dumpling with an incomparable level of care and devotion. With another location in Downtown Montreal, the original Chinatown location is often overlooked due to the plethora of nearby options, but has remained consistent in its friendly customer service and attention to detail. You can look at other menu options if you want, but really, you come here for those scrumptious pillowy goods.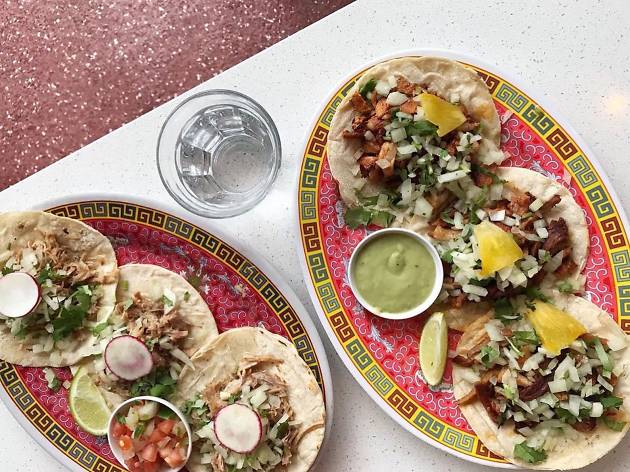 Photograph: La Capital Tacos/@montrealtacos
One of the coolest places to open in Chinatown's recent memory is La Capital Tacos, a Mexican taco joint that privately imports its own tequilas and mezcals in addition to serving al pastor and fried fish tacos on Chinese tableware. With an excellent selection of beers and cocktails to add to your order, this is a must-visit for those passing through Chinatown, and it's open late to boot.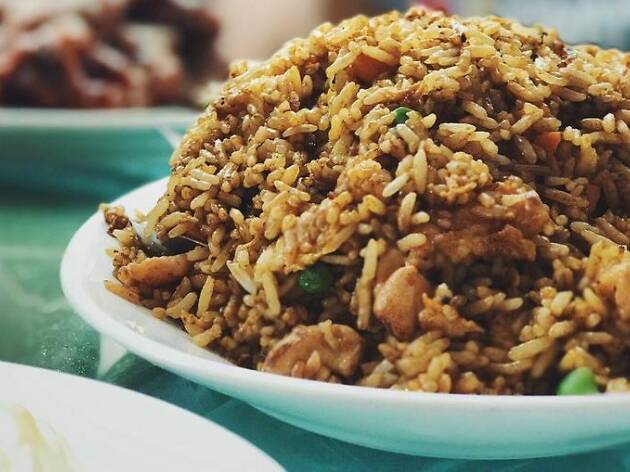 Photograph: Courtesy Yelp/Maulin P.
Another jaunt known for its late-night offerings and head-spinning low prices for lunch specials, VIP offers diners the chance to dine at all hours of the day (and night) in a traditional setting. Focusing on Cantonese fare, the standard offerings are available here in a joyful and laid-back environment, but the scribbled menu on the wall's where you'll find the off-menu/"secret menu" choices some folks wonder about. Great service and consistent quality make this a solid choice just steps away from the Quartier des Spectacles.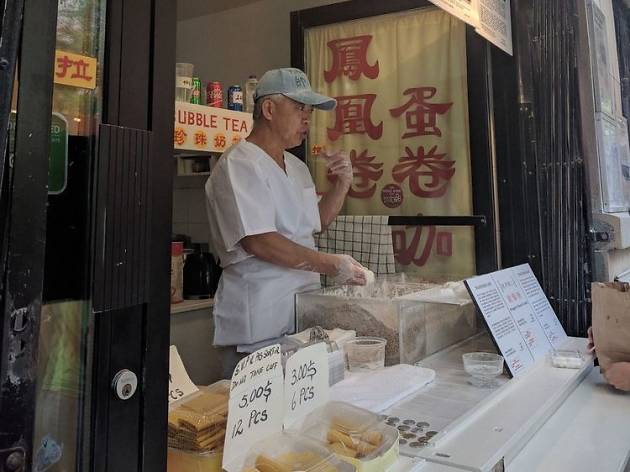 Photograph: Courtesy Yelp/Carolyn CJ S.
So, not a restaurant, but an indelible eat while you're in Chinatown: Found behind a small glass window is Dragon Beard Candy, a tiny stall that sells a traditional, handmade confectionary unique to Hong Kong. Run by the master Mr. Chinn, the candy is made of sugar taffy that is stretched precisely 8,192 times before being covered in a peanut and sesame coating. Mr. Chin originally learned this technique from his brother who was doing the same in China, and is one of the few people remaining in the world still producing this ancient delicacy.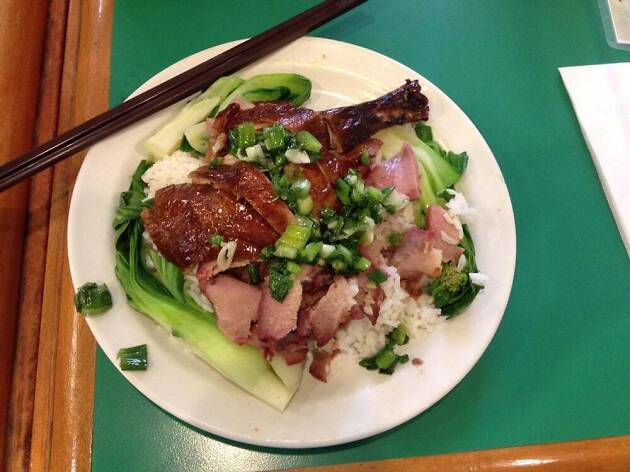 Photograph: Courtesy Yelp/Juan C.
Located on the ground floor of a shopping mall, this incredible restaurant dishing out of the best cheap eats in the city is one of the best Chinese restaurants around, bar none. While they employ a lot of their traditional recipes in both Cantonese classics and BBQ meats served with an addictive mash of scallions, ginger and garlic, the restaurant's starting to heat up with younger vibes as of late; keep an eye out for when they host pop-ups and late-night events.
Best things to do in Chinatown, Montreal
The best things to do in Chinatown, Montreal include late night feasts, shopping hubs and more—here's the best of it.