Heads up! We're working hard to be accurate – but these are unusual times, so please always check before heading out.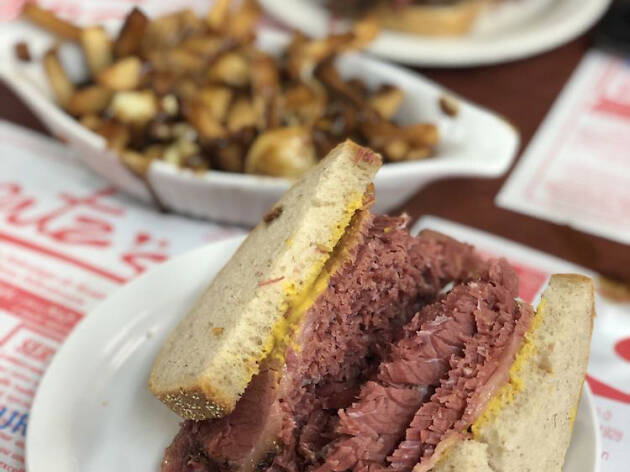 Where to eat the most iconic Montreal food
This is your eat-like-a-local bucket list for iconic Montreal food, beyond eating poutine, smoked meat and bagels
Iconic Montreal food forms an incredibly diverse culinary tapestry here, so much so that many forget that it's not just about our greasy spoons or the best bagels this side of the northern hemisphere (sorry not sorry, New York). Don't get us wrong, it'd be a cardinal sin not to eat some poutine or to visit our best delis for some choice smoked meat, but it's just as sinful not to eat from the rich selection of Portuguese, Greek, Italian, Middle Eastern and Caribbean options in the city either.
RECOMMENDED: Full guide to the best restaurants in Montreal
Where to find the most iconic Montreal food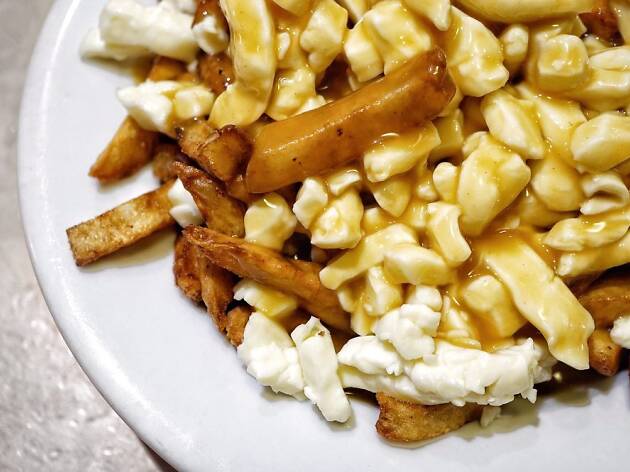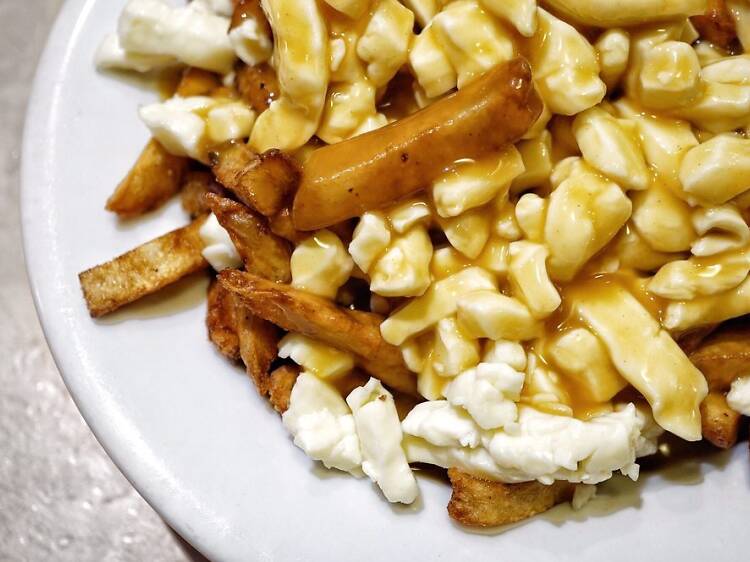 Photograph: Courtesy Yelp/Min C.
1. Poutine at Chez Claudette / La Banquise
Its core ingredients receive thousands of different iterations and unique touches across Montreal, but one thing's for sure: If it doesn't have crispy fries, squeaky cheese curds and brown gravy, you're not eating poutine. Montrealers will take their favourite spots for poutine to their graves, but the general consensus is that you either wait in line at La Banquise for the best, or skip the wait and enjoy a(n arguably superior) poutine at Chez Claudette.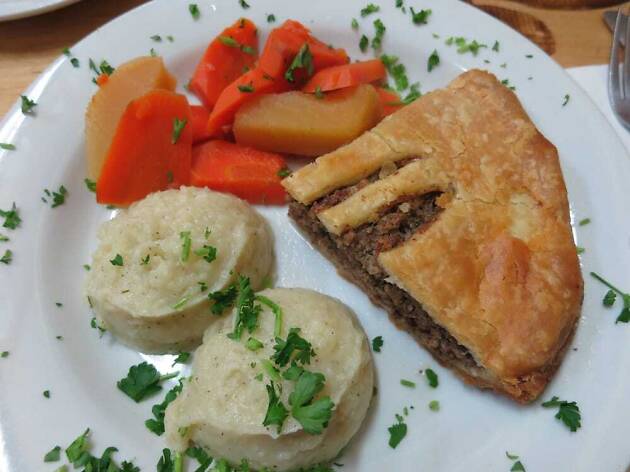 Photograph: Courtesy Yelp/Jennifer K.
2. Pouding Chômeur and Tourtière at La Binerie
Montreal isn't exactly flush with restaurants that focus on traditional Quebecois food, making spots like La BInerie all the more exceptional. It's a one-stop-shop for sweets like pouding chômeur (cake with a top layer of caramel or maple syrup) or what's savory, like the tourtière (meat pie), fèves au lard (baked beans with lard), pâté chinois (similar to shepherd's pie) or the minced-pork spread called cretons.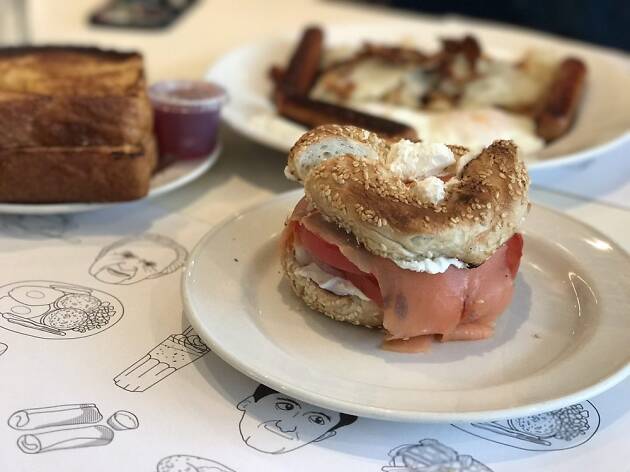 Photograph: Courtesy Yelp/Alexander M.
3. Beautys Special at Beautys Luncheonette
Its founder Hymie Sckolnick may have left us in 2017, but his diner that was birthed in 1942 as a snacking hub for Jewish Montrealers working in the city's wartime garment district continues to flourish to this day. Everyone's got their favourite thing to order off of their menu, but our money for what's most delicious is on the Beautys Special, a thick layer of lox and cream cheese topped with tomato and red onion slices on black Russian rye, is key to the experience.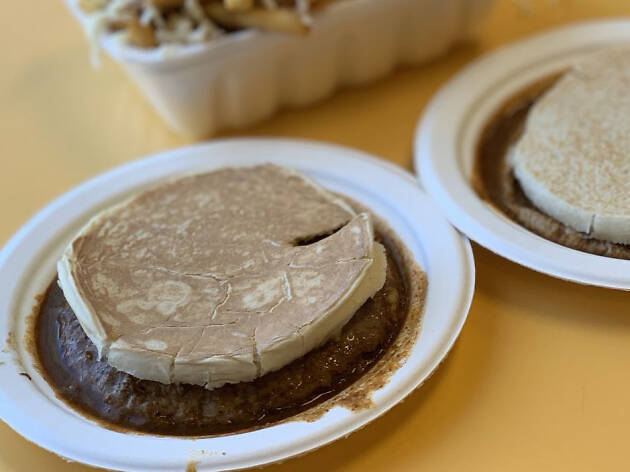 Photograph: Courtesy Yelp/Peter M.
4. Hamburger at Dic Ann's
What started as a summer drive-in spot in 1954 has since become an institutional burger-flipper with multiple locations across Quebec known for its peculiar take on a classic: They smash their burgers flat as though run over by a car, ladel on a spicy beef sauce and serve it on a paper plate with a popsicle stick to help to pry it off and up into your salivating maw. You have to try one and we recommend you order two.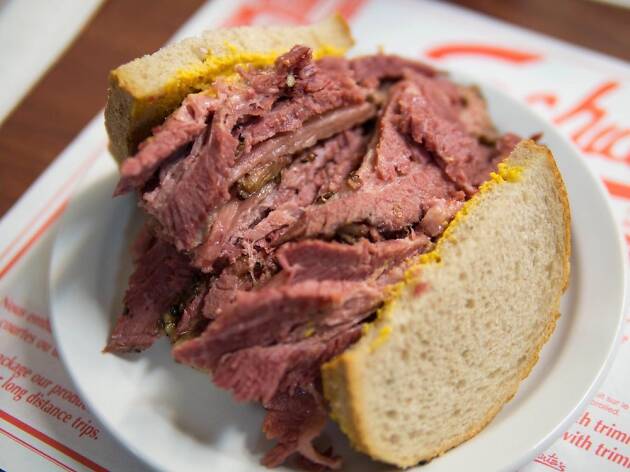 Photograph: Courtesy Yelp/Randy F.
5. Smoked Meat Sandwich at Schwartz's Deli
Take slices of succulent fatty or lean smoked brisket and layer them between two slices of rye bread that have received a spatula's swipe of mustard. That's it, and that's all you need to understand how this landmark delicatessen in the middle of the Plateau has been serving up their smoked meat sandwiches since the late 1920s.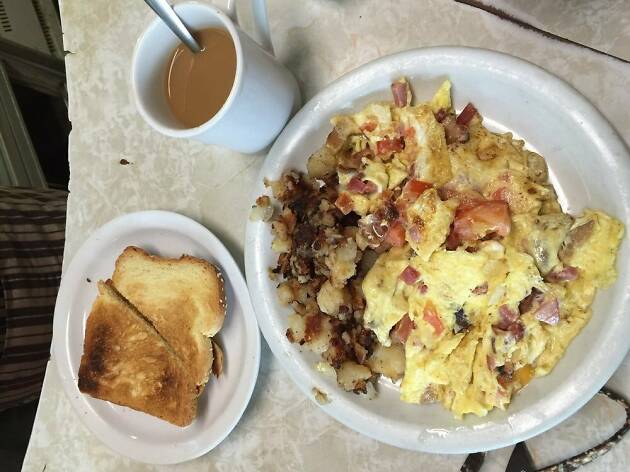 Photograph: Courtesy Yelp/Katie Z.
6. Mish-Mash Omelette at Cosmos
Patron saint of Montreal greasy spoons Tony Koulakis (RIP) worked tirelessly to build up his tiny breakfast diner in NDG since 1967, and its tradition of serving uncompromisingly greasy food have been thankfully survived by his family. One of the more essential things to order here's the mish-mash omelette, a three-egg mound with chopped tomato, onion, breakfast sausage and bacon that's paired with margarine-fried hash and toast from a selection from over a dozen breads.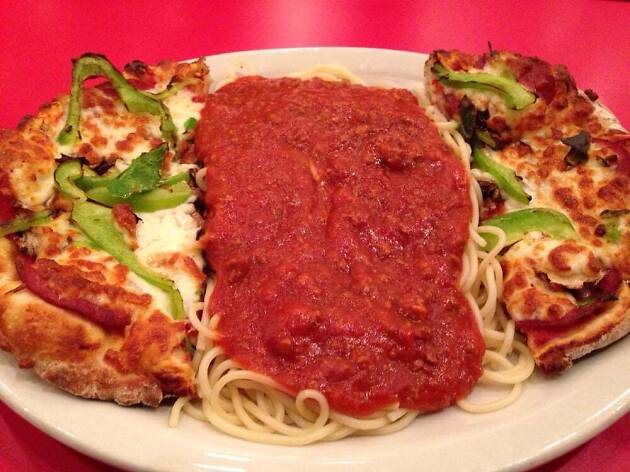 Photograph: Courtesy Yelp/Jason H.
7. Pizzaghetti at New System BBQ
Unless the name's a dead giveaway, this endearingly odd concoction you couldn't find anywhere other than this erudite province can take a bunch of different forms: Pizza topped with spaghetti, spaghetti made with pizza toppings, or—our personal favourite—the all-dressed pizza (that's pepperoni, green peppers and mushroom) that's sliced in two and given the centerpiece of a mound of spaghetti topped with ragù. The best can be found at New System, for better or for worse.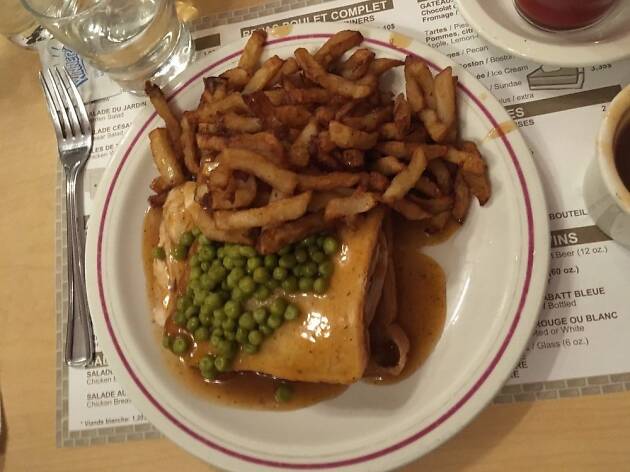 Photograph: Courtesy Yelp/Joanna A.
8. Hot Chicken at Chalet B-B-Q
While Montreal's got a prominent Portuguese community, Quebec's got it's own rich traditions around slowly roasting birds. This restaurant's been sticking to its guns since 1944, serving up its own take by the quarter- or half-bird. They also serve hot chicken that's a far cry from the Nashville classic, where chopped chicken is served in between slices of white bread, doused in brown gravy and topped with green peas. It's a proletariat classic, plain and simple.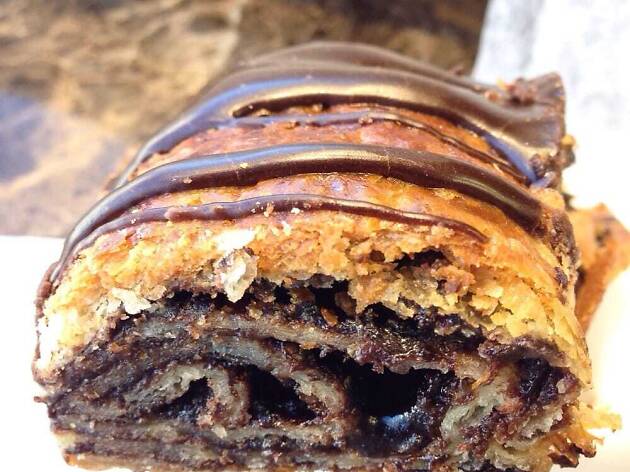 Photograph: Courtesy Yelp/TastyMontreal L.
9. Chocolate Babka at Cheskie's
Jewish delis in this city tend to get most of the attention both locally and internationally, but the bakeries here are just as adept in the kitchen. Cheskie's is one of the finest, doing fine rugelach, hamantash and mandelbrot every day of the week—except Saturdays of course—but it's the chocolate babka that's an essential eat. Layers of dough and chocolate are folded onto each other in an irresistible fashion, though our hearts have a soft spot for the cheese version as well.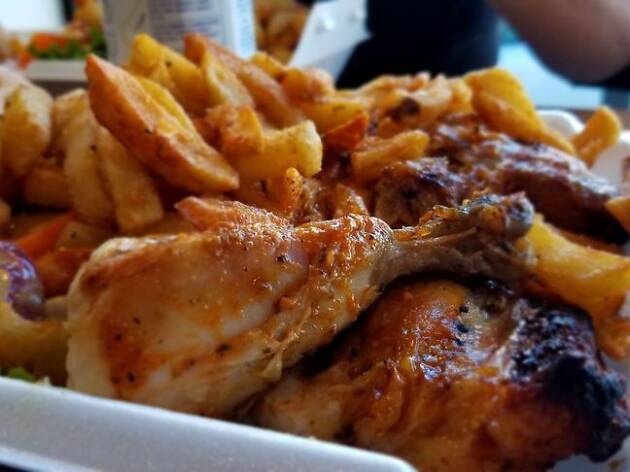 Photograph: Courtesy Yelp/Kayee I.
10. Half-Chicken with Fries at Romados
Ever since the Romados-trained Ma Poule Mouillée opened, locals commonly argue about whether they prefer it over its patriarch, but no one can deny that Romados has been the OG in town since 1994. Besides being one of top cheap eats in town, their recipe for rotisserie has little contest. Drop in—and possibly wait in line unless you order ahead of time over the phone—and eat a full-to-bursting to-go container of chicken, fries and salad. We recommend extra piri-piri on yours.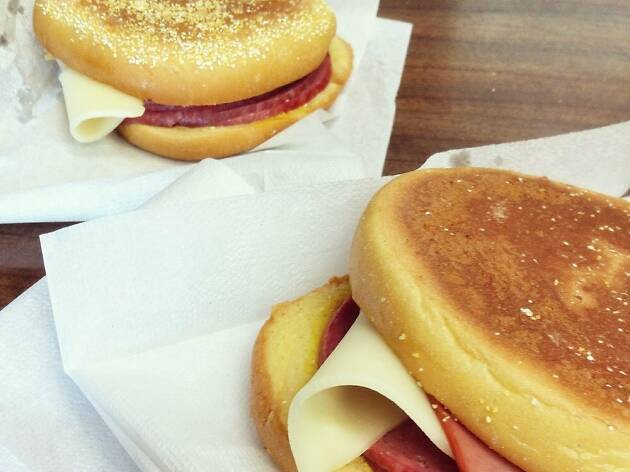 Photograph: Courtesy Yelp/Issan Z.
11. Wilensky Special at Wilensky's
An outsider might find it hard to understand why this diner's pressed sandwiches are so famous. On one hand, this diner and its namesake offering were immortalized by novelist Mordecai Richler, but on the other? They're just good: Slices of baloney and salami are served with the option of slices of either Swiss or American cheese with a slather of mustard on a roll made especially for the kitchen. Don't ask for any alterations or substitutions—not even to have your sandwich cut—unless you want to look like a tourist.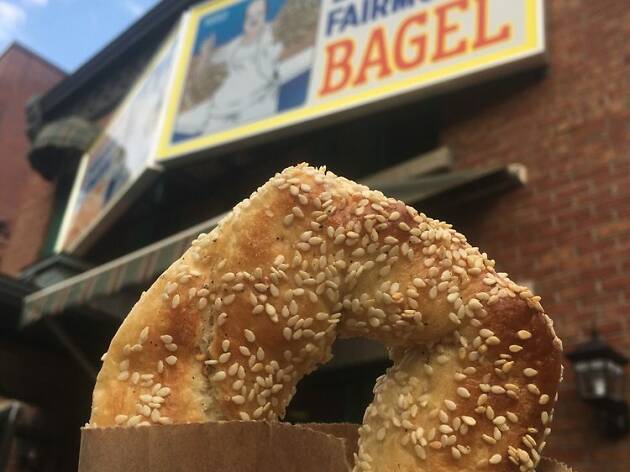 Photograph: Courtesy Yelp/Jennifer C.
12. Bagels at Fairmount and St-Viateur
We're calling it here and now: Montreal makes the best bagels. It doesn't matter which of these two bakeries you get them at, they're all delicious, whether eaten hot, fresh and whole or sliced and toasted. A dense dough is cut and rolled into thin circles, briefly boiled in honeyed water before being dunked in sesame seeds, baked 'til golden in a wood-fired oven and there you have it: An emblematic foodstuff that helped to put Montreal on the map.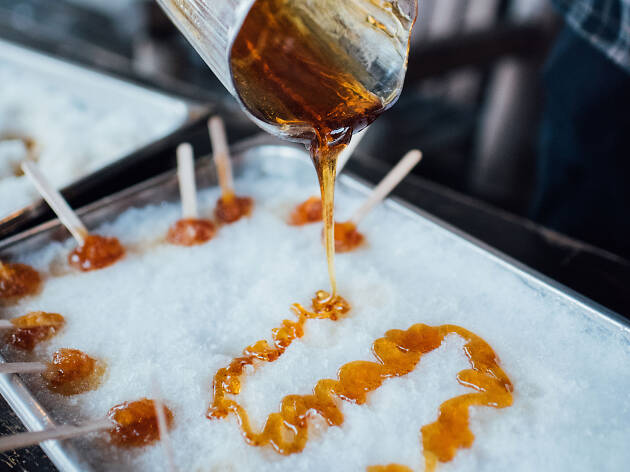 Photograph: Alison Slattery
13. Maple Taffy at Sucrerie de la Montagne
During the maple syrup season that generally runs from late February to early May, sucreries like this one—and this one's the best in our honest opinion for its traditional approach—host banquets day and night that're replete with music, laughter and a whole lot of maple syrup. The most essential way to eat it, however, is by pouring that amber goodness on trench of fresh snow, rolling it up on the tip of a popsicle stick and chowing down.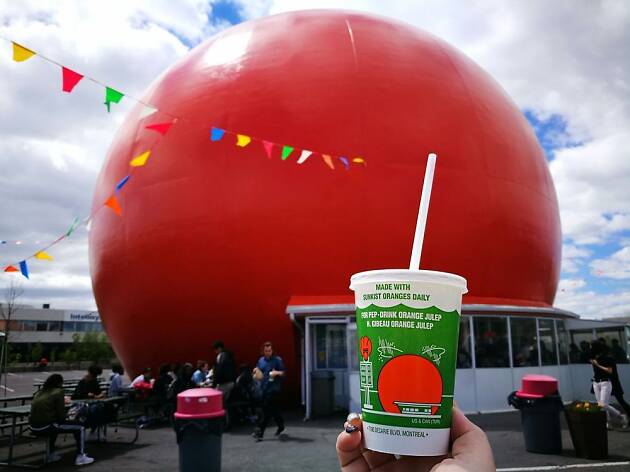 Photograph: Courtesy Yelp/Judy W.
14. Orange Julep at Gibeau Orange Julep
Don't mistake this landmark greasy spoon located in a humongous fibreglass orange as an outpost of the Orange Julius chain: This is a Quebec classic. For the classic experience, roll up in a car during summer and enjoy a snack off the menu, washed down with their trademark milky orange beverage that's sweet, a little sour and sports just the slightest hint of vanilla.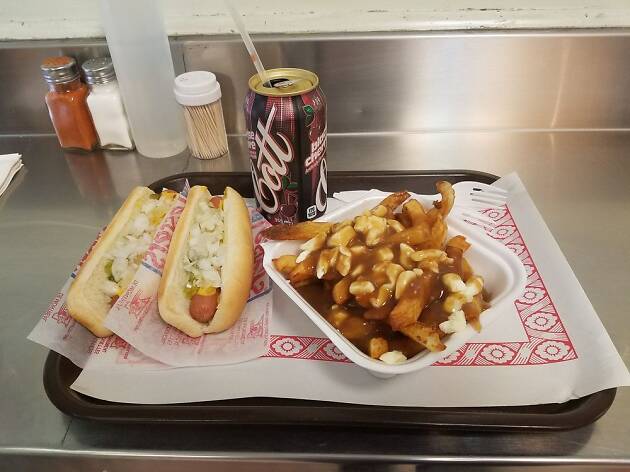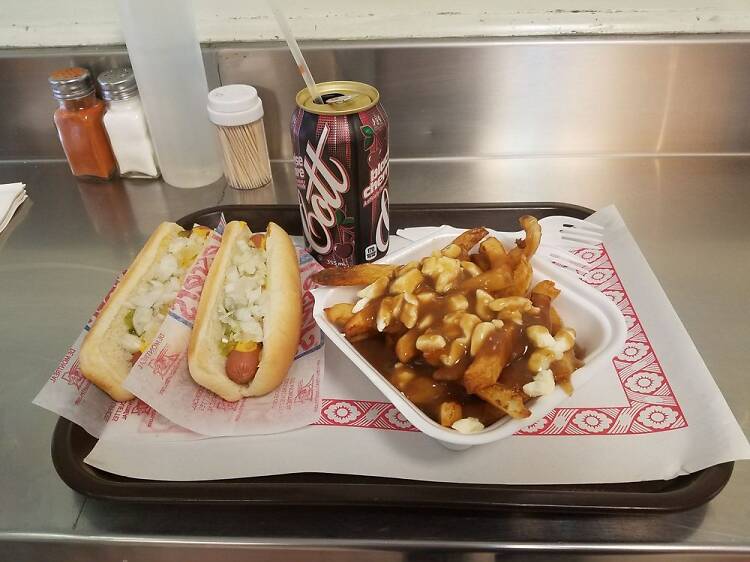 Photograph: Courtesy Yelp/Joseph S.
15. Steamés at Montreal Pool Room
Snack bars all across Quebec may pick and choose what kinds of things they'll serve on their menus, but one essential cornerstone is the hot dog, the best of which is the steamé (steamed) version: It's an all-beef dog on a white bread bun topped with mustard and chopped onion and cabbage, and spots like Montreal Pool Room have been doing them proper for over a century. Unlike the classic Wilensky's Special, you can take them with ketchup or relish if you want without accompanying scrutiny.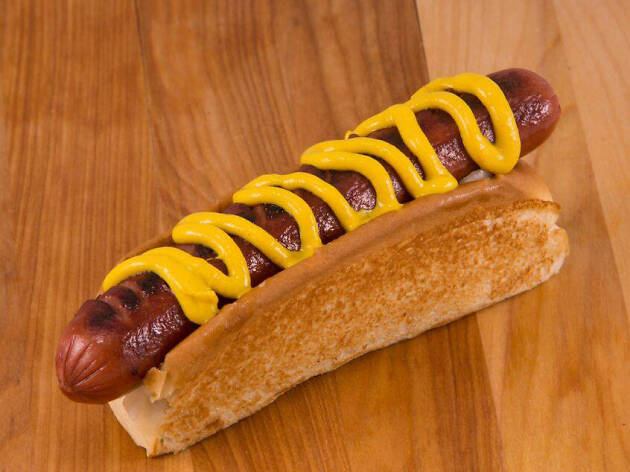 Photograph: Lester's Deli
16. Toastés at Lester's Deli
An alternative to the steamé (above) is the toasté, where an all-beef hot dog's fried on a flattop alongside its bun and slapped together with a stream of mustard. We've got a particular fandom for Lester's in Outremont, having been doing their dogs since 1951. You can match up their smoked meat against Schwartz's if you like, but those sausages that are fried until crispy are endlessly satisfying.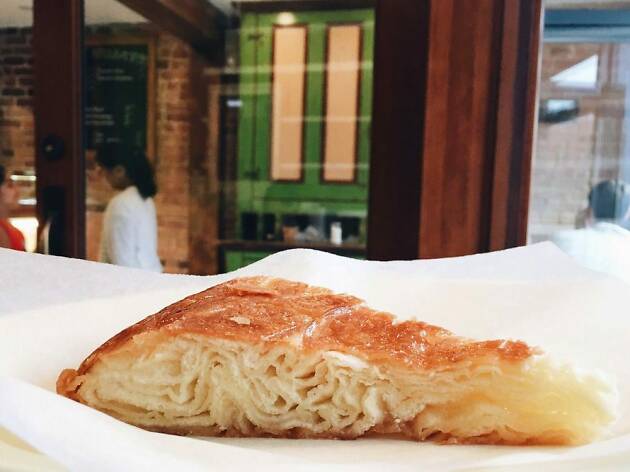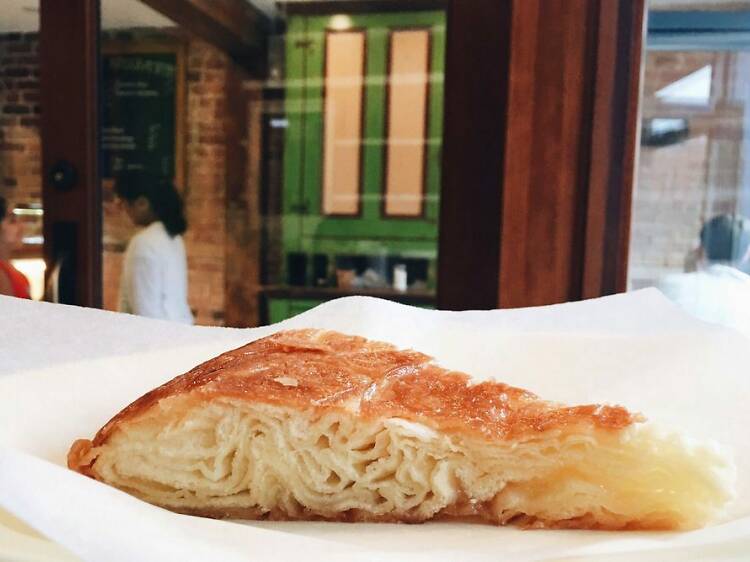 Photograph: Courtesy Yelp/Echo Z.
17. Kouign-amann at Au Kouign Amann
A nod to Quebec's French heritage on one hand and a local favourite on the other, the freshly baked work of this humble pastry shop is an essential eat in the city. Even if you—like its owner and pastry chef Nicholas Henri—have been to Normandy to sup this specialty from the source, you should still try it (and the croissants!). It is, in the least, a solid contest.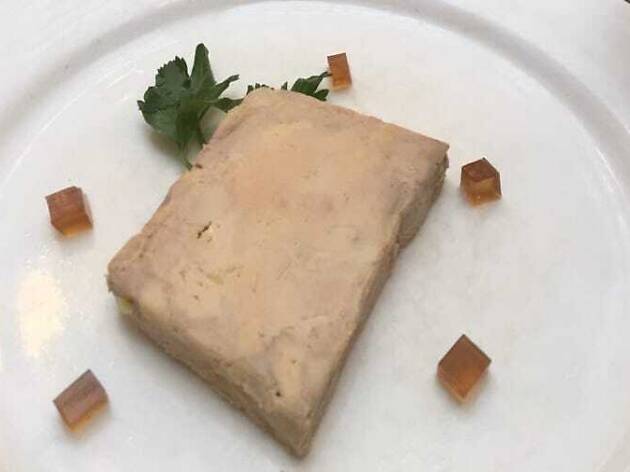 Photograph: Courtesy Yelp/Alma C.
18. Duck foie gras at L'Express
Served in a transplanted Parisian bistro that executes French classics with formidable accuracy and unparalleled service, the duck foie gras is but one item on a menu that's full to bursting with indelible French dishes. While that foie gras is indeed delicious, we'll concede that everything else is just as great, right down to the massive jars of non-stop cornichons that come with lunch and dinner.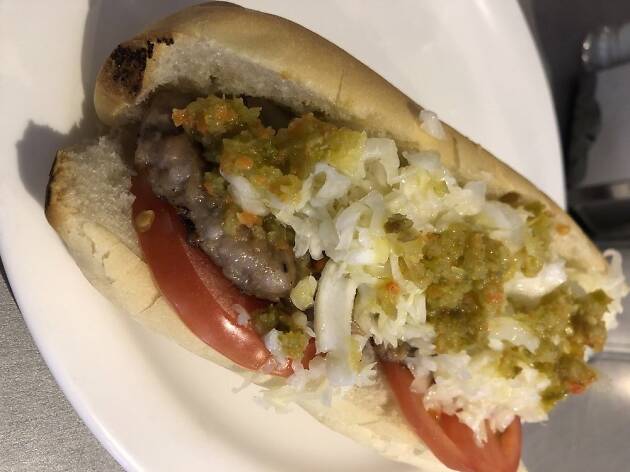 Photograph: Courtesy Yelp/Charles N.
19. Italian Subs at Momesso's
Cosmo's on Sherbrooke, the main thoroughfare of NDG, is normally the address that gets all the local love in the neighbourhood. But that's breakfast. Momesso's, on the other hand, is where you should be for lunch and dinner. We'll draw a line in the sand here and now: Their Italian sub made with custom order sausages are where you go to eat and be among the people of this city. A reliable place of over three decades and counting.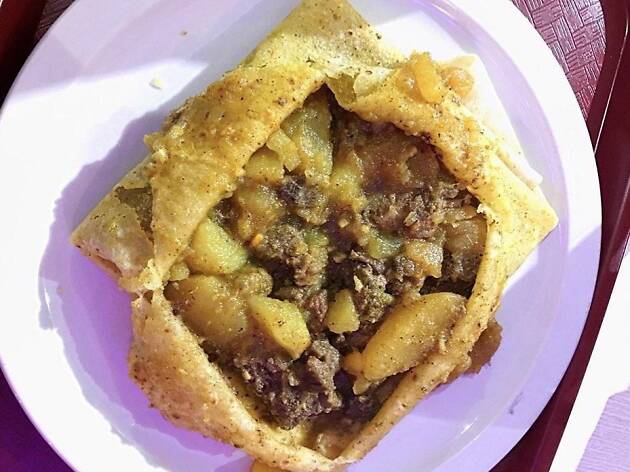 Photograph: Courtesy Yelp/Meimei Z.
20. Doubles and Roti at Caribbean Curry House
Sure, there's a lot of excellent Caribbean restaurants in Côte-Des-Neiges, but this one's undeniably one of the oldest and best of those standbys. Their meat or veggie-stuffed rotis and finger-licking doubles have been long regarded as sure-fire bets for a belly that's not only full but satisfied by traditions kept strong since 1980.
Photograph: Courtesy Yelp/Valérie B.
Parc-Ex boasts a healthy amount of Greek institutions serving hot-off-the-grill goods like steaks, quail, seafood and souvlaki. The community left its mark on this neighbourhood, even if most left for Laval farther north (where more good Greek food's found if you're into long trips off the island). Despite this particular taverna's line-ups, Marven's is one of our favourites, especially for a two-gyro platter taken to go for picnics in the nearby Jarry Park.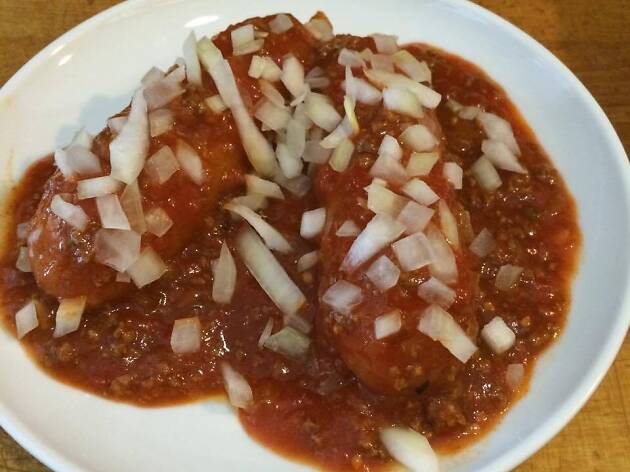 Photograph: Pierrette Patates
22. Michigos at Pierrette Patates
Some say Pierrette makes a mean burger and poutine, but our eyes are on this corner diner's idea of combining two delectable elements of Quebecois casse-croûte culture: Frying something in grease, and topping it with a Michigan sauce that's similar to a Bolognese. This one's two corn dogs topped with the cornerstone meat sauce, the origin of which is disputed but had clearly traveled up here from Michigan via Plattsburgh. Simple, yet effective.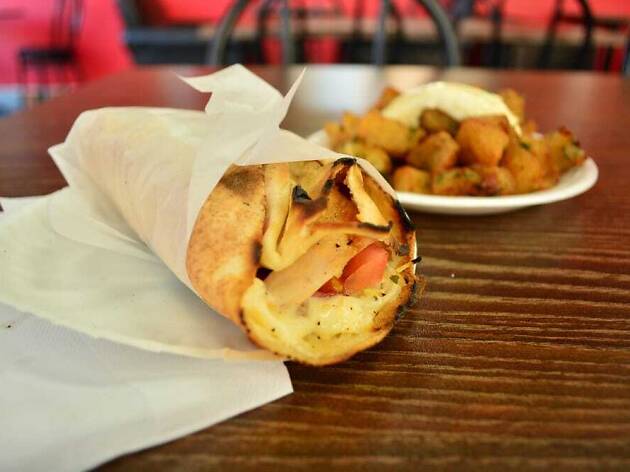 Photograph: Courtesy Yelp/Scott D.
Going strong since 1986, this restaurant has since exploded into numerous locations across the city, but its original location on Crescent Street—a popular drinking hub downtown—has always been a mecca for late night eats. Some say it's their garlic potatoes, others their Creation sandwich (a one-of-everything); whatever your preference, a great shawarma's hard to find in this city, and they're making some of the best.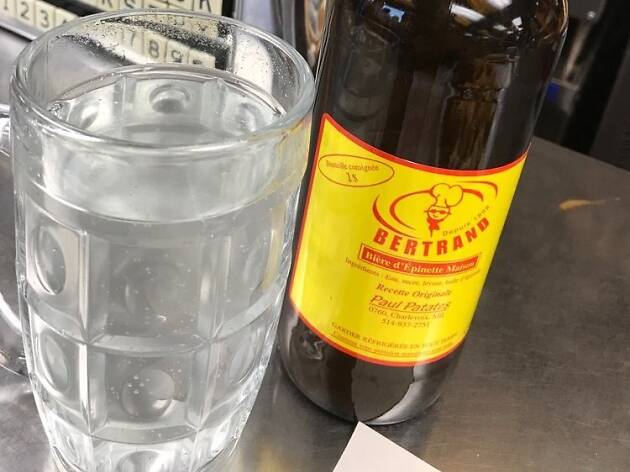 Photograph: Courtesy Yelp/Alfredo J.
24. Spruce Beer at Paul Patates
It's an acquired taste, but a swig of this stuff's a taste of food history in this city. Sourced from a 1898 recipe by the long-defunct Émile Bertrand restaurant, Paul Patates has been making this unique beverage for a long time. It's a cloudy and bittersweet carbonated beverage with a low alcoholic content that tastes of forestry, made from bark, sugar and yeast. You either love or hate it, but food tourism in Montreal's seldom complete without at least one taste.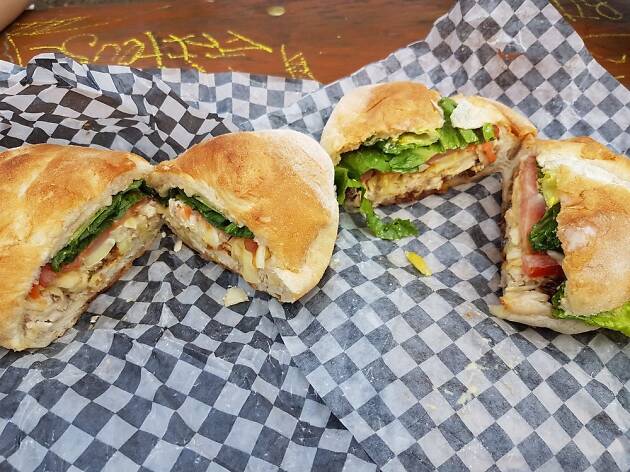 Photograph: Courtesy Yelp/Helena U.
25. Sandwiches at Serrano Bar-B-Q
Be it thigh or breast, the chicken sandwiches at this Peruvian mom'n'pop rotisserie restaurant are fuel for the masses of its surrounding neighbourhood, bohemians and locals alike. That makes it essential; you're in Montreal, so you eat like a Montrealer. A superb cheap eat in the city to boot, the meat's set with salad on a fluffy Portuguese-style papo secos bun. If it's not filling enough for you, order up some of the potatoes that have been broiling in pans below the chicken spits—if there's any left, that is.
More of the most iconic Montreal food