The 22 best Downtown Montreal restaurants with the hottest tables
We've combed the city core to bring you the best Downtown Montreal restaurants, from high-end spots to casual grab-n-gos
Every neighbourhood's got a thriving food scene, so downtown Montreal restaurants aren't always the first to come to mind. However, thanks to many of the city's most renowned festivals calling downtown home, there's a growing number of establishments serving up some of the best of Montreal has to offer (especially if you look past the Crescent Street tourist traps and food courts). From student-friendly cheap eats and some of the best Italian restaurants in town to Michelin star-calibre institutions, there's more than meets the eye in the city's busiest neighbourhood.
RECOMMENDED: Full guide to the best restaurants in Montreal
Best of the city under one roof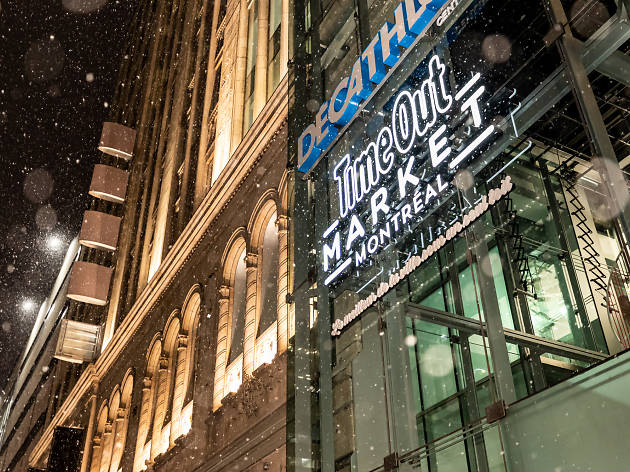 Our local editors have spent their time handpicking and gathering the best of the best restaurants and chefs together onto one central stage, Time Out Market Montréal. It's a 40,000-square-foot culinary and cultural destination that's centrally located downtown in the Centre Eaton de Montréal—the biggest in the city of its kind—stocked with 16 eateries, three bars for beer, wine and cocktails (plus non-alcoholic options), a demonstration kitchen to both see and taste some culinary action, a cooking school to learn new tricks and techniques, a retail space, and cultural spaces devoted to art, music and more. Our mission is simple (but spelled out here): If we discover something in the city that's great, it goes in our magazine and all of our coverage; if it's unmissable, it goes in Time Out Market Montréal—open now.
Where to find the best restaurants in Downtown Montreal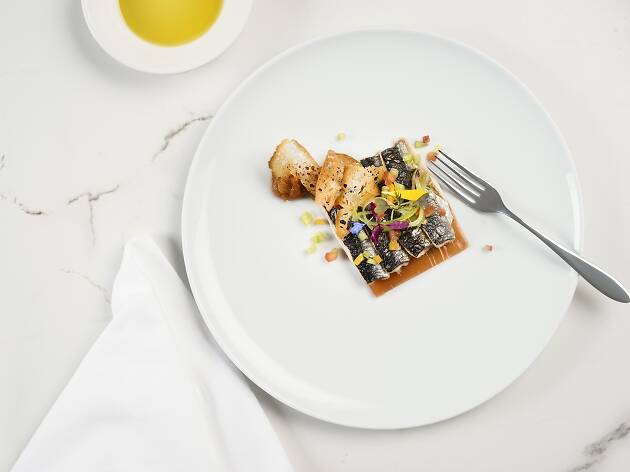 Photograph: Ferreira Café/Hans Laurendeau
The Plateau's Little Portugal neighbourhood isn't the only place to get top-quality Portuguese food in Montreal. Ferreira has been a downtown staple since the mid-90s and its fresh, high-end takes on Portuguese classics include dishes like grilled octopus and Portuguese-style oysters. The attractive Peel Street eatery also offers an impressive but affordable table d'hôte menu for lunch and for late dinners after 10pm.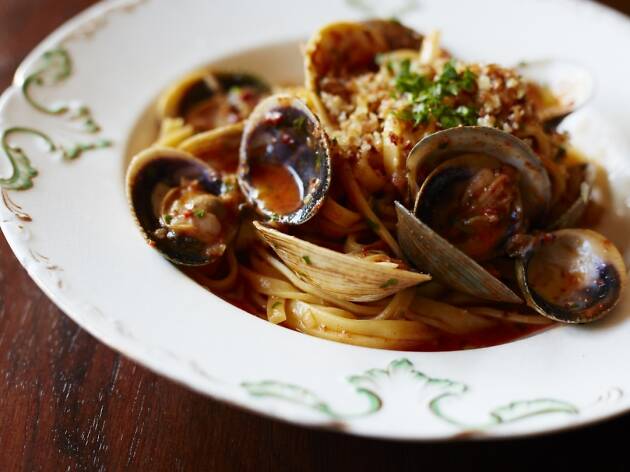 Photograph: Nora Gray
In a city flush with quality Italian food, Nora Gray is among the best of the best. Tucked away near the Bell Centre, this homey, bustling spot on the very edges of the downtown core is more modern Italian fare than nonna's kitchen, but it's regularly named one of the best restaurants (period) in Montreal, let alone Canada.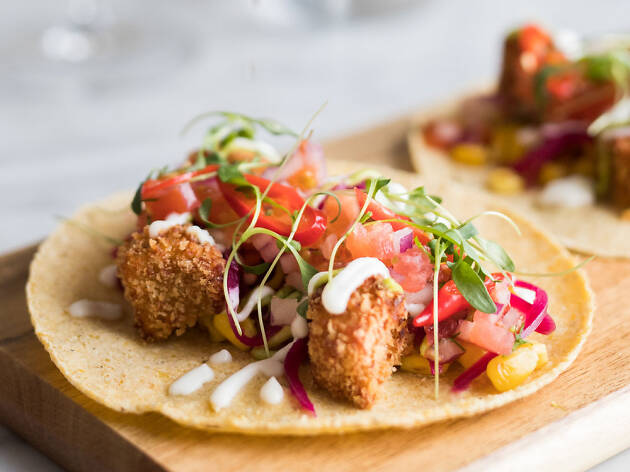 Photograph: LOV
This aesthetically pleasing plant-based resto (with more locations on McGill Avenue and in Laval) is proof that vegetarian food can be exciting and innovative—not just for vegetarians, but for all lovers of great food and impressive presentation. The casual menu includes burgers and modern takes on comfort food classics and isn't strictly vegan (egg dishes are available and substitutions can be made for "real" cheese), but even without the animal by-products, LOV's veggie fare is full of flavour and consistently crowd-pleasing.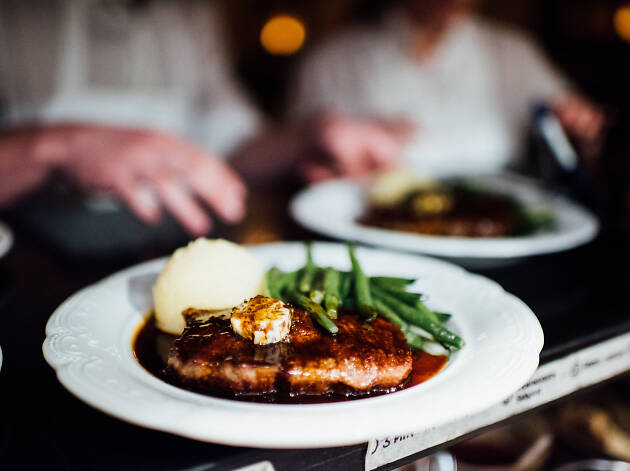 Photograph: Alison Slattery
4. Dominion Square Tavern
Despite its location just off Sainte-Catherine in the middle of the downtown bustle, entering the Dominion Square Tavern feels like stepping into a different time and place. The high-end gastropub does British-inspired food with a local flair—think mussels alongside bangers and mash—in elegant surroundings oozing old world charm. If you need something to wash it all down, they're also an amazing classic cocktail bar.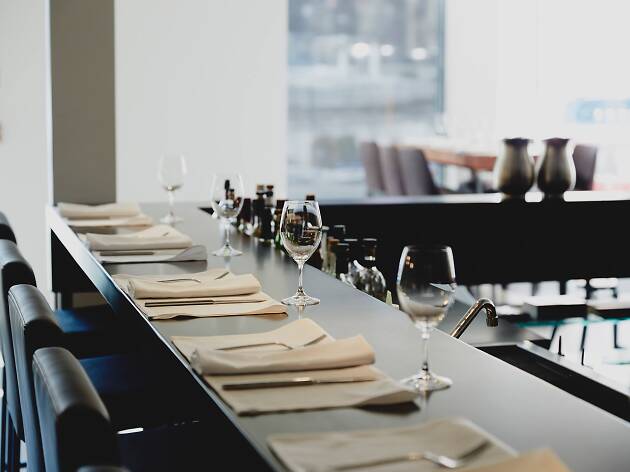 Photograph: Dominique Lafond
This outwardly unassuming spot is off the beaten (ahem, tourist) path on the lower end of Saint-Laurent, but inside its as fresh and contemporary as anything in the city. Staffed with a front-of-house team that's passionate and informative about the dishes they're serving, chef François Nadon is behind a menu that is meticulous and innovative, all beautifully presented in a famously minimalist and austere setting.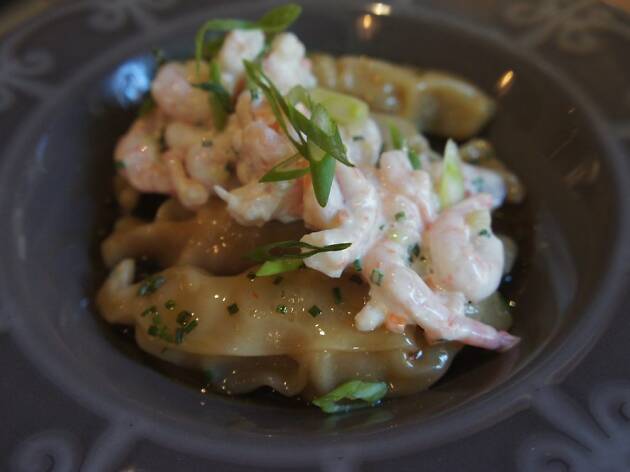 Photograph: Courtesy Yelp/Jonny M.
Run by the same team as Bouillon Bilk, Cadet is mere steps down the road on St. Laurent, with a similar minimalist style to its more formal big brother. Fresh, creative dishes are coupled with friendly, attentive service, and their cocktails and desserts are major fan favourites. If you're a fan of seafood restaurants in particular, you gotta eat here.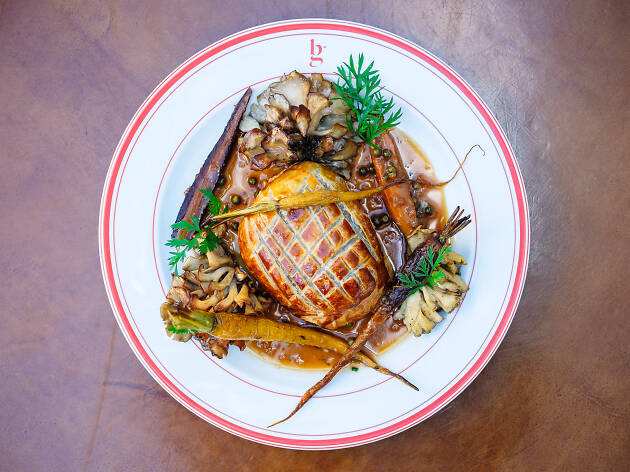 Photograph: Mike Casali
Situated in a gorgeous, historic space inside a swanky boutique hotel, Bar George's British Isles-inspired fare (Scotch eggs, Welsh rarebit) is all the more impressive for the wood-panelled, high-ceilinged and exceedingly posh environment it's served in. The team uses local ingredients to create dishes and cocktails that are as beautiful as the building itself, and if you gorge too much at George, it's also part of one of the best hotels in town.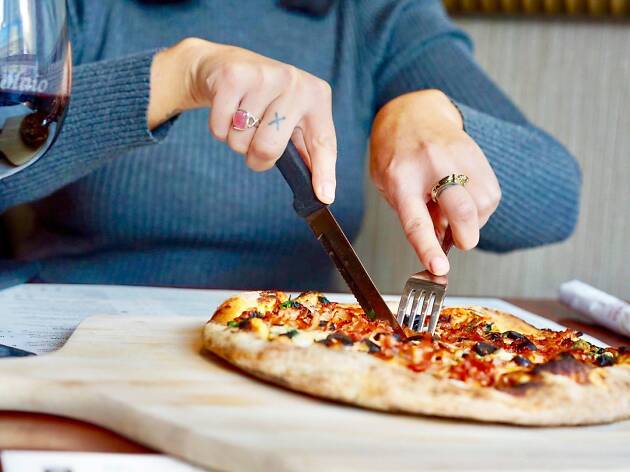 Photograph: Pizza Il Focolaio
This wood-fired pizza joint's extensive menu includes just about every combination of toppings one could possibly hope for. A downtown mainstay located on Place Phillips near the corner of Sainte-Catherine, Il Focolaio is also dietary restriction-friendly; most of their 77 pizzas can be made gluten-free and all of them can be done with vegan cheese if that's your thing. Whatever your order, it'll be among the best pizza in Montreal.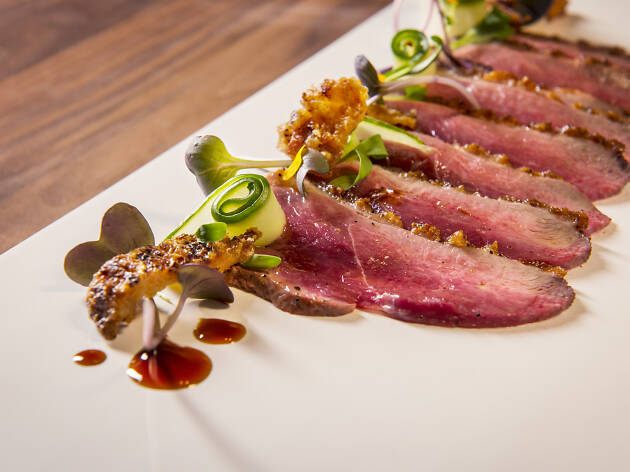 Photograph: Martin Girard/Jatoba
The Asian-fusion dishes on offer at Jatoba (including dumplings, maki and sashimi) are fresh, delicious and ideal for sharing, but the business district eatery is a must-visit spot even if you only have time for one of their pretty cocktails: The exposed brick-and-glass interior, full of foliage and orange lanterns, makes for one of the most striking dining atmospheres in Montreal.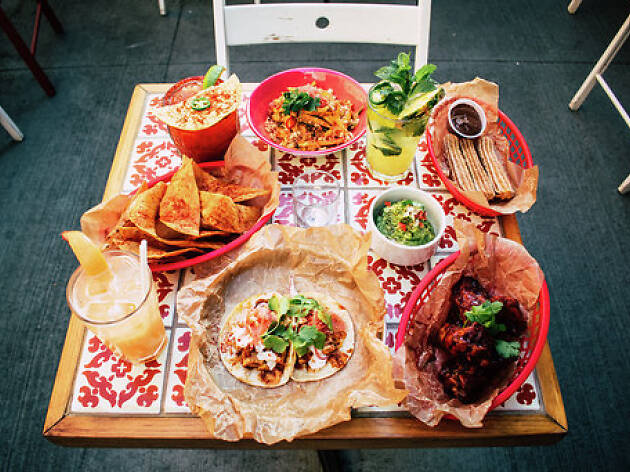 Photograph: Mehdi Lampropoulos
Escondite's mouth-watering tacos and other creative, Mexican-inspired dishes have made it a popular spot among both locals and visitors alike. Its young, trendy digs (with not one, but two downtown locations) would feel just as much at home in the Plateau, a nice change from the minimalism aimed at the business crowd found elsewhere. The food is as fun as it is delicious, and it's best washed down with one of their tequila-based cocktails.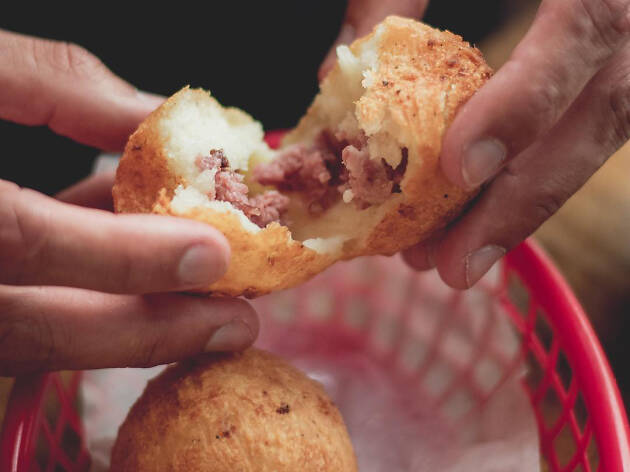 Photograph: La Habanera
Union Avenue spot La Habanera is the brainchild of the same team behind the nearby Escondite, and the creativity found in the latter is just as evident in this kitschy Cuban bar and eatery, which specializes in small plates that combine Cuban classics with other cuisines like smoked meat croquetas or fried chicken bao. They also offer plenty of rum-based cocktails (including various mojitos, natch). Full of delightfully cluttered tropical décor, Habanera's tables are often as busy as the art on the walls.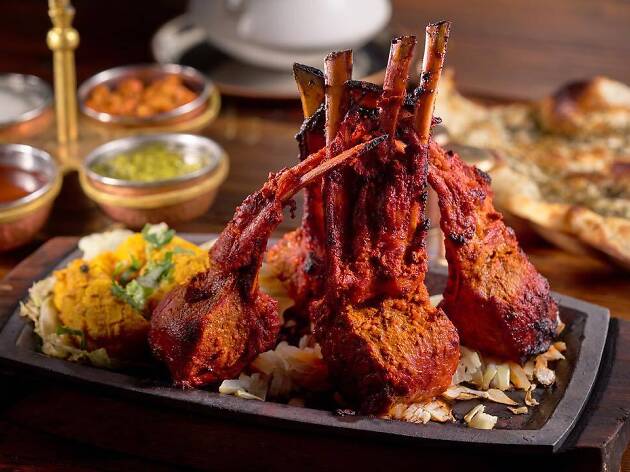 Photograph: Le Taj
Le Taj was one of the very first Indian restaurants in Montreal and remains one of the most beloved. The long-time downtown staple offers a daily lunch buffet and a large evening à la carte menu; its fare's a standardbearer as far as local Indian spots go, due to its beautifully flavoured touches and how it's served in an elegant setting.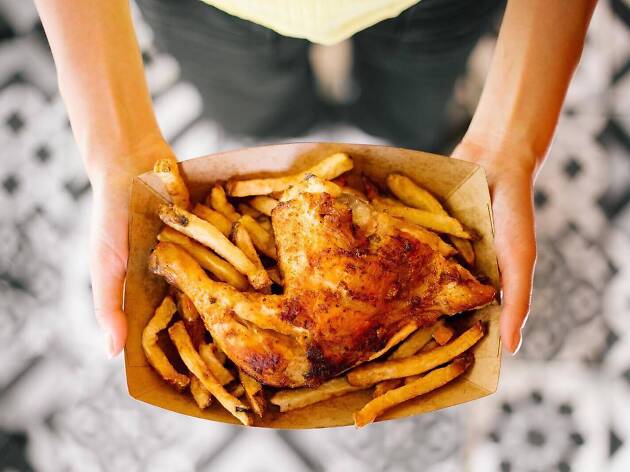 Photograph: Campo
There's no shortage of delicious rotisserie chicken in Montreal, most of it concentrated around the Plateau. But Campo, a relative newcomer opened by the same team behind Ferreira Café, still manages to stand out from the crowd with its casual fare, making for an ideal stop for an on-the-go treat.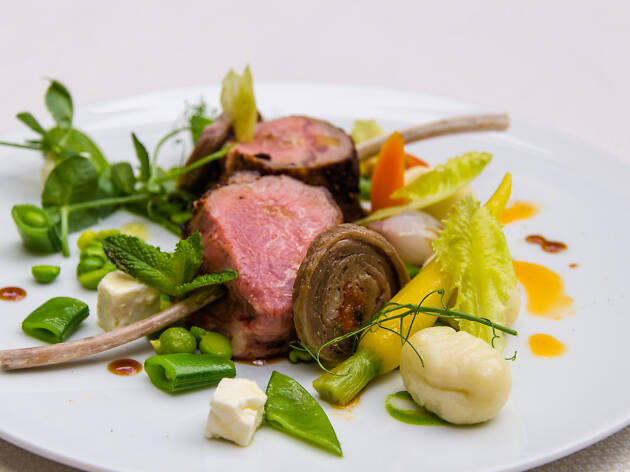 Photograph: Alexandre Parent/Maison Boulud
Renowned French chef Daniel Boulud's Montreal restaurant is as luxurious as you'd expect from an eatery situated in the Ritz-Carlton hotel, with a luxurious menu and wine list to match. It's not all foie gras and veal tartare, though; they also do a popular burger for lunch and sport a solid buffet for breakfast.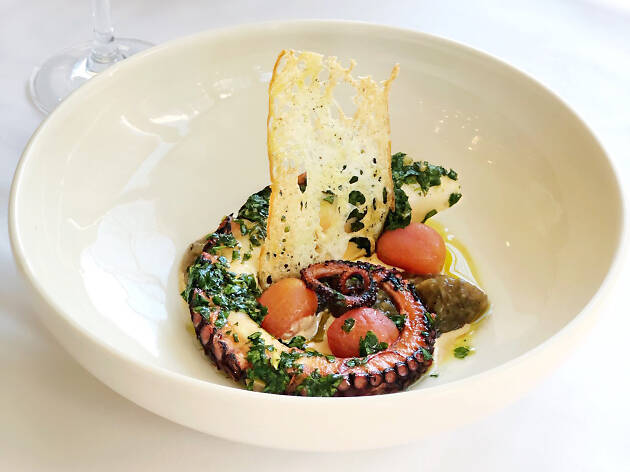 Photograph: Ristorante Beatrice
Another downtown staple, Beatrice is as much a sought-after destination for its delicious Italian fare as it is for its lush, romantic terrasse. Beatrice's dishes might veer somewhat from the traditional, but once you taste the homemade pasta and fresh ingredients, you certainly won't be complaining—you'll be glowing.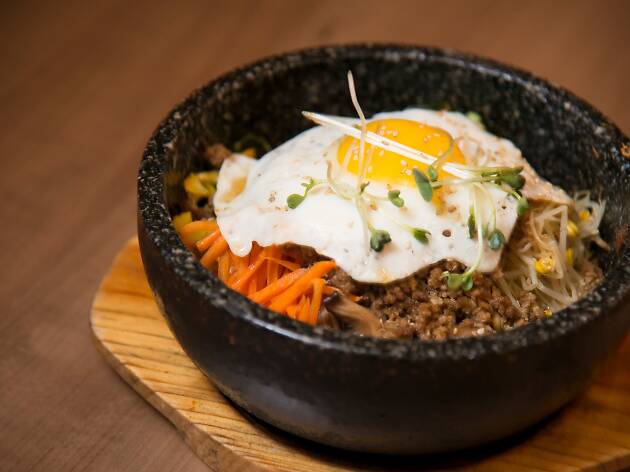 Photograph: Restaurant GaNaDaRa
Getting a quality meal downtown doesn't have to mean breaking the bank. Korean fusion spot GaNaDaRa, known for its deep-fried comfort foods (the fried chicken in chili sauce is the cult favourite) is a popular and inexpensive Concordia student haunt. GaNaDaRa is proof that low prices don't have to equal low quality, even around the Concordia University campus. The line outside can be long, but thanks to the generous portion sizes, you won't have to worry about eating for a while afterwards.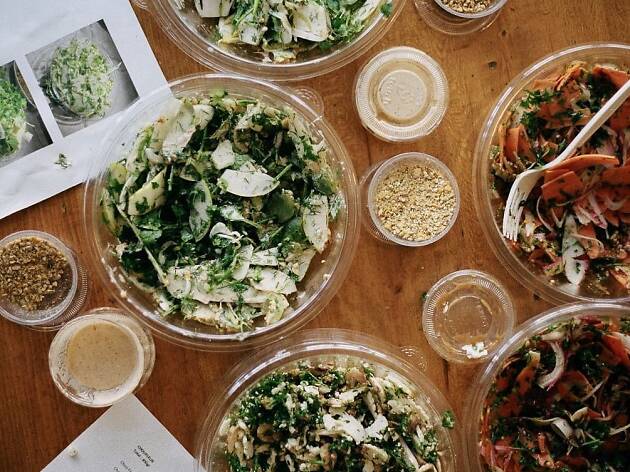 Photograph: Two Food Photographers
A salad counter with eight main menu items and a smattering of snacks might not sound like anything to write home about, but Foodchain's innovative creations fill a need for healthy, fast, high-quality food that can be hard to find downtown. You won't find any sad, wilted romaine here: Foodchain's salads incorporate ingredients like kohlrabi, fennel and daikon, and take seconds to "mix" in their heavy-duty food processors that cut everything down precisely, served with or without grains.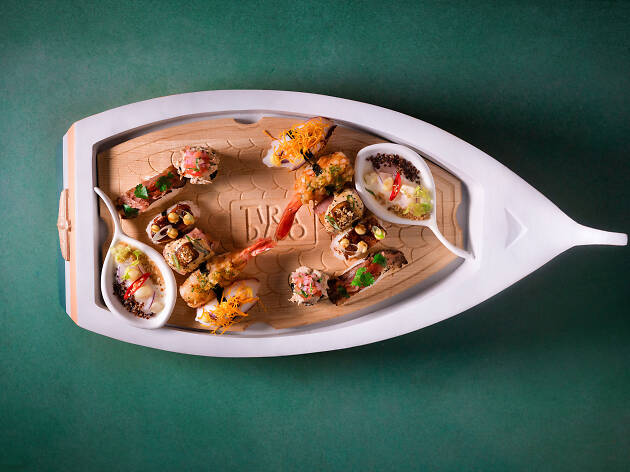 Photograph: Influencr Agency
Serving up Japanese-Peruvian Nikkei cuisine, Tiradito's opening in 2016 heralded the introduction of something new and fresh to many Montreal restaurant-goers; a nice change in a city with a strong but not-overly-varied food scene. The eponymous dish, tiradito, is a scrumptious dish of raw fish cut like sashimi. Other menu items include Peruvian ramen and Peruvian poké, all of which guarantee a dining experience unlike anything else you'll find in Montreal.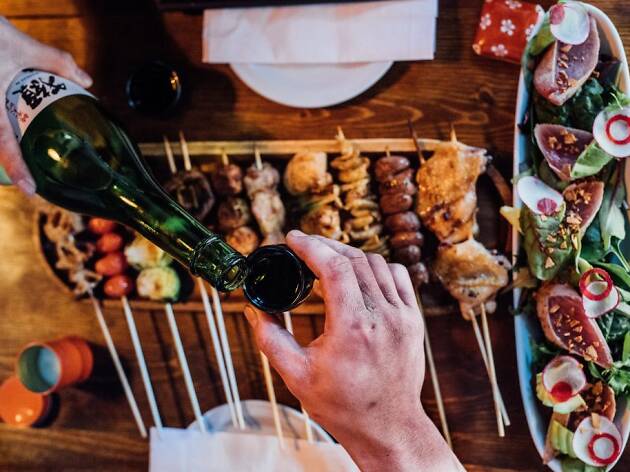 Photograph: Alison Slattery
19. Otto Yakitori Izakaya
Montreal is full of izakayas, but Otto was the first to specialize in charcoal-grilled yakitori (all parts of the chicken) skewers. It's a perfect stop for a late-night night and a drink, which make the late opening hours—1am Sunday to Thursday, 2am Friday to Saturday—ideal for fuel during a night out, if not just before the bars announce last call. You won't be going too far though as the sake and soju selections here are the real deal.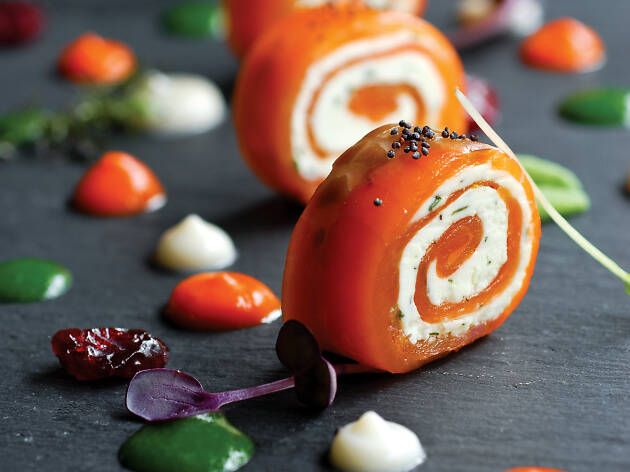 Photograph: Restaurant Europea
20. Restaurant Jérôme Ferrer Europea
Formerly just Europea (before the addition of the "Jérôme Ferrer" moniker), this modern French resto is, as the name suggests, inextricably linked with the vision of chef Ferrer who has crafted menus for the various dining rooms housed in the grand building the establishment occupies, including brasserie, afternoon tea and "grand table" tasting menus.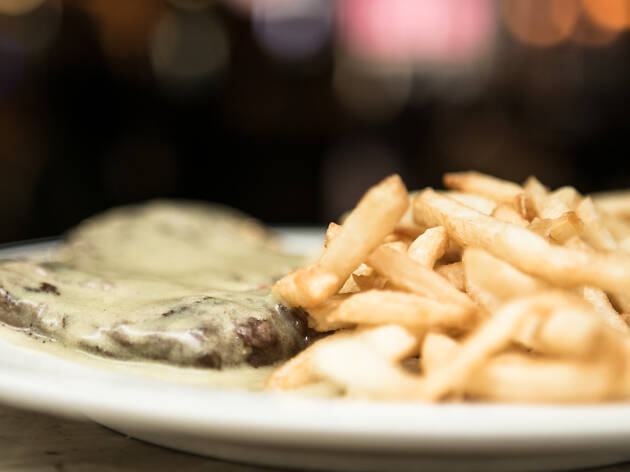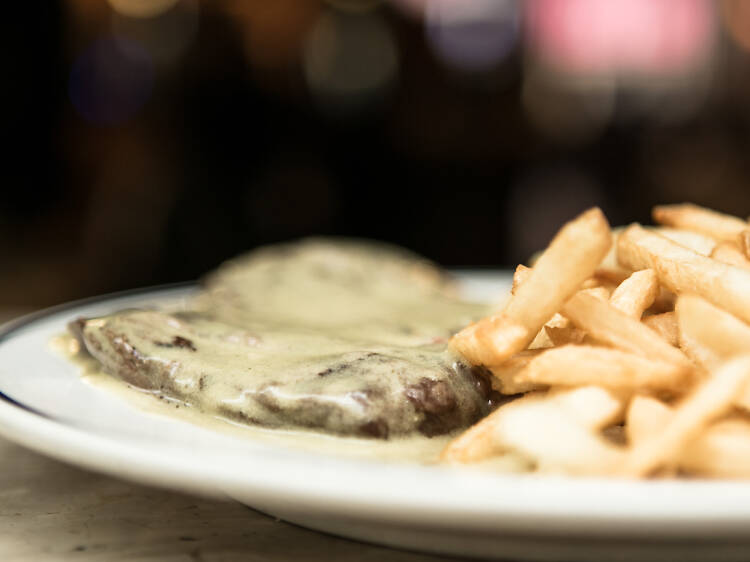 Photograph: Courtesy L'Entrecôte Saint-Jean
21. L'Entrecôte Saint-Jean
It wouldn't be a Montreal neighbourhood roundup without a steakhouse, and L'Entrecôte Saint-Jean's steaks (and secret sauce!) are arguably the best downtown has to offer. A member of the Montreal old guard, L'Entrecôte has been around for decades; ideal, if not a reliable, quality meal in a classic setting. Make no mistake when you come here, however: Not ordering a steak frites is a serious mistake.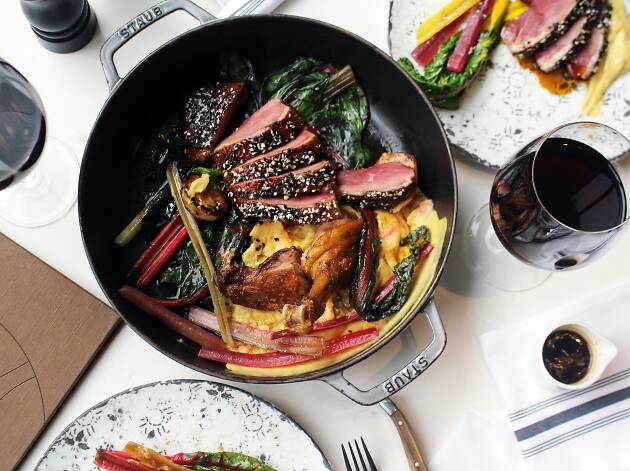 Photograph: Rosélys
The pressure can be high for the restaurants of high-end hotels, and the Fairmont Queen Elizabeth's Rosélys delivers. The large, art-deco-inspired space is the site of daily breakfasts, lunches and dinners, as well as afternoon tea and Sunday brunches, all meals which are as much about the experience as they are about the (French-inspired, this is Montreal after all) food.
Discover more of the city's core
Amazing things to do in Downtown Montreal are found on every corner, each bursting with arts, culture, food and drink.