Heads up! We're working hard to be accurate – but these are unusual times, so please always check before heading out.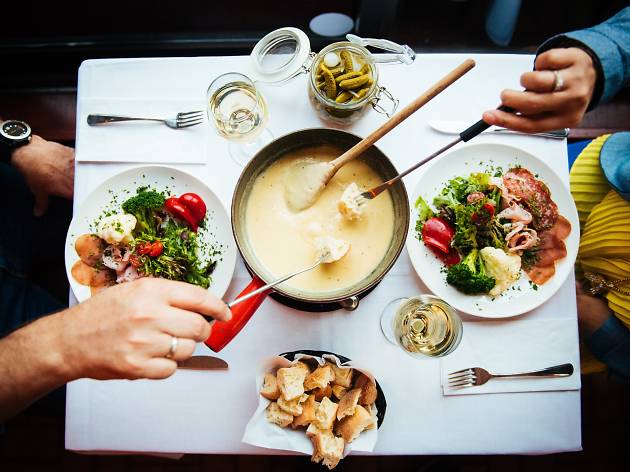 The best BYOBs in Montreal to dine at tonight
Make the most of a meal and buy the bottle you want—it's the best of both worlds in the best BYOBs in Montreal
Sipping and snacking at wine bars is one thing, but one look through the windows of the best BYOBs in Montreal and it'll be clear that the Bring-Your-Own-Bottle experience is a big part of this city's food scene. It's far from being restricted in options as well with a variety of cuisines to choose from, the best of which include some of the city's top Chinese restaurants and French restaurants. With no corkage fees and the liberty to take unfinished bottles home, it's the more affordable way to dine out and drink exactly what you want, making it one of the best cheap things to do in the city (give or take a couple bucks extra for a decent bottle).
RECOMMENDED: Full guide to the best restaurants in Montreal
Where to find the best BYOBs in Montreal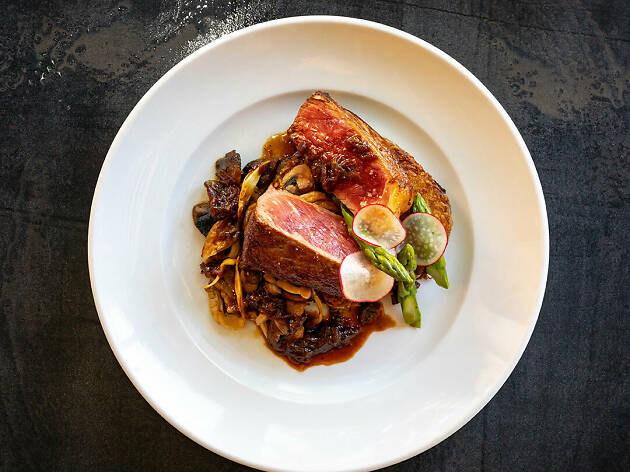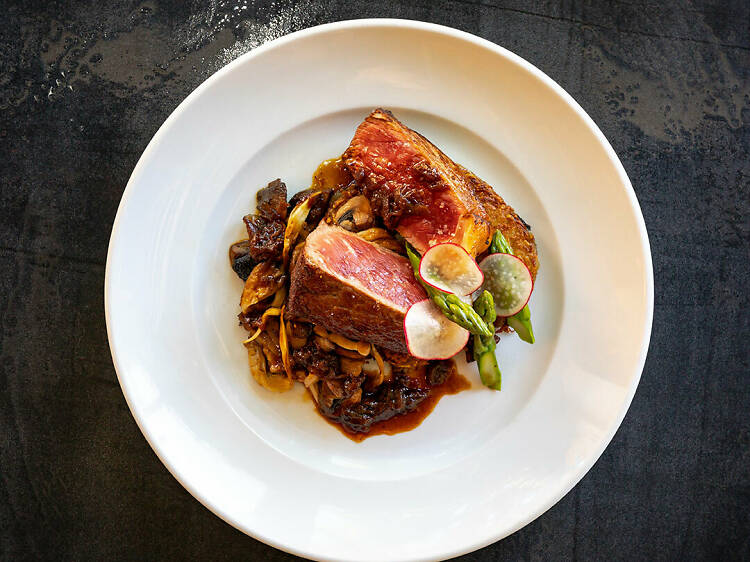 Photograph: Charles Mercier
Since 2009, this charming Plateau restaurant is one of Montreal's most popular BYOB restaurants and for all the right reasons: The well-executed seasonal French cuisine is driven by Quebec produce and offers a balanced choice of local meat and seafood options in its relaxing bistro environment. Open seven days a week with lunch service during the week and a table d'hôte option at night, this is one of those neighbourhood gems that's so good it makes you consider finding a place in its zip code.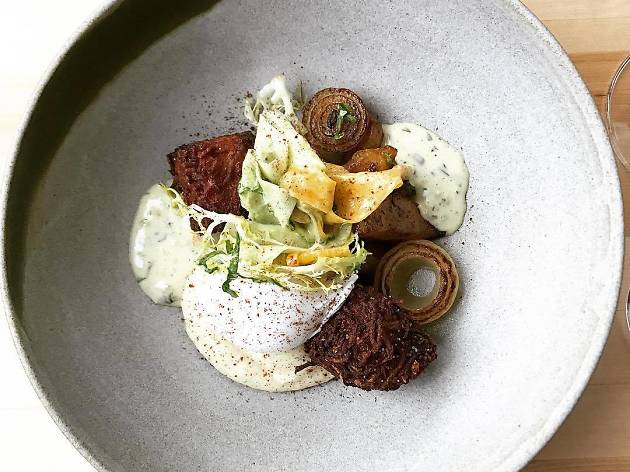 Photograph: @othymmtl
This Gay Village address is hands-down the one that steals the BYOB show in its neighbourhood, highly prized for both its brunch (yes brunch!) and dinner menus. Its menus' preference for market cuisine—a common trait in the city's BYOB restaurants—may not immediately make it stand out, but the quality of the dishes' presentation and flavour are seldom matched. Don't just take our word for it; try getting a reservation to get a taste of this one's popularity. It's well-deserved.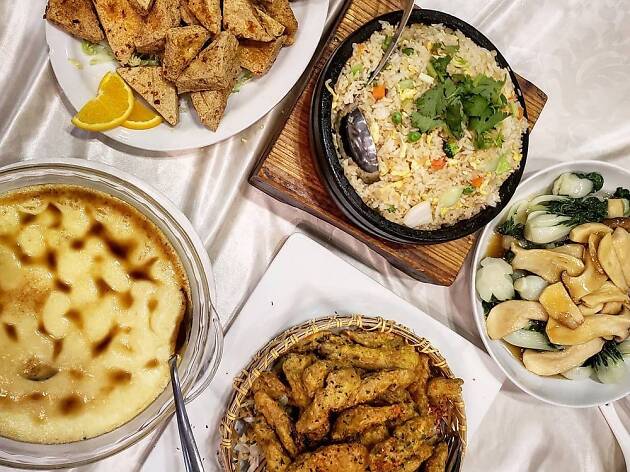 Photograph: Courtesy Yelp/Helena U.
Look around in just about any of this city's boroughs and you'll find a Chinese restaurant able to accommodate BYOB diners, but Papa Jackie's the one worth traveling for. Out in Brossard, the lazy Susans at Papa Jackie's a are regularly spinning with as many Chinese-American dishes of General Tao and beef and broccoli as they are chef specials like garlic-riddled razor claims, softshell crabs and chewy tripe. If you ask us, skip what you can get anywhere and ask for the specials, especially seafood—you'll see it plucked fresh from their tanks.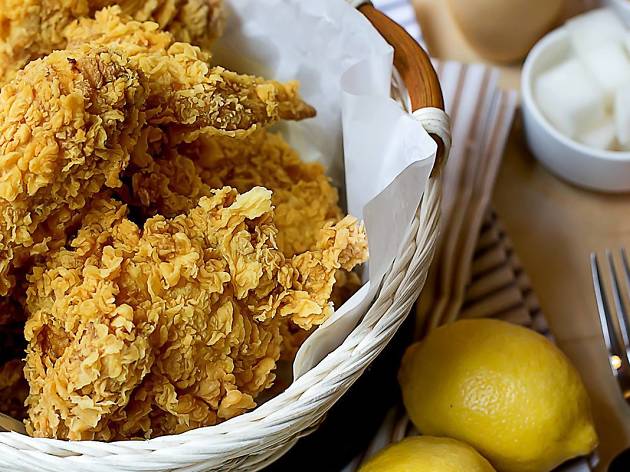 Photograph: @restomonami
The expansiveness of this Korean restaurant chain in Montreal may make the average diner skeptical but know this: It's only found so frequently in the city because it's that good. Their locations normally aren't BYOB save for one on Somerled in NDG, and that's all we could ask for. Crispy fried chicken, spicy and refreshing jjigae, cheesy and sizzling buldak; you'll be hard-pressed to find a dish that won't satisfy here. Most convenient of all is the dépanneur right across the street, good for cheap wines and beers alike.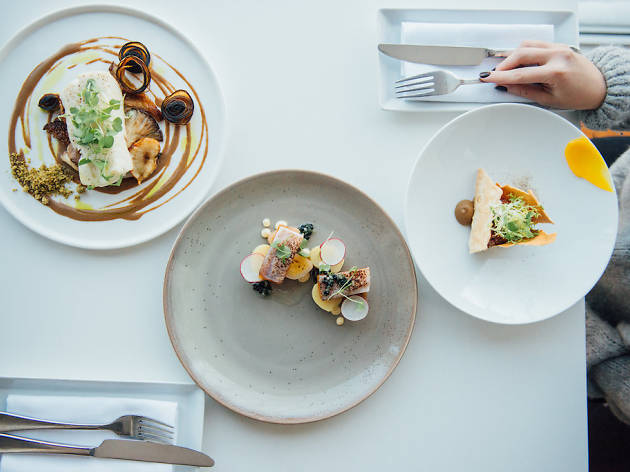 Photograph: Restaurant Wellington
This Verdun spot on the neighbourhood's main thoroughfare of Wellington Street quickly won over locals for its thoughtful, seasonal French cuisine. With long banquettes, hardwood floors and chalkboard-style menu, Wellington is warm and inviting while the refined food reflects market produce in dishes that highlight creativity and quality.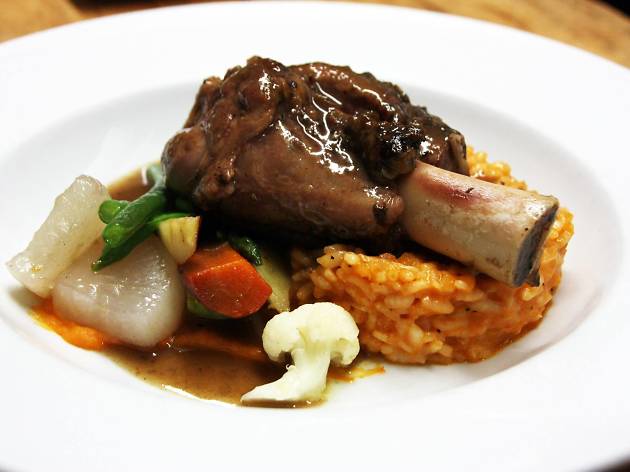 Photograph: @restochristophe
This Outremont staple is a quintessential French bistro. From the servers dressed in shirts and ties to the black and white checkered tile floor, a long wood bar, mirrored walls, and a menu filled with French classics, Christophe offers an elevated dining experience in a charming setting. While the impermanent menus lean toward moving with the seasons, the desserts here stay fresh with lots of house sorbets and cakes you may end up ordering multiples of.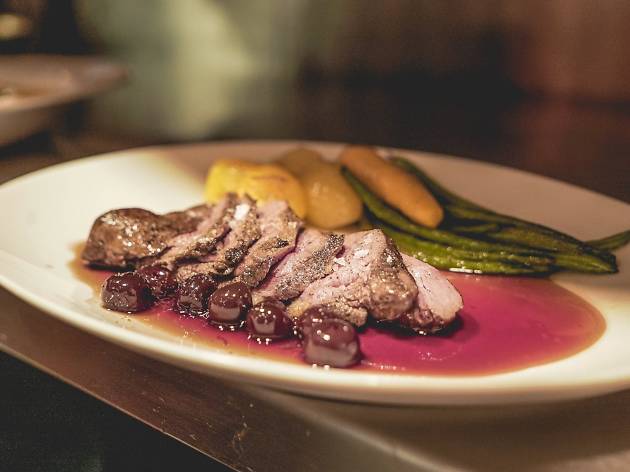 Photograph: @lacolombemontreal
On the edge of the bustling Duluth street dining hub in the Plateau, La Colombe is timeless, elegant and intimate. White table linens topped with refined tableware make this BYOB experience a cut above casual while their aim to focus on market produce ensures the meals are kept fresh and fun no matter the visit.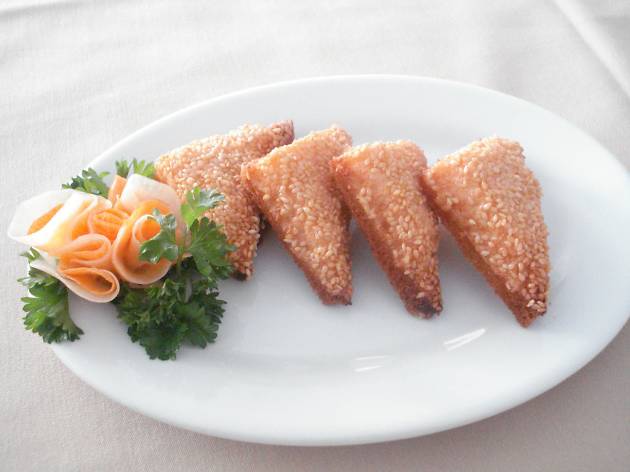 Photograph: @restaurantmrspicy
Why let the core of the city have all the fun and attention? Dorval might not be one of those parts of the island that gets a ton of top marks for dining, but when it's made this fun, it's hard to look the other way. Located in an unassuming shack of a restaurant along the borders of Pierre Elliott Trudeau International Airport, their all-you-can-eat-for-$35, pan-Asian menus with a majority of Chinese items is a steal in the BYOB market. That, and the shrimp toasts alone are worth return trips for good times.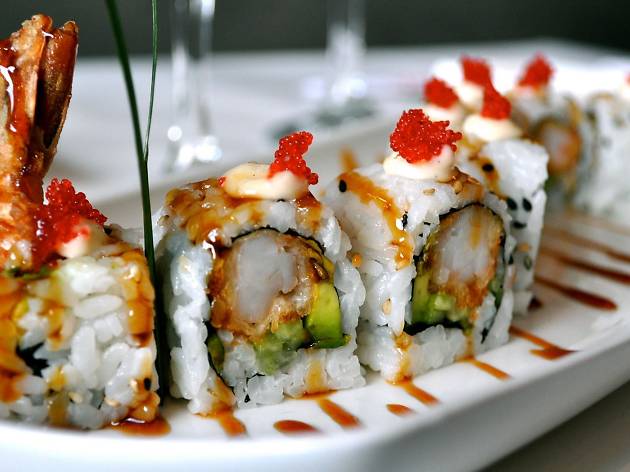 Photograph: @restaurantcoba
Côba isn't quite Japanese, Szechwan or Thai cuisine, but a mixture of all three with menu options that have made this Outremont restaurant a popular pan-Asian dining choice. From sushi to teriyaki, curries and noodles dishes, Côba serves it up with a smile and a corkscrew. Keep it simple with a table d'hôte menu based on a staple with General Tao or Pad Thai if you want, but our money's going to the tuna belly and miso-marinated cod with soba noodles.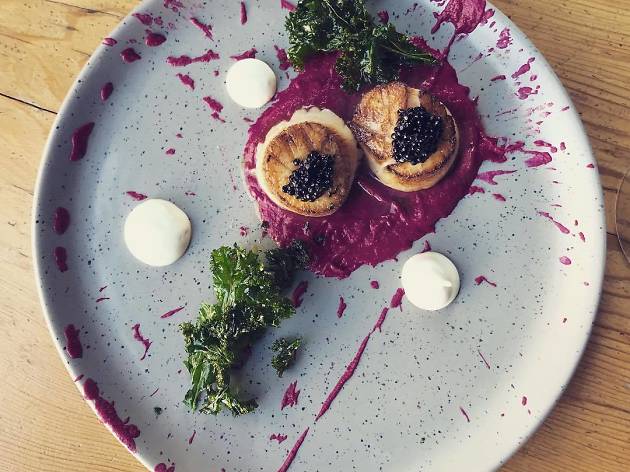 Photograph: @RestaurantLaPrunelle
This long, rectangular space that occupies the corner of Duluth and Drolet streets in the Plateau rolls up its garage windows in the summer, making it the ideal hot weather dinning destination to soak up the surrounding city life. Combining local ingredients with a global cuisine, this restaurant is a longstanding BYOB staple. Mains and entrées are sure fire bets, but if you'd headed there in a group, spend more time enjoying the company of others with this restaurant's tasting menu option, something not always found in BYOBs.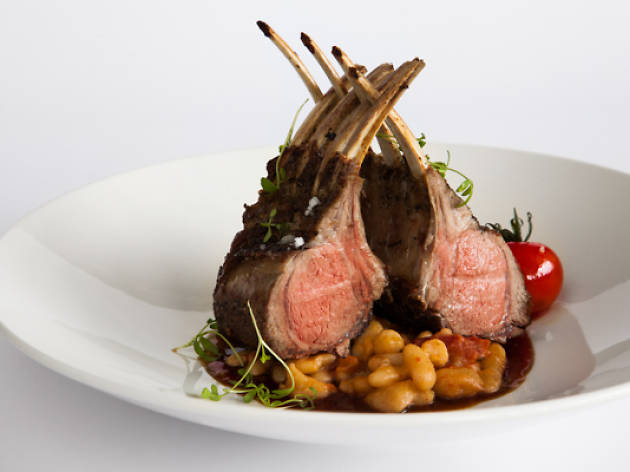 Photograph: Sylvain Blais / Cesar Ochoa
Located on Villeray Street in a picturesque neighbourhood just above Marché Jean-Talon, Tandem showcases both haute French cuisine and beyond using Quebec produce in fresh, creative ways. Chef Pascal Turgeon's regularly regarded as one of the top culinarians in his area, crafting as many boudin noirs and curious, savory crème brûlées of foie gras as there are plates of sashimi of accras. Bonus: They even have a four-course vegan menu, but be sure to ask for it when you reserve!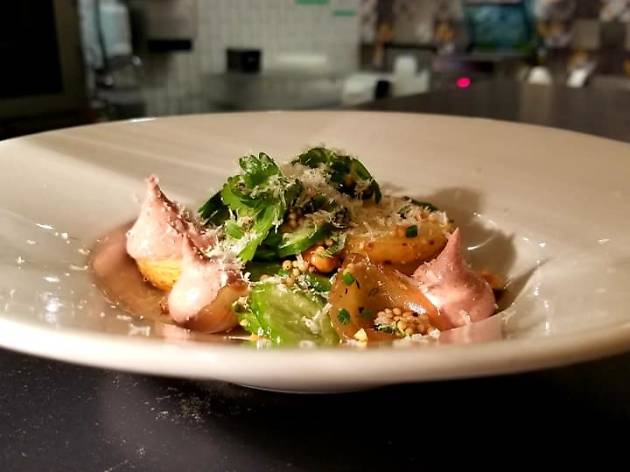 Photograph: @etatmajor.ca
This very cool, casual-chic French-inspired spot in Hochelaga-Maisonneuve is bright, airy and conveniently just steps away from an SAQ store. Open since 2013, the friendly service and convivial atmosphere make it the perfect excuse to get together with friends, and that's what you commonly find here: Good vibes with tables closely pushed together of patrons trying one another's proffered bottles for the evening.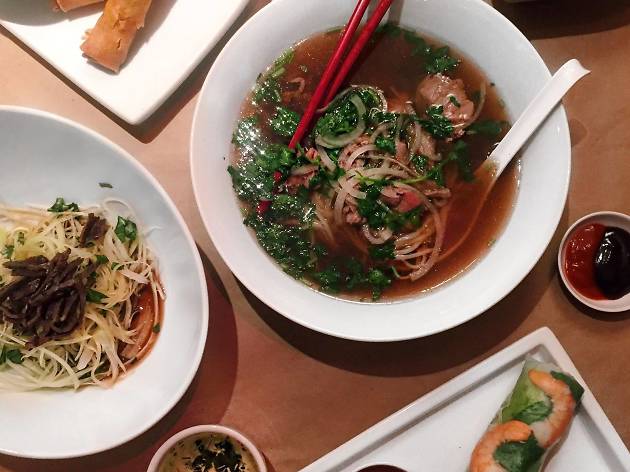 Photograph: @restaurantphoviet
Enjoy some casual Vietnamese food in a relaxed space when you head straight to Pho Viet in the Gay Village. Open for lunch and dinner daily, diners come here in search of one of Montreal's best soups, but the lovely owners and the charming service keeps them coming back for more. It's just as good a spot to dine when the front French doors are thrown open in the summer as it is warm in the winter when broths' steam fogs the windows.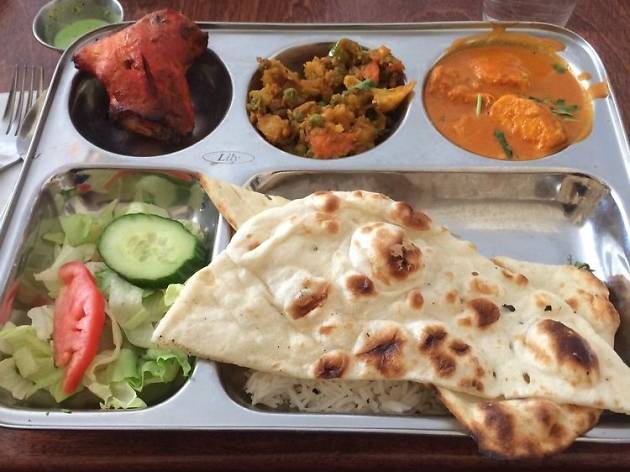 Photograph: Courtesy Yelp/Shiyue X.
If you're looking for delicious, affordable Indian fare, Chand Palace is your jam. Located on Jean Talon Street in Park Extension, this small, no frills space is always packed and serves authentic dishes with an emphasis on thali plates and dosas, a Southern specialty, along with plenty of vegetarian and vegan options. There's no obligation to settle in for full meals either; feel free to head here for pre-party drinks and snacks, as the crisp puris and crunchy croquettes make for as good a reason to drop in.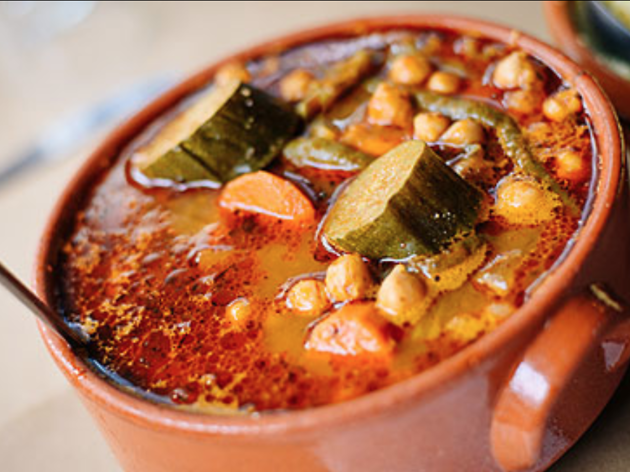 Photograph: Rites Berbères
This colourful, festive North African restaurant has been schooling Montrealers on couscous since 1985. From more well-known items like mergez, meat brochettes and mounds upon mounds of couscous to specialties like egg-filled brik pastry, hearty chorba soup and tchekchouka (the tomato and onion-based Algerian dish) similar to shakshouka, there's definitely more than a couple reasons why this Plateau restaurant has gone the distance.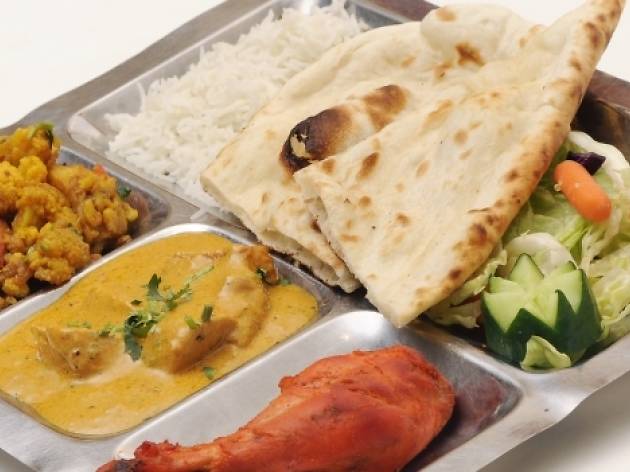 Photograph: Bombay Mahal
Bombay Mahal dominates the inexpensive, BYOB Indian Park Extension dining options, hands down. Now with satellite locations in the Plateau and on Sainte-Catherine Street near Concordia University, the original location is still the best option and has won over many-a Montrealer with satisfying, affordable dishes. Couple that with friendly service and an atmosphere as lively as the cuisine's spicy, and it'll all leave you with a decent dining high.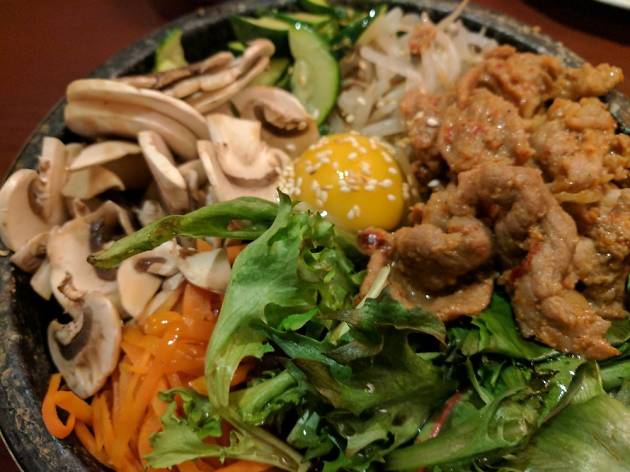 Photograph: Courtesy Yelp/Denzil D.
Out in NDG, Montreal's unofficial Koreatown, this casual spot serves up traditional dishes with seasonal specialties. There's partygoing options like fried chicken, sizzling stone bowls of vegetarian and beef-laden bibimbap and bulgogi, but there's also noodles, barbecue and Korean stew for two if you're there for a more intimately-minded meal. The most exceptional part of the menu's the mandu (Korean dumplings), a style of the dish that gives the Chinese xiao long bao a major competitor.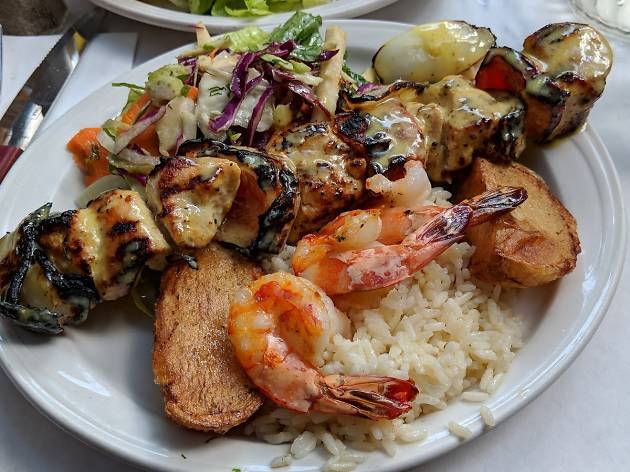 Photograph: 舒为群
The first BYOB restaurant on Duluth Street, this family-run Greek place has been around since 1979 and still manages to pack in hungry patrons every night. Now an iconic Montreal establishment, people are drawn to Panos thanks to their bright white and blue brick façade, massive courtyard terrace, efficient service and generous portions of Greek fare. The juicy chicken brochettes, served with potatoes and salad, are a popular favourite that never disappoints.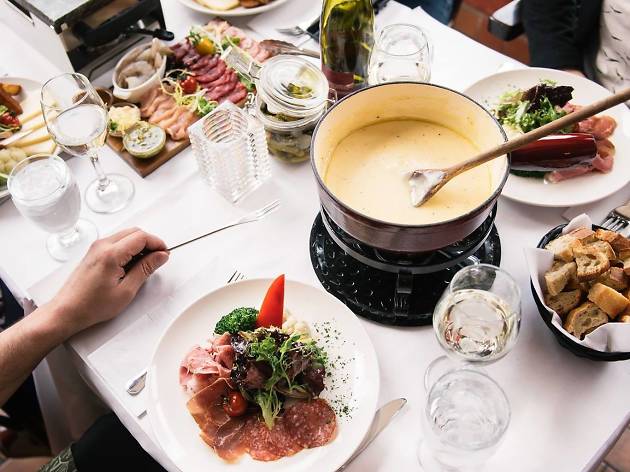 Photograph: @RestaurantLaRaclette
You're doing yourself a disservice if you call yourself a fan of cheese in a meal but have yet to dine at this one. Nestled amongst Plateau triplexes, this stylish restaurant offers European fare with an emphasis on Swiss cuisine. With choices like the restaurant's namesake along with fondue pot and hot stone pierrade grills that cook meat while melting cheese, there are also grilled meats, fish, daily specials and classic Swiss desserts.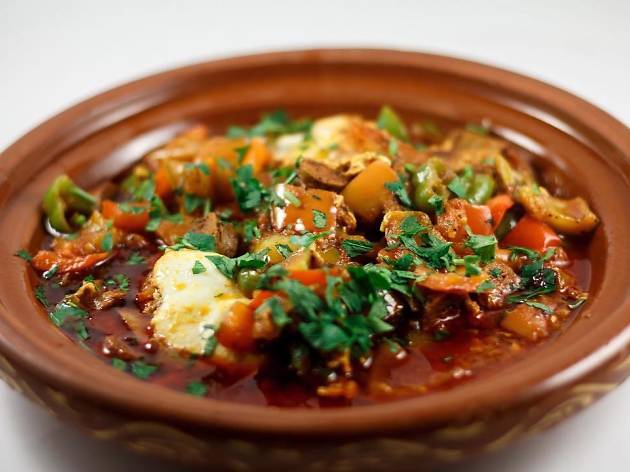 Photograph: @restorosedessables
If you're looking for a unique, thoughtful dining experience, head to Tunisian restaurant La Rose des Sables in Rosemont Petit-Patrie. Showcasing this Northern African country's specialties, including brick (pastries stuffed with meat, seafood or egg), Tunisian tagine, and clay baked lamb shank, there are also nightly specials, and live belly dancing on weekends.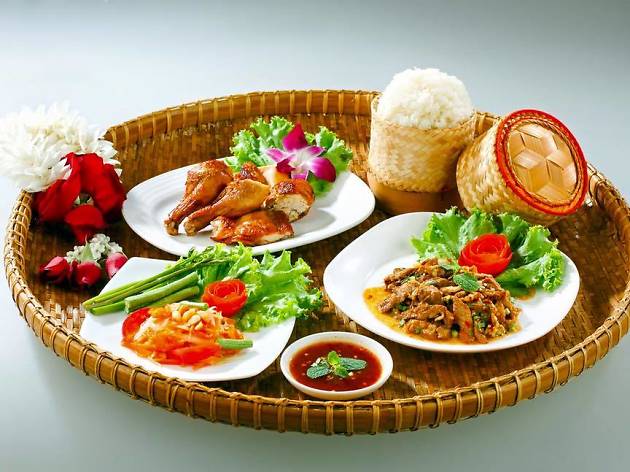 Photograph: Thai Sep
This cute, family run Thai restaurant in Saint-Michel serves a combination of Thai and Laotian dishes in a small, 24-seat space. The food is affordable, authentic and made with care, especially the in-house Laotian sausages or one of their aromatic, creamy Thai curries. Folks looking to start off their meal right are recommended to dig into their hybrid Thai-Laotian dish of hot beef salad, and to finish the whole thing off with sticky rice and chopped mango.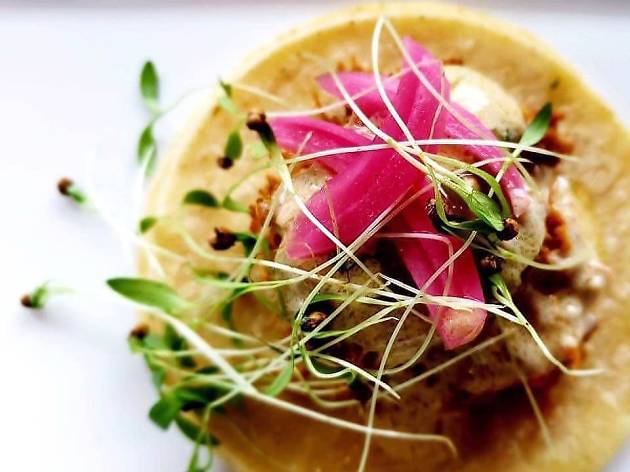 Photograph: @laselvarestaurantmexicain
Located in the heart of the Plateau, La Selva is all about Mexican cuisine in a convivial environment. With a 6-course tasting menu at a very reasonable $35, taco Thursdays with non-stop services going for $16 and a $21 weekend table d'hote, this one's clearly trying to corner the taco market. The à la carte menu's filled with tempting dishes that are a welcome break from the more common French BYOB fare, from grilled octopus off the plancha or a silky ceviche.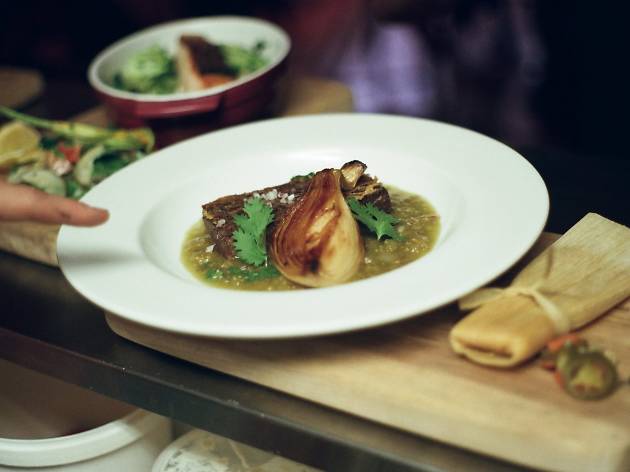 Photograph: @lannesetpacifique
One of the newer places on the Montreal BYOB beat, Lannes et Pacifique feels young with just how fun it is, but carries itself with as much gravitas through the skill it reveals in the kitchen. Just fancy enough, this Rosemont Petite-Patrie bistro's focus is freshness and seasonality with a five-service table d'hôte as well as an à la carte menu, all inspired by French cuisine. They're particularly proud of their desserts here, and you know what? We're inclined to agree with them.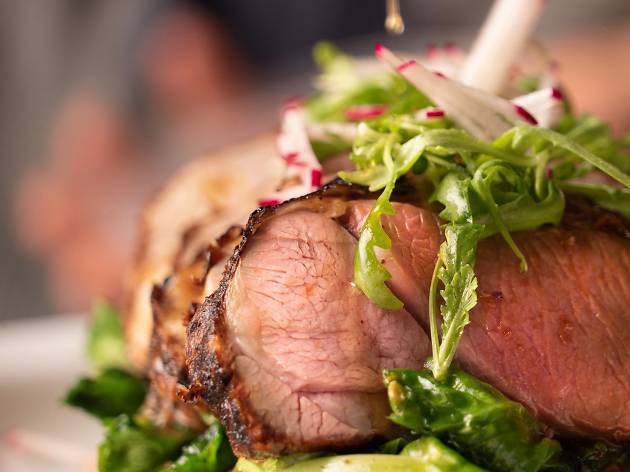 Photograph: Le Smoking Vallée
The Notre-Dame strip in Saint-Henri has been a growing hotspot for new restaurants for quite some time now, but Le Smoking Vallée has been a fixture for years before. Being a veteran of the area's no small feat, but a visit here makes it clear pretty quickly: Their French-inspired bistro fare has seasonal and local options, nightly specials, table d'hote and affordable options for larger groups. Hard to beat that kind of barrage of options.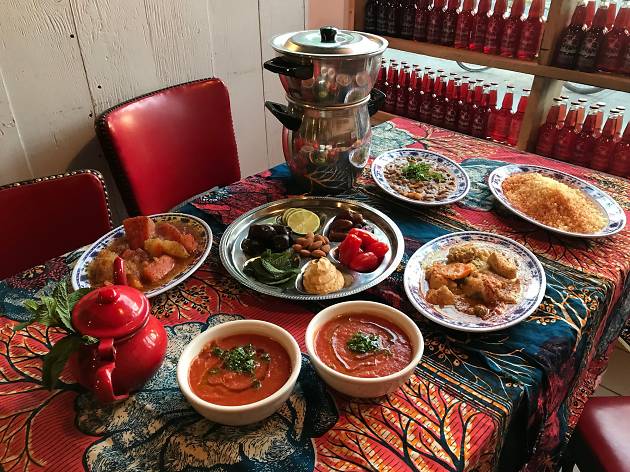 Photograph: @RestoLaKhaima
There are intimate, white linen-topped tables and then there are communal and jovial spots like this one. One of the more unique dining experiences in Montreal when it comes to BYOBs, La Khaïma's North African cuisine's made all the more novel with its patrons seated on the ground to share plates of proteins and veggies atop heaps of couscous. Enjoy the chef delivering plates to your table in person and encouraging you to drink and be merry. This one's great for big groups, and don't be surprised if someone starts to dance atop a table or two.
More great dining options in Montreal
If Montreal had the Michelin Guide, which restaurants would earn a spot on the list and what would their star rating be?
One of Montreal's most vibrant neighbourhoods, Little Italy's restaurants are a combo of what's classic and classy.
Small and sturdy, the best Mile End restaurants help make its neighbourhood one of the coolest spots in town to dine out.