Heads up! We're working hard to be accurate – but these are unusual times, so please always check before heading out.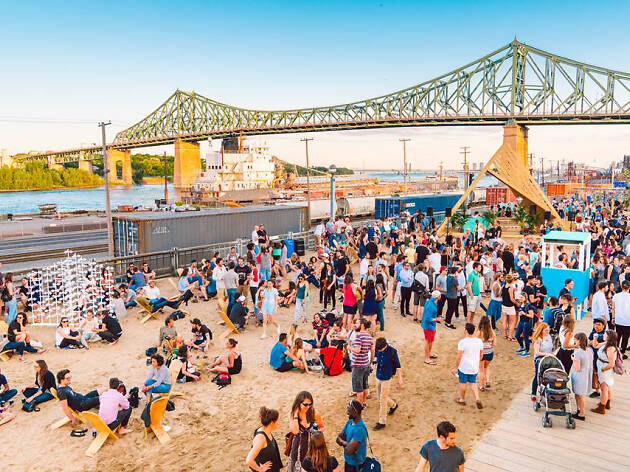 The best cheap things to do in Montreal
Maximize your dime and time with the best cheap things to do in Montreal, from arts and culture to food and drink
On the whole, Montreal is an incredibly accessible and affordable city, with some of its best things to do doubling down as its cheapest. All year long you'll find amazing and fun stuff to discover that won't break the bank, cheap things to do in Montreal like lounging in the city's best parks, wolfing down cheap eats or seeing free performance at the best festivals. Here's our list of our favourite ways to spend time in Montreal without spending too much of your hard-earned cash.
RECOMMENDED: Full guide to the best things to do in Montreal
Best cheap things to do in Montreal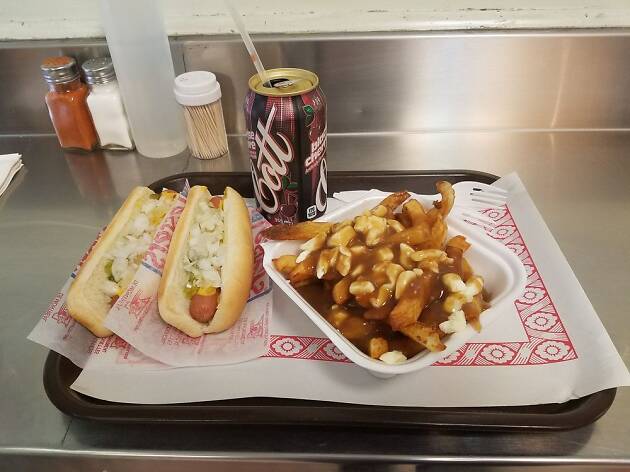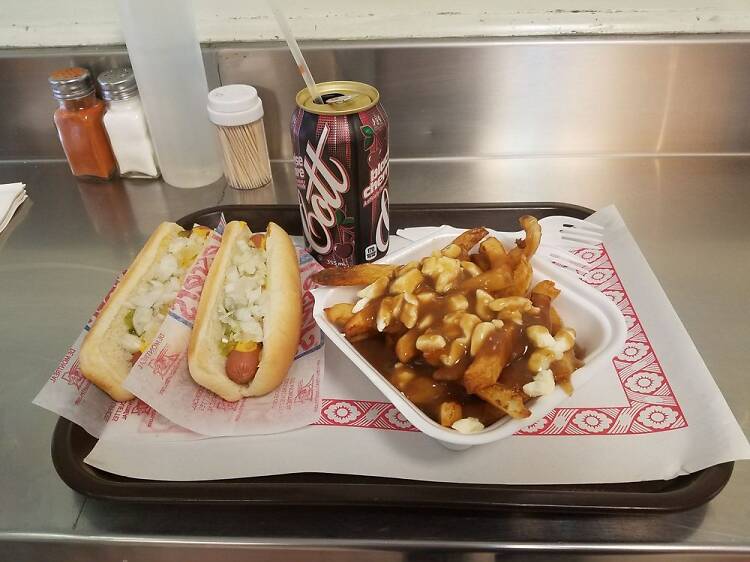 Photograph: Courtesy Yelp/Joseph S.
1. Grab a couple steamés at Montreal Poom Room
Montreal is definitely a hot dog kind of town, but unlike other cities, we like out dogs smaller than your average American variety and either steamed (soft and warm) or toasted (buttery and crispy). The best place to experience the real deal Quebec dog is at one of our many casse-croûtes (diners) throughout the city, whether it's at chains like Lafleur's or La Belle Province, or at institutions like the Montreal Pool Room. Cheap, fun to eat and definitely not good for you, it's one of life's dirty pleasures worth experiencing at least once.
Price: $1.35 for each steamé, $1.75 for each toasté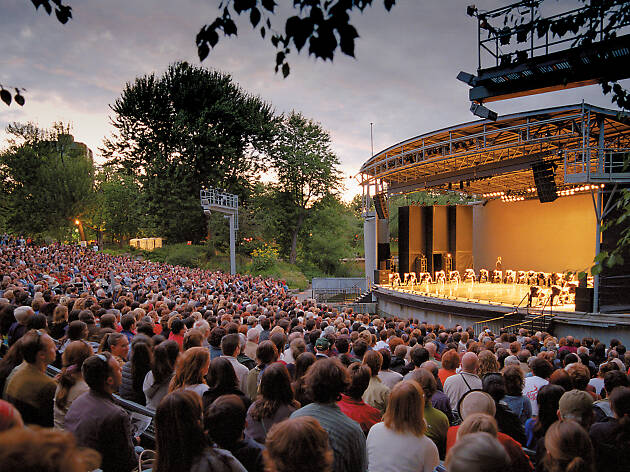 Photograph: Tourisme Montréal, Stéphan Poulin
2. Shakespeare in the Park in Parc La Fontaine
Presented by Repercussion Theatre, Shakespeare-in-the-park is an annual summer show that sets up in various Montreal parks throughout the month of July, our favourites taking place in Parc La Fontaine's public amphitheatre. While the shows are techinically free, people are asked to donate if they can, making this a perfect entertaining evening activity that costs as much as you'd like. Don't expect the conventional Shakespearean offerings, as the company puts on adaptations that use contemporary settings.
Price: Pay-what-you-can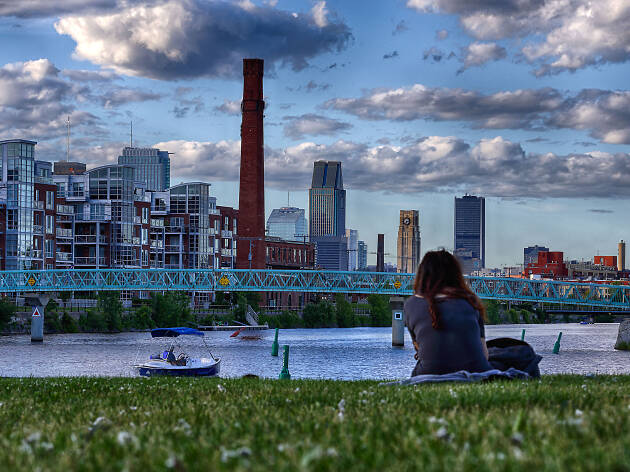 Photograph: Amir El Etr
3. Ride a Bixi along Lachine Canal
Montreal's bicycle sharing system is not only a great way to get from point A to B, but also makes for a fun way to see the city and make your way along the city's many scenic bike paths—if you're not sure where to start, go the whole length of the Lachine Canal. There are several payment options including a one-way, 30-minute trip for $2.95 and a day pass for $5.25. Just remember to bring a credit card to pay.
Price: $5.25 for a day pass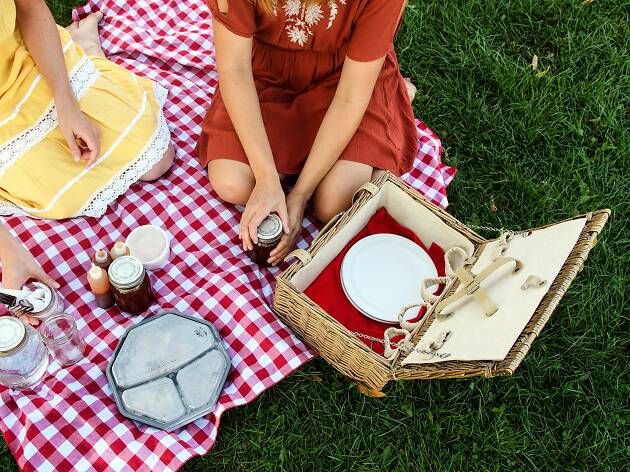 Photograph: Tourisme Montréal/Madore/Daphné Caron
4. Drink and eat at Jeanne Mance Park
When good weather rolls into town, Montrealers head outside to eat and drink for cheap in our many public spaces and parks. One of the best parks for this—for its proximity to the city center, mountain, Plateau and Mile End neighbourhoods—is Jeanne-Mance park. With tennis courts, a soccer field, bike paths, picnic tables, plenty of benches and a playground, it's a short stroll away from Portuguese chicken sandwiches from Coco Rico or hitting up a dépanneur for cold beers. Just remember you need a snack in order to legally drink in a park.
Price: Under $10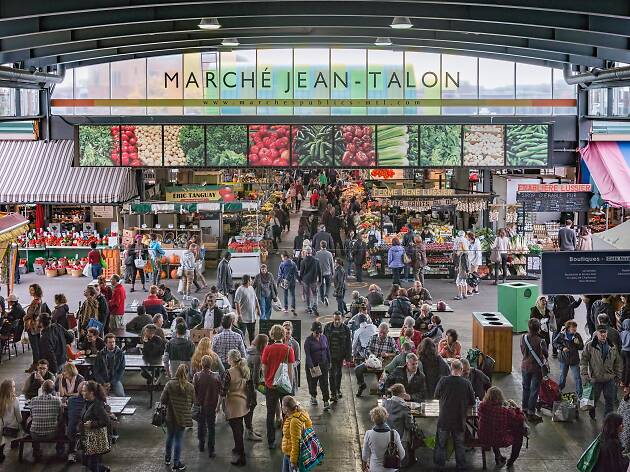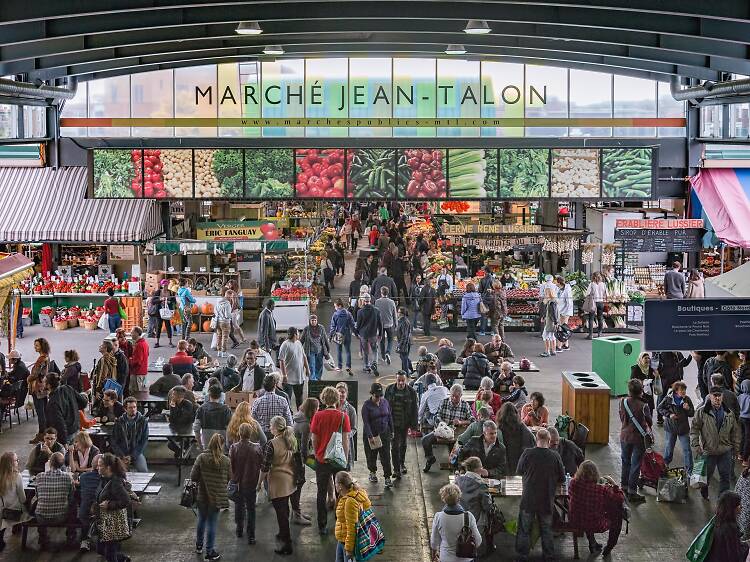 Photograph: Francis Lachaine
5. Explore through snacking at Jean-Talon Market
People in this city love everything about food, so it's no surprise that a highlight is our markets with fresh produce and boutique restaurants. The two main markets are Jean-Talon Market in Little Italy and Atwater Market in Saint-Henri. Both have their own charm, but they do have one thing in common: They're both great places to go to shop, snack, grab a coffee or just hang out and enjoy the sights, sounds and amazing smells.
Price: Under $10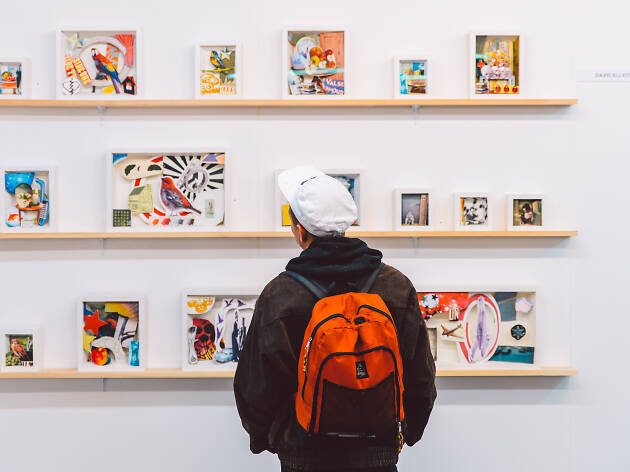 Photograph: Jean-Michael Seminaro
6. Support the arts at Papier Art Fair
Since 2007, Papier Art Fair has been giving Montrealers the opportunity to admire and purchase works of art on paper every April. From collage and drawings to photographs and sculptures, galleries from all over the country come to show off the work of very talented artists. 2019 marks the first year the fair's presenting work from other mediums as well, making it their biggest event yet.
Price: $10 ($8 for students and seniors)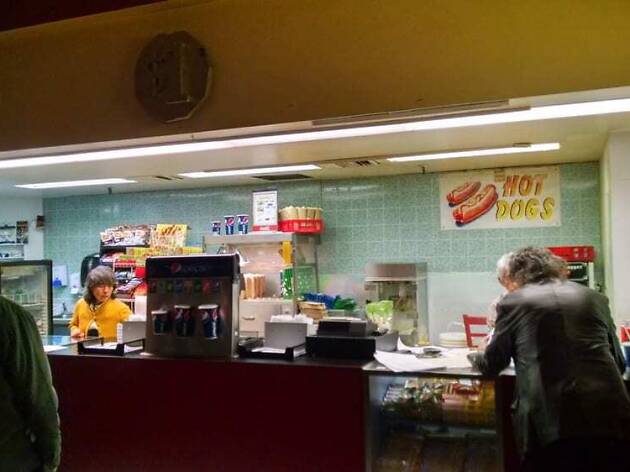 Photograph: Courtesy Yelp/Offer R.
7. See a flick at Dollar Cinéma
So, the name only slightly oversells it: While actually priced at $2.50 for a movie, or 20 tickets for $23, this cinema's a great place to view movies on the big screen for cheap. Movies change regularly enough, and with all snacks for $1 each, that leaves enough to change leftover to go enjoy a bit at the neaby Gibeau Orange Julep or Indian restaurant Pushap afterwards.
Price: $2.50 a ticket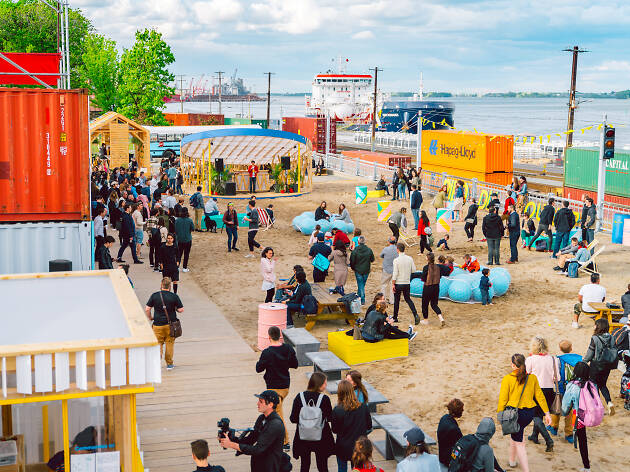 Photograph: Jean-Michael Seminaro
8. Party it up at Village au Pied-du-Courant
Along the banks of the Saint-Lawrence River at the foot of the Jacques Cartier lies the cool, community-driven and beachy public space for people of all ages and from all corners of the city to gather, share and enjoy the views of the water. Steadily growing every year, the Village is now bigger than ever, with places to drink and eat (at a cost), playgrounds for the kids, art installations and a boardwalk. The best times are when bands play on their open-air stage.
Price: Free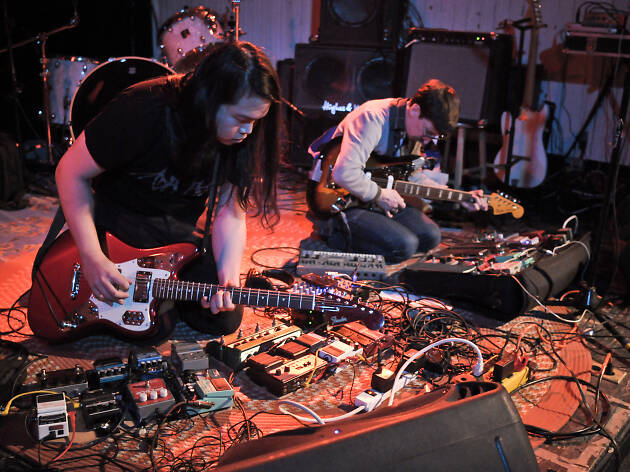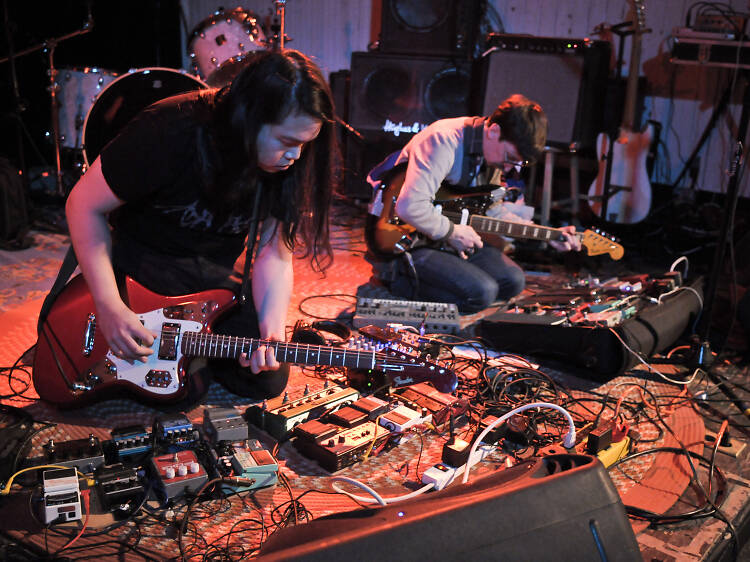 Photograph: Philippe Lamothe
9. Watch live music acts around the Plateau
Montreal's got a good show worth checking out on any given night. You're sure to find all sorts of live music at bars and venues throughout the city, and most shows don't cost much. Most cheap venues are located in the Plateau, but there are excellent spots downtown as well: Bar Le Ritz P.D.B always has a solid line up of interesting shows and awesome dance parties to access on the cheao, as does Theatre Fairmount, Casa Del Popolo, Sala Rosa, Petit Campus, L'Escogriffe, Quai de Brumes, O Patro Vys, or Foufounes Electrique. Take your pick and see who's playing.
Price: $10 and under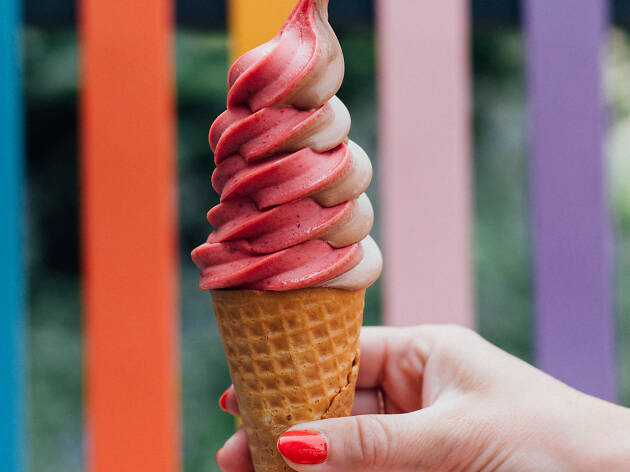 Photograph: Alison Slattery
10. Eat ice cream at Kem Coba
This Vietnamese ice cream shop's one of the best places in the city to cool off with a delicious cone. Its Mile End location is notorious for its line-ups, so keep in mind that there's now a second location in the Mercier-Hochelaga-Maisonneuve borough to spread the love and the wait times. Owners Ngoc Phan and Vincent Beck's two-toned soft serve specialties and scoops in ever-changing mouth-watering flavours are definitely worth a taste for cheap.
Price: $4.57 (taxes not included)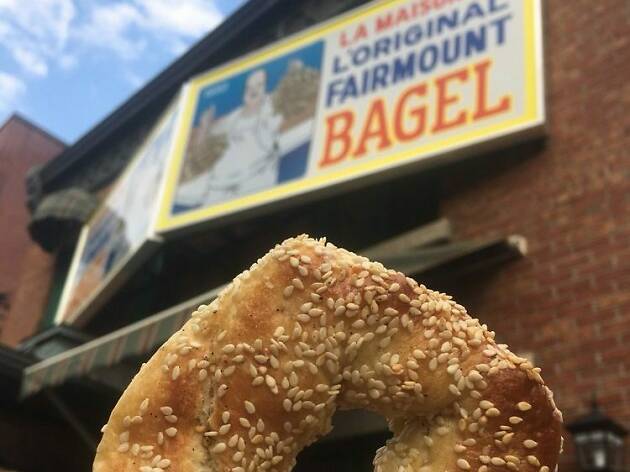 Photograph: Courtesy Yelp/Jennifer C.
11. Compare bagels at Fairmount Bagel and St-Viateur Bagel
Anyone fresh to Montreal needs to eat the city's best bagels, and lucky them, two of the heaviest hitters in town are just a couple minutes' walk from each other. Then there's the fun part: Decide where to align yourself on the Great Bagel Debate. Hot out of the oven, soft, chewy and delicious—don't waste your time with anything but sesame or poppy seed or you'll look like a tourist—you can decide for yourself what's the better bagel in town.
Price: Under $2 per bagel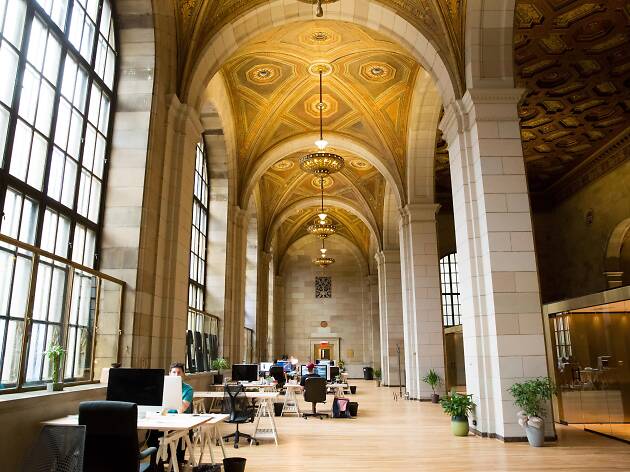 Photograph: Susan Moss
12. Catch up over coffee at Crew Collective and Café
Located in the gorgeous marble and brass space that once housed the Royal Bank of Canada's headquarters in Old Montreal, this public café took the idea of a collective work space and made it accessible to anyone who might need a private meeting room, individual work space for the day, or a more long term co-working space. It's good for catching up on your work, but it's also good for catching up in general; if you want to admire the breathtaking room while grabbing a bite to eat and a coffee, you can definitely do that, too.
Price: $6 and under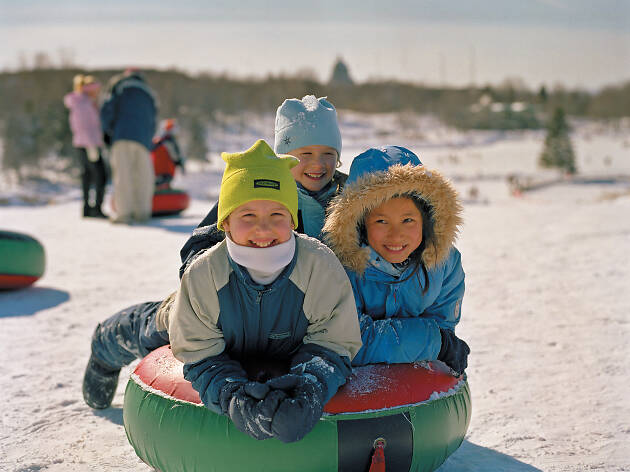 Photograph: Tourisme Montréal, Stéphan Poulin
13. Make the most of winter at Mount Royal
The Mount Royal mountain is a true white wonderland in the winter with plenty of activities going on in and around the chalet in front of Beaver Lake. For some seriously low-stakes family fun, you can rent an inner tube for $5 and rip down the hill reserved for slipping and sliding. Alternatively, you can rent skates, cross-country skis, snowshoes or sleds for $15 and under and make the most out of the season.
Price: $5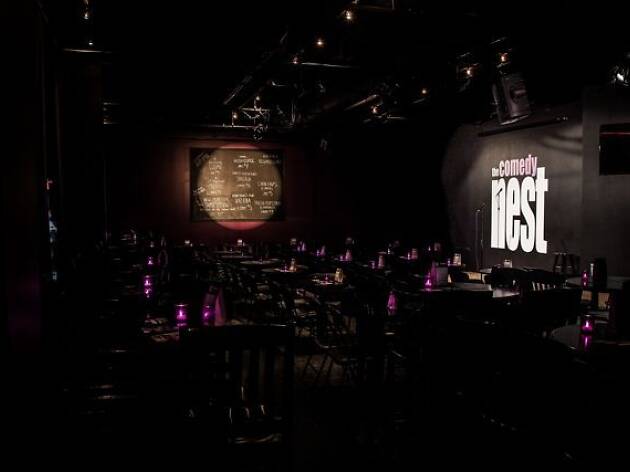 Photograph: Courtesy The Comedy Nest
14. Laugh it up at The Comedy Nest
Love to laugh? Check out The Comedy Nest, a longstanding Montreal comedy club often voted the best in the city for local talent, and maybe you'll get to see the next big up-and-coming star preform. Keep it cheap if you head down there on a Monday or Tuesday night wehn show admission is only $5. A hilarious night out, and money left over for a drink? Win-win.
Price: $5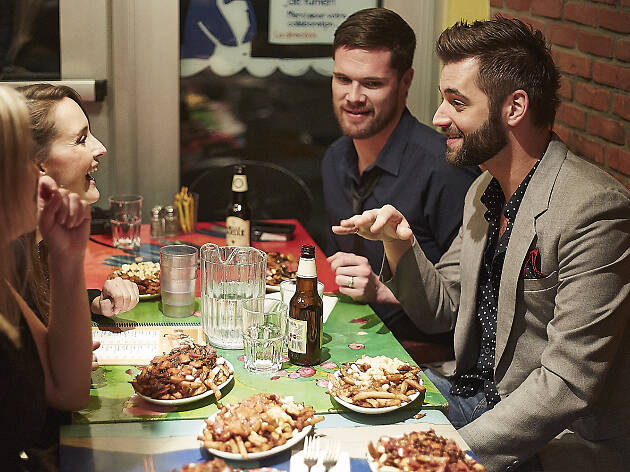 Photograph: Tourisme Montréal, Bruno Guérin
15. Eat poutine at La Banquise
Poutine's one of Quebec's greatest creations, an edible cultural icon that people from all over the world now identify the province with. The mix of French fries, gravy and cheese curd might not be what everyone wants to eat for (or with) dinner, but if and when they do, La Banquise is the city's ambassador for the dish; not only for having so many different options, but also for being open 24 hours a day, serving them nonstop. And hey, if it's too busy, there's always another restaurant with delicious poutine nearby.
Price: Under $10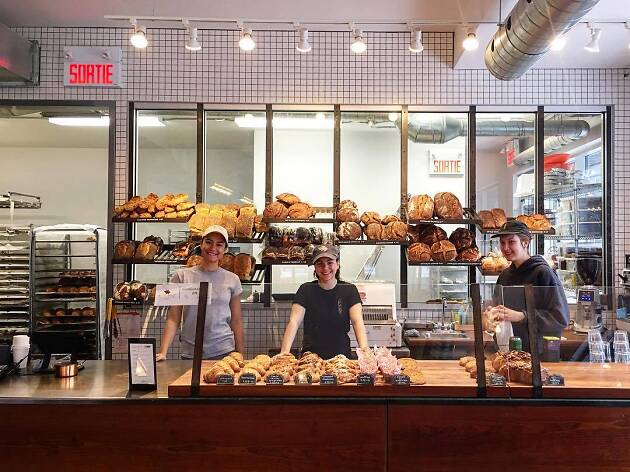 Photograph: Courtesy Automne Boulangerie
16. Eat every baked good at Automne Boulangerie
In order to experience one of the city's tell-tale connections to its French motherland, Automne bakery has some of the best bread in town and arguably one of the best examples of baguettes and croissants. The shelves there speak for themselves: Get there too late in the day and you won't have that baguette with dinner tonight, those croissants with brunch tomorrow morning, or that snack intended for when you're lounging in a park. If you're a fan of carbs, trust in their crust. If they're fresh out, check out the city's best bakeries for more options.
Price: Prices vary
Photograph: Notre-Dame Basilica/Stéphan Poulin
17. Take in the sights at Basilique Notre-Dame de Montréal
Notre-Dame Basilica is a beautiful church in the heart of Old Montreal that's nearly two centuries old with beautiful architecture, a majestic interior and gilded gold leaves. Admission fees here, with or without a 20-minute guided tour, run for $8 for adults. And if you're not one for religious tourism, who wouldn't want to marvel at the very spot where Celine Dion—one of our biggest sources of provincial pride and the unofficial queen of Quebec—got married and held the funeral for her beloved husband, René Angélil? (RIP René)
Price: $8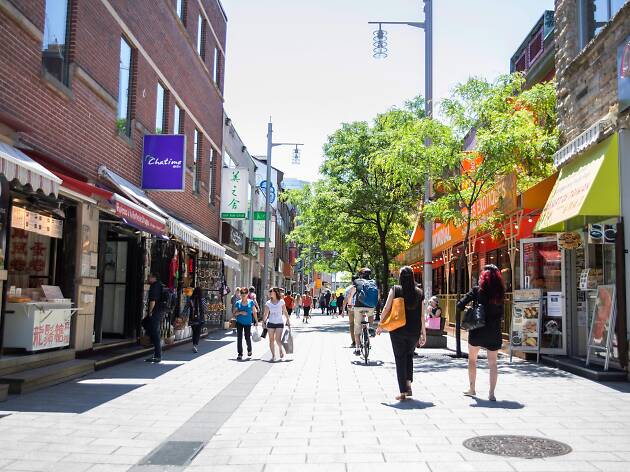 Photograph: Tourisme Montréal/Marie Deschene
18. Eat a feast in Chinatown
To be sure, there's a lot worth digging into in Chinatown; some of the best cheap eats are found there. Among them, one of our favourites comes from the amazing banh mi sandwich shop on Saint-Laurent Boulevard called Hoang Oanh. For $5, you can grab a really good sandwich made on the spot, take that snack for a stroll on the pedestrian street De La Gauchetière. Hey, maybe wash it all down with bubble tea, because why not? You can afford it.
Price: $5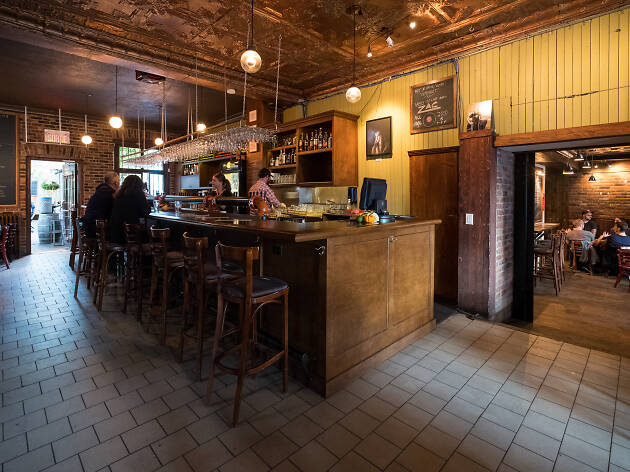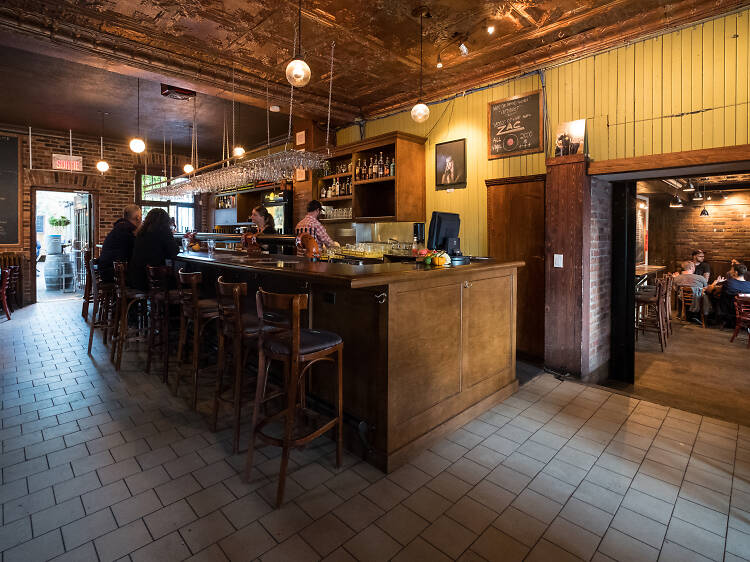 Photograph: Olivier Bourget
19. Knock back a round at Vices & Versa
Montreal has excellent microbreweries and Quebec as a whole is full of delicious producers. If you're looking for an inexpensive way to spend an afternoon, why not enjoy some of Montreal's finest suds at one of the cities many delightful establishments? There's a rich selection at Vices Versa that's perpetually reliable, but checking out other bars like Dieu du Ciel!, Harricana, Isle de La Garde and L'Espace Public will definitely yield something up your alley. Check out all of Montreal's best craft beer bars here.
Price: $6 to $8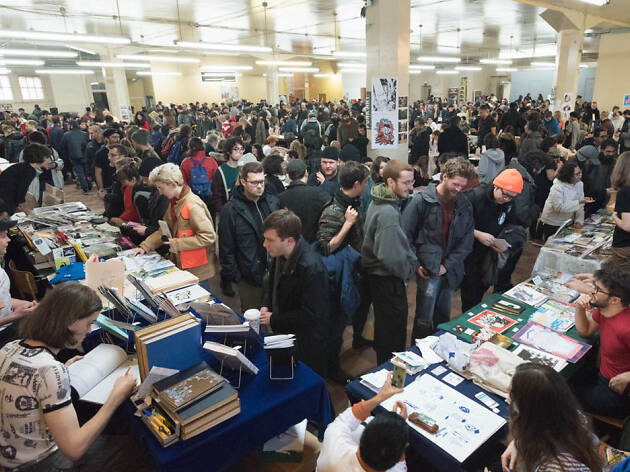 Photograph: Christina Love
20. Shop for oddities at Expozine
Whether it's zines, tchotchkes, handmade crafts, custom jewelry, handbags, clothes or fine food products, this city has a pop-up for it. Expozine, all annual art fair that happens in November, brings together more than 50 artists and organizations selling posters and printed works. If you're looking for more than a printed product, the Pop Montreal music festival's Puces Pop art fair happens takes place a couple of times a year and is an opportunity for local artists, designers and crafters to come together and sell their products and goods under one roof.
Price: Under $10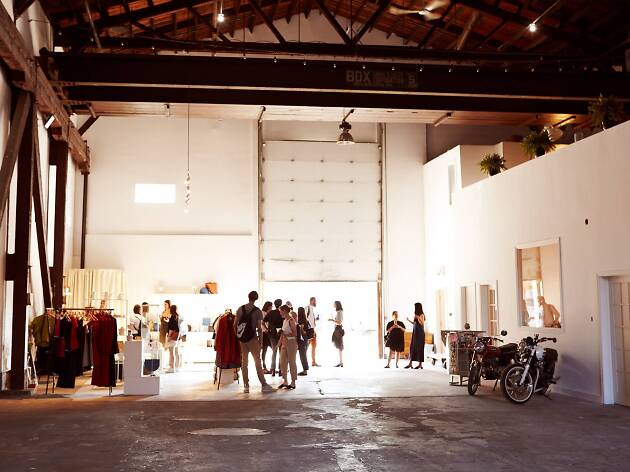 Photograph: Courtesy The Decade Building
21. Find stylish gems at The Decade Building
Located in the heart of Mile-Ex, this old warehouse converted into a commercial, office and venue space has a monthly pop up called The Market where local artists showcase and sell their work. Treasures can be found at all price points—clothing, accessories, stationary, you name it—and there are a handful of permanent designers who occupy the space on a full-time basis whose work can be seen by anyone by appointment only.
Price: Under $10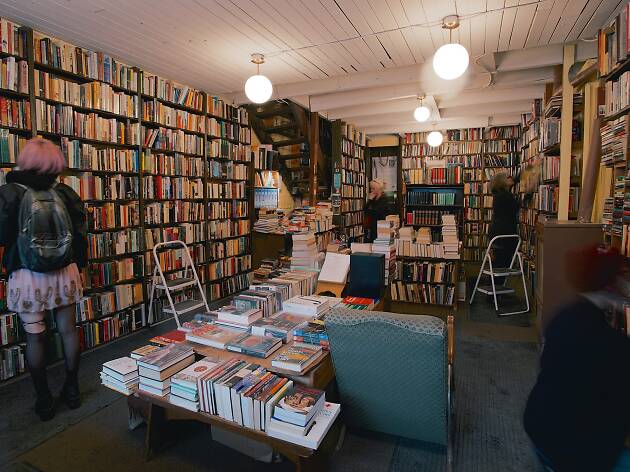 Photograph: Courtesy The Word Bookstore
22. Buy it second-hand at The Word
There are few places that feel more like an escape in terms of atmosphere and attitude than in a bookstore, but large full-price retail shops are little more than window shopping for the average cheapskate. Rest assured, the second-hand bookshops of this city prvide, among which our heart goes out to The Word in the Milton Park neighbourhood alongside McGill University. Its collection leans a little more towards literature, but there's something worth reading in every category of their curated shelves. Honorable mention goes to Cheap Thrills, located less than 10 blocks away.
Price: Under $10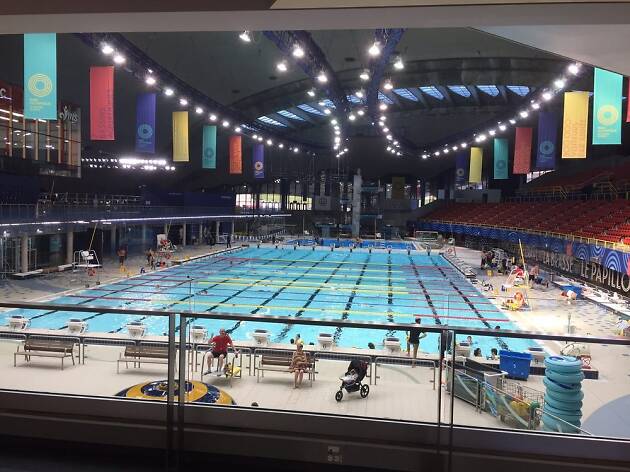 Photograph: Courtesy Yelp/Laurie M.
23. Swim a couple laps at the Olympic Pool
Ever wanted to swim like an Olympian, or maybe feel like an incredibly small fish in a gigantic, chlorinated pond? To experience the knee buckling fear from the very top of crazy-high diving boards? Take a trip to the Olympic swimming pool right next to the Olympic Stadium and spend the day splashing about in Montreal's biggest indoor pool, maybe even take a leap from the high board. Depending on the day, free swims are available for adults and children alike.
Price: Free
On a tighter budget?
Find activities, attractions and more without spending a single dime with some of the best free things to do in Montreal. There are more than enough things to do here throughout the year that don't cost a dime, found all across the island.