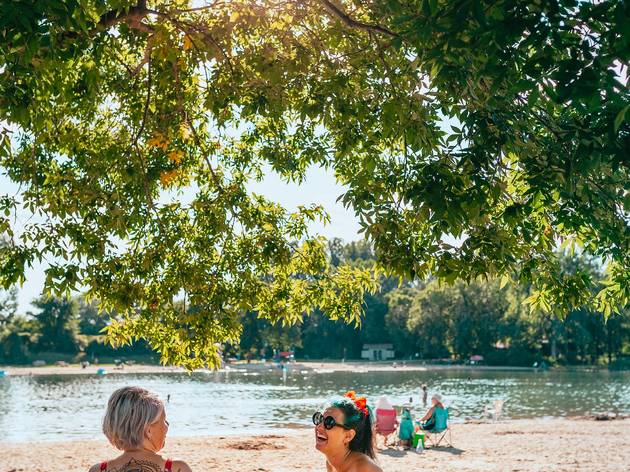 The 13 best Montreal beaches
The best beaches in Montreal for summer weather and where you need to be for sun, sand and a drink in your hand
UPDATE, July 2021: Not only has the city begun to reopen, but our picks for the best beaches in Montreal are growing to include new urban spots that won't involve you piling into a car and driving out of town for two hours. There are a few new getaways too, but if you want to just pack up a cooler and ride the metro, that's an option too.
The city in the summertime can be paradise, but when the heat really hits, the best Montreal beaches are great places to cool down. Jumping in the freshwater rapids and rivers in and around the island are only rivalled by al fresco drinking at the best rooftop bars, diving into some pristine Montreal pools, and crushing some cold drinks in some Montreal parks while soaking up the sun. Whether you're in the mood for relaxing on the shore or cooling off with refreshing swim, however, the combination of sun and sand still reigns supreme in our books.
RECOMMENDED: Full guide to the best things to do in Montreal
The best beaches in and around Montreal
When it comes to urban beaches, few get as good as the Verdun Beach behind the Verdun Auditorium. By day, families are flocking here to let the kids jump in the Saint-Lawrence, while evenings are full of mini dance parties (at least when the cops aren't breaking them up). With just the right depth and a jetty to break the current, this hangout right on the Saint-Lawrence is perfect and easy to access by metro. Just note that access is currently limited to 80 people at a time, a crowd that's turned over by lifeguards every 45 minutes. Open from 10am to 7pm daily, it doesn't cost a thing to chill here.
Easily accessible by metro or by foot, Jean-Doré Beach is conveniently located on Parc Jean-Drapeau, the same island festival-goers flock to for the likes of Osheaga and Piknic Electronik. It may be manmade, but Jean-Doré boasts 15,000 square meters of outdoor space and is home to activities for all ages, from paddle board yoga to beach volleyball.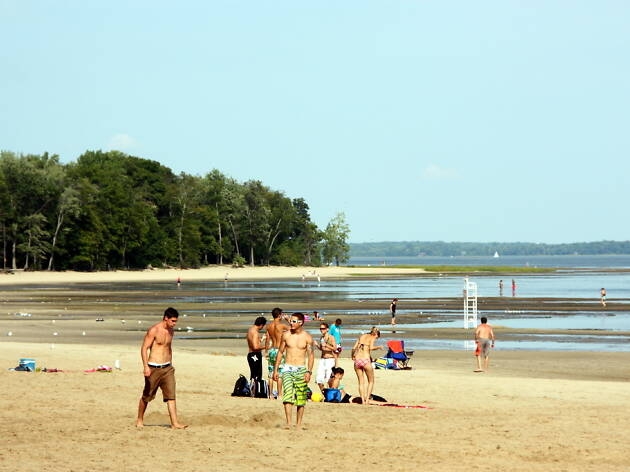 Photograph: Courtesy CC/Flickr/Márcio Cabral de Moura
A few kilometers outside of Montreal's core, Oka Beach is located in Oka National Park. Aside from the beach area, you'll find everything you need here, from campsites and picnic areas to cycling and walking trails. Word to the wise, the beach—while open to the public—has two distinct sections: The family-friendly side and the adult-only side, where swimwear is optional and nudity is encouraged. It shouldn't take you long to figure out which one is which.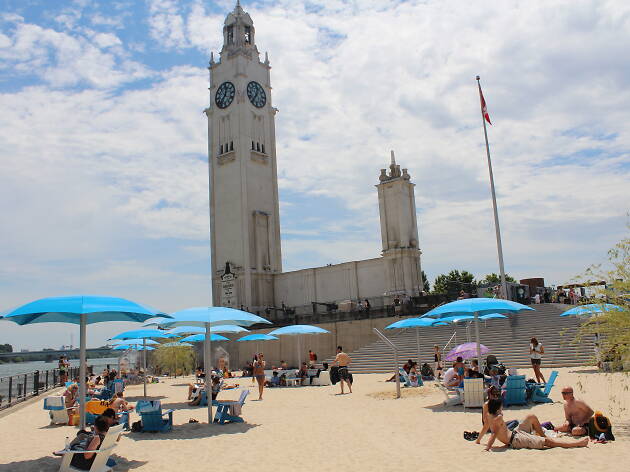 Photograph: Vieux-Port de Montréal
Clock Tower Beach is located right in Montreal's Old Port, making it the ideal spot to unwind after a long day without having to venture too far from the city centre. The urban beach venue is essentially part bar and part park, trading in traditional terrasse seating in favor of sand, plastic chairs and parasols. A little slice of the city reminiscent of the French Rivieria, it's also a great spot to watch the International Fireworks Festival.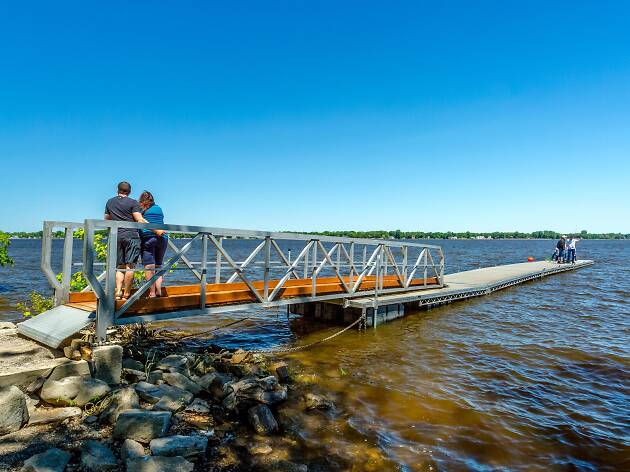 Photograph: Yves Keroack
5. Bois-de-l'Île-Bizard Nature Park
Located about half an hour from downtown Montreal, this nature park feels more like a hidden gem in the country than a big city suburb, and the beach here is no exception. Come here for a more relaxed, secluded beach day and enjoy some impromptu birdwatching between dips in the blue.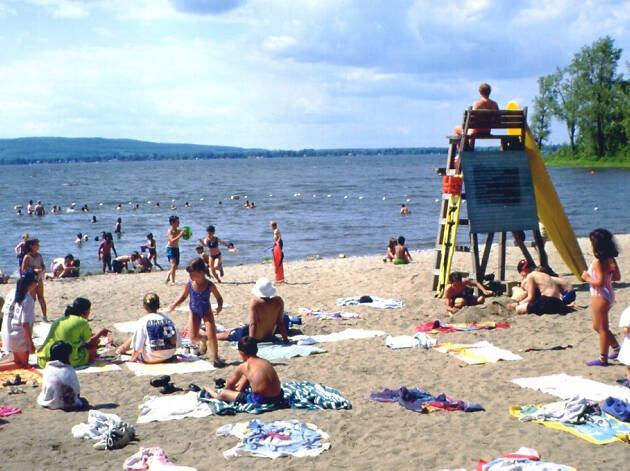 Photograph: Ville de Montréal
6. Cap-Saint-Jacques Nature Park
If you're looking for a traditional beach experience, look no further than Cap-Saint-Jacques Nature Park. This charming beach and nature park located in Pierrefonds is the go-to spot for many West Island residents, and for good reason. The natural sand beach is regularly tested "excellent" in terms of water quality—an important factor to consider when swimming in lakes and rivers—and the surrounding park offers everything from picnic areas and walking trails to food trucks and a small farm with organic produce for purchase.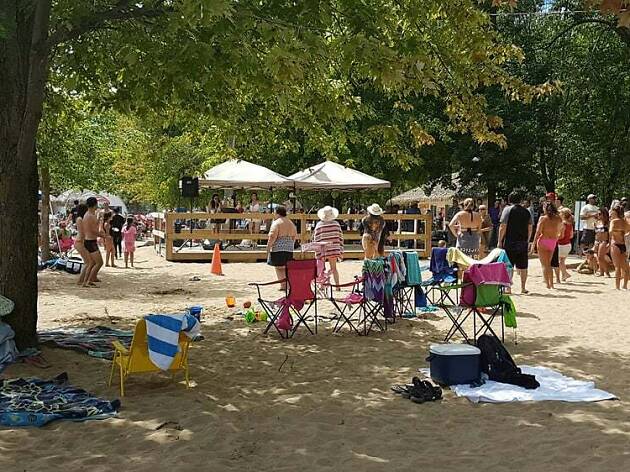 Photograph: Courtesy Yelp/Christophe P.
Located about an hour outside of the city centre, Saint-Zotique Beach is a great spot to waste away a sunny summer afternoon. With over five kilometres of waterfront and a healthy handful of available on-site activities (think: pedal boats, barbecue stations and tennis courts) there's something for every kind of beach-goer.
Montreal's newest urban beach is grand and spacious, and it's got the design to match. Part of a revitalization project for Rivière-des-Prairies–Pointe-aux-Trembles, it's the first beach to have been created on the eastern side of the city. At 1.2 hectares, the area includes outdoor toilets and showers, two beach volleyball courts, hangout spots, and a steel and wood jetty to break the current for the pebble beach, making this a favoured spot for water sport lovers. Fun fact: Archaeologists discovered as many as 12,000 artefacts while this site was created including objects like arrowheads and shards.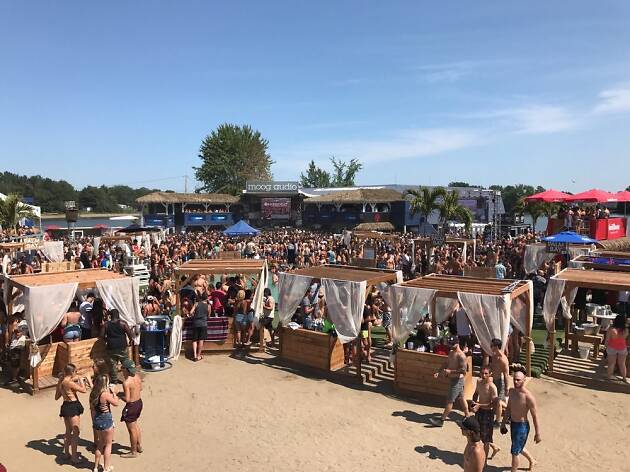 Photograph: Courtesy Yelp/Dan P.
9. Pointe-Calumet Beach / Beach Club
Pointe-Calumet Beach has become synonymous with Beach Club, the rowdy adult-only outdoor club, but the beach is actually divided into two sections: One for those who are down for day drinking and dancing, while the other is for families and those looking for a more laid-back day in the sun. If you're going for the Top Gun-esque volleyball experience during your next day at the beach, this is the spot.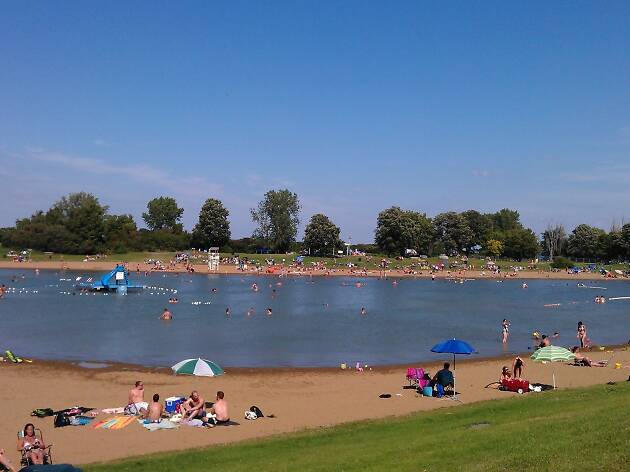 Photograph: Courtesy RécréoParc
A little less than half an hour outside of the city centre, RécréoParc Beach boasts natural sand, supervised swimming and lake-like water. While folks tend to flock here in the summer for an urban camping experience, there's also an indoor restaurant on the premises for those who need a break from the sand and sun, or at least to grab a drink before heading back out into it.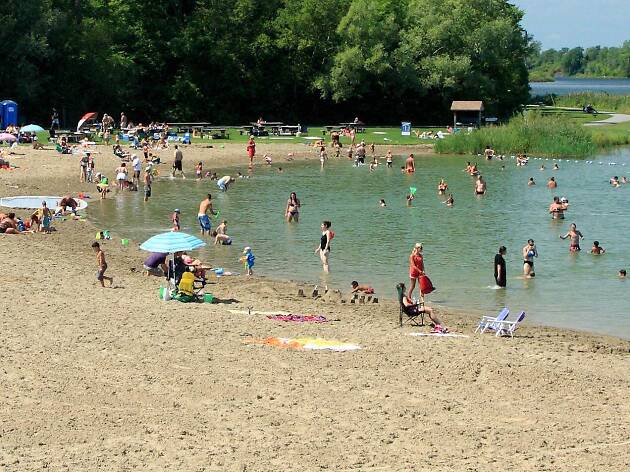 Photograph: Courtesy Le Parc régional des Îles-de-Saint-Timothée
11. St. Timothée Islands Regional Park Beach
Accessible by car or bus, St. Timothée Islands Regional Park Beach has excellent water quality, rescue staff on-site, and recreational fittings for rent like kayaks and pedal boat rentals. The crystal-clear water and surrounding greenery are almost enough to feel as though you've escaped to The Laurentians without leaving the city.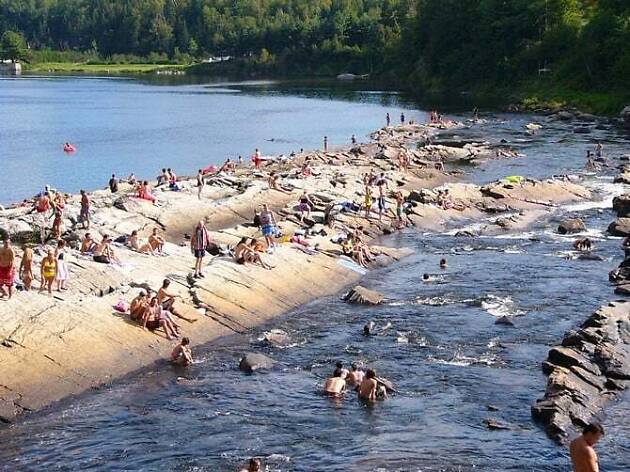 Photograph: Courtesy Yelp/Bobby A.
12. Chutes Sainte-Marguerite
While not exactly the sandy locale you might expect, these waterfalls an hour north of the city supply a secluded spot by Lac Masson for dipping in the frothy water of its naturally formed pools. It's rocky but has all the trappings of a relaxing beach. While it's open to all to bring picnics and parties, it's also a popular dating and hookup spot, so be respectful if you plan on visiting—or suggest a trip there on Grindr.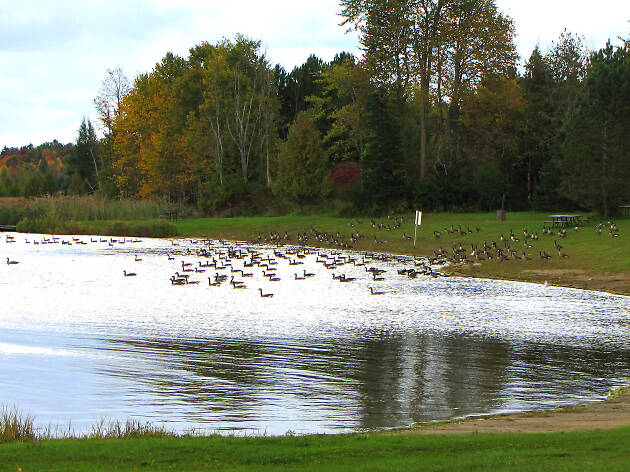 Photograph: D. Gordon E. Robertson
13. Voyageur Provincial Park
An hour's drive westward from the city centre, this provincial park's an easy roadtrip that worth the drive. It sports four beaches in total along the Ottawa River and each have their own water sport rentals, showers and spots to barbecue. Couple that with the fishing opportunities, playgrounds for the kids and spots to camp to find that a daytrip here can easily turn into a weekend getaway.
Prefer to stay in one of Montreal parks?
When looking for where to relax and escape the city in every season, look to the greenery of the best parks in Montreal
Best selling Time Out Offers