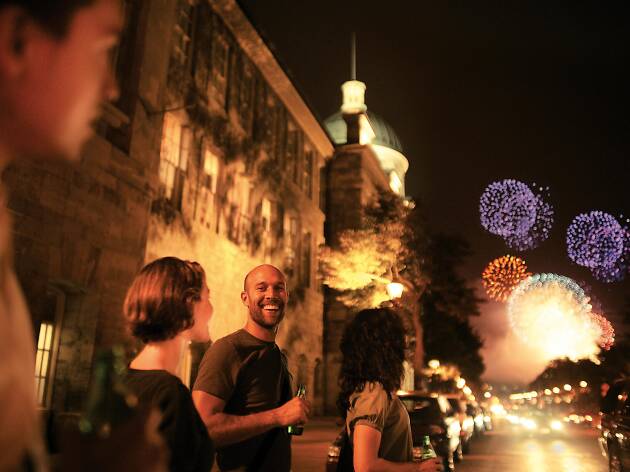 The best free things to do in Montreal
Find activities, attractions and more without spending a single dime with some of the best free things to do in Montreal
Montreal's undeniably a great city, and while it's easy to splurge your bank balance here on quality food, drink and parties, it's also a place where you can have an amazing time on a budget. There are more than enough things to do here throughout the year that don't cost a dime, found all across the island. From the best festivals to inspiring museums and huge parks to relax in, take advantage of the city's best free things to do. The best things in life, after all, are free.
RECOMMENDED: Full guide to the best things to do in Montreal
Best free things to do in Montreal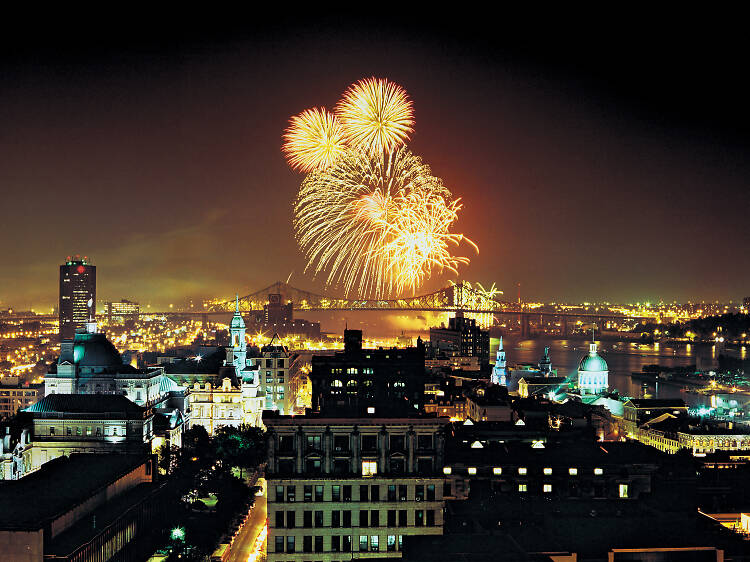 Photograph: Stéphan Poulin
1. Watch the fireworks above the Saint-Lawrence River
The International Fireworks Competition runs twice a week throughout the summer, from the end of June to the end of July. While the actual fireworks are set off at local amusement park La Ronde, they can be seen anywhere along the waterfront in the Old Port or—for the best vantage point—on the Jacques Cartier bridge which closes to traffic for this very occasion.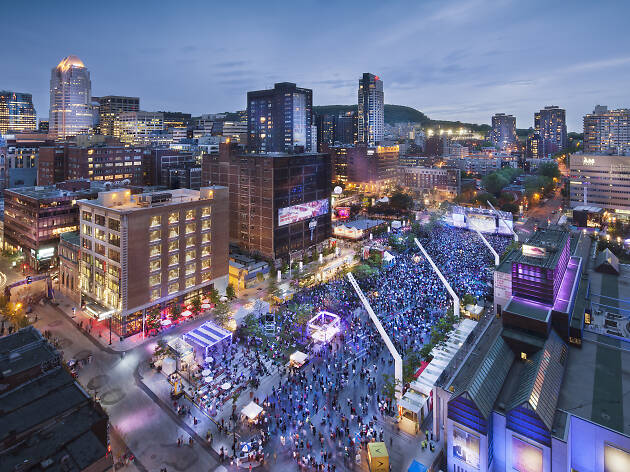 Photograph: Partenariat du Quartier des spectacles, Stéphan Poulin
2. Dance your heart out at the Quartier des Spectacles
It's clear that Montreal's a festival town when seeing how much locals love to eat, drink and party in the streets whenever possible. The best part about the many music festivals that take place throughout the year, like the International Jazz Festival, Les Francofolies, Les Nuits D'Afrique and the indie music festival Pop Montreal is that there are plenty of shows, live entertainment and activities to partake in, and all totally gratuit!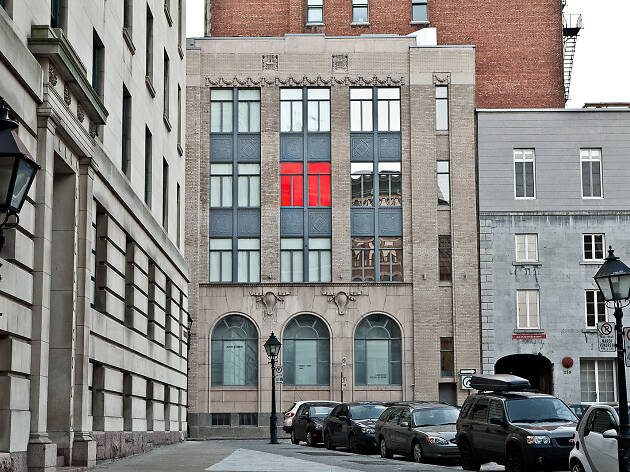 Photograph: DHC/ART
3. See the exhibits in the city's best museums
The Fondation Phi pour l'art contemporain in Old Montreal has world-class exhibitions for free, full stop. Beyond that, there are tons of free museums to check out like McGill University's Redpath Museum of Natural History, a hidden gem worth visiting for the building alone. The Canadian Centre for Architecture is free if you're a student, and free to the public on Thursdays in the evenings and on the first Sunday of every month. Both the Montreal Museum of Fine Arts and The Montreal Museum of Contemporary Arts also have no entrance fees on the first Sunday of every month, and May 26th is free museum day across the city.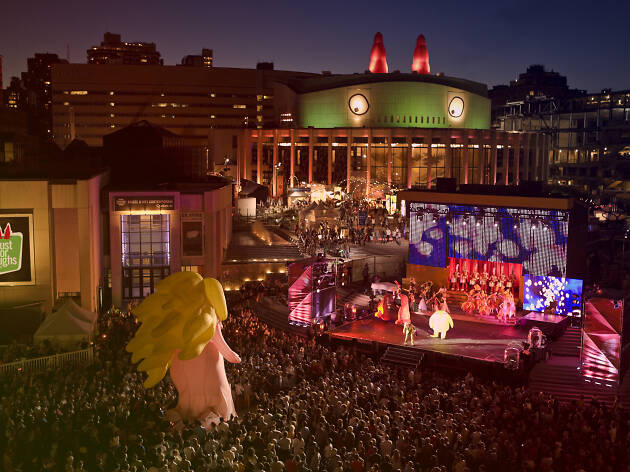 Photograph: Simon-Pierre Gingras
4. Laugh it up at Just For Laughs
Every July, the world's largest international comedy festivals takes over the Quartier des Spectacles in downtown Montreal with live performances, events, parties and shows. Although the Just For Laughs comedy festival has big-ticket galas including some of the top names in comedy like Kevin Hart, Sarah Silverman, Seth Rogan, Dave Chapelle, Jerry Seinfeld and Amy Schumer, there's also lots to see and do on site. Check their program, as it changes every year.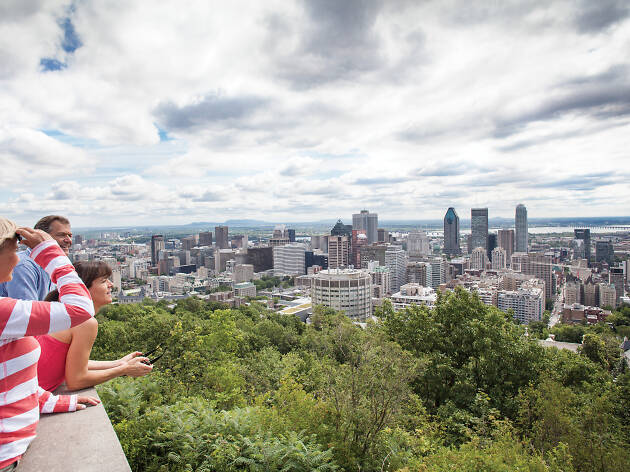 Photograph: Canadian Tourism Commission
5. Explore the forests of Mount Royal
Smack in the middle of the Island of Montreal is its pride and joy, Mount Royal. This small mountain and Quebec Heritage site offers some of the best views, nature paths, parks, picnic areas and trails for biking, hiking, walking or jogging. With three public buildings on site for shelter, information and bathroom breaks, visiting the mountain is the ideal activity on a sunny afternoon—especially on Sundays in the summer for the eclectic and music-filled Tam Tams that occur at its base at the George-Étienne Cartier Monument.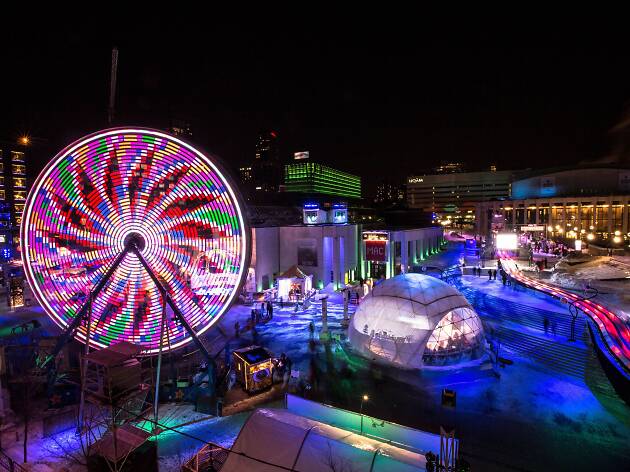 Photograph: Frédérique Ménard-Aubin
6. Check out activities at Montréal en Lumière
Since its first edition in 2000, the idea behind this festival was to revitalize Montrealers during the darkest, coldest days of the winter season with warmth, light and festivities in the Quartier des Spectacles. With foodie activities, night-glow artwork, a Ferris wheel, zipline, outdoor slide and free shows, this festival culminates with Nuit Blanche, a night where 200 cultural events—mostly free—go on into the wee hours at locations and venues all over the city with free metro access to boot. Party time!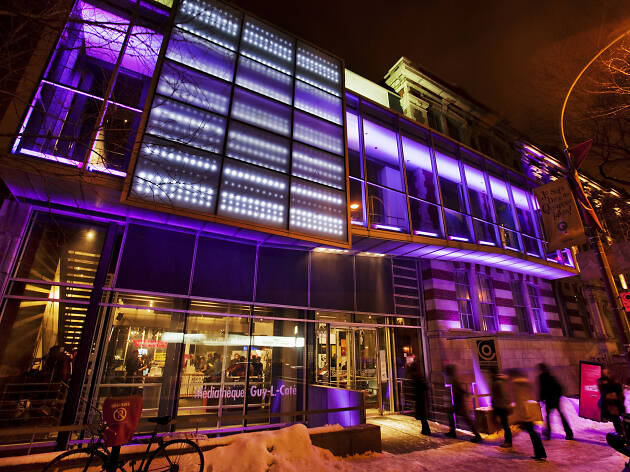 Photograph: Martine Doyon
7. View media history at La Cinémathèque québécoise
With an audiovisual collection that's a close rival to the scope of the province's national library, the BaNQ, the Médiathèque Guy-L.-Coté is this institute's access point to all of its films, scripts, books, photographs and more. With thousands of videos to view, it's a window to tons local and international cinematography. While the rest of the Cinémathèque has admission fees for screenings and performances, this section is open and free to the public.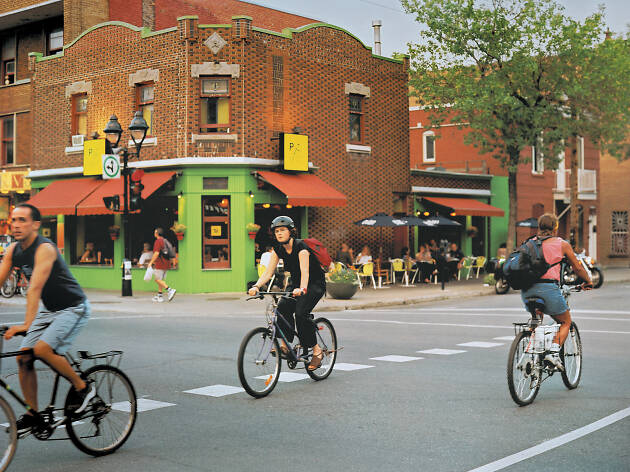 Photograph: Stéphan Poulin
8. Start an island bike tour via the paths
With a network of bike paths that has a collective length of over 500km, it doesn't cost a cent to jump on your bike and head out on a two-wheeled adventure. Cross paths with some of the best sights of the city, from the Lachine Canal to Old Montreal, through Parc La Fontaine and around the Olympic Village, and then pedal your way off the island to explore both the north and south shores.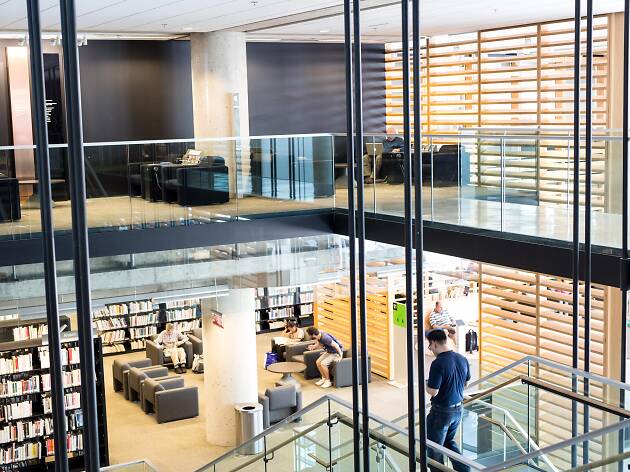 Photograph: Marie Deschene
9. Read all about it at the Bibliothèque et Archives nationales du Québec (BAnQ)
This downtown public library is the province's largest and most visited, a tall and expansive structure of wood and glass designed by Vancouverite and Québécois architects. Whiling away an afternoon here's easy when sifting through their millions of titles—30% of which are in English—or checking out thousands of albums, films, video games at their dozens of audio and visual stations. Membership for Quebec residents is free, but if you're just visiting, it's still worth exploring. Bibliophiles should also check out the library's book fair at the end of May, when old titles go for cheap.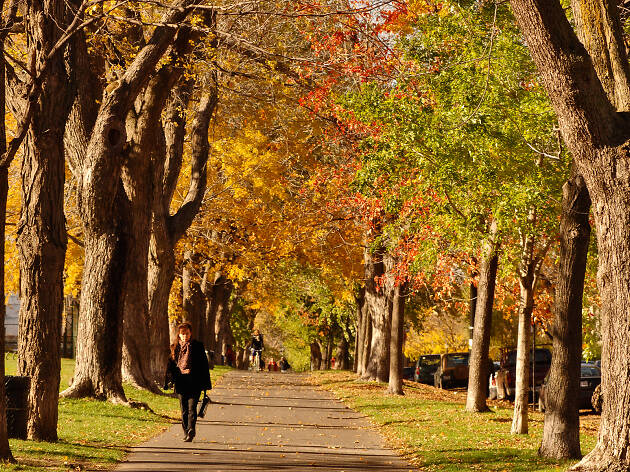 Photograph: Ville de Montréal, Denis Labine
10. Relax and wander through the city's parks
Montrealers are lucky enough to be in a city filled with green spaces, so why not hang out in one of them? Parc La Fontaine has choice sunbathing spots and people-watching benches, Parc Jeanne-Mance is the perfect summer picnic space and Parc Sir-Wilfred-Laurier has public ping pong tables and courts for boules. Or you can head to Parc Jarry for its wide-open spaces ideal for any kind of sport, or wander through Westmount Park for its scenic maple trees and duck pond. You can't go wrong with any of them.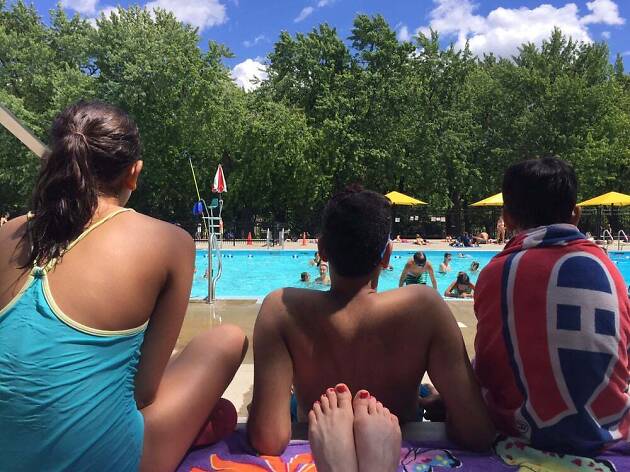 Photograph: Courtesy Yelp/Jenviev A.
11. Take a dip at a public swimming pool
If there's one thing you'll want to do during Montreal's hot and sticky summer season besides grabbing a drink, it's taking a dip in one of the city's many swimming pools. One of the biggest, best (and recently redone) free pools around is located at Parc Jarry and sports a fenced-in grassy area to lay your towel in case searing hot and hard concrete isn't your poolside jam. If you're after something in the heart of the Plateau, Parc Sir-Wilfred-Laurier's pool is free too, but only on weekends and holidays.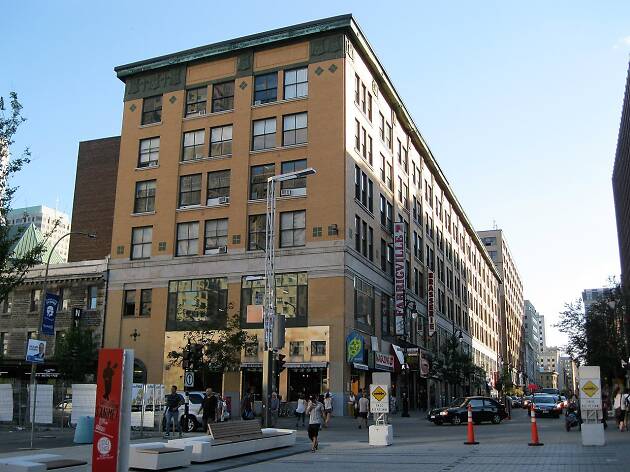 Photograph: Jeangagnon
12. Gallery walks in the Belgo Building
Home to some of Montreal's best contemporary artists, the Belgo Building located near the Quartier des Spectacles allows visitors to easily make their way from one exhibition to the next. All of its 27 galleries, artist workshops and dance studios are housed within the building's six floors and are open to the public. Don't miss the following galleries during your next visit: Laroche/Joncas, Project Pangée and Lilian Rodriguez.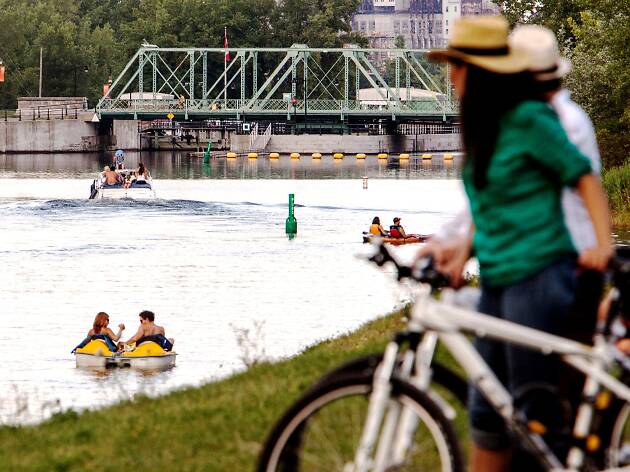 Photograph: Michel Legault
13. Take in the scenery at Lachine Canal
The manmade waterway that runs from the borough of Lachine to Montreal's Old Port offers beautiful views of the city skyline, cool breezes and a paved path on either side. Ideal for strolling, biking, jogging or just sitting on one of its many public benches or Adirondack chairs to relax, the Lachine canal is the Southwest's top attraction. Pro-tip: Visit the area around Atwater Market in the summer for a free mist shower or game of chess.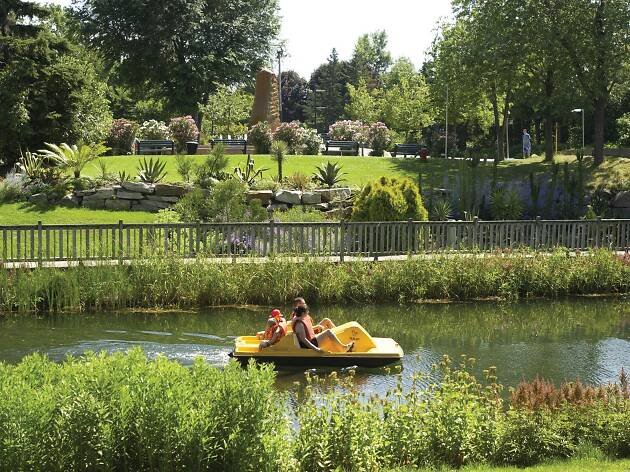 Photograph: André Pichette
14. Discover hidden attractions at Parc Jean-Drapeau
Want to take a break from the island without really leaving it? Head to Jean-Drapeau park, a massive green space that lies in the center of a man-made island just south of Old Montreal. Home to the La Ronde amusement park, the famous Grand Prix F1 race track, the Montreal Casino and numerous summer music festivals, this space also has public beaches, pools, walking trails, art and the Floralie Gardens, where you can wander through 25 hectares made up of thousands of rose bushes, annuals and several varieties of perennials, trees and shrubs.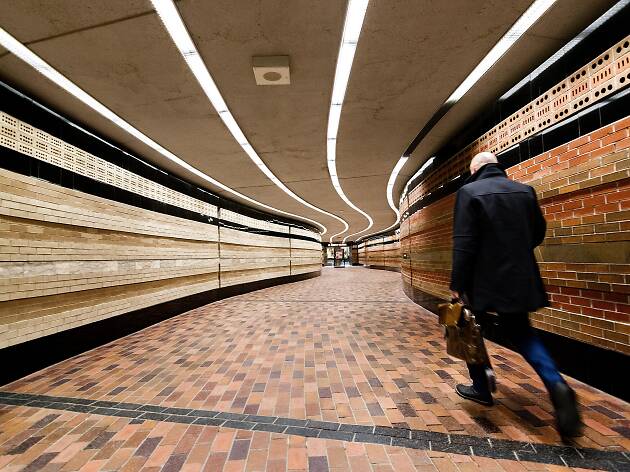 Photograph: Arcpixel
15. Walk through the Underground City
The winters in this city are really, really cold: Imagine a brain freeze throughout your entire body that lasts for more than three months straight. Still want to visit? Great, because we built a series of underground tunnels that go for 33km through shopping centers, office buildings, hotels and businesses. If you don't want to walk outside, you don't have to.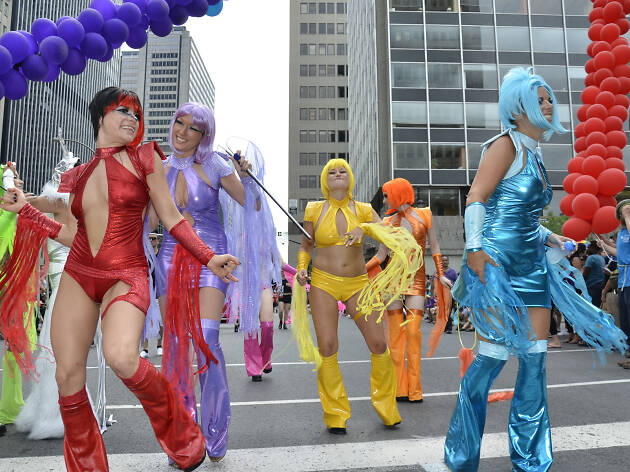 Photograph: André Bilodeau
As much as Montrealers love a good party, they also love a good parade. That's why when Christmas, St-Patrick's Day, Pride Week or Halloween rolls around, we can't wait to dust off those floats, get dressed up, put some booze in our coffee and take it to the streets. Whether it's Santa Claus or a pipe band, dancing drag queens, or slow-moving zombies, we've got your free holiday parade entertainment covered.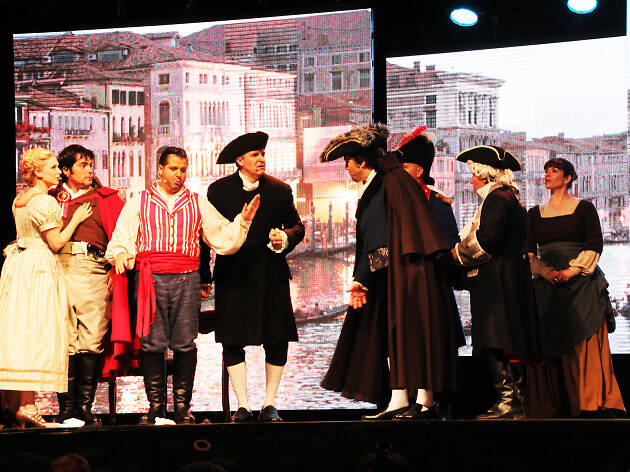 Photograph: Sara Barone
17. Opera at Italian Week in Little Italy
Every August, Little Italy closes off its streets to traffic for a week for businesses to set up stands and hawk their best food. This week-long event's got its gastronomic delights—pizza, pasta, espressos, cannoli—but hits its zenith with a free opera performance. Grab a seat at the large stage set up outside of the Notre-Dame-de-la-Défense Church, or grab a six-pack and find a comfy spot on the grass in the adjacent Dante Park, and enjoy high art without its typical price tag.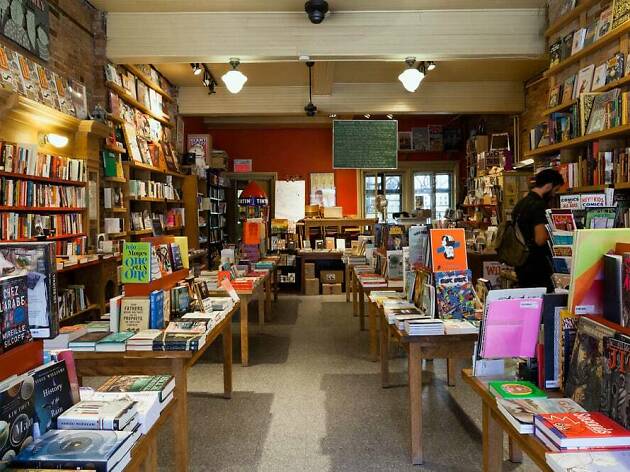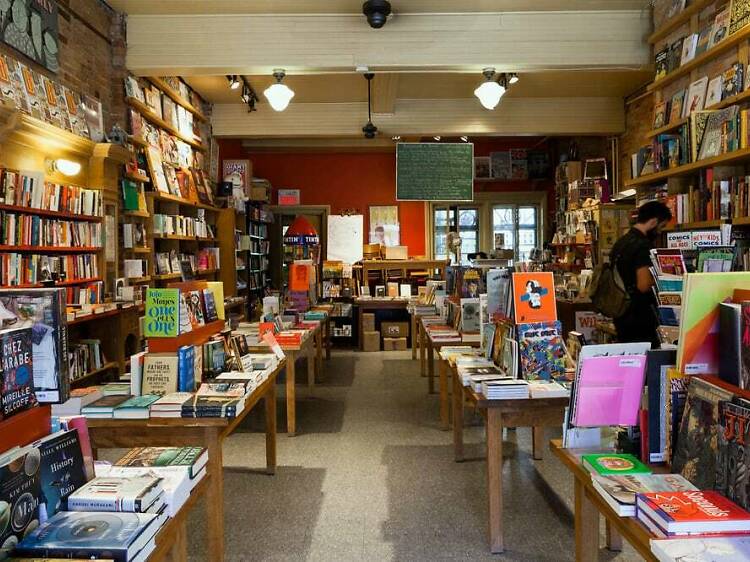 Photograph: Courtesy Yelp/Matthew B.
18. Grab your copy during Free Comic Book Day
Comic book fans rejoice: This international event happens on the first Saturday in May, celebrating comic books and the local shops that provide them. With free comic books and activities on offer, participating stores this year include Drawn & Quarterly, Crossover Comics, Brave Comix, Major Comics, Omnibus Bookstore, Chez Geeks, Komico, and more. Some of these shops hold events for kids in parks as well.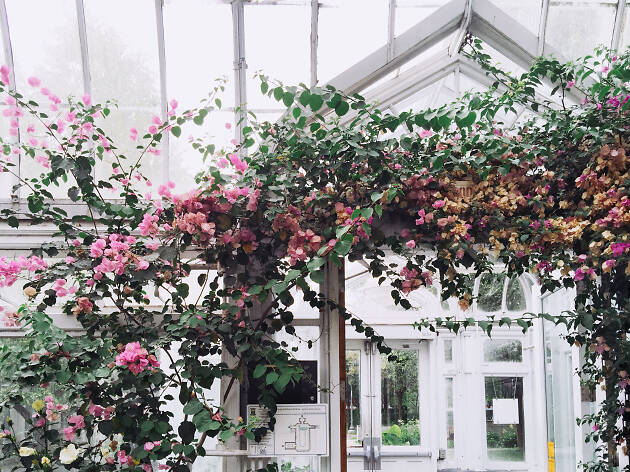 Photograph: Alice Gao/Commission Canadienne du Tourisme
19. Relax and browse at the Westmount Library
This affluent borough's beautiful library and greenhouse are next to the scenic Westmount Park, and are open to the public with the exception of borrowing privileges. The library's huge collection of books, movies, music and activities for adults, teens and kids make it a great place to explore, with the greenhouse next door for a warm, colorful floral fix. Note that the greenhouse is currently undergoing renovations and will reopen in 2020.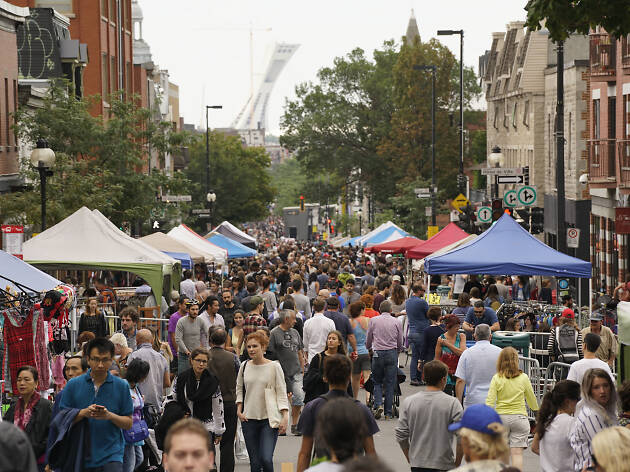 Photograph: Jean-François LeBlanc
20. Walk the lengths of a street fair
As much as this city loves festivals and parades, it also loves closing down major streets in the summer so folks can wander freely to eat, drink, shop and dine. There's an overwhelming amount to choose from, but our personal favourites include: The Masson Street and St-Hubert Plaza fairs in Rosemont; the Saint-Laurent street fairs that happen at the beginning and end of the summer; a Mount-Royal Avenue fair in the Plateau; a Monkland fair in NDG; Wellington street fairs in Verdun; a San Marziale street fair on Saint-Viateur in the Mile End; a Greek street fair on Saint-Roch in Park Extension.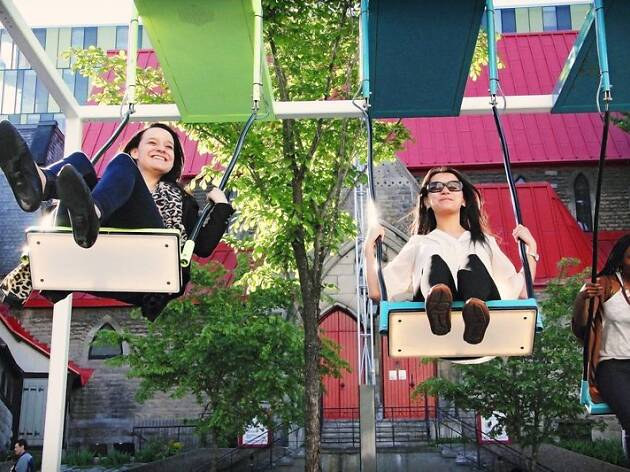 Photograph: Maxime Leduc
21. Take a swing at 21 Balançoires
Running from early April to late May, this art installation in the Quartier des Spectacles is the combined effort of an animal behaviorist and composer. Together, they designed 21 swings equipped with seats that light up that play an ethereal song not unlike wind chimes when swung back and forth. The result is a combination of sound and light that can't be found anywhere else in the city, and it's exceedingly popular with families and passersby day and night.
Your ultimate guide to Montreal
Here's your list of essentials for the best things to do in Montreal, from fantastic attractions to cultural powerhouses.
Best selling Time Out Offers