Heads up! We're working hard to be accurate – but these are unusual times, so please always check before heading out.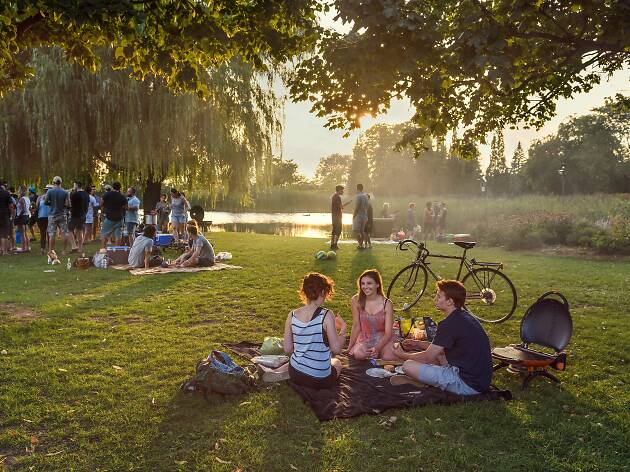 The best parks in Montreal
When looking for where to relax and escape the city in every season, look to the greenery of the best parks in Montreal
Among all of the free things to do in Montreal, hitting up the green spaces is essential to experiencing the city. It's where Montrealers go at any time of year, but it's during the hot summer months in particular that they become huge cultural hubs. We're talking tons of Montreal festivals and events, where to get a tan before drinking at the best bars or where to go after long date nights in romantic restaurants. Here are the best parks in Montreal you should be spending your time in.
RECOMMENDED: Full guide to the best things to do in Montreal
Best parks in Montreal
Photograph: Les amis de la montagne, S. Montigné, 2008
Made up of three summits—de la Croix, Westmount Summit and Tiohtià:ke Otsira'kéhne—and the city's namesake centerpiece, Mont Royal is full of countless things to do all year long. In winter, slopes once dedicated to cross-country skiing are currently used as adrenaline-inducing tobogganing grounds, while warmer months are ideal for hiking and taking in views of the city. There's Beaver Lake which supplies a great area to barbecue and relax, but it's the northern side you'll want to explore in summer when Tam-Tams takes place, a giant drum circle where many Montrealers can be found on Sundays.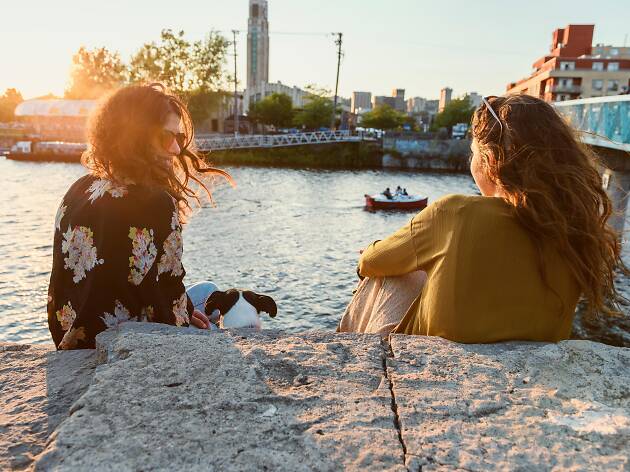 Photograph: Daphné Caron
European settlers named this canal after its original purpose, to reach China for shipping purposes. Today, it's a Montreal landmark that offers stunning views of the city and plenty of activities both aquatic and not for locals to enjoy year round: Think boat rentals, an annual dragon boat race, camping, ice skating and more. Part of the canal is alongside the Atwater market, making it the perfect spot to picnic as well. Don't forget about Otentik, a luxury camping experience where you can rent a cabin alongside the water.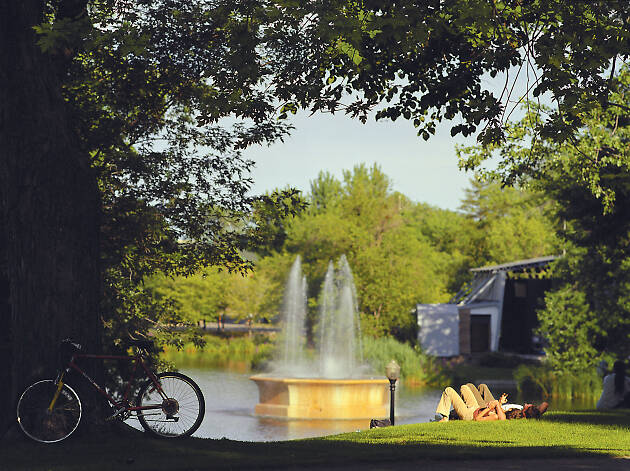 Photograph: Stéphan Poulin
To Plateau dwellers, Parc LaFontaine is a summer mecca and no other park will live up to its beauty, space and accommodating vibes. The views here are undeniably stunning, and it's a shoe-in for one of the city's prettiest parks. Sporting a large pond with a fountain that's active in the summer and lots of ground space for lazy summer frolicking, Montrealers while away their time exploring its grounds, playing boules and catching free shows at its amphitheater or skating on its rink in winter.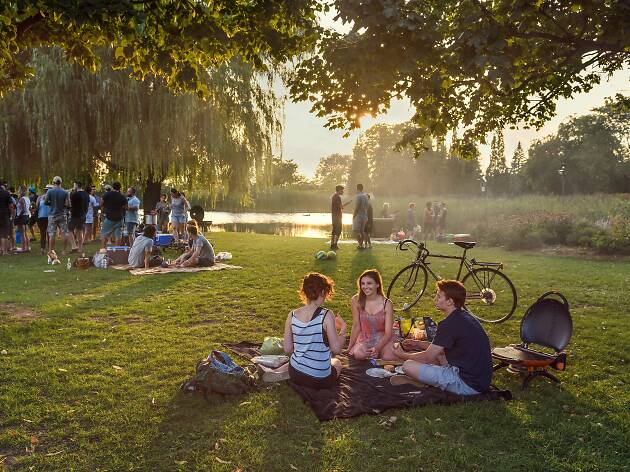 Photograph: Daphné Caron
Filled with old trees that pose as the perfect shelters to perch beneath on a hot summer's day, the huge Parc Jarry's where most Montrealers of the northern side of the island like to collect. From jam sessions with musicians to full-blown family barbecues and couples canoodling, it's where you'll find a petri dish of the Villeray-Saint-Michel-Parc-Extension neighbourhood's multicultural ethos. It's also got a pool open to the public in the summertime and is the preferred park for organizing sporting events, as they have ample space and terrain to accommodate baseball, basketball, soccer and hockey in the winter.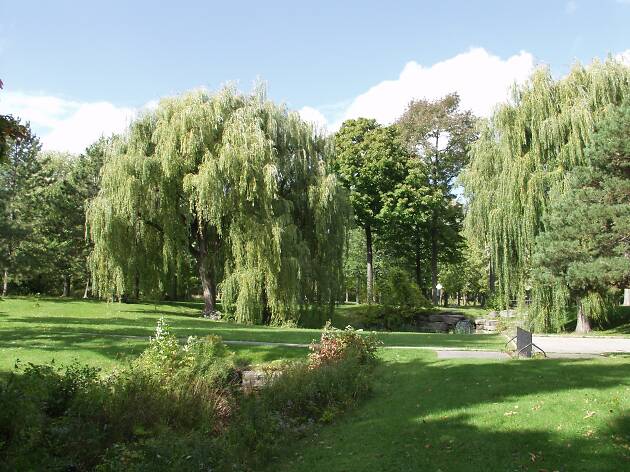 Photograph: Ville de Montréal
Located at the southern end of the green line of the metro, this park's a humongous tribute to English gardens that were common in the 19th century. With tens of thousands of trees, wide open greenspaces, paths and ponds spread out over 200 acres, one visit is rarely ever enough to feel like you've experienced the park in its entirety. That's twice as true when it comes to winters when it becomes a huge wonderland perfect for cross-country skiing, snowshoeing, ice-skating and tobogganing throughout.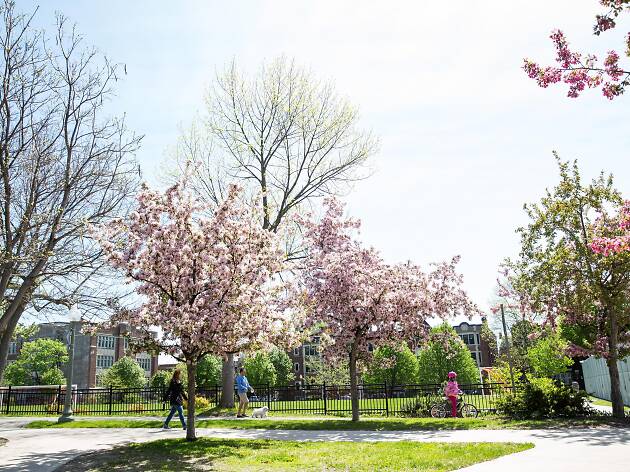 Photograph: Susan Moss
Residents of the city of Westmount are extremely proud of this large greenspace, and are quick to credit it as the most beautiful park in Montreal thanks to gorgeous landscaping and planning. The park is home to the Westmount Public Library, a soccer field and tennis courts available for the sportive public to take advantage of during pleasant weather. It also features public ping pong tables, as well as built-in chess tables to enjoy a quiet game (pieces not included).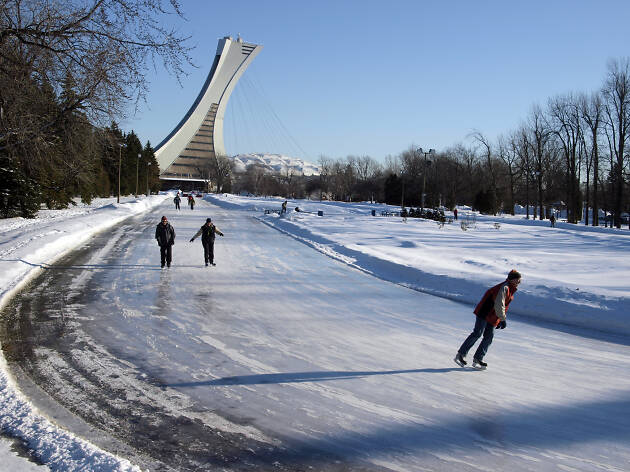 Photograph: Alain Chagnon
Once known as an inner-city golf course—the links can still be spotted from a bird's eye view—Parc Maisonneuve shares its borders with the Botanical Gardens. That gigantic amount of greenspace contains spots like the Chinese Garden and the Japanese Garden among others, all of which are must-visits during the spring and summer seasons. The park also regularly hosts the city's Saint-Jean Baptiste festivities to celebrate Quebec's national holiday. Beyond enjoying it in the summer, it offers activities year-round and in colder months like visiting its large ice skating or its annual Ice Bike race.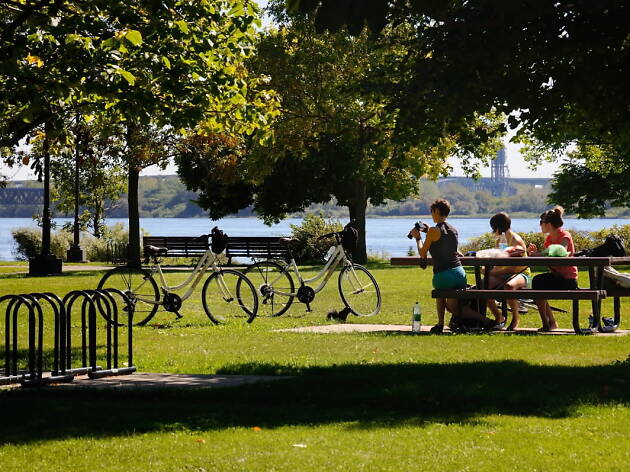 Photograph: Bernard Amiot
Forming the upper section of a string of parks that runs from Verdun to LaSalle along the banks of the Saint-Lawrence, this is the site of Verdun's new beach and beginning of a whole summer's worth of visits. There are public pools, soccer fields and wide-open greenspaces galore here and farther south; grab some wheels and explore the bike paths in order to discover attractions like swimming spots, public outdoor dance halls and the river's rapids to watch fly fishers cast until the sun goes down.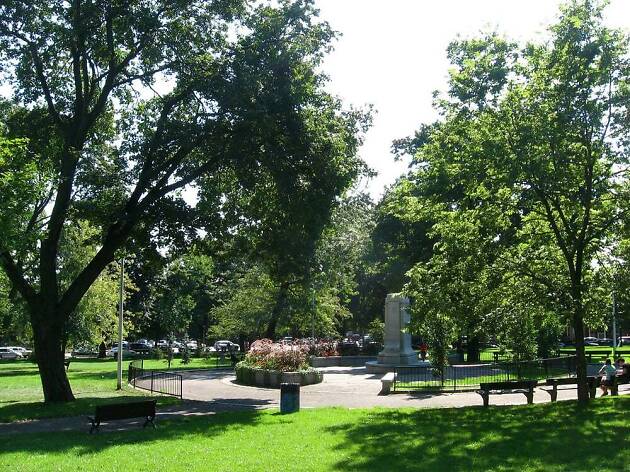 Photograph: Courtesy Yelp/Leesa-Catherine S.
This park's a lovely emerald gem that's a neighborhood favorite for residents of the Notre-Dame-de-Grâce borough. Even today, despite the empty space left behind with the 2017 tornado, NDG dwellers still use the park as their central haven for catching moments of lush greenery in their day, whether that's hanging out, smoking up, tanning or reading solo. The area also features a two dog parks for pups both big and small, and it's a great park for kids to enjoy thanks to a vast playground and sprinklers to run around in on a hot day.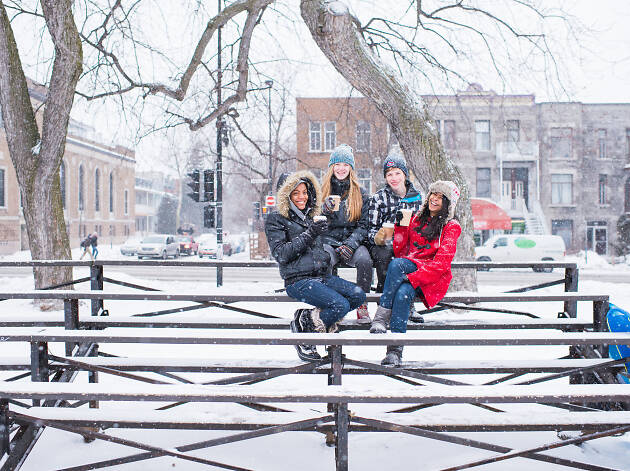 Photograph: Alison Slattery
Locals enjoy visiting this park to tan, picnic and exercise, but it's most known for is its large soccer field where locals organize friendly matches during the summer and hockey in the winter. Walk through the tree-canopied and bench-lined path from Rachel Street where the city's colorful characters gather for conversation and playing cards or checkers. If jogging's your thing, a couple of laps around the park makes for a great running track as well.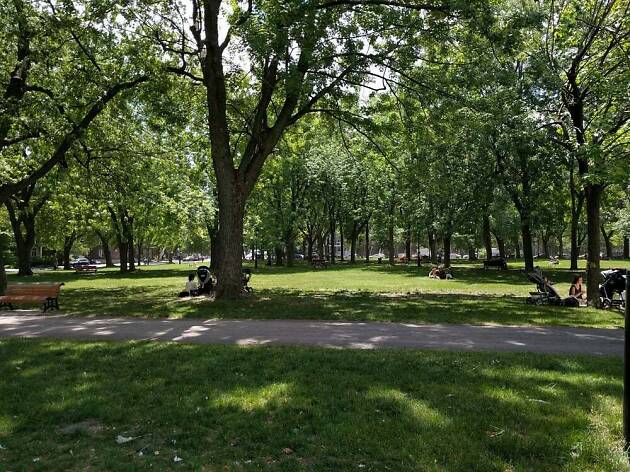 Photograph: Courtesy Yelp/Denzil D.
11. Parc Sir-Wilfrid-Laurier
A smaller park of the city, this greenspace has garnered a reputation with locals as a great place to gather. With its outdoor gym, a children's playground, a baseball field for public teams to practice and play, a dog park, a swimming pool and a decent bathroom, that leaves few questions as to why. Throw in being one of the best places to barbecue—grocery stores and dépanneurs are nearby for supplies—and that's a recipe for being one the best.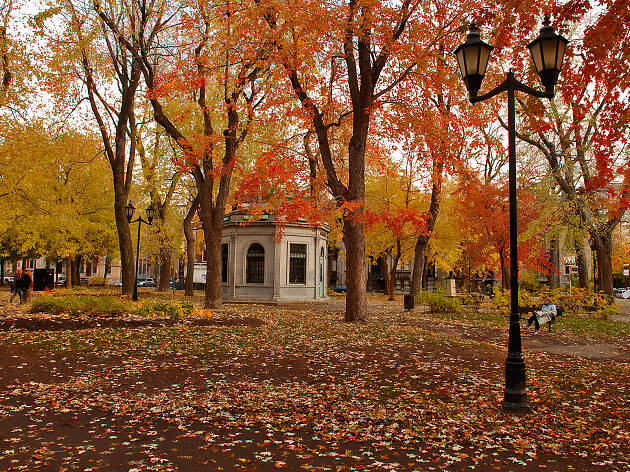 Photograph: Ville de Montréal, Denis Labine
While tiny, this urban park square is the ideal spot for a quick romantic stroll, sightseeing classic Plateau architecture and relaxing. Grab a seat on one of the benches surrounding its centerpiece fountain that lights up the square at night and enjoy people-watching that includes first dates and panhandlers. Above all, it's worth the visit for the architecture alone during any of the transitory times of day—dusk, twilight, dawn, sunset—if not its proximity to solid French restaurants.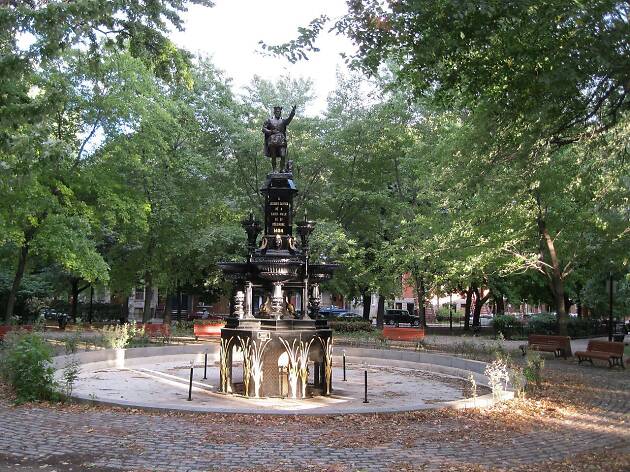 Photograph: Jeangagnon
Visits to this borough need not be restricted to walking along the Lachine Canal or its main thoroughfare filled with restaurants and bars—well, we wouldn't deny you visiting one of those restaurants or bars but follow it up by relaxing at this bench-lined bygone town square-cum-park. Consider this an ideal spot to escape the city and while away the afternoon or evening as you enjoy the company of its unique central cast iron monument to the explorer Jacques Cartier and the fountains around its base.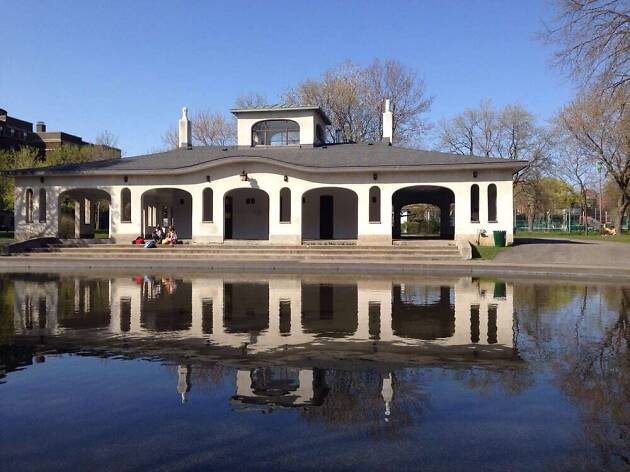 Photograph: Courtesy Yelp/Justine S.
The tiny gems of Outremont and Saint-Viateur parks stand side by side in the Outremont borough. Saint-Viateur is a favorite to locals, thanks to the amenities nearby that make it the perfect pit stop for picnicking and a rushing water feature with ducks and a bridge perfect for leisurely promenades. As for Outremont, it's similar in size and vibe to its neighbor but offers unique flowery landscaping in the summer, plus its own pond and bridge which make it a perfect place to host photo shoots.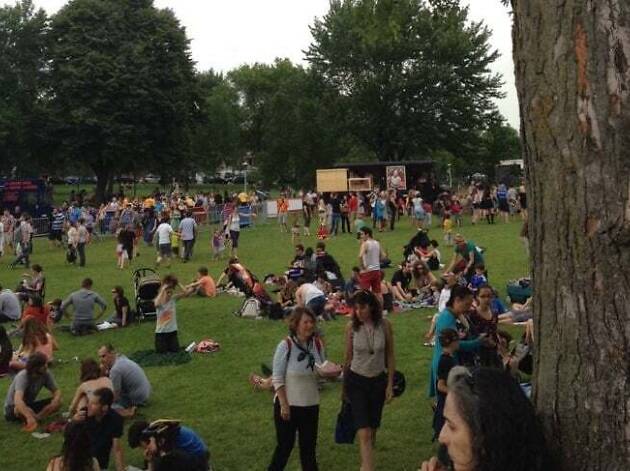 Photograph: Courtesy Yelp/Risa D.
While not physically very big, this park gained a big enough reputation when a flock of sheep were brought in the help with its landscaping in 2016. It's the further east Plateau's answer to Sir Wilfred Laurier: While similar in size and function, folks regularly like to collect at Pelican for its pool. If it's full, no worries, as the pool at the nearby Baldwin Park's just as accommodating. Whichever you decide to settle on, both are free and refreshing. One of the more kid-friendly options in the city.
Find more free things to do in Montreal
Find activities, attractions and more without spending a single dime with some of the best free things to do in Montreal. There are more than enough things to do here throughout the year that don't cost a dime, found all across the island.