Heads up! We're working hard to be accurate – but these are unusual times, so please always check before heading out.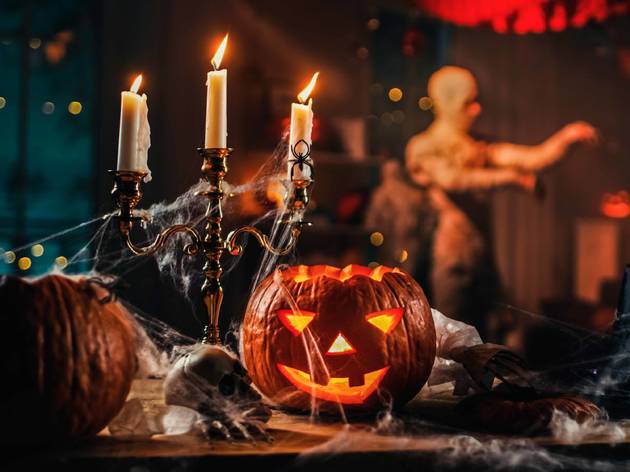 The best things to do for Halloween in Montreal in 2020
Halloween in Montreal's looking real different this year, but there are still a lot of spooky and sugary things to do
Halloween in Montreal 2020
Take 'em if you got 'em, and give it if you've got it: The Quebec government announced that children can, in fact, go trick-or-treating. It comes with some restriction worth noting however: Children can't go with friends—only within the immediate social bubbles of their families' households—and giving out candy is possible if it's possible to do so at a two-metre distance. Folks around Canada have come up with pulley systems, candy chutes and other innovations to do this, but nothing beats putting out a 'please take one' bowl.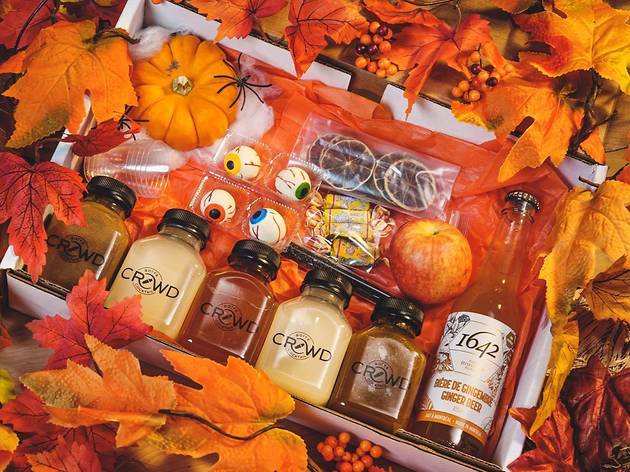 Photograph: Crowd Bar & Flair / @crowdbarflair / Instagram
Order up a spooky cocktail box from Crowd Bar & Flair
The clock's ticking, so if this interests you, jump on it fast: Crowd Bar & Flair, a Montreal-based cocktail creation company, is putting together themed, just-add-booze cocktail kits. There's two to make here, the Cyclope (complete with a floating eyeball) and the Sésame Ouvre-Toi. Using yummy stuff like spicy mango and pumpkin syrups, salted caramel syrup, and caramel and black sesame, plus garnishes, juices and ginger beer, all you need to do is add a 'brown liquor' of your choice like rhum, tequila or whiskey. Put on a scary movie and enjoy!
How do 20 million lights lighting up decorations and 30,000 sculptures spread out over 17 different thematic sections sound at Laval's drive-thru Illumi attraction sound? The huge light village has been around for years now, but this year's edition is a special twist that helps keep the season's spirit alive. There's a limited number of tickets available per day and per time slot, and dates are already starting to sell out, so find the link for tickets here and have fun.
Can't go out? Get Halloween delivered to you: The dessert festival Le Gros festival Sucré is currently taking orders to get boxes of sweets and treats both big and small and—if you're living on the island or willing to pick them up from one of two locations—they'll bring it to you. We're talking donuts, cookies, brownies and a bunch of other little Halloween surprises thrown in.
The Royalmount Drive-In Movie Theatre is closing up shop after October, but not without a bang right at the very end. From October 29th to October 31st, they're hosting a total of ten movies both scary and family-friendly over three days, and they're hosting it all with special effects, costume contests, and something they're calling "trunk or treat". Their concession stand is selling both candy and popcorn, so get a good movie night in with your official Halloween feels.
Montreal's had a lot of trouble dealing with its red zone restrictions, but among all the closures that have been happening, retail remains open. That means that the best candy stores in Montreal will be happy to have you come by and pick up some sweets in bulk, or just to pick up some nostalgia-satisying American imports or just gorging on some homemade chocolates, fudge, ice cream or candy. Candy stores need some love too, you know!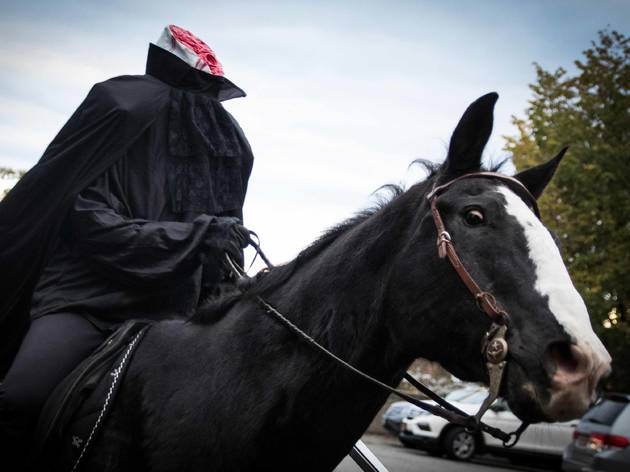 Photograph: Shutterstock/Benjamin Clapp
Go on a virtual Halloween ghost tour
Seeing as gatherings aren't going to be allowed this year, the famed walking tour Haunted Montreal has put together a virtual tour of the city: Turn down the lights, turn on your computer and check out some spooky stories with a Zoom link that takes you to a professional ghost storyteller who will tell some of the city's most infamous ghost stories and talk about its haunted locations, all with a creepy atmosphere. It's only $15 to get the experience, and while it's running from now until November, why not both a spot during Halloween night itself?
Watch image+nation's Halloween-themed film festival
Starting October 29 and lasting until November 1, Montreal's premiere LGBTQ+ film festival image+nation is going to be doing a Halloween special this year: A four-day, horror-themed virtual festival that will include everything from psychological thrillers to "good old fashioned blood n' gore slashers" online. Passes to access the movies at any time are—last we checked—only $25, so get in on that promo while you've still got a chance and enjoy getting scared.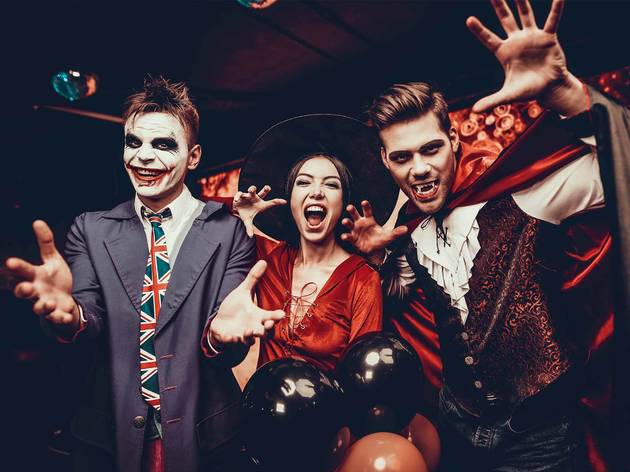 Photograph: Shutterstock
Go for a ghoulish walk up the mountain
What could be better than taking a haunted walk up Mount Royal? The walking tour Haunted Montreal is hosting theatrical guided tours complete with ghost stories, mysteries and legends about the city's green centerpiece on Halloween night. They'll learn about "Mount Royal in Montreal's history and lore, including the legend of the cross, the ghost of l'Esplanade Street, the child-victims of the Alan Memorial Institute's brainwashing experiments, and the tragic tale of Jack McLean and the Haunted Funicular... (plus a visit to) Simon McTavish's forgotten tomb". If that ain't spooky, we don't know what is!
Check out this Avengers-themed Halloween house
Located on the South Shore, this Halloween house on Balmoral Street from local artist Maxime Duval has been decorating his place annually for 27 years. This time around, he's made it a (rogue's) gallery of DC and Marvel villans and heroes. There are 16 characters in total to check out, including a nearly 10-foot-tall Hulk statue, a floating Doctor Strange, Spiderman, Wolverine riding a motorcycle, and more. According to a report by Global News, "this year's display has been adapted to allow passersby a safe environment to enjoy the view."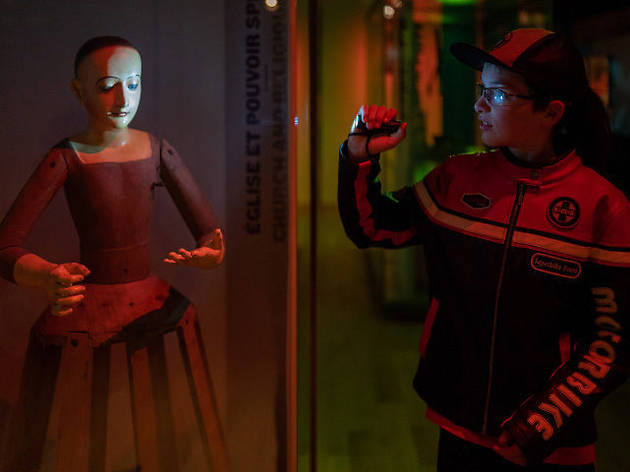 Photograph: Elias Touil
Hunt down some ghosts with the kids
On Halloween night and November 1, the Stewart Museum is hosting ghost hunts for kids: "Eleven mischievous ghosts have plunged the exhibition History and Memory into darkness. Equipped with a flashlight and the game Ghost Hunt, children will help Museum guides catch the transparent little monsters hidden in the exhibition. Those who have spotted all the characters will receive a sweet treat at the end of the hunt." Sounds fun, right? And don't worry, they've taken precautions against COVID with disinfectants, so it can be a little scary in the best way: Safe.