Heads up! We're working hard to be accurate – but these are unusual times, so please always check before heading out.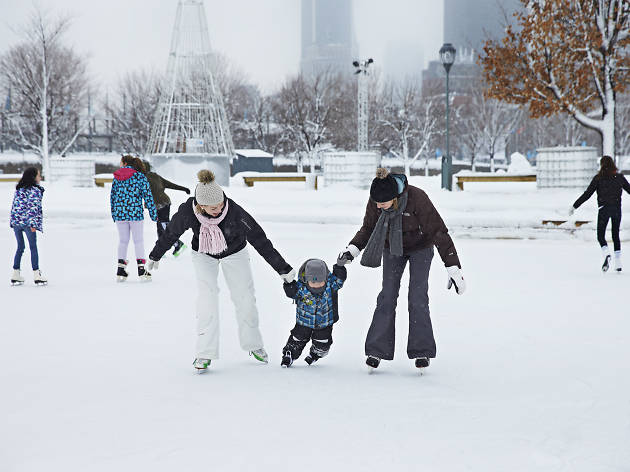 Where to go ice skating in Montreal
Indoors in the summer and outdoors in the winter, these are the absolute best places to go ice skating in Montreal
Winter is coming, and with more than 260 outdoor rinks and a decent selection of indoor venues, no city is more prepared to go ice skating than Montreal. Whether you're looking for a patinoire to play the good ol' hockey game, a track for skating laps, or a surface to stick a salchow, this city has you covered. Next to some choice Montreal skiing options, ice skating is definitely one of the best things to do in Montreal in winter. Just remember that before you bundle up and head outside, be sure to check ice conditions by dialing 311 to get city updates on ice conditions. Grab your toques, sweaters, and blades, and get ready to glide.
RECOMMENDED: Full guide to the best things to do in Montreal
Where to find the best ice skating Montreal has to offer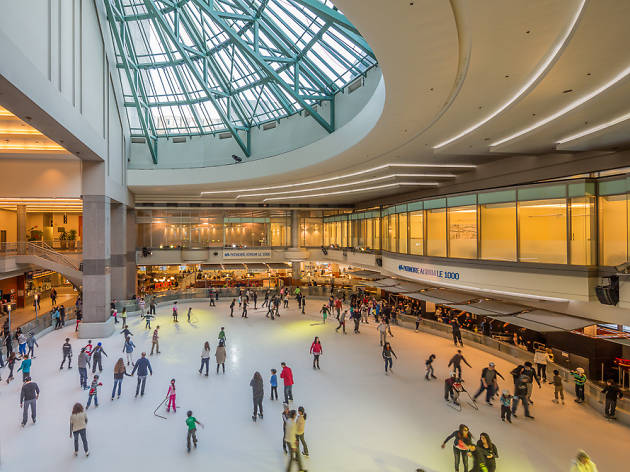 Photograph: Stéphan Poulin
Inspired by the Victoria Skating rink—where the first recorded indoor hockey game was played—this indoor arena was inaugurated in 1992 at the base of the 51-floor Le 1000, one of the tallest skyscrapers in the city. Open year-round with extended hours in the fall and winter, the sun-roofed facility is furnished for all your skating needs, from locker, skate and helmet rentals to free Wi-Fi and 15 restaurants in the surrounding food court that includes some awesome Montreal hot dogs. Three-month memberships are available for eager skaters, and admission is valid all day and night.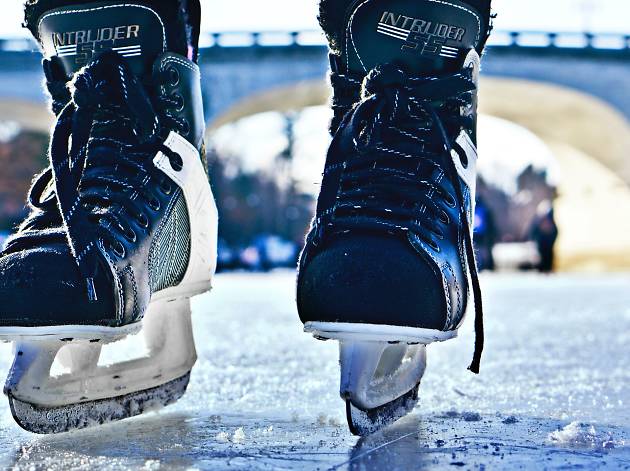 Photograph: Matthew Fournier
Around the mountain in Outremont, this tiny park just off of Bernard takes skaters around a frozen moat and under a white footbridge. A grand pavilion sits atop the small island in the center of the circuit, providing both a picturesque backdrop and a place to warm up. While you'll have to bring your own skates and provisions, the next door Les 5 Saisons is a good spot to look for gourmet hot chocolate on your way home.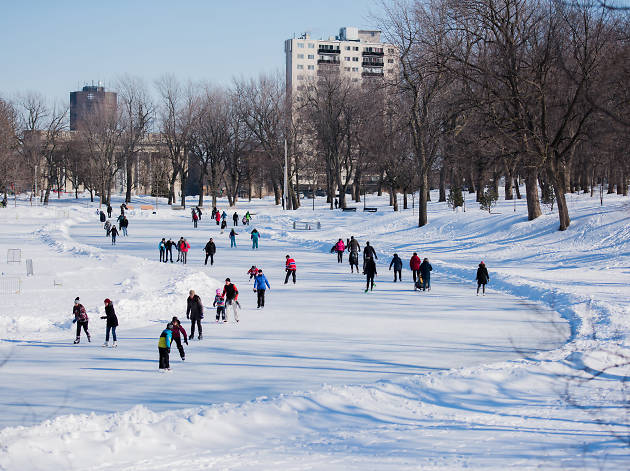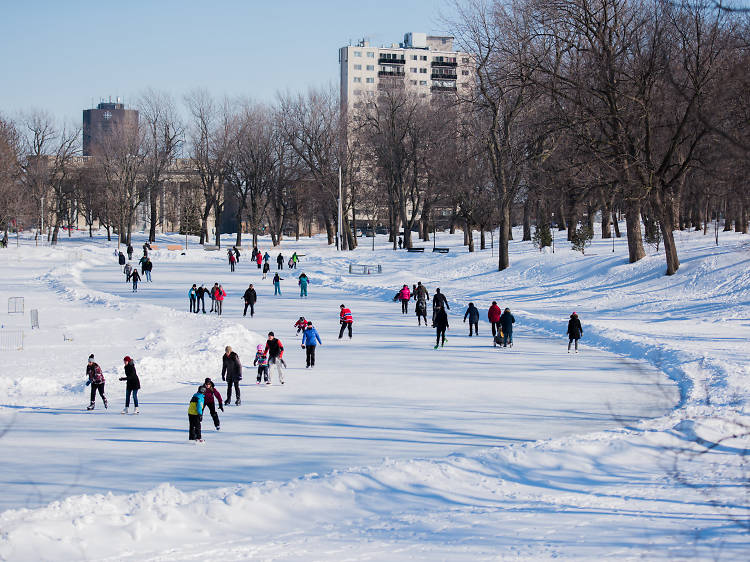 Photograph: Alison Slattery
In 1900, landscapers dug two large basins in the centre of this Plateau park, separating them by a small waterfall and a footbridge named the Bridge of Love. The wooded space reaches its full potential come winter when kids take toboggans to the slopes and skaters descend to the frozen ponds for laps set against cool music and snowy, lamp-lined trails. When frost begins to bite, warm up in the Espace La Fontaine chalet and restaurant where skate sharpening and rental is also available.
Photograph: Chris Liverani
Since 1925, Jarry Park has hosted its fair share of activities, from summertime Expo games and a visit from Pope Jean Paul II to wintertime icecapades on its artificial lake, two hockey rinks and a recreational rink that stays open late. Located in Villeray, this 35.6-hectare public green space becomes a white wonderland with its first blanket of snow. A Culture Vélo trailer offers skaters washrooms, changeroom, or just a warm place to lace up, and equipment rentals are available on weekends.
Photograph: Micaela Parente
5. Parc Sir-Wilfrid-Laurier
Home to two hockey rinks, one open rink and 100-year old trees, this Plateau park provides wooded cover for old-fashioned games of shinny and spins around the ice. The Laurier Centre and a temporary chalet offer shelter for gearing up, but those who come prepared can skate right up to the boards on the park's pathway circuit, frozen and made into icy trails that weave in and out of the 27-acre space.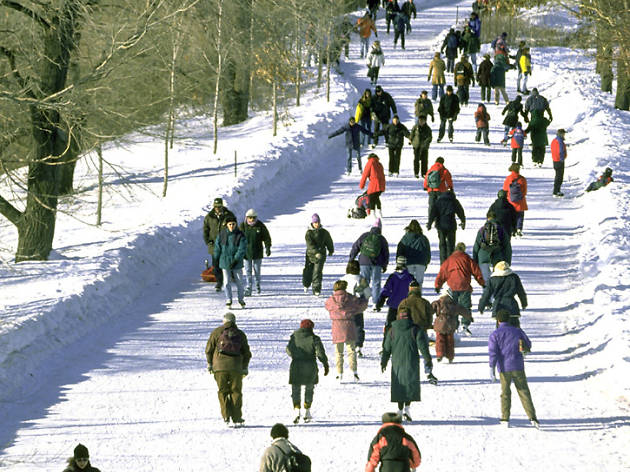 Photograph: © Parc Jean-Drapeau, Sébastien Larose
6. Fête des Neiges at Parc Jean-Drapeau
Parc Jean Drapeau plays host to Fête des Neiges, a family-friendly festival of all things ice and snow, from skating to sliding and sledding. On weekends in January and February, an ice trail winds through the island's forest, with the occasional glimpse of the river and city in the distance. If skating's not your kind of activity, take a dog-sled team out for a run or slap on some snowshoes and trek to the nearby Biosphère or Stewart Museum.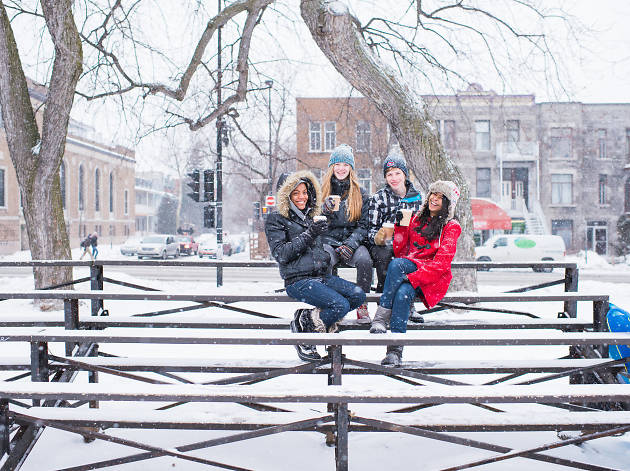 Photograph: Alison Slattery
At the foot of Mont-Royal, with the electric cross and the winged Greek goddess Pheme atop the George-Étienne Cartier Monument in view, this outdoor rink is a winter landmark in its own right. Bring-your-own equipment for a round of pick-up, leisurely glissades, or throw down some salchows under the late-night floodlights. Ice time runs everyday from 10 a.m. to 10 p.m. seasonally and is free to all, with a nearby chalet to catch your breath between bouts of skating.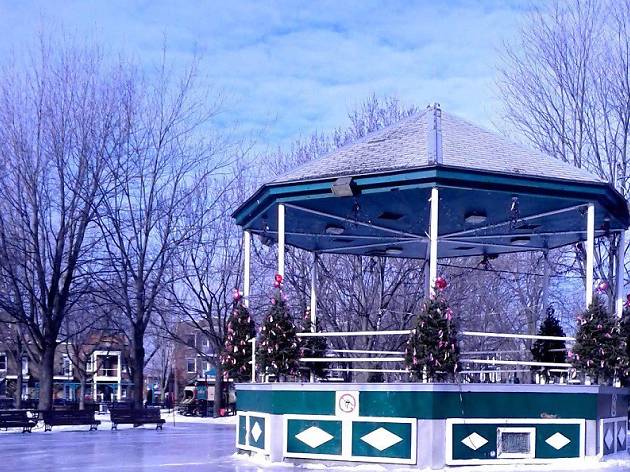 Photograph: Parc Molson / @LeParcMolson
Go for a glide around the string-lit gazebo in this Rosemont-Petite Patrie parkette, a low-key neighbourhood spot that's quieter than most. If you can't bring your own blades, renting is available during peak season between 3 p.m. and 9 p.m. If you can brave a brisk early-morning skate—the park opens at 7 a.m.—then you can brave the brunch lines at Café Regine for a spicy hot chocolate afterwards, or skip them in favour of a matinée at Cinéma Beaubien across the street.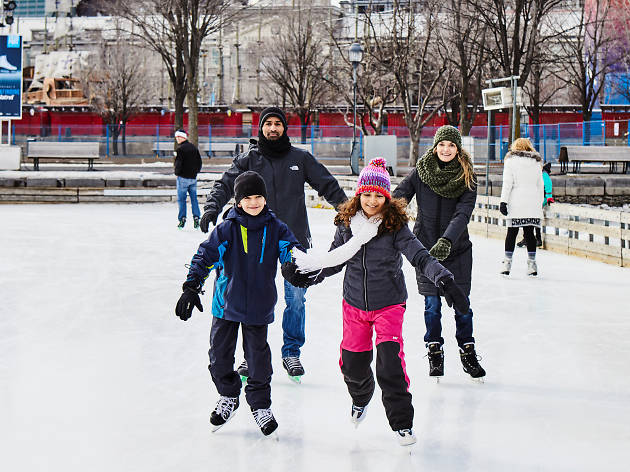 Photograph: Tourisme Montréal / Madore / Maude Chauvin
9. Old Port of Montréal's Bassin Bonsecours
From December until early March, the Old Port's Bonsecours Basin and boardwalk transform into a bustling winter village packed with puffy parkas and pumped-up programming. Heat things up on the with a cardio-on-ice workout, Salsafolie latin music and ice dancing, or a steamy skate-and-mingle for singles Valentine's Day event. Stick around in the evenings for the Natrel Fire on Ice firework show and beats spun by DJs. Afterwards, there's plenty après-skate options to choose from, including a dip in the thermal spas at Bota Bota or a trip round the Montreal Observation Wheel.
Photograph: Susan Moss
10. Olympic Park's Les Jeux d'hiver
When the temperature drops, the esplanade in front of the iconic 165-metre-tall tower of the Olympic Stadium becomes the stomping grounds of Jeux d'hiver, a sporty and snowy playground for little and big kids alike. The space features a snowy skating park with four practice surfaces, a 300-square-metre natural rink, a mini-slide and even fire pits for roasting marshmallows. Helmets and boards are available, but it's bring-your-own skates and snacks for the flames. When the ice begins nipping at your nose, take cover in the heated chalet or café-bistro.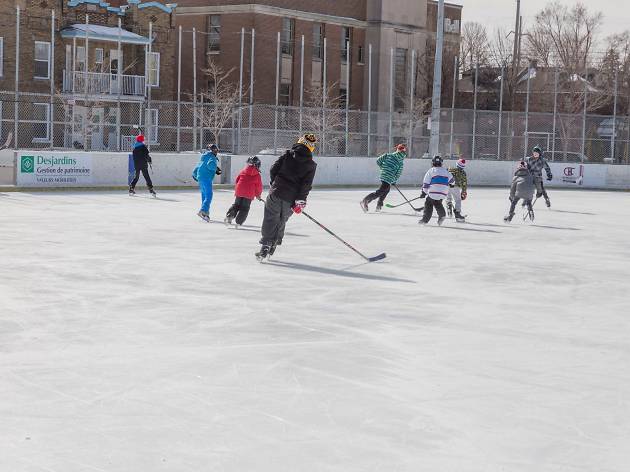 Photograph: Arrondissement de Verdun / @arrondissementdeverdun
11. Bleu Blanc Rouge, Willibrord Park
In Verdun's Willibrord Park, budding stars on ice 17 and under can take advantage of an outdoor rink donated by the Montréal Canadiens Children's Foundation in 2011. Named for the Habs' sweaters, Bleu Blanc Rouge is made to the measure of the Bell Centre at 200 by 85 feet and as the CH logo painted at centre ice. Ice time is available for free everyday between 4 p.m. and 9 p.m., and because the rink is refrigerated, it often stays open later in the season. Bring an ID to borrow skates free of charge.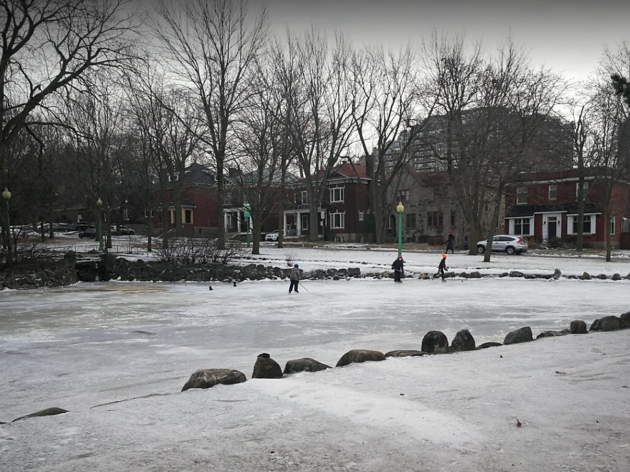 Photograph: Ingrid Aguayo
This hillscaped Outremont park features two ponds connected by a meandering stream, the lower of which freezes over best when the temperature drops. Designed between 1929 and 1931 by the renowned landscaping triumvirate, Émile Lacroix, Aristide Beaugrand-Champagne and Thomas Barnes, the grounds are intricately laid with stones lining the ponds and ninety-some year-old blue spruce pines setting an evergreen backdrop. A turreted stone structure overlooks the scene, but it's not open to the public, so bring some finger-freeing mittens for lacing up alongside the rink.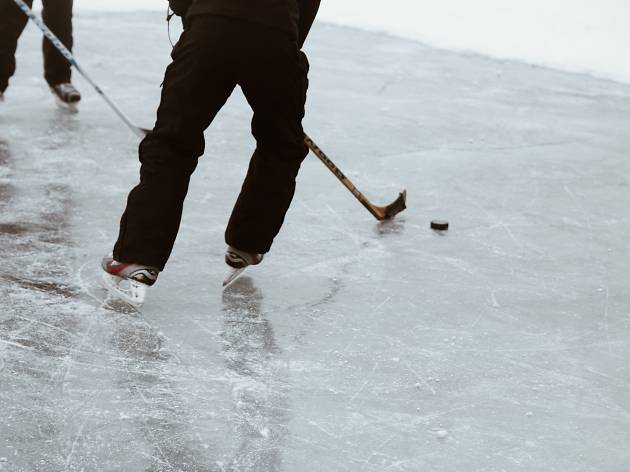 Photograph: Taylor Friehl
13. Toussaint-Louverture Park
Visitors to Toussaint-Louverture Park, a few blocks east of the high-trafficked Place des Arts, are greeted by a bronze bust that pays homage to the park's namesake, the ex-slave and leader of the Haitian revolution. A regular hangout for the city's Haitian community and residents of Habitations Jeanne-Mance, this park offers puppet shows and line dancing in the summer and supervised ice skating in colder weather. The rink and heated chalet are open from 9 a.m. to 9 p.m. every day for those equipped with skates.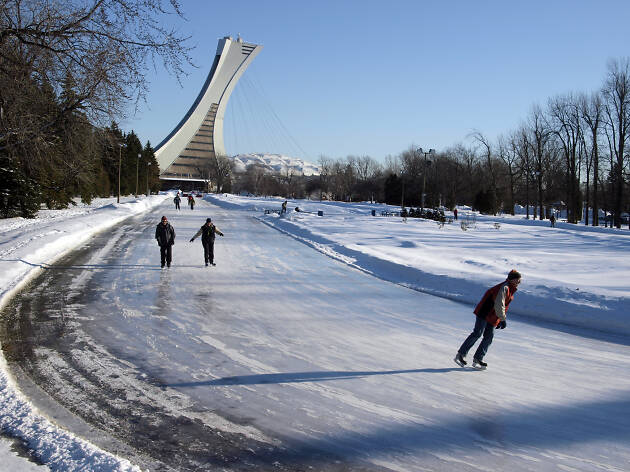 Photograph: Alain Chagnon
Luxuriously wide lanes and its oval-shaped ring makes Maisonneuve Park's circuit appeal to skaters who feel the need for speed. Located in the east Hochelaga-Maisonneuve hood with the Olympic Stadium in view, this track is ideal for those who like to get the heart racing with a few fast laps. A nearby chalet provides space for swapping skates for cross-country skis, snowshoes, or boots that can be used to walk on over to the Botanical Gardens next door.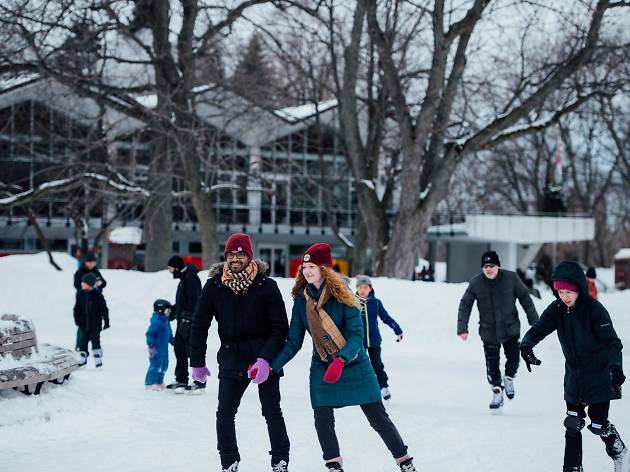 Photograph: Alison Slattery
15. Beaver Lake Skating Rink
While the four-leaf clover-shaped Beaver Lake pond is closed indefinitely, a 2,500 square-meter refrigerated rink next to the Beaver Lake Pavilion makes for a dependable stand-in. Located on top of the mountain on the manicured grounds of Mount Royal Park, the large rink is typically open every day from December to March, with musical events planned throughout the season. Warm up inside the pavilion where skates are available to rent and a Café des Amis serves hot drinks and snacks.
More great things to do in Montreal