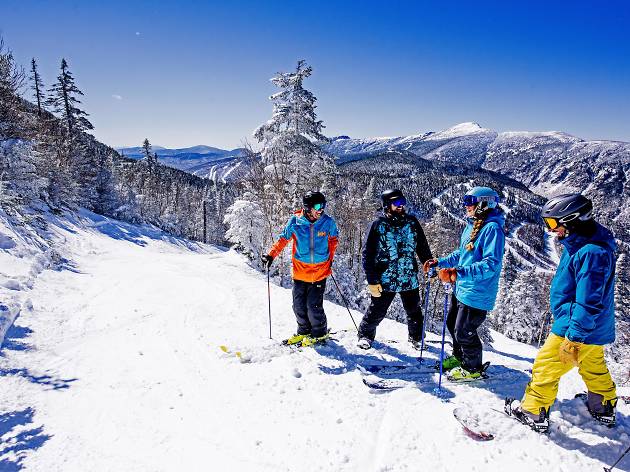 Where to find best Montreal skiing near the city
Use this guide for Montreal skiing to find the best ski hills and mountaintops near the city with the freshest powder
UPDATE, November 25 2020: As we take stock of where to find the best Montreal skiing options near the city right now, it should be noted that there are a lot of choices to pick from—so long as they're within Canada. Until current border closures that prevent land crossings are lifted, you can't travel to the United States unless (loophole!) you are booking a flight.
Winters in the city can be brutal, but that doesn't stop us from enjoying all kinds of frosty activities. From choice Montreal skiing options and ice skating to trips to sugar shacks and howling along with your furry pilots as you enjoy dog sledding near Montreal, there's a lot to enjoy during the coldest season. There may not be any skiing on the island itself, but there's no shortage of ski hills beyond city limits, no matter which compass direction you take. Take your pick: There are short and steep groomers in the Laurentians to enjoy after staying in a chalet near Montreal, to powdery glades in the Eastern Townships, and weekend getaways in Vermont. A day or three on the slopes is almost enough to justify delaying spring for just a smidge longer.
RECOMMENDED: Full guide to the best things to do in Montreal in winter
Where to find the best skiing near Montreal
More great things to do in Montreal during winter
Irasshaimase! Just about every regional variety, broths both rich and light, and noodle types can be found in the best ramen in Montreal—time to dive in.
Stay warm, not bored: The best things to do in Montreal in winter get you up and moving with festivals and activities
Enjoy the holidays to the fullest with our Christmas in Montreal guide to the best of the season's attractions and shows.