There's a lot to see and do in this city, but if you want to get to even a fraction of it, you've got to know how to get around via Montreal public transportation. If you're someone who wants to know everything about a city's network before going (or you're a local trying to get it straight, no shame), we're here to show you the ropes. One read through our local experts' guide, and suddenly the city opens up to you: Hop on the metro to tour Montreal's attractions and landmarks; hail a cab after a night at the city's best bars and best clubs; catch a bus to one of the best Montreal parks; grab a BIXI and tour the scenic neighbourhoods of Mile End or Old Montreal. Once you're mobile, the possibilities are endless.
RECOMMENDED: Full guide to best things to do in Montreal
Jump to the section on…
Société de Transport de Montréal (STM) : The Metro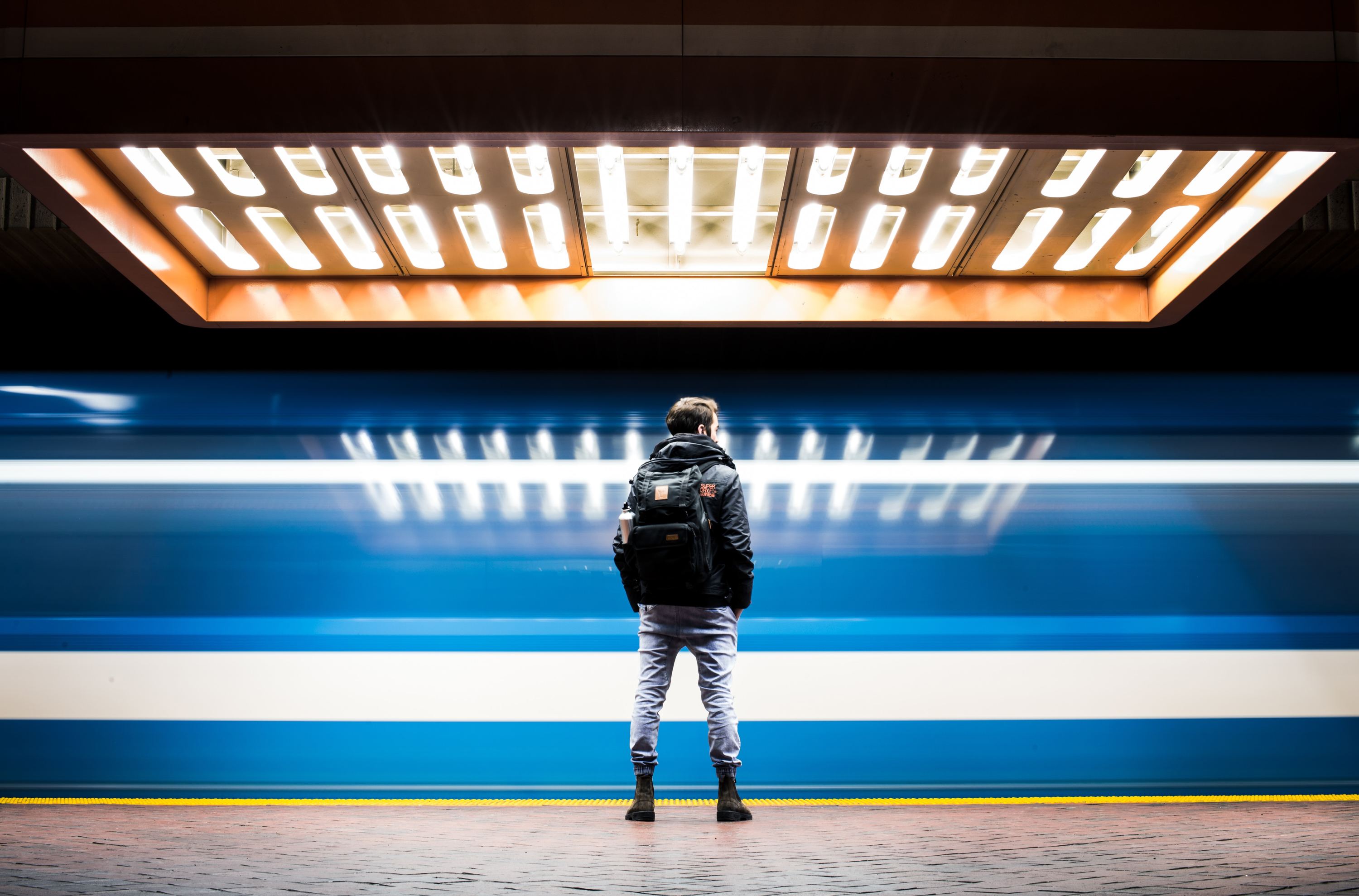 Q1. What is the Metro?
The Metro is Montreal's subway system, originally built in the 1960s. It's a safe, reliable, and inexpensive way to get all over town. It's been expanded several times over the years, but it's still pretty straightforward to navigate— even for first-time users. You pay your fare at the beginning of your trip, either with rechargeable chip cards called OPUS cards, or tickets. The first trains begin running around 5:30am, and the last trains leave from the ends of the lines at 12:30am (1am on Fridays and Saturdays).
Q2. Where does it go?
The Metro has four lines: Orange, Green, Blue, and Yellow. Most major attractions, popular neighbourhoods, and landmarks are within easy walking distance of nearby metro stations. There are four interchange stations where riders can switch lines: Berri-UQAM, Lionel Groulx, Jean-Talon, and Snowdon.The trains indicate the direction they're heading by the name of the last station in that direction.
Q3. How much does it cost?
The metro has a range of different fares, depending on how much you want to use it.
Here's a quick breakdown (based on fares posted on January 29th, 2020):
1 trip: $3.50
2 trips: $6.50 (good for 2 trips for a single user)
10 trips: $29.00
Unlimited evening: $5.50 (from 6 pm to 5am for one evening)
1-day pass: $10.00 (24 hours)
Unlimited weekend: $14.00 (From Friday 4 pm to Monday 5 am)
3-day pass: $19.50 (consecutive— lasts until 11:59pm on the third day)
Weekly pass: $26.75 (Lasts Monday through Sunday until 11:59 pm)
Monthly pass: $86.50 (From the 1st to the last day of the month)
You can purchase passes either from the staffed kiosks at the turnstiles or the automated vendors found within Metro stations, as well as some businesses around town, including pharmacies, grocery stores, and some dépanneurs.
Also, heads up: If you're coming to Montreal from metro stations in Laval or Longueuil, you won't be able to use your passes or tickets for transfers. You'll have to pay a separate fare ($3.50).
Q4. What about kids, students, and seniors?
The STM has a reduced fare program set up for young children, students, and seniors.
Kids under six are always free.
Kids aged 6-12 can purchase reduced fares without a photo OPUS card.
Kids aged 12-17, seniors aged 65+, and students 18+ all qualify to pay a reduced fare but need a special OPUS card with photo ID.
For all eligible persons, a reduced fare OPUS card can be obtained in person at the following address:
Studio de photo - Carte Tarif réduit
1717 rue Berri, Local Gc-r400, Montréal, QC H2L 4E9
Or via mail, with all the required documents, sent to the same address.
For elementary and high school students, the STM schedules photo visits to most schools in the city. Most CEGEP, college, and university students can apply for reduced fare OPUS cards through their school's online portal.
Q5. How about people with reduced mobility or disabilities?
The STM has made concerted efforts to make the metro system more accessible in the last decade. There are now elevators in 15 Metro stations, including all four interchange stations. Metro cars are accessible to most wheelchairs and scooters; stations are announced (albeit only in French) on an intercom system, and each station has textured flooring near the platform's edge.
If you are or know a person with visual or developmental disabilities, apply for a companion card, granting free transit for whoever is helping you access the Metro.
Service animals are permitted throughout the Metro at all times.
Q6. Anything else I should know about the Metro?
You can take your bike with you on the Metro, but they're only allowed in the front and back cars of the train. However—especially during peak hours of traffic, big festivals and events—bikes are forbidden altogether. Just keep an ear out for announcements.
Be sure to hold on to your tickets and transfers. You might not need them anymore, but they're also your proof of payment and the fines can be steep if you're caught without one.
Try not to fold your tickets or transfers. It can make a mess of the magnetic stripe, and present problems if you'll be transferring.
Buses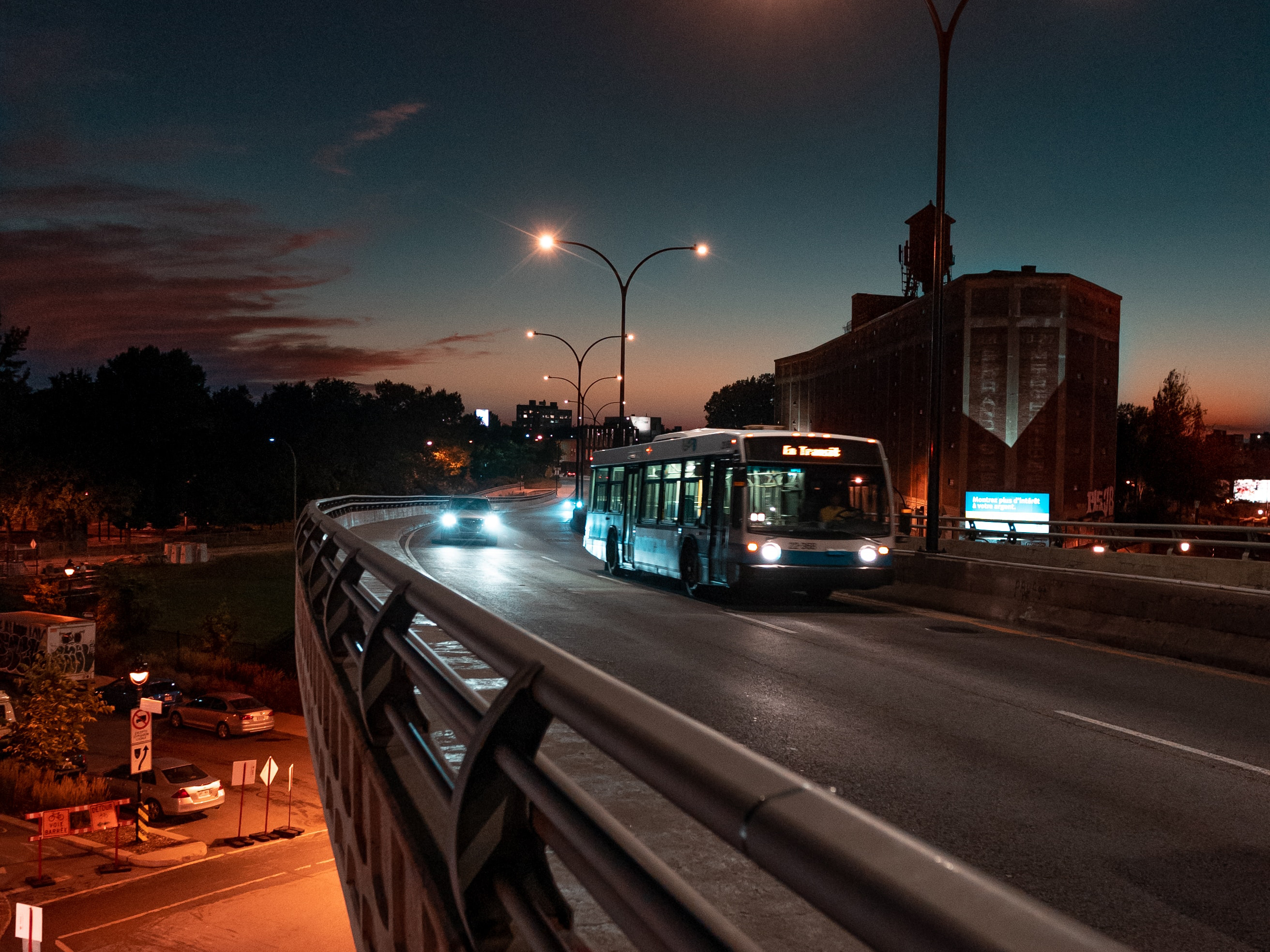 Q1. What do I need to know?
Montreal has an extensive bus system that shares its fare system with the Metro, so it's easy to transfer between the two. The bus system serves destinations all over the island, including many destinations that are out of range of the metro (including the airport). There's also a network of night buses that make a great way to get home in the wee hours of the morning after the metro closes.
Q2. How much do they cost?
Montreal's bus system shares its fares with the Metro, and the two are completely interchangeable. You can pay a fare directly on the bus—but it's exact change only, and bills aren't accepted.
The airport shuttle, Aéroport Mtl-Trudeau (747), has a special $10 fare all its own.
See the fare breakdown in the Montreal Metro section for the complete list of fares.
Q3. What's the deal with the 747 airport shuttle?
The Aéroport Mtl-Trudeau (747) airport shuttle is a bus route that runs to and from the airport 24/7. Outbound to the airport, it starts near Berri UQAM station and only makes a single stop at Lionel-Groulx Metro station before heading directly to the airport. On the way in, the shuttle makes 11 stops. The bus is specially configured with luggage racks to stow your belongings.
A 747 shuttle ticket costs $10.00, payable either in exact change on the bus, or with a specialized ticket that can be purchased at all metro stations as well as the automated ticket vending machines located in the airport's international arrivals terminal.
Single day passes, 3-day passes, weekend, week, and month passes are also accepted fares on the 747 shuttle. This is useful to keep in mind for visitors who may already be planning on purchasing these fares.
Q4. Are buses accessible for those with disabilities or reduced mobility? What about wheelchairs?
The STM has made increased efforts to make the bus system accessible to all. All buses have priority seating for persons with reduced mobility, and a large number of buses have on-ramps for wheelchairs; buses will lower with hydraulics to be level with the sidewalk.
Note that in poor weather conditions, the wheelchair ramps are not always usable.

For passengers with vision impairments, a number of the more modern bus models have intercom systems announcing upcoming stops. For the ones that don't, be sure to ask your driver to make an announcement.
STM's online bus schedules indicate which buses are equipped with folding wheelchair ramps.
Q5. What is paratransit? Can visitors access the Paratransit system?
The STM paratransit system is a door-to-door public transit service for people with a significant and persistent disability. Any visitors who use a wheelchair at all times can use the Paratransit system. Contact Paratransit at 1-514-280-8211 to set up client records, book reservations, and have all your questions answered.
Q6. Anything else I should know about Montreal buses?
The STM publishes all its bus schedules online, and with the rollout of new GPS systems, some of the routes can be tracked in real time. The best way, however, is to use a ton of third party transit apps (like Transit or even Google Maps) that can make navigating the bus system more efficient.
Traveling by Car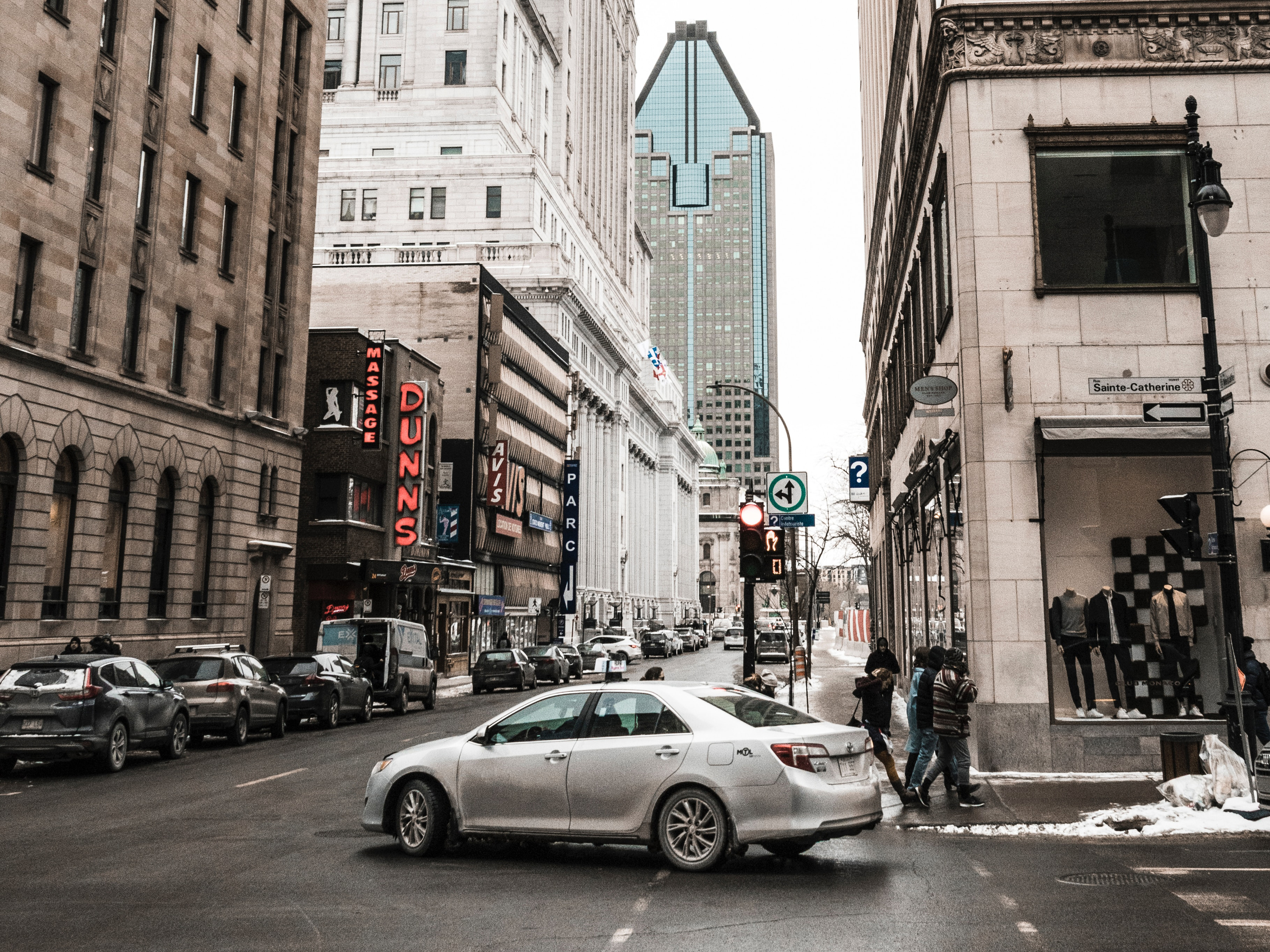 Taxis
Q1. What's the deal with Montreal taxis?
Montreal has several taxi companies, all of which are governed by the same regulations and charge the same fares. At this point, they've all got their own apps, similar to most rideshare companies, but you can also hail them traditionally: Over the phone, at taxi stands, or just by waving them down on the street. Taxi drivers will speak French, but almost all of them will also be able to converse in English without any trouble.
Q2. How much do taxis cost?
The base taxi trip fare is $3.45, and the per-kilometer price is $1.70. Standing time and waiting time is calculated at $37.80 per hour. Taxi drivers accept cash, usually accepting U.S. currency at par, and are obligated by law to accept debit and credit card payments. It's also customary to tip your driver 15%-20% on the fare, so don't be stingy.
Uber
Q1. What is Uber?
In case you've been living under a rock, Uber is an international ridesharing company that essentially lets you order a ride with the use of a smartphone app. To use the service, you'll need to download the app, create a profile and add your credit card details.
Q2. How much does it cost?
The price of an Uber trip is calculated upfront, even before you confirm your ride. Prices are mainly calculated based on where you are, where you're headed, and what kind of car you've ordered (for example, an UberX car has a $2.50 base fare, and then is $0.20 per minute and $0.85 per kilometer).
Uber also uses a fluctuating system called "surge pricing" that can kick in whenever a certain area or time of day is particularly busy, making your fare subject to a increases. Uber rides are typically slightly less expensive than taxis, but if it's particularly busy, be prepared to pay more for your ride. Uber drivers don't accept cash, and all payments are handled automatically via the smartphone app.
Eva
Q1. What is Eva?
Eva is a cooperative rideshare service founded in Montreal that is based on blockchain technology. Similar to Uber, it lets you order rides with the use of a smartphone app.
Q2. How much does it cost?
Eva's base fare is 3.45$, then $0.20 per minute, and $0.85 per kilometre. At this time, Eva does not have a surge pricing system. As is the case with Uber, drivers don't accept cash, and all payments are handled automatically via the app.
Traveling by Bike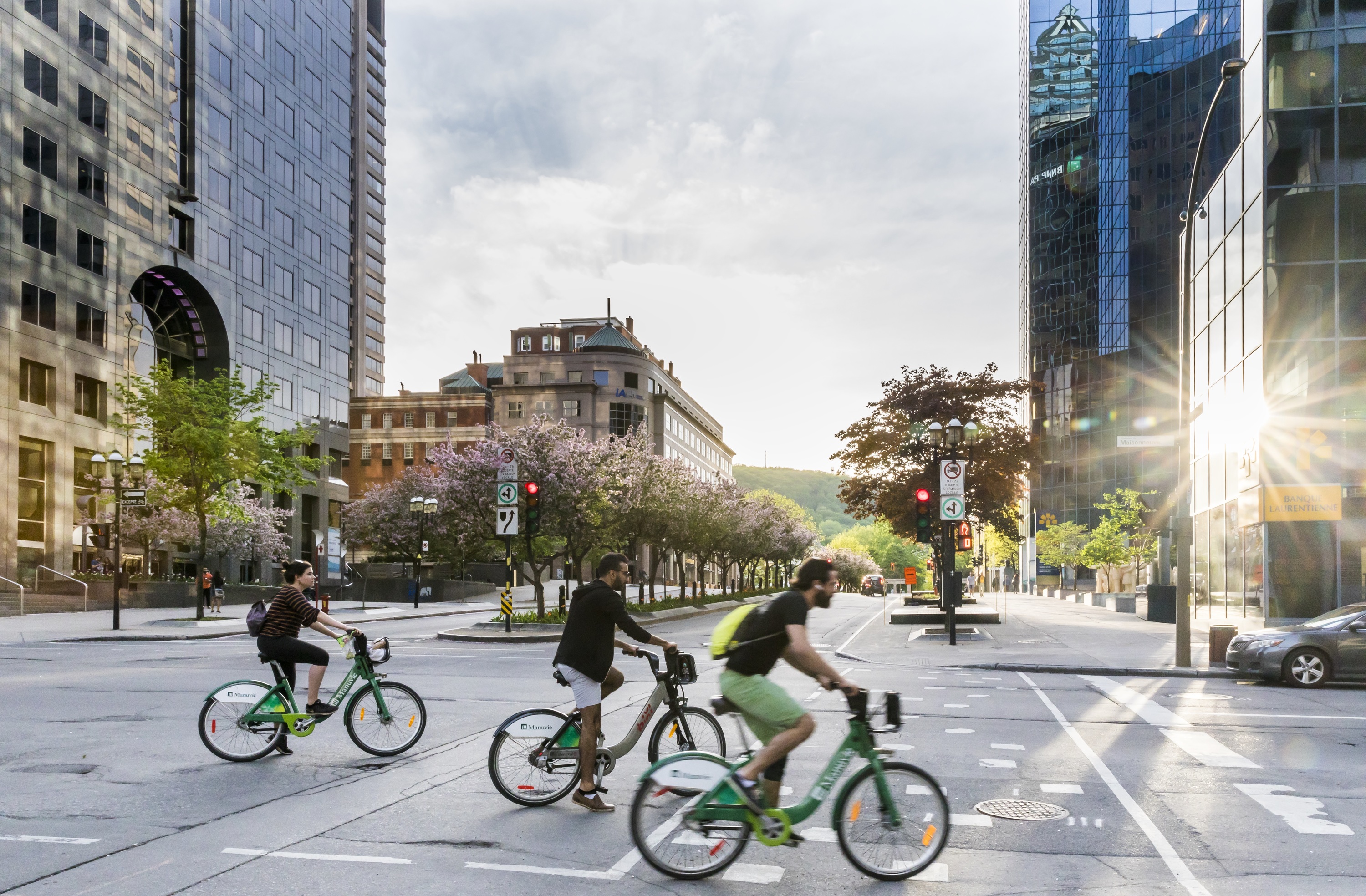 BIXI
Q1. What the heck is a BIXI?
BIXI is a public bike sharing system founded in Montreal. There are over 600 stations on the island where you can rent a bike, ride it where you need to go, and return it to any station when you're done. BIXI has a smartphone app where you can set up an account, rent a bike, see bike availability, and plan your trip.
Q2. Does BIXI offer electric bikes as well?
BIXI has been rolling out electric bikes, called e-bikes. They're rentable for an additional fee of $1.00 per trip.

Although helmets aren't mandatory while riding normal bikes, they are mandatory when riding electric bikes—and the fines are no joke.
Q3. How much does it cost?
BIXI's payment structure is a little convoluted, to say the least.
Here's a quick rundown:
One-way single trip: $2.95 for under 30 minutes, after which you're charged $1.80 extra until the 45-minute mark. Then you're charged $3.00 for every additional 15 minutes.
Day Pass: $5.25 gets you an unlimited number of 30-minute trips in a day. Just be sure to dock your bike and hop on a new one if you're going to need the bike for longer than 30 minutes; otherwise, the same penalty fees apply for additional time as for the single trip price.
3-day pass: $15 gets you an unlimited number of 30-minute trips in a 72 hour period. Again, the same penalties apply for additional time as for the single trip price.
10 One-way single trips: $25 gets you 10 one-way single trips. The same penalties apply for trips longer than 30 minutes.
Add $1.00 to each trip if the bike you're renting is an electric bike.
BIXI also offers 1-year memberships for $94.00, offering you your own BIXI key and 45-minute trips before additional fees kick in.
BIXI has myriad discounts and promotions for OPUS card links, group fares, and multi-user keys. They also have partnership tie-ins with the CAA, local carshare services and more. Check out their website for more details.
Bear in mind that there is also a temporary $100 security deposit charged to your card whenever you rent a bike.