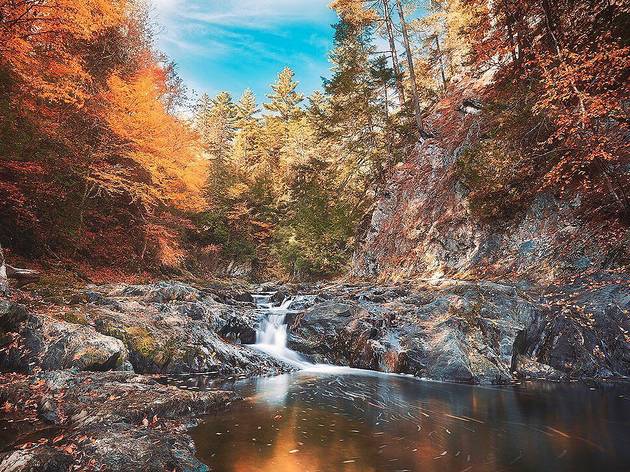 Where to find the most picture perfect waterfalls near Montreal
These waterfalls near Montreal provide great reasons to go on a day trip out of the city, no matter the time of year
Refreshing to visit in the spring, cool hangouts in the summer, picturesque and colourful in the fall and frozen statues in the winter, these waterfalls in Montreal are beautiful spots to check out no matter the time of year. They're great places to take a day trips from Montreal, and are often situated in national parks and deep countryside forests where you can find some of the best hiking near Montreal and some amazing places to go camping near Montreal as well. Pack a meal and go for a stroll in the woods, following the sound of rushing water until you happen on one of these beauties.
RECOMMENDED: Full guide to the best things to do in Montreal
Waterfalls near Montreal to discover with roadtrips out of town
Travel time from Montreal: 2 hours 15 minutes
Like the name implies, there's a total of seven (7!) waterfalls to hunt down across this Quebec park as you hike or bike its trails. The one you'll want to find by following the park's maps is the Veil of the Bride, a 60-metre (200 feet) tall waterfall before catching your breath at Guy Lake below it. After that, try reaching the summit of Mont Brassard and Mont Barrière.
Travel time from Montreal: 2 hours 15 minutes
At 125 years old, this national park in Quebec sits pretty at 1510 square kilometers big. That means there's a LOT of trails and general ground to cover, but you're here to see water fall off of something, right? At Mont-Tremblant, there's a total of four waterfalls to see: Chute du-Diable, Chutes-Croches, Chute-aux-Rats (17 metres high!) and the scenic Chute-aux-Mûres with its footbridge to take some romantic selfies at.
Travel time from Montreal: 2 hours
Located at the centre of three towns—Sainte-Béatrix, Saint-Jean-de-Matha and Sainte-Mélanie—the ones you want to hunt down are the Chutes Monte-à-Peine, Chutes des Dalles and Chutes des Desjardins. These feed into a total of 5km of riverways in the area, but among exploring the rushing water of each, Sainte-Béatrix beats them all out for its canyon to feel the mist of the waterfall falling into it.

Travel time from Montreal: 2 hours 5 minutes
At 20 metres high, the Chutes-à-Bull is the star attraction of this park that falls into a shallow body of water folks like to pose at and cool off in during summers. Whether you head directly there upon arrival or you want to make your way there over 6km of hiking trails, follow the path from the falls that leads along the Boule River, where you'll find smaller and more soothing falls afterwards.
Travel time from Montreal: 1 hour 30 minutes
The nearby town of Rawdon is particularly proud of this nearby natural attraction, and they're right. Who wouldn't want some magnificent 60-foot-high falls surrounded by century-old pine forests near your town? Ones that can be reached via 2.5km of ecological trails in said forests? If you're finding it a bit crowded for your tastes, there's also the nearby Cascades Park where the falls are slower and spread out over plateaus you can hang out on.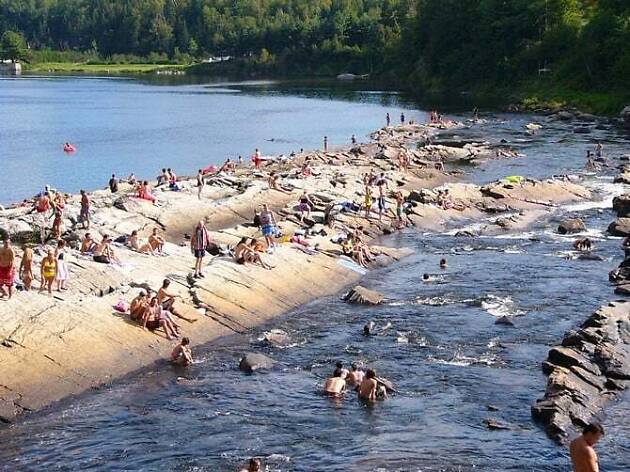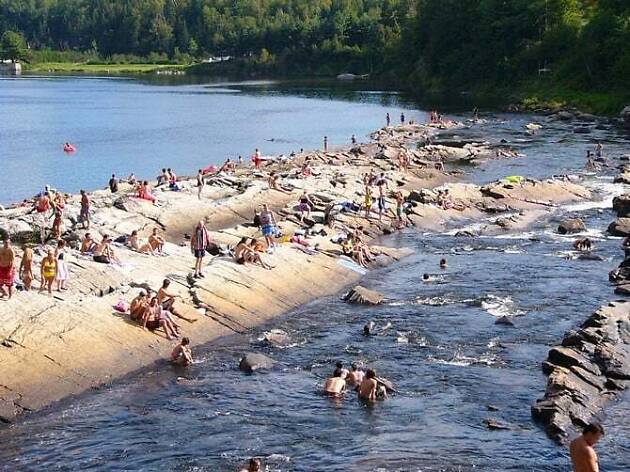 Photograph: Courtesy Yelp/Bobby A.
Travel time from Montreal: 1 hour 45 minutes
In recent years, the municipality of Sainte-Adèle has found one too many flooding (no pun intended) into their town for this spot that, at its peak, can see as many as 1,000 people in a day during the summer. But that's during the summer, and as good as it is to lounge here when it's hot out, the spring and fall seasons are calmer and more easy-going. It's a beautiful area, especially when the trees surrounding the river start turning colours in the fall.
Travel time from Montreal: 2 hours
Falling from a height of 30 metres at its greatest height (some say 70, so you be the judge), the Chutes de Sainte-Ursule is a towering body of water that can be viewed from a lot of different viewpoints on the area's hiking trails. That's the main attraction, however. This is also the site of where the Maskinongé River splits into seven different waterfalls, some of which get topped with footbridge you can walk out over and just stay a while and let your thoughts drift away.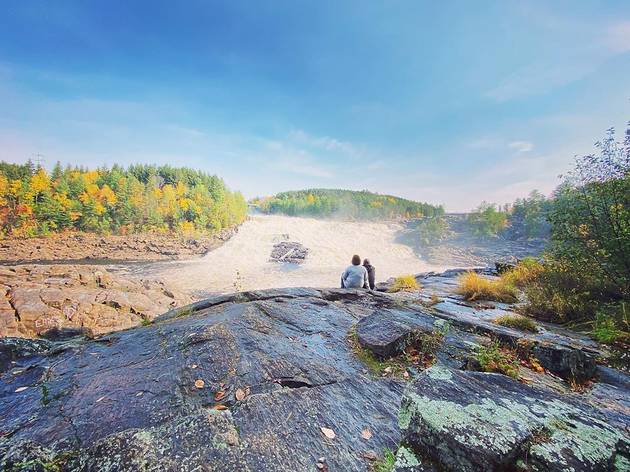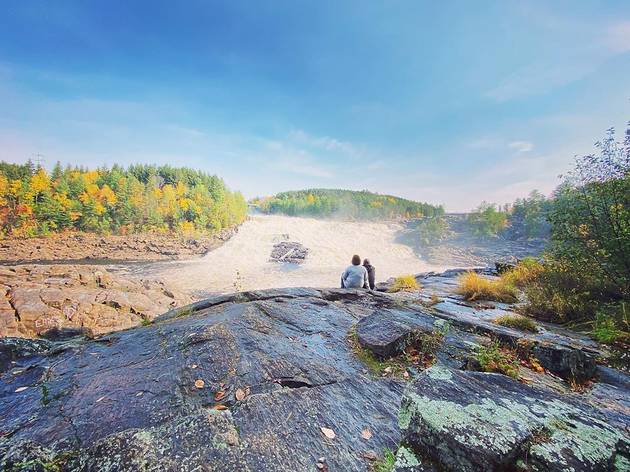 Photograph: @_andre4nne / Instagram
Travel time from Montreal: 2 hours 20 minutes
The best time to visit the Shawinigan Falls are in the late spring, when the Saint-Maurice River rises and begins to fall in full force. That's normally the time when townspeople know that spring has arrived, and a siren sounds off when the floodgates open and a massive amount of water is let loose for a tumbling 42 meters—that's almost as high as Niagara Falls. If you won't (or can't) get too close, there are two observation points to use to take in the scenery.
Travel time from Montreal: 2 hours
At its highest point, the water of the Rivière Saint-Sixte falls a total of 63 metres down, it's one of the larger waterfalls close to Montreal that merits a visit. It's not hard to get to either, as the hiking trails leading to the observation points to see it in action are either at the beginner or intermediate level—that might not interest hardcore hikers, but the view should: It's simply spectacular.
Travel time from Montreal: 3 hours
Located inside the parc national de la Mauricie, Waber Falls is a supremely popular spot for Montrealers and Quebeckers in general to travel to. That's likely because while it's not some scenic raging beast of water, the shape of Waber Falls does let the water form a natural splash pad of sorts—you won't believe how many people have taken group photos of themselves getting drenched. In other seasons, however, it's just as scenic and much more free of Instagrammers.
Travel time from Montreal: 3 hours 15 minutes
View these crashing beauties from one of three vantage points: A footbridge suspended at 23 meters just above the water, the 35-metre high observation point to take in the fall as well as the horizon below, or directly in the mists of the falls' landing point. To really make a trip out of visiting this waterfall, plan for a full day of hiking and canoeing; the park itself is absolutely full of beautiful scenery to explore.
Travel time from Montreal: 3 hours
This one probably seems like a no-brainer for in-the-know Quebeckers, but the Montmorency Falls truly are one of the most beautiful waterfalls within reach of Montreal. Whether it's seen from the observation deck at its lowest level's plunge pool or from the suspended bridge above its overhang, this 83-metre high waterfall that's 30 metres higher than Niagara Falls) is impressive no matter which way you look at it.
Travel time from Montreal: 4 hours
If visiting a waterfall for scenery and a chance to hike isn't enough for you, then Coulonge is one of your better bets with its zip lines, obstacle courses, and via ferrata climbing courses that are available until November 1st each year. That's the 'adventure park' side of it, but the waterfall itself it beautiful in the warmer season for a refreshing visit, and still beautiful to see in the winter when the bridge running above it is illuminated.
Travel time from Montreal: 4 hours
While the canyon been carved down over eons by the Sainte-Anne-du-Nord River, the waterfalls of the area persist, falling a total of 74 metres into the canyon. If you don't want to risk climbing down to get up close and personal, there are three suspension footbridges that cross the canyon, with one being risen as high as 60 metres. Yes, it's far from Montreal, but it's worth it. There's a ton of activities to do as well if the weather's right.
Travel time from Montreal: 3 hours
Located on the western side of Gatineau Par (something to explore in its own right), Luskville is just purely picture-perfect. There's no huge, crashing scene to check out here, but a calm and soothing place to sit and take in the scenery below you. Just follow the signs for the Eardley Escarpment and you'll find yourself 300 metres above sea level after a steep hike. The view's worth it, though.
Travel time from Montreal: 1 hour 30 minutes
One of the more relaxing, towny type of experiences comes from visiting Roxton Falls, a major historical spot for the nearby town. It's one of those places you want to go for a relaxing small town experience, pack a lunch and while away the afternoon as you watch the water go by and tumble a total of 9 metres. There's also a bunch of cycling trails nearby if you want to stay active during your visit.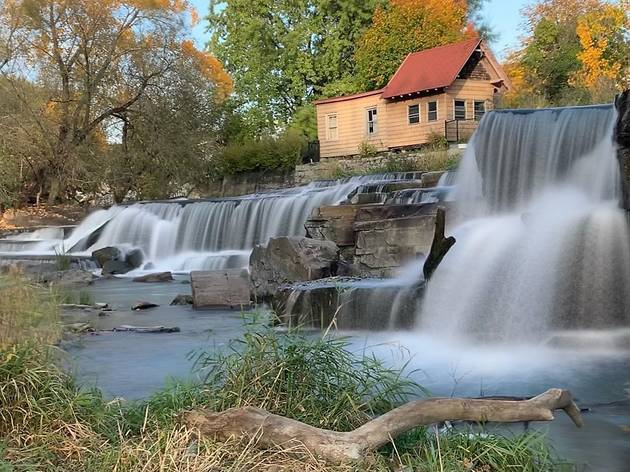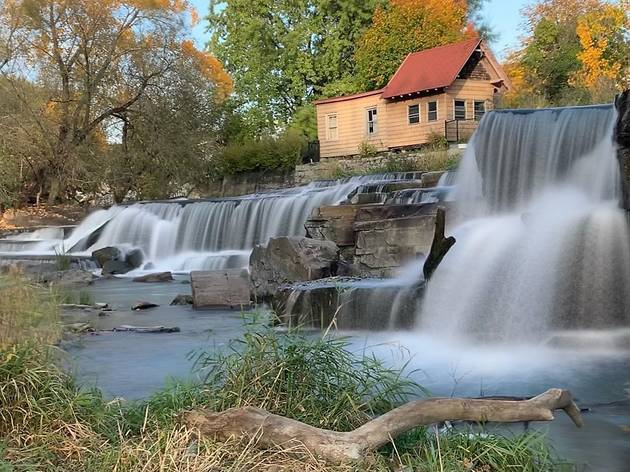 Photograph: @redway_ / Instagram
Chute de la Rivière St-Louis
Travel time from Montreal: 45 minutes
If you want to keep your trip out of Montreal short but still want to see some waterfalls, the small and scenic waterfall by Beauharnois—just off the island—is your best bet. Sit and idle calmly by the water during your trip, and there's the option of mixing things up by taking to some of the 10 kilometers of marked trails in the 125 acres of the nearby Robert Woods. It's particularly good for winter trips, when all those trails get padded down for cross-country skiing.
More outdoor activities near Montreal
Get the lowdown on exploring the forested grandeur of Canada by using this guide to the best hiking near Montreal.
Campfires, exploring nature and outdoor activities abound when checking out the options for camping Montreal has nearby.
These cabin Airbnbs near Montreal are all you need for am escape into forests, onto mountainsides, by lakes and more.