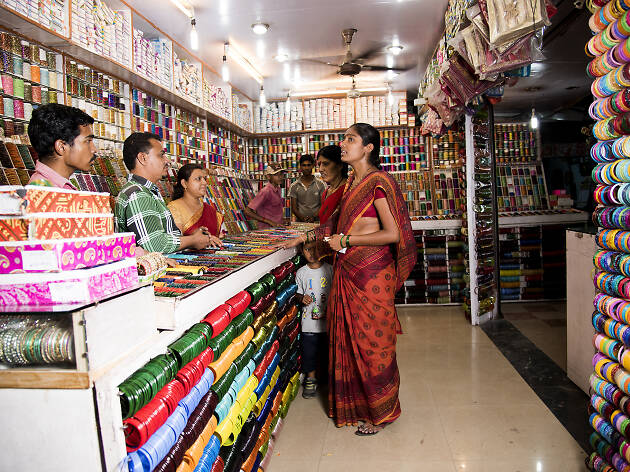 Where to go shopping in Mumbai
From designer boutiques to colourful street bazaars and markets, check out this guide to shopping in Mumbai
Splurge then twirl in an ornate lehenga that channels you inner Bollywood diva after shopping in Mumbai. After quieting your cravings for curry at the best restaurants and street food shacks in town, go above and beyond Mumbai's museums (although they're certainly worth a visit or three) and explore the city by navigating the markets, bazaars and boutiques that make up Mumbai's shopping scene.
What, exactly, are we talking about? Scour through a bustling bazaar filled with antiques and come away with deals on teak-wood tables and handcrafted grandfather clocks. Wake up in the wee hours and follow your nose to the oldest docks in Mumbai to bring home fresh prawns, Bombay duck or pomfret. Don't miss the open-air flower market where the sweet smell of roses wafts through the air. Searching for a swanky mall? We've got plenty of those too!
Shopping in Mumbai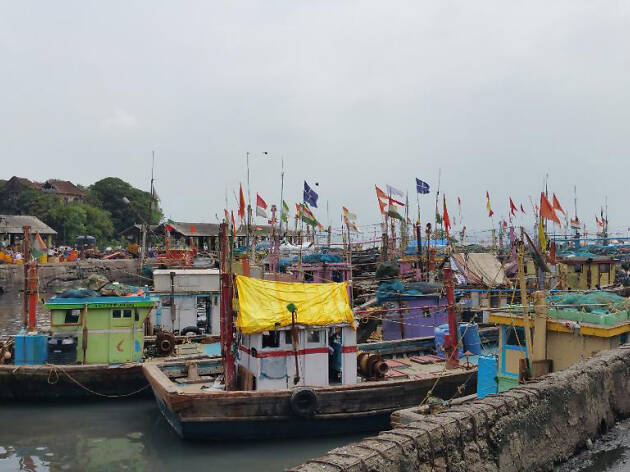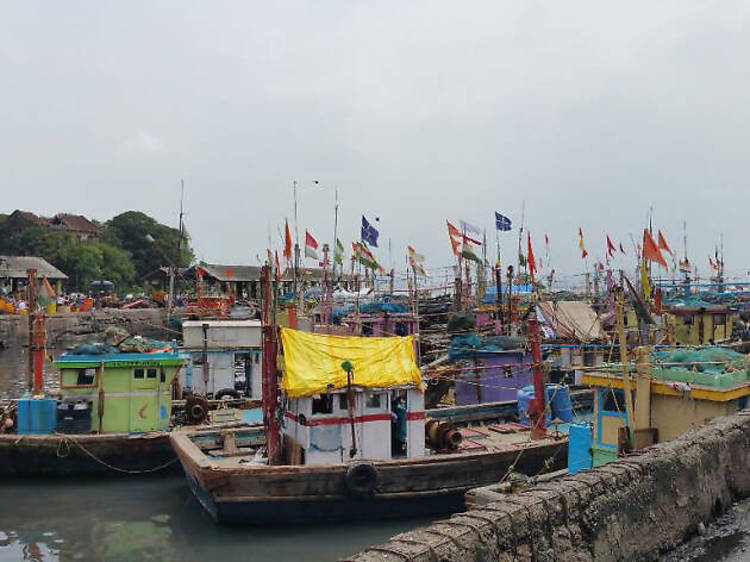 Photograph: Courtesy Tripadvisor/Zuiver
Constructed in 1875, these docks house a bustling fish market where Mumbai's early inhabitants—the kolis (fisher-folk)—call the shots. To see it in full-swing, visit during sunrise. Watch kolis draped in nine-yard saris spread their catch while birds try to pick their piles. In the backdrop are dinghies bobbing alongside trawlers. Strike up a conversation to hear all about the koli culture (complete with the folksongs of sea Gods), dig deeper to learn how reclamation projects swallow livelihoods and admire the murals dotting the docks.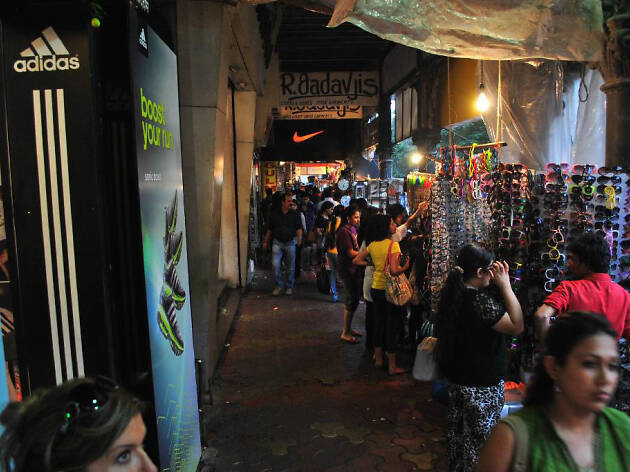 Photograph: Courtesy Tripadvisor/Magellano81
2. Colaba Causeway Market
The Causeway feels a bit like a carnival. You'll be surrounded by stalls filled with colourful bags and shoes, hand-woven shawls, imitation jewellery, mobile phone-covers studded with diamantes, used books and CDs and oh-so-much-more. Looking for something more chic? Step into the many stores behind the stalls and find designer bags, silver jewellery, branded clothing and the latest electronics. Vendors often speak multiple languages—English, Hindi, Arabic, Russian—so tourists, fear not. When you're tired, drop into an iconic café—Leopold or Mondegar—for some chilled beer and finger-foods.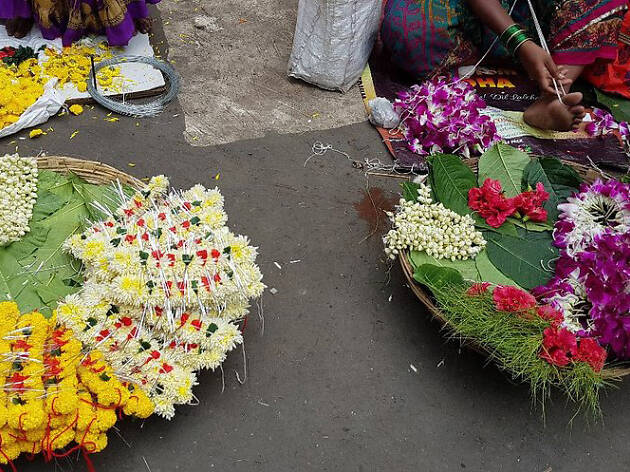 Photograph: Courtesy Tripadvisor/Smitten4
Right outside Dadar Station, which holds the population of a small country at any time of day, is a market filled with flowers. Navigate the narrow gully and see hot pink gerberas, pure white lilies and purple asters. Watch as women string together mogras (a type of Jasmine) to fashion a scented hair accessory, bind marigolds for decorative door hangings and create gigantic wedding bouquets. Make sure to pack in a camera because this vibrant, multi-hued market is a photographer's dream.
As the name suggests, this is where you find zeva—or jewellery. See silversmiths polishing candelabras, diamond makers armed with loupes and goldsmiths weighing their wares. In the labyrinth of lanes that makes up the bazaar, there are glittering multi-storey shops, tiny family-owned businesses tucked into corners and one-too-many workshops. Don't be fooled by the market's crammed appearance, it sees lakhs of rupees every day and has been known to make it to the news with riveting stories of heists. If you're looking for a souvenir that won't break the bank, we suggest you invest in a traditional Maharashtrian thushi (neckpiece), made with one-gram gold.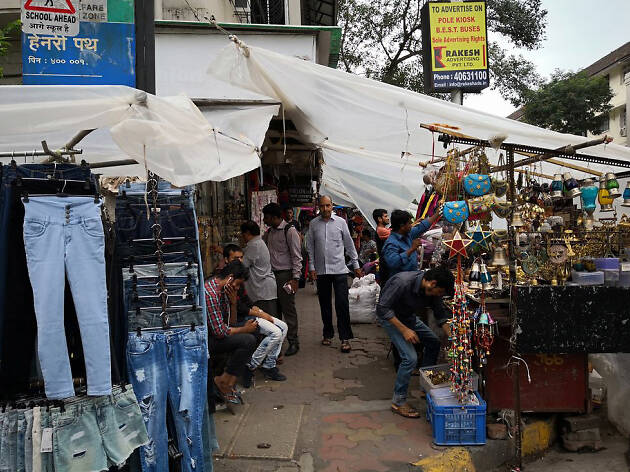 Photograph: Courtesy Tripadvisor/Theo R
Brace yourself to walk into the biggest, liveliest, most chaotic flea market ever. Literally meaning "thieves' market," some claim Chor Bazaar offers goods off the black market while others claimed it was named "shor" ("noisy") bazaar but was re-christened by customers who'd been ripped off. Either way, you'll find yourself being steered by the crowds and you'll chance upon vendors working from duvets on the street: the blankets hold treasures ranging from designer shoes knockoffs to fancy handbags. You'll see shops displaying a host of electrical appliances from mobile phones to accessories and more. But what the bazaar is most known for are the antiques: walk entire lanes filled with vintage cupboards and cabinets, handcrafted rocking chairs and more.
Photograph: Courtesy Tripadvisor/Sugandhini
6. High Street Phoenix and Palladium
How do you breathe new life into a forgotten neighbourhood? You re-fashion it into a shopping hub. Lower Parel was once the home of abandoned mills. Today, it houses some of India's glitziest malls: High Street Phoenix and Palladium, which share a complex. Check out local brands such as Fab India and Global Desi, where you'll find Indo-West outfits, or international players like Gucci, Clarks and Adidas. When you need a break from retail therapy, visit the host of restaurants and cafés (not to mention theatres) nearby.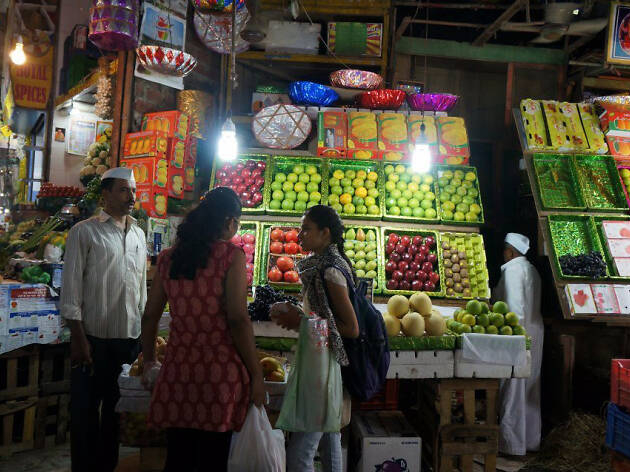 Photograph: Courtesy Tripadvisor/TheShis
7. Mahatma Jyotiba Phule Mandai
Formerly named Crawford Market and boasting a Norman-French architectural style, this is among the most distinctive buildings in Mumbai. Completed in 1869, it was named after the first municipal commissioner of Mumbai, Arthur Crawford, and then renamed post-independence. This was also the first public building in all of India to be lit by electricity. Admire the gargoyles on columns and an intricately carved water fountain or shop for a variety of food items: buy apples from New Zealand or those flown in fresh from the Himalayas; get your hands on Brazilian coffee or go local; fill up on Twix bars from the Middle East or bring home some cooking chocolate for your own little experiments; buy pungent spices and herbs by the kilo; and stock up on vegetables sold at wholesale prices.
Ever admired a Bollywood star's on-screen outfit? You'll see similar stuff at Juhu. Not far from Juhu Beach are a string of boutiques, some run by the best names in the fashion business and others stocking talented up-and-coming designers to suit buyers with smaller budgets. Pick from elegant saris embellished with gold zari or pastel-coloured kurtis with chikankari; rich kantha embroidery on lehengas; or dupattas made heavy with gota work. If you're looking to get a crash course in Indian embroidery and see traditional needlework merge with Indo-West designs, walk into these boutiques.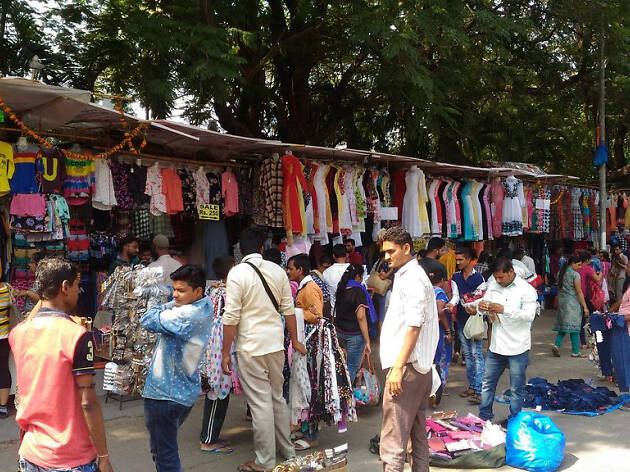 Photograph: Courtesy Tripadvisor/Kaushik G
9. Bandra Hill Road and Linking Road Street Markets
In the upscale neighbourhood of Bandra, you may just spot a celebrity or two while shopping one of the many stores or their street-chic fashion. Head to Hill Road is you're looking for stalls that sell edgy footwear ranging from sandals to high heels and everything in between. Check out the jewellery stalls where you'll find cool studs, hoops, metal rings, stone-studded pendants and more. Hop into tiny stores and find casual wear for men and women or head to Linking Road where you'll find funky T-shirts, shorts and skirts, bags, shoes and more.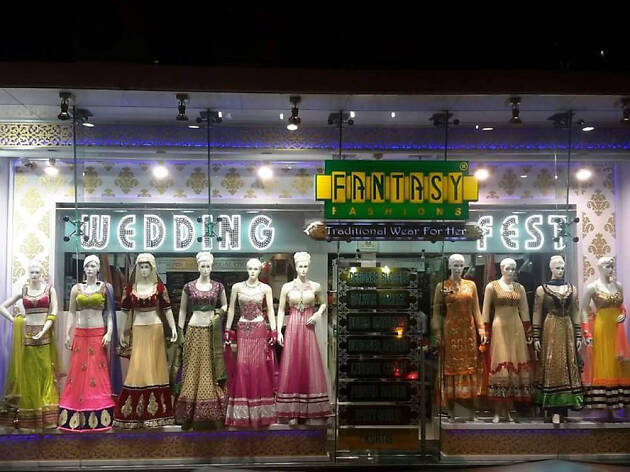 Photograph: Courtesy Tripadvisor/Rohit Gaami
10. Lokhandwala Street Market
If Bandra is home to Bollywood bigwigs, Lokhandwala is the home of small-screen actors. As you walk the Lokhandwala street market stretch, you're more than likely to spot a television star. Say hello or turn your attention to the stalls and shops that sell western wear, Indian outfits, accessories, apparel and more. Pro tip: the street is a bit of a stretch so take a break from the shopping to dig into delicious street snacks like pani puri, sev-puri and wada pav.
Feeling the hunger pangs?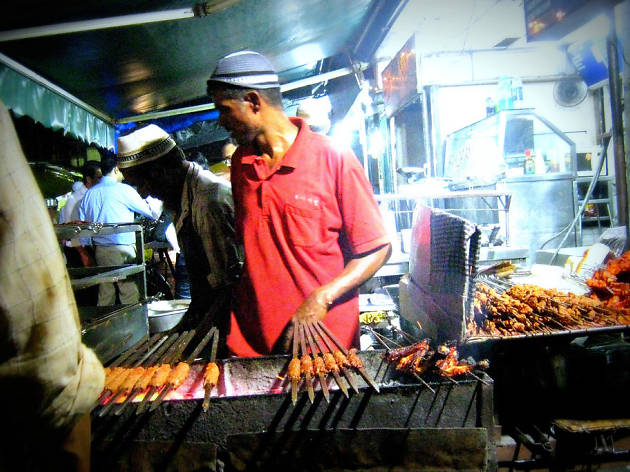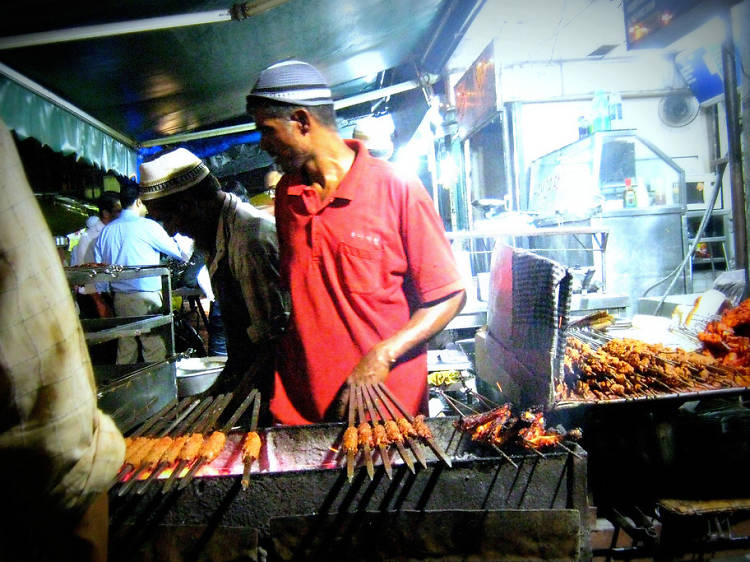 Photograph: Courtesy flickr/cc/meenakshi madhavan
Mumbai's food scene—made up of a mix of high-end restaurants, cheap eats, street food and more—is shaped by a fusion of cultures, including an indigenous fishing community and the secrets from the home kitchens of century-old migrants (the Muslim sultans! Jews! Portuguese and British colonialists!).