The 15 most famous restaurants in New Orleans
From the home of the banana Foster to Beyonce's pick when in town, here are the most famous restaurants in New Orleans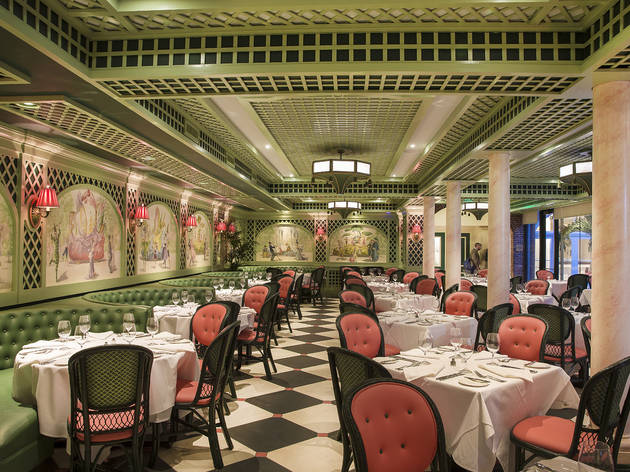 Although the best restaurants in town serve outstanding food in exciting environments, the most famous restaurants in New Orleans offer something more: the chance to be part of the city's culinary history.
New Orleans has become a can't-miss-it destination among global foodies given its rich relationship to gastronomy, as evidenced by the food-related traditions that now dominate the culture and, of course, the slew of local culinary offerings. From beignets to jambalaya, barbecue shrimp and muffuletta (thank you, Italian immigrants!), the city lays claim on a variety of cuisines, including Creole, African, Italian and Cajun.
Some visitors are lured by the opportunity to sample iconic dishes at the kitchens from which they originated or the eateries deemed the best in the city, while others are drawn to the notable restaurants that have gained fame, or achieved cult status, for more than just their food. The latter category of folks will surely appreciate our list of the most famous restaurants in town.
RECOMMENDED: Full guide to the best restaurants in New Orleans

Famous restaurants in New Orleans
Dooky Chase's—and chef Leah Chase—are New Orleans icons. The Treme restaurant is known for its role in the Civil Rights movement, when many leaders used it as a meeting spot for shared meals. The walls are adorned with an impressive collection of African-American art and, of course, the food contributes to the fame: some of the best fried chicken in town, a menu of Creole classics and an impressive lunch buffet are must-tries.
Located in the Central Business District, Mother's is known for its baked ham and the Ferdi po'boy featuring ham, roast beef and debris (bits of meat in au jus gravy). Mother's has always been popular for breakfast, meat-and-threes and po'boys, but gained a boost of notoriety a few years back when Beyonce visited and told millions of her social media followers about it.
3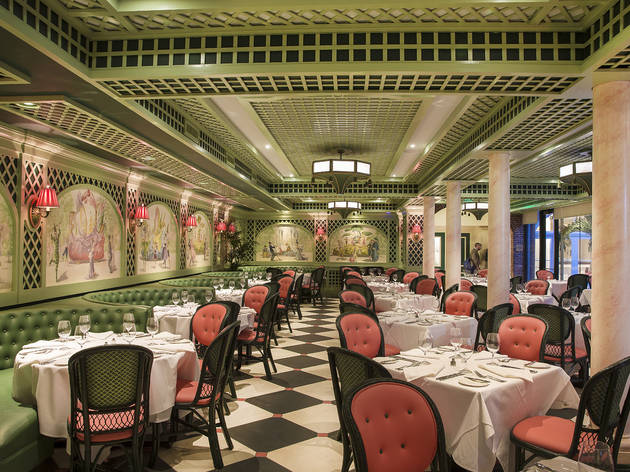 Photograph: Courtesy Brennan's/Chris Granger
It's hard to miss the large, pink restaurant on Royal Street in the French Quarter. Brennan's is where the iconic dessert, bananas Foster, originated—granting the venue much-earned glory. Here, the signature flaming dish is prepared tableside. Inside the restaurant is a stately courtyard with a pond, home to a group of turtles who participate in a locally-famous event: the "Slowest Second Line in the World."
4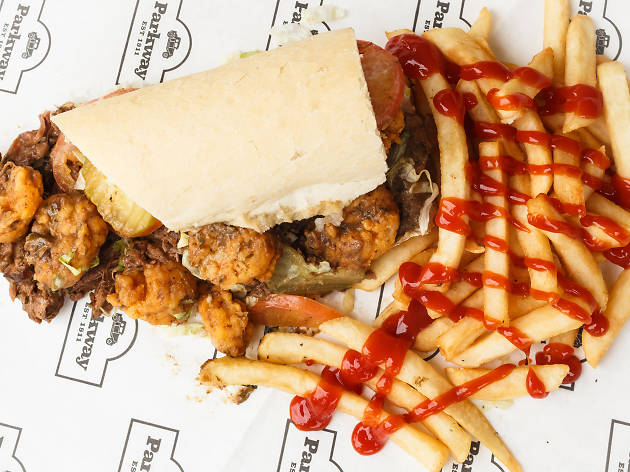 Photograph: Tammie Quintana Photography for Parkway Bakery and Tavern
This Mid-City po'boy purveyor has been a favorite for decades, featuring affordable drinks and some of the best po'boys around town. Proudly local and full of characters, the eatery was made extra-famous by a visit from then President Obama, and has been featured on a variety of TV shows. While waiting for your sandwich, peruse the memorabilia and pictures (including one of a smiling Obama) that adorn the walls.
5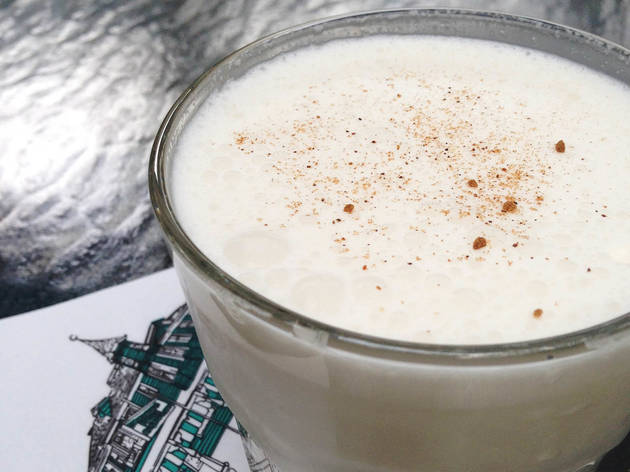 Photograph: Courtesy Commander's Palace
Visitors to the Garden District can't miss the iconic striped awning in front of this historic restaurant near Lafayette Cemetery No. 1. Paul Prudhomme and Emeril Lagasse propelled the restaurant to worldwide fame as their careers took off. Commander's Palace is renowned for its excellent versions of Creole classics, its refined but festive atmosphere and the 25-cent martini lunches.
What was once a dive patronized by mostly locals looking for a late-night bite now requires stanchions at certain times to hold back the hordes of curious diners looking to experience one of the French Quarter's most lauded spots for tasty cheap eats. Fame hasn't changed Coop's much—the bartenders and servers have always been cranky—and filling favorites like rabbit jambalaya, shrimp Creole and fried chicken are still top-notch.
Willie Mae's Scotch House
This legendary Treme restaurant has been serving soul food and list-topping fried chicken since 1957. The eatery gained nationwide fame when it won a James Beard award for best classic restaurant in the Southern region. Soon after, the floods following Hurricane Katrina caused severe damage, but the food community rallied and helped bring the venue back by 2007. Since then, Willie Mae's has been named America's best fried chicken spot by the Food Network, the Travel Channel and more—for good reason.
8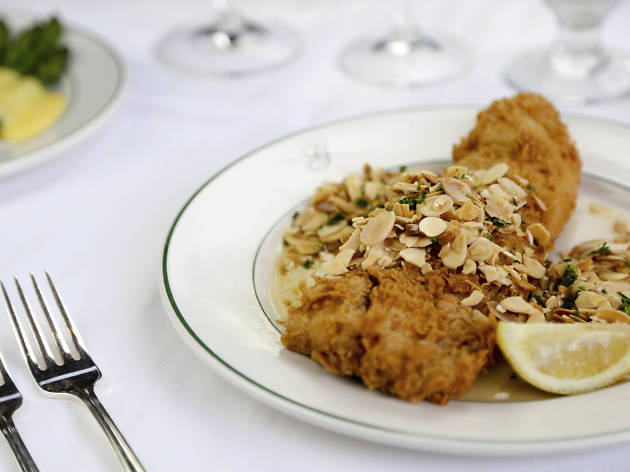 Amidst the chaos (and, let's face it, uncouthness) of Bourbon Street is a refined, old-line restaurant where waiters wear black bow ties and business people make deals during marathon lunch-into-dinner sessions. Here you'll dine on famed traditional Creole dishes like shrimp rémoulade and trout amandine.
9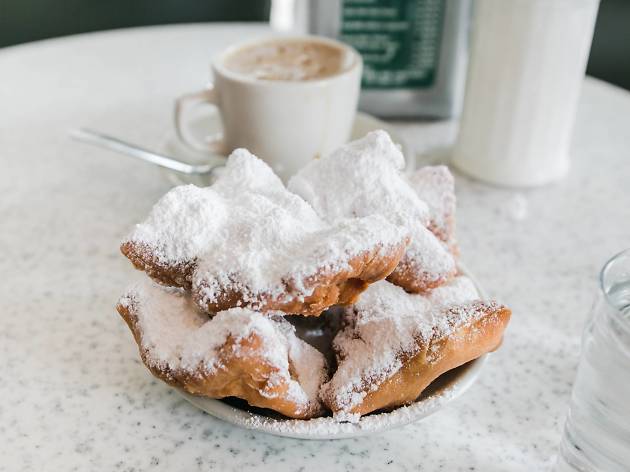 Photograph: Shutterstock
While there's only one dish available at this restaurant, it's a famous one. Cafe du Monde's beignets are a beloved local treat, an affordable indulgence available at any hour. The brand is known around the world, and many a celeb and influencer have posted a powdered sugar-covered selfie.
10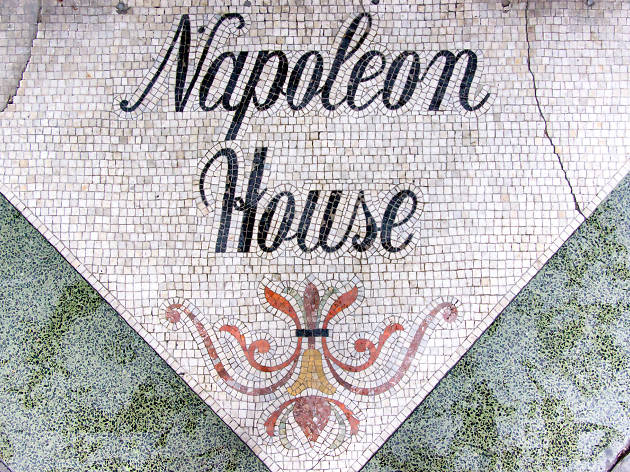 Photograph: Shutterstock
Though it was named after him and offered to him as a place of refuge after his exile from France, Napoleon never made it here. This 200+ year old landmark carries on with his name though, serving thousands of Pimm's Cups and muffulettas to locals and tourists alike. Grab a seat in the courtyard and keep an eye out for the ghosts that are said to haunt the place.
This French Quarter beauty is notable for numerous reasons, not the least of which is its designation as the oldest continually-operating restaurant in the U.S. This is where oysters Rockefeller and eggs Sardou were created, and other delights such as soufflé potatoes and the flaming café brûlot are revered. The grand rooms, including the mirrored Rex Room, are visually stunning and have appeared in films like The Pelican Brief, The Client and JFK.
At chef Isaac Toups' Mid-City restaurant, he combines 300 years of Cajun family traditions with sophisticated fine dining training to create elevated rustic dishes like fried rabbit liver, pork rillettes and fried quail. His big personality pops up all over town, and he has been
nominated multiple times for James Beard awards.
After all these years, "Bam!"—chef Emeril Lagasse's signature finishing flourish—remains a well-known catchphrase. His flagship restaurant in the Warehouse District is still going strong after 30 years. Dine on contemporary Louisiana cuisine and finish up with Emeril's famous banana cream pie.
Alongside Hurricanes and Hand Grenades, the Monsoon is one of New Orleans' most potent concoctions. At the edge of the French Quarter, you'll find locals and tourists alike packing the dimly-lit Port of Call for this party-starting drink. Fortunately, quality sustenance is on hand in the form of the kitchen's famous half-pound burgers that come with a baked potato on the side.
Meticulously researched lists of the best fried chicken in New Orleans generally omit Popeyes; given its iconic status, this local favorite stands on its own. The chain was born here and retains its Louisiana flavor with crunchy, perfectly-spiced chicken. More than just chicken though, Popeye's is also beloved for its red beans and rice and gut-busting biscuits.
Explore the city like a local
Get ready to dance in the streets, hit antique shops, walk through the French Quarter, ride a streetcar and plan to costume up at least once during your stay here.