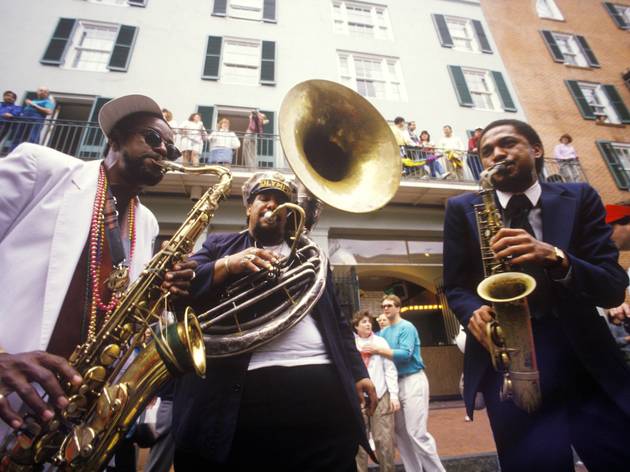 Where to listen to jazz in New Orleans
Listening to jazz in New Orleans is a quasi-religious experience dictated by both traditional and modern sounds
Listening to jazz in New Orleans is the experience of a lifetime, the ultimate bucket list item, one of the very best things to do in America. Music, after all, is the lifeblood of the city—and it all started with jazz.
The genre is more than a collection of exciting sounds, it's a part of the city's history and one its main attractions. After the post Civil War brass brand influx, piano-driven ragtime music was introduced. Jazz as we know it was born when local bands incorporated the new sounds into their own processions.
And who can forget Louis Armstrong? The gifted trumpeter, a New Orleans native, led the jazz soloist movement, achieving international fame and becoming forever synonymous with music and New Orleans. He paved the way for the local artists of today, a vibrant and diverse community of performers.
The current scene is peppered by both traditionalists and those putting a modern spin on the music they grew up listening to. Find all sorts of sounds at these local clubs and bars, the very best destinations to listen to jazz when in town.
RECOMMENDED: Full guide to the best things to do in New Orleans
Best jazz in New Orleans
Preservation Hall and its resident band are New Orleans jazz institutions. Located in the heart of the historic French Quarter, this legendary jazz club was opened in 1961 by a young couple enamored by the traditional jazz of the city, at the time overshadowed by early rock and bebop. The son of that couple, Ben Jaffe, owns and operates Preservation Hall today. The venue is open nearly every night of the year, with a line of people—mostly tourists—waiting before each performance. It's the ideal intimate space to enjoy the sounds of the world-renowned Preservation Hall Jazz Band, with a quaint courtyard in the back.
The Spotted Cat is located on Frenchmen Street, the illustrious destination for all things jazz, brass and funk in New Orleans. This is a must-visit bar and music venue, where you'll get to listen and dance to local favorites the likes of Washboard Chaz Blues Trio, Meschiya Lake and the Little Big Horns, Miss Sophie Lee, Hot Club of New Orleans and more. The small, casual space is adorned with quirky artwork by local folk artist Dr. Bob.
Fritzel's European Jazz Club
Nestled in between the strip clubs, neon signs and bars serving Hand Grenades and Hurricanes on Bourbon Street is the oldest operating jazz club in New Orleans. Fritzel's European Jazz Club is the place to hear traditional jazz and French gypsy jazz music with a classic cocktail in hand every night of the week.
Maple Leaf in the Riverbend area of Uptown always feels like a really fun house party. It's a local favorite for seeing New Orleans legends and newcomers every night of the week. Its humble digs, back patio and social atmosphere are always prime for a good time. Rebirth Brass Band's residency on Tuesday nights is a quintessential local tradition. Other world-class jazz-influenced musicians like John Cleary, George Porter, Jr. and Johnny Vidacovich also play the venue regularly.
One of several Frenchmen Street clubs on this list, d.b.a. is among the top places to hear many different types of New Orleans music, including jazz. Its sleek, dark wooden interior generates cool vibes and those who appreciate craft beer and cocktails will love the extensive and well-curated drink selection. Jazz standards, ragtime, brass and other genres like funk and indie rock can all be heard at d.b.a.
Snug Harbor, next to d.b.a. on Frenchmen Street, is a classic jazz lounge. The historic building offers something to everyone: expect three separate rooms respectively dedicated to drinking, dining and live music. Members of New Orleans music royalty are Snug Harbor mainstays, like Charmaine Neville, Ellis Marsalis, Stanton Moore and James Singleton. Whether in the mood for a low-key bar crawl or a fancier night out, this intimate, dimly lit space will deliver.
The authentically raw jazz experience is found at Candlelight Lounge, in the historic Treme neighborhood, home of legendary players the likes of Troy "Trombone Shorty" Andrews, Kermit Ruffins and Shannon Powell. Everyone's New Orleans bucket list should include going to Candlelight Lounge on a Wednesday for the Treme Brass Band and complimentary homemade red beans and rice.
Down the Canal St. streetcar line in Mid City, Chicki Wah Wah offers an open space with great acoustics. Traditional jazz masters Meschiya Lake and Tom McDermott are Chickie Wah Wah regulars alongside R&B jazz titans John Cleary, James Singleton and Johnny Vidacovich.
Three Muses, as the name suggests, checks all the New Orleans boxes: music, food and drinks. You'll find the highest quality versions of all three at this cozy club on Frenchmen Street. Listen to jazz and its variations every night of the week while enjoying an expertly mixed drink and delicious small plates. Don't miss the La Soldadera cocktail, the braised meatballs and Ms. Moon's Bulgogi rice bowl.
Besides being one of the top wine bars in the country, Bacchanal down in the Bywater neighborhood offers a dreamy setting to hear local jazz bands. After picking out a bottle of wine from the front shop, head out to the spacious patio, cozy up by a canopy of trees and order from the excellent food menu. To complete the experience, Baccchanal hosts a variety of established and up-and-coming musicians, part of the next wave of New Orleans talent.
Although Tipitina's isn't primarily known for jazz, any music-related New Orleans list would be remiss to exclude this institution. The venue was named after a song by Professor Longhair, who spent his later years playing here and whose portrait is displayed above the stage. Tipitina's is a favorite of both local and touring bands playing funk, brass, rock, hip hop and, of course, jazz.
Le Bon Temps is a neighborhood dive bar in Uptown New Orleans with a jukebox and pool tables in the front and a stage hosting some of the most raucous performances in the back. For years, it's where music lovers have gone to catch homegrown stars Soul Rebels play their own brand of brass, fusing hip hop, funk and jazz.
Sidney's Saloon dubs itself "a psychedelic honky tonk." That interpretation includes local indie bands, country nights, karaoke nights and weekly jazz nights. Sidney's is located near the historic Marigny neighborhood where young hipsters commingle with longtime residents. The dim interior with a well appointed bar and a crystal chandelier convince visitors to stay a while.
Dos Jefes is an unassuming oasis tucked away on Tchoupitoulas Street in Uptown, boasting tiki vibes alongside live jazz music. It's where the New Orleans jazz tradition thrives in a low-key, relaxed setting perfect for hanging out with old and new friends inside or on the tropical patio. New Orleans jazz professionals John Fohl, Matt Lemler and Joe Krown are Dos Jefes staples.
The Balcony Music Club, also known as BMC, always has its doors open, with music drifting out throughout days and night all over the French Quarter. In addition to the main bar and stage in the front, there's a back patio bar that serves solid pizza for refueling during New Orleans adventures.
Want to spend time outdoors?
Let's be clear: the best New Orleans beaches aren't beaches in the traditional sense of the word. Sure, the city is surrounded by water and people prefer to don beach-appropriate attire given the oppressive and suffocating heat, there are also boating opportunities on the lake and the river, but there is something different about beach-going in this Louisiana town.