101 things to do with kids in NYC
These 101 picks are our favorite things to do with kids in NYC! Enjoy these great family attractions, museums and other fun adventures.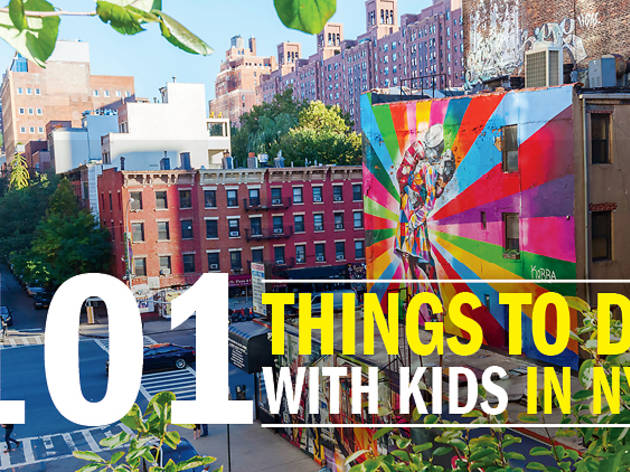 Whether you're exploring with your children or awesome family friends, these 101 things to do with kids in NYC are a surefire way to have the best afternoon ever! We're lucky enough to live in a city where spectacular fun is around every corner (including our favorite family attractions), and—like most NYC kids—we don't want to miss a thing! This list makes sure you'll see it all.
Picking our top 101 things to do with kids in NYC wasn't easy, but we've made sure to include classic favorites like the Museum of Natural History, the New York Botanical Garden and the Brooklyn Bridge. Since great new things open every year (looking at you, National Geographic Encounter!) we also try to regularly update our list with fun new additions. Seriously, there's no doubt that NYC is the best place to raise a family! Happy exploring!
Want to catch up on all the great things you can't miss this year? See our list of other incredible things to see.
Top ten things to do with kids in NYC
Things to do with kids in NYC: 11–20
11
You'll have a whale of a time at the Wildlife Conservation Society's sea-side home to marine life. Located off the Coney Island Boardwalk, the aquarium is where you'll find plenty of fish, starfish, and the mammals and birds that live among them. Otters, seals and penguins take in the sun from the stony cliffs, before cooling off, or searching for food, under the water, while sea lions show off amazing behaviors in the aquatheater for special shows daily (weather dependent) at 11 am, 1pm, and 3pm. Visitors looking for an experience with more teeth, should check out the sharks. Finish the day with a short 4-D adventure film with Spongebob and friends in The Great Jellyfish Rescue.
Read more
12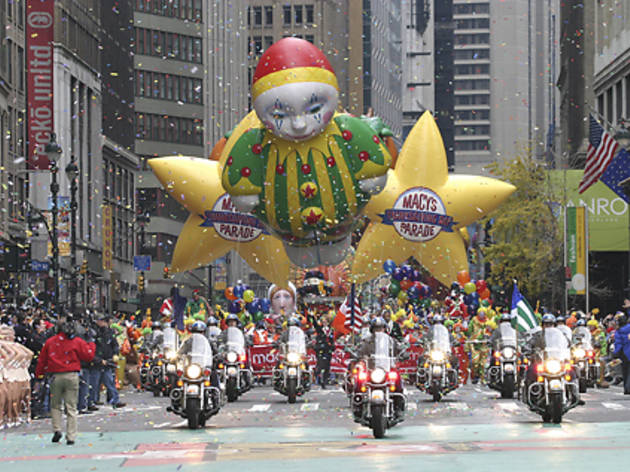 See floats at Macy's Thanksgiving Day Parade
The Macy's Thanksgiving Day Parade is more than just your average street fair—and you definitely aren't just limited to watching it on TV. Get there early and line up along 6th Ave to see classic balloons like Snoopy or newer additions like Hello Kitty, the Pillsbury Doughboy, SpongeBob and Paddington Bear. There's also a balloon inflation area on the Upper West Side the evening before festivities begin—usually outside the American Museum of Natural History—if you aren't interested in battling the crowds on Thanksgiving.
13
In addition to Sunday services, this massive Gothic cathedral hosts concerts and tours. Annual events include both winter and summer solstice celebrations; the Blessing of the Animals during the Feast of Saint Francis, which draws pets and their people from all over the city; and, would you believe it, the Blessing of the Bikes, which kicks off the bicycle season each spring. Youngsters are invited for a very special sleepover at Knightwatch Medieval Slumber Parties. They'll spend the evening searching for clues in a scavenger hunt led by a court jester, singing, dancing, crafting and listening to stories ($135, one chaperone must be on-site for every three children).
Read more
14
Though the Museum of Modern Art might seem a bit intimidating for a family excursion, many young visitors love the expressive, colorful works of masters like Picasso, Matisse, Gogh and Jackson Pollack. Talented tour guides on specific days offer tours of the modern and contemporary galleries specifically for four years olds, kids 5 to 10 years old and for tweens. On each group trip through the legendary museum, kids share their ideas about the art and are taught new ways of looking at and thinking about the material through conversation and hands-on activities, like drawing and movement. Can't find a tour to go on? Explore the space yourself and later stop by the Art Lab, a room with multimedia tools kids can use to express their own creativity.
Buy tickets
Read more
15
Enjoy a trip on the Staten Island Ferry, and this time actually leave the terminal! A visit to Snug Harbor makes the journey much more worthwhile, keeping families busy with the scenic cultural center and interactive Staten Island Children's Museum. Wander through hands-on exhibits, engage in song and dance and get in on craft projects, all led by museum educators. Don't forget to visit the Connie Gretz Secret Garden, where kids can wander through the maze-like shrubbery inspired by Frances Hodgson Burnett's classic novel. There's a miniature castle and rose garden to be found at the end of the trail!
Buy tickets
Read more
16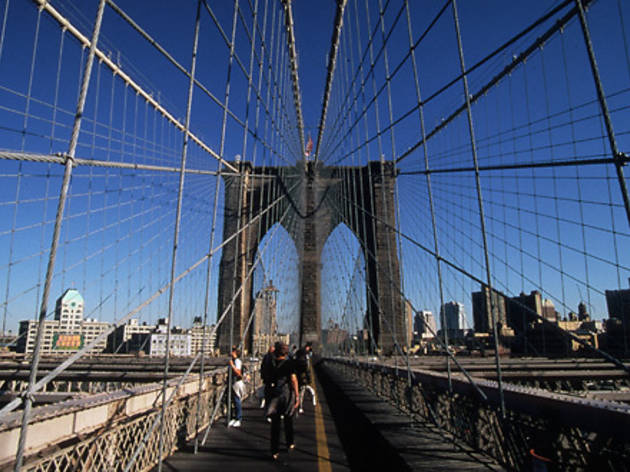 Go on a themed walking tour
While convincing your children to use their feet and quit their whining about wanting to take a taxi (or a scooter, or your arms) to the next location might be a challenge, they'll happily keep pace with the crown on a special tour about their interests. Broadway babies (and bigger fans) will love the Broadway Up Close ($35, kids $30) tour of the Theater District, where guides not only share stories about the iconic stages and their actors, but also can get into the nitty gritty on the real (non musical) life of one particular founding father with a trip downtown for the "Hamiltour." For those local history buffs, learn about New York during the Revolutionary War, or the very localized history of your neighborhood like Chelsea or the Lower East Side, check out a walk with the extremely well-informed guides at Big Onion Tours ($25, students $15). Lil' foodies also have their pick of plenty of food tours specializing in everything from Pizza and neighborhood eats to sweets.
17
Every now and again we covet the multiple bedrooms and green-lawned gardens of suburbia. And then we remember that we're raising our children in New York City because it's fascinating and diverse and beautiful, and because we have World-class cultural institutions such as Symphony Space on the Upper West Side. The venerable old venue's weekend family program is an utterly kid-friendly celebration of the arts with a lineup of music, literary, dance and theatrical events that will have them grooving, singing and rolling in the aisles. At the ultra-popular Saturday morning Just Kidding series, youngsters experience everything from circus acts and rock bands, to puppetry and beatboxing (the latter comes with massive playground-bragging rights), and at the Thalia Kids Book club, young readers take part in creative writing exercises and engage in dynamic Q&As with their favorite authors. Add a raft of concerts, plays and even screenings of Britain's finest National Theatre productions, and you've got yourself a weekend home on the corner of 95th and Broadway.
Read more
18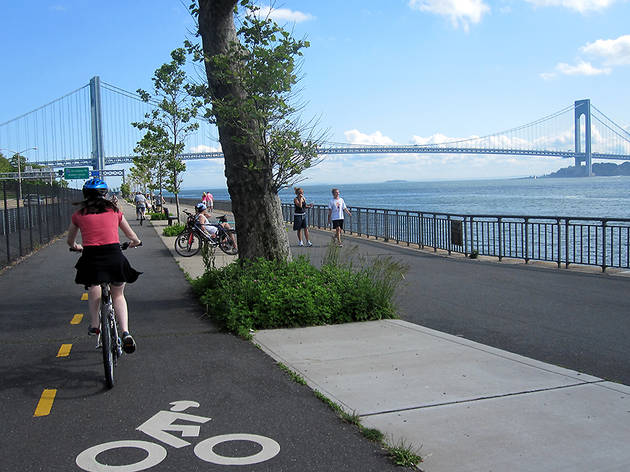 Go biking along the Belt Parkway Promenade
Pedaling a bicycle on the streets of Manhattan can be downright terrifying, especially with kids bringing up the rear. Better to find spacious paths where they can roll along at their own speed. Running 4.5 miles along the Belt Parkway, the Bay Ridge stretch has a smooth bike lane for little cyclists. Head out for a ride at sunset, when you can catch incredible views of the Verrazano-Narrows Bridge, the Statue of Libary and the Manhattan skyline. Enter at Shore Rd and 68th St, Brooklyn (nycgovparks.org)
19
This New York institution's claim to fame is the rich, fluffy cheesecake, which comes in several varieties like red velvet and devil's food—but your picky eaters will be plenty pleased with the original. Work our way up to the sweet slab of loveliness by chowing down on diner fare first. Perfectly salty-sour pickles and other crunchy bites are served while little ones peruse the appropriately-titled Junior Menu and choose from a selection of kiddie diner favorites, like grilled cheese and chicken fingers.
Read more
20
This Brooklyn park straddles the two hipster-fied nabes of Greenpoint and Williamsburg but continues to be a family favorite, too. There are baseball, football and soccer fields, dog runs, a track, tennis courts, a skate park and more. Stop by on select summer nights for outdoor film screenings, food trucks and music, or a romp in the playground at Lorimer Street and Driggs Ave. The park also transforms into a winter destination, with the ever-popular McCarren Park Pool operating as an ice rink during the colder months.
Read more
Things to do with kids in NYC: 21–30
Things to do with kids in NYC: 31–40
Things to do with kids in NYC: 41–50
41
Whether your toddler loves getting their hands dirty with a gardening class or your book-loving big kid wants to see a classic setting come to life in Snug Harbor's maze-like Connie Gretz Secret Garden (which was inspired by Frances Hodgson Burnett's classic novel), New York has a children's garden for your family. Young McDonald's can sing E-I-E-I-O at urban farming co-operative South Brooklyn Children's Garden, where they'll frolic among the strawberry patch and herb box, or they can enjoy a leisurely afternoon by the koi pond and under the natural shade at Jefferson Market Garden. Should you find your way to the New York Botanical Garden's 250-acres, kids will find activities perfect for them including green-thumb workshops.
Read more
42
This kid-pleasing venue offers food, bowling, shuffleboard and—best of all—a pretty impressive arcade. Favorite games include Jurassic Park Arcade, where kids can use "tranquilizing guns" to help restore order to the island and save over 30 species, Candy Crush Saga, Kung Fu Panda, Batman, Mario Kart Arcade Grand Prix Deluxe, Star WarsBattle Pod and tons more—many games offer prize tickets, too. If you're only in the mood for a little bit of arcade time, grab the Dave & Buster's Eat & Play Combo ($16.99 for an entrée and a $10 game card), but if you're committed for a few hours, visit on Wednesdays for half-price games.
Read more
43
Ample Hills is on point with unique kid-pleasing favorites like Ooey Gooey Butter Cake, Chocolate Milk and Cookies, The Munchies and Snap, Mallow and Pop—it also doesn't hurt that there are great flavors for grownups like Salted Crack Caramel, Butter Pecan Brittle and Mexican Hot Chocolate. The Gowanus location boasts a roof deck complete with colorful chairs, super cute murals, a stationary bike kids can ride to help make ice cream and a build-your-own-sundae option with whipped cream, brownie, sprinkles and your ice cream of choice.
Read more
44
Barclays is home to many a fantastic thing, but one thing you MUST do there is catch a Brooklyn Nets home game. Even if you grab a seat in the nosebleeds, big screens give you access to all you'll want to see. The kiddos will love the halftime shows with giveaways, energetic performances by the kids-only dance team (Brooklyn Nets Kids) and traditional sports arena fair available throughout Barclays—though we prefer walking across the street to Shake Shack. Your mini-mes will also be glad to know there's a Brooklyn Nets gear shop not far from their seats in the stadium so they can walk away repping their favorite team.
Buy tickets
Read more
45
A 20 plus year tradition at NYBG, the Holiday Train Show is every curious kid's dream. They'll be eye level with over 150 iconic NYC buildings re-created with bark, leaves and other natural materials, seeing G-scale choo choo trains weave around the Statue of Liberty, Rockefeller Center and even cross the Brooklyn Bridge on a quarter-mile of track in the conservatory. While you're there, visit the Garden's other indoor exhibits or walk through portions of the 250-acre grounds. During the warmer months, you'll see plenty of flowering plants in the gardens—be sure to see what's going on with Edible Academy, NYBG's platform for kid-friendly hands-on gardening activities.
Buy tickets
Read more
46
With origins as far back as 1888, Katz' Deli is certainly worth a visit. It's been family-run for over 100 years, offering huge servings of delicious corned beef, pastrami and brisket (among others) all cooked to perfection. Kids will love the hot pastrami sandwich, matzo ball soup, knishes, and mouth-watering New York cheesecake (some items come in kids' sizes as well). The cool décor is also worth checking out—there are pictures, hand-written signs and other artifacts from famous guests. We'd suggest visiting in off-peak hours to minimize the wait. Pro tip: Parents, hold onto your family's meal tickets! You won't be able to leave without giving them to the cashier (and will face a hefty fine if you lose them).
Read more
47
Believe it or not, hours of waterfront fun can be found right in Tribeca! At Hudson River Park, athletic kiddos can tackle a massive playground and get their toes in the sand and play on regulation-size beach volleyball courts. For families who want to face off in a game together, there are drop-in community sessions on Saturdays (11am–3pm) for just a $5 suggested donation (reservations required). If volleyball isn't your game, take to the 18-hole minigolf course, complete with a pond, streams, footbridges, waterfalls, sand traps and even a cave. Young Masters-in-training can drop in from 10am to 10pm for friendly games until winter arrives (children under 14 $5, 14 and up $6; cash only). Little ones will also love the Play Area outfitted with a sandbox, swings and water features.
Read more
48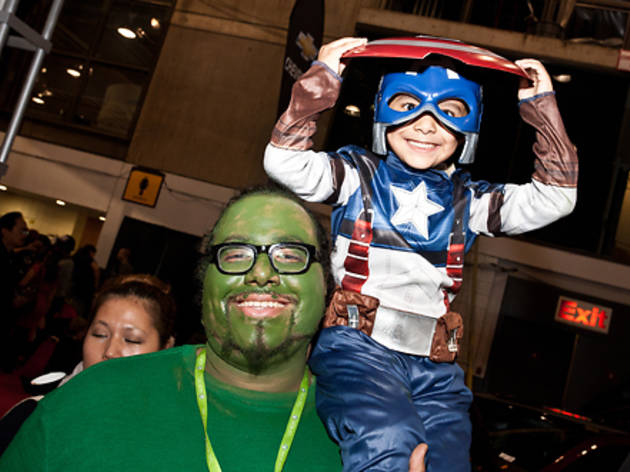 Geek out at New York Comic Con
Brave the intense crowds at this insanely-popular annual event to celebrate your favorite brave caped crusaders. Each October during the four day event, the Javits Center becomes a mecca for all things nerdy and super hero. Check out the vendors selling toys, comic books, manga, and games that deserve a spot in your toy box or book shelf and maybe discover new fandoms you'd never even heard of. Little fanatics will be amazed by the costumes worn by other visitors—and might come away with new plans for their own Halloween outfit. That Sunday is family day, the best day (at the best prices) for pint-sized batmen and wonder women to visit the fest—but act fast, these tickets go quickly starting in May.
49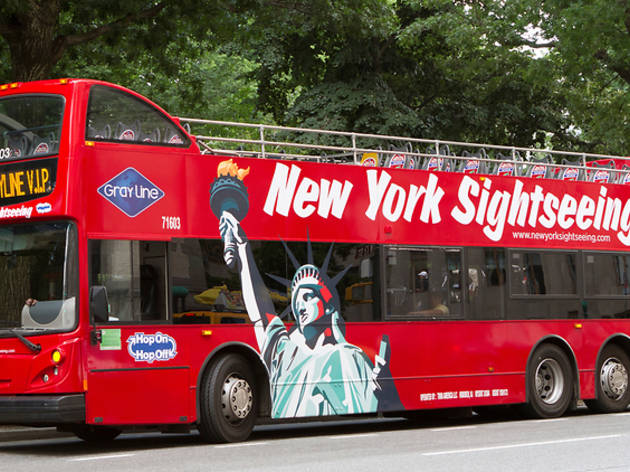 Take a bus tour around the city
Sure, your little might have been born and bred here in in New York, but there's no denying the pull of a gigantic, brightly-colored bus. While they might be begging you for the chance to jump aboard for the vroom-vroom of it all, these tours actually a ton of fun and informative! From up high on one of those iconic bright red double deckers your family can discover the secrets of the Greenwich Village and Soho on the City Sightseeing Downtown Tour, or opt for a bus trip that also includes access to top attractions like the Empire State Building or One World Trade Center.
50
At this low-tech playhouse, kids will gladly cast phones and gadgets aside to see amazing handmade puppets in action. Founder Nicolas Coppola adapts classic tales for his marionettes to perform in the cozy theater (kids sit on rugs at the front, parents are on benches at the back). This season's offerings include Goldilocks & the 3 Bears, Beauty & the Beast, and Alice in Wonderland. Families will be swept away by the artful scenery, lively music and intricate puppets as they take on a life of their own, moving across the stage as if by magic.
Read more
Things to do with kids in NYC: 51–60
Things to do with kids in NYC: 61–70
61
Before they're old enough to appreciate the New-York Historical Society, bring budding history buffs to its next door neighbor. The museum caters to the 8-to-13-year-old set by featuring exhibits on children throughout the city's history, from an18th century Dutch merchant's daughter to Alexander Hamilton, as well as the newsies who worked the streets in the 20th century. Daily events like Little New-Yorkers also let kids explore a particular theme with storytelling, crafts, and time to play with historic toys.
Read more
62
Dominque Ansel and his cronuts can move aside. There's a new dessert darling in town! Raw cookie dough, once an ill-advised treat swiped from the mixing bowl, is now safe-to-eat and still totally delicious! Head to DÕ for flavors like Signature Chocolate Chip, Sugar Cookie, Brownie Batter and Oatmeal M&M made with natural ingredients, pasteurized egg products and heat-treated flour. The confectionery shop is a sweet tooth's delight with other cookie-based yummies like sundaes, milk shakes, chocolate fudge filled and topped with cookie dough, cookie-dough-ice-cream pie, cookie-dough brownies, a 9" cookie cake, an ice cream sanDŌwich and, if you're the plain vanilla type, freshly-baked cookies. DŌ, 550 LaGuardia Pl (646-892-3600, cookiedonyc.com) Various prices
Read more
63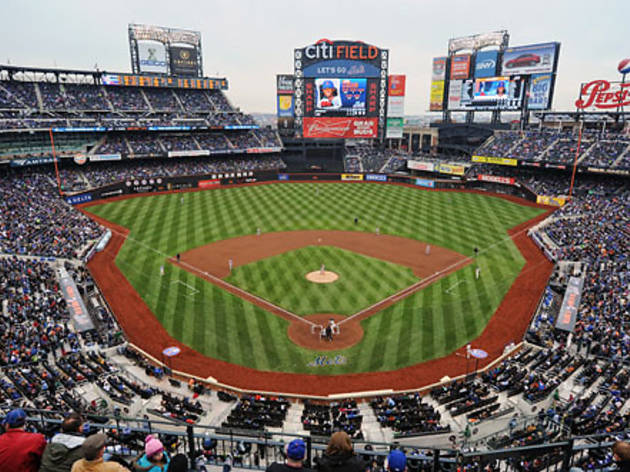 Catch a baseball game at an NYC stadium
Instill a sense of team loyalty in your little sluggers by heading to Citi Field or Yankee Stadium for a family ballgame. Don caps and jerseys for your team of choice and get to the stadium early—both teams often hand out free swag (think trademarked gear like water bottles, bobbleheads, T-shirts, etc) to prompt fans. Cheer on the players, munch on popcorn and hotdogs and get in on fun, kid-friendly activities in the park. On select days, families can enjoy face painting and balloon artists at Citi Field or run the bases with Mr. Met! Citi Field, Roosevelt Ave at 126th St, Queens (718-507-6387, mets.com). Yankee Stadium, 1 E 161st St, Bronx (866-800-1275, yankees.com). Ticket prices vary; check website for info.
64
As your brood strolls up Fifth Avenue with the shopping bags in hand, make sure to drop by this iconic locale. In the wintertime, this spot draws major crowds who want to take a spin around the beautiful skating rink or ogle at the largest Christmas tree in the world. The handmade ornaments and other trimmings on the massive spruce make a great backdrop for a family photo, but not to worry if you can't make it over the holiday season. On balmy days the plaza is still a fun sightseeing stop, plus a farmers market and nearby shops like the LEGO Store provide plenty of opportunities to browse.

Read more
65
Manhattan's sprawling green space is made for leisurely strolls, but there's a lot of ground to cover with little ones in tow. Add something special to your day of exploring by treating the tots to an old-timey ride aboard a horse-drawn carriage. The kids can fulfill their dreams of being chauffeured around like royalty while you take in views of Wollman Rink and the serene pond, then pass by the Central Park Zoo, Sheep Meadow and whimsical carousel. Schedule your ride ahead of time or track down a carriage in the area for a walk-up ride. Don't forget to tip your driver! Central Park South between Fifth and Sixth Aves (centralparknyc.org). Available daily, price negotiated with driver.
Buy tickets
Read more
66
You can reach this narrow island in the middle of the East River by bus or subway, but the red tramway cars make for a unique commute. Hop aboard at the 59th Street and Second Ave station and check out the Queensboro Bridge as you make your way across the water in mid-air. There's tons to see once you get to the other side, from public gardens to waterfront art. On weekends, explore on two wheels by renting bikes from Blazing Saddles near the 103rd Street pedestrian bridge—there are adult- and child-size bikes available. With two miles of paved pathways and significantly less traffic than Manhattan, you won't have to worry about your wobbly little ones.

Book now
Read more
67
Get tickets to a children's film series
Parents know that for every Oscar-worthy, critically-acclaimed children's movie, there's at least a dozen other stinkers with annoying characters and clichéd plots. But that's not the case at these curated film series that the whole family can enjoy. On select Sundays every spring BAM screens special matinees (at special discounted prices) of kid flicks that span film history like Jacques Tati's Mon Oncle (1958) or Studio Ghibli's The Secret World of Arrietty (2012). Nitehawk Cinema's "Lil Hawk Friendly" series highlights movies where kids as young as 6 are welcome at the cool, dine-in cinephile hotspot, while Film Forum Jr. brings the whole brood in for bonafide classics like Great Expectations as well as new favorites like Harry Potter.
68
While living with your family in a New York City apartment can feel pretty cramped, at least you and your brood don't have it quite as bad as the immigrants who called this Lower East Side building their home in the 19th and early 20th centuries. Big kids (children under 6 are not admitted) can see how their ancestors and New Yorkers who came before them lived on a one hour tour of the former tenement ($25, $20 students), which covers in great detail how the German-Jewish and Irish families struggled to find their way in their new country through grueling labor and tough living conditions. You also see taste how these immigrants ate, with a sit-down meal of various foods that were sold around the neighborhood with a Thursday evening Tasting at the Tenement ($35, students $30).
Read more
69
There's no better way to get out that excess energy than with either a trip to the park or a full-body dance party, so why not combine the two experiences? Every summer some of New York's best public spaces host super fun kid bands like Mister G and Lucy Kalantari at Riverside Park's Summer on the Hudson: Children's Performance Series, or Hot Peas n' Butter at Union Square's Summer in the Square. The big season-long festivals like Celebrate Brooklyn! at the Prospect Park Bandshell and city-wide SummerStage also schedule performances with bands of many different genres that the whole family can cut loose to. Best of all? Many of the performances are free!
Read more
70
Jack Sparrow wannabes will flip over the fleet of historic ships docked at this harbor on the southern tip of Manhattan. At the South Street Museum's active waterfront (admission $10, children under 9 free), they can get up close with vessels including the Ambrose, which served as a floating lighthouse, and an 1885 schooner named Pioneer South—you can even set sail aboard a few! Back on dry land, families can fuel up on tasty food at Smorgasburg (Saturdays and Sundays 11am–6pm) and track down just-for-kids activities like workshops with FiDi Families, live KidAround performances or free Front Row Cinema screenings of flicks like Goonies, Charlie and the Chocolate Factory and Frozen.

Buy tickets
Read more
Things to do with kids in NYC: 71–80
71
"Wait, Prospect Park has horseback riding?" is a common parental reaction to hearing about this 85-year-old institution, even for veteran Brooklynites. While technically located just southwest of the park near the parade grounds, most rides take place within it, including sessions for beginners up to advanced riders. You'll be led alongside a three-and-a-half-mile stretch of the park, entering through the Park Circle gates and continuing alongside the lake to the Nethermead Arches. If your little one is still in her "pony" phase (a.k.a. under the age of six), there's also the Kensington Stables Pony Club, a weeklong program offered during school breaks where she'll learn to groom, manage, and ride a pony. 51 Caton Place (718-972-4588, www.kensingtonstables.com). Hour-long ride $37 per person ages 11 and up; children under 11 $57 per hour, $34 per half-hour. Must be six and up.
Buy tickets
Read more
72
When little ones ask to go to the zoo, there's no doubt they mean this one, NYC's best and biggest. Bustling with more than 5,000 creatures, the zoo is home to lions, tigers, and bears (oh my!), the World of Reptiles (including the famous cobra who went missing a few years back, Mia), adorable snow leopards of the Himalayan highlands, an outdoor baboon reserve, the sea lion pool, and an exhibit dedicated entirely to lemurs and other animals of Madagascar. While every kid will have their own favorite part, no trip is complete without a ride on the Wild Asia monorail, which tours 38 acres of exhibits that house elephants, red pandas, rhinos, antelope, tigers, deer, and wild horses.

Read more
73
Look for the big yellow roof to find this Crown Heights behemoth, which when it opened in 1899 was one of the first museums in the country geared specifically to kids. It doubles as an ode to the borough, however, with permanent exhibits like "World Brooklyn," a pint-sized cityscape where little ones can shop at fake Mexican bakeries and international bodegas, or "Neighborhood Nature," which explore the critters and plants found in everyday Brooklyn backyards. Plus, every day, there's a slew of drop-in workshop that'll let them either meet insects, learn yoga, or touch real sea creatures.

Read more
74
It's hard for kids to choose whether they'd rather go ice-skating or visit an amusement park, but luckily, this multi-use space changes with the seasons. From October through spring, it acts as Trump Rink, an outdoor skating arena with public hours and drop-in private lessons, but when the ice melts, it turns into Victorian Gardens, a delightfully old-fashioned amusement park. Expect nostalgic rides like the classic round swing, bumper boats, and a train track, plus carnival games parents will remember, like Whac-A-Mole. (212-982-2229, wollmanskatingrink.com).
Read more
75
Though little ones may never tire of watching Frozen for the millionth time, many art house theaters in NYC have launched series dedicated to exposing them to family-friendly films from throughout history. There's Film Forum Jr., where on Sunday mornings throughout the year, the downtown theater picks a selection that can include anything from Who Framed Roger Rabbit to Ghostbusters. On select Saturdays, MoMA also has free family-friendly live-action and animated films in its theater, complete with a post-screening discussion with a museum educator. Various locations, information, and prices.
Read more
76
Sure, maybe the prices are cheaper on Amazon, but there's nothing like watching kids' imaginations run wild in between the aisles of a bookstore. Favorites include indie shops like Word, which, fun fact, is located near Henry Miller's Greenpoint home, BookCourt, where about a third of the space is dedicated to children's titles, and of course, Books of Wonder, the city's largest kids-only bookshop (it was used as inspiration for the film You've Got Mail!), where they'll stumble upon rare and out-of-print editions alongside newer titles. Launch parties and author visits at bookshops like powerHouse Arena, Greenlight, and McNally Jackson are common as well, and nearly always free. Various locations.
Read more
77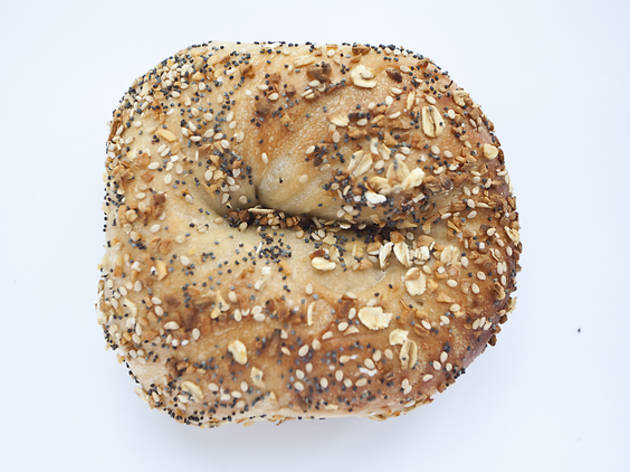 Take a bite out of a classic NYC bagel
No other foodstuff is quite as synonymous with New York City as the bagel, and with practically infinite ways to eat it (lox and cream cheese! breakfast sandwiches! pizza bagels!), it's also one kids will never tire of. Start your bagel tour with the classic lox and cream cheese at Jewish deli Russ & Daughters (or better yet, nab a seat at their nearby cafe), before moving on to trendy newcomer Black Seed in Nolita for a ricotta, apple, and honey midday sandwich. From there, you've got two options: Trek to either bagel-replete ends of NYC for a bite of TONY-winning bagel shop Absolute Bagels on the Upper West Side, or the Mayor de Blasio-approved Bagel Hole in Park Slope. Various locations and prices.
78
Even if your little rides public transportation every morning, they probably still get a kick out of playing with toy trains, cars and buses. You can give in to that obsession, and teach them a few fascinating facts that might even be new to you, while at this spot dedicated to the history of the city's subway system. Located in an authentic 1930s subway station, the museum uses pictures, models, and vintage cars (which you can hop aboard) to tell the fascinating story about how New York got its iconic underground tunnels. Beware, if you enter the gift shop you might find it near impossible to leave without a train or shirt immortalizing your local subway line.
Read more
79
For a spectacular show at a fraction of the cost of The Lion King, consider off-Broadway productions, many of which have been running for as long as some Broadway shows. For kids, there's percussive acts like Blue Man Group and Stomp, or the Gazillion Bubble Show, which is exactly what it sounds like. From time to time, there are also stage adaptations of stories kids will recognize, like the Berenstain Bears Live! or The Lion, The Witch, and the Wardrobe. Various prices, location, and information (212-541-8457, www.broadway.com).
Read more
80
Don't be intimidated by all the surfboards—this expansive Queens beach, which emcompasses more than 170 acres of sand, is always full of families looking to get away from the hot concrete jungle. If your little beach bum's between the ages of 5 and 15, however, they're welcome to take part in lessons or weeklong surf camps, or simply rent a stand-up paddleboard or boogie board. Don't bother packing a picnic, either—the food options here are too good to miss, from the bangin' burgers at Ripper's to the breakfast burritos at Anna Bow.

Buy tickets
Read more
Things to do with kids in NYC: 81–90
81
You can't beat the original location of this fast food favorite, which, as New York's answer to L.A.'s In-N-Out, offers kid-friendly portions at reasonable prices—a single ShackBurger costs just $4.60. No burger is complete, however, without a side of crinkle-cut fries and a concrete (that's a frozen custard milkshake blended with mix-ins like cookie dough or peanut butter sauce). Be sure you've blocked out a big chunk of time, as it's the most popular location and summer wait times have been known to exceed an hour. Southeast corner of Madison Square Park.
Read more
82
At 17,000-square feet, Bryant Park is the city's best and biggest ice rink, and with its proximity to the festive Winter Village holiday shops, the warm-up lounge Celsius, and plenty of hot chocolate, it's the perfect place to bring out-of-town holiday visitors. Make note, however, that rental skates do cost a hefty $14, so if you and your family plan on going on more than a few times per season, it's worth buying your own skates.
Buy tickets
Read more
83
Dinner and a show doesn't have to involve a television set—just ask NYC's crop of rooftop restaurants that come summertime, are filled with families looking to dine al fresco. In Manhattan, there's the uber kid-friendly 'wichcraft, whose Flatiron location has a second-level deck, or Eataly's always-bustling rooftop beer garden La Birreria. But Brooklynites get the brunt of the outdoor options, with Williamsburg bars like Northern Territory and Berry Park catering to families with kid-friendly hours (before 8pm!), plus the picnic table-replete roof on the new Whole Foods Gowanus, which carries burgers as well as fare the downstairs hot buffet.
Read more
84
Handily located directly adjacent to the playground's inspiration, the Egyptian Wing of Metropolitan Museum of Art, Central Park's Ancient Playground lets kids work off post-museum energy with stone pyramids, tunnels, treehouse-like wooden forts, tire swings, a sundial, nine slides, and a sandbox anchored by a mini obelisk. As the park's most recently renovated playgrounds, there are also cool features like a kid-activated waterfall that runs across two bridges and cascades into an open area.
Read more
85
Looking for something different from the usual round of parks, museums and playgrounds? It may seem like just another fun activity with fresh air and exercise, but taking your kids to the Golf Club at Chelsea Piers could be, quite literally, a game changer. Mini golfers will have a blast on the driving range, whacking ball after ball into voluminous nets that overlook the Hudson River, but if your child dreams of becoming the next Michelle Wie or Rory McIlroy, the Golf Club's robust junior program can take them to the next level. There are classes, clinics and even summer camp for players of all levels, beginners to elite, ages four and up. The impressive 2,000-square-foot center is open year-round with 52 individual hitting stalls (heated in winter) over four levels, with professional-grade equipment such as indoor sand bunkers, putting greens, chipping stations, and a high-tech swing analysis system. Memberships are required for the 37-week Elite Junior Program (37-weeks, $2,700, ages 10–18), but you can just sign up for Tots Golf (4-weeks $345, ages 4–5,), Family Clinics (4-weeks $425, ages 4–11,) and Saturday Program (7-weeks $425, ages 5–14,). If that's too much commitment, you can drop in and buy a ball card (from $30), rent a club ($4) and get out there and start swinging. 94–158 balls $30, depending on peak and off-peak hours. 541–911 balls $150.
Buy tickets
Read more
86
The Children's Center of the main branch of the NYPL, located inside the gorgeous Stephen A. Schwarzman Building, boasts over 40,000 books for kids up to age 12, as well as plenty of DVDs and computers to watch them on. If it's nice out, your best bet is to choose a good read and post up outside in Bryant Park, but there's also occasional storytelling and performances indoors for babies through tweens.
Read more
87
Simply say the words "Coney Island" to a kid in the summertime and they'll think of one thing: the Cyclone. Actually, two things: the Cyclone, followed by a giant Nathan's hot dog. While no visit is complete without a few spins around Luna Park and a dog, any kid who braved the F-train trek to Brooklyn's southernmost border deserves an ice cream cone on the boardwalk and a visit to the New York Aquarium, too.
Buy tickets
Read more
88
New York's iconic American Girl store on Fifth Ave is making a move to 75 Rockefeller Plaza—and the store's location isn't all that's about to change. The brand new retail space will span 40,000 square feet over two levels (around the same size of the Fifth Ave location) and will offer some pretty amazing new features (especially in terms of parties and personalization).
Read more
89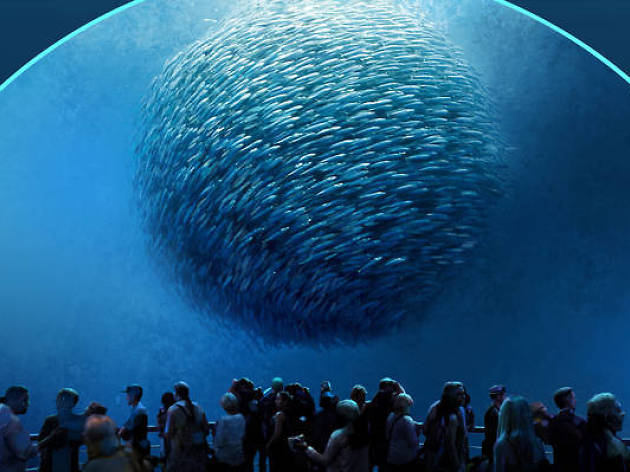 Go under the sea with National Geographic Encounter (New in 2017!)
Opening in the fall 2017 is National Geographic's state-of-the-art interactive exhibit that will bring the Pacific Ocean to a space just blocks away from the Hudson River. The Times Square attraction uses jaw dropping visuals to recreate in studding detail the ocean habitat and the life forms that call the deep sea and its coasts home. An award-winning visual effects and creative team with experience in film, television and music is working with cutting edge technology to make the exhibit one that the whole family can participate in. Virtual animals like humpback whales, sea lions and squids and great white sharks will seem to react to visitors in surprising, magnificent ways.
90
Nestled in the strip of the East River bordered by Harlem, the Bronx, and Queens, this island park is an active family's paradise: There's a complex for football, soccer, baseball, and other field sports, not to mention trails for walking and cycling. Green thumbs can also stop by the Urban Farm, where on summer weekends kids can meet chickens and learn about growing fruits and veggies. When little legs get tired, simply sit back and enjoy the view of the Manhattan skyline.

Read more
Things to do with kids in NYC: 91–101
101 things to do with kids in NYC
Go through our checklist to find out how much ground your family has covered in NYC!
Read more