Good news for superhero fans! Another new Marvel show is coming to Disney+, and this one looks like tons of fun. Ms Marvel is the story of a New Jersey teenager of Pakistani origin, Kamala Khan, and she could come to play an important part in the Marvel Cinematic Universe going forward. Here's what you need to know about the newest super-kid on the block.
When is Ms Marvel streaming?
All six episodes will be landing on Disney+ worldwide on June 8.
Is there a trailer for Ms Marvel?
There is! You can watch it below.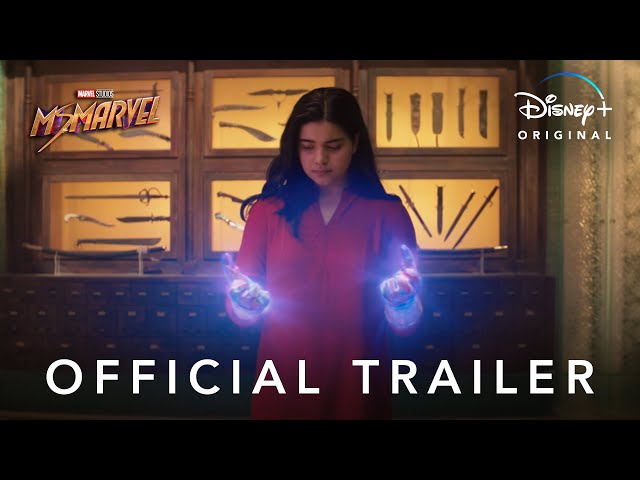 Where does Ms Marvel fit into the Marvelverse?
For those who haven't been keeping up with the MCU, the pandemic forced a short break and a delayed release date for a few films and shows in 2020, but it all came roaring back with its Phase Four in 2021, the phase that continues with Ms Marvel.

First out the gate was Disney+ hit WandaVision, followed by Black Widow on the big screen. Falcon & The Winter Soldier then gave us some spy shenanigans, before the Loki series took us in cosmic new dimensions and messed with the space-time continuum. Then What If…? explored some of the possibilities that might arise from multiple timelines in animated form, before Marvel returned to the big screen with Shang-Chi and Eternals. In December Hawkeye delivered a good-natured romp and Spider-Man: No Way Home brought some of that timey-wimey, multiple-reality confusion into live action.

It's a lot to keep up with.

Now, following the dark-tinged Moon Knight, which launches in late March, comes a lighter, breezier kind of hero. Kamala Khan already headlines one of the biggest selling comics in recent Marvel history and has inspired new generations of fans to get involved in comics. Now she's on the screen – at first in this new show and then in the movies. So who exactly is she? And what can we expect from Ms Marvel?
Who is starring in Ms Marvel?
The lead character, Kamala Khan, is played by newcomer Iman Vellani. The Walking Dead's Matt Lintz plays Kamala's best friend Bruno (we do talk about Bruno?) and Into the Badlands' Aramis Knight plays Kareem, an exchange student staying with her family who has a secret life on the side. Mohan Kapur and Zenobia Shroff play Kamala's parents, and we see Saagar Shaikh as Amir, her older brother. Other cast members include Instagram sensation Jordan Firstman as her school guidance counsellor, and actors like Rish Shah, Yasmeen Fletcher, Laith Nakli, Azhar Usman and Travina Springer.
Will we see other MCU characters in Ms Marvel?
None have been announced so far, but anyone who knows Marvel knows to expect some degree of crossover with what's gone before. In particular, there's a good chance that Captain Marvel might show up. Kamala is a superfan of Carol Danvers – you can see her wearing a Captain Marvel/Beyoncé T-shirt in the trailer – and in the comics had visions of her even before she met the real thing.
Is Ms Marvel based on a comic?
Yes, and a hugely successful one. While Ms Marvel is a character name that's been around for years – Carol Danvers also once carried the 'Ms' label – it's only with the 2014 relaunch of the comic that the character really took off (not literally; she can't technically fly). Wilson's Kamala Khan version of Ms Marvel was the first Muslim character to headline her own comic, and with her nerdy energy and comic self-deprecation she instantly struck a chord with fans.
So what can Ms Marvel do?
This is a very interesting question, because her powers in the trailer look different from the comics. In the comic she can change the size of her entire body or parts of it, allowing her to grow a huge cartoon-style fist to super-punch bad guys or extend her legs to take giant leaps and clear tall buildings in a single bound. She also has super-healing (think Wolverine) and occasional shapeshifting powers (think Mystique). But her abilities look more energy-based onscreen, and while the trailer shows hints of embiggening powers, her skill set may have changed, so even keen fans will have to watch and find out.
How did Ms Marvel get her powers?
Well, in the comics her abilities came from the 'Terrigen Mists', the mystical substance that gives Marvel's Inhumans their superheroic abilities. But given that, a) the TV show based on the Inhumans was a rare flop for Marvel and, b) that they've regained the rights to the X-Men and mutants and don't need to add another superhero origin complication to the mix, we suspect that the origin of Kamala's powers will be more cosmic this time, in line with her idol, Captain Marvel.
What do we need to know about Kamala Khan herself?
When we meet Kamala Khan she's a huge nerd, a big fan of the superheroes in her world and an extremely online teen who spends her time writing fan-fic about her heroes and chatting online about them. Her first forays into superheroics, on the page, saw her literally transform herself into a Captain Marvel lookalike, blonde hair and all, before she realised that she could be both herself and a hero. But her main challenge is juggling the expectations of her close and loving family with her nocturnal adventuring, and figuring out a way to balance everyday life and helping save the world sometimes from her native Jersey City. Like Peter Parker before her, having superpowers does not necessarily make her life a walk in the park.
How does her role as Marvel's first Muslim lead affect her?
Well, it's an important part of her identity. In the comics, when she first gets her powers they run amok and she models her transformations on the skimpy outfits of previous Ms Marvels - which makes her feel exposed and uncomfortable. An important part of Kamala gaining control was therefore figuring out a costume that fit her values and priorities. She ended up basing her look on a burkini that gave her coverage without getting in her way. Another thing that's been important and relatable to fans of the character is the fact that Kamala's faith is not portrayed as a burden or something that holds her back, but an important part of her life. Equally, her relationship with her parents and their wariness of permissive Western teen life gives her a lot of dramatic meat to play with – which tends to balance out her very funny school shenanigans.
Who created the TV show of Ms Marvel?
The showrunner is Bisha K Ali, a British stand-up comic and writer, who, like the character herself, is of Pakistani origin. She cut her teeth writing for Sex Education and the 2019 show Four Weddings and a Funeral. She then worked on Marvel's Loki before getting her chance to helm this show. The show's directors include Adil El Arbi and Bilall Fallah, directors of Bad Boys For Life, Oscar-winner Sharmeen Obaid-Chinoy and Nora Ephron prize winner Meera Menon.
Will we see more Ms Marvel on film?
Yes! We know that she's due to be part of the line-up for Captain Marvel sequel The Marvels, which we expect to include Carole Danvers (Brie Larson) and Monica Rambeau (Teyonah Parris) as well. If she proves as popular onscreen as on the page, we can hope for a solo film down the line as well.

All the 27 Marvel movies ranked from worst to best.

Everything you need to know about Moon Knight.