Heads up! We're working hard to be accurate – but these are unusual times, so please always check before heading out.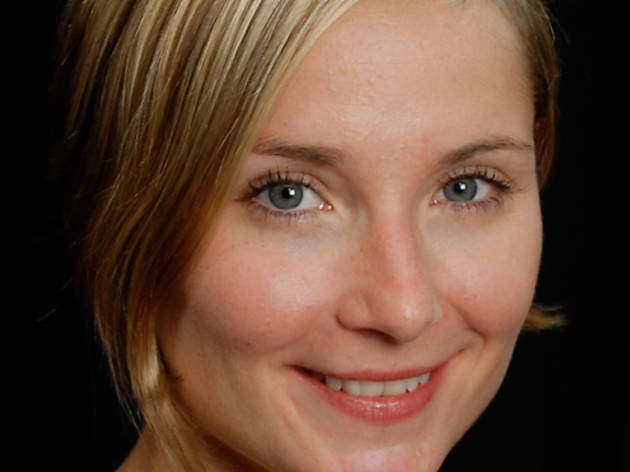 When did you begin dancing?
I started dancing when I was 4—a little itty-bitty thing—in the Stafford--Fredericksburg area of Virginia. And loved it from the beginning.

What kind of dance was it?
It was a mixture of ballet, tap and probably like an acro-thing, although I was doing gymnastics at the time as well. It just progressed for a couple of years like that. I took everything I could.

Were you drawn to one thing in particular?
Unlike other children, I didn't want to get rid of ballet at any point. I did competitions in tap, jazz and ballet. I knew that I needed to be doing ballet more, so I also supplemented [my training] with ballet classes at a stricter ballet school, and I did summer programs. I was drawn to ballet more than anything else, even though I loved the theatrical element of jazz and the rhythms of tap.

It's so easy to malign the competition track with Dance Moms and stuff like that, but what did that give you?
It was amazing. Well, it gave us all confidence. We were a family; we worked together. I had a wonderful group of friends. We grew up together. There was no competition among us. In a way, it was team spirit, which is strange for the dance world or an art form. I wouldn't trade any of that. And I know that I definitely saw some of the hard elements, the negative elements of that. It wasn't so much present in our school.

What did it teach you about performing, because you probably started when you were...?
Pretty young. I was probably 10. Naturally, I was already an animated child. I definitely learned how to be in front of a crowd and to choose moments onstage, and that kind of spontaneity. I don't think [competitions] are for everybody. I feel like I was very lucky because I got a lot of everything. I also participated in The Nutcracker, and I went to ballet schools, so I understood the whole discipline of what it took. I'd go back to this studio and understand that you had to work really hard to do well, and then leaving all of that and going to Juilliard—I have an appreciation for that. All of the kids that did performing-arts high schools and didn't have competitions, it all makes sense; it gave us each character at Juilliard. And we all had something to bring to the table from all of those many experiences as children.

Where were you studying ballet?
I would give the most credit to Lisa Avery, who has a school in Fredericksburg, Virginia, but I also did some programs with Washington Ballet and the Joffrey. I was actually the first group of kids to go to the Kirov Academy, which was the Universal Ballet Academy at the time.

The Moonies!
Yes. The Moonies. I only did it for a year; the Russian training wasn't for me. I loved being there and it changed my technique forever. I'm so glad I did it, but I got injured, probably from the excessive turnout—I'm not as turned out as other people. I went back to a regular high school and saw all of the catty stuff that high school brings, and I was like, Wow, I've had this other life experience where I'm 16 and I know I want to dance. I couldn't because I was injured and I was in a very competitive situation and people can't get along here. Why can't kids get along? [Laughs] It makes no sense. I went back home and was just like, Wow, okay.

How bad was the injury?
It was severe tendonitis. What had happened was I jammed my toe. It was actually a fluke situation where my toe was sticking out of my ballet shoe and I jammed it and then I just kept dancing on it—improperly—and developed such bad tendonitis in my ankle that I couldn't pli anymore. I just had no understanding that if I'd just taken time off—and that's such a long lesson to learn in the dance world, and one I still struggle with. But what was interesting from my perspective at that young age is that I felt like I was liked when I first got there, and then after my injury I had lost some sort of clout. I don't know if it was Russian or whatever, but I felt like I wasn't looked at anymore after the injury. I got very sad and I just had to go home. I felt like I shouldn't go home because I had this amazing opportunity, but I so wanted to go home. And making that choice was difficult. I actually remember the evening I made it. My dad was just like, "If you don't say anything right now, I'm bringing you home." I just felt like I couldn't ask to come home because it was this free ride to be in this prestigious school, but I was so sad because I couldn't get over this injury. It wasn't for me. Clearly. It was soon after that modern dance became a bigger part of my life. Going to Juilliard, I still was thinking possibly ballet. Because I excelled in ballet. But then I was like, I'm so tall. Doors open and close in a particular way, and I'm just so thankful now because Cunningham is where I would have wanted to be.

How did you learn about modern dance?
Juilliard. I had taken modern dance earlier than that at the ballet school, but not American modern dance.

What was the draw about Juilliard?
It was diverse and I've had a diverse upbringing. I didn't even think about going to another ballet school after the Kirov Academy because one of the things that was special was that I did have such a diversity of training. I was clear that I would like to go to a conservatory where I could still be dancing a lot, and there was also a discussion with my father about, "I would like you to go to a regular college." So we had a deal. I auditioned for CalArts and Boston Conservatory and Juilliard, and most of those were easy, but I also applied to regular universities. It was funny because I got into all of them, but my deal with my father was that if I got into Juilliard, I would go to a conservatory. It's such a hard life; it was a little bit of a struggle for my dad to say, "Go for it." And Juilliard was recommended to me by several people. I didn't know a lot about the program, but when I came to the audition, I was sold. The audition alone was so much dancing that I was like, This is where I want to be.
What was the audition like?
It's several classes: You take a ballet class, you take a modern class and then you do a solo. And then there's a cut. You do more—improv, more dancing, more class and then another solo. And then you find out. I did know I was going to get in; I could just tell by the end of the day that everything had gone so smoothly.

This was before Cunningham started being offered at Juilliard, right?
Yeah. It is really crazy. There are times when I've thought, I could've been so much younger when I got this job had I known about Cunningham. But I really wouldn't change anything that I've had to get to where I've gotten. Everything has just made me stronger and more diverse and I've gotten to meet so many incredible people. So I feel like I went to Cunningham at the right time.

Who did you dance with before?
I actually freelanced a lot with Ellen Cornfield and my good friend Charlotte Griffin, who I went to school with. She was my roommate and is solely responsible for me going to Cunningham actually. She kept pushing me to go to Cunningham. And I was like, "But it's so unemotional, Charlotte. I don't want to go to Cunningham." And she said, "I really think you need to go to Cunningham." She saw Derry Swan perform Way Station and possibly RainForest at ADF, and she was like, "This man loves tall, technical women, and you need to go there, and you're making up stories about what you think it is—you've never taken a class." So I took a class and I loved it. I was working primarily with Lila York. I was freelancing with a lot of little choreographers here and there and probably working with Ellen Cornfield the most out of those choreographers. But I was Lila York's assistant for four years. She would create material on me. It started with one gig. I went to Boston Ballet with her the first year, and then each year I would do more and more. She was creating her pieces on me, and then I would go to the ballet company with her and help her transfer the material. Her work is so step-heavy so for her to transfer all the material by herself was grueling; we had a great rhythm together. And by the end, I was also staging Celts, one of her ballets, by myself. I was kind of her rehearsal assistant and stager. But then there was this point where I was like, Okay I'm in my mid-twenties and I've done it in revearse. I'm a rehearsal mistress; I should be dancing. We finally talked about it. I remember I was at the Royal Danish Ballet with her, and there were all these injuries going on; there was actually a moment where they were going to possibly let me do a piece. And I was like, If I could do this, than why am I not doing this? And she understood. It was a hard moment because we had such a good rapport together, and financially it was great for me. It was such a great experience. I met all these directors and I even almost got a job at the Royal Danish as the modern assistant rehearsal director. I was like, I'm not even 28. I need to be dancing. And I had been taking classes at Cunningham. I tried to get a job in Europe, and I came back and became an understudy at Cunningham; it just happened naturally, once I had like broken up with Lila—I don't know. It felt like that, like a little bit emotional. [Laughs]

I knew you were connected with her, but I didn't know to that extent. Her work is so different from Cunningham's.
Yeah, and at first it was so funny because she was just like this big [York is small] and I'm this big and we were like, How is this going to work? But you know, actually she taught me how to be fast.

Did she?
I had always pushed myself because I'm tall, to dance quickly, and because of my tap training, I do think I have a natural inclination for rhythm, but Lila has quick, little feet. You know? Petit allegro, the [Paul] Taylor influence. I would be right in front of her, and she'd give me steps, and she'd have a video camera on and I'd have to do it. She's a big component of me being able to be a tall woman who can move quickly.

Did she just work with you?
She would sometimes get up and show me material. A lot of jumping. And then, there were always wild counts in her work—even though it was to music that would typically be in eights, she would break that down. So it would be like, Here's a six, a five and a 12. Her adagio work wouldn't be like that; it was much more abstract.

But it's interesting that you worked on something from the inside-out at such an early point in your career and then flipped it around.
Yeah. At Cunningham, I took classes, but I was working so much that I wasn't able to be consistent there. I would go off with her for weeks, months at a time, and I don't know. I knew I could put myself in the right place at the right time. I was working with Ellen; I had met Ellen through the Cunningham studios. And I do believe Ellen talked to Robert [Swinston] about me, so there was a little bit of an in there. And there was good timing. An understudy left, and he called me one day. I actually didn't really know he knew me so well, because I couldn't really take the early classes that often. Had I known better, that's the place where Merce would see you. Robert called me Fourth of July weekend and was like, "Come and take company class. I want Merce to see you. We have a spot open for an understudy." I became an understudy. And then about a year later, I found out that I was going to be hired. Rashaun [Mitchell], Marcie [Munnerlyn] and I joined in January of 2004.

What was your understudy experience like?
We were a good group. It was a little bit different then it is now—it was an ever-evolving thing. As Merce aged and traveled less, he worked more and more with the understudies to create material. Our group was kind of the first that he started that with. So it wasn't a ton of material. And it was actually hugely controversial at the time. So it was stressful and it was interesting because it did evolve. It was amazing just four years later to watch the group work with him on so much more material. I just felt a little bit guilty that we were working with him, even though it was what he wanted and how he wanted to work [with us] because the company was gone. At the time, it felt strange. It was totally scary to teach the company the material. I remember Cdric [Andrieux] was the first one I had to teach material to. Rashaun and I had learned part of a quartet—it was two duets, really. Derry and Cdric were doing this particular movement, and Rashaun couldn't come that day, and he had been an understudy for a while. I had to teach it on my own and it was just so nerve-racking; I was kind of mad at Rashaun. I don't know why he wasn't there.

How did it go?
It was fine, they were fine. They were nice. I ended up dancing so much with Cdric after Derry left that we became great friends. So it all worked out. You're just where you are, and being an understudy we all just looked up to the company so much.

Is that what was so stressful about it?
Yeah, I just couldn't imagine dancing with these people. I looked up to them so much. I thought they were all so beautiful and even though getting hired was something that I clearly wanted, you just don't expect it to happen. And it's been wonderful that the three of us have been on this journey together. Our group was the one that reconstructed Antic Meet. We had a good time doing that piece for children; it was really hysterical. We would do it for outreach [programs] for children, which is almost the best way for that piece to be performed, because they just find all of the comedy hysterical. Now the understudies have a lot more material. They do Summerspace, but Antic Meet was our baby.

Can you talk about what Merce was like during the process of the reconstruction of Antic Meet?
Similar to all the reconstructions. He wouldn't pay attention. He wasn't really interested. He'd be working on his new material all the time. Rolling his die and making notes and maybe glimpsing and then, you know, he would peek. And then he would work on it. And I don't know if Antic Meet was different than other reconstructions in that the movement is so specific. It's vaudeville and ballet and it's definitely a tribute to all these forms, whereas his other work is different. But I remember all his reconstructions, even for the company being that way. Second Hand—he just wouldn't watch it. And then he would start to take a peek and then he'd see something that he wanted to change. He worked with Rashaun a lot in the overalls solo. And played with timings. Even when we brought back CRWDSPCR, which was less of an older reconstruction, he changed timings and took out bits.
How did you learn you got into the company?
Robert told us in the small studio. It was just kind of random.

You, Rashaun and Marcie?
No, Marcie got hired about a month later. Paige [Cunningham] and Ashley [Chen] had given their notice and I do believe Rashaun found out earlier than that day. It wasn't super formal. Robert brought us into the small studio and was like, "You know that Ashley and Paige gave their notice, and Merce will be hiring Rashaun and Andrea." And that was the moment I found out. I didn't really know how to react and you know, here are my friends—I was shocked honestly. Then, and probably I was the one who was like, Let's do this—but Rashaun and I were like, We should go in and thank Merce. And that was really strange because we were like, "Thank you!" And he was like, "Okay." That was very awkward. And immediately we were told to start learning new material.

Whose roles did you take over mainly?
It was a real mix. Right off the bat the Paige--Banu [Ogan] lineage. But there were some of Cheryl's [Therrien] roles that I got, like in BIPED and Fluid Canvas and Split Sides. Marcie got some of Paige's and Banu's roles. She does Banu in BIPED. And when Derry left six months later and Julie Cunningham came on, I feel like Julie, Marcie and I split Cheryl's, Paige's and Derry's parts. If there was something new [added] to Event material, then I would get the part that Derry had done, because I was the tallest girl. I tended to get the tallest-girl part.

How tall are you?
I'm 5'8." I look taller than that. I believe Derry was taller. It may be proportions. I have my dad's legs. It's like I have no torso. [Laughs]

What are some pieces that are really close to your heart?
Suite for Five. I got to do the orange girl right when I joined and then, six months later, Derry left and I got Carolyn's part, the yellow girl. I was doing this with Cdric. And I think that was a moment—I was so terrified, yet so excited and I've always felt a closeness to the material, the kind of classic Cunningham technical material. I've always felt like it fit me. And it's taught me so much, just about breathing. I remember when I was first doing it at the beginning of the duet, I would hold my breath and Cdric would just be like [Exhales] and he'd look at me and I'd be like, Oh right, I have to breathe to do this part. I mean it's an endless challenge. It's one of those pieces where it's always hard, but it's always amazing. Derry told me, "It's so amazing to rehearse this piece and it's so scary to perform it." It's so stark and pure. I've always loved doing the Way Station duet for Event material, which is also Derry's part with Cdric. A lot of balancing and relev. And Merce fiddled with that. He played with the balances for me. And he would always shift material. Not all of someone's material when they inherited things, but he would definitely have his eye on something and shift it a little bit for the newcomer, and that was a moment where he played with the material on me. So I always felt like that was special. BIPED is just incredible to do, and the same thing with Ocean. That was Banu's part in Ocean. For me, Ocean was the most well-rounded piece I ever got to perform. By the end I just felt like I got to do a little bit of everything. You know, come out spinning in a solo and do a slow trio and then come jumping out at the end. It's just such an epic journey.

I do love it.
And it broke my heart because I got injured in the dress rehearsal at the Quarry [Rainbow Quarry in Waite Park, Minnesota in a presentation of Ocean by the Walker Arts Center], so I didn't get to do that run. I tore my calf. My knee had been bothering me for a while, so I was weak in that area, but then the cold weather—I just got a tear and couldn't do the run. We're going to do a bit of Ocean from the beginning of the Armory. I love that Robert chose to bring back a little Ocean.

Do you think other things have been left off this tour that you would have liked to have seen or danced again?
I understand why everything was chosen. It's shown the longevity of the work, in that there's so many pieces from so many different decades, and especially the older work and the smaller, double-cast work. I would have liked to have seen at least another piece from the '90s, Scenario. I can't speak for anyone, and I obviously would hesitate to do that, and I know that it was really important to bring back Antic Meet and RainForest, but I just have such a love for the work that happened in the '90s. That company and those epic pieces. We've done a MinEvent of Scenario, but not the whole piece in its entirety. If I could have picked one, it would have been Scenario with costumes, with the floor, with everything. Some of us even know 75 percent of it. I love Ground Level Overlay, but I did get to perform that. I love Beach Birds. But I would say Scenario. There's just something about that decade, the refined dancers and everyone got to dance in a lot in those pieces. It's interesting because we have so much double-cast now that you either do a whole bunch one night or you don't do very much. The fun thing about Roaratorio is that we're all onstage and we get to dance a lot.

What were your experiences of working with Cunningham? What was he like in the studio?
You were on your toes because you didn't know who he was going to spot. You know, you think he's looking at one person and he's not. He'd do that in class, too. I mean, you could stand right in front of him and he would see a person in the corner over there. And if there was a new person taking class and they were interesting to him, he would say something. He would pull someone aside and work on something, and it was always something you wouldn't think. There would always be the obvious things—something went wrong in a section or we'd run the entire section over again or the timing was off and we'd have to do that. But it was those moments where he would pull you aside and be like, "You know, do this entrance and lead everything from your elbow." And it was always the smallest statement, one sentence even. Or a couple of images or something like that and it would just change your track a little bit. And then the new work, where he would direct you to go next was so special. His word for the double duet in XOVER, was "savage." And then in Nearly Ninety, it was just like, "Okay, Andrea, I'm going to have you be still almost the whole piece" and how do you manage that? He was amazing to work with. "Just take your right foot and step over your left foot" would all the sudden thread into this chain of material and you'd have a solo, and it took only a matter of minutes. It's those eyes in the corner seeing the bigger picture, and you forgetting that he was seeing the bigger picture. For a choreographer, he trusted his dancers. He loved the individual; he trusted us with his work—he'd give you a lot of room for a while, especially as a newcomer. And you'd have to do an entrance over and over again—there was kind of an initiation in that way—but the fine-tuning, he let you find your way and it was okay to stumble and get back up again and try again. And in the way he would take on the characteristics of each of us individually and just shift the work. It was fascinating. I loved watching it happen to other people and watching that person evolve in the moment.

What was he like while creating Nearly Ninety?
For a big part of it, he worked with the understudies while we were away and 80 percent of that piece was created on them. So there was definitely a time where I was a little bummed.

You're such a nice person.
[Laughs] And it was corresponding with us bringing back Ocean for the Quarry and at that time I had this knee--calf thing going on and it was also the summer and during the summer I have had some knee problems because of the humidity. So I remember being very overwhelmed. You want to look good when he's creating a new piece, because you want him to give you material, and I'm trying to deal with Ocean, which was a big piece for me. I was not feeling great in my body. And I was bummed because I was like, Okay well, there are a lot of sections with four people and there are four RUGs [Repertory Understudy Group] and that kind of thing. But then it started to evolve because the piece wasn't finished, and there was a duet that he gave Rashaun and me that was created on the understudies, but they transferred the material to us and it was so very different. He had a traditional sense of partnership—the woman being supported by the man—and this was a case where we supported each other for the whole duet. I wouldn't have wanted to do this with anyone but Rashaun. We've always worked really well together since we were understudies, but we didn't necessarily get to do so much with each other because I was partnered up with Cdric and he was partnered up with some of the smaller women. After Cdric left, Rashaun and I got these opportunities; it was almost like Merce always saw more, you know. And he gave us this treasure that goes differently every night we perform it, because we're both on one leg the whole time supporting each other. I remember the day he was like, "Learn this material." And it took us a very long time to manage it and figure it out. And I remember we did this photo shoot and it was with Merce, and we were doing material from the duet and it was like our rehearsal with him. We finally got this moment with him in the space where we just did it over and over and over again for the camera and it became ours. And he was like, "Yes, oh, this is better, this is getting better," and we let go of some of the things that they had taken on as the understudies. And then he started creating a little more material. He finished the last 20 percent of the piece or whatever. And he actually wasn't even using the computer anymore. I got a couple of things from him. So I feel like I had maybe less material in Nearly Ninety, but everything was very special. And there was a small solo and a trio I do with Daniel Madoff and Rashaun that he created on the spot for us.
How did he create that?
He did some of the material in class and he pulled me aside and said, "Andrea, remember this—this is for you." He used to do this where he would pick material from class and give in to someone. He did that with Melissa [Toogood] for her solo. I held onto the material for like a week or two, and then he was like, "Oh, do you remember this material?" And he fiddled a while with Daniel and Rashaun, and we figured out this trio and it was created on the spot for us, and I treasure it.

Can you describe it?
I come out very slowly and then they come out and catch me and it's all off-balance. I'm usually on one leg twisting and they're pulling me off my leg, twisting, and it kind of circles and moves forward. And then they let me go and I do the slow material again. We do another pattern of this weight-shifting, twisting arabesque movement. It's a little harder for them; it's definitely where I get to feel pretty and taken care of and they're supporting me the whole time. You know, it was really funny with the solo material: With mine, he was really like, "Cross your right leg over your left and go slowly around" and it took maybe five minutes to create it. And then he was like, "I think socks might be a very good idea." And I was like, "What are you talking about Merce?" And he was talking about the Quarry and it was going to be cold. It was like he just like realized that socks would be a good idea. And I was kind of like, Well, are we done here? Do you want me to do it again for you?

That's pretty funny.
Yeah. It was hysterical. It was so Merce to just like, you know, also be kind of funny and thinking about the weather...

The practical side.
The practical! I left the room and I was like, That was really weird.

He was the kind of choreographer that you would interact with?
I definitely did. I would go up to him and say hi and give him a hug. I think I made him laugh. I really liked him. I liked to know how he was doing. I loved that he loved plants; I love plants. And actually, there was one summer where I grew way too many tomatoes and I brought him a tomato, and we had this whole tomato thing where I would like check on his tomato and he'd talk about the tomato when actually he didn't know it was a tomato for a really long time—he thought it was a potato and then a strawberry.

So you brought him a plant?
A plant. I definitely would talk to him about little things and he made me laugh and I think he thought I was odd. I would talk about the weather and nature with him and stuff like that. I miss running into him because you'd sometimes leave with him on the elevator and you would talk about like the funniest things—because he didn't need to talk about the day or your dancing or any of that stuff. It wasn't about that.

What would he talk about?
I remember one time he was like, "Oh, I met Dylan's dad." And I'd be like, "Okay! That's really awesome." And I remember one time, we were talking about the Beijing Olympics and I was like, "Did you see the choreography?" The masses of people, I think, bothered him a little bit, just this militant togetherness. He wasn't quite as impressed as I was. [Laughs] He always surprised me with his opinion of things.

You spoke earlier about how he could see the overall picture, and I'm guessing that could be what's missing the most now. Could you talk about that?
I think that's where it falls on us. And when he was ailing, he did have a few moments where he told us these things. He would say, "Remember why you came to dancing and that you love dancing. It doesn't give anything back," and just that we're individuals and that we need to hold onto that. I think that the continual pushing, that way that he was able to guide each of us and push us in a new direction and challenge ourselves is what we are responsible for bringing to the work now. And hopefully we'll get the opportunities to transfer that in master classes and in staging the work later. It's also just a fact that he could change things and none of us are at real liberty to do that, so that whole element of making a choice, which he was so fond of—and the choice could be different and it could even be different among people in a unison phrase. It's like how do you manage that kind of openness that he'd have? That's a real dilemma. Is it any of our right to be able to do that? When you have a double-cast part, I really miss how he would treat them like two pieces. That it would be okay for two people to do things slightly differently, but managing that in our rehearsals is very delicate. Jamie [Scott] and I share a part in RainForest and we just decided to watch everyone who ever did it, and then we made our own choices about it, and in the rehearsal space some of it reads and some of it doesn't, and Robert is there to try to guide us in that experience. But that's where I miss him so much, because I have no idea what he would say or how he would want me to do it. Crazier or calmer? Or find the stillness?

Well I was going to ask about that? Do you work with former dancers like Carolyn Brown?
Carolyn comes in a lot. Out of everything, she's coached me the most. I definitely know her opinions about that the most. For Antic Meet she came in along with Valda Setterfield and Gus Solomons [Jr.], and that was fun. It's always fun when someone new comes in, because it's a new approach. I can predict some of the things Carolyn would probably say to me just because you get similar things over time with anyone. It's always a real treat when Meg [Harper] comes in, because her perspective on the work is so different. She talks about intent a lot. That's really fun.

Because there's freedom in that.
There is and again, managing that is delicate because definitely Merce allowed that, but how much does a rehearsal director who's not Merce allow that? You know it's a very delicate thing. Merce did trust us in his work. Sometimes people come in to watch here and there, but less so the '90s generation.
That's too bad.
Yeah, I agree.

Why is that?
I don't know. We're not doing a whole lot of work from that time. I don't know. Trish [Lent] has been a big part of being around, which is great. She's of a similar time period, yet she has just a slightly different perspective, which is nice.

Why did you fall in love with Cunningham's work?
I've always loved technique. I think that's what Charlotte got from the beginning. Just that I was going to be challenged and love that excitement of finding success in the work. And I just find the work so human. There are no stories. You create your own. We have such human moments and interactions with each other onstage that are so real and we get that freedom to be in a duet with someone and have a really rich experience. There's so much joy in the work for me. I feel so privileged that I've gotten to work with so many different people being in the company for eight years.

It's true.
You know? It is. It really does look different than it used to. The way the energies of the company shift is really fun.

Do you have other plans?
I do want to keep dancing a little bit. I don't think another full-time position is really what I want to do. I would love to not travel quite as much at this point. But freelancing from this place is fascinating to me. So I would like to take on some gigs here and there, and I'm hoping that I'll get to stage a little bit of the work. And I just got an adjunct position for the January to May semester at Brown University.

Congratulations.
Thank you. I feel very fortunate and excited. Just from all of the experiences I've had and all the people that have come into my life, I know that doors open and close for the right reasons and things come and that timing is everything. But I feel very fortunate this has kind of all happened, that I have kind of a cushion until August of 2012 to figure out what I want to do after that. So it's all very good.

So at Brown you'll be teaching—
Three classes. And it will be mostly Cunningham; it will be Cunningham-based and I probably will play a little bit with partial technique and a little bit of rep. I'm going to commute back and forth. I have a boyfriend here and I have an apartment here that I actually just bought, so New York is home. I'm very interested in botany, and I took a botany class last spring and I would love to maybe take a biology or another botany class. And I'm going to try to get my horticulture certificate from the Botanic Garden, so that's all in the scheming, too, and my sister and I have this long-term idea of having a wellness center together. She's in North Carolina and she's a nutritionist. I've gotten half my yoga certification. There's all these other little, like, itty-bitty buds. I feel like January through May is gonna fly by, you know?

Totally. That's so wonderful you have something right away.
I'm so happy about it. I mean some people are like, I need to take two months not do anything. A little somethin' is good for me and a little money still coming in is my way of doin' it. I'm also very lucky that I did do the freelancing, so I really know how it goes. Some of the company—

They don't know.
They don't know. And you know, they're just starting their careers, so it's a really very different for each of us.

And it's heartbreaking in a way, because for some of the younger dancers, where do they go?
They did the high part now.

You never say never in terms of finding someone as inspirational to work with, but that's hard to be optimistic about.
There are these different phases in the company. It's like the new, crazy energy and there's this amazing moment when you're in you prime and then there's, you know, dealing with injury and you're a little more mature and you're still good. And some of them are just so in this prime, and I am just so inspired watching them.
Like whom?
Jamie [Scott] and Melissa, the two of them I just can't get enough of right now. I just want to soak up this fearless moment for them in the work and try to send them lots of really good energy that they'll continue forward. John and Dylan—they're just really fun to watch.

What can you tell me about saying goodbye to Merce and that situation? Were you all aware of what was happening?
We didn't know exactly what was taking him. They were very quiet about what diagnosis he had, but that it was the end was very clear. I mean, there was the natural progression that he was teaching, but in hindsight you look back and it's like BAM happened and really only three months later, he was gone. But he was still teaching a bit in May and he did Dia: Beacon [Events] with us in May and then we went to Madrid and came back, and he was just much more frail. Like coming to the studio, they were concerned for his bones. So that limited [his time], and then the progression happened that he just couldn't come and there was a moment where they told us it was the end and it could be weeks and it could be a couple months, and it was like that. We went and we said goodbye. We were lucky enough to get to go and say goodbye and then he lived a little longer, and we got to say goodbye again. So the first time was extremely emotional. I've actually never done anything like that before. I hadn't even done that with my grandparents. I felt very adamant that I needed to tell him thank you. So I just went up to him and I was crying and I said thank you, I love you and he, typical Merce, he was like, "Well, thank you very much, that's so sweet." [Laughs] I was like, You are awesome; I love you! I love the way you just can simplify things in the profound way. And then the next time was a week before he died. We were going up to Jacob's Pillow. My very good friend was going to take a Bollywood class and she asked a couple of us if we wanted to go. So Melissa and Marcie joined us, and our group was really, really lighthearted. We'd already said goodbye to him and we were just chatting and he was doing really well and we kind of told him that we had taken this class, so the three of us got up in front of him and did Bollywood for him, and it was hysterical. I remember leaving laughing. It was joyful. We had a great ride going up to Jacob's Pillow and then he watched us one last time on Skype, and he passed on the Sunday after our show that evening. It was a really wonderful week to be up at Jacob's Pillow. I think we all were really clear about performing for him. I feel lucky because we said goodbye to him and then we got to see him again. And then we danced for him.

Do you think the company should disband?
That's such a hard one for me. I feel like there's so much that I don't know about the decision making, but I do get the sense that there's something fitting that it end this way and then perhaps it starts again in a different way. I think that to have one thing close and then reopen, it's seeing how we're going out and how he's finishing in all this is so grand, it's so big, it's so positive, it's so energetic. It's really beautiful. So somehow for everything that he built to end on such a high note? It would need to be reconfigured anyway.

Absolutely.
So somehow this is fitting. And I know there's a lot to manage and I'm so not privy to those conversations. I know there's a lot of different opinions about it; it's also sad and terrible at the same time because we're this company that knows his work and in London, where they're just like yelling, "Bravo!" I've never had a curtain call like that before. The curtain came up and tears are rolling down our faces because the surge of energy just was indescribable. So then you're like how is it possible that the Cunningham Dance Company is going to do our final BIPED on December 23rd? It seems unreal, but I do actually also get it. I do. There does feel like there's something right about this too, and in a way good. It's going to live on.

You think so?
I mean it's definitely going to live on immediately in that other companies are going to be doing the work. I think that they are going to be special performances in groups of people who are going to be trained by Robert. I don't think it will ever be like this again. And it's complicated that way, because other companies have done it. But I miss Merce. I miss the master in the corner making his new work. And he was so about new work.

I think though the problem is the training.
Yeah, and that's a bigger conversation. I do think that the technique needs to be taught and that's where, frankly, they need to figure that out first. And that's why I say maybe this coming to a close and restarting there can be a more established thing—okay, Westbeth is going away, but maybe there's a way to reestablish the technique and we can truly be—all of us out there who worked with him—spreading the work and the technique more. Patricia Lent is really working on that. She's so open to empowering us all to be able to do that. It's really lovely.

After eight years in the company, what do you think of Trevor Carlson?
Wow! I did not see that coming. I've had a really good experience with him. I mean I've definitely seen his evolution in the moving up and I've had some hard negotiations with him because I was the AGMA rep for three and a half years. So there are moments of me being really jaded in the company and there were some hard struggles, but because of that, we are very good at communicating with each other. He, oftentimes, will use me as a helpful means to understand where we're coming from. I'm useful in that way because I have learned how to communicate with him. That, I would say, is one of the harder parts. We all have our strengths and our weaknesses, and I do really appreciate some of the ideas he's had. Dia:Beacon was one of my favorite things ever. And that's him. It's his ability to curate. Or come up with an idea and pass it to Merce to play with. I'm just going to always be thankful for that experience. And he said this: It was an opportunity to get the company to work with Merce again because he was working with the understudies so much on the new work. Dia:Beacon was an outlet for him to work with us again, and that was totally true that we got to work on these funny stages and Merce loved spaces like that. The museum is incredible. Dia:Beacon is up there—when you ask me about my favorite pieces, Dia:Beacon is up there.

I agree. And that idea of multiple stages is also the setting at the Armory.
Robert let us each pick one thing.

What did you choose?
Well Rashaun and I both picked the same solo, but we're double-cast in the Fractions solo, so we're gonna both do it at different times on different stages. I also get to do Way Station, as well. And a bit from Ocean. Some people asked to do something new.

What is the state of the company like?
Good. We're really supportive of each other. We're actually doing the thing: It was always a tradition to do a roast for a company member that was leaving. It started with Jean Freebury. I believe she did a solo thing for a person that was leaving, and then it evolved to the company participating and we'd spoof their material or whatever. So about a month ago, Rashaun looked at me and was like, "Are we gonna do end shows for everybody?" And I was like, "You're looking at me because you want me to coordinate it, don't you?" And he was like, "Yeah." So we have a little committee where a few of us are kind of in charge, and we decided to do two people at once, a senior and a junior, and I picked dates and I pulled each couple out of a hat in order to do it by chance. We've already done two of them on this last tour, but we're kind of toasting/roasting people by doing a little show for them. There are always hard moments in a company where maybe someone doesn't feel like they're being used, or people are going through personal things, or some people are not getting along, but definitely at the sixth month to go mark we are really for each other. I think we all want each other to go out into the world and have all the experiences, whether it be dancing or going back to school and becoming a doctor. We want for each other to have success and you know, there's a lot of joy and fun and laughter in the company.

So who do you dance for now?
Mostly Merce. But there are times when I dance for me, too—where there's no point to having insecurities now. So you wobble? Whatever. It was funny because when we found out we were doing this bit of Ocean, I was actually a little bit stressed about it. I was like, Well, I kind of let that go because I didn't get to do the Quarry. And the entrance that I'm doing is the first entrance, and it's all turning. Do I want to get my chops up to do this? Do I want to manage it? I'm really good friends with [former Cunningham dancer] Lisa Boudreau, and we were talking about it, and she was giving me some feedback about how I could manage it again. She said, "Yes, you want to do it." She's like, you're going to give your heart to it and you're just going do it because it's going to be so much better to do something hard and to have something to focus on. She's totally right. And I was like, She's not only right about this, but that's what my approach should be right now. I just want to put it all out there now.