Celebrated for his re-creations of degraded pop-cultural artifacts in stone, crystals and volcanic ash, Daniel Arsham makes art that looks as though it was just discovered in an archaeological dig. That's certainly the case with his current show at Perrotin New York on the Lower East Side: The Brooklyn-based artist presents a series of sculptures that includes a replica of the legendary DeLorean from Back to the Future. Recently, Arsham sat down with Time Out New York to discuss the show, Ferris Bueller's Day Off and the role of alchemy in his art.
Your pieces seem to have a quality that might be called retro-futuristic. How do you see it?
A lot of my work has to do with a consideration of time and how archaeology looks at past civilizations. I'm trying to reverse-engineer that process to our own time. When I take a present-day object and make it appear like an ancient relic from the future, it creates a sense of temporal dislocation. It's unsettling and interesting at the same time.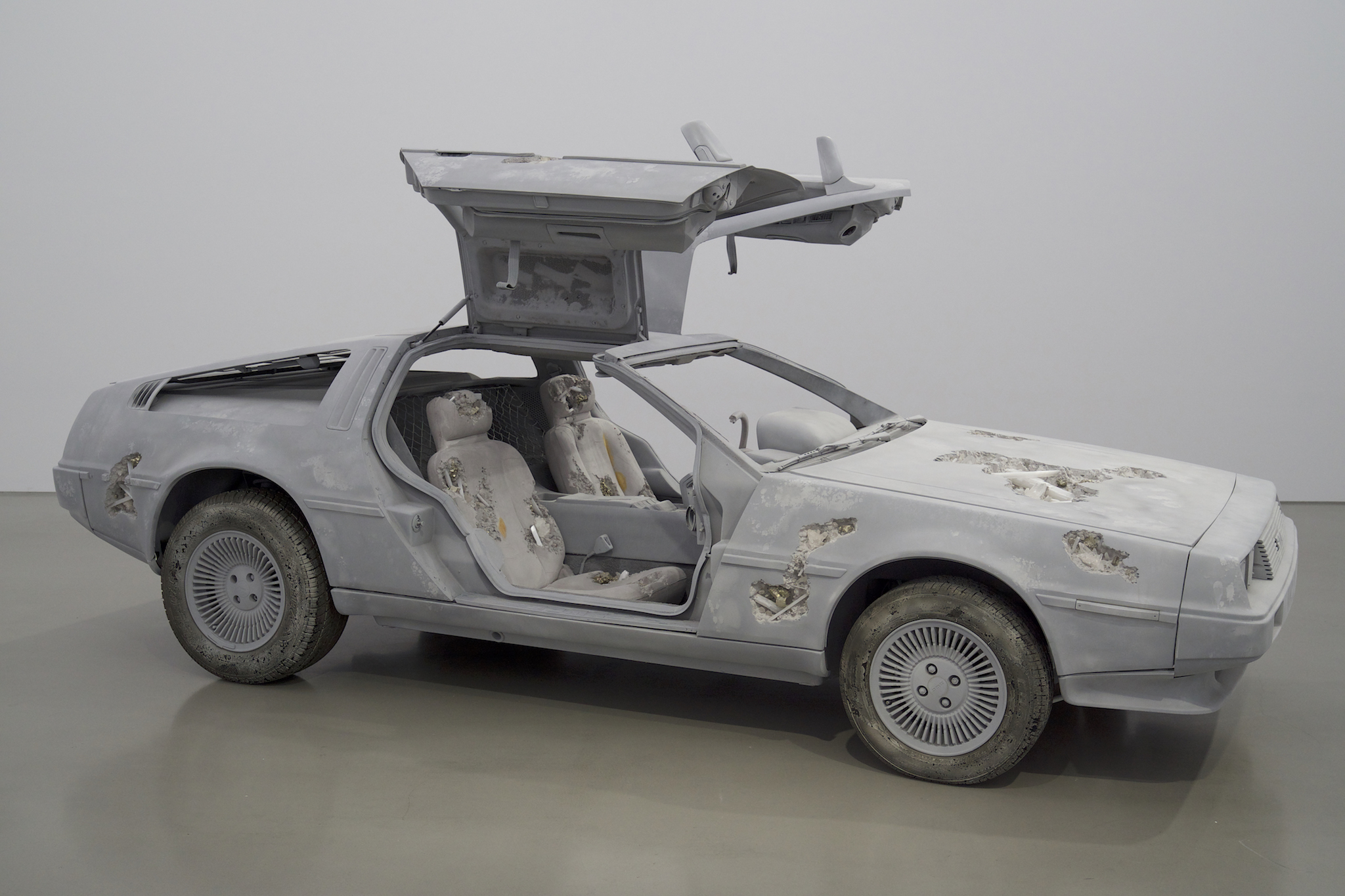 Photograph: Andrew Tess
But the finished pieces don't really look like they've been excavated.
No, but I didn't want to just take an object and distress it to look old. I wanted to represent what a present-day object would look like in the future. So, the pieces are made from materials that we associate with geology, including volcanic ash and crystals—things that we imagine forming over a long period. I think that lends everything a visceral sense of time.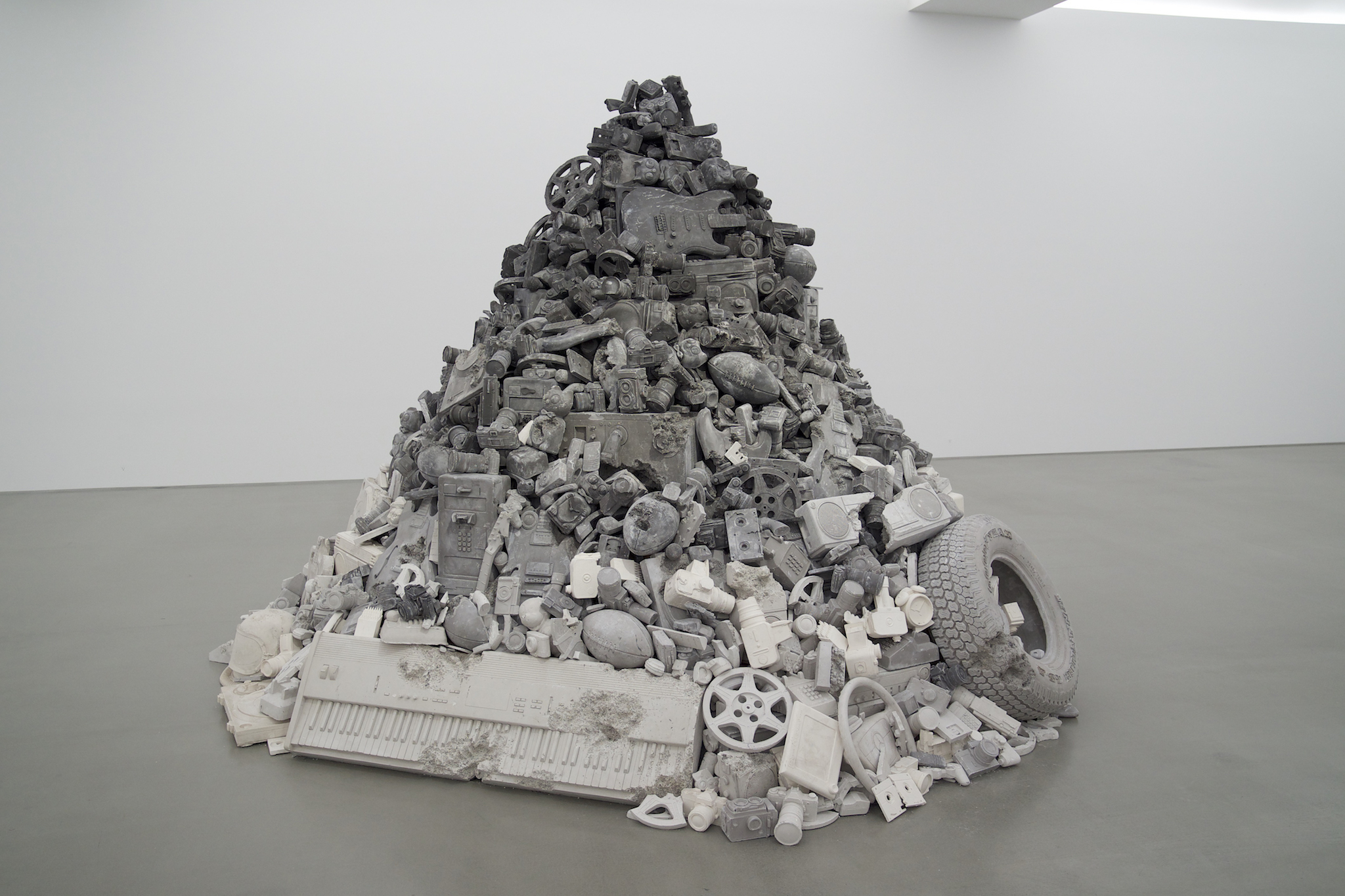 Photograph: Andrew Tess
Would you call your work dystopian?
I don't know if I would. Whether there's some kind of disaster or not, everything becomes degraded with age, and that fact makes what I do seem less dark.

Photograph: Andrew Tess
Arguably, the two life-size vintage cars—the 1981 DeLorean and the 1961 Ferrari—are the stars of the show. Why did you choose them?
Mainly, I was trying to activate people's memories. Films play a big part there, and cars often have central roles in them. So, the DeLorean fit because of Back to the Future. But I was also interested in the man who built it, John DeLorean. He was a visionary whose creation became a perfect encapsulation of a failed future when his company went bankrupt. As for the Ferrari, it's from Ferris Bueller's Day Off. It was owned by the father of Bueller's best friend, Cameron, for whom the car represented untouchable beauty. At one point, he goes on about how rare the car is and how his dad worked so hard to restore it. To which Bueller replies, "Well, it's his fault he didn't lock the garage."

Photograph: Andrew Tess
You made holes that reveal crystals underneath the car's bodies. Why?
Crystals are something we associate with growth. So, while the cars look like they are falling apart, are they disintegrating or are they achieving some kind of completion? That in-between state is something I've always focused on.
It's kind of like alchemy.
Yes. Alchemy represents a transformation of material—in that sense, the transformation of material from purposeless dust to evocative object is magical.

Photograph: Andrew Tess
Daniel Arsham's "3018" is at Perrotin New York through Oct 21 (perrotin.com).