"Artistic License: Six Takes on the Guggenheim Collection"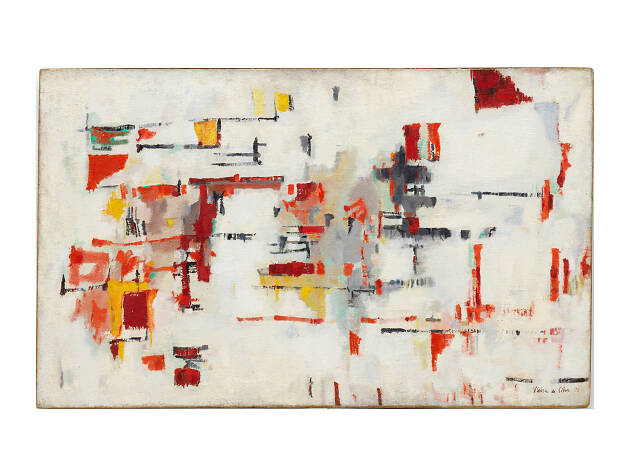 Time Out says
The Guggenheim's latest show is a high-concept affair with an elevator pitch that goes something like this: Ask six well-known artists (Cai Guo-Qiang, Paul Chan, Jenny Holzer, Julie Mehretu, Richard Prince and Carrie Mae Weems) who've previously exhibited at the museum to select works from its holdings, then give them each a level of the rotunda to mount a show according to their wishes.
The result is a series of visual mixtapes, introduced by wall texts that lay out the various premises in portentous tones. Overall, the exhbition is based on the assumption that an artist's perspective is sexier than a curator's—or, at least, more of a draw for audiences. The latter may be true, though your mileage may vary on just how enlightened you'll feel as you take in everything.
In his section "Non-Brand," Chinese artist Cai Guo-Qiang digs up pieces made by canonical figures before they developed their mature style—or, as Cai sees it, their brand. Mainly, his selection involves representational images by names associated with abstraction—for example, still lifes by Mondrian and Rothko and a figure study by Hilla Rebay. The point, perhaps, is that this sort of work is as valuable as the artists' signature efforts, but who, exactly, argues otherwise? Cai muddles matters by hanging the work in an undifferentiated mass high on the wall, where it's hard to see.
With "Four Paintings Looking Right," Richard Prince, who made his bones on intellectual property theft, meditates on the issue of originality by gathering together paintings by Abstract Expressionists from Europe and Latin America, as well as a Pollock forgery and an AbEX canvas by Stu Sutcliffe (1940–1962), who famously quit the Beatles to pursue art. Prince is trying to find some irony in the idea that Abstract Expressionism, which styled itself as a means to bare the soul through paint, could be mimicked or exported, but most people may well wonder, Who cares? In any case, in her entry titled "Cry Gold and See Black," Julie Mehretu uses works by Francis Bacon and others to offer one reason why AbEx and related movements spread in the decades following World War II: the collective PTSD inflicted on the globe by the conflict and its aftershocks.
Elsewhere, Jenny Holzer employs art historian Linda Nochlin's 1971 feminist essay "Why Have There Been No Great Women Artists?" as a jumping-off point for an of-course-there-were riposte, titled "Good Artists," which is dominated by a massive black sculpture by the indomitable Louise Nevelson. Similarly, Carrie Mae Weems ponders the paucity of artists of color in the historical record with "What Could Have Been," a roundup of objects in black and white; the limited palette makes her presentation the most elegant one here. Paul Chan goes all in on lyricism, bringing together acquatic-themed works for "Sex, Water, Salvation, or What Is a Bather?"
"Six Takes" is, ultimately, a virtuous gimmick that surfaces worthy artworks that haven't been seen in years. Unless the Gugg expands to display more of its collection (which is highly unlikely), this will have to do.
Details