Heads up! We're working hard to be accurate – but these are unusual times, so please always check before heading out.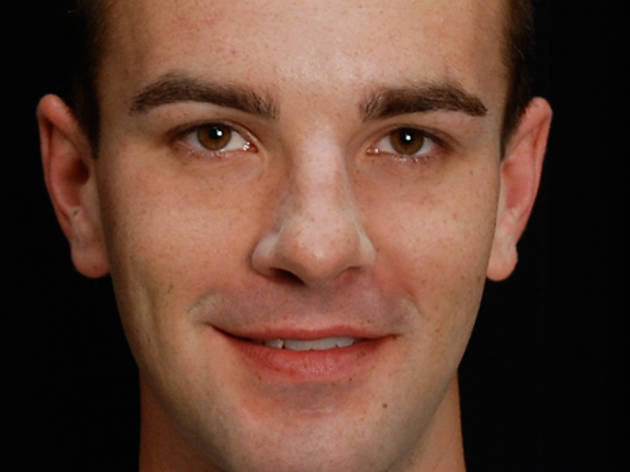 You're from Pittsburgh. When did you start dancing?
I started dancing when I was 6. I started with gymnastics and there was a little musical-theater school in the same building—it was actually an old elementary building that had all these different things going on. So I had the gymnastics classes on one end and I felt like everyone was having more fun at the musical-theater school, so I talked my mom into letting me start classes there and I actually started with dance.

What kind of dance, do you remember?
It was jazz.

Did anyone in your family dance?
No. I have two brothers, and they're sports people. Pittsburgh's a healthy sports town, so it was kind of random. I don't think that my mother even really had a special fondness for the arts or anything; it was sort of like I wanted to do it and they were cool with it.

So you studied it for how long or continued there for how long?
I was super-young and I started just taking general acting classes and voice classes and was part of a little performing group that they had—I think it was called Broadway Kids. But at that school they also had a satellite school of the Pittsburgh Ballet Theatre. So I got into that. I was offered a scholarship and trained there up until I went to the performing arts high school in Pittsburgh. I did The Nutcracker there and stuff like that.

I'm always interested in young boys who decided to stick with dance and probably had to deal with grief. I think that's great.
Thanks. I lucked out with the performing arts high school thing though, you know? That was important, and for me to find myself there was easier for sure. I kind of kept it quiet. Not a lot of people knew exactly what I did. I mean I was always different and there was some bullying. But I do remember I got like the prince in The Nutcracker and there was my stupid picture all over billboards and all this crap, and just being like, "Oh no! I'm found out!" It was mortifying.

How old were you?
I must have been 10. There was one other boy, Stephen Hanna. I think he was maybe a year older. He was the only boy in this satellite of the Pittsburgh Ballet Theatre. Once I moved up in levels, there were other male dancers who came from different places to go to that school because they have a pretty good training program. I always gravitated more toward modern things and didn't really love the ballet. I didn't have that thing for it. It gave me a really great base. The technique was Balanchine and it was good for me. The director at that time was Patricia Wilde. David Holliday was the director of the school.

When did you start learning about modern dance or even studying it?
Once I went to the high school, we had like a modern class. And it was just like roll-on-the-floor-kind-of-modern. It wasn't steeped in any real technique, it was just someone's vision of what modern was. Every year at the performing arts high school, there was a national conference where you would audition for different summer programs like Bates and ADF [American Dance Festival]. I got a scholarship to the Graham school. I don't think that I even had any idea who she was. I remember going to the library and being excited about it. That really just opened up a whole lot to me at that point.

So you went to the Graham school in New York?
Yeah. For a summer. I think it was '97 or '96.

It was the original building on 63rd Street.
Yeah. I took class with, like, Pearl Lang. They were all around still, all those people. It was a six- or seven-week program and the teachers just rotated, and I don't really remember many of them. The first was Armgard [von Bardeleben]. She was great. At the end of every class, she was like, "Now we have to spend time rubbing our feet for fifteen minutes." It was very important to her that you respected your feet.

Did you like the technique? Because it can be challenging for men.
I have this open-hip thing, so it wasn't that bad. I was fortunate and I was young enough and flexible—it worked for my body at that time. I remember I took work with a small modern company in Pittsburgh and the director, upon hearing that I was going to do this, said, "You might have a lot of problems with your body," and scared me a little. He said, "Just take it easy." I guess he had a bad experience with it, but it worked for me.
What was it like just living in New York for a summer?
It was crazy. I just remember not knowing where I was, ever. I had some roommates that were dancers from Pittsburgh that I sort of knew, but I wasn't really close with either, and they were much older than me. I made some friends at the school and got to see a lot of the free dance stuff. I think that was the first time I saw Cunningham; they did Lincoln Center. So I was exposing myself to a lot and taking a lot of different ballet classes and as soon as I got back, I just hated Pittsburgh even more. I totally wanted to get out.

Did you have a plan?
Not really. I just felt like I wanted to dance in a concert dance company. I didn't know what that meant, to be honest. I don't think I really figured anything out direction-wise until I went to ADF, which I did the next summer. Same thing: I got a scholarship. After ADF, I was exposed to more and had a better idea of what I wanted to do and I knew that the ballet thing, truly, wasn't what I wanted to do at all. The whole narrative and the acting part of it just didn't appeal to me.

Who did you study with at ADF?
The first year, I was with Mark Haim. Also, I worked with these really amazing Chinese choreographers from Guangdong: Li Hanzhong and Ma Bo, and they were married. They completed each other's choreographic sentences. That was great because I got to dance in this huge production. The idea of the piece was that there was something going on in the news in China that was affecting their local village and they didn't really have any information about what was really going on until they went to Australia. And then once their eyes were opened to international press and they realized how much is suppressed in the media there, they had this reaction to it and made a piece. It was pretty cool. I think I was in a suit and stripped to a dance belt. It was one of those like full-on performing weird experiences. It was good.

Did you take any Cunningham classes there?
They didn't have Cunningham. I took a Trisha Brown class. I worked with Gerri Houlihan too, which was really cool. She danced for Lar [Lubovitch] for a really long time and her class is so nice. Sort of Limn-based too. That was my summer in between sophomore and junior year. During my junior year I was just really wanting to get out of Pittsburgh, so I came up with this idea that I was going to take a leave from high school with intention of getting my GED. I was going to audition at Juilliard. I got a job at Dancing Through Barriers, Dance Theatre of Harlem's second company, because my ballet teacher at home danced there and had a good connection. Once I found out that I got into Juilliard, I quit Dancing Through Barriers because I hated it. It was like the worst thing ever. I also didn't really fit in. These were people who really want to be ballet dancers and I was so good at that at that time that people prodded me to really pursue something like that, but I was always like, It's not for me.

That's cool to have that knowledge of yourself.
Yeah. So I got into Juilliard.

What was that audition like?
It was strange. I remember showing up ten minutes late—I didn't really know how to get there and I remember being like, Oh my God, this is ridiculous. I had my tights under my jeans so I was ready to go. I put on my white shirt in the hall and they were calling everyone in and I was like, Oh crap. What an idiot. Everyone else had their parents there.

By the way, did you have to talk your parents into this?
Sort of. [Laughs] I think they just knew that I was stifled where I was. They always thought, We'll let him try something and if it doesn't work then there's always something else.

So back to the audition.
I made it through the first cut, which is just the ballet class. Then I did my first solo and I got a bloody nose at the end of it. It was sort of awesome. There was blood on my little white shirt. I felt really like mortified that that had happened, of course, and I was stressing really bad and then the rest of the day just went on. I did my second solo, no blood. Had a second white shirt, it was cool.

Did you have nosebleeds a lot when you danced?
No. This was totally like random January, radiator-dry weather. I don't know. [Laughs]

Do you remember your solos? Did you choreograph them yourself?
I choreographed one of them and it was to something from the Trainspotting soundtrack. And the other one, a dance teacher from my high school had choreographed for me. Neither were classical whatsoever. I'm sure there was a layout.

I like layouts.
[Laughs] Why not?
They're coming back. So how did you hear you got in?
Just a letter in the mail, and I was totally excited. I decided I was going to go home and get ready for school. Took my GED and passed it in a day. For the rest of my time in Pittsburgh, I taught a lot. For like a couple summers too, I would choreograph at the Pittsburgh Civic Light Opera. They have these really great summer programs for kids, so I've done every musical you can ever imagine. I performed in some when I was younger, but I didn't have that love of it. So it was always a funny approach to like figure out, How am I going to make this work? I don't really have in my repertoire standard, show-stopping things. It was kind of fun figuring out with them.

Is that how you saved money to be able to live here?
Yeah. I made a lot of money doing that.

What was the Juilliard experience like for you?
Short. [Laughs]

What happened?
I did it for a year and loved it. And then I went to ADF for the second time that summer and worked with John Jasperse and had a taste of more of a postmodern thing. Did some Trisha Brown rep. And I really felt like the training I was getting at Juilliard was great, but seemed like the same situation I had been in before. [Then-director] Benjamin Harkarvy wanted me to be a ballet dancer. He thought I had the facility to do NDT [Netherlands Dans Theater]. That was their whole thing—to do stuff like that.

He loved that crap.
He loved it. The competitive nature of the program and the amount of money that it cost started to really stress me out. Financially, it was really difficult for my family; I always knew that. I got to my second year and I made it through my first semester, and I decided to take a break because I was really struggling in the program. I was doing so many projects—I didn't know how to say no. I just pushed and pulled. At the same time, they were doing this weird documentary for American Masters, so it was my class that they followed around and it had this absurd Real World element too. I didn't feel great there.

Was it that it was hard to have studied with John Jasperse and then you're at Juilliard taking Graham classes?
Yeah. Graham or Taylor, which I really don't like. The people that I had known who had left—I was realizing that they were having their dancing careers in college and then a lot of them got really burned out and didn't really work. Or maybe they were just too selective about the kind of work that they wanted to do. I just felt like I don't need a degree to dance, but initially I was just taking a break. I started taking class at Cunningham. I was still in the city. I got a scholarship and just really, really liked it. What is funny though, is that Benjamin Harkarvy, as much as he really did not have an appreciation for Cunningham or the aesthetic of that work, he did tell me once in a jury: "There's something about your arms that I feel could be greatly benefited by some Cunningham classes, maybe you should go down there." I think that was the first time I ever even really considered that.

Did that get you to the studio?
I guess. But I think it was more like an ad in the Village Voice for free classes. It was amazing. I was like, You still can have this really physical experience with a technique that's so modern. And to have seen some of the dancers in the company at that time, they were phenomenal. I had been having so many different experiences with so many different people with everyone telling me, "Oh yeah, you could do that," or "You could do that." This was the first time that it was something I would want to do.

How did you end up at Purchase?
Then 9/11 happened. The first time I was ever at the studio was 9/11. That was the audition day for the program. I saw the first plane—or maybe it was the second—from the 14th street stop on Greenwich and Eighth. And I think I was just like, That's crazy. I didn't take it in. I just continued to the audition. I got there and the person at the front desk said, "Do you know what happened?" It was odd to be at Westbeth because there are so many nutjobs that live in that building anyway, right? So they're all out on the roof with their binoculars, and it felt really weird. I remember leaving the studio and going to Washington Square Park—hanging out, walking home. I lived in Washington Heights. They rescheduled the audition for like the next week, but it was such a weird time in the city to be on your own. And that's what eventually made me think that I should go back to school. I should be in a program. The city just started to feel really dark to me, and I kind of wanted a break.

You did want some structure?
Yeah, and I was still hanging out with some of my Juilliard friends. At one point I considered going back there. They said that I could come back but that I would have to basically start all over again, and that didn't feel right. So I ended up going back to Pittsburgh knowing that I was going to go to SUNY the following year. I did that for a year and really didn't like it. I had a friend who moved to the Netherlands and was working with Scapino Ballet, so I thought, Maybe I'll hang out there. I'm going to go to Rotterdam Dance Academy and finish my degree there. Because at this point, I only needed minimal credits left to get a standard BA. I thought I was going to do this choreography program there; upon arriving there, they're like, "Oh yeah, we don't have that program anymore, but you can stay and be a part of the regular BA program and finish off that way." It was taking a Graham class from someone who's never taught at Graham. The ballet was good, it was Forsythe teachers; that was great. But it was super postmodern-roll-around-on-the-floor, and I like to move big. It just wasn't a good fit.

Wow. You've had an eventful life.
Yeah I've had a little adventure figuring out my own path. Mostly it was a good idea. I definitely remember being in Rotterdam: What's going on? What am I going to do now? And I think that's when I found out that Merce had made Split Sides and was working with Radiohead, and I was like, This is my calling. I love Radiohead so much. So I was like, I'm just going to go back to New York and I'm going to get a job with him. That was really my plan. And it kind of worked like that. I sold my bike to some little Dutch man, and I still had a lot of money from the summer I'd been teaching. I took one class and then I got a phone call from Robert [Swinston] saying I should come the next day to take a company class. He already knew of me from my previous time there and was considering me to be a RUG at that point, but the economy was completely tanking and 9/11, all that stuff—they weren't going to hire anyone for a really long time, no one was going to leave. So that didn't happen then for me, but it just worked out perfectly that someone was leaving. They were doing Antic Meet and they needed to replace someone really quickly, so I joined the repertory group within two days of being there. It was kind of a lot though, too. It was like, Okay, so this is what I wanted, I didn't think it was going to be like that.
Exactly. Who was in your RUG group?
Rashaun [Mitchell], Andrea [Weber], Marcie [Munnerlyn], Julie Cunningham and Kate Jewitt. I became the second man in Antic Meet, and I then think at that point, Andrea, Rashaun and Marcie already knew that they were getting in [the company]. I was the only man for a while, which was cool. It meant I had a lot of interactions with Merce. We performed Antic Meet a lot, which I'm grateful I don't have to do as a company member, actually.

Why?
Well, just because it was like theatrical and act-y.

It wasn't the Cunningham you wanted.
It wasn't the Cunningham I wanted. But it was a good time, like when I was younger, learning the technique and figuring out—I enjoyed performing it, but I sort of felt like I was watching some of the newer pieces and things that were more contemporary to that work and thinking, That's more of what I'm meant to do.

Still, it's an iconic piece in terms of dance history. What did you get out of it? What did he say to you?
That's what I got out of it. Whenever we brought anything back with Merce, you had to convince him to be interested. He wasn't immediately interested ever, so I think I came in it at the stage where he actually was interested and started to give feedback about a lot of things, and just to see the way—even though he was so bound by all this pain— he would still be able to demonstrate something in a way that would be very clear. I was amazed by that. And knowing that his timing, no matter what, was going to be spot-on still. I think that a piece like that—working with the rhythmic structures that are in it was also really helpful because I did still have this more "up" way of moving. Those fundamental mainstays of the technique are definitely in that piece. And also the kids. We performed that so many times for all these different children and they really loved it. They just thought it was so funny—the whole thing. And naughty sometimes. They got it.

When did you first meet Merce?
I guess the first time was at the class that I took. Robert introduced me to him and he asked me if I was going to come back and I was like, "Yeah, I'll come back," not knowing what that meant and I was taken to the first floor to sign my papers to be hired as a RUG. So I guess that was the approval that Robert needed to hire me. I think in that class he was giving me a note about second position, and I was standing very close to him. I just put my leg up as high as I could in second position and he was like, "No. Leg on the floor." And I was like, Oh yeah, that second position. [Laughs]

What did you work on apart from Antic Meet?
Just MinEvents. A lot of the same stuff that I still will do in an Event actually. But then we started working on Summerspace and Rune. Summerspace was really tricky for me because at that time they had hired another guy, so we rotated the parts. Everything's so circular in that piece; it used to really confuse me, actually. As much as I knew my part, I had this weird relationship to the space in that piece for some reason because some of the material was so similar and I remember struggling with that. The phrases in that dance are so tricky and really hard technically and I remember just loving that and thinking it was so meaty and substantial. The work I was doing was so important to me at that time.

What were your days like?
Class and running whatever material you were working on. Taking a very short break and being in the small studio, learning whatever new things Robert threw at you, or practicing things you already knew. And then every time the company had a break, you would just go in and dance on their breaks. And Merce watched a lot and would give feedback, which was great. Some people had the experience as a RUG when he was a little bit older, of not having that constant eye and he definitely had that with my group, which was really cool.

What feedback did you get?
I remember him saying to me very early in, "You're doing really well. You've got the technical parts of it." I feel like he was always supportive of that, that I could do things that he asked. And I think that pleased him, but I think he was always, with me, really wanting whatever thing I was working on to be clear. To be clear was the most important thing. So clear as far as the rhythm—the intention behind the steps. Moving as large as you could possibly move, or really using your back.

Not the illusion.
Yes, not the illusion. At the time, it was the 50th anniversary of the company and the company was travelling so much, but he didn't go with them. He would give us private classes on Thursdays. It would just be Merce beating out the rhythm, and normally, you would travel in rows up and down the studio in one of his classes. But this was more like, do it a million times, walk back, do it a million more times, walk back. It was intense. And he would say a lot of the same things. He was interested in you keeping your shoulders down. Technical things like that continually bothered him. It was very important that you would always have your carriage down and not have that sort of tension. And the rhythm and just the separation of movements. In those classes, if he gave a combination where you were going to do a pli and then straighten your leg, if it was on the "and" count, he wanted it exactly on that count. Everything had the same amount of weight—everything was important.

He didn't want you to start phrasing things yourself.
Totally.
What did you end up teaching to company members in terms of new work?
Views for Stage. It was fine for my group. I think other people had difficulties with it. I remember being really nervous; there was a section that [the other male dancer] didn't know and Merce was like, "Remember that phrase from class yesterday? You're going to do that there." And I remember thinking, Do I remember that phrase from yesterday? I was supposed to teach that part and I remember going up to him and being like, "Merce can you just check this? Can you look at your notes and make sure I got this right before I teach it?" And I did it once and the next thing was supposed to be a reversal of the phrase and so I did that part, too, and I knew I was totally missing it, but he said, "Yes, you got it." I just had to go back and figure it out. It had to be perfect. I didn't want to misconvey his movement.

What was it like when he was creating something new on you?
It was a slow process, with many repetitions of minute things. It would get bigger, and you would do the same thing over and over and over. And he wouldn't say a lot. After he gave the movement to you, I think he just wanted to make sure that you really had it and that he could see it, but there wasn't a note after every time you did it. I always loved his sort of method of working when he was making you repeat all the time. He would tell us to sit down. "Just sit down, take a break." He would be looking at his notes, working, and you might be down at the floor for five minutes or one minute and jump back up and do it all over again. And at that time, he was falling asleep a lot, too, so you could be doing something forever...I think we all sort of knew that he sometimes was listening, because he would just wake up at the perfect moment that he had been trying to figure out earlier, or he would give a correction about something you thought he didn't see. He must have been hearing the rhythm. So you always had to be on.

What did you do when he was sleeping?
Oh, you just kept going. You finished. We would stop sometimes and get his attention. But there were points with his health, too, where you wanted him to sleep. It was fine, you know. He was busying himself with a lot of things that were probably just to keep him going and to keep him training dancers, which I think he liked to do. But it wasn't stuff that was going to directly affect the company.

How did you get into the company?
I was a RUG for like two and a half years. The momentum slowed down. I left a couple of times over both of the summers to go teach again and make money to live. And he was cool with that. And Robert really understood that was important.

Did you teach in Pittsburgh?
Yeah, because I had this great relationship with the people at this place. I'd go home for maybe three weeks and make enough money to help me get by for at least six months. It was a really good situation to be in. I worked with a couple of other people. I made a lot of work at that time, too. I kept myself busy by doing different choreographic projects. It was okay. I was still really happy to be at the studio and to be doing that movement and working with him. It felt like the time was necessary for me. Because once you're in the company, your experience with him totally changed. And you didn't interact with him so much anymore. So I would have felt like I missed a step if I didn't have a sort of chunk of time. But at the same time, I was like, Is someone please going to leave? This is getting ridiculous.

Did Robert say anything to you?
At one point I think Cdric [Andrieux] was thinking about leaving and that was really early-on in my time. He fell in love and changed his mind, and I remember thinking, Are you kidding? But that also would have been a little too soon. When I heard that was maybe potentially going to happen, I was a little freaked out. I replaced Daniel Roberts, who gave me warning that he was leaving. I was really excited.

So you knew?
I kind of knew, but only by a week. There was another man dancing with me as a RUG, and I kind of felt like, I got it. I felt like I had Merce's attention more, but at the same time, he was always attracted to anything new. So this guy had just come in and he was getting attention, but I just always assumed that Merce was going to choose me, because I'd been so diligent. I wasn't nervous that I wasn't going to get it.

Were you close to Merce?
I wouldn't say close.

Is anyone?
I think some people had different relationships with him, and I wouldn't say that mine was less than someone else's, necessarily, but I didn't have—as my time went on as a RUG, I didn't have the casual conversations as much as maybe someone else would or could. I definitely had moments with him that I really treasure. I felt like he understood my work ethic. He would say things to you at the right time when you needed it, which was nice. I felt like he was aware of me, for sure.

What's an example?
I was in the company and we had just been to Australia and there was like a reception and he just sort of tugged on my jacket or something and I didn't even really realize he was behind me. I was probably on line for champagne and he said, "You're doing it all right. I wanted to let you know, it's gotten much better and you're doing it right." And I was like, whoa. It's crazy that he just said that to me. And I did start feeling a little bit more confident onstage and that I was having some sort of peak with my dancing, which was nice. I was like, Oh he's noticed that. And I think what he meant by the right thing is that I approached some of the things very directly. The way of doing it was going back to what he always loved, which was being clear. I was really trying to be clear and trying to be as physical with the work as I could.
Are you trying to remember that now?
I think at this point, it's sort of ingrained in me. Really, the last year of his life and making Nearly Ninety, I'd been so accustomed to pushing myself in that way that I knew that if I was going to continue doing this—even without his direction—that I would have to continue doing it the same way. I'd have to really hold on to some of those things and remember what he wanted. And I think that that's the way I enjoy doing it, too. To be as physical with the work as you can. Keeps you young, too.

How do you mean?
It keeps your body young. And sometimes when you have different injuries here or there, for me, it works to work the muscles that are sore and to dig deeper into the things that are uncomfortable, because you can figure something out. And then eventually it does get easier and less awkward.

What was your adjustment to the company like?
It felt sort of natural. It was like, Let's go dance with these people that I'm also friends with. My first show was in Ottawa. It was Split Sides. I remember it being freezing and in those days when you got in, [the company was] gone. I was left with a list of dances to learn on my own. I think I had two or three days with the person whose parts I was taking over and then once the company came back, we were running the pieces from start to finish. You have an idea of the steps but there's always going to be someone that has a different idea about this or that. So no matter what, it was always like, "Nope, that's not right, this is," and you had to like fill your head with information really quick. The week before going to Ottawa, I think I'd only done Split Sides twice—I was joining with Emma Desjardins and we're both like, "You know, we need to do this again one more time because we feel like we don't know it." I think I continued to feel like that for a year. [Laughs] But when you're awkward, you're right in this work. If you try to make this movement into some sort of understanding in a lyrical way, you're not going to figure it out. When it's really difficult and weird, that's when you're on the cusp of doing it correctly.

And that's so related to what you were saying before about how you had to be on the exact count. How did the working method change once you were in the company?
It changed a lot. I didn't have the same kind of interactions with him. The process of starting out in the company—I got a lot more attention and I remember at a point though there being a transition of just being a member of his company, which felt a little bit lonesome. You didn't get to interact with him that much. And working with the RUGs was fine, but eventually those people are going to be in the company and they're going to go through the same thing and I think it's just a cycle that you kind of understand once you're there for a while. Then at that point, the work becomes more personal, and you have to take care of yourself within the work and keep yourself going, and remain interested in whatever is fascinating to you about that. You're not going to be prodded to do that; you have to do it on your own.

What was fulfilling about being a company member even though Merce wasn't in your life much?
The travelling and experiencing different cultures and performing under different circumstances was really fun for me. I really enjoyed doing the museum Events or doing something outside. There was always something on the horizon. Or a new piece that I was really excited about doing. Things like that kept me going.

What have been some important pieces for you?
The first piece that was made new when I was in the company, eyeSpace—I felt like the person's roles that I had taken over left a little bit of something to be desired. I came in at a transition point where they got rid of three pieces, and those were maybe the three pieces that I was more excited to do. I felt like some of the roles were really small, actually. I didn't get enough stage time. With eyeSpace, I was in that first quartet, which was so challenging technically, and I remember thinking, This is the first time I get to do a whole phrase. I get to be on for the whole thing. I really enjoyed that. You had to go really fast and then stand on one leg and hold it, and so I feel like that really helped me grow as a dancer. We did it so often. I always had a real nervousness about doing that piece. The other piece that I really enjoy doing is XOVER. It was nice because I got that duet with Emma, and we joined together. It was a little interesting time with the [introduction of] double-casting. It hadn't happened in a really long time that anything was double-cast. And so that wasn't the most enjoyable experience, to be honest; the information about who was going to do it didn't really become clear until the end of the process.

Why did they start double-casting?
I don't really know what happened. There's probably a lot more to that than I know, but initially I think that I was just called in to do it with Emma and the person teaching it was Daniel Madoff, who had just joined the company and who it was made on. And then there was a little bit of drama with Julie and her health, and I remember that being a difficult day for her. It kind of stayed ambiguous like that for a while, and we didn't really know what was going on and then once we found out it was double-cast, it made sense actually that he would enjoy seeing something different ways, and I totally embrace that idea. And then also once that process was over, which maybe wasn't that enjoyable, I felt like I had more freedom than maybe I would have had if it was just always mine. The way he was working with the man partnering the woman, and the woman partnering the man, was much more even. It was the first time I'd ever really done any work like that of his. The shared weight felt really new. So pushing that to the furthest place we could was really fun. We really worked on it. And I think he really enjoyed that.

What has this experience right now been like for you, performing without Cunningham?
It's been okay. There are a lot of things about the Legacy Plan that I would have though would have been different. When they started the actual two-year thing, I think they could have been a little more prepared. It was just so soon. I think they were jumping on the fact that there was a lot of press coverage and it was a good time to start it. I don't think we would have survived as a group. I think the group would have gotten smaller and smaller just because the economy was failing, and we already went through all the trouble with three members of the company leaving. In a way, I feel like it kept us together.

It kept the company afloat because there was work.
Totally. Of course I would prefer having an artistic director and having someone who could make a new work, which was always an important part of being a company member there, but it's been good because there's also been a whole influx of new material. Quartet I really loved doing. So there are elements about it that have been super positive, but I do think after this time is up, it's going to be a good end for me. I do want to dance more, but I want to be part of a process and I miss that. I miss that about dancing.

Do you have plans after that?
Not really. It's okay. [Laughs]
I really do feel from talking to you that's how you roll.
I will figure it out.

What is it like working with Robert Swinston?
He has changed a lot. He's the helm of the ship. He has everything to work on. He's focused on this group as it is now, but also what's going to happen next. I think he's had a little bit of trouble figuring that out and accepting things. There are some pieces that he is in and I think that's difficult when he's in a piece—that he can't watch it. I'd prefer to have a rehearsal director for something like that, which now we sort of have with Jen [Goggans]. But often times, she's in the piece, too, so that's tricky. But I've really respected that way he's been able to continue making these Events, and I think he's done as best as he could under the circumstances. It's a lot.

What you think of Trevor Carlson?
I don't really have that much to say about Trevor because I don't work with him directly. I'm an AGMA rep and have been since before Merce died, and that's been a little strange at times because there was a lot of drama right before Merce passed. To be a part of that, definitely, I have my own thoughts and that's influenced the way I think of him. I don't think it would be good to share because it's confidential. He's been able to keep this company afloat and keep different projects going and develop a couple. I think it's good. What he's done is really healthy for us.

What is it like dancing now when Cunningham is not around? How do you motivate yourself?
Yeah, now it's like, just do everything to like the nth degree. Just like balls-out dance. It's been really good. I feel like that from all of my peers. We're all just really doing it now—and for yourself, for sure. You have to love this to do it. We're performing at houses that are very warm. You know? And it feels good to represent Merce's work in this way.

Does that "warmth" feel genuine?
Yeah, for most people it does. Especially if you go to some small town and they're understanding some sort of historical significance as well, and I guess that allows them to be more open to these things. I've heard from a lot of people who have continually had problems with the music or the costumes, that now the way that people are dancing it's sort of opened them up to enjoying it a little bit more. I think that there is a little more onstage right now. Collectively—from the group. I think that energy is really phenomenal.

Do you know what solo you're performing at the Armory?
I'm doing the Rune solo. I worked on it with him and then Robert gave it to me to do in Events two years ago. And I haven't performed it that much, so I thought it would be good to do. And I do have like certain memories of things that he said about it; it had a significance for me because it was the beginning. So it feels appropriate to do it at the end, too. I kind of wanted to do something that I know that he enjoyed watching. It felt kind of cute. And it's short and sweet. It's not like one of those drawn-out things. It's like go out, kill yourself on stage, and then you're done.

What did he say to you about that?
A lot. There's this part where you slide to the ground. The whole thing's made in a box and you have to get from corner to corner. And you don't necessarily always have enough steps to get to the corners. So that was the trick of it and he would always push you to get there somehow. It's sort of old-school modern. I'm sure there are references to Graham. There's lots of going to the floor and coming back up. And also like standing on one leg and jumping a lot. It feels good.

What about the process of saying goodbye to Merce Cunningham, what was that like for you?
Weird. Really surreal. I haven't experienced a lot of death. My uncle died from cancer and it got really bad towards the end, so we were kind of shielded from that; the only other person that's died in my life is my grandfather from Alzheimer's. I've never really had that last-goodbye thing. And it was strange. The last time was before Jacob's Pillow and he was just like in this euphoric mood—he had picture of his home in Centralia that some woman had sent him. He was saying how much it looked the same and he was delighted showing us these photos, and asked us how we were. I felt very uncomfortable, to be honest. Although I was a part of this man's life, I was kind of wondering, Where's his immediate family? Where's his niece that I met? It was just Trevor and Robert and the company. I also said something really stupid. He was asking, "What does dance mean to you?" And something happened in my head where I heard something totally different—because he had just been talking about a rehearsal and someone was talking about how a musician was playing the piano, and I answered back still having thought that we were talking about the previous conversation. I said something really dumb and then he just laughed at me. He was like, "No, what does dance mean to you?" Oh, I'm such an idiot. Instead I had said something like, "We had a pianist and it was great." But it was funny, because he laughed. It was strange, for sure. That apartment is so beautiful. I just remember eerie light and feeling like, He's so small, you know? It was totally sad.

How did you hear about his death?
Oh, so we got back from Jacob's Pillow and I got a call from Trevor the next morning. I remember sleeping late and I got the call. And I was in my apartment in New Rochelle and I was like, Wow. This is really big. We met at the studio, and it felt good to just like be around my peers. We had just been dancing so much, which was crazy, too. I think everyone was so emotionally worn out, you know? There was a lot of speculation and we had just said goodbye to him. What's going to happen to him? I think a lot of us felt like he could have bounced back. Because it was sort of sudden. He had just finished making this monumental piece, and it kind of looked like he was taking a break and wasn't coming to the studio as frequently. But every time you saw him, he was still very coherent and still there and that was my experience saying goodbye to him, too. There was still light in his eyes.

Toward the end of the summer, there were the performances at Rockefeller Park? Did that make an impact on you?
Totally. I think that event was like group therapy. There were so many friendly faces. It was a very nice goodbye.
Wasn't it beautiful?
It was gorgeous. And I felt like it meant something to everyone individually, but collectively we all kind of bonded together and did it like we always did, which was nice because I thought that something would shift and get weird, but everyone held on to whatever they were feeling and stuck it out, which was good.

Like a sign of things to come?
Right. I think that was when Robert was the most supportive. He was the best leader at that time. In a different way. He was being a little bit more human to all of us.

Do you feel like the company should disband?
Yeah. I don't think it could continue without Merce, and I think it's appropriate that the company doesn't do other work. I think that it was a little ma-and-pa organization, in a way—John and Merce. And without either of them, I don't think it would have been a good idea.

Are you sad about what might happen to the work?
I'm concerned. I've seen other companies do his work, and I've never been left feeling like it's horrible. Of course there are the things like the blurry unison that I'm sure is going to disappear. He would make something unison, but he didn't demand that it happen at the same time. There are things like that, which I find so interesting, that I think probably will go away. Those things that you can't control. But I think it's going be great for students to do this work. I think it's a good tool to have as a dancer, to be able to work in this way without music, without the story. And I think that's going to be good for the dance world.

I'm worried about the school.
Yeah. They're going to City Center now. The space is booked. It's kind of sad the school won't stay [at Westbeth]. I wish they could have figured it out. It was sad to see the visa students leave, too. That was such a healthy program for international students, and that went away a couple months ago, and just to hear their individual stories—they're scrambling. I think some went home, which is sad. We'll see. I think the classes at City Center predominantly are going to be taught by Robert. I hope the Trust keeps it open to everyone. There are so many past and present company members that should be doing that work.

Teaching?
Yeah, we should all be doing it.

Do you have interest in that?
Yeah, but not immediately. I want to focus on performing. And although I've expressed interest to the woman who does the licensing about restaging, I think it would be better if I could do that later. I just turned 30. I'm losing my job. I need to get another company. I need to do some other project before I start teaching or think about universities. I have different ideas, and I have some people who might be interested to work with me, but I don't actually have a solid idea. I'm looking forward to taking a break mentally to recollect after this is all over. It's been so intense. I wouldn't want to just jump into anything.