Heads up! We're working hard to be accurate – but these are unusual times, so please always check before heading out.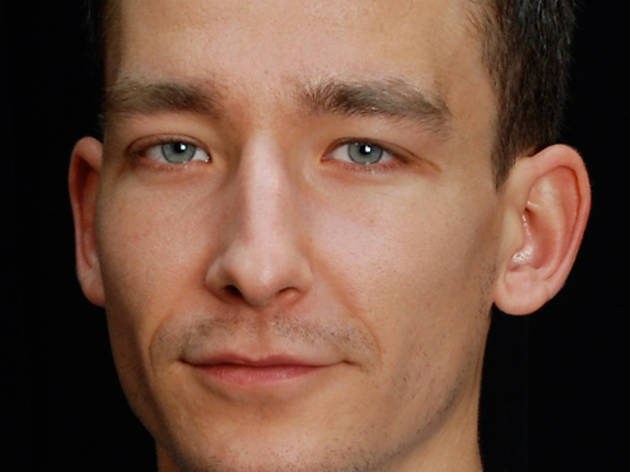 You were born in France, right? But you barely have an accent.
Yes. Well, my father's English-Canadian and my mom is French so I was born and raised in France, but my dad, from the get-go, spoke English at home. So my dad would speak English and my mom would speak French. And it was never a very rigorous thing. For most of my life, until I was a teenager really, my dad would speak English and I would answer in French. There was no, "You have to answer in English," it was just this integrated thing and I could do whatever. So that's why I don't have a French accent. But I never lived in Canada.

Where were you born?
I was born in Rouen, which is near Paris, because my dad was an ice hockey player. He was professional when I was first born. So we lived in the north for five and a half years and then moved to Montpellier right before primary school—first grade—and I went through my entire school life there.

So you studied dance at what age?
I studied it from 10 to 12 and then I stopped and then I started again when I was 17.

Was your mother a dancer?
No. She was an athlete. She ran. She did marathons and stuff like that, but she had back problems so she could never become professional. So she was always kind of a fit person also, and I have amazing pictures of her teaching aerobics in the '80s: She's basically in a pink unitard with a little belt and a side pony all poofy. It's the best picture ever. It's funny because aerobics used to be so big and then it went away. And now it's coming back in different forms, like Zumba and step classes.

That's right. Zumba is a form of aerobics.
I don't really know much about it, but it feels like it is the Latin version of it. I have to say, aerobics are really...I studied that in college. My thesis was the effect of aerobic training on modern dancers. It was actually very interesting. I don't know about here, but in Europe, modern dancers tend to not be so fit. And I just noticed that: We weren't really cross-training when I was in college and then I got into aerobics and I thought, Oh, that'd be interesting to study. So I had a group of I think 20 dancers that I trained for eight weeks, three times a week, and saw their maximum heart rate and their oxygen intake before and after and how it changed their mood also.

Happier?
Yeah. It turned out that it didn't make that much of a difference in terms of their general fitness level because they would be more fit, but they would also have more fatigue, so it would kind of even out. They would be more fit, but they would be more tired. But in terms of their mood, it turned out that they were a lot happier and in a lighter mood and less likely to be depressed, which I think for college is probably a great idea. [Laughs]

Weird! And you saw no bad physical results? Well, I guess it wasn't long enough.
And also I was like, You are in college. You are responsible. You should know your bodies. If you're tired, you stop. It wasn't like a ballet class they had to take where they couldn't stop. It was a little more lenient in that way. I cotaught it with another girl. It made me super fit because I had to be doing it the whole time and screaming.

Did your mother teach you how to teach aerobics?
No. I just did it myself.

I'm sorry, but I got excited and started skipping ahead. When you were ten, what kind of dance did you study and why did you go in the first place?
When I was seven years old, I started drama because I had this friend in second grade who was a total drama queen and she was like, "Oh, I'm going to drama class." And I was like, "Oh my God, sounds great. Let's go." So I went to drama class and my drama teacher actually used to be a dancer, so a lot of her classes were infused with dance or movement-based tableaux or sequences. I was kind of like, Maybe I want to really dance, like completely dance. And then I went to a little gym in the town I lived in and sort of did it, and it was fun. I was the best little boy there so I got to be Adam in the end-of-the-year show. Adam and Eve. Whatever. I liked it and then my dad—very professional athletelike—was like, "Well, you know, you're serious about this, you should go somewhere that means something. If you want to be a dancer later, you shouldn't be at this gym. You should go to a conservatory." So off I go to the conservatory in Montpellier for modern. And it was too serious. I had to wear a gray unitard, which I was not happy about. [Laughs] I also had to take singing classes and I had to learn how to read music just to be a dancer and that I really didn't like. I was like, I just want to dance. Why do I have to do all these other things on the side? Tried ballet for a second in the conservatory world. Hated it. I did it for two weeks then stopped. At 12, I didn't want to do it anymore.

Why?
Socially it just seemed too awkward and too hard to be a boy dancer, and I felt like I didn't want to do it that badly that I was willing to risk social suicide. I mean, it's a little dramatic, but you know? People started making fun of me because I was dancing, and I was like, you know what? I don't need it. So I dropped that but kept doing theater the whole time. So it kept this physical part a little bit alive. And then also I did some opera stuff, which also involved very physical sequences. And so it was always there in the back of my mind—dance. And at 17, it was just one of those things where a friend of a friend had a mom who had a dance school that needed boys to lift for the-end-of-the-year show. I was like, "Fine I'll do it." It was three weeks of classes and then the show and the teacher said, "You have to dance. You have to come back next year to my school and you have to dance. You have so much potential." That summer, I had a really hard choice because I knew that I was basically choosing my career. If I wanted to seriously go back to dance, I couldn't do theater as well. I needed to decide, is it theater or is it dance? And it was really hard because I'd done theater at that point for more than ten years and I had performed in the Avignon Festival. Ultimately, I felt the need for something more physical so dance made sense. And the way I justified that a little bit was, well, if I want to be an actor later on, I can. If I want to be a dancer, it's now. It's not in 20 years. The following year, I went back to that smaller school and just did everything, and it was great because I really got a lot of attention from the teachers. I did modern, contemporary, ballet, hip--hop—everything.


What kind of modern was it?
It was Matt Maddox. Kind of like old jazz. But infused with the teacher's own style. So some of the exercises were still tendus and plis, but with weird arms, you know? I feel like center [exercises] was more his style.

You were 17. So were you going to go to college or university?
Well, at that point I was still in high school because I did my—ninth grade twice because I was just having too much fun partying and not going to class.

That's funny. So you were a little older than the others.
Yes. I graduated at 19 instead of 18. Dance gave me something. It wasn't like, Oh I have to finish high school because I have to; it was like, I found this thing that I love, that I want to do. So I've got to finish. I've got to graduate so I can really start dancing. It gave me an incentive and a purpose, which was really great. And then I quickly realized that since I was seven, I've always been like, I don't want to be good, I want to be the best. And it was this stupid thing that I said, but as I grew older, I realized that it was kind of true. Whether it was acting or dancing, I couldn't just be good. Working with those people when I was 17, I realized that I would kind of always have to switch environments and try to surround myself with new teachers, submit myself to new challenges to keep growing. I spent a year at that school and they really helped me because they believed in me. And I was also dancing in this small company of theirs so I had performing experience the whole time. But then the following year I was like, I need more. I want more.

Where did you go?
To this other school that had a preprofessional training program that was sort of arranged around school hours. So you would start really early or go in the morning and there you have seven or eight different teachers. They had ballet, men's ballet, modern, all this different stuff. And that taught me so much also. It gave me options.

So you mentioned boys' ballet too, so you were with other guys?
Yes. Yeah that was a great thing. And it was taught by an old ballet dancer. A man. So that was also really great because it was my first...well, it was great to have a dancer who was really masculine. When I left the first school, they didn't want me to leave. I don't know if they were insulted, but they tried to make me feel bad about leaving. Telling me that I wasn't ready, that I was too sure of myself, and that I thought I was the best. And I was like, "That's not what's happening, I just want to see something different, and you should be able to let me go." I wanted to move on as quickly as I can because I started late. So very early on, I was like, Okay that's something that's going to happen in this world: People are going to grab onto you and try to fulfill something of their own through you and you have to recognize that right now. You have to watch out for that. Because when they said that, I remember being like, Maybe they're right, maybe I'm not ready to leave, maybe I should stay here another year. And also for them to say that I was overconfident and that I thought I was so great when it was not true—it kind of threw me a little bit. I remember talking to my mother and she was like, "Don't listen to them. If you feel you have to move on, move on. People are always going to try to hold you back because they want you to be good but not great and certainly not greater than they are. You just have to figure out what you need and go for it. You're not going to be a dancer by not ruffling any feathers." That was a really important lesson and definitely both my parents helped there. Also my dad, having been through a professional career was like, "People are going to try to make you what they think you should be and it's not about that."

Where did he play hockey, by the way?
He was in multiple cities, but he was twice French champion in Rouen the year I was born and in Nimes.

What did you do after that in terms of training?
I went to the preprofessional program, learned a lot. On the side, I was also taking class with another two people that had nothing to do with either worlds. And one of them, one day, just mentioned the Laban Centre. She was like, "You know, you should look into Laban. It's close, but it's not in France and one of my students went there and she was really happy." I've always been super, 100 percent into where I am now; I'm not a big planner. And so of course, I graduate high school and I haven't really looked into anything because I was in a professional program and had all this stuff going on. So all of a sudden, I graduated and I'm like, I don't even know what I'm doing. And I know I don't really want to stay here. So I just went and auditioned for Laban without doing any research or knowing anything about it really. I got in; but I also got into the Royal Winnipeg Ballet School in Canada. And so then again, I had two choices that seemed would totally determine my career. That was the summer of being 19. Really what was at play was do I want to be a ballet dancer or a modern dancer? The Canada/London choice did help. Do I want to go to Winnipeg, Canada, or London? London sounded so much more exciting. And also the thing about being great, not just being good, I felt like I could be a good ballet dancer, but I could be a much better modern dancer. And so eventually, that just became the clear choice. I moved to London and went to Laban.

Is that where you started Cunningham technique?
Yeah. I had heard of it beforehand, but I didn't really know what it was. I didn't know who he was. I had never seen a show or even a video. And then in college, of course, we studied him in dance history and we actually had Cunningham technique three or four times a week my first and third years. The first year, I was taught by a guy who had never been in the company, but had studied at the studio. And my third year, I was taught by somebody who was in Rambert and I think had maybe been in Duets and had some experience with Merce. Not a lot, but Merce had come to coach them or something. And his approach was much more physical and sort of aggressive, which I liked. Because Laban was as much about experiencing as about reflecting on things, which I found really frustrating at times because having started late, I was like, I just want to learn. I just want to dance. I want to experience. I don't want to think about it. I don't want to talk about it. I just want to do it.

You felt impatient.
Right! It was late already for me. He was totally like, "You just have to do it. Do it. Do it again. Do it again."

Who was it?
Gary Lambert and also this other woman, who was in the Graham ensemble back in the '80s and was American. She was teaching us Graham and had that approach where she was a lot more aggressive, which I loved. Eventually, that's why I moved here to the States—it was to find more of that aggressive, assertive training approach.
And you found it at Cunningham, or elsewhere?
Elsewhere at first and then at Cunningham. When I studied his technique at first, I was like, "This is so hard, I can never do it." And then I saw his company perform at the Tate and all I remember is them being on relev the whole time and I was just like, This is not going to happen. It was multipl--stage Events. So I loved Cunningham when I was in college, but for some reason in my mind, it was not even a possibility. So when I moved to New York, I didn't go to the studio for months, almost for a year. I went to Peridance, DNA, what I thought were the modern places and I worked with small companies, did a few projects here and there with Peter Kyle and Eliza Miller. I think that was it at the very beginning.

How did you make your way to the Cunningham studio?
I saw this ad in the paper for a scholarship audition. I had been in New York at that point for nine months and I had been doing little projects here and there that I was really happy with, but I hadn't been training as much as I wanted to because I had to work at a restaurant to survive. Again, I had a conversation with my parents and they were like, "You know, we just wanted to remind you that you moved to New York to dance and we know you feel like you have to work to make money to survive, but we'd rather help you financially and have you actually dancing, which is what you went there to do, rather than work in a restaurant." So they started helping me, and I started working less. Got a scholarship for Cunningham, so started being there a lot. Got a lot of encouragement from the teachers, mostly besides Robert [Swinston], it was Banu [Ogan], Jeff [Moen] and Louise [Burns] who actually were really present at the beginning. And then pretty quickly an understudy left, and I really wanted to be an understudy so I was assertive and went up to Robert and was like, "Hi, I want to be an understudy, what do I have to do?" And he was sort of like, "What?"

Taken aback?
Yes. He said, "Come take class with Merce and if he likes you we'll take it from there because he's the one making the call." And I took class and Merce liked me.

Just like that?
Just like that. I mean I remember that first class I took with Merce, it was like I couldn't breathe. Literally, I don't think I was. I was starstruck and not just by him, but by the company, too. To be in a class with the Cunningham company? Dancing next to those amazing people and listening to him? I picked the spot where I was furthest away from him. He was in the downstage right corner and I was by the piano upstage left, all the way in the corner. I think I was behind Rashaun [Mitchell] because he had befriended me by that point: "Just stand behind me, you'll be fine." And I remember at one point, I think it was an around-the-leg exercise, Merce sort of said, "You!" And pointed in my general direction. I was like, He can't possibly mean me. It's that thing where he points and everybody steps away and little by little, you feel like an imaginary line is coming toward you and there was no one behind me. He said, "Yes, you. Make sure your leg is really straight at the back." And I was like, [Whispers] "Okay." And that's the story of my life—it's a correction that I get a lot. I was so glad that I got a correction in my first class and that he saw, right away, what I have to work on as a dancer. And I was so far away. But he noticed.

What a laser eye, right?
Yeah. I was so far away from him! He was 88 at that point.

Did you become an understudy right away?
Pretty much right away after that class. I had been at the school for six months. And then I took class with Merce. One of the understudies had left, but Robert wasn't sure when he was going to hire another—before the summer or after the summer? I got hired right before my birthday in June and started right away.

And you were with Jamie Scott?
Jamie and Melissa [Toogood]. Daniel [Madoff] was an understudy with me for like a month. And then he replaced Cdric. Then John [Hinrichs] got hired. It was the four of us. And then when Melissa got in the company, Krista [Nelson]. So I was with Mel for a year and with Krista for a year basically.

What did you work on?
XOVER and Nearly Ninety. Actually XOVER was a very interesting experience because the summer that I got in, they had been already creating it, but the way the RUGs [Repertory Understudy Group] worked back then was a lot less consistent. If you had a gig or you had to leave, you just did. So Merce was more used to, I have one person, so I'm going to make a solo or I have two people, so I'm going to make this a duet, which is how the XOVER duet got made. Because for a really long stretch of time, he only had two dancers. And then he had this crazy section—the really fast section in the middle right after the slow duet. And it's the section that originally was [Daniel] Squire, Jen [Goggans], Holley [Farmer] and Daniel [Madoff]. And it's really fast and spazzy and there's a lot of torsos and right after I got in, I had to learn that section, which was weird because they had already created it, but Merce wanted to see it. That section is so difficult. I mean, still to this day if we leave the piece for a couple of months, we have to relearn it because there are two or three torsos for each step. It's almost as if he was playing with the torso, moving you through space so you really have to be kind of wild with the torso while still in control. So I had just become an understudy. I had been in the school for six months; I was still trying to figure out the technique, and he was like, "Just learn this." That was the biggest challenge I've ever had to face. He was testing me, I think, because the other people only spent two hours teaching me, which really is not that much for that section. I kind of followed them a little bit. We did it once or twice. I kind of had the idea, and Merce asked me, "Do you have any questions?" I didn't really want to waste his time so I'm like, "Well, I think I'm okay for now." He said, "Everyone else leave. Dylan, figure it out." So I'm left in the space and it felt like an hour. It was probably more like 35 minutes. It was just me on the floor; he's watching me trying to figure it out. And now looking back on it, I think it was a test of how I worked, or if I could just keep going. And I just kept going. And I just tried to figure it out and I knew if I didn't remember, he would sometimes throw me a bone or sometimes not. And Jamie was on the side stretching and she would gesture at me or try to help me out sometimes, but it was just like, How much can you take?

Your memory is your memory.
Yeah and are you going to make something up to just keep dancing. Are you going to stop? How do you work? As it turned out, I do this section now, but I literally had to learn it three or four times because it's in this fast-memory drawer, not really the long-term memory. It's like I have to remember it right now to dance it right now. And then I don't do it and it goes away.

What did he say to you after that?
He was impressed. I don't remember exactly what he said, but I think he said something like, "Well done." It's a lot. And I didn't realize it at the time, but after talking to people I was like, Oh yeah, that was a big deal that he said that to me. He taught me so much and his presence was so...He was such a generous man. Such a giving person, and I know maybe it wasn't always like that, but when I was around, he was just so giving and so patient. Something that Jamie and I talk about and share is that feeling that you were never not good enough. Certainly we felt inadequate in comparison with the company or absolutely not ready, but for him it was like you are who you are, and that's good enough for me right now. We all work 200 percent every second of the day. But you were good enough for Merce no matter where you were. And that was a great thing; with the wrong people, it might make you lazy, but with us, it just provided us with the comfort to be able to go for it and not feel frozen by the fear of not being good enough. We were able to make mistakes, which is what he really loved. I don't know if he was aware that he was doing that, but just making us confident in our ability made us so much more free as dancers.


Did he ever give you something so crazy that you all just started laughing?
Yeah. One day, we were making a Nearly Ninety duet, the one with Rashaun and Andrea [Weber] where they're constantly pulling away from each other. Jamie and I were together and Melissa and John were together. It was made as a double duet. He said, "Well, I don't know if this is possible, but let's try anyway." And then he told us, and we all started laughing. The boy and the girl face each other. She is pulling away, she's off her leg, falling. The man is on one leg, also falling, but holding her up. So we were like, "Wait, so we're both falling over in the same direction, but I'm holding her up?" We all laughed. And he said, "I just want to see if it's possible to find a way to make it possible," and it turned out that it was possible for a second. But, yeah, we got comfortable enough where he would say things and we would just laugh. And then in terms of partnering we also got comfortable enough to say, "Do you mind if I hold her arm instead of her hand?" And he would be like, "Do what you have to do." But there were times also when he made really complicated, challenging sections, brainwise, and it would just take us like three days to memorize everything.

And in a sequence he would tell you exactly what to do?
Sometimes it would be very exact: Let's start with the legs and then the arms and then the torso. Depending on how specific of an idea he had of a section, he might do a long phrase of just legs and then the following day add the arms and the torso. Or if it was more a work-in-progress and he wasn't really sure where he was going with it, every two or three movements he would go back and add the arms and the torsos.

He wasn't working on a computer program, was he?
We don't know because when he worked on the computer program, he never brought it in anyway. My understanding is that he would create a computer sequence at home, take notes from what he saw on the computer and then use his notes to create work on the dancers. So that the dancers were never able to see what was on the computer and therefore not influenced by what it should look like. So it's hard to tell, but I feel like in Nearly Ninety , he was working more on this idea of numbers and fitting in different numbers into a two. So it was all about counting the two. There are a bunch of sections in Nearly Ninety where it's like, Can you fit a three, a four, a five into a two? It's that sort of idea that all the dancers have this beat that they stay on. They're all in the same time signature, but not all in the same rhythm. So even if you do a five, you should still start and end with the person doing the two because ideally you're all still on this beat. So that's the way he worked on a bunch of sections. Of course, he'd make it faster and faster until it was impossible. We would do it to the point where it was comfortable and doable and he'd be like, "Do it again, do it again." [ He beats rapidly on a table. ]. It was absolutely impossible to go that fast but we'd try.

Who in the company were you teaching your parts to?
I mostly taught my parts to Daniel Squire, Rashaun or Daniel Madoff. I have to say it wasn't that awkward. Partly because Jamie and Melissa had been there longer and so for the big group sections, if we all knew something, I would just let them take over. I didn't feel that pressure to teach a whole group section. And in terms of partnering, I was always very clear—because this was the way we worked with Merce—that it was my interpretation or my choice. There were times where I was like, "I hold her here, but John holds her there. And both are okay with Merce." Or I tried to remember what he had said. Like, "This is what I'm doing, but this is the instruction we got." And I was also teaching Daniel Squire a lot. He was so interested in detail and the science of the movement that he really appreciated all of that information, where other dancers might say, "Just show me what it is." But Squire would think about it and sometimes go with my choice and sometimes not. It was really interesting. What was awkward was how Merce loved the way that the understudies did it, because that's just what he had been watching for almost a year and a half. We would teach it to the company, they would do it and he would be like, "No, no, no, no, no. RUGs, show them." So we'd have to do it again and he'd be like, "Company, do it more like this."

That must have been strange.
The animosity was never toward us, even when there was tension. The people in the company made an effort to make that clear that the tension wasn't directed at us, but it was there and it was a tense situation. It never got nasty because most of the people in the company when I was an understudy, had been understudies. Even if it was difficult, they had been on the other side of it.

What was the experience like for you when the dancers [Holley Farmer, Koji Mizuta and Daniel Squire] were fired?
It was a shock. It was three of them at once and there had been talk from some of them that they would be leaving. Or that they weren't. And it was this sort of thing like, Are they gonna leave? Are they gonna not? Are we gonna get a job? Are we not? It was all tied together, but I never thought anybody would get let go and certainly not three people at a time. It was very unclear why it was happening; I didn't automatically think that any of us were going to get hired because they got let go. I was kind of like, Oh well, maybe they're just like downsizing. And maybe our chances of ever being in the company are going to be less now. I went to talk to every single one of them, and I thought they were all great dancers still. And maybe in Merce's eyes they might have had their flaws, but I guess it was kind of a reality check with who Merce also was, which was this artist who, in order for his art to stay relevant and for him to just keep moving forward all the time, he had to be...I can't think of the word. But he just had to make choices that were hard and not care about how people felt.

Ruthless .
Yeah. And part of me thinks that's why he still was who he was at 90 because he did make those decisions, but at the same time, on a human level, seeing that is hard. And it wouldn't be honest of me to say that when that happened that it didn't open this door for me to hope that I might get a job. I mean, that did happen too, but it was sort of this thing of like, I can't even think of it because I feel so bad for the dancers and also because I was an understudy when Silas [Riener] got hired into the company. I was like, I'm not even going to think about getting hired because I don't want to be disappointed if I'm not. I have to just keep working. So in that sense, I didn't let myself go there. It didn't mean anything.

And then you were offered a job?
Yeah. While the company was on tour, we were told that they might replace certain dancers, but they were not sure how many and they were not sure who. So we kind of got a heads-up that there would be job offers coming up, but we didn't know if it would be like one girl, one guy, a guy and a girl, two guys. We had no idea. They came back and we heard, I think for the opening of Nearly Ninety at BAM, Jamie and I knew we were getting hired. So that was kind of interesting to see the opening of this piece that was made on us that we had transferred knowing that we were going to replace the people that were in it. That was kind of weird.

You were in the audience?
Yes. I wasn't bitter about not being in the premiere. I was just so glad that I was going to be in the company. And also—especially replacing Squire—I think that he's a wonderful dancer and it was kind of like, this is my last chance to really see him perform. And also even though a lot of the parts he did were made on me, it's like this chance to see another interpretation of it before I take it over.

Now how much time did you have with Merce as a company member?
Not much. We got hired at the end of June. My first day in the company was on my 25th birthday on June 30th. And he died July 26. Only a month. The pieces that I rehearsed the most while he was alive were CRWDSPCR , eyeSpace 20 and Split Sides . And the one thing that I really remembered was before my first show at Wolf Trap. We Skyped with Merce and the one thing he told us was, "Do not show off. Don't try to be anything, just be yourself in the movements." That really struck me and stayed with me. There's a physicality that's very interesting, but if you comment on it, it might become cheesy or it might look like you're showing off, so to really be myself in the movement is something I've tried to do. To just be me onstage. And for whatever it's worth, however I feel that day, yeah, to just be honest.
That's what you've been focusing on during this tour?
Yes. I've done that with Pam [Tanowitz] too. With other choreographers who have allowed me to be myself. So that kind of infused into the Cunningham work.

Did he say things like that often? Or was that the first time you heard it, not to show off?
That was the first time I heard it. We actually all were kind of worried that night because we thought he was saying goodbye to us. In talking to the whole company, he said, "I want you to know that I know this hasn't been an easy time and I'm really glad that you're all in my company and I'm glad that we got through this." It was so weird because for somebody who was so not talkative and not an emotional person, he acknowledged, all at once, the fact that letting go of those dancers had not been easy, but he was happy that we were all there. And then he gave us this piece of advice that was so inspirational. I remember being about to go onstage and being like, Merce might die tonight. He just kind of said goodbye to us. This is weird. We all felt that way. But it was also such a blessing to hear that before my first show. And how relevant it is, and how true it is and how almost like this is exactly what I've been trying to do all these years and you finally put it into words for me.

When was the last time you talked to him?
We went over to his house to say goodbye before we went to Jacob's Pillow, so that would have been around the 19th of July. We knew that he was not doing so well so we got a chance to go, four or five at a time, to spend 15 minutes with him; we went to say goodbye, blew him a kiss. It was such a blessing to be able to do that. When you have somebody you love and you lose them and you have said goodbye to them, it's just so great. And he laughed until the end. He was cracking jokes.

Really?
He was in his chair and I was right next to him and we were talking and laughing and I was leaning in and all of the sudden he was moving backwards—it was an automatic chair and we were like, "Oh my God, what's going on?" I was like, "Oh my God, Merce, it's my knee!" My knee was pressing on the button and he was just laughing so hard. I was like mortified and he was just laughing and laughing.

What is it like not having him there anymore?
That's maybe the hardest question. In the beginning, it seemed like he was still there. Even still now, but more so in the beginning, his presence was still there. His energy was with us because it was inside of all of us, because it was there and because at the end of his life he had been present but quiet. So for the first few months, it was almost like if we didn't look at his desk, we could pretend he was there. If he had been there, he might not have said anything anyway. He might have just been like there, present, watching. So that was a weird thing where you could almost forget. And also this was something I never experienced really, but people talked about: I saw that when you got in the company that Merce detached himself from you a little bit. I think it's a self-preservation thing; you're not going to be around as much—now that you're in my company. Now it's something else. The RUG thing is more close and grandfatherly; there's respect and expectation that changes the relationship. Though I never really experienced that myself, I was prepared for it. So on top of having all this stuff to deal with in my head—remembering the choreography, being in the company, figuring out all these dynamics within the company, being onstage, traveling...there was so much going on that in the beginning it was easy to forget that he wasn't there. But then it got more clear and hard during reconstructions.

How so?
When you reconstruct something, you always have as many takes on something as the number of dancers that were in it, which is the great thing about Merce's work. But, ultimately, when something like that would happen, it would be like, "Well, I remember this" or "I remember that" and then Merce would make the call: "Let's do this now." And that was the main difference that was difficult—working on things without him because how would you decide? Who would make the call? If Merce was still alive, he might have chosen C instead of A and B. He might have just made something up for you that suited you or changed something a little bit. And I think Robert is very aware of at the same time trying to lead us and help us figure things out, but he doesn't want to be Merce. And so there's sort of this thing where if we can figure it out otherwise, he doesn't want to make the call because he is not Merce. Sometimes it gets to the point where he just has to and he makes the call and that's fine, but so that's kind of the hardest thing is all the conversations and the negotiations and compromises. The discussion is because we care and we want to be as true to Merce's work as we can. But it can get a little tricky.

Yeah, there's the danger of killing it.
And I think that's what happens. And I think that's part of why Merce wanted the company to end because the work would become stale because he wasn't there to change his dances constantly, or it would become one person's take that was not his. I don't know how I feel about it. I think some of it is true. I think some of it is not. I think that's maybe what he was thinking. He didn't want to get stale. Didn't want us to be stuck in this museum of what his company once was.

Do you think it's the right decision to disband?
I don't know. And also because it's happening, I've just made peace with that. I mean, for us it's hard. Jamie, John, Krista and I just got in. We're just figuring out all this stuff and we're getting familiar with the pieces and then it's gonna end. And obviously we've learned so much; it's not like it's a loss. Everything that we've learned is just amazing, and we can just take it in our next steps, but it would have been nice to get a little more time. And if Merce made that call then I respect that. And I understand it. And maybe it's an artist's ego thing? I don't know. I just have to figure out what my take on it is. But to speculate on what could have happened, I try not to do that.

Do you detach yourself?
Yeah. I'm not thinking about the future because I really want to experience this 100 percent, because this is one of the major professional experiences of my life, and it's a very important step historically for dance. If I want to get a job, I'll get a job. I don't want 10 years down the line to be thinking, I wish I had enjoyed this time instead of being stressed out about the next step. Merce provided us with a severance package, which makes us financially a little freer to not worry about it now. I think that's why he did it. And I think it wouldn't necessarily be fair when he provided me with this cushion, financially, to not be here 100 percent. But it's hard. I made the decision a long time ago to not be stressed out about it, but these days it's a challenge. It's getting harder and harder to not have a plan. But at the same time, I want to be here. Completely. And then we'll see. And I don't know. I'm not sure what I want to do. But I want to keep dancing for sure. I'd like to try and stay in New York.

Who do you dance for now that Cunningham isn't around?
I still dance for him actually and I dance for the group that we are. After Merce passed, the group became a lot more selfless and it was just this thing where we came together and it was our mission to show the world Merce's work. It was about us doing this for Merce. We'd all been chosen by Merce, and it was this honor, so there's no time for egos. Now it's about Merce. We're doing this for Merce. It's about us showing the world how amazing he was. I owe it to Merce, and I owe it to every single person dancing with me to be the best I can be.