"Hans Haacke: All Connected"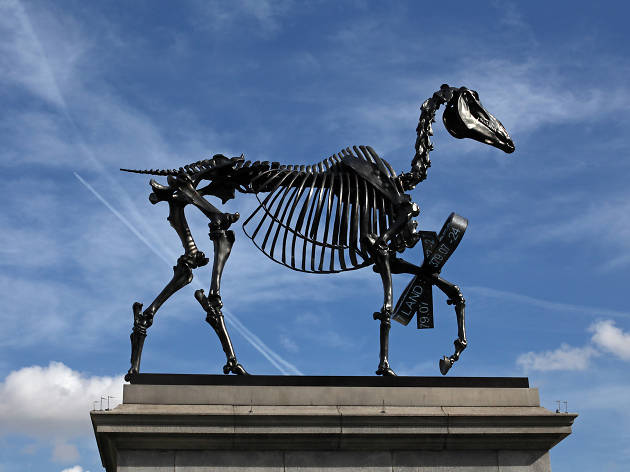 Time Out says
Honoré de Balzac once observed that "behind every great fortune, there is a great crime." By that logic, the same goes for art, since buying it requires big bucks. But while it's been accepted for centuries that patronage is often gift wrapped in paper soiled by dirty fingerprints, it's only recently that the connections between money, power and culture have become a topic for art itself, largely thanks to Hans Haacke, the subject of this New Museum survey.
Born in 1936 in Cologne, Germany, Haacke is a founder of Institutional Critique, a conceptualist genre that pulls back the curtain on the machinations behind the art world. Haacke has been especially aggressive on this score, inviting trouble that would sink other careers by exhibiting work that, for example, targeted the trustees of the institutions where it was shown.
By his own account, Haacke's aversion to the status quo grew out of his experience as a guard at the 1959 Documenta, recalled here in his black-and-white photographs of the exhibition's opening. Conceived in the mid-1950s and mounted every five years in Kassel, Documenta was initially meant to represent West Germany's cultural renewal after the barbarity of Nazism. But as Haacke observed the proceedings from his post, he came to understand that Documenta wasn't just an exhibition, but an event that had national and even international political implications. As he later put it, Kassel was where he lost his innocence.
Initially, he was influenced by the postwar ZERO group, which promoted a minimalist aesthetic that emphasized the harmony within nature. Haacke began to recast elemental forces as curiously zen objects: a balloon held aloft by a fan, an earthen mound covered in grass, a clear Plexiglas box dripping with condensation on the inside. It was through these efforts that Haacke came to see the convergence of politics, economics and art as a kind of ecological system.
Among the projects that followed, Shapolsky et al. Manhattan Real Estate Holdings, a Real-Time Social System, as of May 1, 1971 is Haacke's most famous. Created for a 1971 Guggenheim exhibition, this series of text-and-photographic documents details the slumlord dealings of one of the museum's board members. The work got the show canceled and the curator fired, but it cemented Haacke's reputation. Later pieces continued in the same vein: MetroMobiltan (1985) features a replica of the Metropolitan Museum's facade hung with a banner for an African art exhibit. Two other flags flank it, each with quotes from show sponsor and oil company Mobil defending its business dealings with South Africa's apartheid regime.
In recent years, Haacke has kept up the good fight against late capitalism's ever-encroaching presence in contemporary art. For example, 2014's Gift Horse is a satirical equestrian monument presented as a life-size bronze of a horse skeleton that has a digital stock ticker wrapped like a ribbon around one of its legs. And yet, the art world has become so awash in corporate cash, conflicts of interest and bad acts that, at times, Haacke's art seems naïve or compromised by the very entanglements that he assails. However, his courageousness should not be dismissed, even in the Age of Trump: After all, just because we've become accustomed to corruption in plain sight doesn't make it any less criminal.
Details