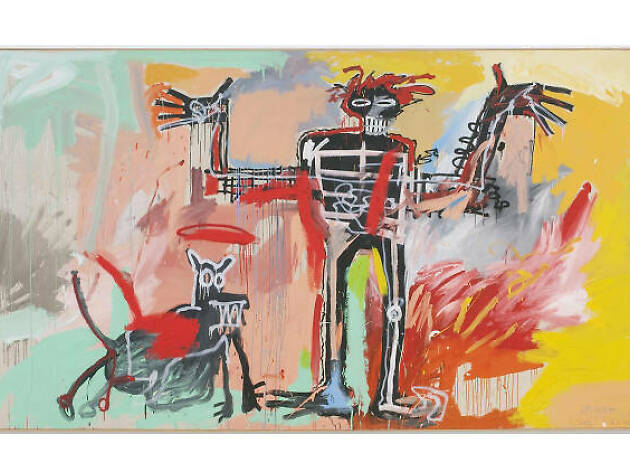 Time Out says
We live in a gilded age, as we all know. Increasingly vast disparities of wealth nurture billionaires, many of whom seem obliged to display their taste and purchasing power by opening private museums for their art collections. The latest comes courtesy of Peter Brant, a publishing magnate who has inaugurated a four-story East Village outpost of his Greenwich, Connecticut–based art foundation with a show of some 70 paintings and drawings by Jean-Michel Basquiat (1960–88), about a quarter of which he and his family own.
Born to Haitian and Nuyorican parents, the teenage Basquiat tagged New York buildings with graffiti but, in the early 1980s, transformed himself into one of the most celebrated and successful painters of his generation, exhibiting Neo-Expressionist canvases that still crackle with frenetic energy. He famously dated Madonna, collaborated with Andy Warhol and was photographed barefoot in an Armani suit, in which he claimed to have painted. In the years since his early death from a heroin overdose, his legend has only grown.
These days, he's one of the most expensive artists in the world. Among the pieces hanging in this show, Untitled (1982), a painting of a grimacing, white-eyed skull-like head, fetched $110.5 million at auction in 2017, making Basquiat the only artist of color to have earned such a stratospheric price for his work.
The subject of books, movies and multiple museum exhibitions, Basquiat is a well-known quantity, so we might expect the Brant Foundation's show to deepen our understanding of his art. It doesn't. Considerable expense and effort obviously went into this project, so its lack of any legible raison d'être comes as something of a shock. The presentation has an uneven, greatest-hits quality, though it does include some intriguing curiosities, like the early Untitled (Car Crash) from 1980, a childlike rendering of the titular event on a canvas that loosely hangs from the top of wooden crossbars. The top-floor gallery, covered by a gee-whiz skylight that doubles as a glass-bottomed rooftop reflecting pool, presents several works with standing figures that hold various objects—a sword, a bone, Lady Liberty's torch, a microphone—but leaves us without much context in which to consider what shared or divergent meanings they might suggest. Another thing missing is any sense of the political implications of Basquiat's work during the Reagan years, especially the artist's propensity for depicting black figures as skeletal forms.
Another image of a head, Untitled (1981), is more Frankenstein's melancholy monster than skull. Bristling with hair and sutures, it begs to be hung alongside the price-setting work, yet it's located on a different floor, making comparisons between the two difficult. Elsewhere, on a two-story wall, 16 canvases—hung salon-style, on stretchers with exposed corners—feel more like a rack of hunting trophies designed to overwhelm than a gallery experience meant to encourage actual seeing.
Though New York gems like the Frick and the Morgan also began as the amassed treasures of titans of industry and finance, Brant's museum, housed in a retrofitted former Con Edison substation on an otherwise still-gritty block of East 6th Street, reads as a symbol of our city's ongoing gentrification, as well as an example of how culture has become a tool of social control for today's robber barons, not an act of noblesse oblige. Ultimately, this exhbition comes off as a rich man's bauble, which doesn't make for a good first impression.
Details
Users say