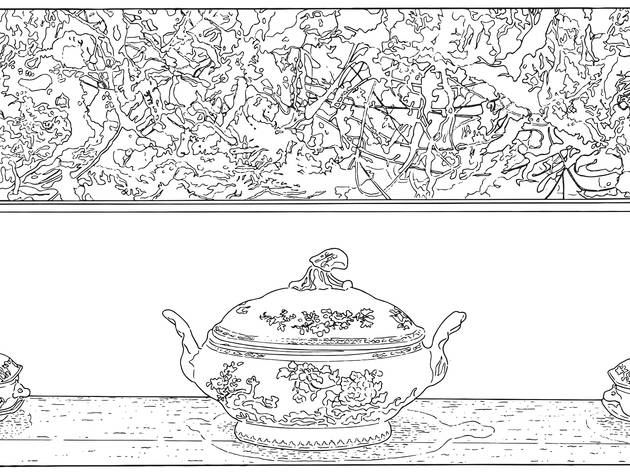 1/4
Courtesy Metro Pictures
Louise Lawler, Pollock and Tureen (traced), 1984/2013
2/4
Courtesy Metro Pictures
Louise Lawler, Still Life (Candle) (traced), 2003/2013
3/4
Courtesy Metro Pictures
Louise Lawler, Dots and Slices (traced), 2006/2013
4/4
Courtesy Metro Pictures
Louise Lawler, Formica (traced), 2011/2012/2014
Since the 1980s, the work of Louise Lawler has been associated with Institutional Critique, which, as the name implies, examines and deconstructs how museums, galleries and other stakeholders define an artwork's historical significance and financial worth. What's never been clear, however, is just how critical Institutional Critique really has been.
The genre's pioneering efforts—Hans Haacke's 1974 piece spelling out the political and financial affiliations of Guggenheim trustees—could be quite confrontational. In contrast, Lawler's formally engaging color photos of other artists' works in settings such as collectors' homes and auction houses aren't nearly as impolitic.
Much of her work could be construed as providing a backstage glimpse at works of art after the curtain comes down and the greasepaint comes off. Out of the public eye, they become objects of private contemplation, affordable only to a deep-pocketed few. Not a huge revelation, regardless of the arguments made to that effect by Lawler's supporters, but given how compelling her images can be, it scarcely seems to matter.
In her current show, Lawler heads deeper into the waters of refinement, digitally stripping some of her previous images to black-and-white schematics. Printed on stretchy vinyl sheets, they're applied directly to the walls, rather like expensive wallpaper, which is presumably the point: In the halls of power, all art functions as décor.
Again, how much of a frisson this provides depends on your taste for the meta. I prefer to see Lawler's work in the tradition of paintings about other paintings, exemplified by Watteau's The Shop Sign of Gersaint from 1720. With their delicate rococo tracery, these pieces fit right in.—Howard Halle