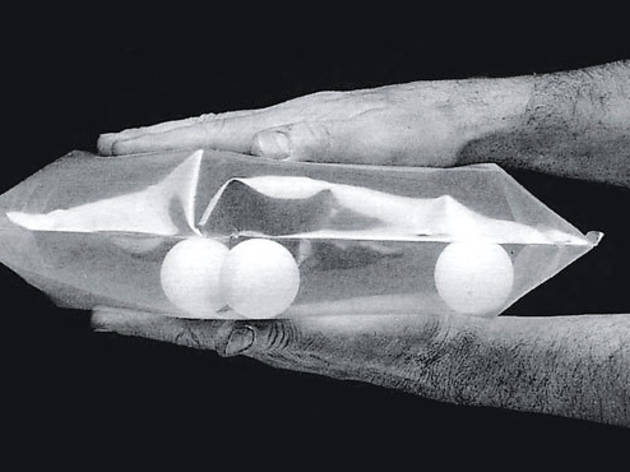 1/12
2/12
© Thomas Griesel
Lygia Clark, Planes in Modulated Surface 4. 1957
3/12
Eurides Lula Rodrigues Cardoso
Lygia Clark, Planos em superfície modulada no. 2, versão 01 (Planes in modulated surface no. 2, version 1). c. 1957
4/12
Collection Andrea and José Olympio. courtesy Associação Cultural "O Mundo de Lygia Clark
Lygia Clark, Superfície modulada no. 9 (Modulated surface no. 9), 1957
5/12
Private Collection
Lygia Clark, Sem titulo (Untitled). 1952
6/12
7/12
© Thomas Griesel
Lygia Clark, The Inside Is the Outside. 1963
8/12
Jones Bergamin
Lygia Clark, Trepante, versão 1 (Climber, version 1), 1965
9/12
Courtesy Associação Cultural "O Mundo de Lygia Clark
Lygia Clark, Máscara abismo com tapa-olhos (Abyssal mask with eye-patch, 1968
10/12
Courtesy Associação Cultural "O Mundo de Lygia Clark
Lygia Clark, Estruturas vivas (Live structures), 1969
11/12
Courtesy Associação Cultural "O Mundo de Lygia Clark
Lygia Clark, Diálogo de mãos (Dialogue of hands, 1966)
12/12
© 2014 Eduardo Clark
Lygia Clark, Óculos, 1968
This fascinating exhibition surveys the work of Brazilian avant-garde artist Lygia Clark (1920–1988), a central figure in Brazil's short-lived Neo-Concrete movement of the late 1950s and early '60s. The Neo-Concrete artists borrowed from European nonobjective painters such as Piet Mondrian and Kazimir Malevich, but rejected their rationalism in favor of a more poetical and phenomenological approach. Clark and her compatriots, such as Hélio Oitica and Lygia Pape, developed a peculiarly sensual variety of abstraction extending into social space. They would all eventually experiment with performance and interactive forms of art that have new currency today. For Clark, who eventually became a psychotherapist, this began as hinged artworks that could be folded into different shapes by the viewer. "Relational objects" worn by clients in her private therapeutic practice—such as headsets outfitted with shells that covered a person's ears—followed.
In Clark's first retrospective in North America covers those developments and more, tracing the aritist's career from her luminous early abstractions of the 1950s to her multi-sensory, participatory artworks of the 1970s. Organized chronologically, the show is divided into three parts, each representing a significant phase in her artistic development.
Clark started out by studying painting in the late '40s, including a stint in Paris under the tutelage of Fernand Léger. In the mid-1950s, she made her first major works: Puzzle-like paintings on wood—first in color and then in black and white. Increasingly, her paintings gave the illusion of depth, notably in the all-white Planes in Modulated Surface no. 1, version 1 (1957) which on first viewing resembles an outsized piece of origami.
The first big shift in Clark's thinking occurred three years later with her series, "Bichos (Animals)," in which, geometric cut from sheet metal are joined with hinges, so that viewers could manipulate them into different configurations. An even more important advance came in 1963, when Clark created Caminhando, a "proposition" in which viewers created the art themselves. The work begins with instructions to glue a length of paper into a Mobius strip, before cutting along its length until it's too thin to cut any further. The result is a tangled ribbon of paper that loops and twists upon itself, an instant sculpture made new each time someone performed the piece.
During 1964 and 1965, Clark created her own variants of the Mobius strip sculptures out of metal and rubber, which could be handled by viewers like the "Bichos." By 1966, Clark had moved into creating what she called "sensorial objects" designed produce perceptual experiences for participants. These include textured or padded gloves, goggles with movable mirrors, and plastic hoses that, when squeezed, puff air into the ears. The Modern provides replicas of these objects that museum goers can play with.
Like many of Brazil's artists and musicians, Clark left the country following a 1964 takeover by a military junta. In 1968, she settled in Paris, where she reinvented herself as a researcher. In a 1971 letter to her friend Oiticica she wrote, "My work . . . is outside any scheme of art." Invited to teach at the Sorbonne in 1972, she created a new set of propositions, this time involving multiple participants. A 1973 film by her son Eduardo records groups of young men and women ecstatically bound together in an elastic net, blindfolded and feeding each other fruit, or covering a prone body with thread pulled from their mouths. In 1976, Clark returned to Brazil, and until 1981 ran a private therapeutic practice, treating individual clients with modified versions of the sensorial objects. (Re-enactments by dancers and performers of Clark's therapeutic rituals will be performed at intervals during the course of the show.)
Long considered the phase when Clark abandoned art, Clark's "healing" work can now be seen as a precursor to relational aesthetics—a term coined by Nicholas Bourriaud in 1996 to describe the art of Rirkrit Tiravanija and Liam Gillick, among others. According to Bourriaud such work, addressed "the whole of human relations and their social context." But the genre has fallen so out of favor in recent years that the show studiously avoids its mention. Nevertheless, Clark's own early version of it—removed from spectacle and the art market, and even from the art world itself—still looks radical today.—Anne Doran