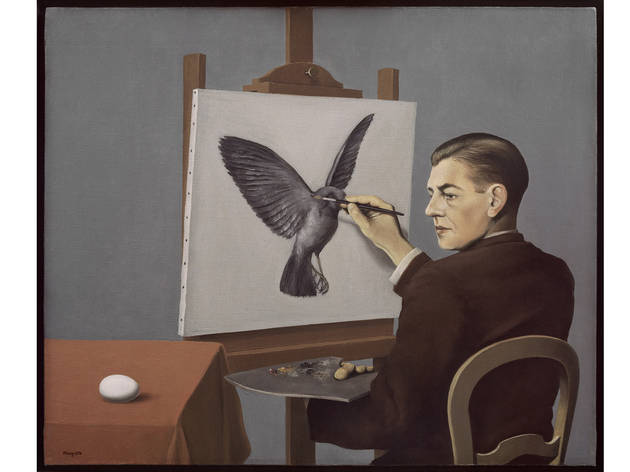 1/11
Photograph: Mr. and Mrs. Wilbur Ross
René Magritte, La clairvoyance (Clairvoyance), 1936
2/11
Photograph: The Museum of Modern Art
René Magritte, Le faux miroir (The False Mirror), 1929
3/11
Photograph: Museum of Modern Art
René Magritte, L'assassin menacé (The Menaced Assassin), 1927
4/11
Photograph: National Gallery of Art
René Magritte, La condition humaine (The Human Condition), 1933
5/11
Photograph: Jerry Thompson
René Magritte, La clef des songes (The Interpretation of Dreams), 1935
6/11
Photograph: John Tromp
René Magritte, La reproduction interdite (Not to be Reproduced), 1937
7/11
Photograph: Museum of Modern Art
René Magritte, Le Palais de rideaux, III (The Palace of Curtains, III), 1928-29
8/11
Photograph: Museum of Modern Art
René Magritte, Les amants (The Lovers), 1928
9/11
Photograph: Museum of Modern Art
René Magritte, Le portrait (The Portrait), 1935
10/11
Photograph: The Art Institute of Chicago
René Magritte, La durée poignardée (Time Transfixed), 1938
11/11
Photograph: Digital Image © 2013 Museum Associates/LACMA
René Magritte, La trahison des images (Ceci n'est pas une pipe) (The Treachery of Images [This is Not a Pipe]), 1929
The name René Magritte (1898–1967) is widely recognized by art lovers and agnostics alike, and for good reason: He utterly transformed our expectations of what is real and what is not. When someone describes something as "surreal," or recalls a dream, chances are good that the images in his or her head have been informed, consciously or not, by a Magritte, seen either in reproduction or in person.
Since the latter is always preferred, MoMA's magisterial survey of the Belgian artist is especially welcome. Focusing on the crucial period during which his aesthetic jelled, the exhibition rounds up works both iconic and unfamiliar.
Early in his career, Magritte painted Cubist-inspired abstractions, but later switched gears, embracing the tenets of Surrealism and helping to establish a Brussels branch of the movement that originated in Paris with the 1924 publication of André Breton's Surrealist Manifesto. From the get-go, Magritte's intent was to undermine our perceptions of reality by using the conventions of realism: first through odd juxtapositions of figures and items within traditional illusionistic space; next, by seamlessly morphing together textures and objects; and finally, by deploying language itself to decouple imagery from its representational function—most famously in his painting of a pipe above the legend this is not a pipe.
Through it all, Magritte charged his works with a sense of erotic menace or obsession, as if to say that our love for order is delusional and not to be trusted. A genius of paradox, Magritte expressed such radical propositions in the most conservative of terms, finding anarchy in the tidiness of bourgeoise life.—Howard Halle
Rating Breakdown
5 star:

1

4 star:

0

3 star:

0

2 star:

0

1 star:

0
this photo made me think about the times that we turn our backs on ourselves. when we underestimate our own abilities, our own greatness.