Heads up! We're working hard to be accurate – but these are unusual times, so please always check before heading out.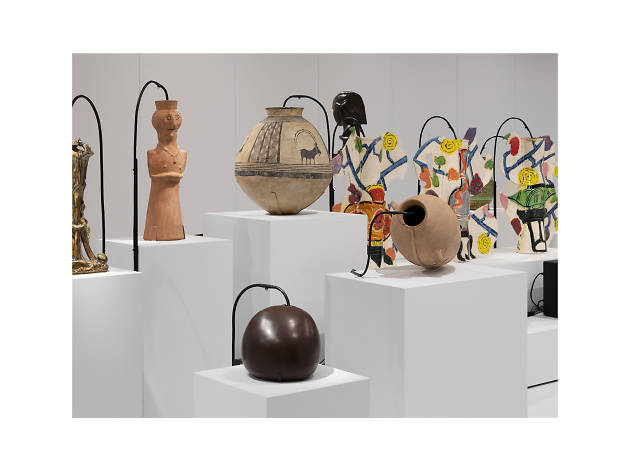 Oliver Beer makes beautiful music from art
The British artist assembles an "orchestra" out of objects from The Met's collection
It's not uncommon for artists to innovate using references to other artworks from the past, but it's practically unheard of for them to do so with actual art objects belonging to a major institution. But such is the case with British artist Oliver Beer, whose current show at The Met Breuer marks his first in New York. Beer, 34, is a sculptor, filmmaker and performer whose works focus on the acoustical properties of space, and here, that interest takes form as a group of items from the The Metropolitan Of Art's storied holdings; the artist has selected 32 of them and assembled the group into an installation that could be described as a cross between a pipe organ and a seashell held to your ear. Vessel Orchestra, as Beer calls it, is just the latest in a series of the artist's efforts to upend the traditional gallery paradigm. Sitting in his London studio, Beer talks about his latest piece, the performers and collaborators who've help him realize it, and his notion that art can be experienced audibly as well as a visually.
Can you talk about your show and how it came about?
I was invited about three years ago to plan a show for The Met, and I settled on using objects from its collection with the idea of approaching them from a new angle—musically. I wanted to see how you could start to listen to historic artworks that we normally only look at.
How do you mean?
Because it filters ambient noise, a hollow object—a wine glass, say, or a seashell—continuously resonates at a frequency, which, depending on the size and geometry of its interior volume, corresponds to a specific note on the musical scale. So, instead of selecting the objects according to the usual aesthetic or culture criteria, I chose them for the sound they produced.
And how did you do that?
The Met very generously allowed me to examine hundreds of items from antiquity to the 20th century. I settled on 32 objects, which sing perfectly in tune with each other on a scale from C2 to G4. They create an unlikely ensemble, subverting the Enlightenment idea of the sublime and eternal quality of music by bringing their complex material histories with them.
How do you make them audible?
I've placed a tiny microphone inside each one, then connected them all to keyboard. When a key is pressed, it switches on the corresponding microphone inside a vessel, and you hear it resonate in real time. So, if I press down the key for middle B, for example, the mic inside a beautiful, penis-shaped vase by Ettore Sottsass is activated, and we hear it "playing" that note. And as you press more keys, harmonies grow and the room is filled with the sound of the vessels, which is startlingly uniform and pure. Essentially, the installation is a musical instrument.
How do you make it perform, then?
During museum hours it is set in a "player piano" mode executing scores written by myself and other composers and collaborators. I've also invited some of them to "play" the installation for live concerts every Friday night during the run of the show.
If the installation is an instrument, as you say, is it tricky to play?
Not at all. The 32 notes I've chosen correspond to the black and white keys on a piano, so you can play the piece like one.
Which artists are appearing, and what are they performing?
There are works by Philip Glass, John Cage and Alvin Lucier being performed by Ekmeles and Bruce Brubaker. An electronic-indie-alternative band from Beirut called Mashrou is collaborating with author Rabih Alameddine on a piece that focuses on a single item in the installation. Other guest artists include Brooklyn Women's Raga Massive, vocalist Helga Davis and saxophonist Matana Roberts. Nico Muhly is writing something especially for the installation, and John Zorn is performing with friends.
It seems to mean that this is really a first for The Met. I can't think of another world class institution commissioning a new exhibition by an emerging artist in this fashion. It seems like you're not only bringing a fresh perspective to the museum's collection, but also democratizing it, artistically. Is that how you see it?
I think of it as revealing a very beautiful music that's always been at the heart of the collection, because it represents the shared heritage of so many cultures.
And what do you hope visitors might take with them from the experience?
Well, I hope they develop a new relationship with the objects they encounter at The Met, but also with the objects they interact with in their daily lives. Because every empty space, however simple, contains an unchanging musical harmony. There's an innate musicality to the world we're mostly unaware of—one that's supremely indifferent to the flux of human culture and ideas. And there's something humbling about knowing that.
"Oliver Beer: Vessel Orchestra" is at The Met Breuer, through Aug 11 (metmuseum.org).