"Sahel: Art and Empires on the Shores of the Sahara"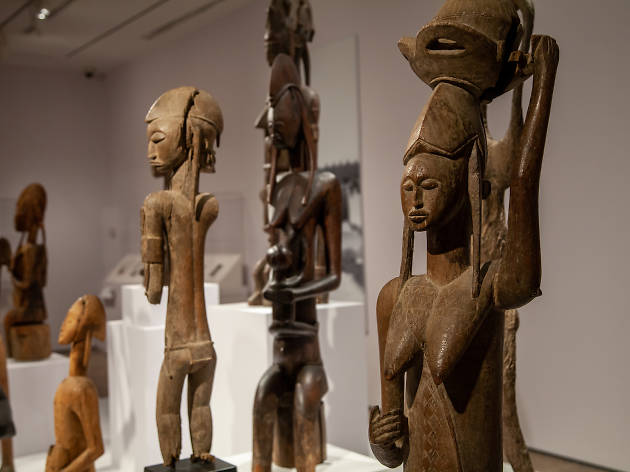 Time Out says
Friendly warning! We're working hard to be accurate. But these are unusual times, so please check that events are still happening.
This splendid exhibition at the Met covers a part of history that isn't well known in the United States: the period, spanning more than a millennium, in which a succession of kingdoms and empires enriched by gold and trade routes—Ghana (circa 300–1200 C.E.), Mali (1230–1600), Songhai (1464–1591), Bamana (1712–1861) and the Umarian state (1850–90)—rose and fell along a swath of West Africa called the Sahel, or "coast," by Arabic caravan drivers, an apt description for a region hugging the southern rim of the Sahara like the shore of a vast ocean of sand. These peoples produced magnificent expressions of art and architecture, including regal equestrian sculptures and soaring mosques made from mud; they also developed a rich oral tradition of epic poetry, not unlike the tales of Homer.
The Met divides the exhibit into two sections, one arranged chronologically and the other organized thematically. The show allows that, as the centers of regional power shifted over the centuries, the variations in the archaeological, narrative and artistic record left behind make it difficult to create a "unified understanding" of the events that shaped the Sahel. Thankfully, the dynamism of its cultural achievements is plain on its face.
A notable characteristic of the sculptures is that many of them pack a lot of monumental punch into a compact form, such as the fertility figurine from Senegal that greets you at the door. Though the show begins properly in the 4th century, the Venus of Thiaroye dates back to before 2000 B.C.E. Barely a couple of inches tall, this finger-shaped chunk of sandstone—which uses minimally incised lines to depict lady parts—exerts a gravitational tug on the imagination that far exceeds its scale. Just as impressive are the aforementioned depictions of warriors on horseback: Created out of terra-cotta or bronze between the 9th and 14th centuries, these sculptures from Mali also possess a commanding presence despite their relatively moderate size.
The peaceful introduction of Islam around the 7th century transformed the Sahel, the most majestic illustration of which is undoubtedly the Great Mosque of Djenné, located in Mali. The 52-foot-tall masjid—appearing in photos—is thought to have been originally erected sometime during the 1200s, but it fell into ruin a few centuries later. Reconstructed in 1906 and designated a UNESCO World Heritage Site in 1988, the structure is annually refurbished by villagers, who treat the job like a celebration.
The Sahel wasn't a monolithic entity, although the objects here share some attributes over the course of time. And despite the fact that the legends of these kingdoms' riches (like the solid-gold Rao Pectoral from Senegal that's on display) reached medieval Europe, their feats were ultimately omitted from Western accounts. This show goes a long way toward setting the record straight.
Details