Steve Locke, "#Killers and Family Pictures"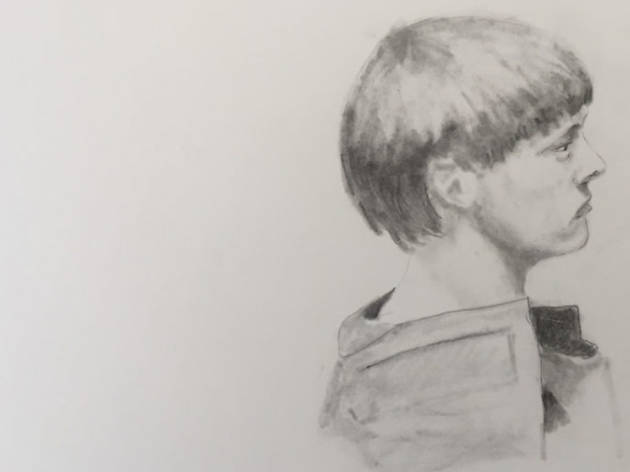 Time Out says
Each of the 34 pencil drawings from Boston artist Steve Locke's recent series #Killers features a small vignette on an otherwise large, empty sheet of paper. Most are portraits, and most depict ordinary looking white men. Only a few prove immediately recognizable, but they are, in fact, the murderers of African Americans in the news of late: Dylann Roof, George Zimmerman, Carolyn Bryant. The social media hashtag in the title proves telling; sourced largely from the Internet, the images could have come from an unsettling Instagram feed, a numbing scroll through the endless perpetrators of systemic violence against black people in America. With a jittery, if generic, brio, Locke limns his subjects like a courtroom sketch artist, revealing how their very normality underlines the baseline sense of terror that black people deal with everyday.
A second take on the banality of evil occupies the gallery's claustrophobic basement. In Family Pictures, Locke has photographed framed pictures sitting on a modernist end table. Yet the domestic setting and cheery gift shop frames belie the horrors portrayed. One rustic blue frame fitted with a brass plaque inscribed "MEMORIES" holds a photo of a lynching, with the victim surrounded by white onlookers, including a towheaded child. Our Honeymoon features the plan of a slave ship framed in white porcelain.
Locke serves up national atrocities as if they were a part of our everyday furnishings, as, indeed, they've always been. He bluntly illustrates how we comfortably co-exist with our dark history in a way that seems almost homey. In doing so, he offers no easy way out of the house we've built.
Details
Users say