Ten art exhibitions you should see
Check out TONY's selection of recently opened shows that are worth a visit.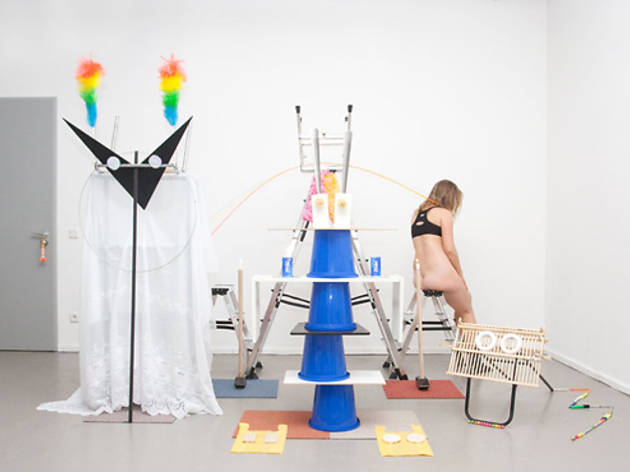 1/10
Photograph: Courtesy P.P.O.W. Gallery
Melanie Bonajo, Chair, Table, Person, 2012 Melanie Bonajo, "So, does this hippy crap really work? One Question, Three Rooms, 44 Possible Answers"P.P.O.W. Gallery, through Mar 30The Dutch artist's staged photographic tableaux have a deliberately amateurish quality, and appear to take aim at a number of targets, including consumerism, New Ageism, feminism and pornography.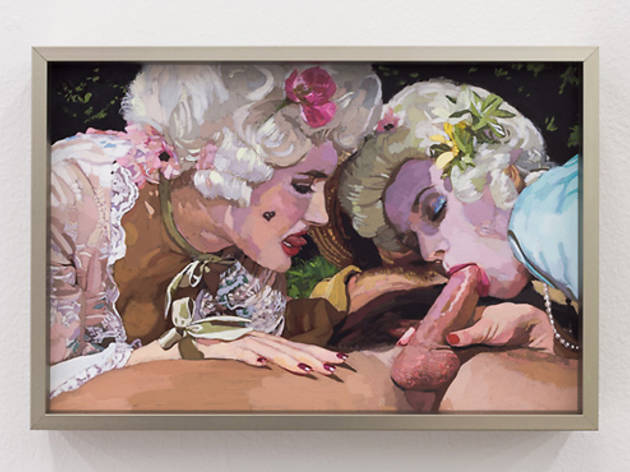 2/10
Photograph: Charles Benton
Aura Rosenberg, Untitled (Versailles), 2012 Aura Rosenberg, "I Know It When I See It"Martos Gallery, through Mar 30The title refers to Supreme Court Justice Potter Stewart's famous opinion on the nature of hard-core pornography, outlined in a landmark 1964 case. The remark is pertinent to this show, in which Rosenberg presents overpainted inkjet images of porn, as well as life-size impressions of couples (including the artist and her husband) who were dipped in white paint before having sex on queen-size pieces of black velvet.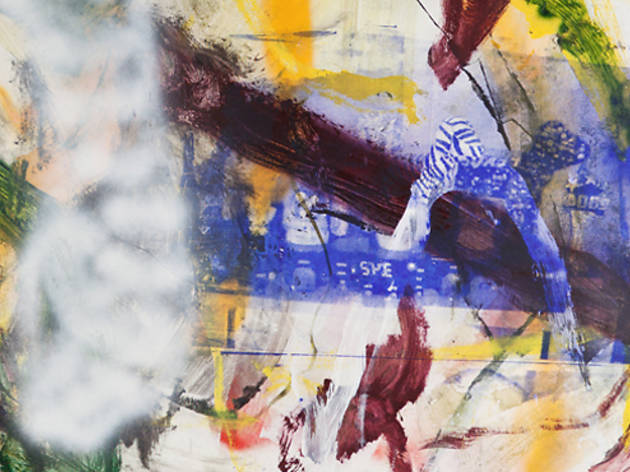 3/10
Photograph: Courtesy Elizabeth Dee Gallery
Leo Gabin, Slo Bucks, 2013, detail Leo GabinElizabeth Dee Gallery, through Apr 20Leo Gabin isn't an individual, but rather a collaboration of three artists—Lieven Deconinck, Gaëtan Begerem and Robin De Vooght—who live and work in Ghent, Belgium. Their art delves into notion that contemporary society is defined by media images, with videos that touch upon youth culture, and layered silk-screen paintings that bear a striking resemblance to Robert Rauschenberg's mid-'60s work.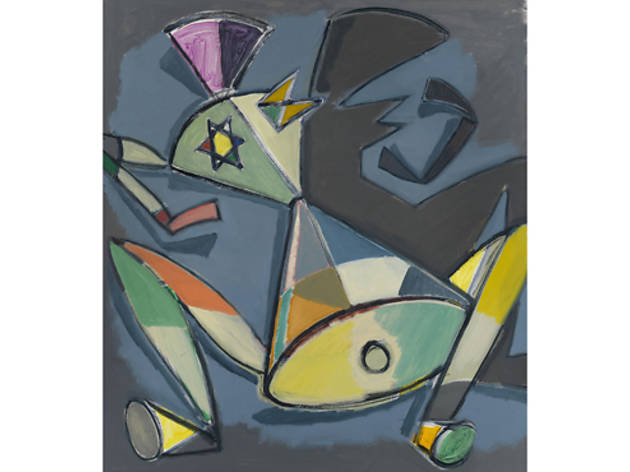 4/10
Ansel Krut, Broken Idealist, 2013 Ansel KrutMarlborough Chelsea, through Mar 30In his latest works, the South Africa–born British painter offers a smorgasbord of stylistic references to early-20th-century modern art, spiced with sexual and political subtexts.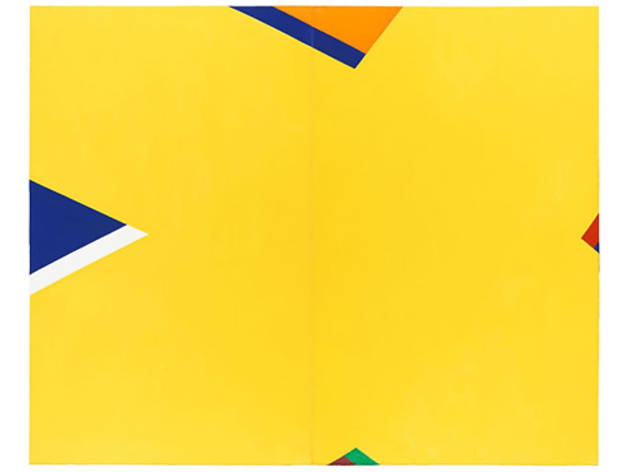 5/10
Photograph: Courtesy Cheim & Read
Al Held, The Yellow X, 1965 "Al Held: Alphabet Paintings"Cheim & Read, through Apr 20Al Held added Pop Art verve to Minimalist painting in the mid-1960s, nowhere more so than in this series of works that transform letters into graphically bold abstractions.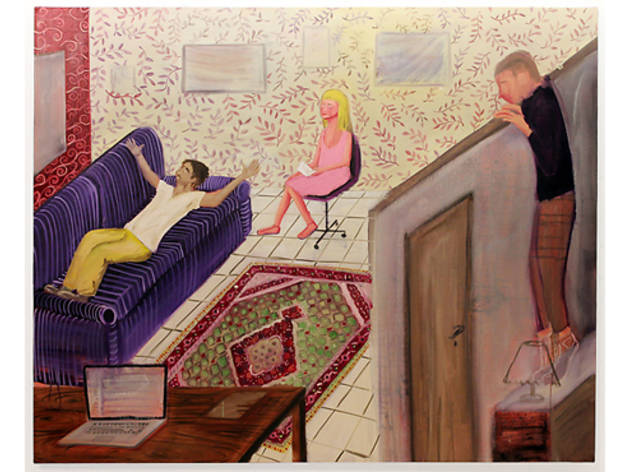 6/10
Photograph: Courtesy Scaramouche
Guy Ben-Ari, The Hidden Observer, 2013 Guy Ben-Ari, "Out of Sight"Scaramouche, through Apr 28Bonnard meets Lacan in the artist's figure-populated interior, which stake out "the connection between psychoanalytic theory, semiotics and the medium of painting."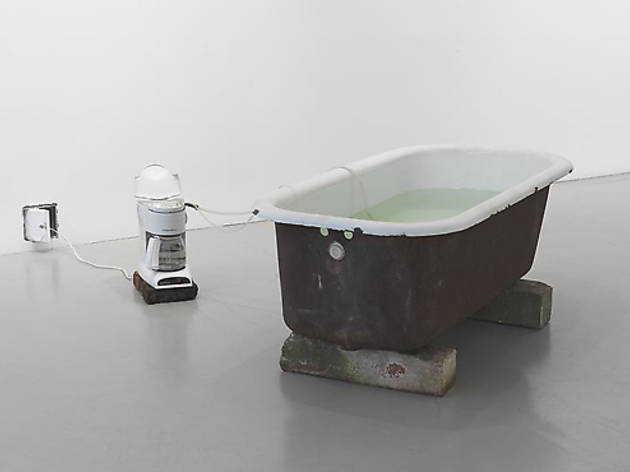 7/10
Photograph: ShootArt Mobile 1
Virginia Overton, Untitled (hot tub), 2013 Virginia OvertonMitchell-Innes & Nash Gallery, through Apr 6Overton presents a kind of postapocalyptic day spa, with an old cast-iron tub filled with water being heated by an electric coffeemaker, and an entire gallery wall paneled with floorboards made of eastern red cedar.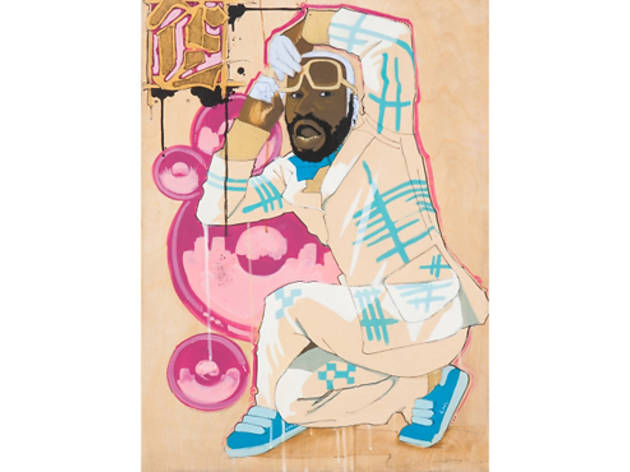 8/10
Photograph: Salon 94
Iona Rozeal Brown, Archangel "E" (Eating It), 2013 Iona Rozeal Brown, "Introducing…The House of Bando"Salon 94 Freemans, through Apr 27East meets West in Brown's gender-bending mix of Japanese art and hip-hop style, with paintings that draw inspiration from the worlds of voguing and Kabuki theater.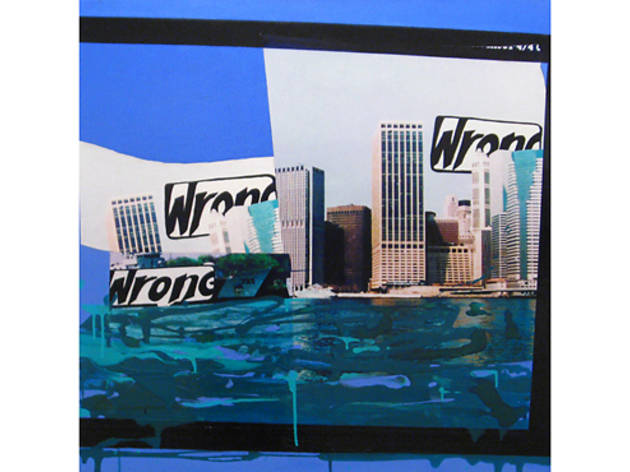 9/10
Photograph: Courtesy On Stellar Rays
Rochelle Feinstein, Wrong, 2002 Rochelle FeinsteinHigher Pictures, through Apr 27 + On Stellar Rays, through Apr 28Works made over the past decade by the veteran artist—known for her funky, text-based paintings, photos and installation—are spread out over two galleries, uptown and down.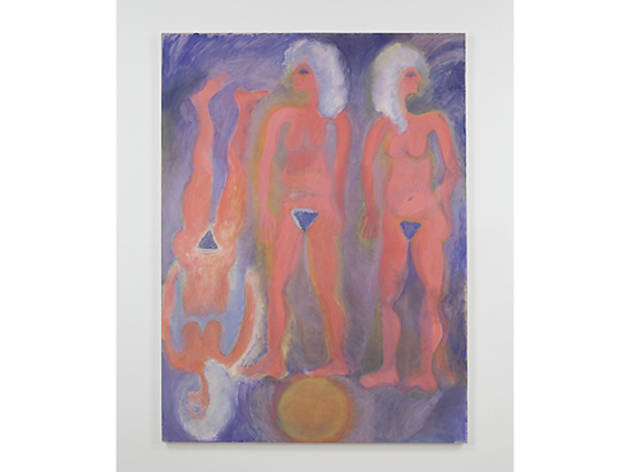 10/10
Photograph: Courtesy 47 Canal
John Finneran, Restful Spirits (Sunset), 2012 John Finneran, "Goin' Home"47 Canal, through Apr 7Finneran populates his dark, loosely brush canvases with female nudes and views of the crescent moon, evoking, perhaps, some connection between personal mythology and cyclical time.