Ten painting exhibitions to see
Check out these new shows in galleries around town.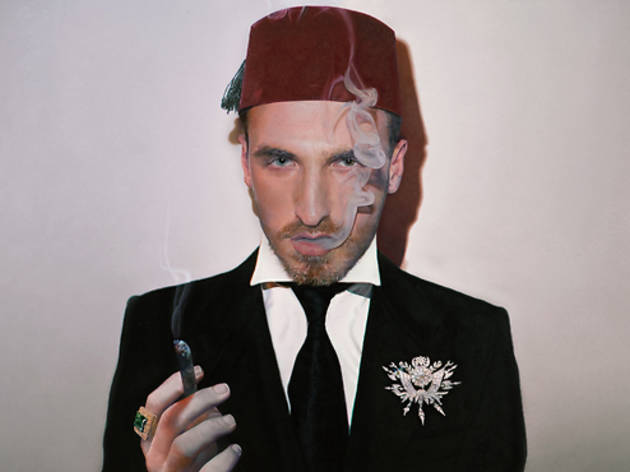 1/10
Photograph: Courtesy of the artist and Paul Kasmin Gallery
Taner Ceylan, 1881 (The Lost Paintings Series), 2010
Taner Ceylan, "The Lost Paintings Series"
Paul Kasmin Gallery, Sept 18–Oct 26
This Turkish painter employs photorealist techniques to deconstruct Orientalism, a 19th-century genre in Europe and the United States that featured exotic scenes of the mysterious Levant. Some artists relied on pure fantasy; others traveled to North Africa and elsewhere to base their visions on some observable reality. Either way, Orientalism went hand in glove with colonialism, as the stereotypes it helped foster were essential to the psychology of Western empire building. Ceylan plays with and against these same stereotypes, portraying dusky, alluring women as well as men in fezzes and kaffiyehs, though with notable twists (the inclusion of evidently gay subjects, for instance). More to the point, he juxtaposes one sort of illusion (paintings that look like photographs) with another—the myths and misconceptions that have emerged about the Middle East.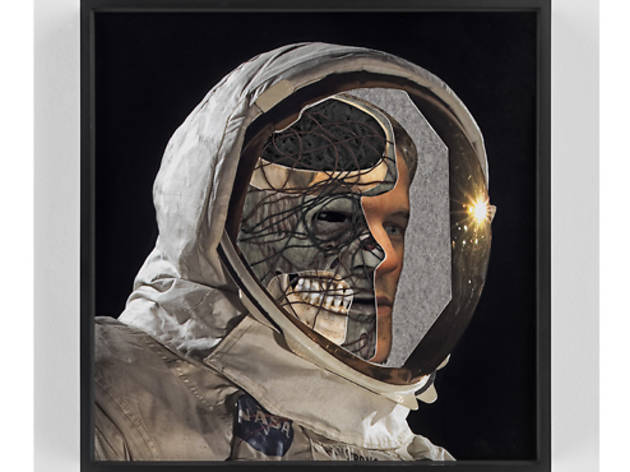 2/10
Photograph: Courtesy Hauser & Wirth; New York
Matthew Day Jackson, Helmet #3, 2013
Matthew Day Jackson, "Something Ancient, Something New, Something Stolen, Something Blue"
Hauser & Wirth New York, through Oct 19
Space missions, military hardware and anatomy are some of the points of departure for the artist's latest works, which, as usual, plumb the darker reaches of American history, life and popular culture.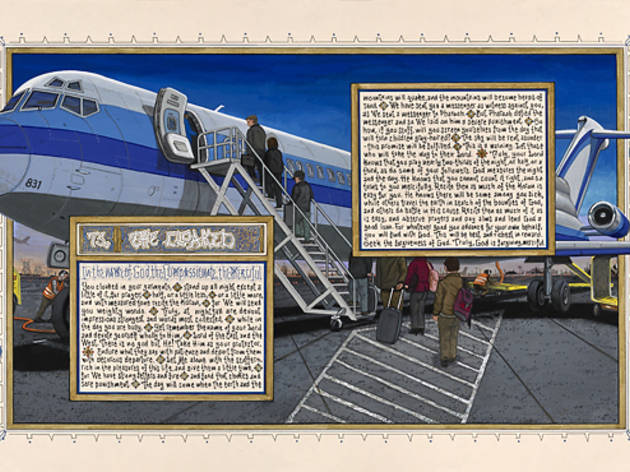 3/10
Photograph: Courtesy P.P.O.W.
Sandow Birk, American Qur'an/Sura 73, 2013
Sandow Birk, "American Qur'an"
P.P.O.W., through Oct 12
Over the past five years, Birk has been illustrating Islam's holiest text with images of American life, rendered in a style whose level of detail is inspired by traditional Middle Eastern miniature painting. This show presents the latest additions to the artist's ongoing effort.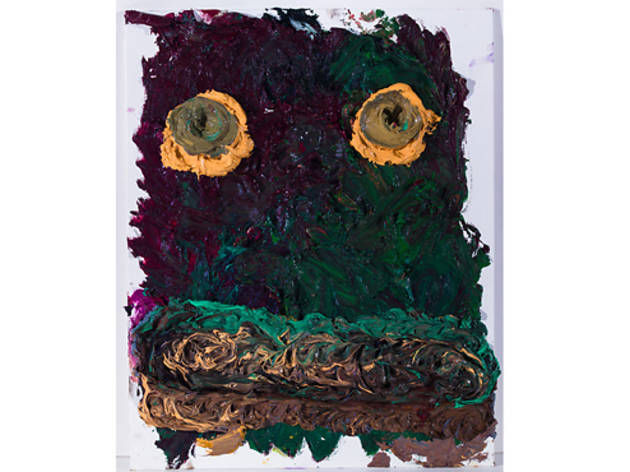 4/10
Photograph: Courtesy Gavin Brown's Enterprise
"Bjarne Melgaard: Ignorant Transparencies"
Cartoonish, provocative and brutal, the work of Norwegian artist Bjarne Melgaard embraces a kind of queer aesthetic, though its evocation of aggressive hypermasculine sexuality, with all the violence that implies, goes beyond the usual associations with the label. Installation, sculpture, and collage are all part of his repertoire, but painting—in a style that's both expressionistic and totemic—makes up the heart of his practice.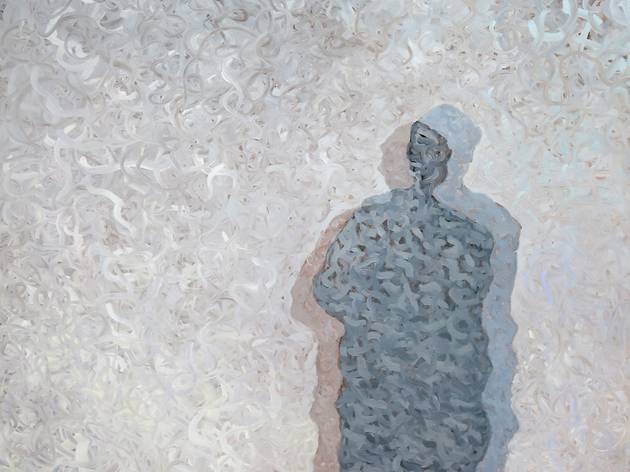 5/10
Photograph: Jason Mandella
Cynthia Daignault, I think of the painters who are better than me and the men who broke my heart, 2013
Cynthia Daignault, "Which Is the Sun and Which Is the Shadow?"
Lisa Cooley, through Oct 20
Daignault's paintings to date—of CCTV monitors, the landscape seen from Philip Johnson's Glass House and the catalpa tree that covered her childhood bedroom window—are both poetic flights into memory and subversive meditations on the subjective nature of seeing.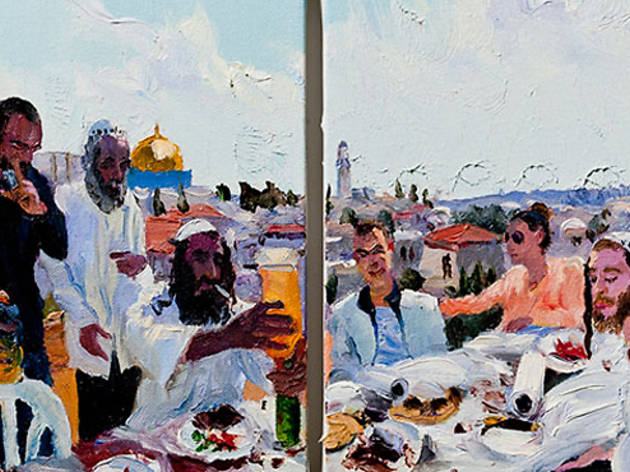 6/10
Photograph: Courtesy Mary Boone Gallery
Liu Xiaodong , In Between Israel and Palestine 15, 2013
Liu Xiaodong, "In Between Israel and Palestine"
Mary Boone Gallery, through Oct 26
It's unclear whether an outsider like Liu Xiaodong can make sense of a situation as intractable as the one in the Middle East, but the Chinese artist gives it the old college try. The result is this series of figurative paintings depicting the Jewish and Arab inhabitants of a land that each claim as their own. The canvases, completed after visits to Israel and the West Bank, are done as loosely brushed, snapshot scenes of ordinary life, emphasizing the common humanity of both sides. But in a group of 18 small diptychs, Liu has left a sizable gap between the panels, suggesting the unbridgeable divide that plagues not only the region, but the globe.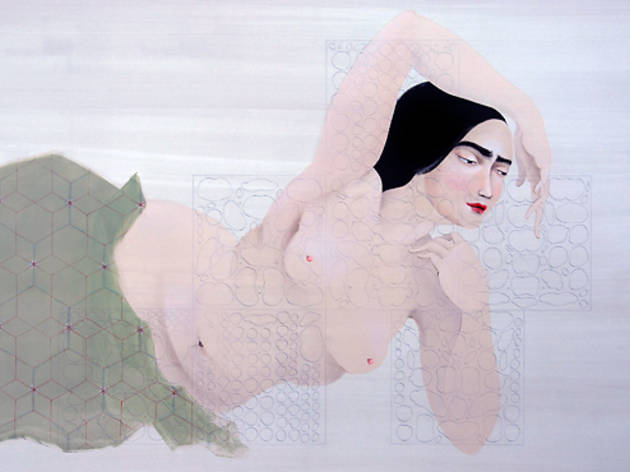 7/10
Photograph: Courtesy Jack Shainman Gallery
Hayv Kahraman, Hexahedron, 2013
Hayv Kahraman, "Let the Guest Be the Master"
Jack Shainman Gallery, through Oct 12
An Iraqi transplant to San Francisco, Kahraman presents expansive figurative paintings on wood, in which female nudes can be seen as ghostly apparitions, floating against architectural floor plans and Islamic decorative motifs.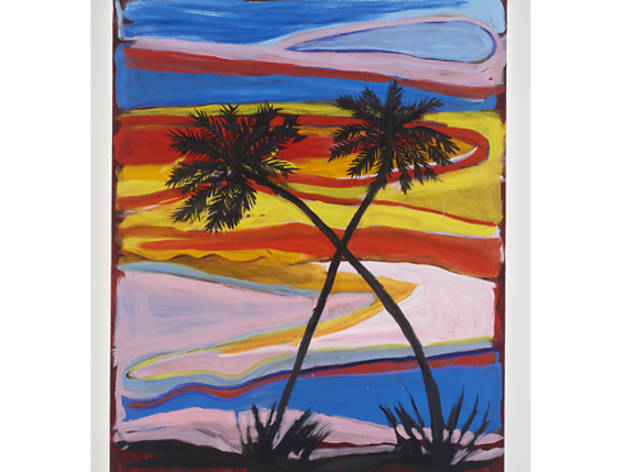 8/10
Photograph: Tom Powel Imaging Inc.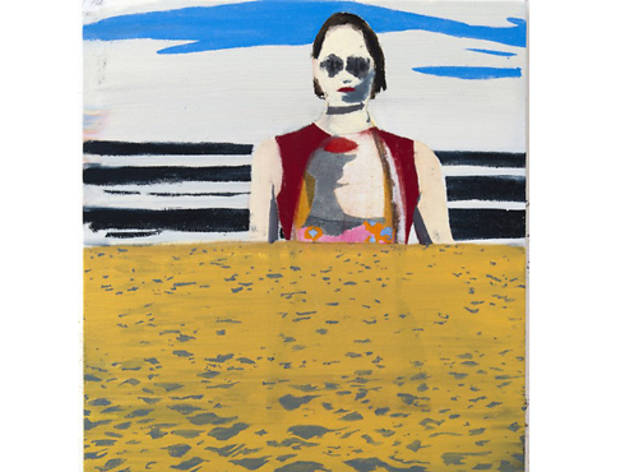 9/10
Photograph: Courtesy American Contemporary
Julia Goldman, Magazine 1, 2013
Julia Goldman, "Magazine"
American Contemporary, Sept 11–Oct 20
In a series of new paintings, the Philadelphia native and Columbia M.F.A. grad offers her millennial remix of the figurative aesthetics of Milton Avery and Alex Katz.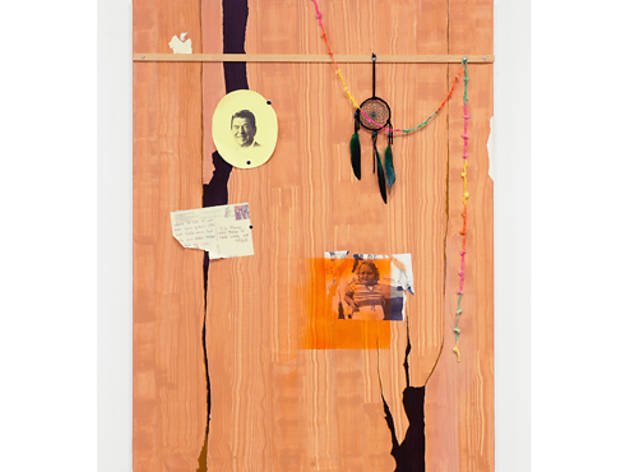 10/10
Photograph: Lance Brewer
Michael St. John, Country Life, 2013
Michael St. John, "Country Life"
Andrea Rosen Gallery, through Oct 5
Over the past several years, St. John has managed, with some success, to evoke America's propensity for racism, violence, grandiosity, self-delusion and general cheesiness through relatively simple collage-on-canvas compositions, using personal and pop-cultural detritus as elements. He continues to do so in these latest works, which hearken back to American 19th-century trompe l'oeil painting.