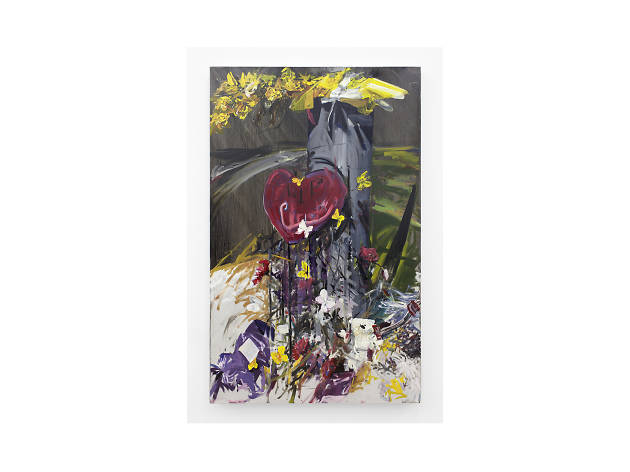 Time Out says
Two works face off in Tom Holmes's engrossing new show of paintings, each of which exceeds the height of the walls. Topped by semicircular panels that fold against the ceiling, the works arch over viewers, enfolding them in vaporous fields of gestural washes and brush strokes. They resemble altarpieces and recall the way Baroque and Rococo painters pierced architecture with convincing depictions of infinite skies, an illusion amplified here by abstract ribbons rendered to make them appear to be floating against a background of sunset hues. In fact, Holmes created both pieces during an artist residency in Italy, where they were installed to fit in a pair of empty niches at the Palazzo Galli Tassi in Florence.
Other works picture an odd assortment of scenes, including several that depict impromptu street-side memorials to shooting victims (complete with bouquets, hearts, Mylar balloons, and in one case, a Hello Kitty plush toy). Elsewhere, there's a canvas featuring an image of swans swimming under crepe-paper streamers, and another of a Chevy El Camino truck viewed from above. A closer inspection reveals a dappled reflection in the vehicle's shiny paint of an Eggo waffle box, the subject of the artist's 2017 show at this same gallery.
In 2010, Holmes left New York for rural Tennessee, a move that no doubt informs his references, which can seem hermetic at times. Still, their insinuations of violence, religiosity, machismo and consumerism—conveyed in a style redolent of melancholy sentiment—combine to conjure our national malaise.
Details
Users say