Heads up! We're working hard to be accurate – but these are unusual times, so please always check before heading out.
Top 50 New York photographs
From daguerreotypes to digital, we round up iconic depictions of NYC moments high and low.
New York is one of the most photographed cities on Earth, if not the most photographed. This isn't just a matter of quantity (though, of course, there is that, given the number of snapshot-happy tourists) but of quality: Gotham has inspired legions of the best artists and photojournalists to capture it on film. Some of these images have become part of Big Apple mythology or helped to shape it, and if it were practical to bring them all together, they'd undoubtedly relate the epic tale of a metropolis driven by the both the best and worst aspects of human nature. It isn't practical, but it is possible to pick examples that tell something of that story, which is what we've done here.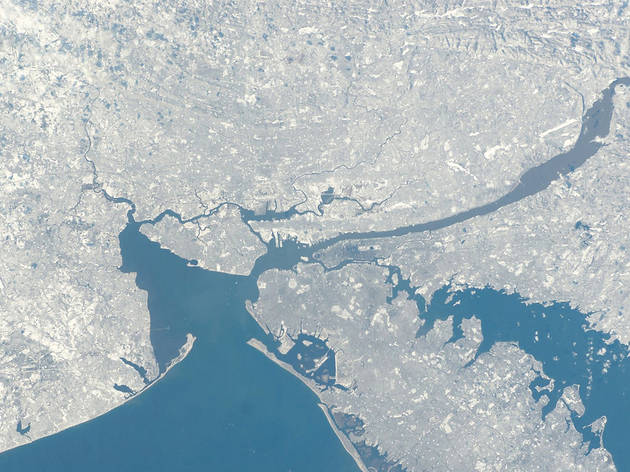 Photograph: National Aeronautics and Space Administration
New York City in Winter, 2011
An already snow-blanketed New York awaits its third major snowstorm of the season in this digital photo, taken aboard the International Space Station on January 9, 2011 from an orbit of 220 miles above the Earth.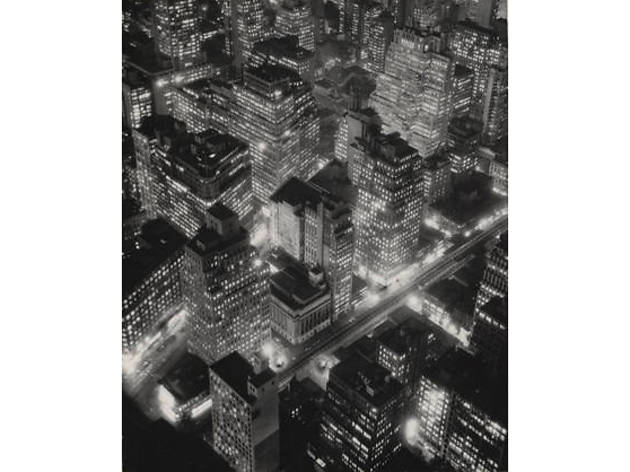 Photograph: Museum of Modern Art
Berenice Abbott, New York at Night, 1932
Taken from an upper floor of the Empire State Building at dusk just before Christmas, 1932, this image imparts a magical twinkle suitable for the season, thanks to a special developer Abbott used to render the contrasts between light and dark.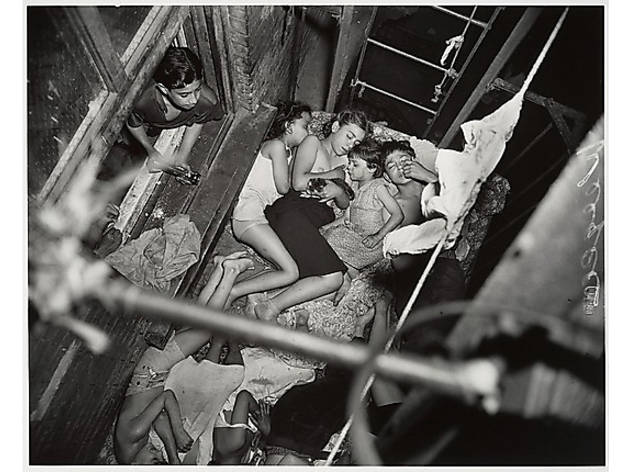 Photograph: Metropolitan Museum of Art
Weegee, Children on Fire Escape, 1938
Born Arthur Fellig in Austria, Weegee was especially know for his lurid crime scene photos. But he also trained his lens on the more prosaic moments of city life, and in this image, he shows how tenement dwellers dealt with stifling summer heat in the era before air conditioning. Shooting from the fire escape of a building on the Lower East Side, he frames a group of sleeping kids on the landing below. Weegee gave his models $2 for ice cream, but their father kept the money for himself.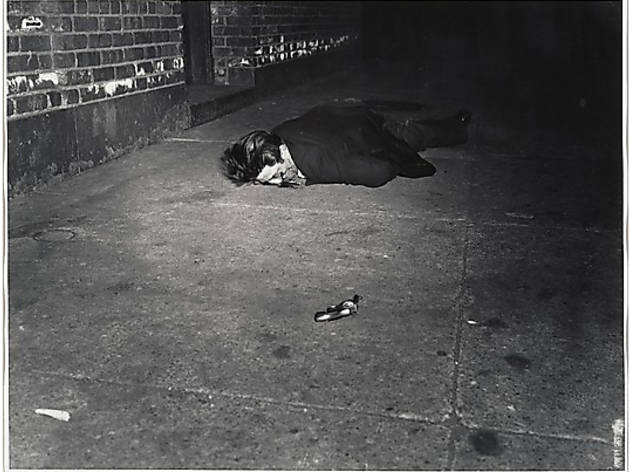 Photograph: Metropolitan Museum of Art
Weegee, Corpse with Revolver, 1940
This sort of remorseless depiction of foul play—created with the help of a 4x5 Speed Graphic camera equipped with a flash—cemented Weegee's place in photographic history and made him a foundational figure of tabloid culture.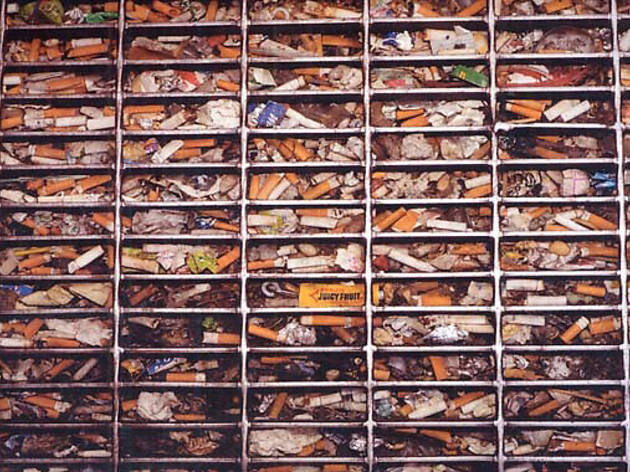 Photograph: Courtesy the artist
Kevin Landers, Untitled (Grate, New York), 2002
A conceptual artist by trade, Landers revived the genre of New York street photography in a turn-of-the-millennium series that aimed to tweak the genre's conventions. But he managed to imbue a well-worn practice with a fresh, if knowing, sense of poetry—as in the image here, where cigarette butts mashed into a sidewalk grate recall the city and its vast multitudes.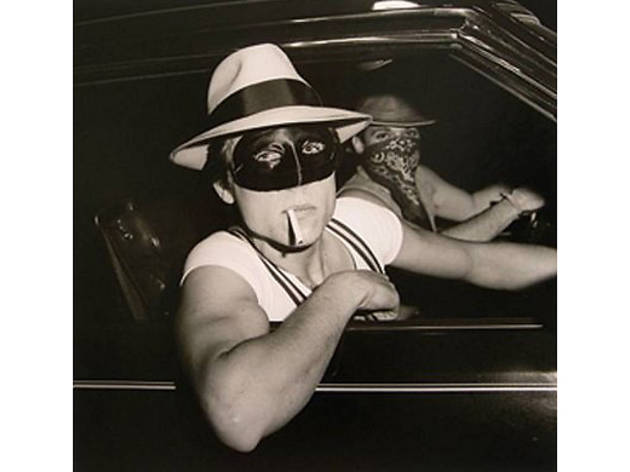 Photograph: Courtesy Matthew Marks Gallery
Peter Hujar, Boys in Car, Halloween, 1978
In the 1970s and '80s, Hujar documented a downtown night scene shadowed by AIDS, to which he himself succumbed in 1987. But he was never literal-minded; rather, the images he took had a fragile, transient quality that evoked intimations of mortality, like this one of masked Halloween revelers who look like they're out reaping souls.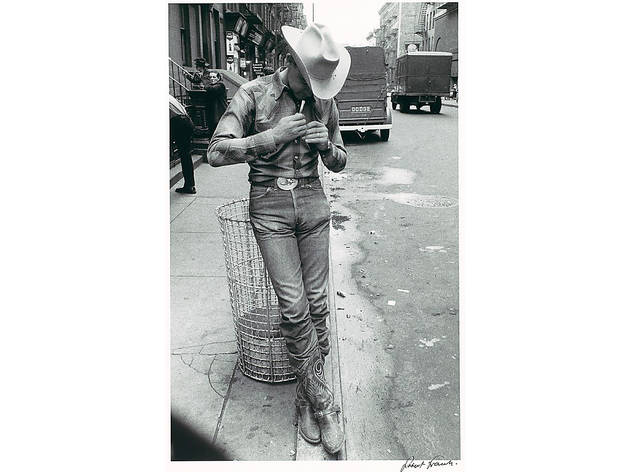 Photograph: Metropolitan Museum of Art
Robert Frank, Rodeo, New York City, 1955–56
This study of a Texan visiting New York was part of Frank's seminal collection, The Americans, published in 1959. The book offered an unflattering portrayal of the Swiss-born photographer's adopted homeland, exposing a midcentury populace caught up in racism, Cold-War paranoia and jingoism. The louche posture and evident self-absorption of this cowpoke leaning against a wastebasket near Madison Square Garden speaks to that, but also conveys a contradictory aspect about life in New York: that the out-of-place is just another part of the everyday.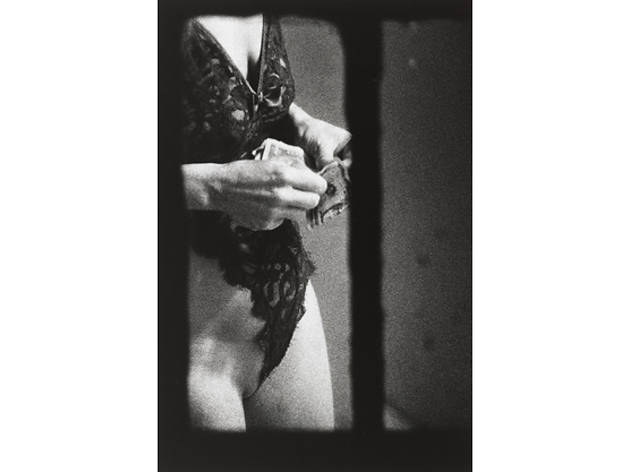 Photograph: Museum of Modern Art
Merry Alpern, Untitled, 1994
The voyeuristic urge to look into your neighbor's window serves as the basis for Alpern's 1994 series, "Dirty Windows," which includes this furtive peek at a hooker working in a Wall Street sex club. Alpern had hidden out in a building across an air shaft, using a telephoto lens to secretly capture this sex worker and others like her as they offered blow jobs, stripteases and similar services.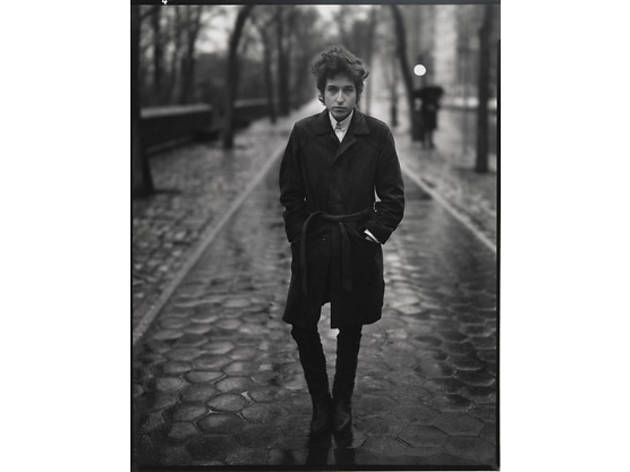 Photograph: Museum of Modern Art
Richard Avedon, Bob Dylan, singer, New York, 1965
A portraitist to the stars, Avedon's photos bridged the worlds of fashion and fine art. Two years before this picture was taken, Avedon had photographed Dylan at 132nd Street and FDR Drive, presenting him as an earnest young folkie in a plaid shirt. In this image taken in Central Park on a dreary February day, Dylan is transformed into a hipster-dandy-boulevardier, a rock & roll heir to Rimbaud and Baudelaire.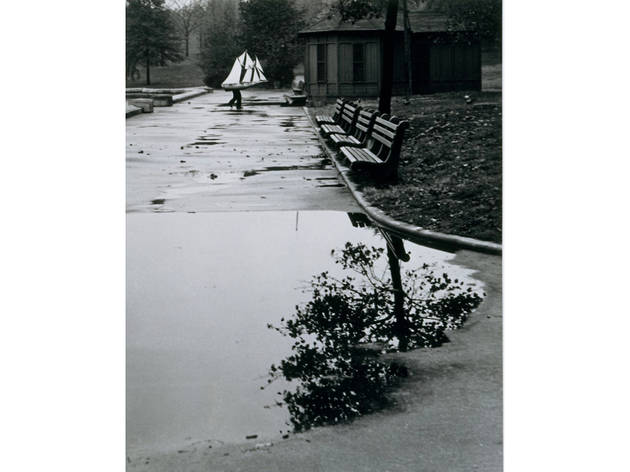 Photograph: Metropolitan Museum of Art
André Kertész, Central Park Boat Basin, New York, 1944
The Hungarian-born photographer was a pioneer in the employment of unusual camera angles to leap on serendipitous juxtapositions of action and place. In this wry image, the joining of a man carrying a model boat in the distance and puddle in the foreground brings a bit of high-seas whimsy to the middle of Central Park.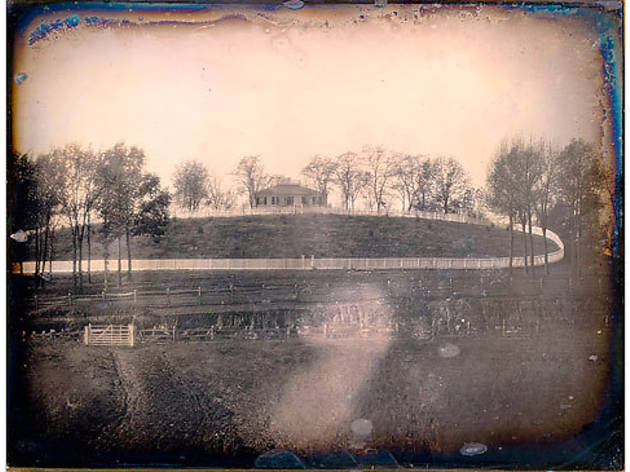 Photograph: Collection of Billy and Jennifer Frist
Daguerreotype of a house on old Bloomingdale Road, circa 1849
This bucolic image is believed to be one of oldest taken of New York City, showing a house on what is now the Upper West Side. Discovered at a New England auction, the daguerreotype came with a note dated 1849, describing the location as being on the "continuation of Broadway": the name used at the time to describe the Bloomingdale Road, one of the period's two main North-South arteries in Manhattan (the other being the Old Boston Road.) In 2009, Sotheby's sold the image for $62,500.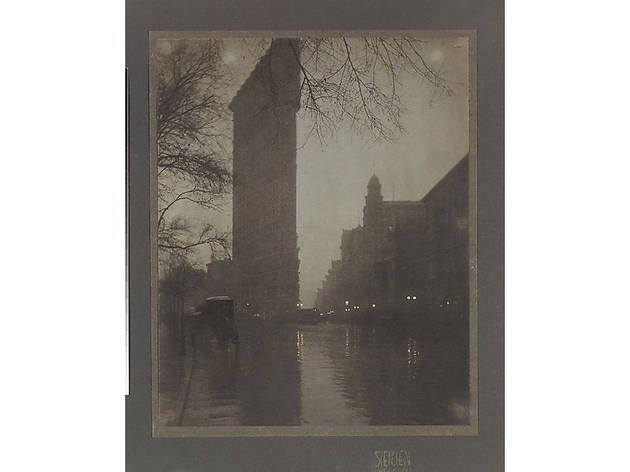 Photograph: Metropolitan Museum of Art
Edward J. Steichen, The Flatiron, 1904
Both Steichen and his subject here were pioneers: the former as a founding father of modern photography, the latter as an early example of steel-frame construction. Using the soft-focus pictorialist style, Steichen depicts the Flatiron at dusk, reflected in the rain-slicked street just beneath a line of horse-drawn hansom cabs awaiting fares outside of Madison Square Park. Steichen, one of the first photographers to experiment with color, used pigments suspended in a light-sensitive solution to enhance the original platinum print.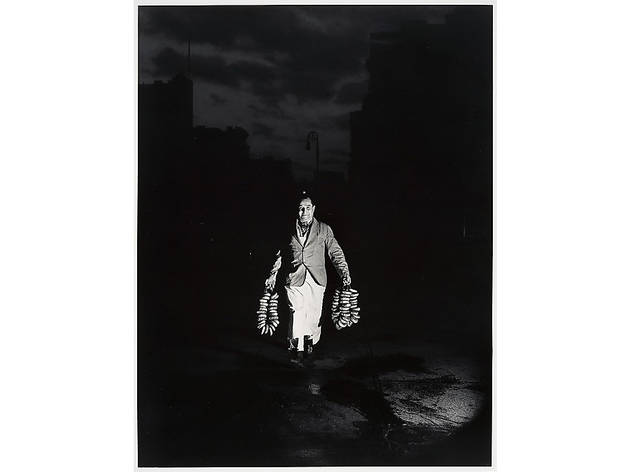 Photograph: Metropolitan Museum of Art
Weegee, Bagels, Second Avenue, 1940
By 1946, Weegee began focusing full-time on subjects other than crime. This character study depicts a baker named Max at the crack of dawn, rushing his fresh-from-the-oven wares to a restaurant on Second Avenue about to open for breakfast.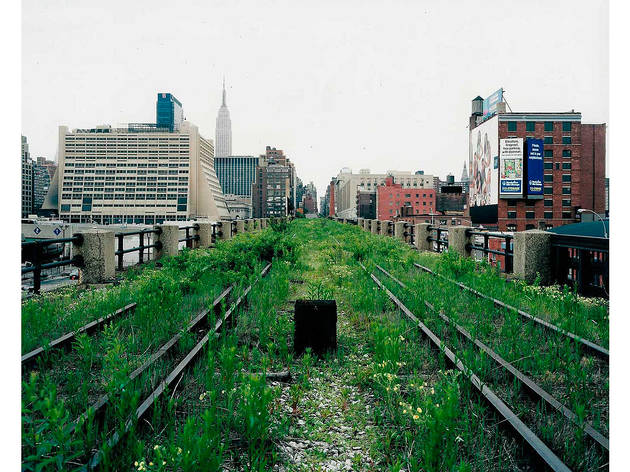 Photograph: © Joel Sternfeld
Joel Sternfeld, from "Walking the High Line," 2001
For decades, the swank elevated park now running from the Meatpacking District to Hudson Yards had been a rusting derelict. Between the 1930s and 1980s, the High Line served as a railway spur carrying freight along the spine of the far West Side. By the 1990s, Mayor Rudolph Giuliani lobbied to have it demolished, but left office before his wishes could be carried out. The incoming mayor, Michael Bloomberg, was more receptive to proposals to transform the High Line into its current incarnation; Sternfeld's photo series and book, "Walking the High Line," played a key role in this regard. Proceeds from the book helped to fund the park, but it was mainly thanks to images like this one, showing the High Line as an industrial Eden, that convinced the public that it was worth saving.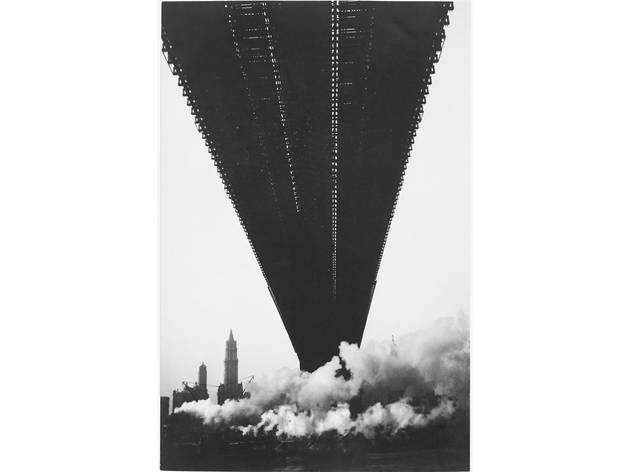 Photograph: © Walker Evans Archive
Walker Evans, Brooklyn Bridge, New York, 1929
Hailed as a wonder of the age when it opened in 1883, the Brooklyn Bridge had become ho-hum by the 1920s, when Evans's views of the structure helped to reawaken the public's interest. Up until that point, most photographs depicted the entire span from the side. Evans, who lived near the Bridge at the time, decided on an entirely new approach: He captured parts of the Bridge at angles that emphasized its grandeur, transforming it into an indelible New York symbol.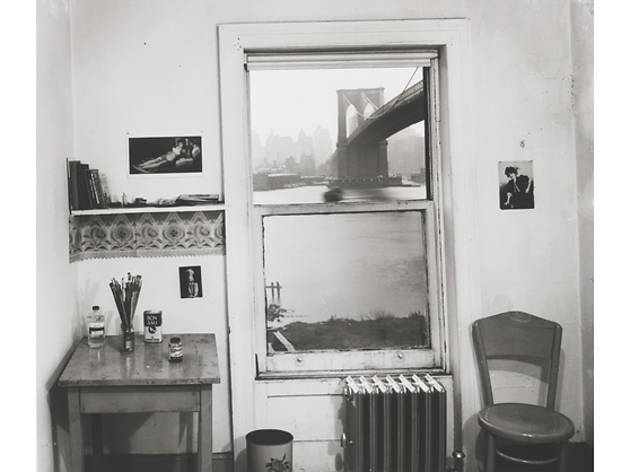 Photograph: Museum of Modern Art
Rudy Burckhardt, A View From Brooklyn II, 1954
A friend to many of the artists, poets and critics who made up the New York School, Burckhardt was deeply underrated as an artist in own right. His photographs were often dismissed as Walker Evans–lite, but since his subject was more about subtle shifts in perspective than about the image per se, the comparison was unfair. This photo is the second half of a diptych focusing on the view through the Brooklyn studio window of an acquaintance. The room itself serves as a frame, neatly ordered into a still life arrangement with its impeccable can of paintbrushes and pinned-up postcards. The first image shows buildings in lower Manhattan, the second, the Brooklyn Bridge. The difference between the two was the result, simply, of Burckhardt taking a step sideways. Both images achieve the uncanny effect of making the real seem unreal, as if the world outside laid flat against the window.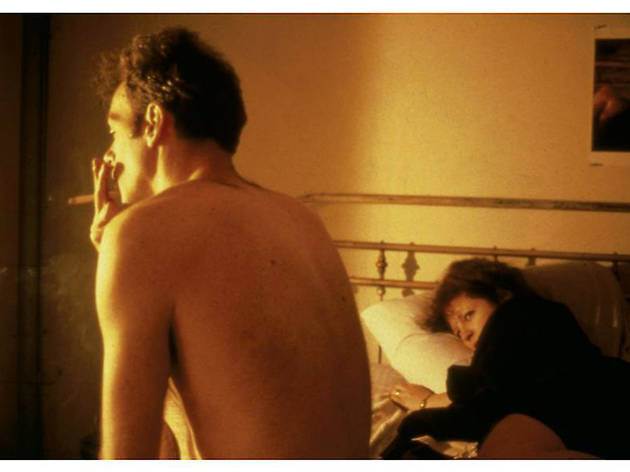 Photograph: Museum of Modern Art
Nan Goldin, Nan and Brian in Bed, New York City, 1983
No other image sums up boho life in 1980s New York better, perhaps, than this one by Goldin, in large part because the artist has erased the distance between subject and photographer. The photo forces the viewer into sharing an intimate moment in the artist's own life, while also mythologizing a time when it seemed possible to be young and poor, but still own the greatest city on earth.
Photograph: Museum of Modern Art
Lee Friedlander, Bruno Sammartino, New York City, 1960
Friedlander is known for hinting at sociological subtexts in his photos; here, he presents the incongruity of a professional wrestler relaxing in New York City hotel room, still in his trunks as if he were a circus clown who'd forgotten to take off his makeup. The image suggests that in New York, there is no distinction between performance and real life.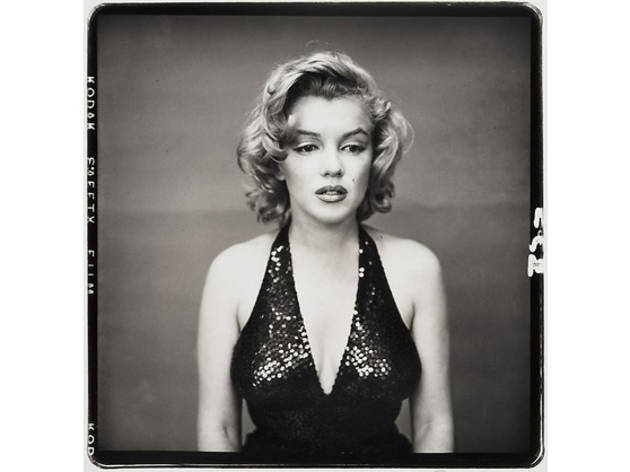 Photograph: Museum of Modern Art
Richard Avedon, Marilyn Monroe, actress, New York, 1957
Extolled as an example of the camera's ability to undermine celebrity as well as create it, Avedon's portrait of Marilyn Monroe owes its power to a combination of historical accident and calculation. Much of what of we think the photo says about the sex symbol is actually due to her tragic death five years later. And the truth is that Avedon, by his own admission, had manipulated Monroe to get this shot, plying her with white wine, and allowing her to flirt with and dance in front of his lens for hours before exhaustion set in—which is when he caught this expression. But the image also says something about the allure of fame and the futility of pursuing it, which is so much a part of New York's DNA.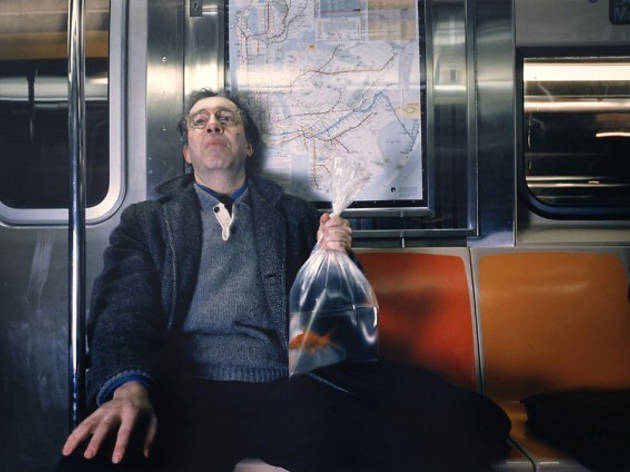 Photograph: Museum of Modern Art
Philip-Lorca diCorcia, Igor, 1987
Cinematic artifice is a hallmark of diCorcia's work, and that's no less true of this seemingly banal shot of a man and his goldfish on the subway. Posed and lit like a commercial, it's a work of fiction that still manages to reveal an essential truth about the city's commonplace mix of the real and surreal.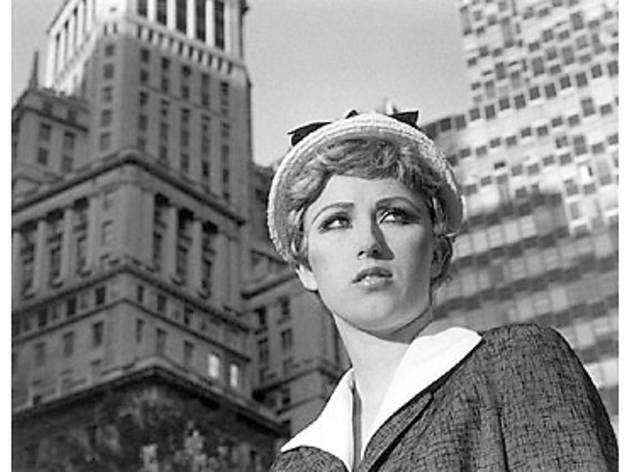 Photograph: Museum of Modern Art
Cindy Sherman, Untitled Film Still #21, 1978
Part of a groundbreaking series in which Sherman portrays various waifs, bombshells, film noir dames and other female denizens of Tinseltown's imagination, Untitled Film Still #21 features Sherman as a 1950s secretary among the skyscrapers of midcentury New York. A little bit Mad Men avant la lettre, Sherman's image evokes the New York of film memory and myth, becoming, in the process, a high-cultural icon of the city.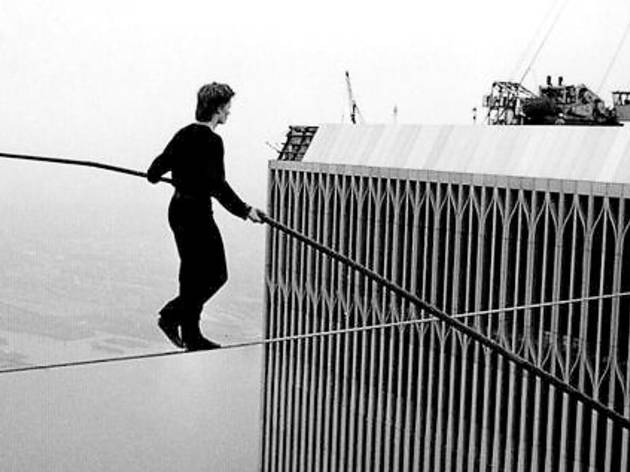 Photograph: Jean-François Blondeau
Jean-François Blondeau, Philippe Petit Walking a Tightrope Between the World Trade Center Towers, 1974
Petit, a French acrobat, tight rope walker and street performer, astonished unsuspecting crowds with this amazing feat which he secretly and meticulously planned for six whole years with the aid of a small cohort of collaborators. One of them was Blondeau, who was the photographer here, and also the source for solving the vexing problem of stringing the tightwire between the twin towers. His solution? Shooting it with a bow and arrow from one rooftop to the other. As audacious as New York itself, Petit's act of derring-do was all but forgotten until 9/11.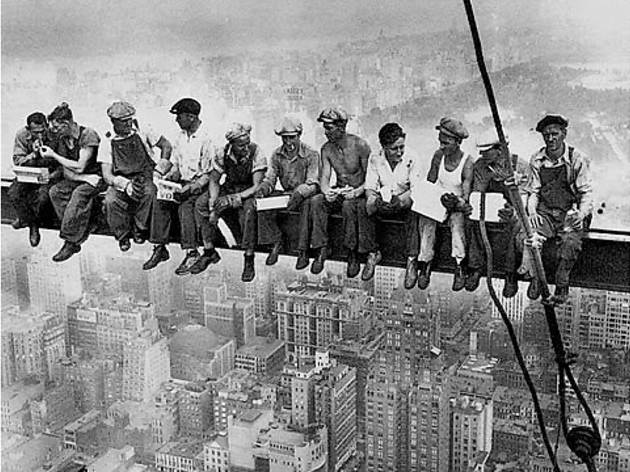 Photograph: © The Bettman Archive
Charles C. Ebbets, Lunch atop a Skyscraper (New York Construction Workers Lunching on a Crossbeam), 1932
Sometimes mistaken as part of Lewis Hine's famous series on the construction of the Empire State Building, Ebbets's image was taken several years later, during the construction of the RCA (now GE) Building at Rockefeller Center. The image wasn't even attributed to Ebbets until 2003, though it's always served as representation of New York toughness.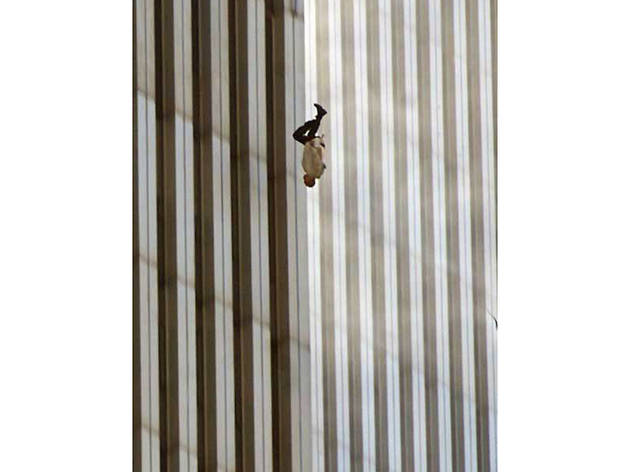 Photograph: Richard Drew
Richard Drew, The Falling Man, 2001
Some 200 people fell or jumped to their deaths on 9/11, but this picture taken by Drew, an Associated Press photographer, has come to symbolize all of them, as well as the questions raised by their fates. The image inspired Don DeLillo's 2007 novel, Falling Man. While some have speculated that the subject was Jonathan Briley, an audio technician at the Windows on the World restaurant, it's never been proven.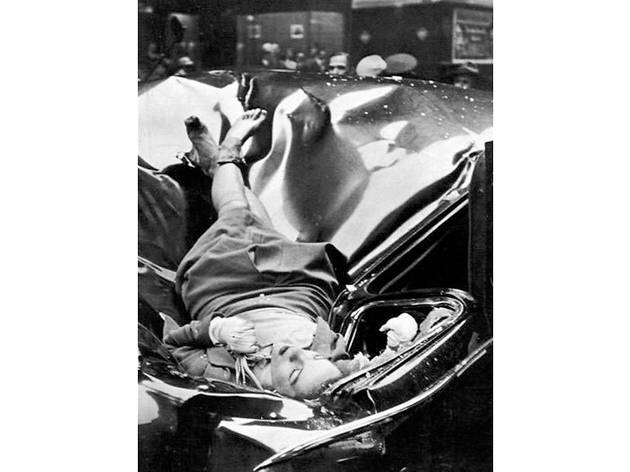 Photograph: Robert Wiles
Robert Wiles, Evelyn McHale, 1947
Despondent over leaving her fiance, 23-year-old Evelyn McHale leapt to her death from the Observation Deck of the Empire State Building on May 1, 1947. Police later found the items she left behind: a grey overcoat, a makeup kit with family photos inside and her pocketbook, which contained, among other things, a scratched-out note reading, "He is much better off without me.… I wouldn't make a good wife for anybody." McHale jumped with such force that she cleared the building's setbacks to land on a U.N. limousine parked on West 33rd. The impact stove in the vehicle's roof. (Luckily, the driver was in a nearby drugstore.) Wiles, a photography student, heard the crash from across the street, and rushed to the scene. He took this photo minutes after McHale's death. Andy Warhol later used it for his 1963 silk-screen painting, Suicide.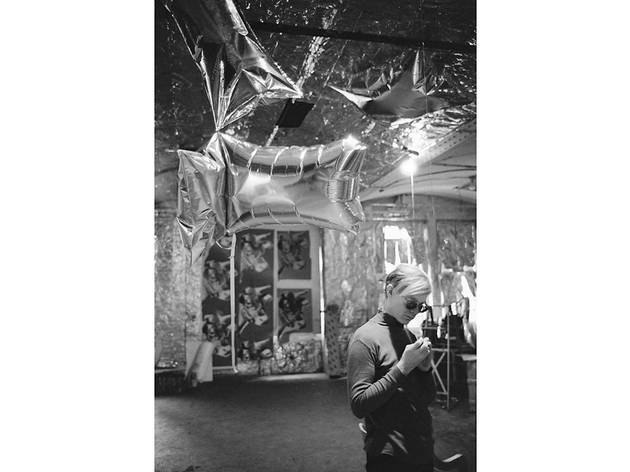 Photograph: Courtesy 303 Gallery
Stephen Shore, Warhol with 'Silver Clouds' in Factory, 1965-1967
Shore, one of a group of artists who introduce color into fine-art photography in the 1970s, was still in high school when he started hanging out at Andy Warhol's Factory in the mid-1960s and began to document the goings-on in a series of black-and-white shots. Here, Warhol is seen standing beneath his signature helium-filled foil balloons, originally shown at the Leo Castelli Gallery in 1966.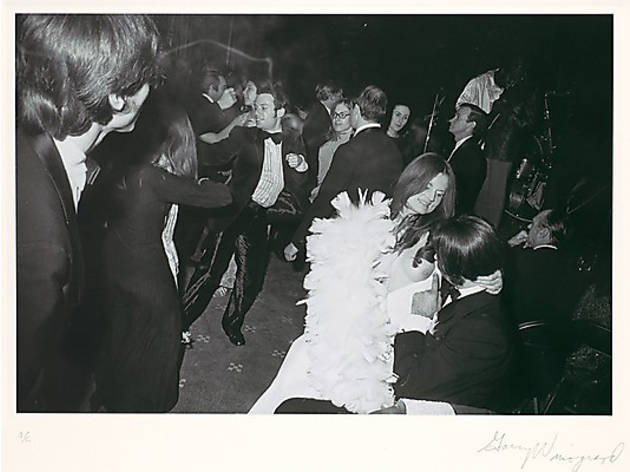 Photograph: The Metropolitan Museum of Art
Garry Winogrand, Metropolitan Museum of Art Centennial Ball, New York City, New York, 1969
One of the great midcentury New York street photographers, Winogrand made a specialty of capturing the newly emancipated woman of the swinging 1960s. By the end of the decade, his reputation earned him entry into A-list cultural events like the Metropolitan Museum of Art's 100th birthday bash. Winogrand brought his camera along, and though he captured many notable politicians, celebrities and socialites at the party, this free-spirited female stands out for obvious reasons.
Photograph: Metropolitan Museum of Art
Otto Ebbinghaus & Swift, Broadway and 14th Street showing the Metropolitan Fair, New York City, 1864
There was more to Civil War New York than just the infamous Draft Riots of 1863. The following year, Gotham hosted one of the Metropolitan Fairs mounted by the United States Sanitary Commission, a private relief agency created to support the Union Army's sick and wounded. Created as fund-raising events, Metropolitan Fairs sprang up in numerous Northern cities. But the one in New York, depicted in this albumen print, was one of the biggest, raising a total of $120,000—a lot of money back then.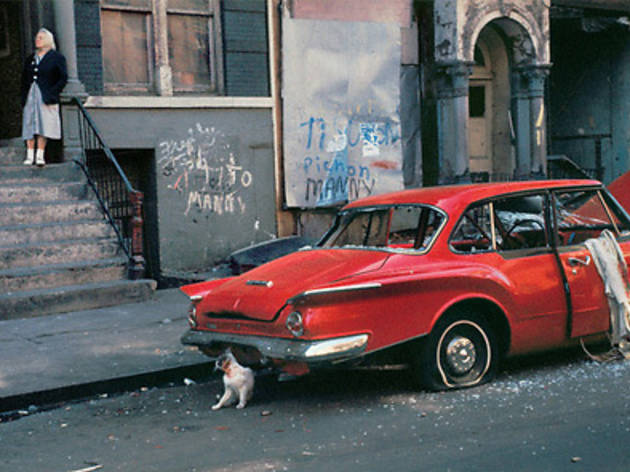 Photograph: Helen Levitt
Helen Levitt, New York 1980
Levitt was a Brooklyn-born high-school dropout and self-taught photographer who became an associate of Walker Evans, and was included in MoMA's very first photography exhibition in 1939. She also worked as a filmmaker, cinematographer and screenwriter, earning a best screenplay Oscar nomination in 1948. Street photography, though, was her métier. She worked extensively in black-and-white, and after 1959, in color, too. This brilliant example of the latter shows what happened back in fiscal-crisis New York if you made the mistake of not parking in a garage.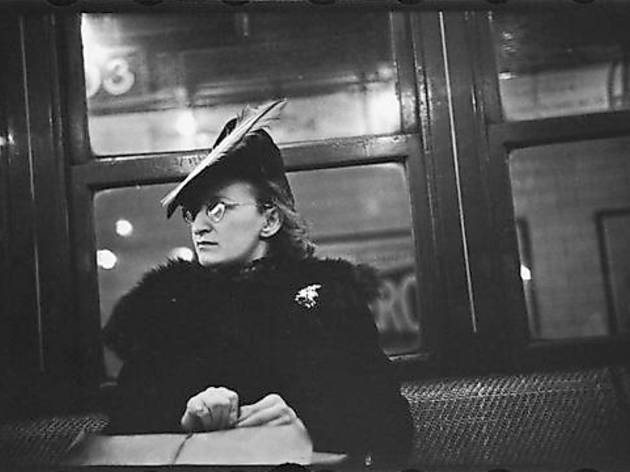 Photograph: Metropolitan Museum of Art
Walker Evans, Subway Passenger, New York City: Woman in Feathered Cap, 1941
In the late 1930s, Evans famously collaborated with author James Agee on the book Let Us Now Praise Famous Men, a poignant portrait of Southern sharecroppers during the Great Depression. Their other joint effort, Many Are Called, took a look at New York subway riders during the war years. Evans spent three years riding the train, using a hidden camera to capture unsuspecting passengers like this one. The book, with an intro by Agee, was published in 1966.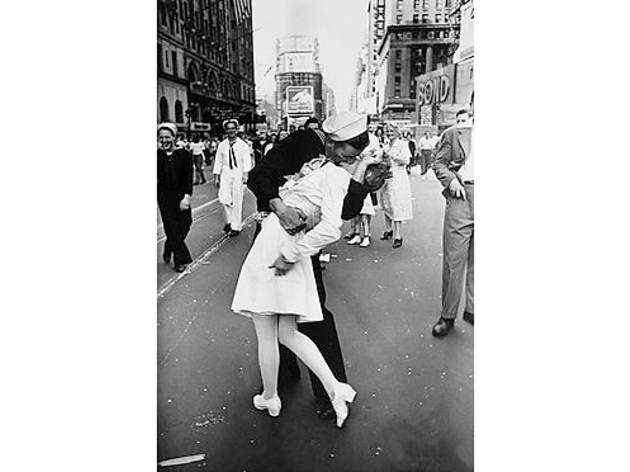 Photograph: Alfred Eisenstaedt
Alfred Eisenstaedt, V-J Day in Times Square, 1945
The photo of an ecstatic sailor planting a big wet one on a comely nurse during the Victory over Japan Day celebration in Times Square is among the most famous images of World War II; it represented the country's joy at ending the war and also New York's good fortune in emerging unscathed from the conflict. Taken for Life magazine by photojournalistic heavyweight Alfred Eisenstaedt, the image has prompted endless speculation as to who the couple is, with any number of men and women coming forward to insist that they are the sailor or the nurse in question. None of the claims have been proven, which, far from diminishing the photo, have only burnished its legend.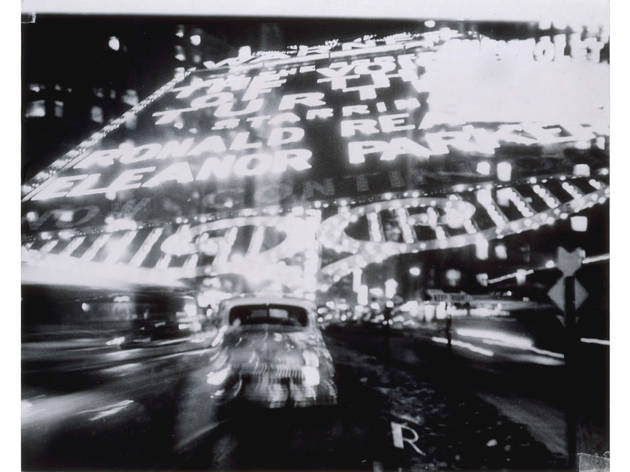 Photograph: Metropolitan Museum of Art
Ted Croner, Times Square, New York, 1947–52
Croner studied with Diane Arbus, Richard Avedon and Lisette Model, but his most notable works seem to transform Weegee's film noir vibe into a bold statement on velocity—as in this view of Times Square, in which the city that never sleeps appears to jump into warp drive.
Photograph: Metropolitan Museum of Art
Weegee, Transvestite, 1940
Decades before Lou Reed's "Walk on the Wild Side," Weegee found this tranny hooker emerging from a paddy wagon to exult in her 15 seconds of fame.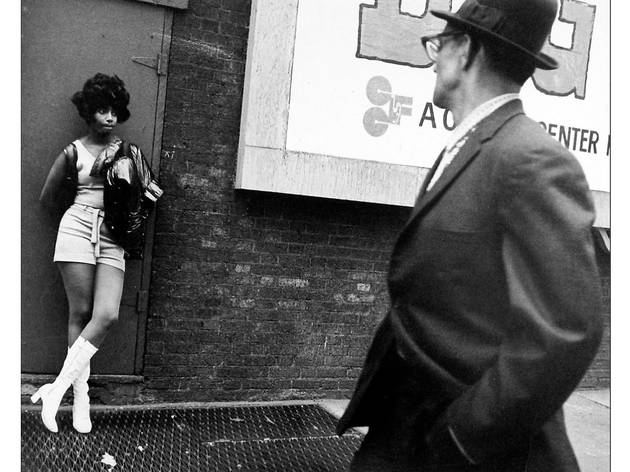 Photograph: Metropolitan Museum of Art
Leon Levinstein, Man Wearing Glasses and Hat looking at Woman Leaning Against a Door, 1965–1975
Levinstein was perhaps the least-known of a group of midcentury New York photographers who hit the asphalt, cameras in hand, to find whatever a peculiar alchemy of chance and reflex could provide. His particular strength was imparting a sense of monumentality to street scenes such this one, in which an older white guy appraises a much younger African-American prostitute. Thanks to the cropping and shift in scale, their meeting seems to reverberate with the echoes of America's racial history—particularly the flesh markets that served slavery.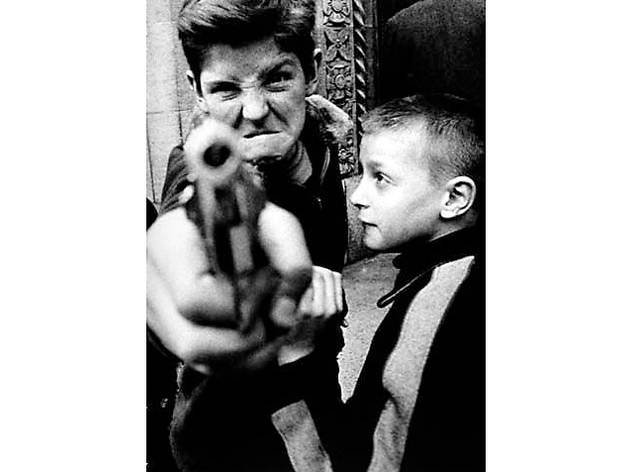 Photograph: Metropolitan Museum of Art
William Klein, Gun 1, New York, 1954
Klein had originally studied painting in Paris with Fernand Léger, enjoying some early success in Europe as an abstract painter before switching to photography. Once he returned to New York, he supported himself by working as a fashion photographer for Vogue while developing his tongue-in-cheek twist on the street-scene genre. This close-up of boys at play is the very definition of in-your-face, but it also cleverly plays on the out-of-towner's fear of the city as a unsafe place, ready to take your wallet or your life.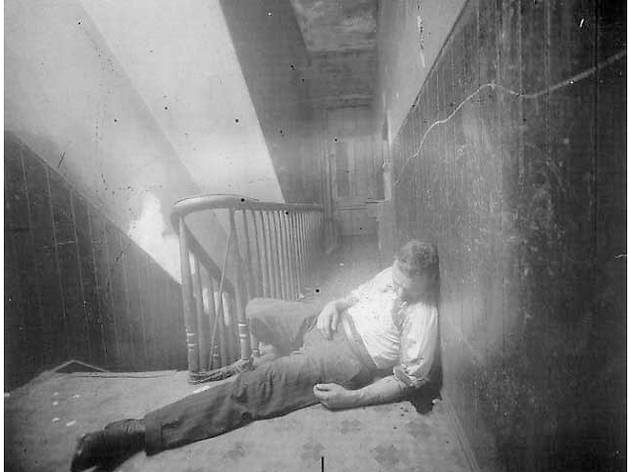 Photograph: New York City Police department
New York City Police department evidence photo, 1914–1918
Author Luc Sante made his name with Low Life, his history of New York's seamy underbelly of vice and crime dating back to the days of the Dutch. While researching the book, Sante was given access to the NYPD archives, where he discovered a cache of some 1,400 prints and glass-plate negatives dated between 1914 and 1918. They represented all that remained of a once-vast library of forensic photos that had been trashed or consigned to the East River. He subsequently published 55 of them in a slim volume titled Evidence. This image of a murder victim sprawled in a narrow, dirty tenement hallway is pretty typical of these morbid treasures, and the strangely poetic calculus between mayhem and memory created by the passage of time.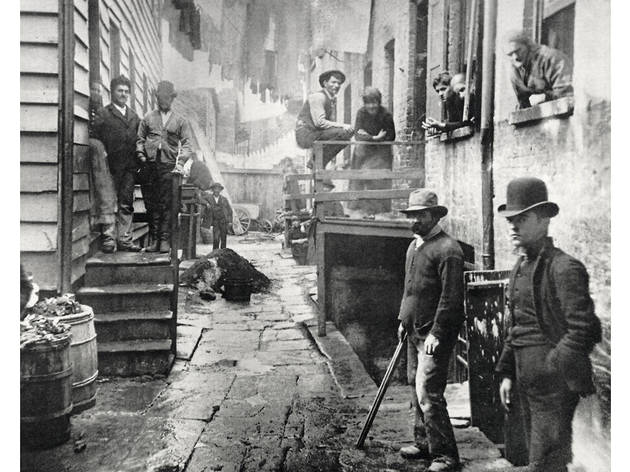 Photograph: Jacob Riis
Jacob Riis, Bandit's Roost, 1890
Riis was arguably the great-grandfather of New York Street photography, taking his camera into corners of the city where no upright citizen dared to tread. His motivation was social justice: A muckraking journalist and reformer, he undertook his seminal photo-documentary project How the Other Half Lives (first as a magazine article and later as a book) with the aim of exposing the plight of the city's poor. It had the desired effect, though some of its images contained elements of sensationalism, such as this one showing a criminal hideout on Mulberry Street—then considered the most dangerous thoroughfare in New York.
Photograph: © Leonard Freed/Magnum Photos
Leonard Freed, Pet Snake, New York City, 1985
A powerhouse of the Magnum photo agency, Freed was known for covering subjects such as the Civil Rights movement, Israel's Yom Kippur War and the NYPD during New York's 1970s nadir. But he sometimes turned his attention to other subjects, and this strange, if ultimately light-hearted, juxtaposition of baby and snake practically screams, "Only in New York, kids, only in New York!"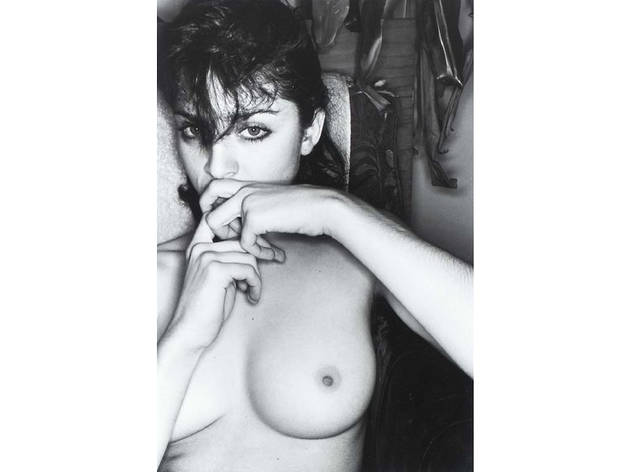 Photograph: © Lee Friedlander
Lee Friedlander, Madonna, 1979
Madonna has never been shy about baring all, even when she was a complete unknown. At age 20, while trying to make ends meet as a dancer, she posed as a nude model for Friedlander. He paid her $25 for the session, and later sold the photos for considerably more to Playboy, where they were published in 1985 (after, of course, she'd become the Material Girl). The escalation in value didn't stop there; one of the images fetched $37,500 at Christie's Auction House in 2009.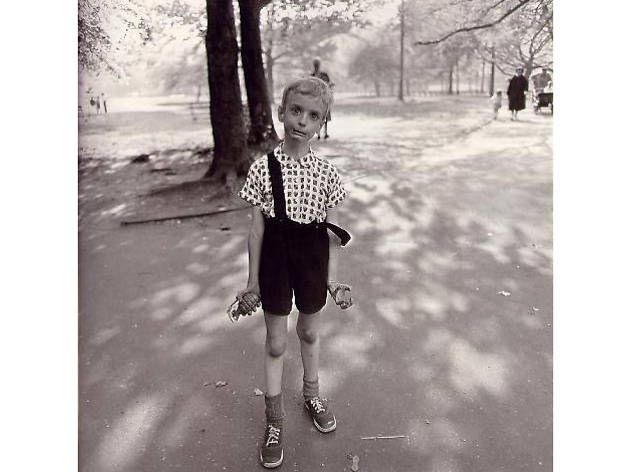 Photograph: Diane Arbus
Diane Arbus, Child with Toy Hand Grenade in Central Park, New York City, 1962
Arbus gravitated towards the margins of society to find her subjects, which accounts for the dwarves, giants, transvestites and people with Down syndrome who make up her gallery of misfits. But she even recast ordinary people as marginalized figures, as in this image of a boy twisted into a kind of monster. The image was the result of a long shoot in which Arbus basically prodded the child until he gave her this look of extreme aggravation. It's the toy grenade he clutches, however, that transforms him into a dangerous presence in an otherwise peaceful setting—a human bomb, about to go off.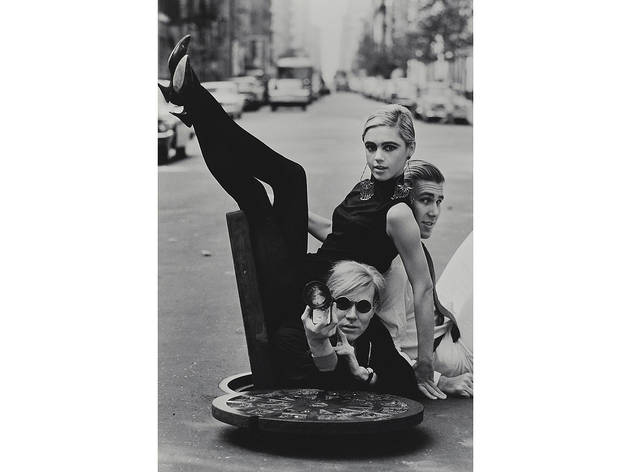 Photograph: Burt Glinn
Burt Glinn, Portrait of Andy Warhol, Edie Sedgwick and Chuck Wein, 1965
As a photojournalist, Glinn covered the events of the Cold War and the leaders who shaped them. He also took celebrity portraits, and this is image is perhaps one of his most famous, showing Warhol and Factory regulars Edie Sedgwick and Chuck Wein appearing to pop out of manhole. It was perhaps a too-literal evocation of the artistic underground (when such an idea still seemed plausible) but it also insouciantly depicts Warhol and his milieu as the nexus of high culture and low, salon and street.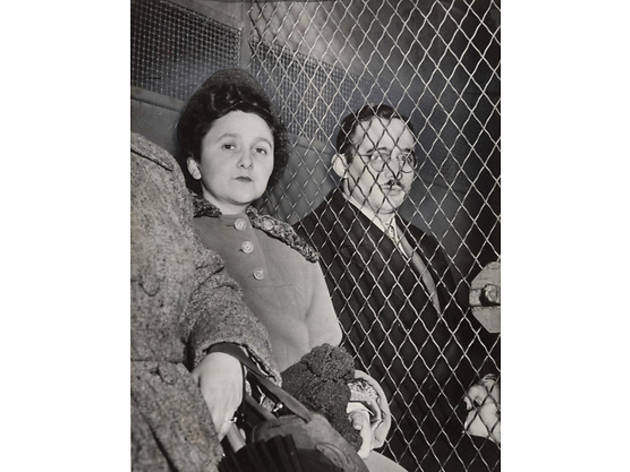 Photograph: Museum of Modern Art
Associated Press, Convicted Spies on Way to Jail, 1951
Few chapters in American Cold War history stirred as much passion as the trial of Julius and Ethel Rosenberg for atomic espionage, held in New York. Convicted and sentenced to death, they were executed by electric chair on June 19, 1953. Their deaths left behind two young sons; Jean-Paul Satre would later write that the proceedings were a legal lynching. This image shows the couple, just after they were found guilty, separated by a heavy metal screen as they're being taken away to jail from the U.S. Courthouse in Lower Manhattan.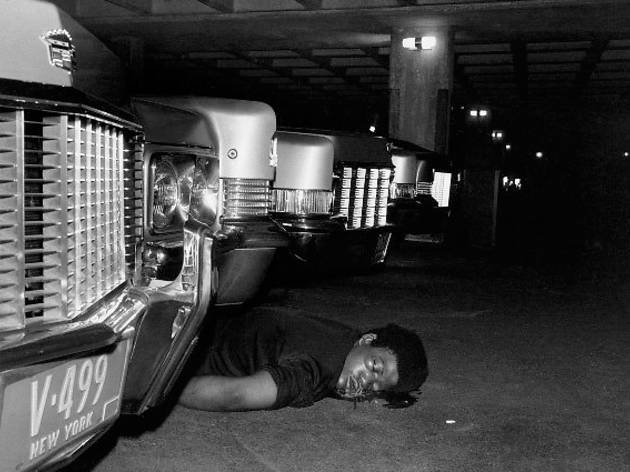 Photograph: Museum of Modern Art
Leonard Freed, New York: Murder in the garage of a lavish apartment building, 1972
Freed's high watermark as a photojournalist was undoubtedly his work covering the police in 1970s New York—a period when the rest of the country had left its greatest city for dead, and crime spiraled out of control in a metropolis turned madhouse. This image of a dead body in a high-rise garage—wedged beneath the front of a Cadillac as if the perpetrators thought they could easily dispose of the evidence by shoving it under the nearest car—sums up New York at rock bottom.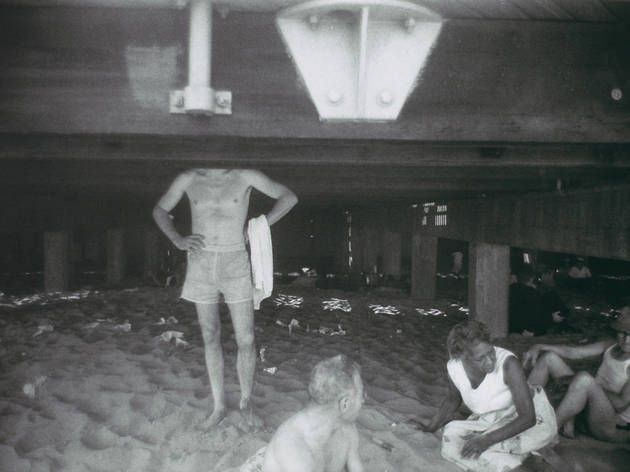 Photograph: Museum of Modern Art
Garry Winogrand, Coney Island, New York City, New York, circa 1958
This photo of a beachgoers under the boardwalk leaves open the question of what they're doing there in the first place, while transforming a day at the shore into a surreal excursion.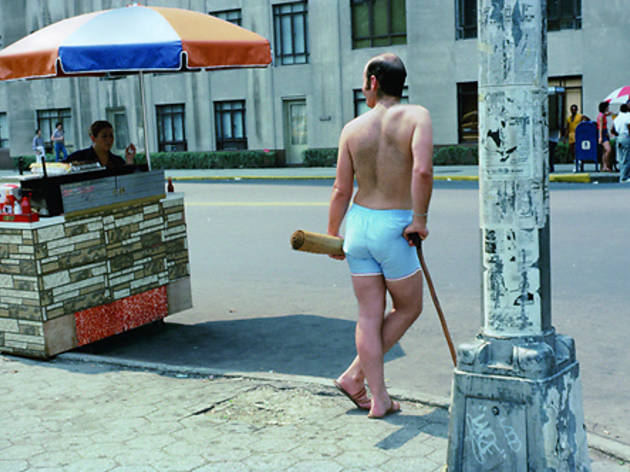 Photograph: Helen Levitt
Helen Levitt, New York, 1980
This shot of a balding middle-aged dude letting it all out in a pair of baby-blue blue swim trunks in the middle of Manhattan was obviously taken a long way from Jones Beach, but Levitt's photo underscores a truism about New Yorkers: That they sometimes forget they live with millions of other people.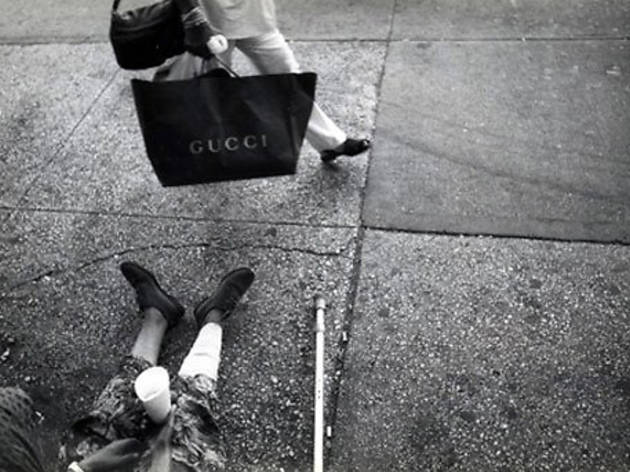 Photograph: Leonard Freed
Leonard Freed, Extremes, 1980
The raw juxtaposition of rich and poor is a fact of New York City life, brought to brutal light here in Freed's photo.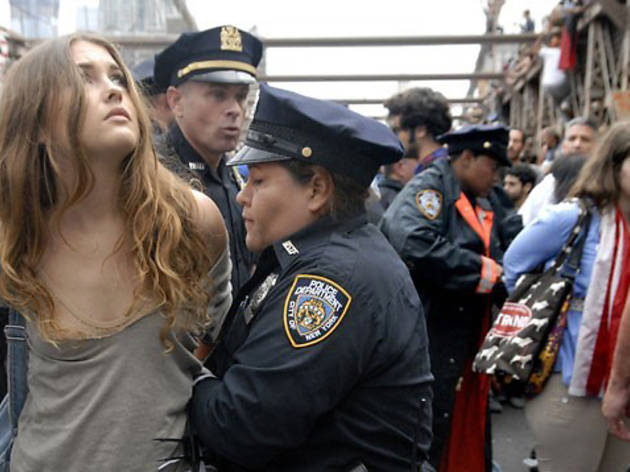 Photograph: © Associated Press
Stephanie Keith, Police arrest a protester on New York's Brooklyn Bridge on Saturday, Oct. 1, 2011, during a march by Occupy Wall Street
It's a sign of life in 21st-century New York, perhaps, that the young woman being arrested here for protesting economic inequality looks like a fashion model.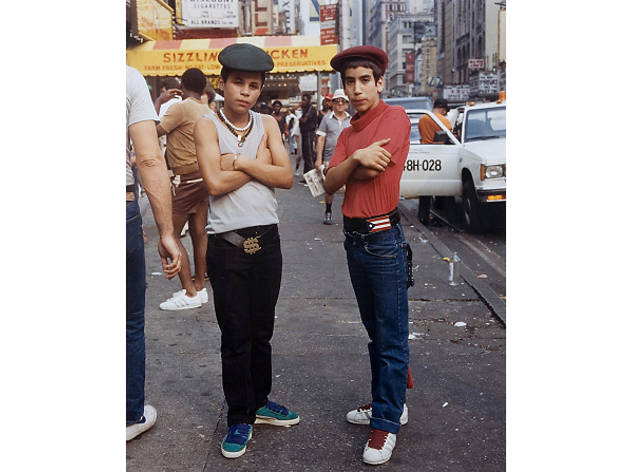 Photograph: Jamal Shabazz
Jamel Shabazz from "Back In The Days," 1989
Street-smart has never appeared so sharp as in this photo of a pair of kids, kicking it old-school in 1980s Brooklyn.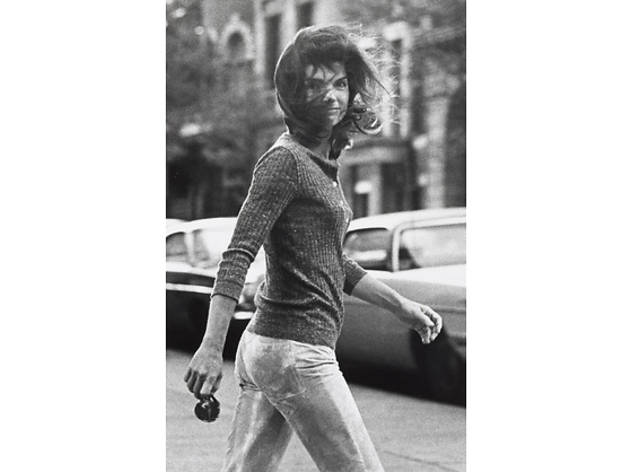 Photograph: Museum of Modern Art
Ron Galella, Jackie Onassis, New York, 1971
The former First Lady became the epitome of uptown classiness after settling in New York. She was often stalked by Galella, the city's most famous paparazzo, but here, she's almost collaborating with him: offering a smile and brushing back her hair to create this iconic image of elegance and grace.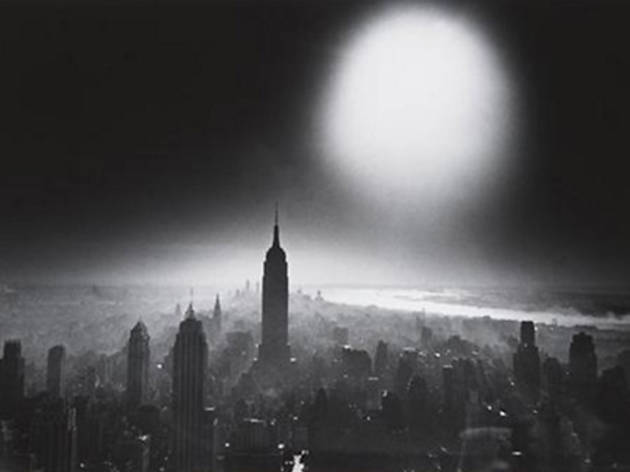 Photograph: William Klein
William Klein, Atom Bomb Sky, New York, 1955
At the height of the Cold War, Klein rather cheekily bestowed an apocalyptic title to this image of the sun peeking through the haze as it crests over midtown; but it endures as a representation of New York's splendor.