Top ten storm-related artworks (slide show)
Bored with looking out the window at Sandy? Take a gander at these stormy classics from art history.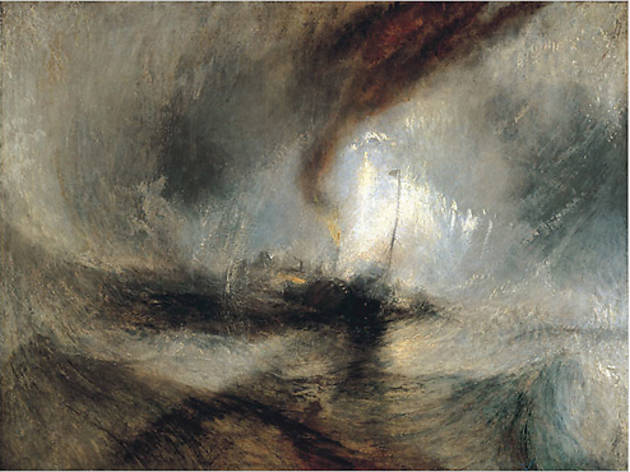 1/10
Photograph: Courtesy Tate Museum
J.M.W. Turner, Snowstorm, 1842
The story that Turner conceived this image of a tempest-tossed steam boat while lashed to the mast of a ship during an actual storm at sea is most likely apocryphal, but fun to imagine nevertheless.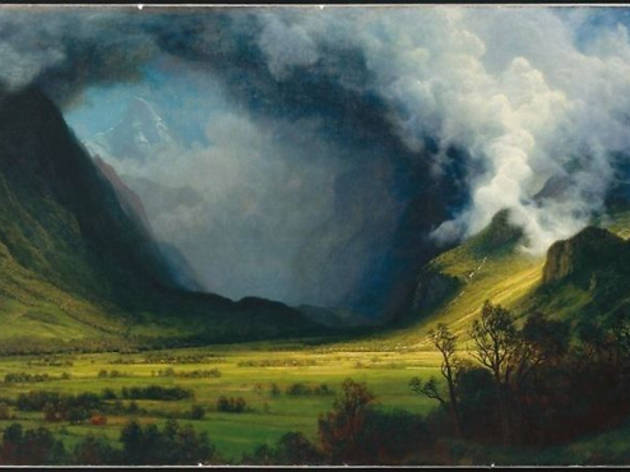 2/10
Photograph: Courtesy Museum of Fine Arts
Albert Bierstadt, Storm In The Mountains, circa 1870
Albert Bierstadt studied painting in his native Germany before immigrating to America, and it showed in his romanticized scenes of the American West, like this view of dark clouds gathering over a mountain pass.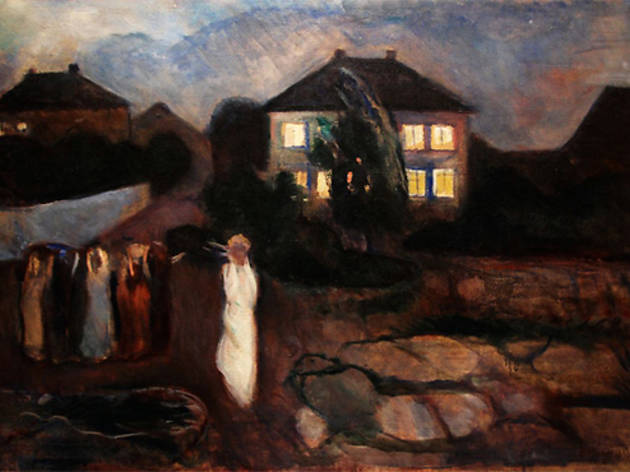 3/10
Photograph: Courtesy Museum of Modern Art
Edvard Munch, The Storm, 1893
As in his masterpiece The Scream, Munch here is describing psychic distress as much as he is the weather, though the image is believed to have been inspired by an actual gale the artist witnessed while visiting a Norwegian seaside resort.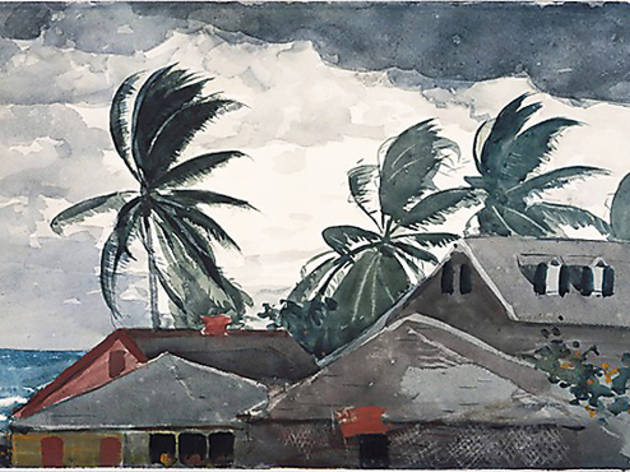 4/10
Photograph: Courtesy Metropolitan Museum of Art
Winslow Homer, Hurricane, Bahamas, 1898
Palms slashed by wind and rain demonstrably show that Homer wasn't depicting just another day in paradise.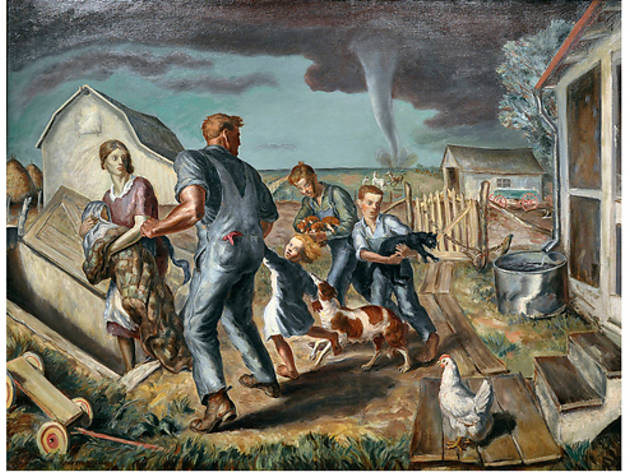 5/10
Photograph: Courtesy Muskegon Museum of Art
John Steuart Curry, Tornado Over Kansas, 1929
Dorothy and Toto are nowhere to be found in this rendering of a twister-threatened farmstead. Interestingly, the artist painted it while living in Connecticut, and based the composition on his childhood memories.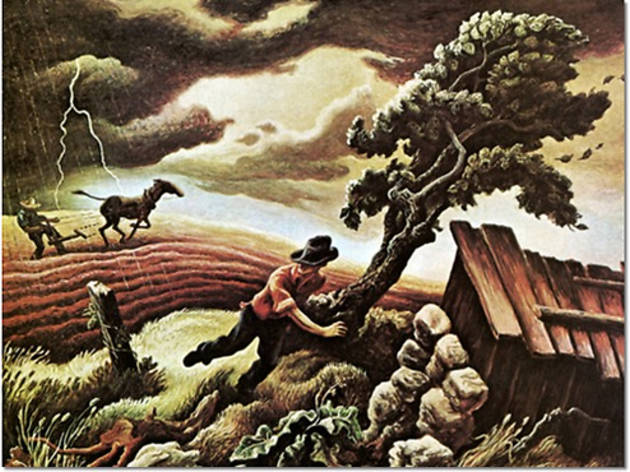 6/10
Photograph: Courtesy Joslyn Art Museum
Thomas Hart Benton, The Hail Storm, 1940
Though nominally about a hail storm, Benton's painting also recalled the terrible Oklahoma dust bowl of the 1930s, an event still fresh in the memories of most American viewers at the time the artist created the work.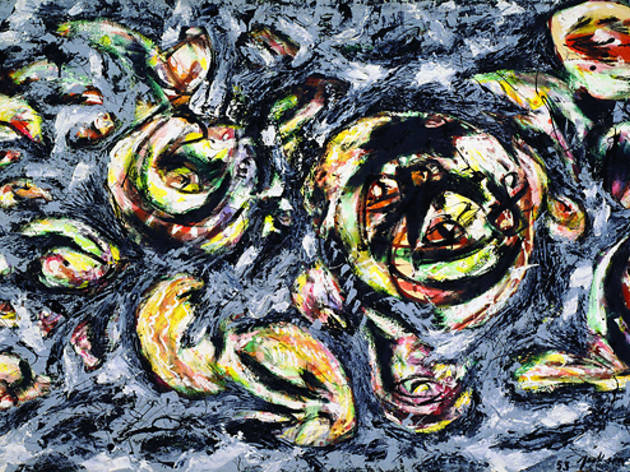 7/10
Photograph: Courtesy Solomon R. Guggenheim Museum
Jackson Pollock, Ocean Greyness, 1953
Once again, the subject here is more psychological than meteorological, though the title and sense of turbulence in the painting does indeed evoke storm-churned waves.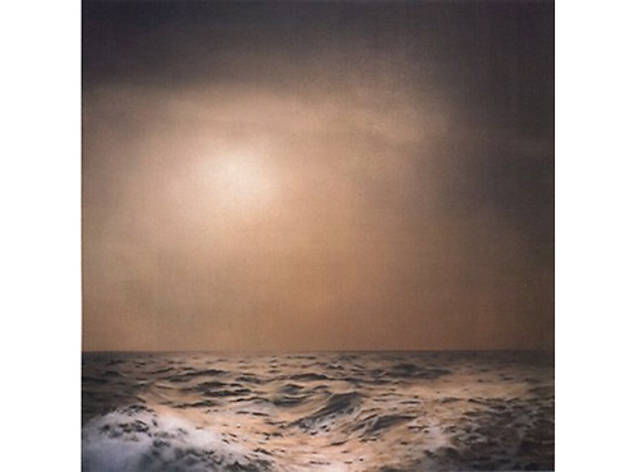 8/10
Gerhard Richter, Seascape (Brown, Troubled), 1969
This photo-base painting is at once a dryly sardonic take on the tradition of 19th-century German Romantic landscape painting, and a stunning illustration of nature's power to elicit awe.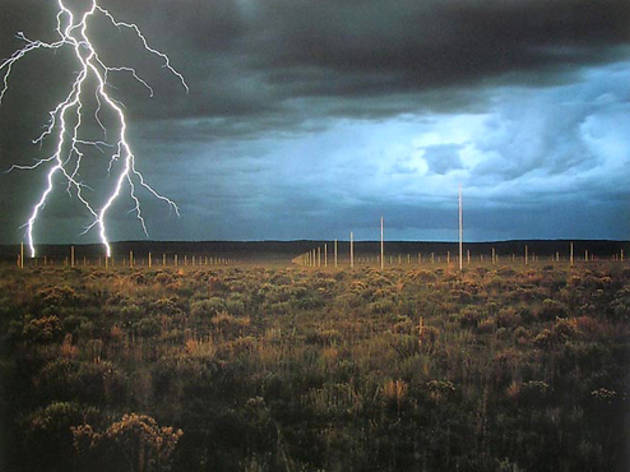 9/10
Photograph: Courtesy Dia Art Foundation
Walter De Maria, The Lightning Field, 1977
This famous example of Earth Art is comprised of 400 polished stainless steel poles installed in the New Mexico desert in a grid measuring one mile by one kilometer. Each pole is approximately 20 feet high and two inches in diameter. They're spaced 220 feet apart, forming a giant array of lightning rods.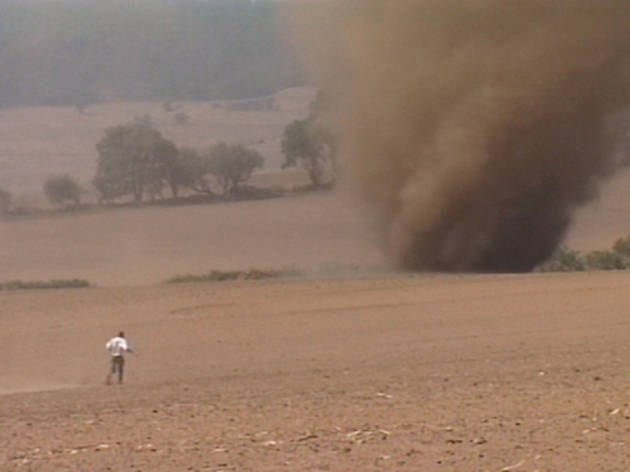 10/10
Francis Alÿs, Tornado, 2000-2010
In this video, the Belgian-born conceptual artist plays a game of chicken with a dust devil in the Mexican desert.